This Sticky Sweet Apricot BBQ Tempeh Sunshine Salad with Avocado and Toasted Almonds is a summertime favorite. (And recipe #5 in my summer series!) Protein, greens, antioxidants and loads of dee-licious flavors: sassy sweetness from the apricots, buttery avocado, perky greens, crunchy nutty almonds and of course warm, sticky-sweet BBQ tempeh. Give this salad a try and soon you'll be craving it!..
All the good stuff is around the edges today..

I have been kind of obsessed with apricots lately. I bought a pound of organic apricots at Whole Foods a week ago and ever since then I just cannot get enough. I add them to smoothie bowls, cereal, or just eat them as they come!
Apricots are so easy to eat, so perfect with their meaty, yet velvety texture and sweet and lightly sassy flavor. They are simply delicious when grilled or lightly caramelized – like I did here today – and they are rich in vitamin C and fiber.
And this salad is a delicious way to enjoy them. I know some people don't like mixing fruit with their entrees or veggies, but seriously give this a try because I have found apricots pair really well with savory foods. For flavor and digestion reasons. Give it a whirl.
Add endive for a sunshine presentation.. Plus the natural endive bitterness may support digestion.

Desperately Seeking Summer Salads. This recipe is great for summer because you just heat a few goodies in a skillet and load up a salad bowl or plate. Fast, fresh and flavorful. Vegan, gluten-free and rich in good-for-you foods.
Summer15 HHL Recipes:
1. Corn Fritters with avocado salsa.
2. Pink Flamingo Cheesecake Bars
3. Summer Salad in a Jar
4. Copycat Green Tea Frappuccino
5. Sticky-Sweet BBQ Apricot Tempeh Salad with avocado
6. Avocado Hamil-toast (avocado toast with skillet plantains)
7. Cherry Pie Cookies
8. Mother of Dragonfruit Smoothie Bowl
9. Almond Butter S'mores
10. DIY Pink Drink
11. Cheezy Sauce for Pasta with Kale
12. Summer Salad: Chili-Lime Mango-Avocado Quinoa Power Salad
13. Vegan Peanut Butter Cookie Ice Cream
Summer check-in from me to you…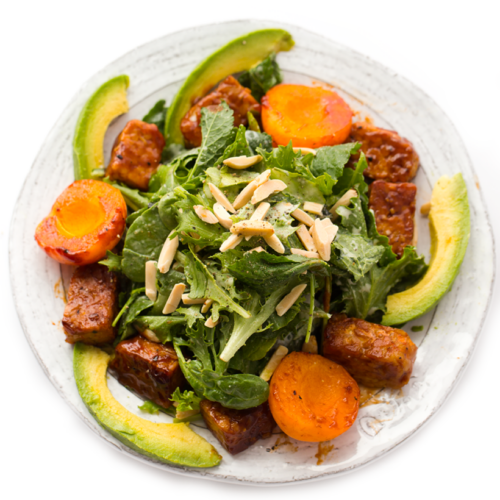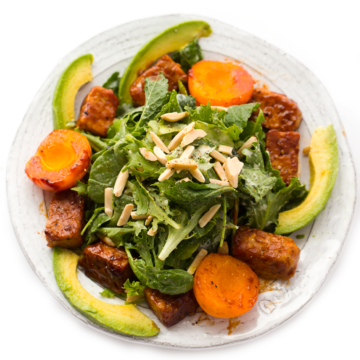 Sticky Sweet Apricot BBQ Tempeh Sunshine Salad with Avocado and Toasted Almonds
This go-to summer salad is sassy and sticky-sweet with barbecue flavor. Warmed apricots and buttery avocado accent this delicious entree salad.
Print
Pin
Ingredients
½ avocado, sliced

3 large apricots, halved and pitted

6-8oz tempeh, cubed

2-4 tablespoon vegan BBQ sauce

2 tablespoon slivered or chopped almonds

optional: 1 endive

dressing: no-honey mustard to taste

6 cups mixed greens, organic

fresh black pepper on top
Instructions
Warm up a skillet over high heat. If you want to use a drizzle of extra virgin olive oil to cook the tempeh, you can, but I usually just add the tempeh along with 2-4 tablespoon of water. The water softens the tempeh and lightly steams it a it. Toss the tempeh a bit in the pan as it begins to cook through, then add the barbecue sauce over top. Toss the tempeh in the sauce, in the warm skillet. Turn heat to low to finish cooking for another 2 minutes or so. You want the BBQ sauce to begin to get sticky and thicken a bit around the edges of the tempeh.

A few minutes before the tempeh is done, add the apricots to the skillet, pitted side down. Rub the apricot in a bit of sauce. Also add the almonds to the pan – to lightly warm and toast. Remove skillet from heat and let cool for a minute — the sauce on the tempeh and apricots should thicken up a bit more as it cools.

In a large mixing bowl, toss the greens with the salad dressing. Add the tossed greens to your serving plates.

Add the avocado, tempeh, almonds and apricots to the salads. Top with a bit of freshly ground black pepper.