Yay, we've made it all the way to the end of my Salad Tour Series. I've had so much fun crafting yummy bowls of colorful goodies for you these past few weeks. And to close this series with a big crunch, I've crafted my Big Kahuna Hawaiian Salad with Pineapple Tahini Dressing. Big Island, here we come!…
Hula skirt? Check.
Ukulele? Check.
Candy-colored sunset? Check.
Crashing waves and pure white sand? Check.
Tropical breeze? Check.
Mai Tai? Check.
Perfect Hawaiian Salad? Let's get to it…
It's a Luau in a Bowl: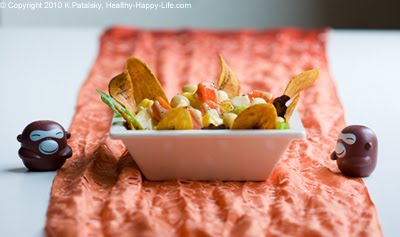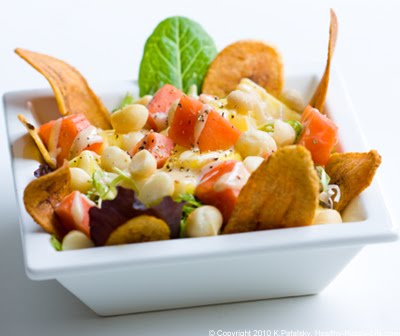 Pineapple Tahini Dressing: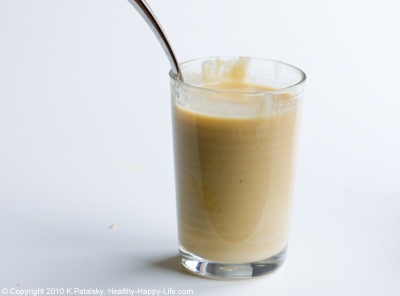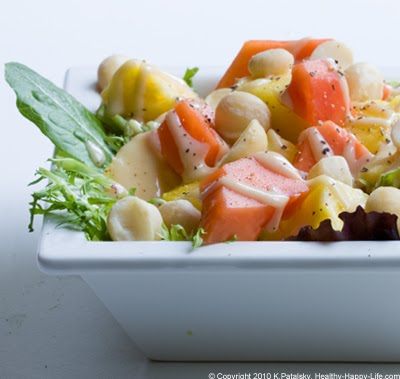 Macadamia Nuts are a Tropical Delicacy! Tip: try macadamia nut oil for a real treat…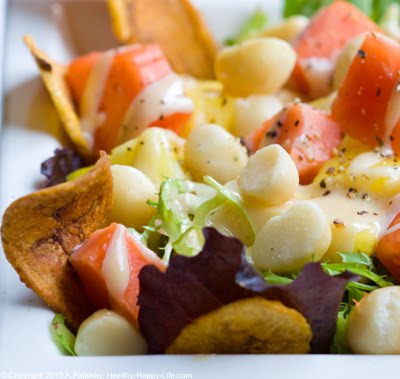 Big Kahuna Hawaiian Salad
vegan, serves 2
2 cups frisee, finely chopped
2 cups baby lettuce mix or baby spinach (any fave leafy green will work)
1 cup chopped pineapple
1 cup chopped papaya
¾ cup roasted/salted macadamia nuts
handful of plantain chips
fresh black pepper
optional: coconut flakes, roasted corn, spicy tempeh cubes
*use fresh pineapple and papaya. Chop and store the leftovers for a tropical fruit salad the next morning.

Pineapple Tahini Dressing
1 ½ tablespoon tahini sauce
2 teaspoon Grade B maple syrup
1 tablespoon apple cider vinegar
2 tablespoon pineapple juice
pepper
Directions:
1. Whisk together the dressing. Set aside.
2. Prep your fruit by chopping up your papaya and pineapple. Store the leftovers.
3. Finely chop your frisee. Place in bowl. Add baby lettuce.
4. Toss lettuce gently with 1-2 tablespoon of dressing.
5. Portion salad into two bowls.
6. Add pineapple and papaya on top of lettuce.
7. Add macadamia nuts.
8. Place plantain chips around edges of bowls.
9. Drizzle additional dressing on top and add fresh black pepper to taste.
Serve! Aloha! Don Ho music optional…