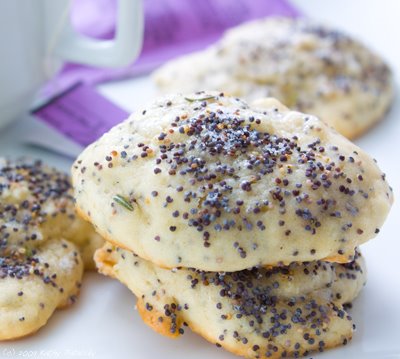 It's tea thyme! These cookies just may be the perfect after-meal treat: Ginger Poppy seed Tea Thyme Cookies.
Soothing Ginger. These sweet and savory tiny sized tea cookies are flavored with the warm zing of fresh grated ginger. Add in some calcium-rich poppy seeds (13% RDA per Tbsp), a dash of lemon juice and a few savory chopped thyme leaves, and the result is elegant cookie bliss.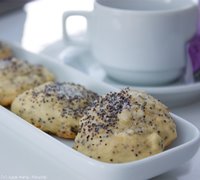 Tea Thyme. Nibble these cookies with your favorite tea (or coffee). With a soft moist texture, they are totally dunkable and incredibly addictive. But since they are mini, you can eat more than one without feeling bad. In fact, the tummy-soothing ginger will leave you feeling good.
Click ahead for the vegan recipe…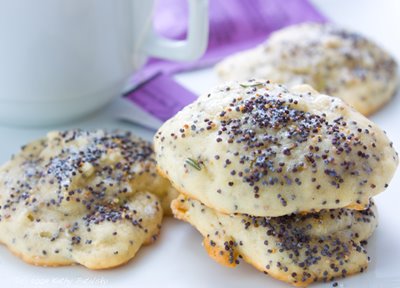 Ginger-Poppy seed Tea-Thyme Cookies
vegan, makes 24 mini cookies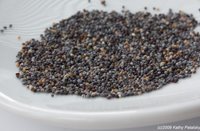 2 cups white unbleached flour (wheat can be used too)
1 cup white sugar
1/4 cup poppy seeds
1 cup soy milk
1 Tbsp agave syrup
3 Tbsp softened vegan butter or canola oil
2 Tbsp fresh thyme leaves, finely chopped
1 lemon, juiced
2 Tbsp fresh ginger, grated
1 tsp vanilla extract
1 tsp salt
2 Tbsp Vital Wheat Gluten
1 1/2 tsp baking powder
2 Tbsp vinegar, (white or apple cider) OR 2 Tbsp Veganaise
Topping: White sugar, poppy seeds and thyme leaves
Optional: lemon zest for batter of topping
Directions:
Combine dry ingredients in large mixing bowl: flour, 1 sugar, poppy seeds, thyme leaves, salt, baking powder, baking soda, and Vital Wheat Gluten. Mix well.
Add in soy milk, agave syrup, butter or oil, lemon juice from 1 lemon, vanilla extract and vinegar.
You will have a soft cookie dough-it will be more liquid than traditional cookie dough.
Fold in grated ginger. 2 Tbsp chunks will be perfect. For ginger-LOVERS, you can add more.
Stick in fridge for twenty minutes to firm up.
After chilled, spoon 1 inch round drops of dough onto parchment paper or greased baking sheets. Make sure to make all cookie the same size so that they cook evenly. You can also make larger cookies, but I did the mini tea cookies and loved them.
Top cookies with a dash of poppy seeds, sugar and a few tiny thyme leaves.
Bake at 350 for 12-15 minutes. Make sure edges turn crisp, but top remains white crusted.
Serve with herb, green, black or chai tea. Delicious as an after-dinner cookie. The ginger is incredibly nice to tummies.
TIP: For an extra soothing cookie, substitute 1/2 soy milk with a 1/2 cup of darkly brewed chamomile tea. Sweet dreams.