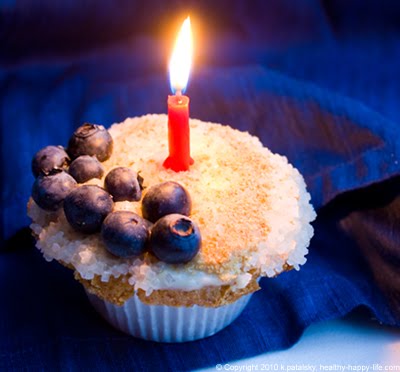 My 29th birthday this past Saturday was full of snow, smiles and Sandy Vanilla Bean Cupcakes. Check out my scrumptious birthday cupcakes, and why I think blueberries should be named purpleberries!…
Birthday Snow! This year, I experienced my very first ever birthday snowstorm. Fun! I spent the day snow-strolling, bday brunching, baking cupcakes, then going out for a bday Fiesta dinner. (I always boast about my long line of fabulous bday dinners with my husband: Candle 79, Blossom NYC, Dos Caminos Park Ave, Le Bernadin and Nora's in DC. This bday was also awesome.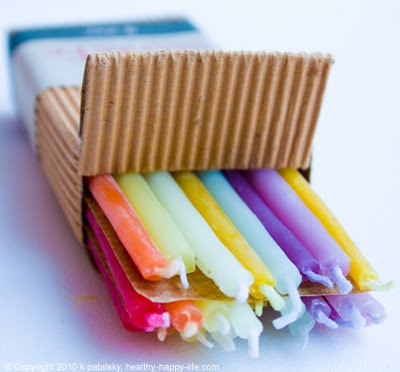 Sandy Shore Cupcakes. It's funny when my birthday rolls around because all I want to do is help out with the bday treats. Plus my husband's homemade treat specialty is brownies…and that's about it. So we were excited to craft my bday cupcakes together.
Ocean Cupcakes. It's the middle of winter, and I wanted beach cupcakes! Blue and aqua frosting with a side of sandy shore sugar on top. I wanted vanilla bean cupcakes with a vanilla cashew cream frosting – dyed blue to match the ocean. Lets just say my plan didn't work out. I had been inspired by the beautiful color of Martha Stewart's blue-frosted beach cupcakes here. However, my tidepool dreams dried up and I was left with nothing but a sandy, yet delicious, shore…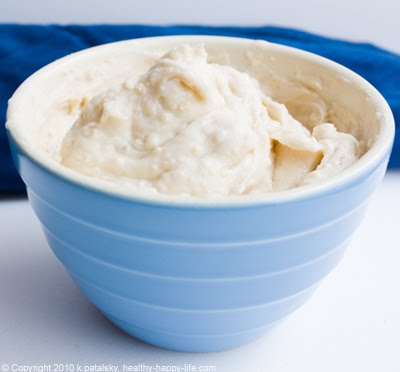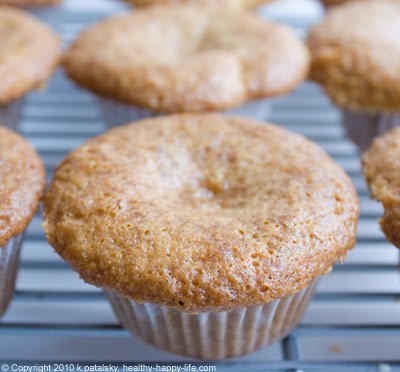 Fruity Food Coloring. My big plan was to use fresh pulverized blueberries as the 'natural blue food coloring'. Lesson learned: blueberries do not make a blue color…they make icing a light pastel purple! Hmm…maybe they should've named them purpleberries. So when my ocean color didn't work out, I decided to nix the ocean and simply do seaside sandy shore cupcakes. The 'sandy shore' was a combo of orange sugar sprinkles and crushed graham cracker crumbs. I did do a nice "whole blueberry" ocean on a few of the cupcakes. It was fun, the cupcakes were delicious and that's really all that matters.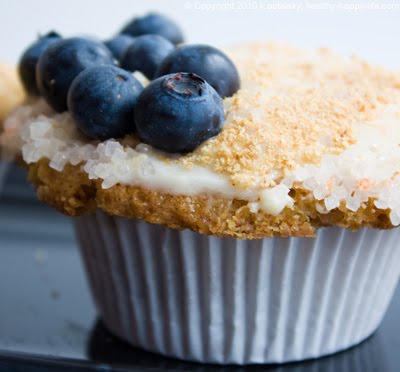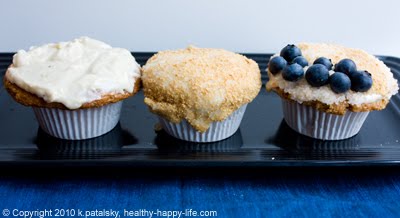 Here is the recipe my husband used for the cupcake batter, and my frosting:
Sandy Vanilla Bean Cupcakes
vegan
1 box Dr.Oetker organic Vanilla Cake Mix
¼ cup organic canola oil
1 large ripe organic banana, mashed
*my egg replacer
1 cup soy milk, vanilla
1 whole vanilla bean, seeds scraped
dash of cinnamon
dash of baking powder
Cashew Cream Frosting
vegan
1 ½ cups powdered sugar
3 tablespoon vegan buttery spread, softened
1 cup raw cashews, unsalted
3 tablespoon soy or hemp milk
½ teaspoon vanilla extract or vanilla bean seeds
*I adjusted the ingredients until my desired thickness was reached.
Topping
Orange colored natural sugar sprinkles
8 graham crackers + 2 dashes cinnamon
optional: blueberries on top
Directions:

1. Combine cake batter ingredients, stir well.
2. Pour cupcake batter into paper muffin cups.
3. Place muffins into preheated 350 degree oven.
4. Bake at 350 degrees for 25 minutes.
5. While cupcakes are cooking, prepare frosting. Add all ingredients to a food processor. Add cashews last. You will need to process long enough to break cashews into tiny bits. Chunky is OK too.
6. You may want to adjust ingredients for frosting to meet your needs. Add more buttery spread for a creamier, richer frosting. Add more cashews for a milder in sweetness and 'chunkier' frosting. Add more sugar for a super thick sweeter frosting. Place frosting in fridge to harden. Note: You will need to store frosted cupcakes in the fridge when using a "buttery spread" based frosting.
7. Crush your graham crackers/cinnamon in a food processor. Pour into a shallow bowl and set aside.
9. Remove cupcakes from oven and allow to cool completely – about 45 minutes. The frosting should be firm by now as well.
10. Frost cupcakes.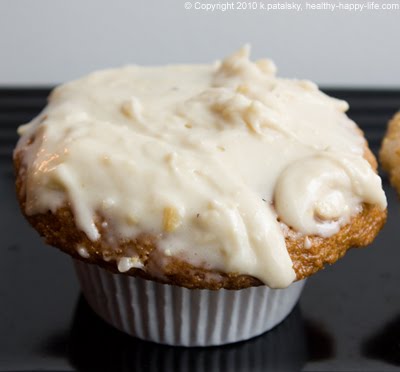 11. Dip into orange sugar topping, followed by graham cracker crumbs. Add blueberries (opt'l).
Place cupcakes in fridge until ready to be served.
Store in fridge.