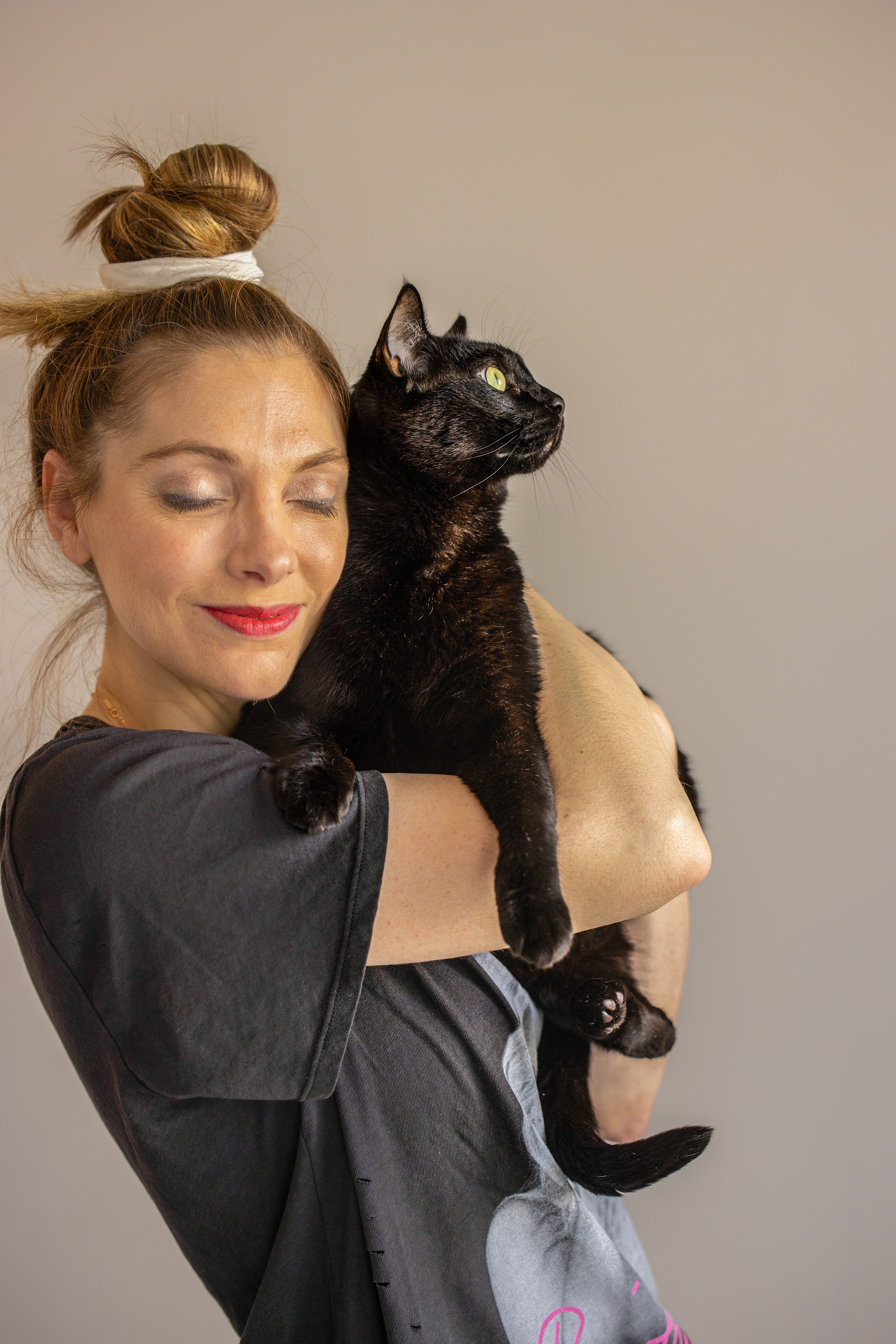 This is the story of how I found my lost cat. And some tips to help.
A complete lucky miracle of a story, but one that might help someone else dealing with the trauma of losing a pet.
Dealing with a lost pet is a very traumatic experience. The worry. The unknown. The possible lack of closure. The guilt. The sadness. The unresolved grief. The fatigue of the search. The reminders in your daily routine that your bff is gone. Scared. Possibly hurt. Maybe needing your help to get home.
The feeling of helplessness is overwhelming.
These emotions are still very fresh in my brain and body.
How I Found My Lost Cat — Losing Mr. White
A few weeks ago I experienced the trauma of losing a beloved pet. Mr. White, an indoor only kitty cat, got out of the house.
You guys already know Mr. White as part of my kitty cat duo, Mr. White and Sochi, whom I adopted about nine years ago after losing my cat Nelly to cancer. Well, these two brother cats are very indoor cats. They have never been outside, aside from their time 'on the streets' as rescued kittens. They don't wear collars and I never really feared them getting out. Well that has all changed!
I am sharing this story today because while I was fatigued with grief, the stories of hope and happy endings from my friends and followers on Instagram, truly kept me going. So I hope this story can help you and maybe give you a few good tips if you are hoping o find a lost pet – especially a cat.
I hope this post can help someone find their cat.
How I found my lost cat – my indoor only, very timid and shy, black kitty cat…
Story time.
On Thursday March 9th, Rosalie and I decided to sleep in and skip school. A fun little mommy and me day off. We ate pancakes and planned on an adventure to pick up grandma and head to a favorite park about ten minutes away. I closed the side door of our home on my way out, locking the bottom lock with a click. I was rushing, as I usually am, chasing an eager two year-old out the door, trying to beat her to the car door.
But when I closed the door it didn't latch. It's one of the those doors that you really have to pull shut. I almost always lock the top lock on my way out, but since my husband was home and I was in a hurry, I didn't.
It was a sparkly sunshine day. The kind with clear blue sky for miles and fresh puffy clouds from al the recent rain. Warm and crisp and perfect.
I hopped in the car and off we went. I picked up my mom and we headed to the park. Rosalie was so excited. I even had to make a pit stop at CVS and she very patiently waited in the car with grandma.
Happy Day Takes a Turn
We zoomed down the 405 and just as we were exiting, my husband called. Not a text. A phone call. That is never good. I picked up on the car speaker. "Hi." He was flustered. He mumbled something about the door being open. And looking for Mr. White. He got out. "Like out, OUT?"
"YES."
"Ok, I'm coming home." I hung up the phone.
Then I changed the destination on our car's navigation system. I tried calmly explaining to Rosalie that we wouldn't be making the park. But she turned hysterical with disappointment, screaming in the backseat as my mind reeled. I'm sure she could tell something was wrong and that feeling mixed with no park set off a fireball of toddler emotions.
I took deep breaths while concentrating on getting home safely.
At this time, I truly thought that I would find Mr.White tucked into a corner of our yard. Maybe behind a palm tree, watching the birds. Or maybe he squirreled his way under the deck, between that one shallow spot in the ground. I had a plan. I really couldn't imagine him actually GONE.
11 AM Thursday – Arriving Home
When I pulled up to my driveway, my mind was mush. I climbed out of the car and saw my husband on his crutches limping around the yard, down the sidewalk. My husband had broken his ankle a few weeks before.
I raced to the backyard and searched ever crevice. Nothing.
I was suddenly in a surreal nightmare. My incredibly sensitive, shy, timid, sweet, scared black cat was gone.
I melted in a pool of tears. Sobbing from my chest in deep gasps. The feeling of helplessness overtaking my body as I realized he was not in our yard or anywhere in sight. The vast, dangerous city of Los Angeles tucked just behind the facade of our quiet neighborhood street. Coyotes. Loud dogs. Screeching cars, zooming down every street. Fences. Trees. Thickly packed neighborhood streets with foreign yards and strange smells. My mind reeled.
Noon – Grief Kicks In
I immediately knocked on a neighbors door asking to check their backyards. They were so kind. When the words "our cat got out" escaped my lips I started sobbing again. I checked every crevice of the unfamiliar backyard. Nothing. I rushed out and popped over to the next house. Another kind neighbor. But still, nothing in the backyard.
I stayed on our side of the street. He wouldn't possibly cross the street in the midddle of the day! No way. Not our scaredy cat.
I went home and started shaking treats, tapping cans of food. Calling out. I scooped up my toddler, who was now following along in the search, shouting out at the top of her little lungs, "Mr. White, come home!"
She saw me pouring dry cat food into a paper bowl on the stoop of our side door. She lifted the entire bag and poured in out. The entire full bag pouring into kibble-shaped mountains on our steps. Normally I was jump to stop her and clean things up. But I was spent. I didn't care. And I knew she was trying to help. I think I said, "Thanks Rosalie, that's so sweet of you."
We both sat in exhaustion. Me more than her. She was still quite perky. I think maybe she thought this was a weird game. Mr.White would be home soon and it would end. Like find and seek. She loves that game.
Sochi, Mr.White's brother, was starting to get worried. Looking for his brother and meowing for him. They always snuggle sleep together…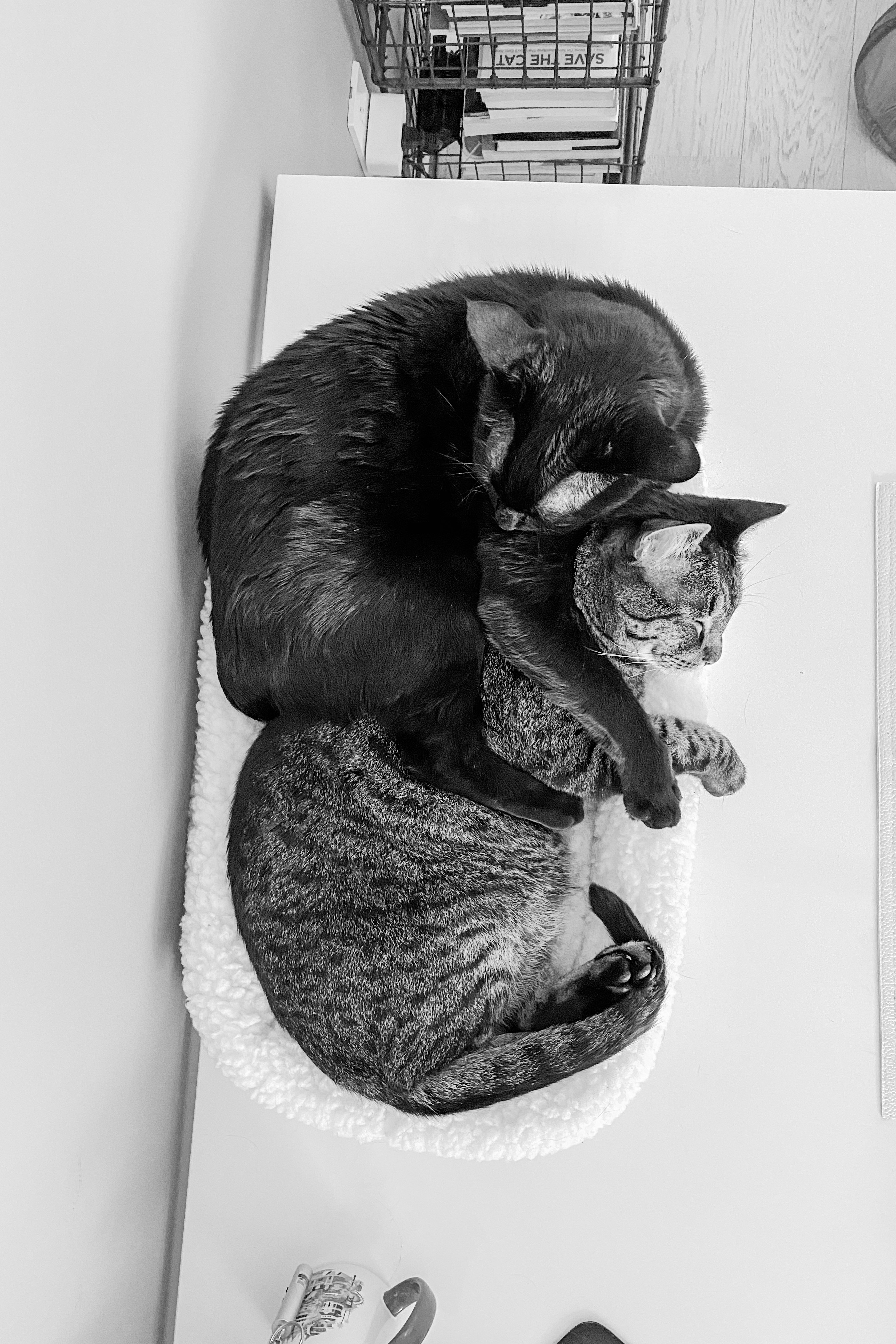 4 PM – Street Walks
Together, we marched up and down the street hoping for a miracle. I knew he wouldn't just pop out of thin air, into the scary broad, noisy daylight, but still I had to shout out to him, just to somehow let him know that we were looking for him. That he was still close to home.
I hoped he had found a safe spot and would stay put until after sunset, when the street was quiet. And he could come prancing home.
Rosalie saw me crying. Sobbing. I tried calmly telling her that Mr.White was gone and I hoped he would come home soon. She would see Sochi inside our house and say, "Where Mr. White go?" "Go find him."
She also randomly mumbled over and over "He be back. Two days."
Initial Search
For the rest of the afternoon, I was in search mode. I couldn't eat. Sleep was not happening that night. And I did everything I could think of to find him.
Up and down the street I walked. Knocking on more neighbors doors begging to be let in.
I made super quick paper posters and taped them to light poles. Knowing fully well that rain was on the way.
I posted on NextDoor and a few Facebook pages. Instagram.
Rosalie finally went to bed. She was so tired. Probably emotionally drained.
8 PM – Dusk
I barely remember what I did after Rosalie went to sleep, I just know I stayed up all night. When the moon was out and all was quiet, I paced the street within 500 feet or so of our front yard. I constantly checked our yard. Over and over I did this. Just hoping that one check would be different than the last.
I finally climbed into bed around midnight, clothes still on. Eyes wide open. Listening for the security camera chimes to ring, signaling that an animal was in our yard. We sometimes get skunks, opossums and a few stray or neighborhood cats. If the chimes went off, I'd leap out of bed and race to the doors and windows.
1 AM – Quiet Cold Moonlight
It was a cold night. 50's. Which is cold for Los Angeles. Rain was coming.
I sat of the stoop of our front door for about an hour. Shaking treats and quietly calling out his name. Clinking a can of food. Scraping the lid between the open can, to make the sound of a freshly popped open can of food.
I had ordered sardines that afternoon – thanks DoorDash – so I was heating those up, mushing them around and putting them outside. Cats have incredible smell receptors so I hoped he would get hungry and come home.
I was constantly googling. Tips. Tricks. How to Find a Lost Pet. I tried all the things….
How I Found My Lost Cat – Tips to Help:
By the first evening I had done all the following things to help find my cat / lure him home…
Searching within a 500 foot radius of home. Indoor cats usually stay put in a spot close to home. Hard to believe at the time though!
Kitty Litter outside.
Putting familiar blankets, toys, beds outside.
Signs up. (Quick ones the day of losing him.)
Asking neighbors to check their yards – or even better, checking yourself.
Shaking treats, food bags.
Clinking a can of cat food.
Warming up smelly cat food, tuna or sardines and mushing it up, putting it outside.
Post on Next Door, Facebook, and neighborhood groups or message boards.
Focus your search on dawn and dusk – when cats are most active and hungry.
Security cameras around the yard – putting up several more for 365 viewing of yard.
Calmly calling his name – or even calling out in a happy voice – not a scared one.
Researching tips from experts. I hooked up with Landa Coldiron and had a consult with her. Incredibly helpful tips and advice.
5 AM – And Then it Rained
It started to rain. Slowly at first. Then buckets of downpours. Drenching the streets, bushes, trees, my flimsy paper signs and all the cat food filled paper plates in my yard become soggy. All my work seemed to disappear into the misty sheets of rain.
around four AM, I passed out in bed for a few hours. A bit of sleep. But once dawn came, I leaped out of bed – adrenalin filled – knowing that dawn would be a time when cats would move around. Look for food. Maybe even in the rain.
But nothing.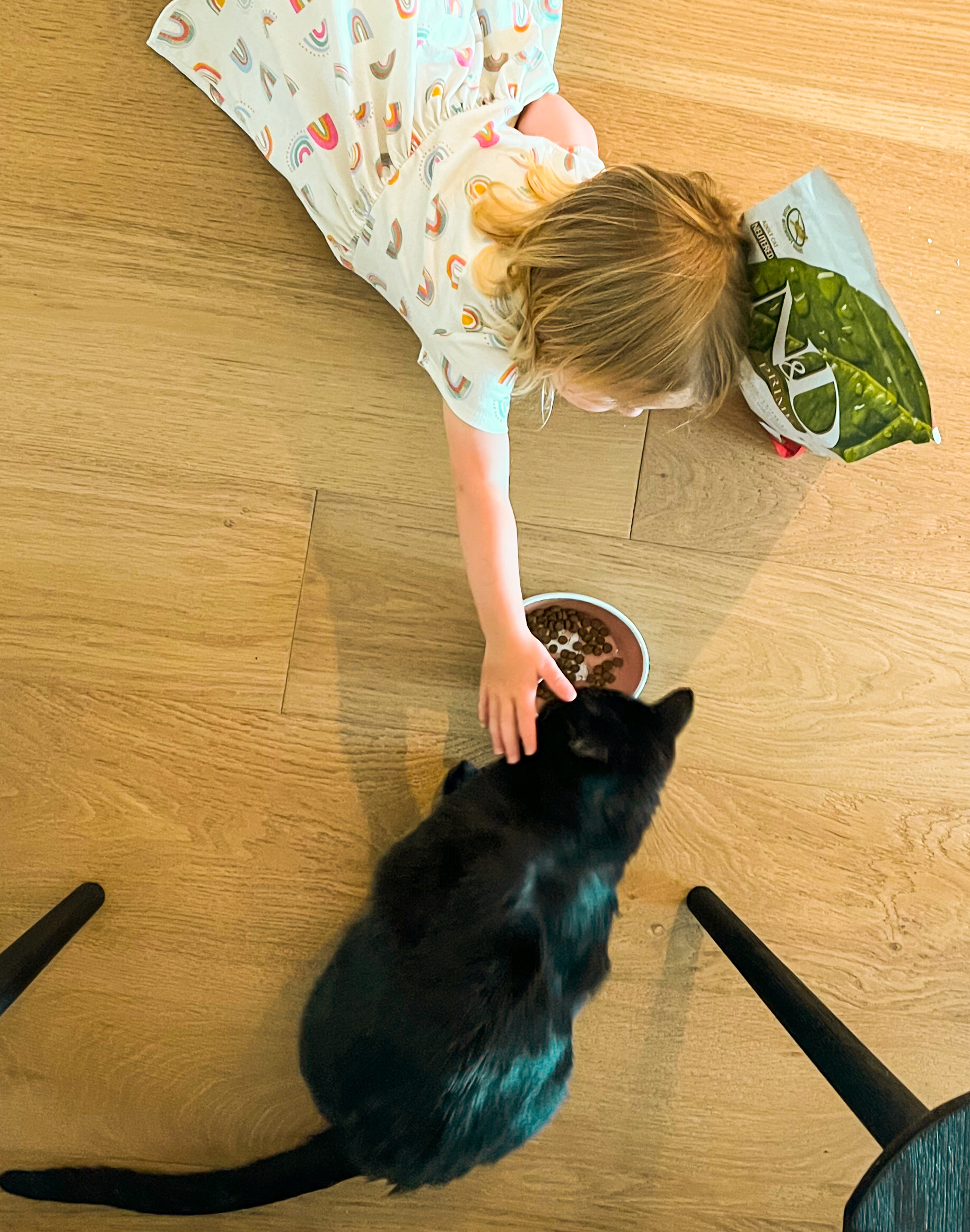 8 AM Friday – More Rain
The reality of losing Mr. White was really starting to kick in. He didn't come home that first night. That felt like a really bad sign. the rain was soul-crushing. I pictured him wet and scared. Rushing from hiding spot to hiding spot, darting away from yellow car headlights. He hated being wet. Even a few drops of water and he would sprint across the house.
When Rosalie woke up, the first words out of her mouth were, "Where White go?"
I tried to explain through tears that he decided to go on an adventure outside. And we missed him. And hoped he would come home. But that maybe he wouldn't. She didn't seem to understand that part. She kept saying. "Go find him."
Dropped Off the Kiddo
I decided to take Rosalie to school. I wanted her to have a "normal day." And not see mommy crying all day.
That was a good idea. I'm glad she got out of the house.
On the drive to school there were more questions about "White." I said through a crackling voice, "Mr. White went outside. And we miss him. And that makes me sad. I hope he comes home. But if not, we know he's having a fun adventure – and he knows how much we love him – and he loves us. And sometimes kitties don't come home."
How I Found My Lost Cat – Tips to Help: Tools
Large flashlight
Humane animal trap with smelly cat food or sardines
Microwave to warm cat food or sardines — no salt added tuna or sardines "people food"
Neon pasteboard for signs
Large sharpie pen
Map of neighborhood for checking off the homes you have searched
list of neighbors with contact info – keep track of progress and stay in touch with key neighbors
Laminator for waterproof photos for signs
Packing tape to "laminate" large signs – cover completely
printer – homemade flyers (see example below – private info has been omitted)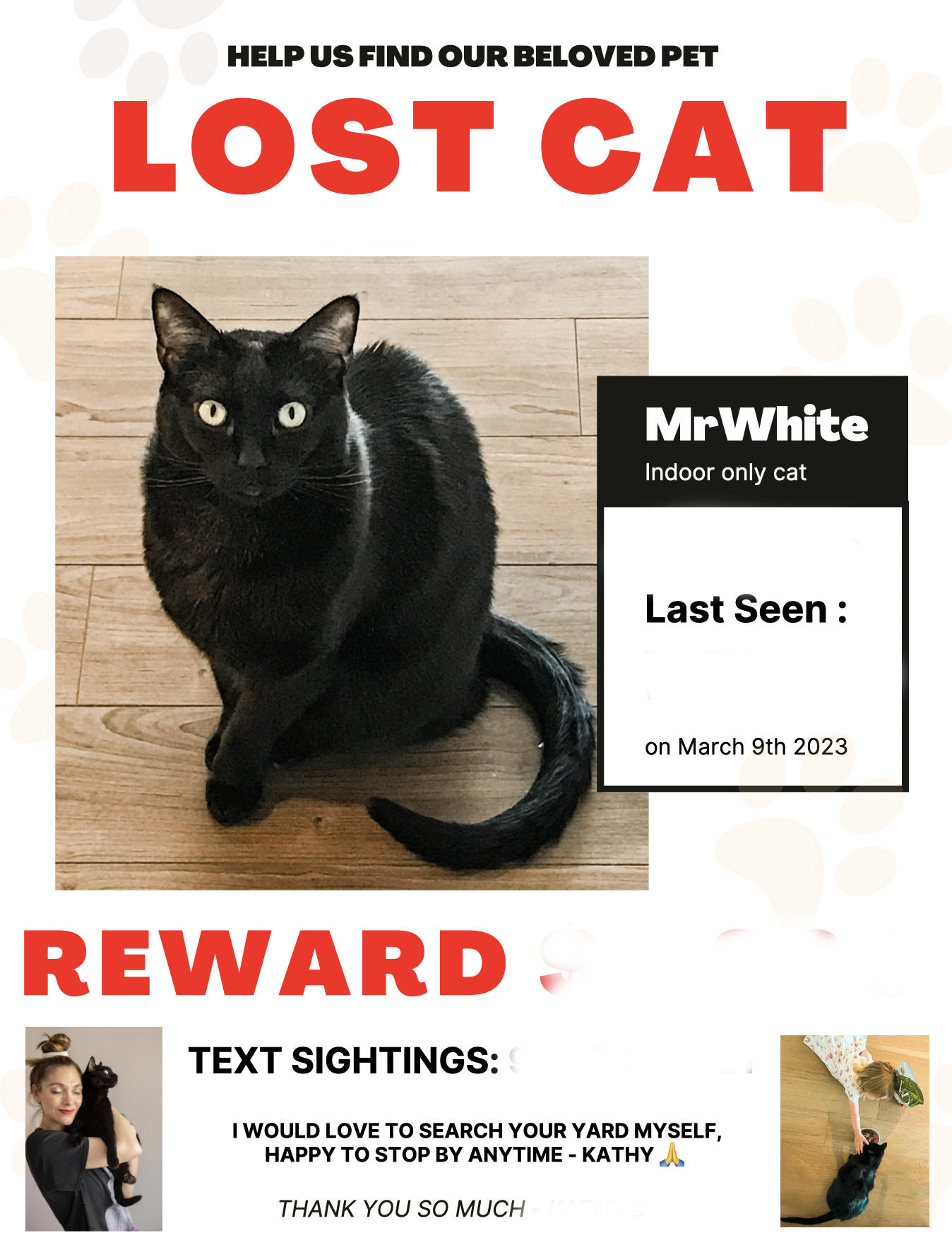 10 AM – Home to Search, Day Two
I drove home through pouring rain. My chest ached thinking of him out there. I was wearing a giant puffy coat to stay warm
The thick drops of rain pooled up on the highway. My car splashed through puddles. I cringed.
On the way home, I bought a large humane animal trap, by the advice of a lost pet expert I had desperately called.
2 PM – Knocking on Doors in the Rain
I went over to another street and begged to be let in. Kind neighbors let me look. With sad faces they watched me pull back wet bushes in their yard. Shine my flashlight under decks and behind fences. Red eyes and a desperate look on my face.
More flyers. More sobbing. The rain got more violent and the air ice cold.
How I Found My Lost Cat – Tips to Help: Internet Resources
Landa Coldiron – phone consult and lost cat recovery guide
Next Door App
Facebook groups
Ring – share to "neighbors" on the Ring App and place as many cameras as possible around your yard
8 PM – Night Two
More tears, searching, neighborhood walks. Flashlight walks, shining under cars, looking for green twinkly eyes in the night.
Searching. Waiting. Trying not to overthink all the dangers out there.
I slept a few hours. I awoke around one AM and did my night whisper shouts and shaking of the treats and clanking of the food. Nothing. I sat on the front porch alone for an hour. Just whispering his name and playing a voice memo of his brother meowing. I held my iPhone high up into the air, hoping the echo through the quiet streets would bounce over fences and into backyards – into Mr.White's ears – letting him know where we were.
8 AM – Saturday Morning
Saturday morning came. The rain paused a bit. So it was a good day to make waterproof signs – expertly designed. Neon pink poster board, large printed photos, just the essential info — a giant black sharpie.
We made the perfect sign and stuck it in our front yard. Then I showered, changed and printed out fifty or so flyers of the same sign. More doors to knock on. I hated this part. But I was desperate.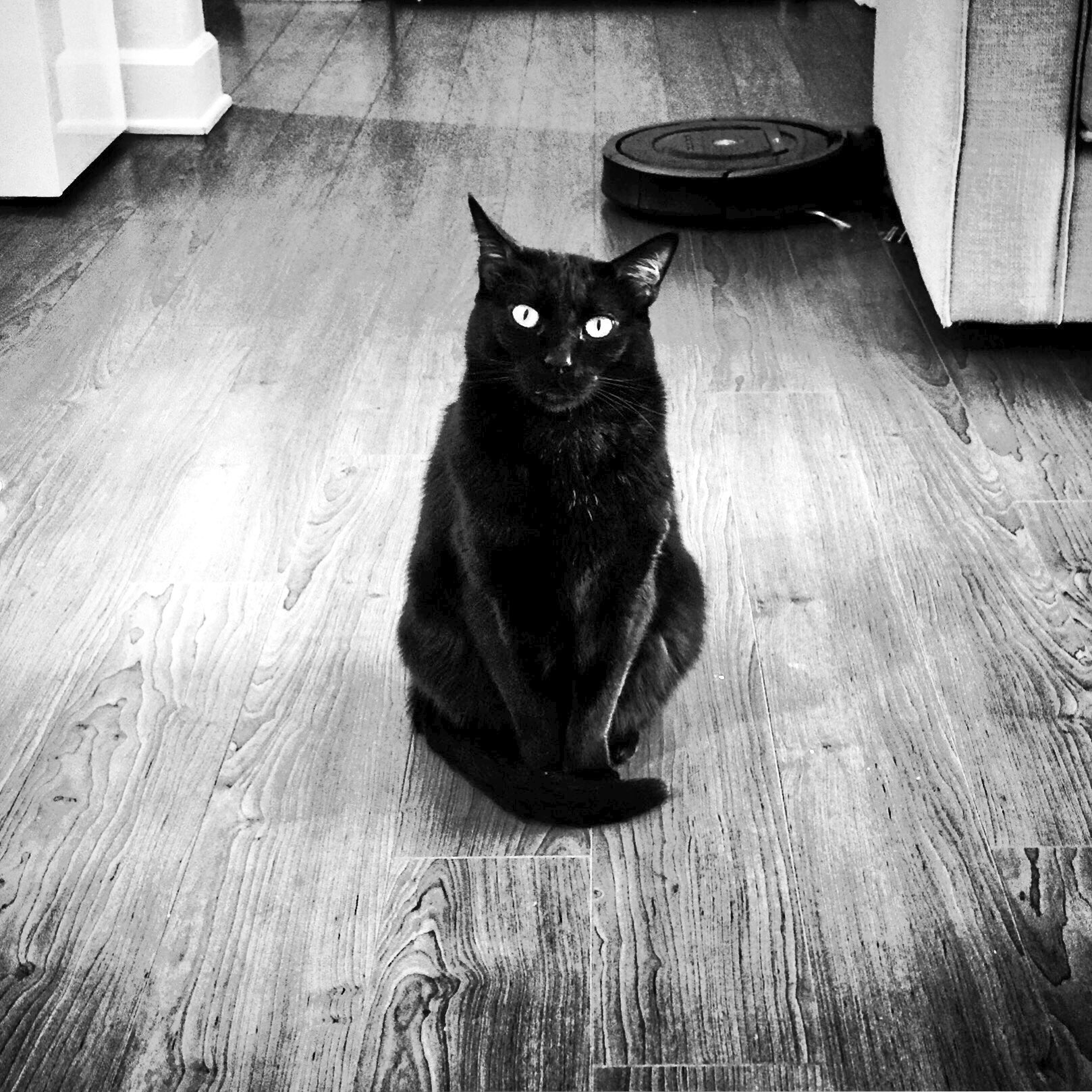 4 PM – More Pounding the Pavement
I walked down the street in my jeans and beige sweater. A sweet side bread. Glasses on. I wanted to look friendly. So people would answer their doors. Some neighbors answered. Some did not.
Up and down the block. I had flashbacks of being a Girl Scout, selling cookies to neighbors.
I made it to the other side of the street and was tired. Rain was coming. I had not gotten ahold of our neighbors across the street and a few doors down, so I knocked – again. Again, knocking on doors took every ounce of my passion to find my kitty cat. I hated this part.
But in the end — knocking on doors is what helped me find my cat!!
One more door. I knocked. A smirking mad opened the door "Still haven't found him yet, huh?" I smiled and played along with the good vibes. "Nope, me again!" I laughed and held up the new and improved flyer. He said he had the original version, 1.0. Ha.
I sheepishly asked if I could check his yard.
He said "Of course!" Thank goodness. Another yard to prowl with my flashlight. I expected another failure.
How I Found My Lost Cat – Tips to Help: Backyard Searching Checklist:
Thick bushes.
Under tarps.
Behind the back fence or wall.
Under barbecues.
Under decks.
Check for any open crawl spaces to the underside of the house.
Behind large pots or AC units.
Low roofs. Roof overhangs.
Along fences, under vines.
Any open garages?
Tarps over cars or under car engines.
Behind garbage cans.
Trees.
Hiding spaces in junk piles or storage piles.
Searching the Final Yard
This yard felt clean. Nothing much. I was just about to leave when he told me to check behind the garage. Behind the garage was a pit, a very large pit. I think my brain thought it looked too open to even consider a hiding space. Just a clean clear spot of first behind the garage. But it was a pit – between a high retaining wall and the garage – a roof extended over it. A dry spot from the rain.
The cement wall lining his yard was so high that I had to stand on my tippy toes to look in. I looked, just a dirt floor. Then I bent my head down and over, looking into the far left corner of the pit.,
I could not believe my eyes when I saw my silky black cat sitting there. Stuffed into the corner. Curled up in a tight bread loaf shape. Pupils wide with fear. Calm and barely moving. Looking straight up at me.
"Mr. White!" I gasped. My body shook.
Adrenalin kicked in. I had to hop the wall. Grab him and hop back over the wall. I feared he would bolt at any moment out of alarm. But he stayed put.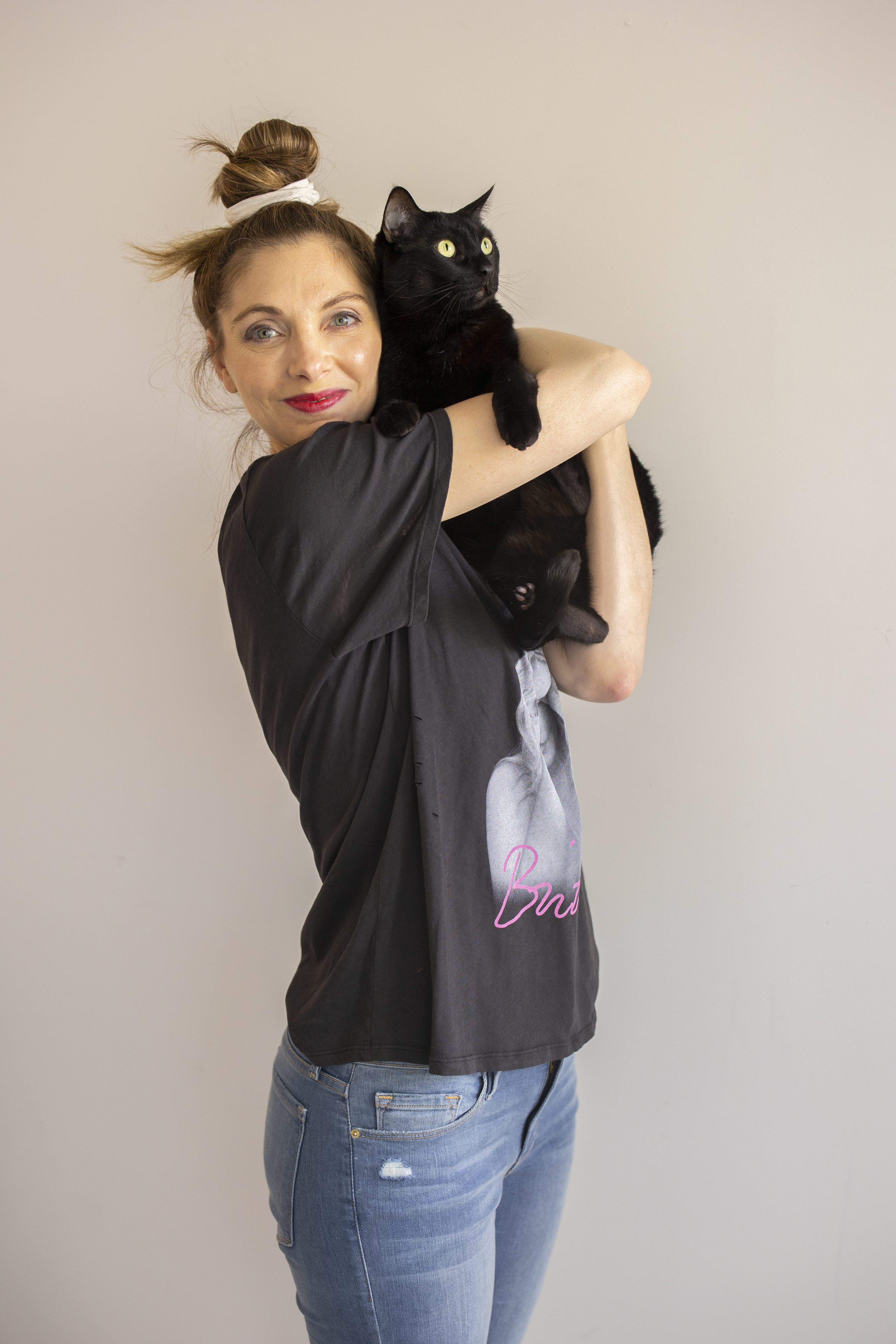 Mr. White knew it was ME. And he knew I was there to save him.
I told the owner of the house to grab a chair. He was in shock that the cat was there. He went back and grabbed a ladder. I calmly talked to Mr.White. Trying to sound happy and normal. "Hi. I'm going to come get you, ok? Stay there."
The main was taking too long with he ladder – so I decided to hop the wall myself. Somehow I pulled up a stubby flower pot and hopped the wall via a burst of adrenalin. I landed on the soggy dirt in the pit. Reached down slowly and scooped up Mr.White.
Once Mr. White was in my arms I felt a warm sense of relief. I had never felt anything like that moment before. It was like I was waking from a bad nightmare, realizing everything was now OK.
Now, how to get back over the wall with a cat in my arms? I don't even know how we did it, but we did. I climbed down his ladder, giddy with happiness.
Then I walked him back across the street to our home. I remember shouting out as I crossed the road, "We found Mr. White for anyone who cares!!" Ha. Omg, I'm such a nerd.
The nightmare was over.
I still can't believe it.
5 PM – Mr. White is Found
I appeared at the back door, holding Mr.White. My husband was in shock and I was ecstatic. Hyper with glee. Rosalie's little face lit up, knowing that we had done something amazing. She gave Mr.White a hug. I still can't believe this is how this story turned out. I was fully prepared for years of therapy. Continued searching. Grief. Guilt. Sadness.
I am so grateful for how things turned out.
And I am so proud of myself.
I did it. Me. I was the driving force in this. I had to be. My husband couldn't walk or drive and I was the one who had to go out there.
I knew I had to find him. I knew I had to scoop him up and bring him home.
And I did.
To Everyone Who Has Lost a Pet
Many of you reading this may be going through the horror and trauma right now. I don't want to tell you that your pet will come home. Because, that is just not always how it works. As Landa said to me, you have to put effort into it. You have to at least try. Your pet is out there.
So while I know 100% that finding Mr.White was lucky, I set myself up to win. I got out there. Used my voice. I searched myself, with my own eyes. Don't rely on neighbors to search their yards. The man who had Mr.White said he looked in his backyard several times. It's not his fault at all, it just takes an owner to really search and have an eye for their pet.
And the other tip I want to say loud and clear is that an indoor only cat is probably close by! They have probably found a save spot in a home nearby and are just hunkered down. So searching those yards is so key.
Search the Yards Yourself. Your Own Eyes.
The other thing is that cats will go where other cats are. We often think that cats avoid each other's territory, but eventually a cat will get hungry and look for where outdoor cats are being fed. So if a neighbor feeds outdoor cats, or if cats come through yards – those are prime spots. The house behind the yard where Mr.White was hiding, had outdoor cats! And cats came through that neighbor's yard via a tiny hole in his from fence. Thank goodness for that hole, or maybe Mr.White would have had to wander further down the street!
I am sending you so much hope and love if you are going through this. It is awful. I was absolutely crushed for those first few days. And I know I would have continued to be severely depressed if things had not turned out so well. Please take care of yourself – amidst your grief.
Eat. Sleep. Try to get outside. Let yourself cry, but also keep moving. Show up. Don't give up quickly. Even if you are tired. But also know that you may need closure at some point. Help yourself find that.
"Grief is love with no place to go." – unknown
Pets are our babies. And when the get lost, we are devastated. I hope every person who loses a pet finds them. But also know that your pet knows how much you love them. They know you are looking for them. They know you gave them the best life ever. That love will always exist. and nothing can ever take that away.
Your pet knows how much you love them. And you gave them an amazing life.
Thank you again for everyone who sent kind messages my way during this fiasco. I love you guys.