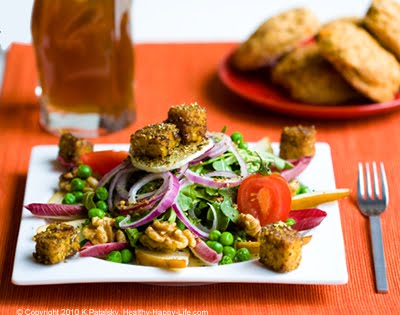 Continuing my Salad Tour Series, we travel to one of my favorite places on earth: Napa Valley, for my Napa Valley Salad with Citrus Maple Dijon Dressing and Lemon Pepper Tempeh Croutons. My recipe is inspired by what Napa cuisine means to me: bright flavors, complex textures and elegant plating.
Napa is such a tranquil, yet energizing place. It is a perfect place to feel well and inspired. This salad recipe will transport you to a hillside picnic in Napa. Breathe in the rain-fresh air as a song-bird-filled breeze hits your sun-drenched face. Ahhh, Napa…
Napa Valley Mud. When you think of Napa, you probably think of wine. Well I think of mud. Sort've. Mud baths to be exact. You see, growing up, my family traveled to Calistoga, just north of the city of Napa, to visit the mud – and the mineral springs pools. OK, we mostly visited the mineral pools, but the mud part is more fun to discuss. A mud bath will change the way you look at…mud. And life. Anyways, so, when I think of Napa, I think of produce, wine, Farmer's Markets and, yes, mud.
Farmer's Markets. I had seen beautiful Farmer's Markets in Northern California, but the Napa markets have a unique elegant style. Since we were on vacation, we basically strolled through the markets quickly, but I do remember a flurry of culinary aromas and colors hitting my senses all at once…
There colors: bright green bell peppers, shiny purple eggplant, rouge-colored berries, fluffy brim-filled bins of fresh baby greens, spiky green artichokes and cheerful green peas. The rain-fresh air allowed for the market aromas to sharpen and tone on the tip of my nose: fresh pungent garlic piled in a heap of white, gray and purple. Spicy spring onions. Sweet golden apples – leaves still attached. Grassy-smelling plump red tomatoes. Lemons, radishes and dark purple kale. There was even fresh baked bread peeking out from crisp white paper bags, resting in a straw basket.
It's not surprising that Napa draws some of the world's greatest chefs and foodies. Let's eat…
Lemon Pepper Tempeh Croutons: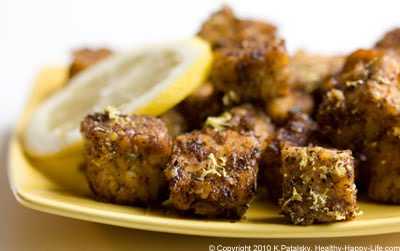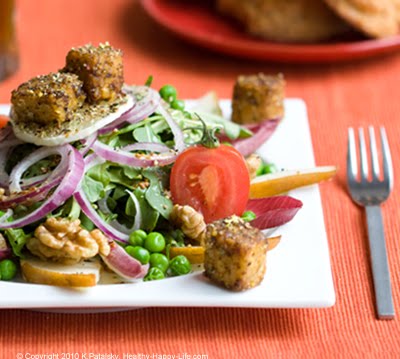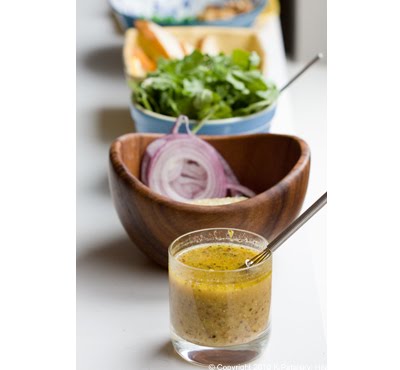 Napa Valley Salad with Maple Citrus Dijon Dressing and Lemon Pepper Tempeh Croutons
vegan, serves 2-3
4-6 cups fresh organic arugula
1 small red onion, sliced thin
1 small bosc pear, sliced thin and long
2 small endives, red or white (about 14 small leaves total)
½ cup oven toasted California walnuts
½ cup steamed peas
2 small vine tomatoes, halved
fresh black pepper
garnish sliced round of citrus, rind removed.
*I used a lemon
optional: sliced figs
Maple Citrus Dijon Dressing
½ white grapefruit, juiced
OR ½ orange and ½ lemon, juiced
1-2 tablespoon EVOO
1 teaspoon maple syrup
1 ½ tablespoon whole grain dijon mustard
dash black pepper
*all citrus is fresh-squeezed
Lemon Pepper Tempeh Croutons
vegan, makes about 24 cubes (Halve recipe if you don't want leftover cubes)
8 oz. tempeh, cubed
1 ½ teaspoon maple syrup + 2 teaspoon water
4 teaspoon EVOO
1 lemon, juiced
1 lemon, zested
fine pepper
1 tablespoon apple cider vinegar
fresh pepper
pinch of salt
Directions:
1. Whisk together the salad dressing ingredients, set aside.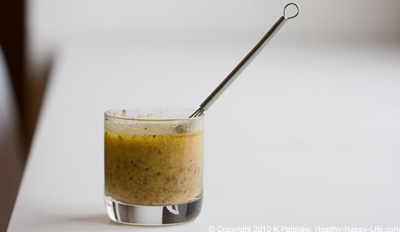 2. Prepare your tempeh: Add oil to pan, over high heat. Add tempeh. Add maple syrup, water and lemon juice. Coat tempeh in pan liquid. Saute for 2 minutes. Add a heavy hand of fine black pepper to all sides of tempeh. Grate lemon zest on top of tempeh. Toss tempeh in pan for another minute. Reduce heat, add vinegar slowly to deglaze the pan. Remove from heat, toss tempeh in a pinch of salt and a few grinds of fresh black pepper. Set tempeh aside.
Lemon Pepper Tempeh: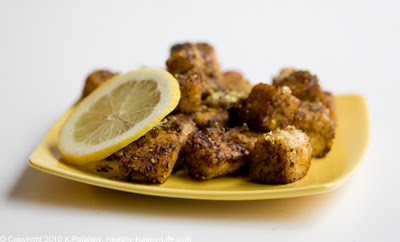 3. Gather ingredients. Prep veggies: slice onion, pear, tomatoes, steam peas. Toast walnuts in oven on high broil for 1-2 minutes. Caution: nuts toast up fast! Don't burn.
Prepped Ingredients: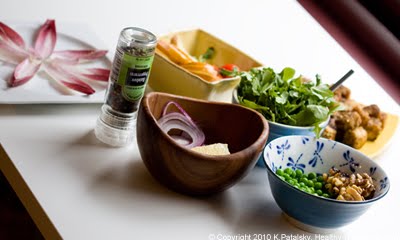 4. Begin assembling salad. Spread endives on plate or in a shallow bowl: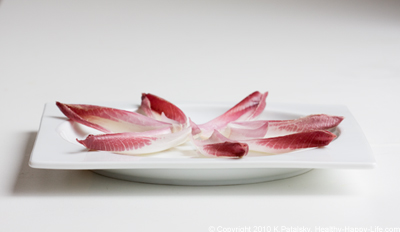 5. Add arugula: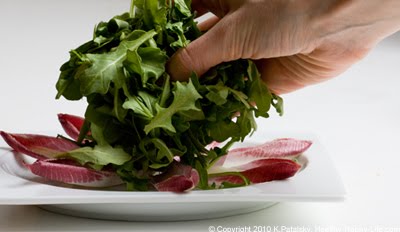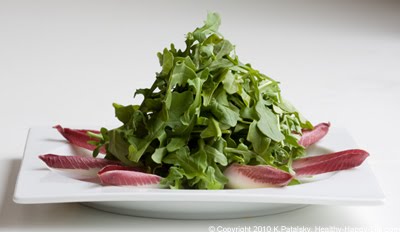 6. Add a drizzle of whisked dressing to arugula and sprinkle around plate: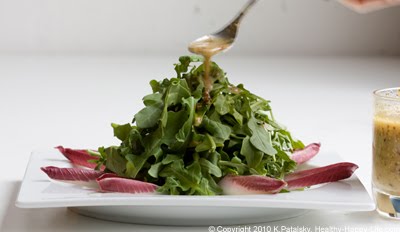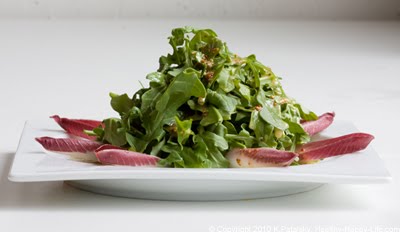 7. Add sliced onions and sliced pears: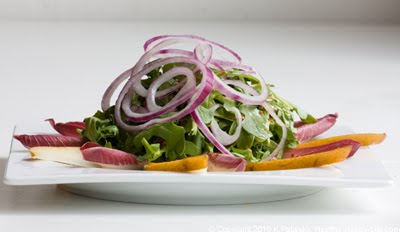 8. Add peas and walnuts: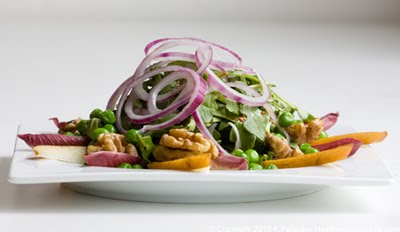 9. Add tomato and a garnish slice of citrus: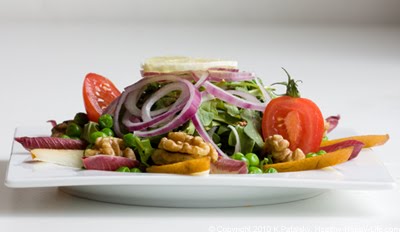 10. Add tempeh: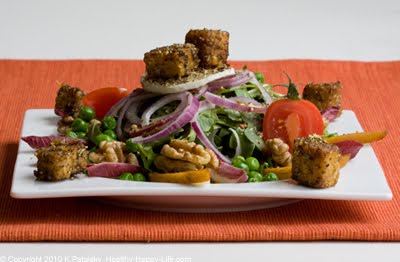 Fork: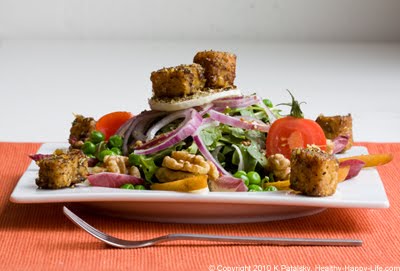 Serve!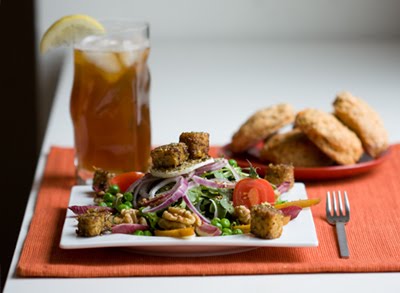 Wine, optional. I added some sweet potato biscuits and chilled lemon suntea to this Napa-style lunch salad.