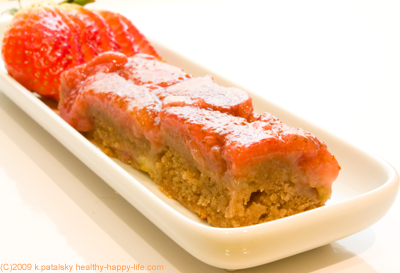 I love movies. So, Oscar Sunday is my version of the Superbowl.
I always like to make something sweet and silly to snack on during the show. And popcorn is so pedestrian. This is the Oscars!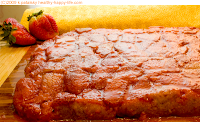 So I dreamed up this recipe for "Red Carpet Ready" Strawberry Upside Down Cake.
It's really more of a muffin-cake than a traditional 'cake'. It goes deliciously with some Poor Man's Fire Chai as an after-dinner treat.
Click forward for the recipe, photos, nutrition benefits and a red-carpet-ready dish worth checking out…
Oscar-Night Recipe: "Red Carpet Ready" Strawberry Upside Down Cake
Ingredients:
3 cups strawberries
1 banana
1 lemon (juice and zest)
1 small pear (Bosc is best)
⅓ cup applesauce
¼ cup + 1 Tbsp. canola oil
¼ cup water
¼ cup soy milk
1 tsp. cinnamon
1 tsp. sea salt
⅓ cup vegan 'dry' sweetener
4 Tbsp. maple or agave syrup
1 box vanilla or plain cake/bread mix (Simply Organics or Dr Oetker brand are great)
-or-
2 cups wheat/white flour, 1 tsp. salt, 2 tsp. baking powder, ½ cup sugar
PREP:
Wash and dry strawberries.
De-stem
Slice into thin long strips. 2-3 thin slices per berry. Try to cut slices that are very red on one side.
Wash, de-core and thinly slice pears.
Peel and very thinly slice banana – into long strips.
Add to large mixing bowl: Strawberry slices, pear slices, banana slices, 2 Tbsp. agave or maple syrup, 2 Tbsp. lemon juice, pinch of salt, 1 Tbsp. canola oil. Toss gently.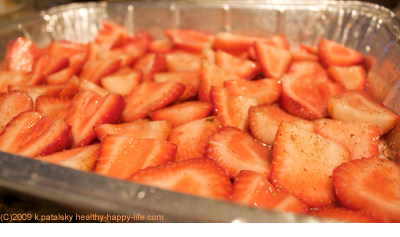 Assembly of Pan:
Use a large cake pan or casserole sized pan.
Grease with canola oil or use wax paper.
Lay out a tightly packed layer of strawberries on bottom of pan. Red skin sides facing down. Cover entire bottom of pan. (Leave about ½ cup of berries for the batter.)
Add a loose layer of the pears atop the berries.
In a large mixing bowl:
Add all remaining ingredients: dry mix, applesauce, lemon juice, soy milk, water, canola oil and sweetener.
Mix well.
Fold in bananas, lemon zest and leftover strawberries (slice thinly).
Add a few more pinches of flour if the batter seems thinner than you'd like. Add more soy milk if you want a lighter, thinner batter.
Pour batter over berries, slowly. Smooth evenly to cover berries.
BAKE:
Bake in a 360 degree oven for 40 minutes, or until top becomes slightly browned. Stick a toothpick in the center to test done-ness. Toothpick should come out dry.
COOL:
Allow to cool on counter for one hour. Then allow to cool in fridge for another hour – at least.
When pan and cake is cooled and firm, loosen edges in pan with a butter knife.
Gently pound the top and side of pan to loosen cake. Then quickly flip over entire pan onto large serving dish. Slowly remove pan. The top will be juicy. And hopefully the cake will not stick to any of the sides.
Cut and serve.
OPTIONAL DRIZZLE FROSTING:
Ingredients:
1 cup vegan cream cheese
1 cup powdered sugar
2 tablespoon canola oil
2 tablespoon soy milk
1 tablespoon lemon juice
1 pinch salt.
MAKE:
Add all ingredients to mixing bowl. Heat in microwave for 30 seconds. Mix with hand blender or briskly with a spoon. Mix until creamy.
COOL:
Cool in fridge for a few hours. Drizzle over cake to serve.
Nutrition Benefits:
Strawberries are high in Vitamin C, manganese and folate. They are low in calories. Only 50 calories per cup. Bananas are high in potassium. Using whole wheat flour adds fiber.