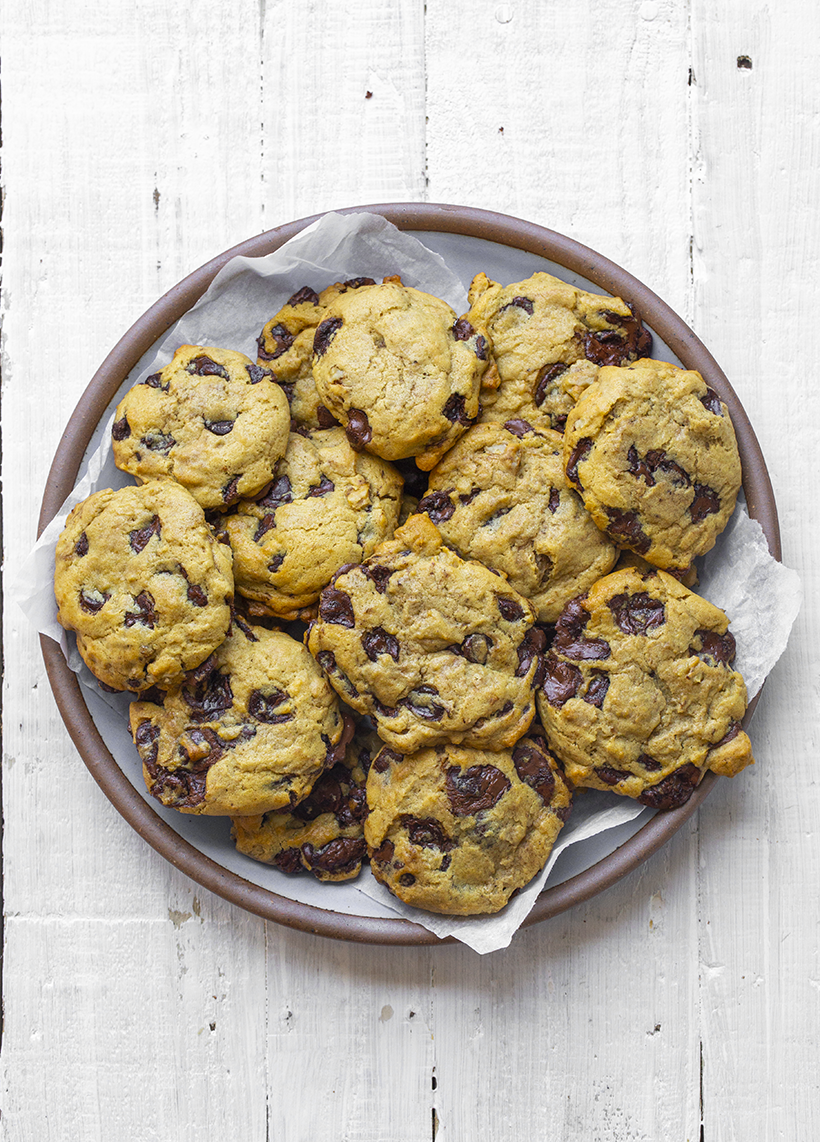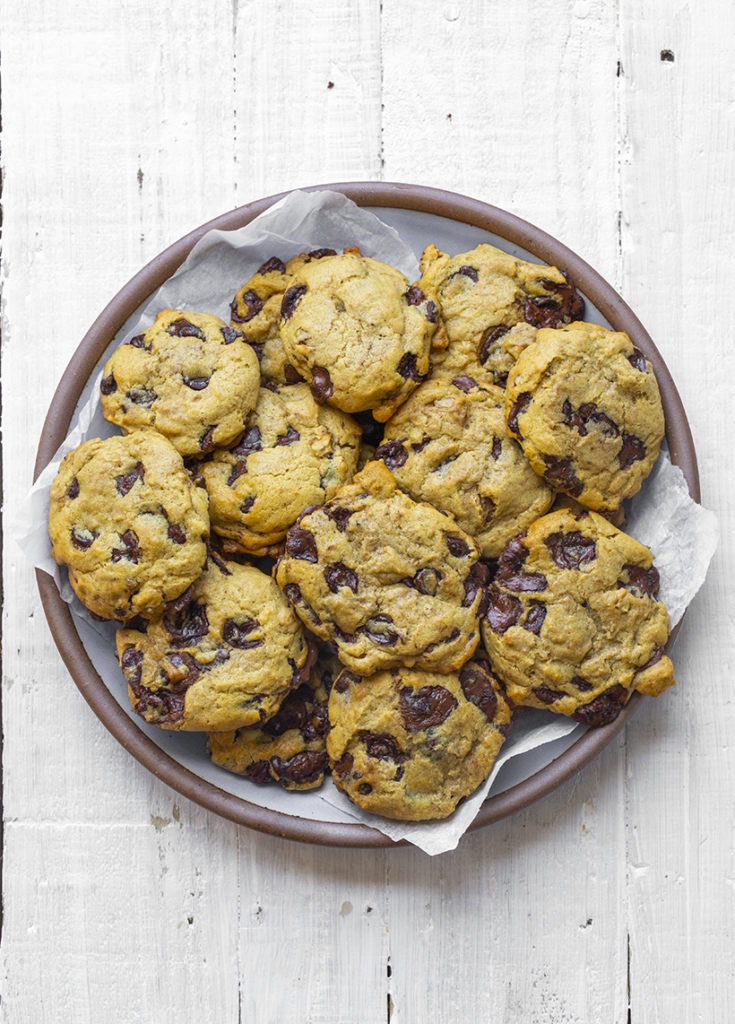 These(Pan-Banged) Vegan Chocolate Chip Cookies are browned and crispy on the edges and bottoms, while super moist, buttery and gooey in the center. Melty puddles of chocolate chips in every bite. Crunchy walnuts and a hint of vanilla. Get this recipe, plus a very loud cookie-baking trick!..
The dough, after a night in the fridge..

Watch me make these beauties!… View this post on Instagram
A fave cookie recipe using tofu and a new "pan-bang" technique I learned! Warm and gooey cookies coming your way… 🍪 recipe on HealthyHappyLife.comA post shared by kathy / healthyhappylife (@kathypatalsky) on Jul 22, 2019 at 3:15pm PDT
Melty chocolate puddles. The chips smash down from the pan-banging process.
So first things first. The trick. I first learned about the "pan-banging" cookie trick while watching an Instagram Live by Gaby or What's Gaby Cooking. Love her. Then i googled and found that indeed, this was a thing. Here are just a few places that chat about this trick and what it does to cookies…
– NYTimes: Internet Famous Pan-Banged Cookies
– Vanilla Bean Blog: Pan-Banging CC Cookies
– Charlotte Observer
…and many more…
These 'pan-banged' cookies are sometimes called 'crinkled' or 'tree stump ringed' cookies.
So what's the Pan-Banging Trick? Well, about two-thirds of the cooking time through, you remove the cookie sheet from the oven and pan-bang the cookies. You plop them onto a flat surface like your counter or cutting board or stove. The cookies will flatten, crinkle and de-puff any round poof that they have. Then you place the pan back in the oven and keep cooking. You can even do another pan-drop at the very end of the cooking process for added crinkling.
Play around with this technique! See if you like it!
I find that the chocolate smashes down too which is really kinda fun. Instead of globby chips, you get sort of pools of spread chocolate.
Tofu. The next thing about this cookie recipe is the silken tofu. This is my go-to cookie recipe and I posted another version of it here. But that recipe used aqua faba. This recipe uses a standard egg replacer. I actually used Neat Egg, which I like a lot. It is a mixture of chia seeds and garbanzo beans. A great sub for that would be a flax egg.
So that's it! I totally love these cookies. They are very buttery and rich, yet fluffy and gooey. Just the edges and bottoms get that nice golden-brown caramel crunch and the insides stay cakey, gooey and dreamy. Melty-chocolate and crunchy walnuts galore.
Vegan Chocolate Chip Cookies
By Kathy PatalskyPublished 07/21/2019
This is my favorite blend of a traditional chocolate chip cookie recipe and some added oomph from silken tofu. i also use an egg replacer for added binding power. Buttery, melty, delicious!
Ingredients
2 sticks of vegan butter – leave at room temp for at least ten minutes before using
3/4 cup organic brown sugar
1/3 cup coconut sugar
1 1/2 Tbsp vanilla extract
1 flax egg or 1 'Neat Egg'
7 oz silken tofu
1/8 tsp salt
1 tsp baking soda
2 1/4 cups all purpose flour
1 bag vegan chocolate chips
1 cup raw walnuts
Instructions
Preheat oven to 350 degrees. Line a baking sheet with parchment paper or a baking mat.
Add all the wet ingredients to a large mixing bowl. Beat until as smooth as possible.
Add in one cup of flour and the baking soda and salt. Beat until creamy. Then add in the remaining flour and beat until fluffy and smooth.
Fold in the chocolate and walnuts.
Chip the dough in the fridge overnight for best flavor — but you could bake right away if needed.
Bake at 350 for ten minutes. Then remove the baking sheet and "bang it" on a flat counter surface by dropping it about 2-3 inches. Make sure the baking sheet stays very flat so the cookies don't slide off. This will help spread and crinkle the cookies! Place the cookies back in the oven for another 4-5 minutes. Optional: sprinkle coarse sea salt over top the cookies before placing back in the oven.
Cool cookies on a cooling rack. Enjoy!
Yield: 2 dozenPrep Time: 00 hrs. 15 mins. Cook time: 00 hrs. 15 mins. Total time: 30 mins. Tags: cookies,baking,chocolate chip cookies,vegan,dessert,chocolate,cookies,
Pin for later..