I am really into super simple meal ideas with cravable flavor pairings like today's simple entree recipe.
Today's recipe for Pesto Pasta with Black Olives is such a simple meal, but there is something so lovely about a creamy, nutty, fragrant fresh avocado pesto sauce combined with the sharp saltiness of black olives. I used a gluten free rice and potato based spiral pasta, that I purposefully overcooked a bit to make to pasta very soft and tender. Then I topped everything with a bit of nutritional yeast. You could also use a vegan Parmesan. I loved this simple dish so much that I plan on making it a comfort food recipe regular! Give it a try..
So this is recipe #14 for my summer 15 series! Tomorrow will be my final recipe before July and I am really happy that I completed my goal of 15 new recipes this month. Thank you for following along! If you have any other summer recipes you would love to see on the blog, as always, send them my way via comments, twitter, facebook, Instagram, email and more. I LOVE hearing from you guys!
Oh, and how is this a summer recipe per say? Summer = simple. Boom.
I guess it is a good sign when you make a recipe for dinner three nights in one week. That was this dish for me. Tonight, I paired this pesto pasta and olives with spicy, taco-sauce smothered Beyond Meat "chick'n" strips. I actually do not use fake meat very often in my cooking, these days, but once in a while I love it. It is so flavorful and easy and protein-packed. I especially love the Beyond Meat strips because they are gluten-free. They can be a bit tough, but that is why it is important to smother them in some yummy sauce, toss them in a casserole dish and let an oven bake them for 20 minutes or so, softening them and infusing saucey flavor.
But anywayyyyyys… Totally got off track there. Sorry.
Onto this simple dish that I love and hope you do too!
This is recipe #14 in the Summer 15!..
Summer15 HHL Recipes:
1. Corn Fritters with avocado salsa.
2. Pink Flamingo Cheesecake Bars
3. Summer Salad in a Jar
4. Copycat Green Tea Frappuccino
5. Sticky-Sweet BBQ Apricot Tempeh Salad with avocado
6. Avocado Hamil-toast (avocado toast with skillet plantains)
7. Cherry Pie Cookies
8. Mother of Dragonfruit Smoothie Bowl
9. Almond Butter S'mores
10. DIY Pink Drink
11. Cheezy Sauce for Pasta with Kale
12. Summer Salad: Chili-Lime Mango-Avocado Quinoa Power Salad
13. Vegan Peanut Butter Cookie Ice Cream
14. Pesto Pasta with Black Olives
15. Cherry Cheesecake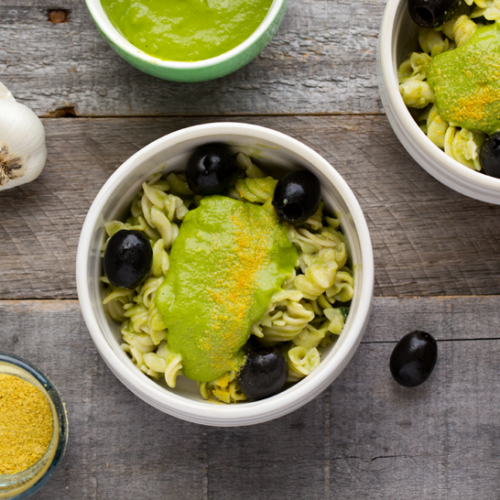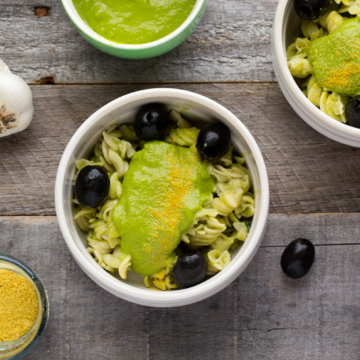 Pesto Pasta with Black Olives
Creamy pesto pasta is accented with salty black olives and a hint of vegan cheesiness from nutritional yeast.
Print
Pin
Ingredients
12 ounces pasta (any variety will work)

pesto sauce

1 can black olives, pitted

4 teaspoon nutritional yeast

optional add-ins: cooked potatoes, sauteed mushrooms, skillet chickpeas
Creamy Pesto Sauce:
1 bunch fresh basil, stems removed (about 2 cups leaves, packed)

¼ cup pistachios (or another nut like walnuts)

tsp white miso paste (if you omit this ingredient you will have to add more salt to the recipe)

1 cup spinach (optional)

1 tablespoon extra virgin olive oil (or sub with the other half of the avocado)

½ avocado

2 cloves raw garlic

¾ – 1 cup water from cooking the pasta

1 lemon, juiced + a pinch of zest

2-3 tablespoon nutritional yeast
Instructions
Fill a large soup pot with salted water and add the pasta. Cook until very tender. I overcooked mine by about 5 minutes for extra soft and plumped up pasta. Drain pasta – reserving about 1 ½ cups for the pesto sauce.

Using a blender, blend up your pesto sauce. You can either use a high speed blender and blend on high for 2-3 minutes to warm up the sauce, or after blending it, simmer it in a soup pot over low heat for 5-10 minutes to warm up before adding to pasta.

Toss the pasta with the pesto and add to serving bowls. Garnish each bowl with 4-5 olives and 1 teaspoon nutritional yeast on top.