"Pink Drink! Pink Drink!" I don't know why I have to say it like that when I serve this drink (twice and enthusiastically), but I do.
Happy first day of summer to you. We are having a bit of a heatwave here in Los Angeles, with temps creeping into the triple digit range. And that has me reaching for tall frosty drinks all day long. Like this simple, sweet, refreshing, summer berry DIY Pink Drink, inspired by a hashtag..
I recently discovered the #PinkDrink. Have you heard of it? It is an off-the-menu drink at Starbucks. I spotted it on Instagram and started trolling the hashtag. Then I popped over to Starbucks to try it. I was excited about it because it is vegan as it comes, made using coconut-based non-dairy milk. Woo hoo!
What it really is.. It is actually the Starbucks Strawberry Acai Refresher drink, made using coconut milk. So you get a creamy, sweet cold beverage. I tried it and it was super yummy. It reminded me of strawberry milk I make using almond milk and fresh berries — only a bit sweeter with a bolder berry flavor.
I decided to give the pink drink a bit of a "no sugar added" makeover. This DIY Pink Drink is super easy and really fun for summer with its light pink color and fresh berries to garnish.
The Starbucks version has these ingredients and flavors..
Ingredients: Ice, Strawberry Acai Base [Water, Sugar, White Grape Juice Concentrate, Natural Flavors, Citric Acid, Natural Green Coffee Flavor, Fruit And Vegetable Juice, Rebaudioside-a], Water, Freeze-dried Strawberries.
Flavors: Sweet strawberry flavors are accented by passion fruit & acai notes and lightly caffeinated with Green Coffee Extract.
DIY Makeover. So I decided to simplify the flavors and stick to just fresh or frozen organic strawberry — OR — watermelon. And then use a secret ingredient to add the signature pink sweetness..
My secret sweet ingredient: Medjool dates! These worked SO perfectly for sweetening my non-dairy milk! I was really impressed with the results.
Flavor Options Berry or Watermelon: The real signature flavor of the Starbucks version is that creamy sweetness. So that is where those dates come in. Then you can add the pink berry (or melon!) flavor as you'd like.
For my DIY version, you can use any red fruit. I experimented with organic fresh strawberries and frozen watermelon and loved the results.
You can also do a combo of frozen watermelon and strawberries. OR you could try raspberry or even cherry.
Note: Using frozen fruit will create a frostier blend. And the more fruit you use, fresh or frozen, the thicker your drink consistency will be. See the video for two versions of the drink.
Get the recipe + video below. #PinkDrinkHHL
This is recipe #10 in the Summer 15!..
Summer15 HHL Recipes:
1. Corn Fritters with avocado salsa.
2. Pink Flamingo Cheesecake Bars
3. Summer Salad in a Jar
4. Copycat Green Tea Frappuccino
5. Sticky-Sweet BBQ Apricot Tempeh Salad with avocado
6. Avocado Hamil-toast (avocado toast with skillet plantains)
7. Cherry Pie Cookies
8. Mother of Dragonfruit Smoothie Bowl
9. Almond Butter S'mores
10. DIY Pink Drink
11. Cheezy Sauce for Pasta with Kale
12. Summer Salad: Chili-Lime Mango-Avocado Quinoa Power Salad
13. Vegan Peanut Butter Cookie Ice Cream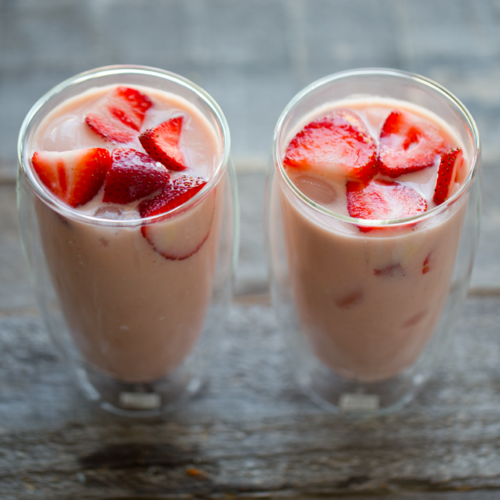 DIY Pink Drink
This refreshing pink drink contains strawberry and date sweetness. Serve over ice for a refreshing summer beverage.
Print
Pin
Ingredients
1 ¼ cups non-dairy milk (try coconut-based or almond milk)

2 Medjool dates, pitted

3-4 strawberries (fresh or frozen) and/or 2-3 cubes watermelon (frozen)

garnish: 2-3 thinly sliced fresh strawberries

ice to serve

optional: ½ teaspoon acai powder (for a hint of that signature acai flavor)
Instructions
Add the non-dairy milk, dates and pink fruit to a blender.

Blend until smooth. Note: using frozen fruit will make for a frostier blend. The more fruit you add the thicker your pink drink will be when poured.

Serve over ice with fresh strawberry slices on top of each poured drink.