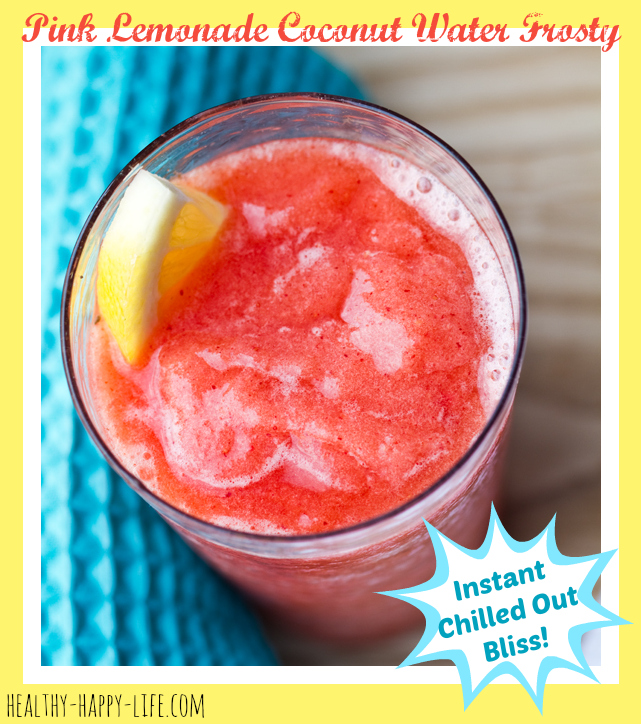 Cool off with this Pink Lemonade Coconut Water Frosty. Rich in electrolytes, antioxidants – and low in calories – this is your go-to, light and lovely beverage as the weather warms up.
Perfect as an after-workout hydration beverage (bright pink – colored by berries – not chemicals like most "hydration" beverages.) Grab your blender and get ready to say "Ahhhhhh!" as you chug this frosty glass..

Change it up! You could easily add-in or swap fruit in this recipe. Blueberries, bananas, pineapple, mango, kiwi, melon and so many more. Use fresh or frozen fruit – frozen fruit will give you an icier beverage.
Use "unflavored" coconut water – and make sure it contains no added sugar! And if you can find fresh coconuts (those clunky big white things in the produce section at Whole Foods) – go for it. Fresh coconut water is AWESOME.
Low Calorie Version – around 100 calories..
11 ounces coconut water = 60 calories
½ cup strawberries = 22 calories
⅓ cup frozen peaches = 18 calories
ice/lemon = minimal
Pink Lemonade Coconut Water Frosty
makes one tall glass
11 ounces coconut water (unsweetened)
⅓ cup frozen peaches
½ cup frozen strawberries
¾ cup ice (use coconut water ice cubes if desired)
2 tablespoon fresh lemon juice
optional: drizzle of agave or maple syrup for added sweetness
optional: mint would be lovely added to this sip
optional: make it creamier + sweeter by adding ½ frozen banana
Directions:
Blend.
Pour.
Enjoy.
Say "Ahhhhh!"