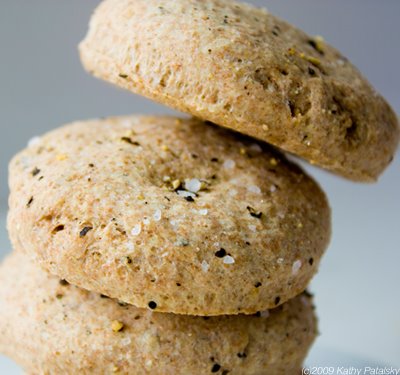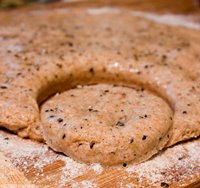 Another vegan biscuit recipe to warm your kitchen and crank up the cozy in your day. These are delicious savory Sea Salt 'n Cracked Pepper Spelt biscuits. They are made with coconut oil for a moist flaky texture and exotic coconut essence. These biscuits are perfect for a breakfast sandwich, dinner side or mid-day tea snack. And house-made recipes don't come any easier than this…
Spelt Flour. Spelt flour is gaining a lot of attention these days. Why? It is easier to digest that traditional gluten-containing wheat flours. In fact, some individuals who cannot tolerate gluten from wheat, can digest spelt flour quite well. A good explanation comes from About.com:
"Spelt is similar to wheat in appearance. However, spelt has a tougher husk than wheat, which may help protect the nutrients in spelt. Spelt flour has a somewhat nuttier and slightly sweeter flavor than whole wheat flour. Spelt contains more protein than wheat, and the protein in spelt is easier to digest. This means that some people who are allergic to wheat may be able to tolerate spelt. Spelt has gluten, just like wheat, so spelt is not suitable for a gluten-free diet."
Cracked Pepper. I love the strong bite of flavor that comes from black cracked pepper. I use a simple hand-held mill grinder from Trader Joe's. It breaks up the peppercorns thickly, so it works perfectly for this recipe. Try not to substitute the thick pepper for all fine, unless you want less black pepper bite. But then if you don't want that, maybe you should stick to my sweeter Sweet Potato Biscuits.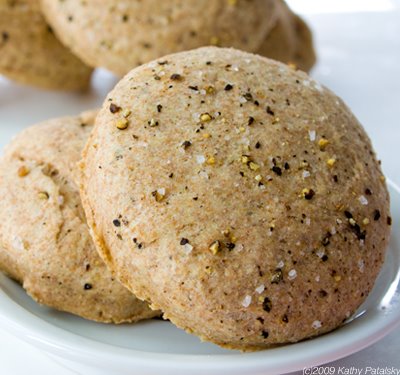 Sea Salt 'n Cracked Pepper Spelt Biscuits
vegan, makes 10
2 cups spelt flour
1 tablespoon baking powder
⅓ cup virgin coconut oil, room temperature
¾ cup warm water
1 tablespoon agave syrup
1 teaspoon sea salt
1 teaspoon black pepper (fine)
½ teaspoon thick ground cracked pepper (hand grinder pepper mill)
Topping:
coconut oil glaze
kosher salt or coarse sea salt
thick cut cracked black pepper (hand grinder pepper mill)
*tools: I use a simple juice glass to cut my circle biscuits.
To make:
Set up a baking sheet with parchment paper and a light olive oil spray. Set aside.
Combine dry ingredients (spelt flour, baking powder, salt, pepper) in a large bowl.
Add coconut oil, agave syrup and warm water.
Mix until a dough is formed.
Add more flour if needed.
Knead on floured surface for 2 minutes.
Begin using your fingers to press out the dough into a ¾ inch thick circle.
No rolling pin is needed…
Brush rolled out biscuit dough with coconut oil.
Sprinkle a bit of coarse salt and thick cut/ground black cracked pepper.
Next, use a circle cup or a circle cookie cutter to cut out 2-3 inch wide circle biscuits.
Before baking, brush the sides of the biscuits with coconut oil.
If you want to add even more sea salt/pepper, go ahead. But don't over-sprinkle the salt!
Bake in a preheated to 375 degree oven for 9 minutes.
For crisp bottom biscuits-lay the baked biscuits directly on the oven rack for an additional 2 minutes of baking.
Serve warm. Eat in a few days or freeze for later use.
Photos for baking process….