Summer is a busy season. I mean, there are vacations to go on. Sunshine afternoons to soak in. Beach days to enjoy. Cool drinks to sip. Daydreams to have. Farmer's markets to stroll through. Lazy evenings of relaxing twilight sounds. Sangria to sip. Picnics to pack. Hikes to go on. Smoothie bowls to garnish. And adventures to take. With that kind of schedule, it can be tricky to squeeze in long hours in the kitchen.
But really, summer meals are the best because you can use fresh ingredients, keep the "cooking" to a minimum and make things simple. This Freshly Picked Summer-in-a-Jar Salad is a perfect example of that!
This salad is loaded with some of my fave summer flavors like white peaches, avocado, summer corn, collard greens and more – a sassy sweet maple-mustard dressing too. Vegan and gluten-free and perfect for "in-a-jar" preparation. Make a day ahead of time or make it in the morning and bring it with you on your summer adventures.
And follow along, this is my third recipe in my Summer 15 Series!..
Loads of my summer faves in one jar..
How to eat a "salad-in-a-jar?" There are two ways. You could literally stick your long fork into your jar and eat it layer by layer only lightly tossed. But the best way is to give it a stern shake then pour it out into a bowl and serve. So ideally, you do not actually eat it out of the jar, but you can.
The beauty of salads-in-a-jar is that you can prepare them ahead of time and they keep very well in this layered design. Make 'em, stick 'em in the fridge and look forward to eating them! The layered prep design keeps the ingredients separate until you shake, shake, shake, so the salad doesn't get soggy.
If you are taking the salad on-the-go you can bring some reusable glass tupperware or another bowl that is easy to pack.
Skillet chickpeas! I did a simple paprika-maple mixture, but you could add a thicker layer of spices – like here – if you have time..

This is recipe #3 in my Summer15 Challenge! details here.
Summer15 HHL Recipes:
1. Corn Fritters with avocado salsa.
2. Pink Flamingo Cheesecake Bars
3. Summer Salad in a Jar
4. Copycat Green Tea Frappuccino
5. Sticky-Sweet BBQ Apricot Tempeh Salad with avocado
6. Avocado Hamil-toast (avocado toast with skillet plantains)
7. Cherry Pie Cookies
8. Mother of Dragonfruit Smoothie Bowl
9. Almond Butter S'mores
10. DIY Pink Drink
11. Cheezy Sauce for Pasta with Kale
12. Summer Salad: Chili-Lime Mango-Avocado Quinoa Power Salad
13. Vegan Peanut Butter Cookie Ice Cream
I did another salad-in-a-jar post a few years ago: How-to Make a Salad-in-a-Jar.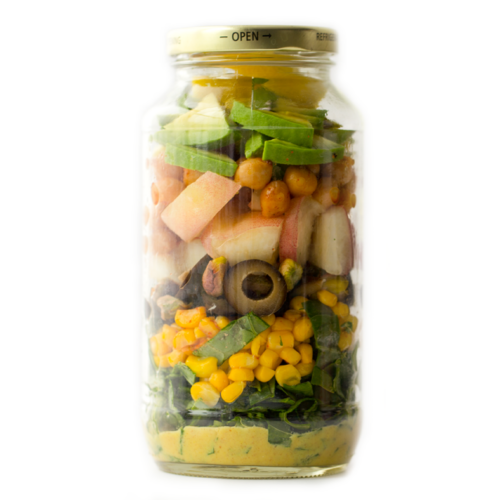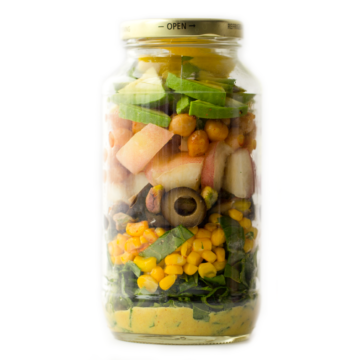 Freshly Picked Summer in a Jar Salad
This salad in a jar contains peaches, collards, avocado, corn, olives and a maple mustard dressing. Vegan entree salad. Dig in!
Print
Pin
Ingredients
6 medium collard leaves, de-veined and thinly sliced

1 large white peach, organic

½ avocado, diced

8-10 large black olives, pitted and sliced

1 cup summer corn kernels, warmed

1 cup chickpeas

2 tablespoon pistachios, raw (whole or chopped)

about ½ teaspoon smoky paprika

¼ teaspoon extra virgin olive oil

4 tablespoon maple-mustard dressing

1 lemon

optional: a drizzle maple syrup for the chickpeas
Instructions
First, whisk together your maple mustard dressing. Add two tablespoons to the bottom of each of the jars.

Warm the corn in a skillet, over high heat, then toss with ⅛ teaspoon of smoky paprika and a pinch of salt. You could also add ½ teaspoon vegan buttery spread if you'd like. Add the corn to the jars.

Add the olives, pistachios and diced peaches to the jars.

In the same skillet, add ¼ teaspoon extra virgin olive oil, along with the chickpeas. Warm the chickpeas for 2-3 minutes to lightly brown. Finish by adding ¼ teaspoon smoky paprika and a drizzle of optional maple syrup to the pan. Toss in pan. Add the warm chickpeas to the jars.

Add the avocado to the jars.

Squeeze half of the lemon into the jars (distribute between the two jars) – right over top the avocado. Then add a few slices from the other half of the lemon right on top of the avocado and seal the jar. Enjoy same day or the next day. To serve: shake jar vigorously and empty into a serving bowl. Salad will keep at room temperature for a few hours, but no longer.