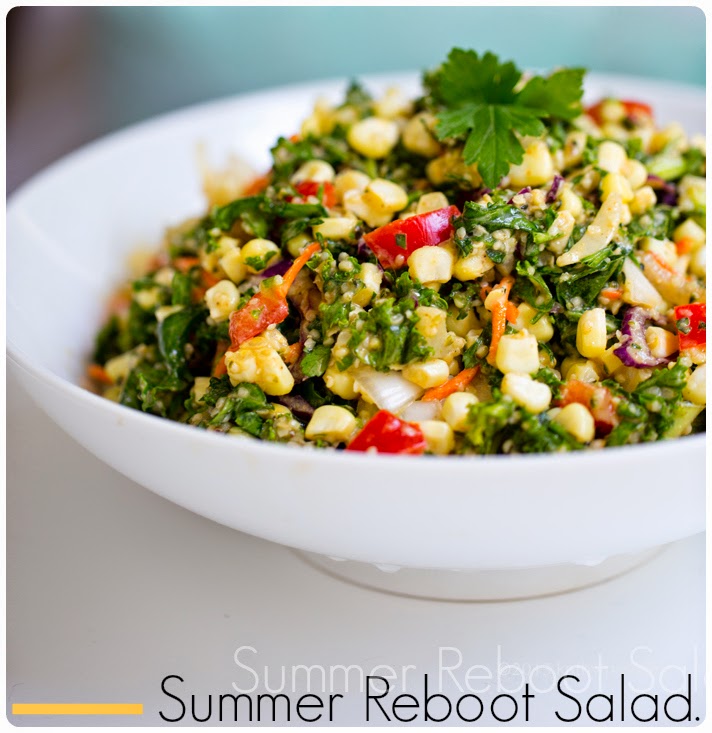 I think I inspired myself on this one. After writing up my 15 Fave Salad Dressings post I found myself craving .. salad! And since my fridge produce drawer was overflowing with summer goodies, I knew I had to whip something up.
This Summertime Reboot Salad features marinated kale, crisp, sweet, lightly cooked summer corn, vibrant red bell peppers, sweet white onion, some carrots, cabbage and a generous handful of finely chopped flat leaf parsley. The dressing contains all my favorite flavors: white miso (rich in probiotics!), tamari, tahini, grade B maple syrup, a splash of rice vinegar and my own custom blend of spices to accent these delicious summertime-infused flavors. Plus, I folded in a generous amount or raw organic hemp seeds to add fiber, protein and omega fatty acids.
Make-Ahead. Or not. I love this salad because you can make it during the day (whenever you have 15 minutes to spare to whip it up) – then just stick it in your fridge and it will be ready to pull and serve at dinnertime. Some salads will wilt in the fridge, but hearty kale leaves, moisture-absorbing hemp seeds and crunchy onion and peppers hold up very well in the fridge.
Or you can eat it right away. It tastes amazing within seconds of tossing the ingredients together.
This salad will remind you how yummy simple veggies can be when properly seasoned and prepped with some TLC.
Craving a delicious salad to reboot your body and make you just feel amazing? Lets go..
Some fun interview news: I will be a guest on Marilu Henner's AWESOME radio show next Friday – August 2nd. You can listen online. The show repeats all day long so you can listen at any hour you choose. If you listen live you can call in to chat with Marilu or ask guests questions. I have been listening to her show all week and just love it. Her show discusses "life through the prism of health." –> MariluShow.com
Reboot Salad. This is one of those big bowl salads that you really have to chew, digest and let absorb slowly into your body. In other words, do not eat a giant bowl of this stuff and head out for a five mile run. But all the goodness in these greens, veggies, seeds and corn is going to make you feel amazing. Salad glow you can call it.
To make this salad a meal, try adding some tempeh croutons or miso-dipped tempeh logs on top. Fold in a handful of beans or cooked grains like barley, quinoa or farro to the salad. Or add a dollop of hummus on the side. Or serve with my super fast chipotle sweet potato soup. You could also add a side of rice or a side baked sweet potato just to round things out a bit. Or add a side of sprouted grain toast slathered in vegan mayo if you crave. These spunky, green, sweet, miso, tamari, tahini, maple flavors go with so. many. foods. – you can really embrace the versatility of this recipe. Serve as a side or entree salad.
Corn Nutrition: Even though corn is incredibly sweet, it is still incredibly healthy. One ear of corn has around 75 calories, 1g fat, 3g protein and 2-3g fiber. It contains some vitamin C, thiamin, folate, phosphorus, magnesium and more.
..but really, the best part is how sweet and delicious corn is.
How to Eat Summer Corn. Did you know that you totally can eat corn right from the stalk – raw? Yup. It is pretty yummy that way. Crisp, juicy and sweet. It is an odd texture and taste the first time you try it, but then once the sweet fresh flavor registers on your taste buds you will be loving it! OK, or not. Fresh corn is a unique taste and I'm guessing some of you may prefer the cooked version. But at least give it a try! One tip: wash your corn very very well if eating raw. (Just like any veggie really.)
I personally like my corn "lightly cooked" So instead of boiling until the kernels are deep golden yellow, I boil for a very brief 2-3 minutes. This softens the corn and cooks a bit, but still retains that lovely fresh summer flavor.
You can use raw, cooked or slightly cooked corn in this salad. Actually grilled or roasted corn would be amazing too.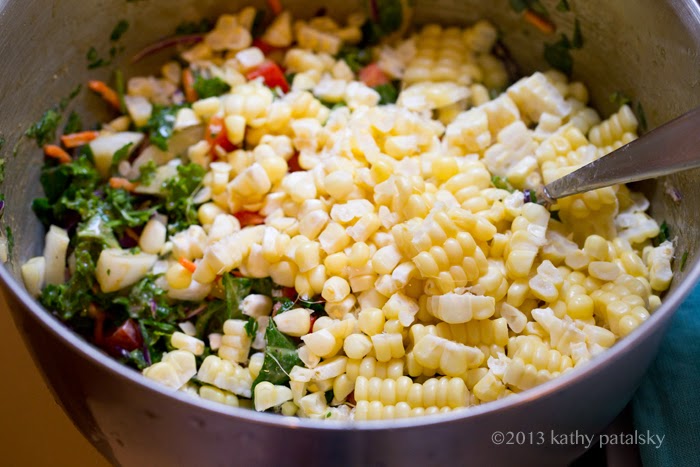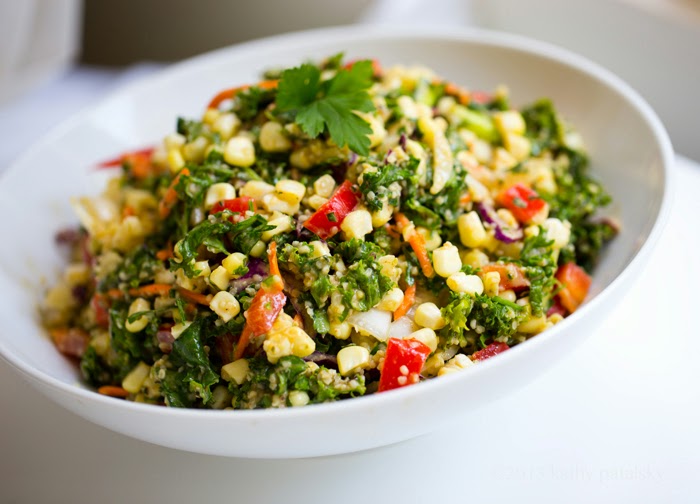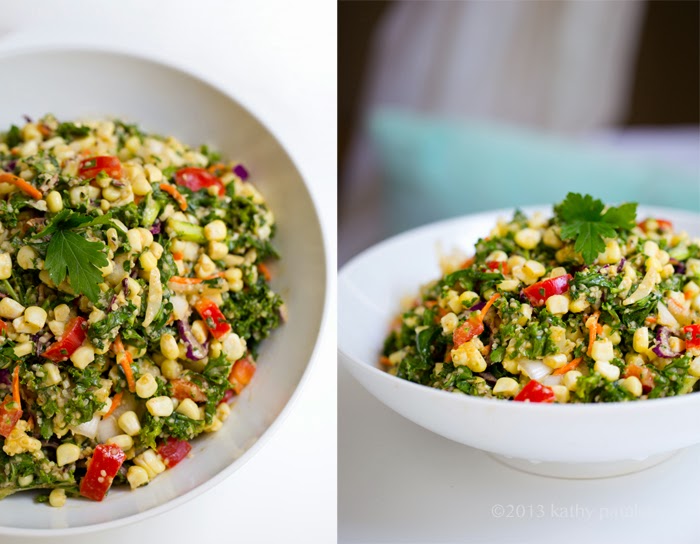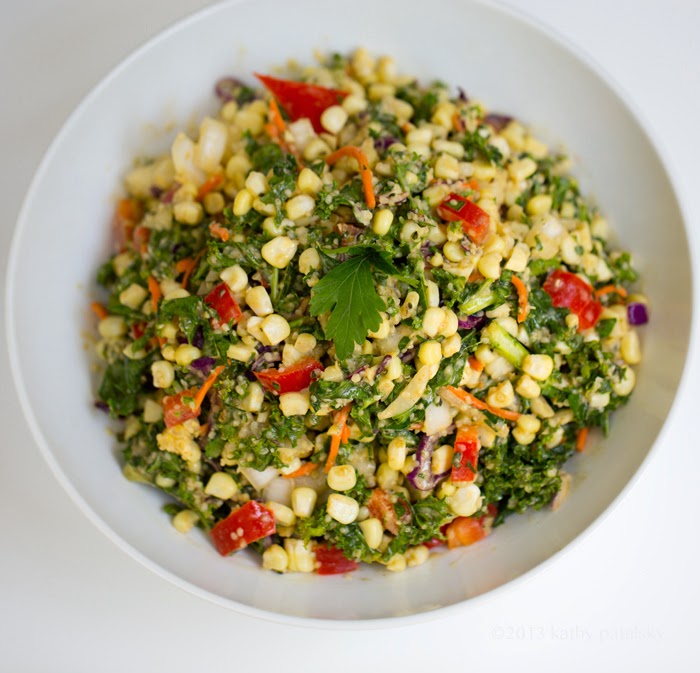 Summertime Reboot Salad: Kale + Sweet Corn
vegan, serves 4
2 ears of summer corn
4-6 cups kale, washed and finely chopped (remove thick stems)
1 small red bell pepper, diced
¼ cup shredded carrots
1 small white or sweet onion, chopped
¼ cup chopped red cabbage
⅓ cup raw organic hemp seeds
Sweet Miso Tahini Dressing:
2 tablespoon white miso paste
1 ½ tablespoon tahini
1 ½ tablespoon grade B maple syrup
1 tablespoon extra virgin olive oil
1 ½ tablespoon tamari
1-2 tablespoon seasoned rice vinegar (apple cider vinegar, lemon juice or unseasoned rice vinegar can also be used)
spices:
pinch of fine black pepper
¼ teaspoon coriander
pinch of cayenne
This salad would be amazing with miso-dipped tempeh logs
Directions:
1. Boil water in a large pot. When water is boiling, drop corn and cook for 3-5 minutes, until the color darkens a bit. (You can cook shorter or simply serve corn raw if you'd like.) Pull corn from pot and set aside to cook a bit.
2. In a large salad tossing bowl, add all the dressing ingredients (including spices) and with a spoon start whipping until smooth and creamy. Set aside.
3. Prep your veggies. Wash/dry kale and remove tough stems. Chop finely. Also finely chop the flat leaf parsley. Chop onion and bell pepper. Chop cabbage and carrots (if adding). Add all prepped veggies to large salad bowl with the dressing in it.
4. Toss the veggies with the dressing very well. Toss for a few minutes until the veggies have absorbed much dressing and the kale has wilted down a bit. (If you'd like to add more or different veggies, go for it.)
5. Grab your corn and carefully slice off the kernels and add directly to the salad bowl. I usually use a bread knife and hold the corn cob carefully with a paper towel so it doesn't slip. Add both cobs – about 1 ½ cups of kernels.
6. Toss the warm corn with the salad. This will further wilt and marinate the veggies.
7. Add in the hemp seeds and toss.
8. Do a taste test. You can alter the flavor if desired. Add more rice vinegar for a wetter, tangier flavor, more oil for a richer texture or more miso, tamari or table salt for more salt. You can also add more veggies if the dressing as is is too strong for you. Just add in another handful of chopped kale or other veggies and toss.
Serve right away (slightly warm) or allow to marinate and chill in the fridge for up to 8 hours. If storing in the fridge over 8 hours you may want to add dressing later and just set prepped veggies in the fridge covered.