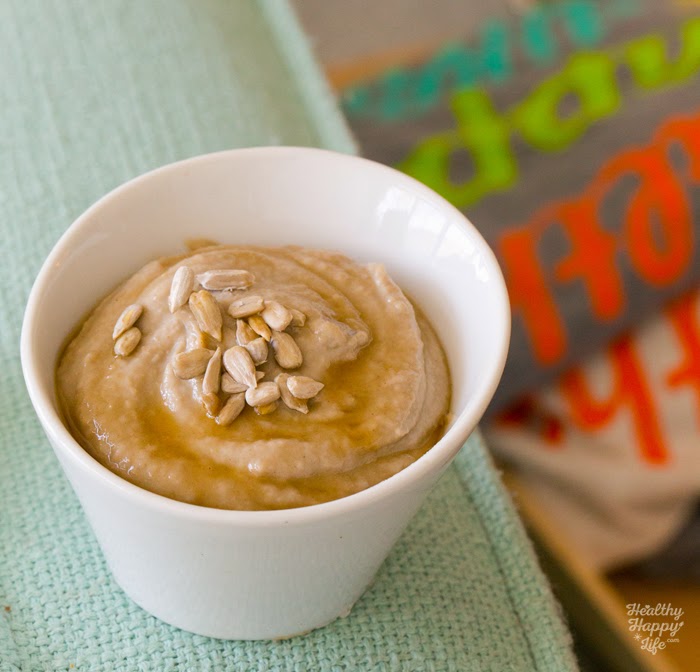 I recently chatted with a friend about how her five year-old daughter who is deathly allergic to peanuts, is now also allergic to almonds. My mind quickly went to "What will she have on her sandwiches and in her nut butter cookies??"
I felt awful for this sweet, wide-eyed, feisty little girl especially because I have always, always hated the go-to nut butter alternative: Sunflower Seed Butter. Well, until now that is. This stuff in insanely yummy, and I share both a silky, light, oil-free version — and a thicker, chunky, richer version. Blend up some yummy Sun Butter today and fall back in love. Fun in the sun..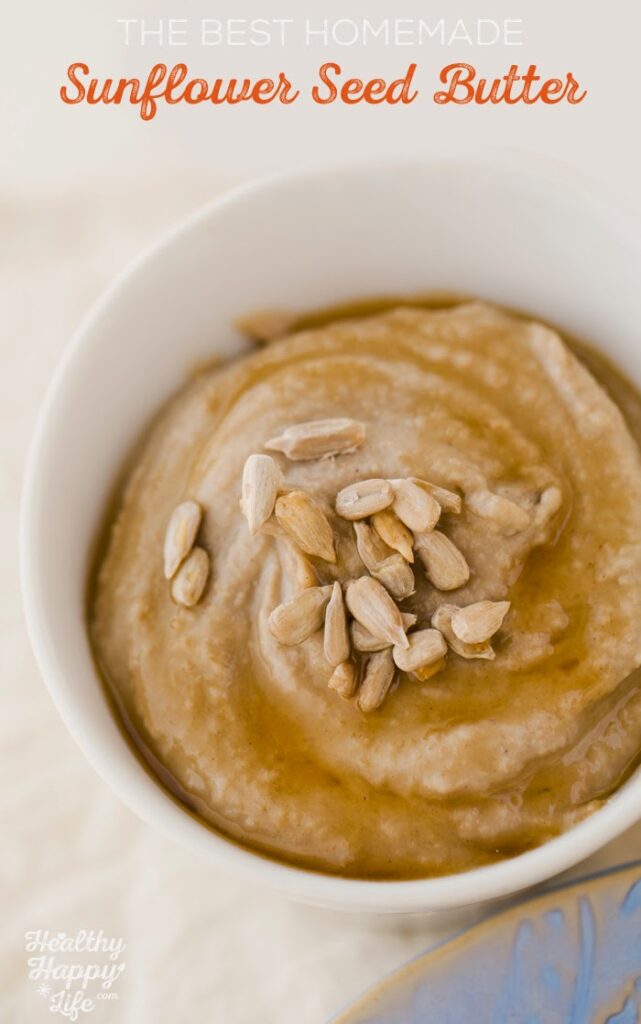 Before this recipe, the only sunflower seed butter I had ever tasted was store bought. The store bought stuff, to my memory, is usually a dark brownish gold color, super silky and a bit oily. The flavor is not really like peanut or almond, but rather its own sunflower seed flavor, a bit too milk to be called nutty, I always thought. No offense to those of you who do love store bought sun butter. But I just never could get excited about it.
But THIS sun butter has a velvety, lovely flavor that highlights the simplicity of buttery sunflower seeds by adding in pink salt, maple and a hint of cinnamon and maybe even vanilla, if you'd like. Vitamix blender bliss recipe!
Watch the video version! And a small request that would mean so much to me – if you'd like, please subscribe to my channel and never miss a video 🙂 Thank you much. (Trying to build my channel so I can feel motivated to bring you guys higher quality videos from my kitchen!)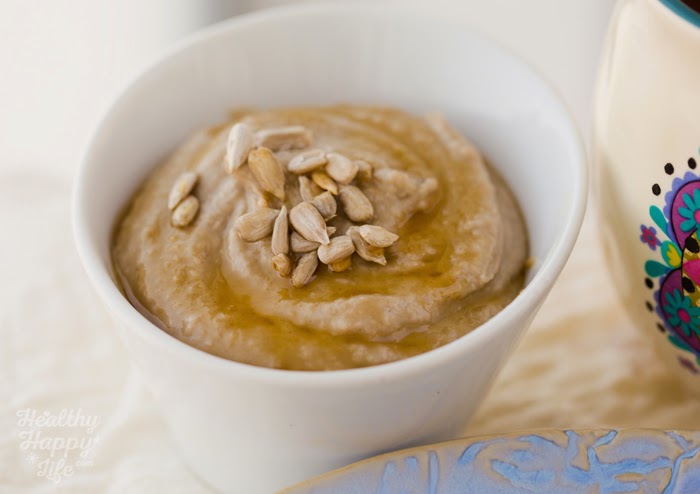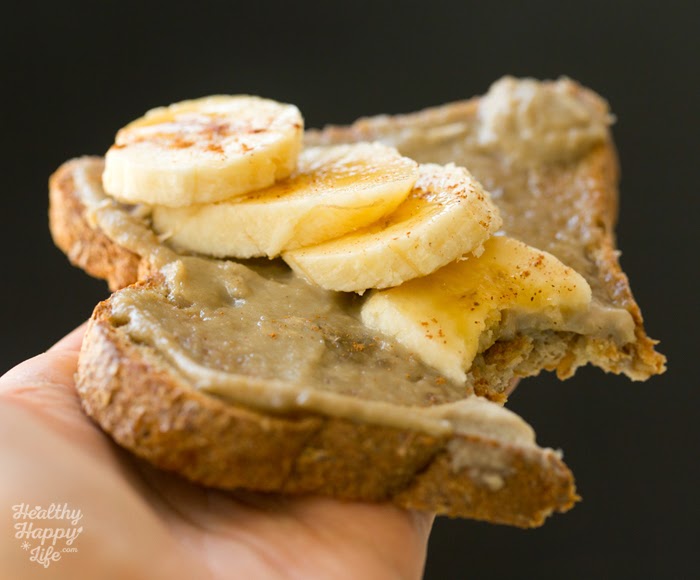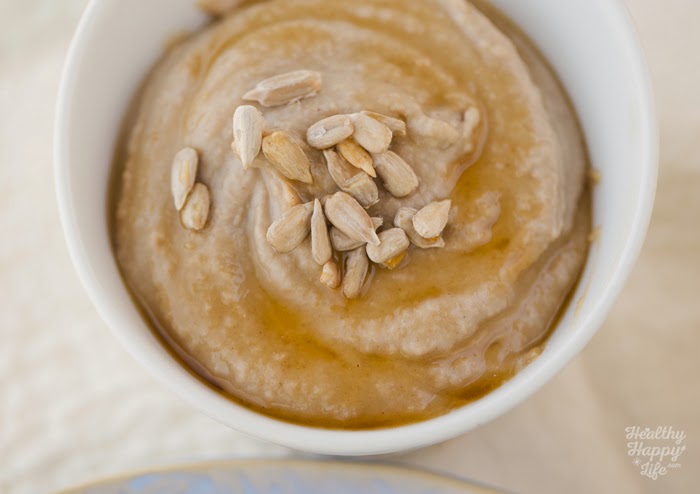 The color is a greyish-beige since raw sunflower seeds are silvery in color. If I were to do one thing differently with this recipe, I might add soaked Medjool dates instead of the maple syrup as the sweetener, in hopes that they would darken the color a bit. To resemble a true nut butter a bit more. But after one taste, I totally forget about the color.
The flavor is amazing! Lightly nutty and salty sweet. I made TWO versions. For the thicker version, I love the sticky creamy texture. It really thickens up when chilled too! The silkier, oil-free version is also so lovely.
Both versions can easily and delightfully be spread on toast, apple slices, celery sticks, PB&J … aka SB&J, is delicious added to smoothies and even for baking. Sunflower Butter Cookies anyone? (That post comes next!)
I am so happy that I have this recipe to share with my nut sensitive readers and friends!
Blending Tip! You may have to WORK you machine a bit if going to a really THICK sun butter (or any nut butter even). But just keep at it until the perfect texture forms. And do not forget that nut or seed butter will thicken up in the fridge when cooled. It will thicken up A LOT if you use coconut oil, since coconut oil turns rock solid in the fridge. Blend in high and adjest water and dry ingredients until your perfect butter forms.
My recipes are great, but do not be afraid to modify your butter a bit based on your own texture, flavor and richness preferences.
Enjoy! And it is FUN to make SUN butter in a Vitamix. I love watching it blend and swirl and turn from crunchy seeds into silky goodness!
So even if you "hate sun butter" like I did, give the homemade version a try!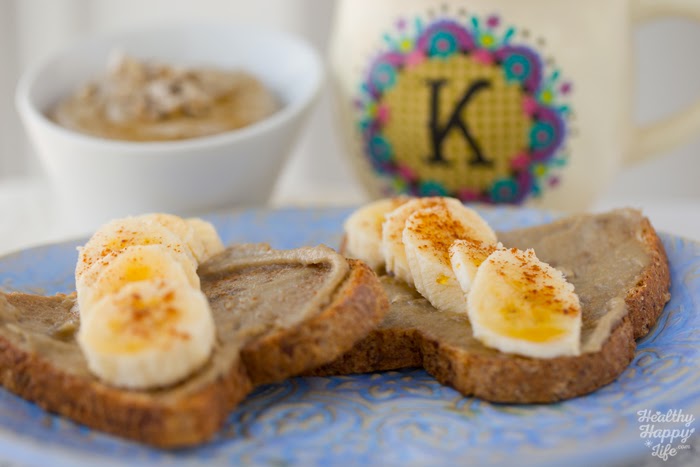 You will need a high speed blender of food processor to make this. I used my S30 Vitamix. Grab your for a healthy happy spring and summer and forever. Use my Vitamix link for free shipping!
And in my next post I will show you want I made with leftover sun butter! #Cookies. SO GOOD.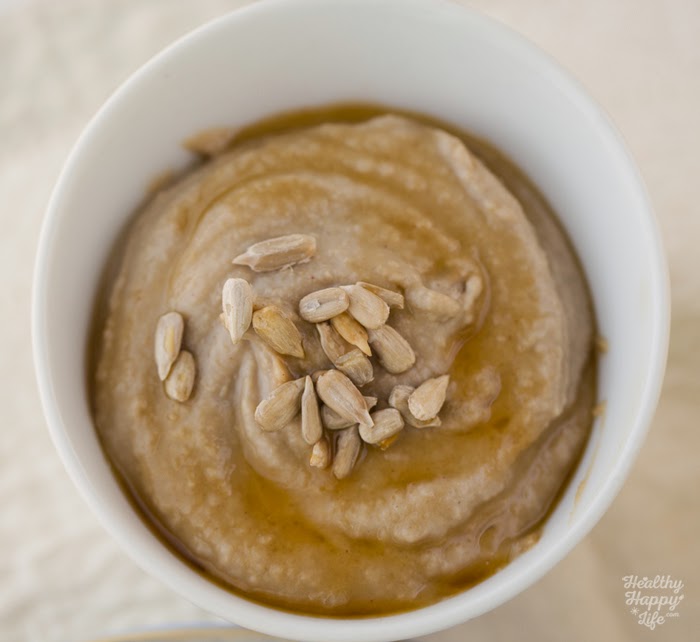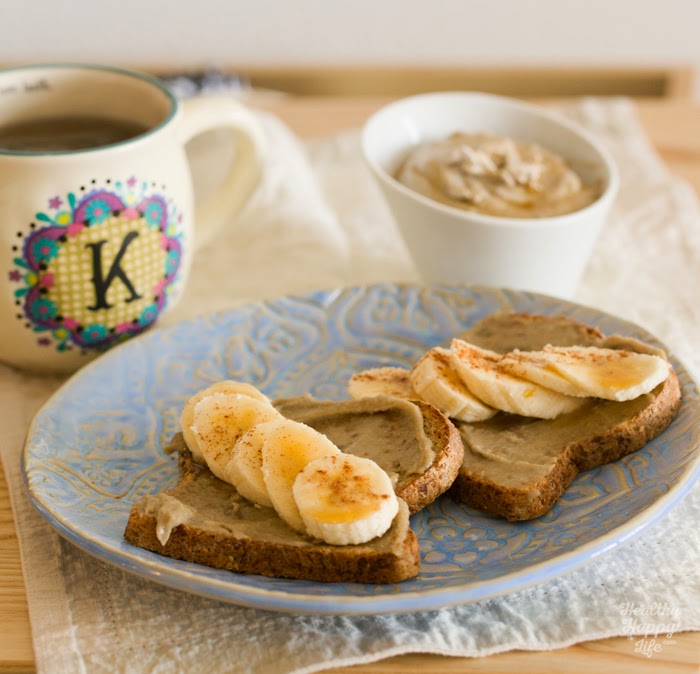 Sunflower Seed Butter
By Kathy Patalsky
Published 03/27/2015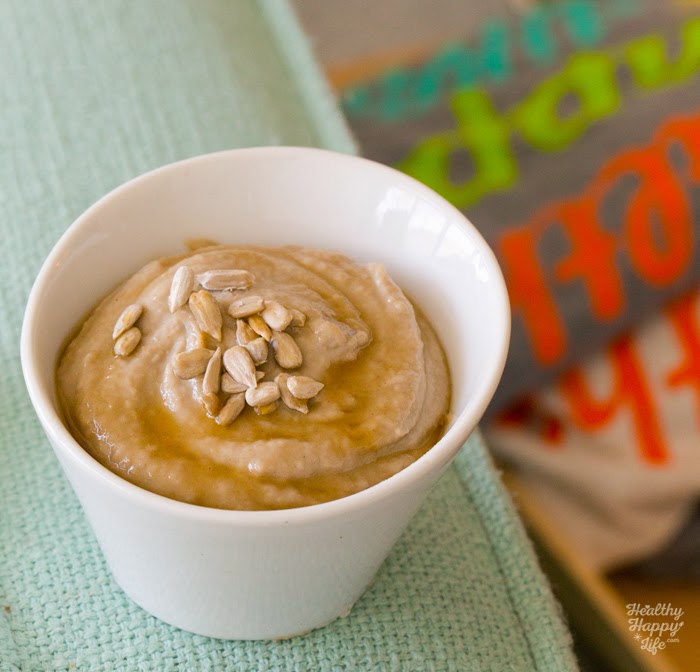 Two versions! The first is a silky and creamy, oil-free sun butter that nutty and lovely with accents of maple, pink salt and cinnamon. The second has the same flavors with more intensity due to less liquid, and blends up a bit thicker with richness from coconut oil.
Ingredients
silky creamy version: (oil-free, my fave!)
1 cup raw sunflower seeds, unsalted
3 tablespoon maple syrup, grad B
½ cup water
¼ – ½ teaspoon pink Himalayan salt (to taste)
cinnamon to taste — optional drop of vanilla extract
*add another 1-3 tablespoon sunflower seeds to thicken
note: both recipes will thicken up when chilled in the fridge!
——
thick, rich and crunchy version:
1 cup raw sunflower seeds, unsalted
¼ cup maple syrup, grade B
1 heaping tablespoon virgin coconut oil
¼ – ½ teaspoon pink Himalayan salt
*add water as needed to blend
Instructions
Add all ingredients to a Vitamix and blend until smooth. You may need to scrape down the sides if doing the "thick" version — or use your Vitamix tamper.
Salt and season to taste with pink salt, cinnamon, vanilla extract and even a bit of cayenne if desired!
Tips:
Serve warm or chilled. Chilled butter with thicken up quite a lot!
To thin out butter, add more water or oil.
To thicken: add more sunflower seeds.

Just be sure to blend blend blend on HIGH until smooth.
Yield: 1 ¼ cups
Prep Time: 00 hrs. 10 mins.
Total time: 10 mins.
Tags: sun butter,sunflower seeds,maple,snack,kids,sunflower seed butter,vegan,nut free, allergy friendly,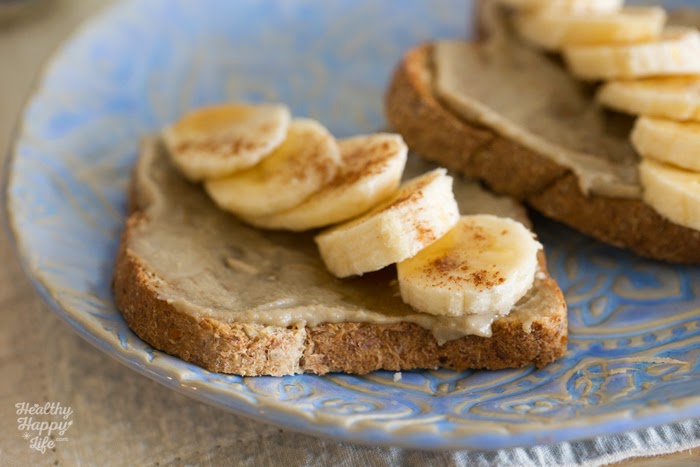 Ps. HHL TEES. Apparently, enough people requested to be on the waiting list for HHL Tees.. so you have a second chance to snag one – for the next 9 days only! Teespring Campaign here.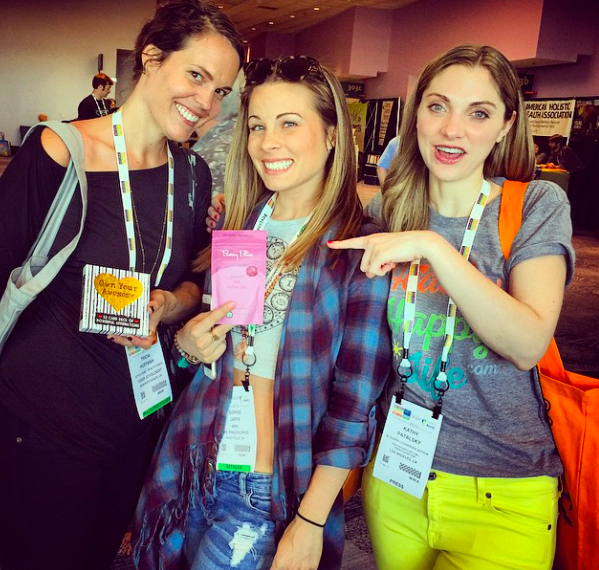 *disclosure: This post contains a Vitamix affiliate link. Ready to buy the best blender ever? Get free shipping by using my link!