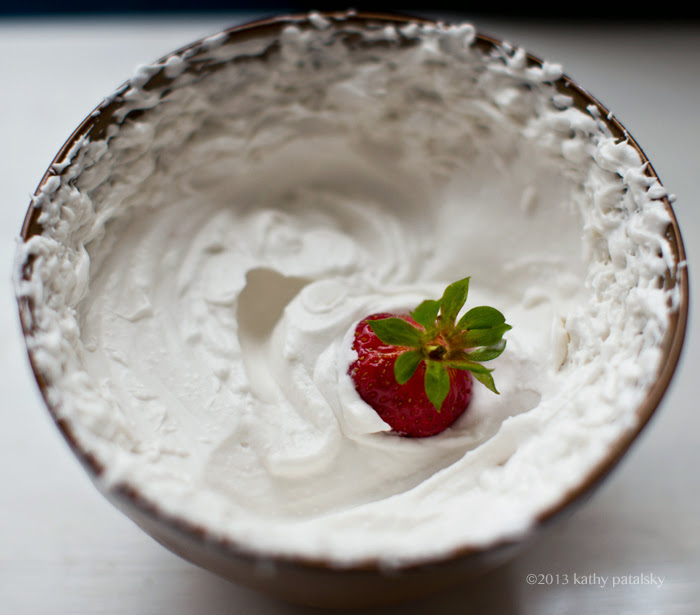 Watching loads of Wimbledon tennis this past week exposed me to so many of those luscious bowls of strawberries and cream that they traditionally serve at the British tennis tournament. Simple summer strawberries with a generous dollop of silky, cool cream on top is such a perfect culinary combo. So I was swooning for some strawberries & cream..
Funny I'm not the only one wishing for a dairy-free version. I read this article: Novak Djokovic Ditches Wimbledon Favourite Strawberries & Cream in Title Quest .. he avoids gluten and dairy (so it seems.) Well this one is for you Novak! Dairy free strawberries and cream..
This traditional dish is easy to veganize using coconut milk instead of heavy cream for whipping. This "coconut milk whip" version is ridiculous. Crazy-mazing yummy. It is so delicious that I couldn't even imagine how dairy could be preferred after trying this creamy coconut whip version. Maybe Wimbledon should try this next year. (hint hint) And the recipe for coconut whip couldn't be simpler.
So grab a pint of fresh summer strawberries and a can of coconut milk and happily whip up this summer-perfect treat!
Plus get my ten uses for coconut whip!
Today's craving. Satisfied.
Holiday recap. Hope you had a wonderful 4th guys! Lots of fireworks, smoothies & sunshine I hope. We went to Disneyland for a mini vaycay because, well, I always have fun at Disneyland. We had a fabulous vegan dinner at Carthay Circle restaurant, I veganized a "Schmoozie" at the Cali Adventure smoothie cafe, I sipped on a few carrot-orange juices at Jamba Juice and I had plenty of (dairy free/vegan) Pineapple Dole Whip. I have to say, Disneyland has gotten A LOT better with the vegan options since I wrote this post.
But the highlight was this!.. Watching a mama duck and her two tiny ducklings cross a very busy path in New Orleans Square. She was the bravest mama ever. She just charged on through with her fuzzy babies in tow. They went to a grassy area to feed then waddled right back through the crowds to the large lake in Adventureland. Cutest thing ever! And I loved that all the Disneyland guests let her pass in peace – she stopped traffic waddling across the path and down the stairs back to the water. A-dorable.
And thank you for sharing all your 365 Vegan Smoothies photos with me! I get a huge smile on my fave anytime someone tweets or instagrams a smoothie they have made from my book. I am so happy you are enjoying a vegan smoothie-filled summer. Don't forget to like 365 Vegan Smoothies on Facebook
Now for something that screams summer. Simple. Sweet. Sexy. Swoonable. Strawberries & Cream. (Gone Vegan.)
First come the berries. Go for organic. Local if possible.
Then comes the freshly whipped coconut cream..
Put them together..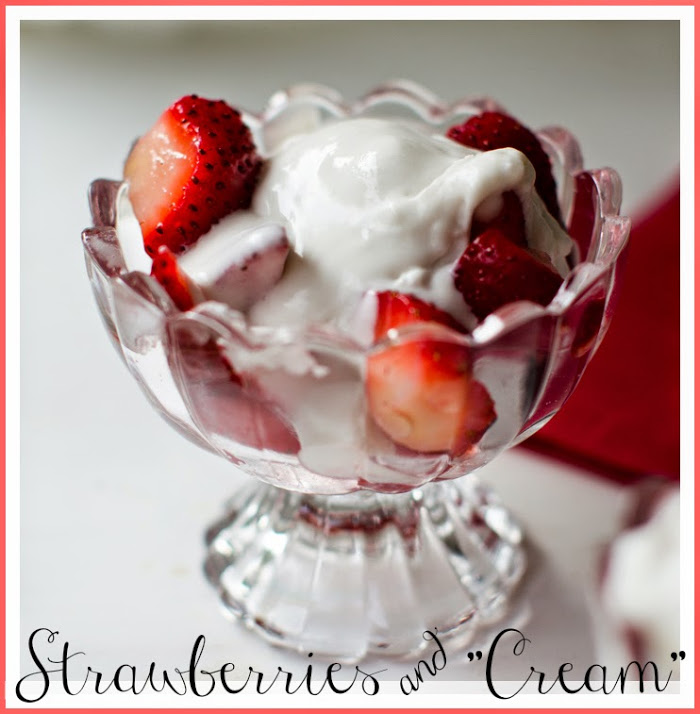 Side view of cuteness is an added bonus..
Ten Uses for Coconut Whip
1. Eat by the spoonful.
2. Dollop on top of Hot Cocoa.
3. Dollop in a dish with strawberries. Strawberries and Cream. (This post.)
4. Modify the recipe a bit (thicken it) and use it as a cake frosting. Seen here.
5. Espresso and coconut cream makes a Whippuccino. Recipe here.
6. Strawberry Shortcake topping.
7. Thicken a bit and use as topping for a Banana Cream Pie. Recipe here.
8. Or try Chocolate Cream Pie. Here.
9. Dollop on top of a latte of coffee drink for an instant bevie upgrade. Whip with that? (Coconut whip!)
10. Dollop on top of ice cream sundaes as a substitute for traditional whipped cream.
..what else do you do with this yummy stuff?
Strawberries and Cream (vegan)
for one modest serving:
½ cup washed + sliced organic strawberries (I toss mine in a sprinkle of coconut sugar and spritz of lemon juice)
⅓ cup coconut whip
coconut whip:
My basic coconut whip 101 & recipe here
thicker recipe here (shown in photos)
**for thickening coconut whip:
-add more organic powdered sugar
-add a few spoonfuls of arrowroot powder (healthy alternative to corn starch)
-add melted coconut oil (do this before chilling your coconut milk so that it blends smoothly together – or beat in very carefully.)
-experiment with an isi whipped cream foaming can. They work well with coconut milk!
Accents (optional)
-vanilla extract or vanilla bean seeds
-cinnamon
-cacao for chocolate coconut whip
Want your cream swirled instead of dolloped?.. I love my isi whipped cream foamer. details in this post. Pic of coconut cream via the isi..
coconut whip, a la whippuccino, from an isi whipper..