Today I am sharing my recipe for a simple, easy-to-make Vegan Classic Baked Cheesecake. I have a bunch of cashew-based cheesecake recipes here on the blog, but today I went with straight up a cream-cheese base, and baked this beauty for the flavor and texture that I was craving. This recipe is a classic, gone vegan!
I can easily see a slice of this dessert sitting in an NYC deli dessert window, cherries, blueberries or strawberries dripping elegantly over the creamy sides of the fluffy cheesecake.
The flavor of this classic cheesecake is perfectly sweet and a bit tangy from the sour cream and lemon – just what I was craving. And I love that this dessert can sit in the fridge for a few days and actually taste just as good – or better – with a bit of chill time.
Hope you love this recipe as much as I do…
Vegan Cheesecake. There are a few ways to make a cheesecake using plant-based ingredients… cashews is a popular route. I love no-bake cashew cheesecake. Or even tofu. Or a combo of cashews and tofu and vegan cream cheese. But for today, I wanted to keep things simple with mostly cream cheese as the filling. Yes, there are mostly store-bought ingredients (not from scratch like a cashew-base) but for me today, that was fine because that was the texture and flavor I was going for.
When this cheesecake is first made and cooled in the fridge it is fluffy, creamy and velvety. The next day or two in the fridge, it dries out a bit so it becomes even more dense. I actually like this cheesecake after a few days of sitting in the fridge! I appreciate the dense texture that forms. The richness really appeals to me. And it is still super fluffy and lovely.
Strawberry Topping. I did a very simple fresh strawberry topping. But cherries or blueberries would work too. You could even swirl into the cheesecake, before baking, some peanut butter, berry sauce or melted chocolate.
Strawberry Topping. So easy to make.

My favorite part about this classic recipe is the lightly browned top this cheesecake gets. If you do not like too much browning, I would reduce the heat to 300 degrees and bake for an additional ten minutes – slower and lower to prevent the more intense browning that I achieved.
The crust. I personally do eat honey sometimes, so I used basic graham crackers, but if you are a vegan who does not eat honey, you could sub the graham crackers with another crunchy cookie like ginger snaps. Or even a vanilla wafer cookie. There are a few grahams that are honey-free, but they are challenging to find. I believe one brand is gluten-free as well..
Lemon. If you want your cheesecake more mellow and cheesy without a sour lemon accent, I would reduce the lemon juice to just one tablespoon. I really love that bright lemon-y accent, so I added a good amount of lemon juice. If reducing the lemon, you can sub with almond milk or even water.
Now who wants a slice of cheesecake???
A few other vegan cheesecakes here on the blog..
Pink Flamingo Cheesecake Bars
Summer Cherry Raw No-Bake Cashew Cheesecake
No-Bake Peanut Butter Cheesecake
Matcha Lemon Cheesecake, No-Bake
Blackberry Cheesecake, No-Bake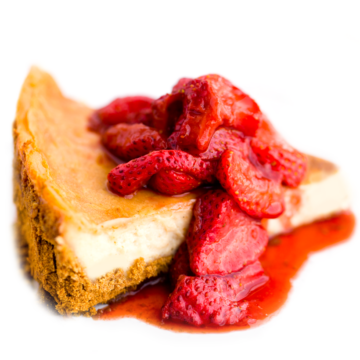 Vegan Classic Baked Cheesecake
This creamy, rich, tangy and sweet cheesecake is everything you crave, without the dairy!
Print
Pin
Ingredients
Crust:
2 sleeves of graham crackers, processed into crumbs

¼ cup melted vegan butter
Filling:
¼ cup fresh lemon juice + pinch zest

16oz vegan cream cheese, plain (2 containers)

12oz vegan sour cream (1 container)

1 teaspoon pink salt

½ cup + 1 tablespoon agave or maple syrup

¼ cup cashews (no soaking required if you have a high speed blender)

¼ cup all purpose flour

½ teaspoon baking powder

1 teaspoon vanilla extract or 1 vanilla bean, seeds scraped
Strawberry Topping:
1 ½ cups fresh strawberries, sliced

1 tablespoon coconut sugar

Additional vegan butter for greasing baking dish
Instructions
Heat oven to 325 degrees. Grease an 8 or 9 inch round baking dish with vegan butter.

In a large bowl, combine the graham mixture and the melted vegan butter. Pour into the baking dish and press out and shake to evenly distribute on bottom and along sides.

Bake crust at 325 degrees for 7-8 minutes. Remove pan from oven and set aside.

Add all the filling ingredients to a blender and blend until silky smooth.

Pour filling into the crust baking dish.

Bake for 50-55 minutes at 325. The top will become golden brown.

Fully cool in the fridge before serving.

To make the strawberry topping: Add the berries and sugar to a small sauce pot. Turn heat to high and bring to a simmer. Cover and reduce heat to low. Allow to cool for one minute — just to soften the berries. Turn off heat, pour mixture into bowl. This topping can be used warm over top the chilled cheesecake, or chilled, as it gels up a bit. Enjoy!

Store leftover cheesecake, covered, in the fridge for up to 6 days. Freeze any leftovers for up to a few months.