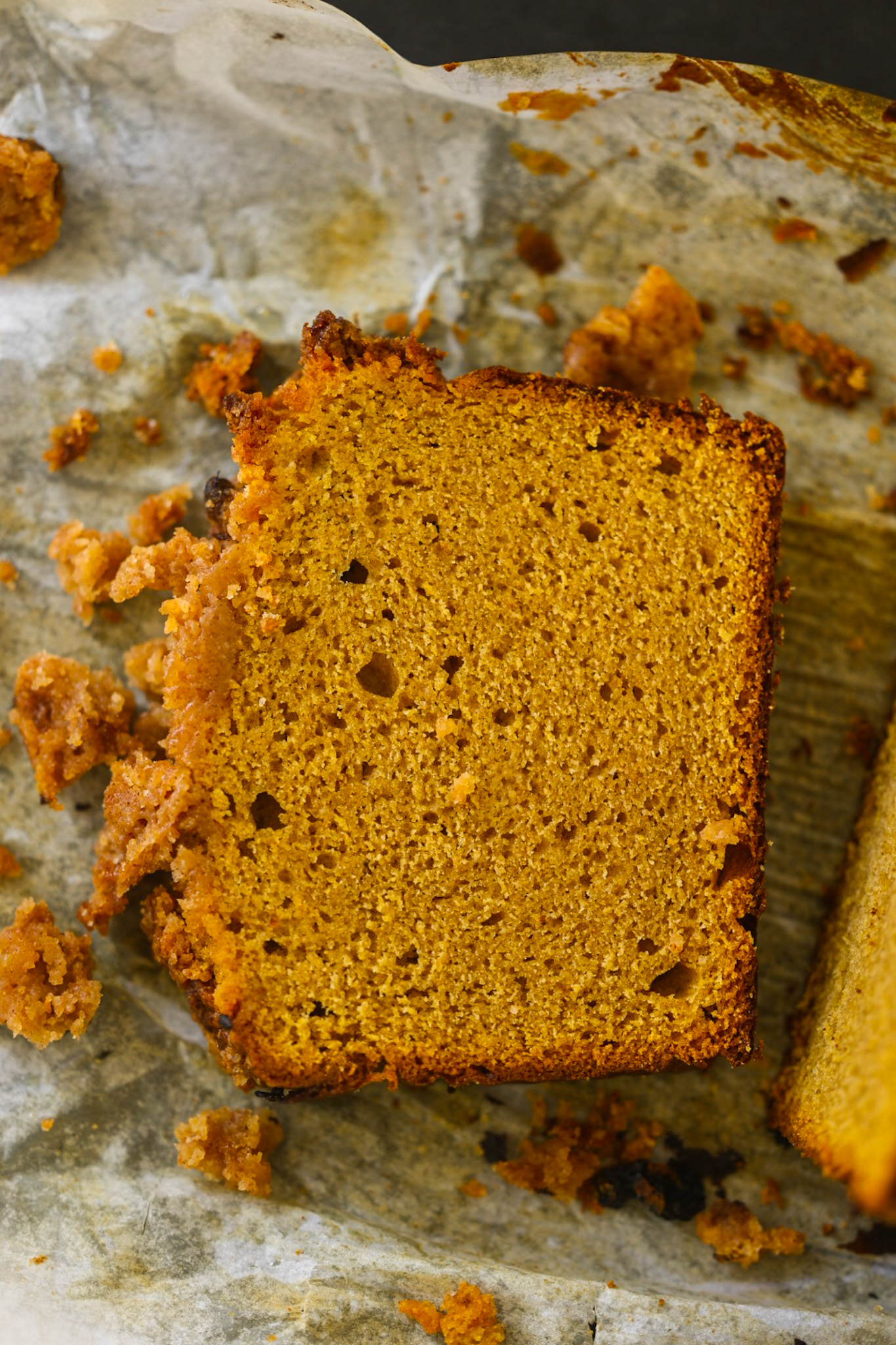 This Vegan Pumpkin Bread with Streusel Topping, is the best thing I have baked this fall. I made two loaves back to back and I am certain I will be baking it a few more times as the weeks roll by. We are snacking on it with morning lattes, after dinner, in the car on the way to activities and I've grabbed a few chunks as a midnight snack too. So good! The warm pumpkin spice is accented with sugar and melty butter flavor.
Oil Free, Using Nut/Seed Butter
It just happens to be oil-free, even though I have nothing against oil and would have usually used sunflower oil in this variety of loaf. But I was out. So, in swoop my swapping skills / curiosity. I used an oil substitute that worked out so well. You still get all those rich healthy fats and some bonus fiber too. I am so excited about this recipe and hope you can bake it soon!…
Approved for School Lunches
This Vegan Pumpkin Bread with Streusel Topping is nut-free, so for my purposes, that made it school lunch approved. It is also a new fave of my toddler. She has been gobbling this bread down. And I love that it is one yummy way for her to get some healthy, vitamin A-rich pumpkin in her diet!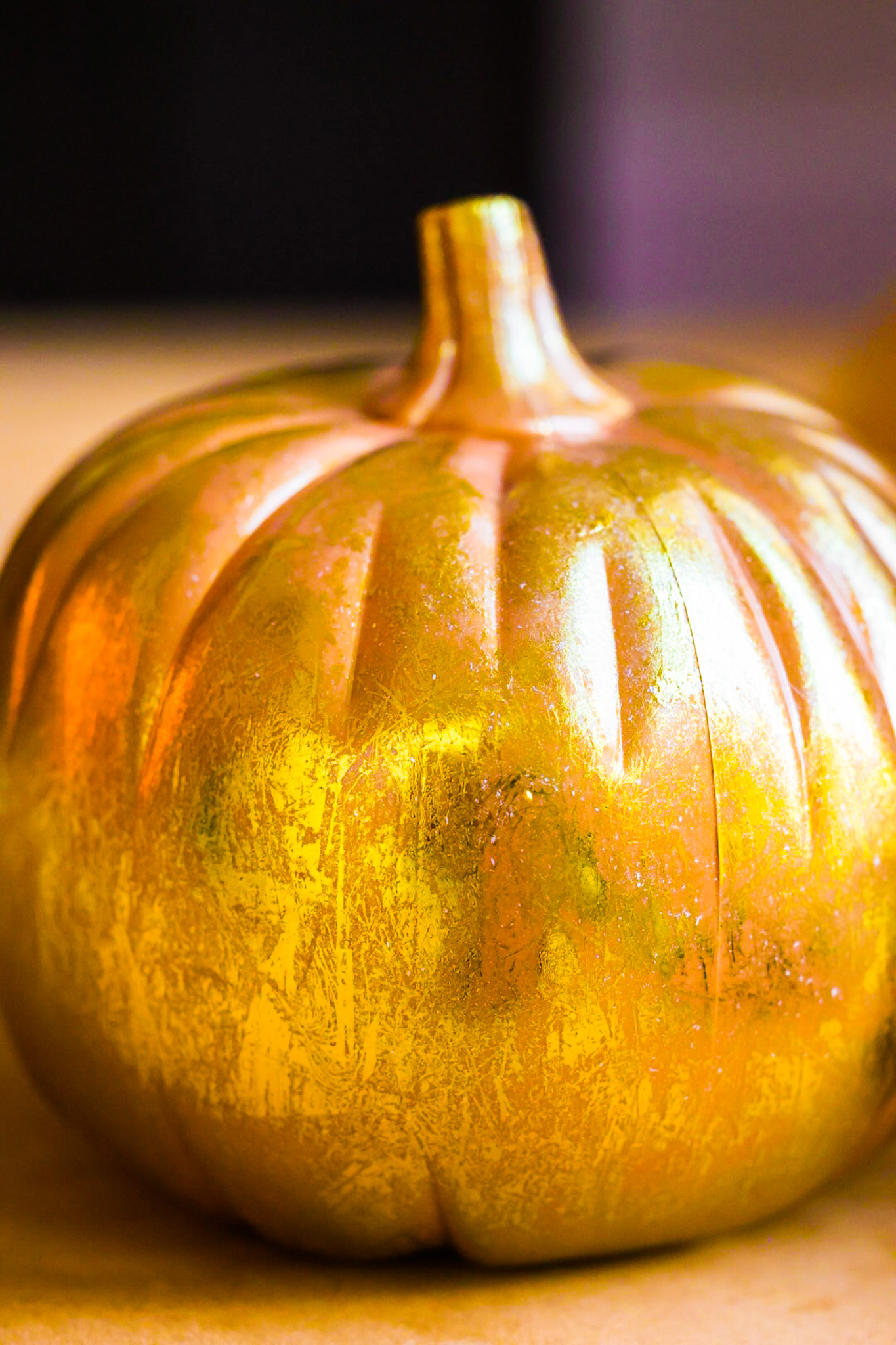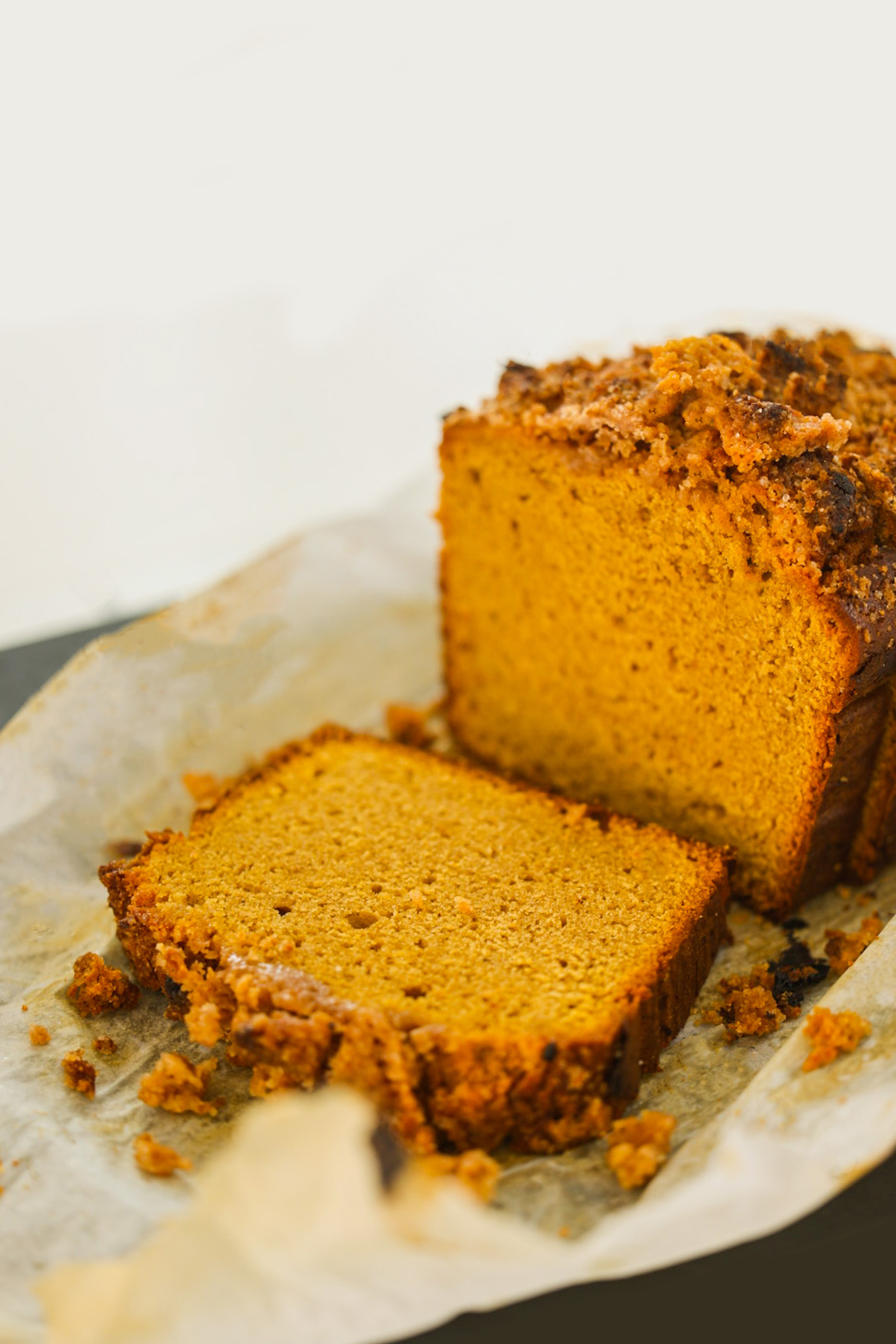 Make-Ahead Tip:
When I bake a large loaf of this Vegan Pumpkin Bread with Streusel Topping (or any snack bread), I like to slice it, then freeze individual slices. Then I can simply place a frozen slice in her lunch and by lunchtime it is thawed and fluffy. I tried that trick today and indeed the bread thawed beautifully in about an hour.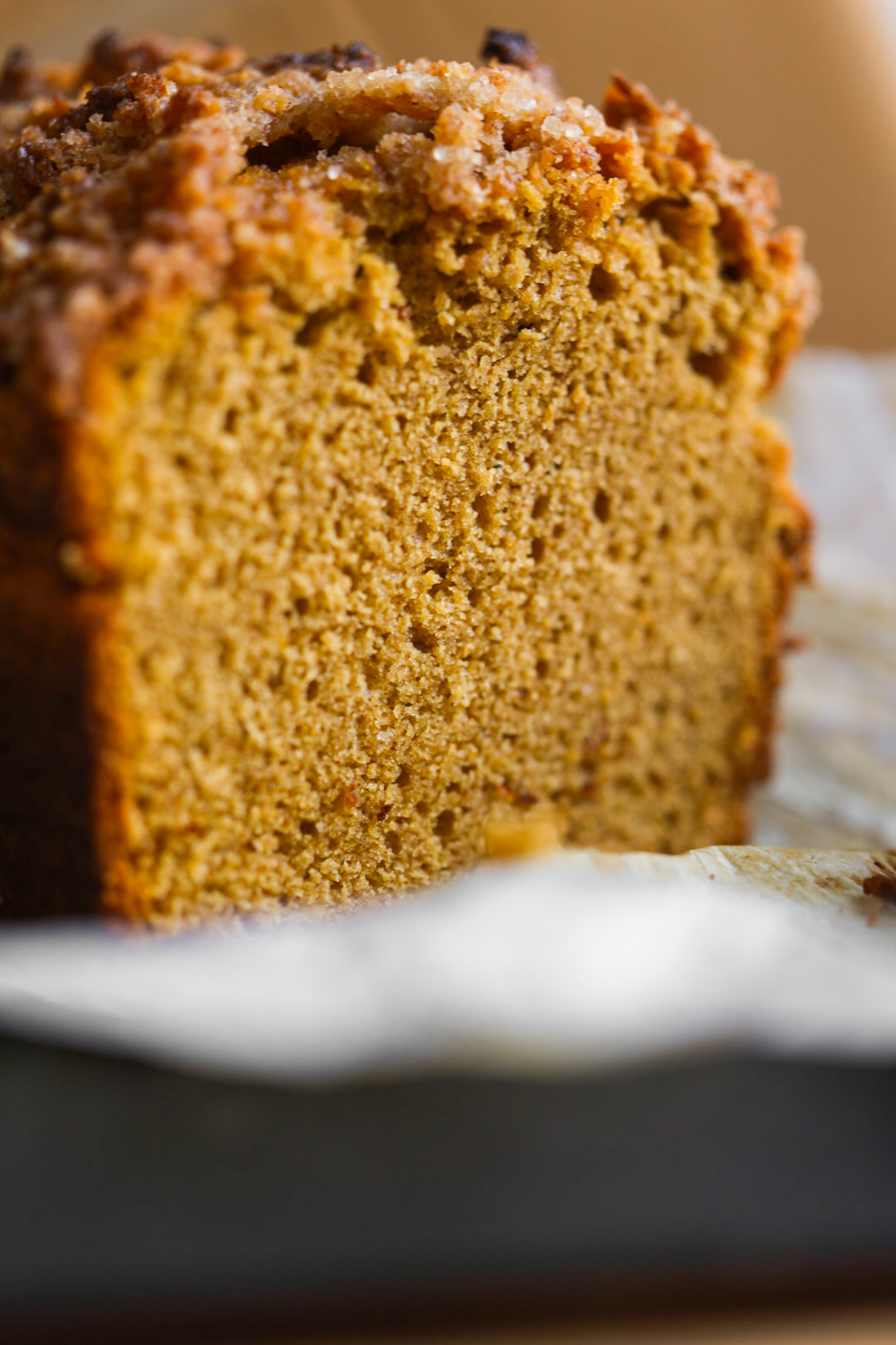 Other Vegan Snack Breads to Try:
I love this type of loaf. Fluffy and moist, sliced thick and spongy. Perfect with coffee or tea. Snackable any time of day.
I have quite a few recipes here on the blog. Give a few of these a try. The chocolate loaf is a must-try!
And even though I have a few other pumpkin breads on the list above, this Vegan Pumpkin Bread with Streusel Topping is probably my fave so far. As usually happens with me. I love constantly updating and improving on previous recipes. Giving them a new spin and amplifying the flavors even more.
Jump to:
Ingredients
Here are the main ingredients for this Vegan Pumpkin Bread with Streusel Topping recipe…
flour
pumpkin puree
vegan Egg
pumpkin spice
sugar
brown or coconut sugar
baking powder
vanilla extract
salt
sunflower seed butter
See the recipe card below for quantities.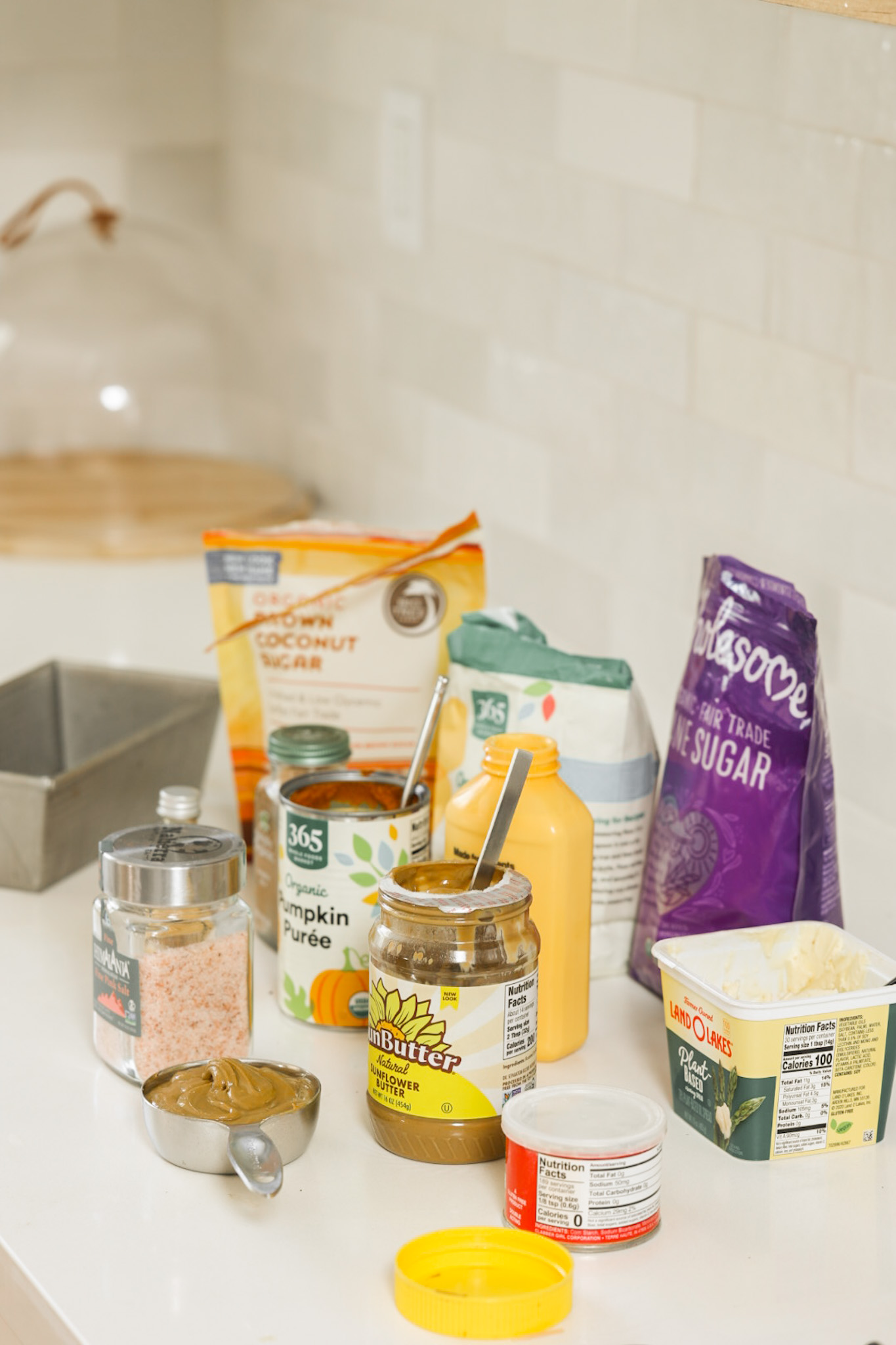 Instructions
Making these Vegan Pumpkin Bread with Streusel Topping is actually a very speedy process. The longest portion of the recipe process is the hour-long bake.
But as for prep, you just mix the wet ingredients together, add in the dry and pour the batter into a parchment paper-lined baking pan. Add the streusel topping over top and bake.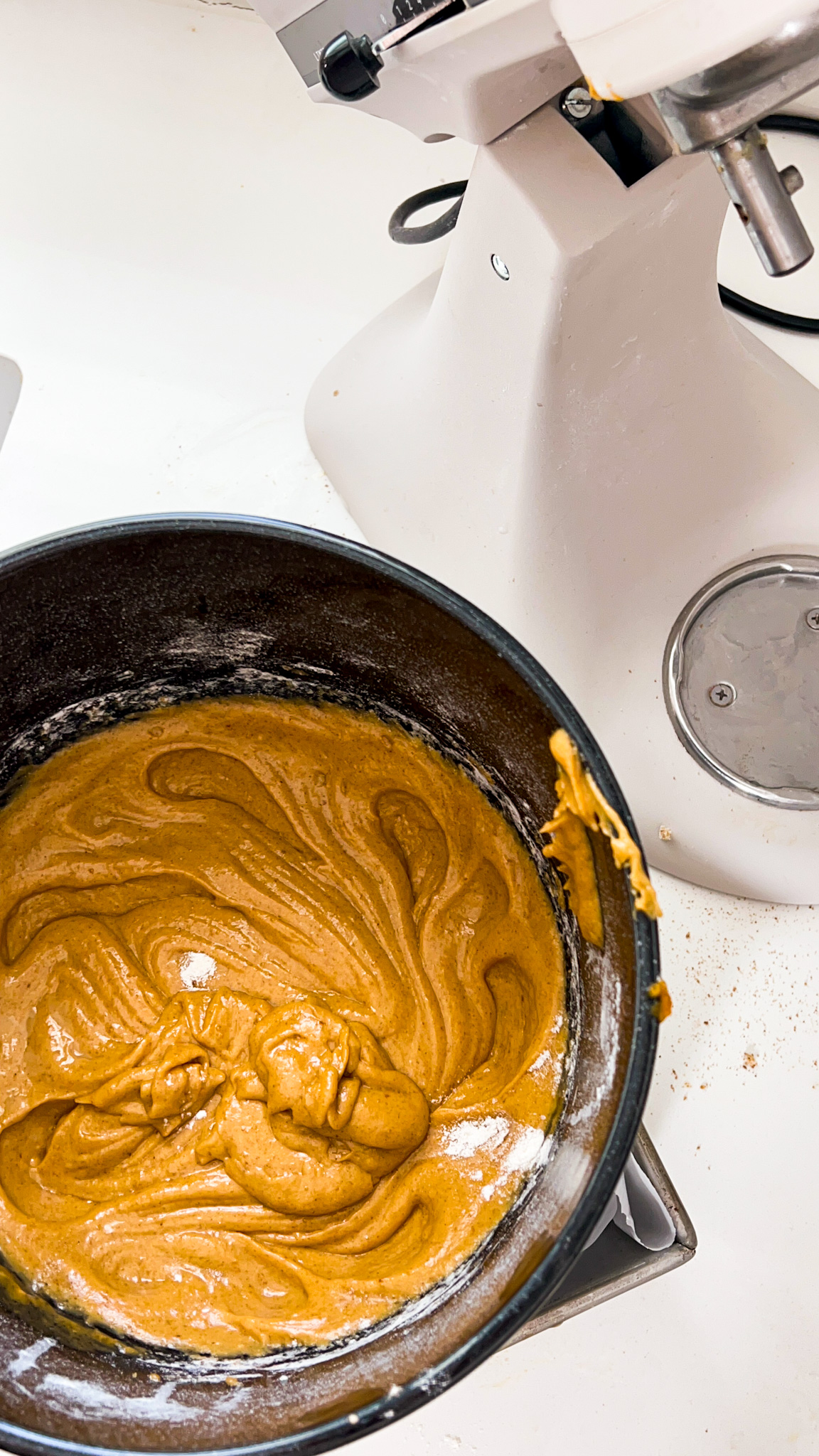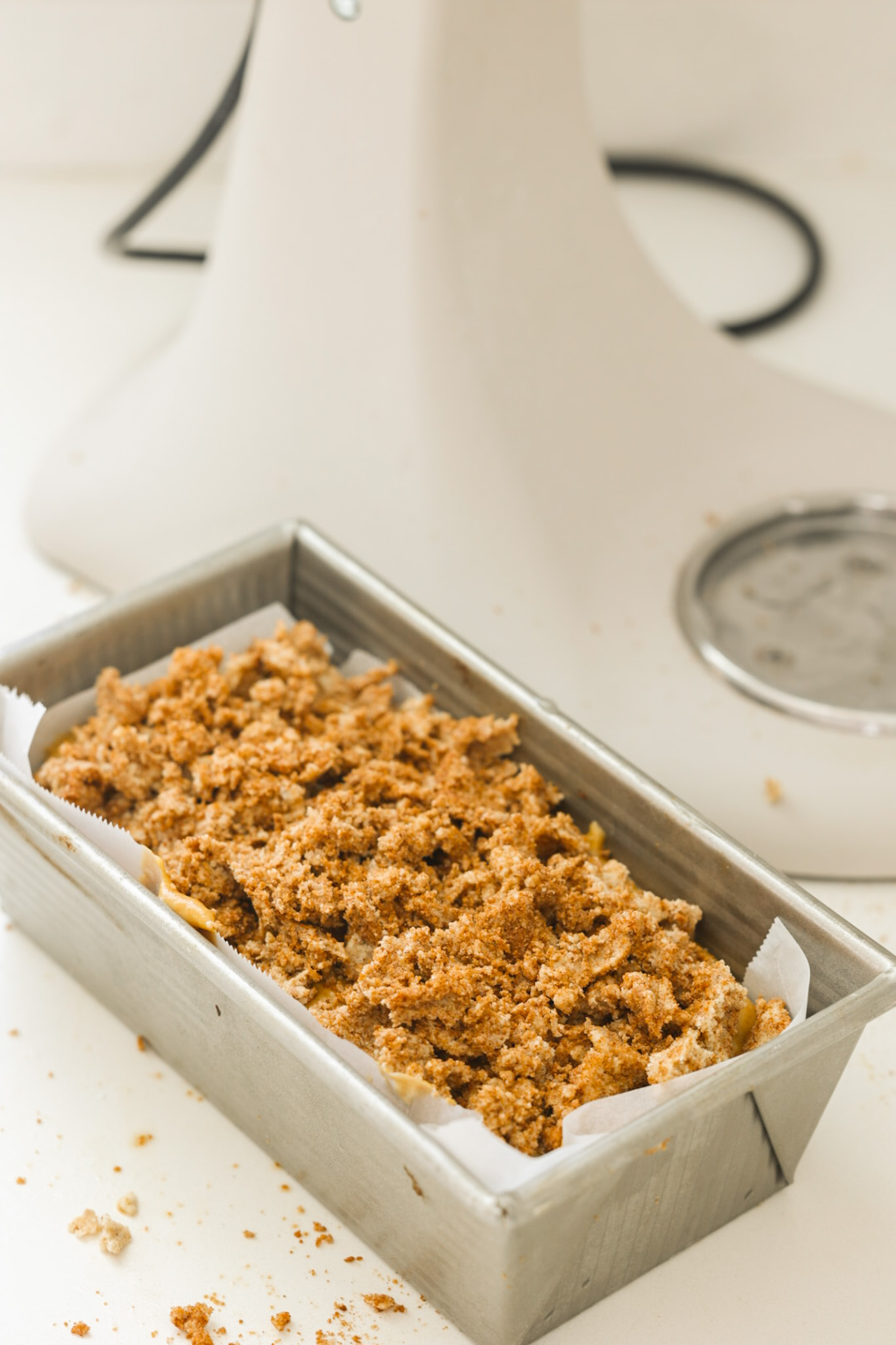 Substitutions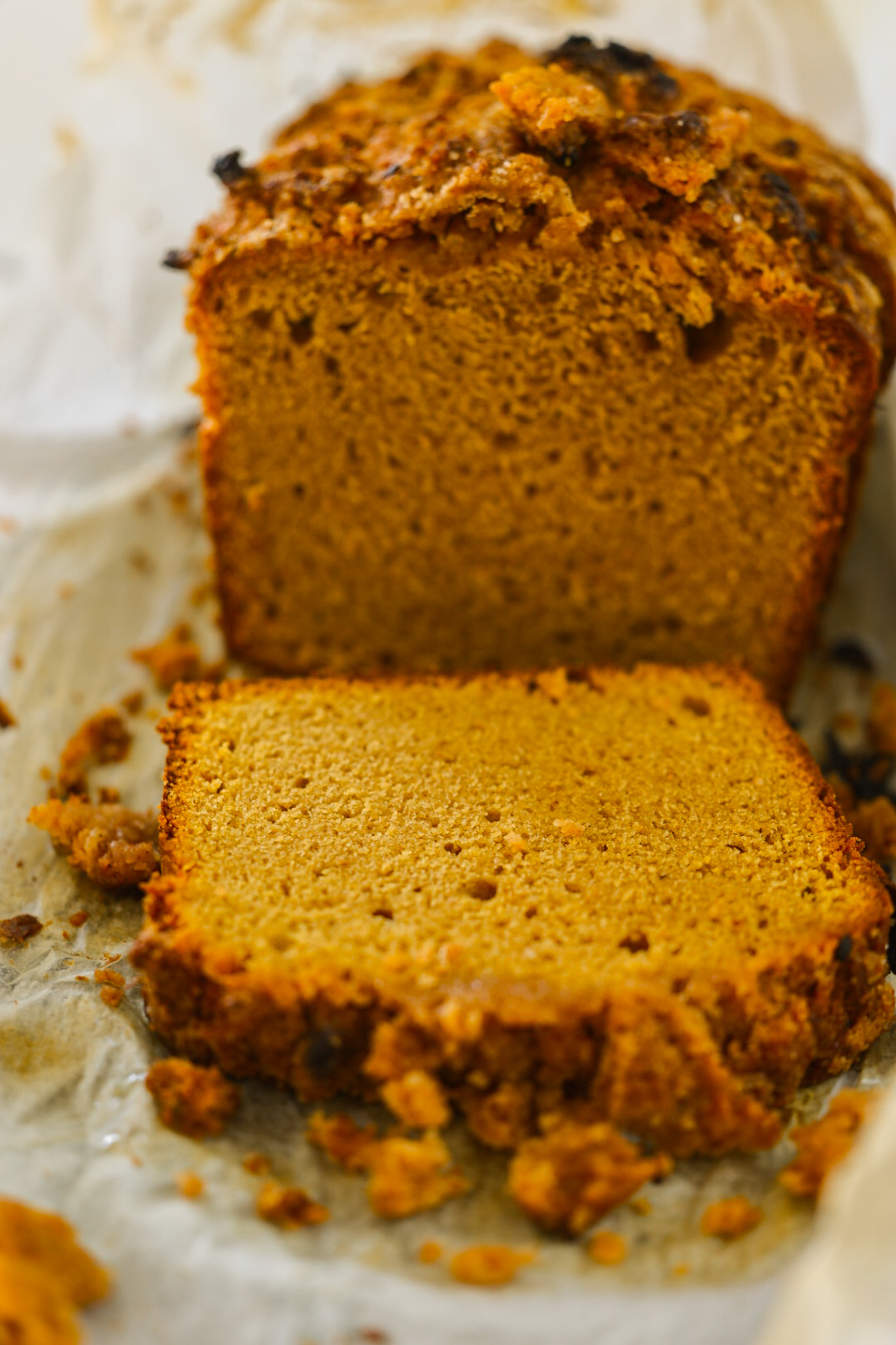 Here are a few substitution notes for you.
Vegan Pumpkin Bread with Streusel Topping subs:
Gluten Free – You can absolutely substitute the AP flour with your favorite gluten-free flour or flour blend. Bob's makes a great 1:1 ratio GF flour.
Egg – I use JUST egg, but a flax egg or silken tofu (puree) would also work. But since the JUST Egg has an excellent binding quality, I would actually reduce the "egg" by half if you are using a sub.
Sugars – You could swap out the cane sugar for coconut sugar. But the cane sugar, I think, adds a really light lovely flavor and texture to this loaf. Sometimes coconut sugar, with it's caramel-y flavor can feel a bit heavy and overpowering – especially to something like pumpkin, which has a subtle flavor.
Sunflower Butter – You could switch out the sun butter for nut butter, but just make sure that the nut butter is soft and oily, very stirred or from the top of a new jar. You could also experiment with subbing actual sunflower oil for the sun butter — though I have not tested this version yet.
Tip: Luckily, sun butter usually stays quite "wet" and silky in the fridge, but if yours has become hard for any reason, warm it up a bit to soften — or even a drizzle of vegetable oil to get it stirred up.
Recipes – Blogger Friends:
I always encourage you to look at a few different recipes when settling on one to follow! This helps to educate you on the various ways to make something and what those slight variations may produce. Browsing food blogs is such a great educational activity for any budding baker or cook.
My blogger buddies shared these awesome pumpkin loaf recipes. Check them out!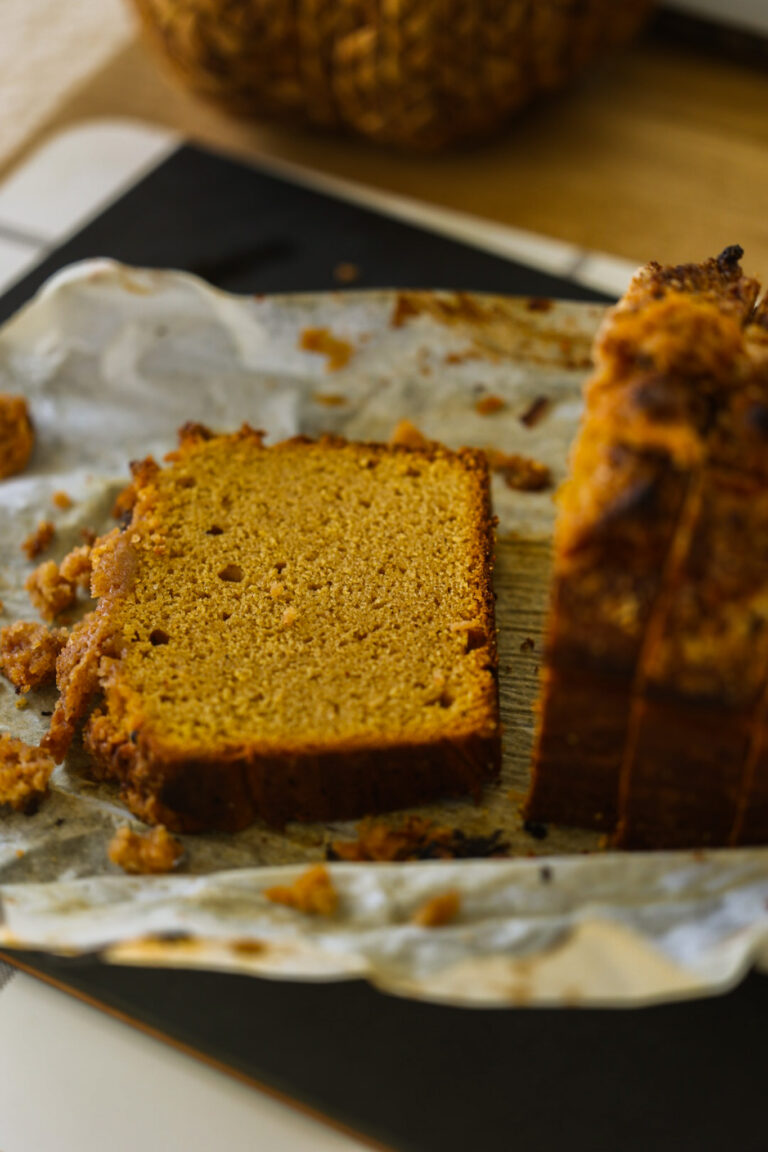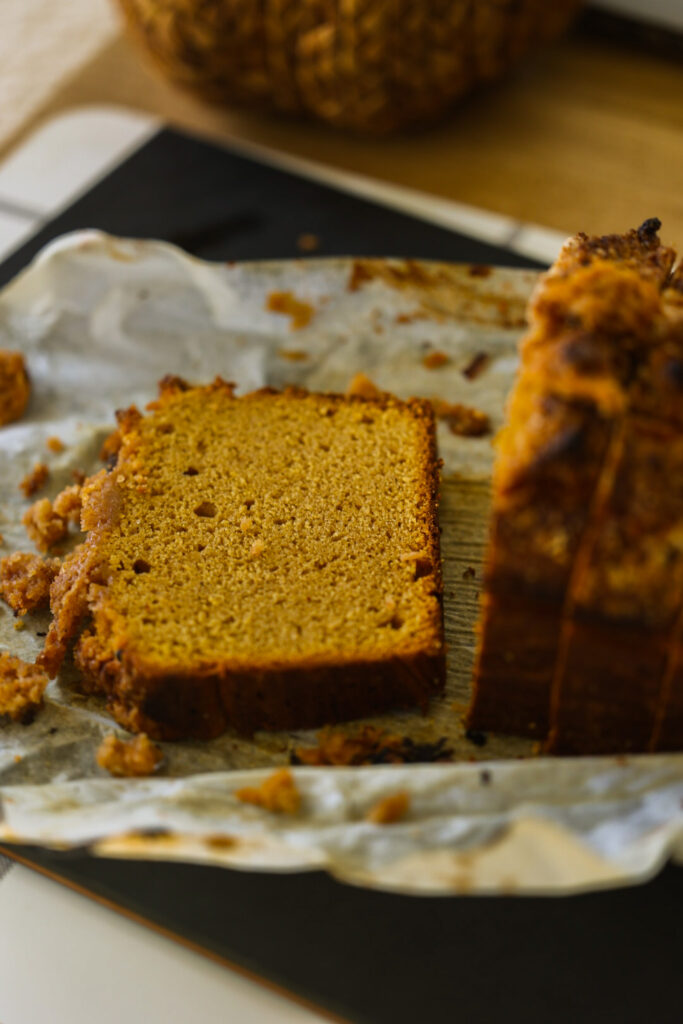 Pumpkin Bread with Streusel Topping – Variations
Change it up!
Chocolate Chips – You could absolutely add some chocolate chips to this bread for a sweet spin.
Omit the Streusel – The topping is one of my fave parts of this recipe, but you could totally omit it if desired. I would reduce the bake time by 5 minutes if you do.
Add nuts and fruit – To give this loaf a bit more texture you could add in chopped nuts, dried or even fresh fruit or even some whole grains from rolled oats. Fold ½ – ¾ cup of goodies into the finished batter.
More Streusel! – Um, if you are like me, you are obsessed with the topping. Well don't be shy. If you see a few empty spots on top, mix up and load on even more streusel topping.
Or you can try my vegan pumpkin pie with streusel topping.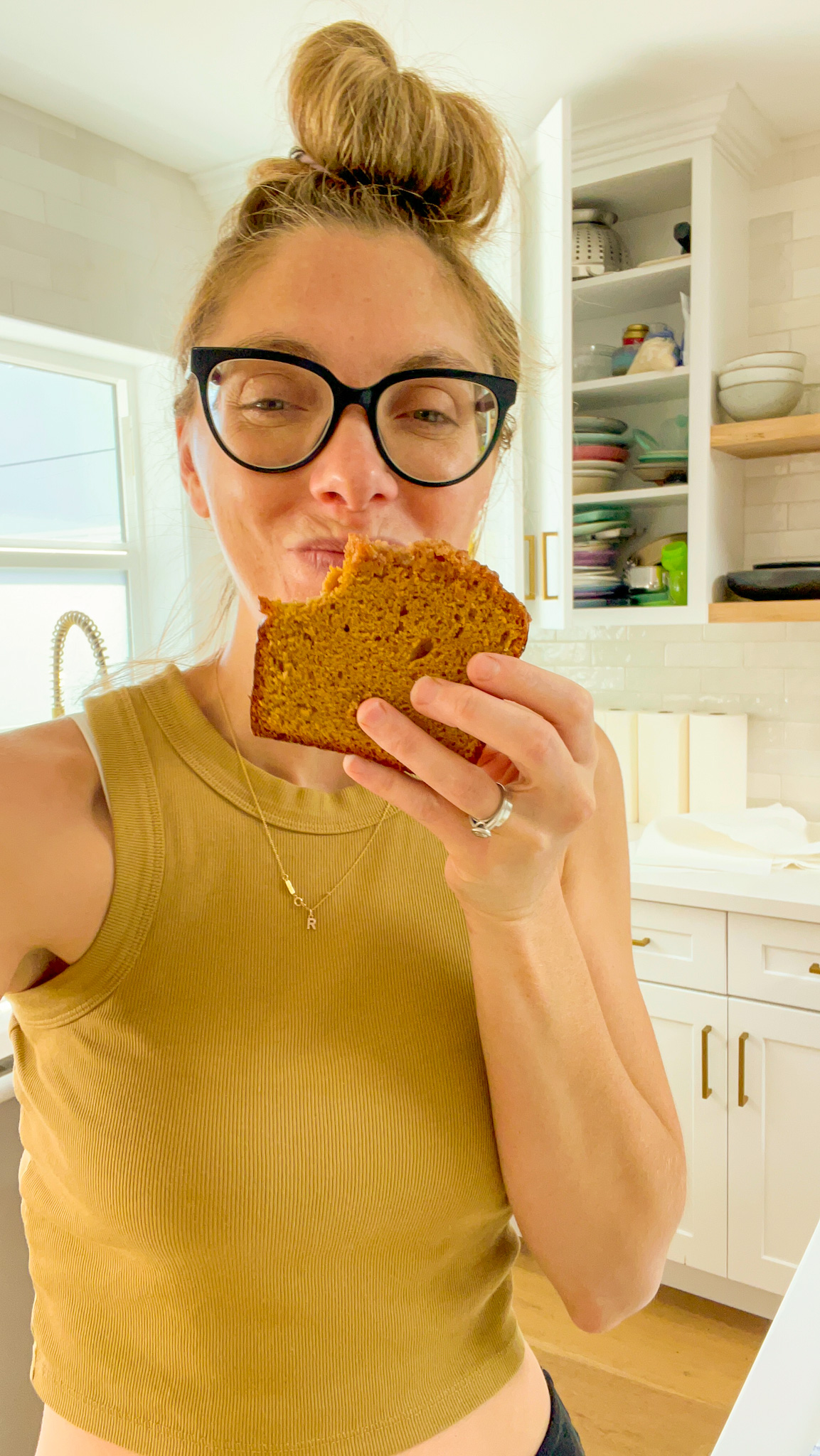 Equipment
Storage
I store this bread on the counter the first day, then place it in the fridge if I will eat it in the next day or two. But any longer, and I go for freezer storage.
For the freezer, I slice up the bread into ¾″ thick slices, then individually wrap them for the freezer. They are super easy to that in a few seconds in the microwave or in an hour at room temp.
Top tip
Love your pumpkin puree! Not all pumpkin purees are created equal. And you don't always have a say over what your puree looks and tastes like. But find a brand and container you love and stick to it. Some of the "boxed" versions can be a bit heavy and mushy. What you want is light, fluffy and golden orange in color.
If you have time and energy, you can even DIY your own pumpkin puree like the Pioneer Woman does here.
Happy pumpkin season everyone!!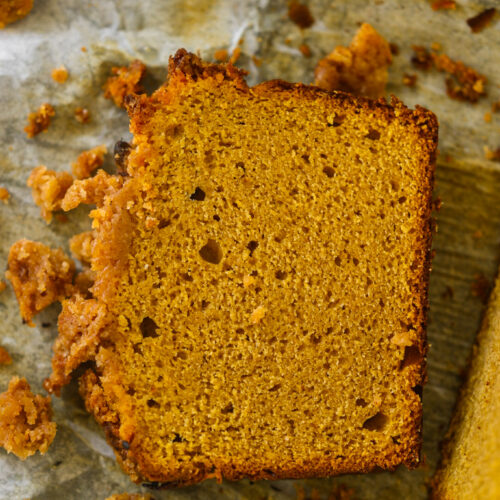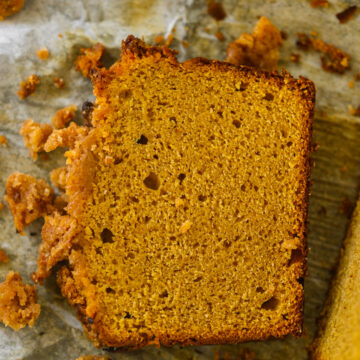 Vegan Pumpkin Bread with Streusel Topping
Fluffy and moist vegan pumpkin bread with a buttery sweet, crumbly cinnamon streusel topping.
Print
Pin
Ingredients
Wet Ingredients:
1

cup

pumpkin puree

½

cup

sun butter

¾

cup

JUST Egg

1

cup

cane sugar

¼

cup

coconut sugar

¼

teaspoon

vanilla extract
Dry Ingredients:
1

teaspoon

salt

2

cups

bread flour

1 ½

teaspoon

baking powder

2

teaspoon

pumpkin pie spice
Streusel Topping
3

tablespoon

vegan butter

3

tablespoon

flour

2

tablespoon

sugar

,

any variety

½

teaspoon

pumpkin pie spice
Instructions
Preheat oven to 450 degrees. Line a loaf pan with parchment paper.

Add all the wet ingredients to a mixing bowl. Mix until smooth.

Add the dry ingredients in, mix until silky smooth – but do not over mix.

Pour the batter into the loaf pan.

Prepare the streusel topping in the used mixing bowl for ease. Add the ingredients and using your hands, blend the ingredients together, forming small clumps of sugar, butter and flour with spice. Crumble the streusel over top the batter in the loaf pan.

Bake for 20 minutes at 450 degrees. Then reduce heat to 350 and bake for another 20-40 minutes. See notes.
Equipment
1 mixer

1 loaf pan

parchment paper
Notes
Baking time: You can use a toothpick test if you are unfamiliar with how long your oven needs to bake a loaf this size. I generally like to bake at 450 for 20 minutes, then 350 for 30 minutes, then I turn off my oven and let the loaf sit in the warm oven for about ten minutes before pulling it out to fully cool on the counter.
nutrition estimate | per serving
Calories:
324
kcal
|
Carbohydrates:
52
g
|
Protein:
8
g
|
Fat:
10
g
|
Saturated Fat:
2
g
|
Polyunsaturated Fat:
1
g
|
Monounsaturated Fat:
1
g
|
Trans Fat:
0.02
g
|
Sodium:
271
mg
|
Potassium:
153
mg
|
Fiber:
2
g
|
Sugar:
26
g
|
Vitamin A:
3982
IU
|
Vitamin C:
1
mg
|
Calcium:
79
mg
|
Iron:
2
mg
FAQ
How exact is the baking time?

Not exact.

I hate to say this all the time, but all ovens are different. My oven runs cold, so I often have to turn the heat up a bit more than usual. I keep an oven thermometer hanging from my oven rack so I can monitor in real-time.
For this loaf, I like to start off in a very hot oven. 450 is my preference, though I have done 415 or so in the past. I keep the oven that hot for about twenty minutes, just to fluff up the batter and firm up the tops and sides. Then I reduce the heat to around 350 for the rest of the baking. That is usually 30-40 minutes for a loaf like this.

But you will know your oven best. Tweak time and temp slightly, as needed.
Can I tweak the spice? Or I don't have pumpkin pie spice..

Yes, if you do not have pumpkin pie spice, you could use a blend of cinnamon, nutmeg and even some ginger or allspice.

But at the very least, use some cinnamon. If you sub cinnamon for pp spice, reduce a pinch, since cinnamon on it's own can be quite strong.
My Bread Didn't Fluff Up, Help!

Are you using the JUST Egg? If so and your bread is still "soggy" I want you to add in ¼ cup more flour next time. I really cannot tell you exactly why your bread isn't working, but in my experience, adding in a bit more flour OR turning the heat up a bit can help.

If you think your bread just didn't cook all the way through, well then your oven may run cold and it actually needed an additional 15-20 minutes in the oven.
Food safety
Some reminders:
Cook to a minimum temperature of 165 °F (74 °C)
Never leave cooking food unattended
Always have good ventilation when using a gas stove
Heat: When cooking with your kids be sure to keep them out of reach of hot surfaces at all times. Also, keep them out of reach of appliances like mixers.