These Whole Wheat Vegan Chocolate Chip Cookies are chewy and dense and rich and lovely. Nutty pecans and vegan chocolate chips in every hearty bite.
Bake Some Cookies.
Hop in the kitchen and have a baking moment. Because, if you are like me, baking cookies just feels good! But watch out for those cookie-baking lurkers…
Someone is always hanging around when you are baking cookies, yes?
(Even cats who definitely do not eat cookies…)
Bake Some Happy
These vegan Chocolate Chip Cookies are the prefect way to make your whole house smell like vanilla-scented, buttery heaven. And they taste sooooo good warm from the oven, served with a cold glass of non-dairy milk. Cozy up to this easy vegan baking project.
Looking for more vegan cookie recipes? Browse my vegan cookie section!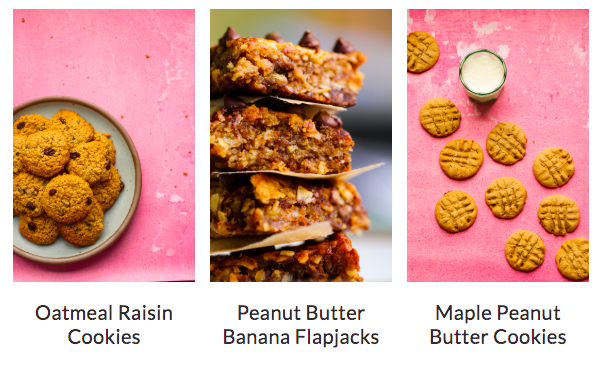 These are worth hanging (lurking) around for!
Whole Wheat Cookies.
The word "wheat" can feel like a bad word, with so many people leaning towards gluten-free these days. But whole wheat, for those who can safely consume it, can be a great thing!
Whole Wheat Goodness.
Whole wheat boosts the fiber content of your baked goods and adds a nice hearty texture too. You are getting about 12 more grams of fiber per cup of flour when you use whole wheat versus all-purpose flour. That's 4g vs 16g. (Comparing Bob's Red Mill varieties.)
More oomph too.
I also find that when I use whole wheat flours, my baked goods (which are always vegan/egg-free) have a bit more oomph in terms of texture and body. And I love that.
Some people think 'whole wheat' baked goods have to be grainy or dry. Well these cookies are definitely not grainy or dry! They are fluffy, chewy, moist and delicious.
There he is!.. My favorite lurker…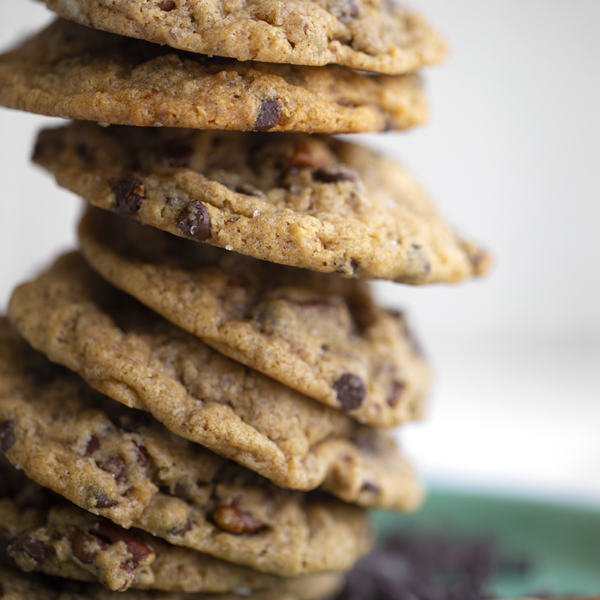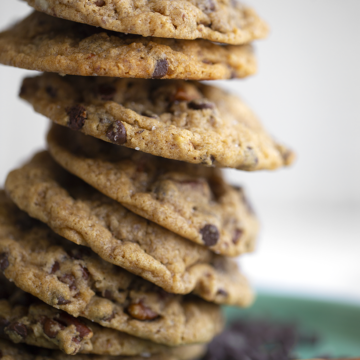 Whole Wheat Chocolate Chip Cookies
These vegan cookies contain melty chocolate chips, buttery flavor and crunchy walnuts too! Perfect cozy baking project.
Print
Pin
Ingredients
Flax egg:
1

tablespoon

ground flax seed

¼

cup

warm water
Wet:
½

cup

vegan butter

,

1 stick

⅔

cup

raw turbino sugar

1

teaspoon

vanilla extract

½

teaspoon

cider vinegar
Dry:
½

teaspoon

salt

1

teaspoon

baking soda

1

cup

whole wheat pastry flour

,

+ 1 Tbsp

¼

teaspoon

cinnamon

,

optional
Fold in:
1

cup

walnuts

,

chopped

½ – 1

cup

vegan chocolate chips
Top:
a few pinches of coarse sea salt – for tops of cookies
Instructions
Preheat oven to 350 degrees and place parchment paper on a baking sheet.

Whisk together the flax seed and warm water. Let sit for 3-5 minutes, until it thickens.

Add the wet ingredients to a large mixing bowl: vegan butter, sugar, vinegar, vanilla and flax 'egg' – Cream everything together using a hand or stand mixer.

Add the dry – flour, salt, baking powder and optional cinnamon to the mixing bowl. Beat until creamy and fluffy.

Fold in the nuts and chips.

Cover and chill in the fridge for at least 15 minutes and up to a day ahead of time. (This step is optional.) I find that chilled cookie dough doesn't spread or flatten quite as much, which is what some people like.

Scoop cookie dough onto baking sheet. Top cookies with a pinch of coarsely ground sea salt. Bake at 350 degrees for 11-14 minutes. Transfer cookies to cooling rack. Add a pinch more sea salt, if desired. Serve warm!
Notes
optional:
sub pecans for walnuts
regular all purpose flour can be subbed for whole wheat, but add in an additional 2-3 tablespoon to account for the fiber loss. 
nutrition estimate | per serving
Calories:
167
kcal
|
Carbohydrates:
18
g
|
Protein:
2
g
|
Fat:
10
g
|
Saturated Fat:
3
g
|
Sodium:
187
mg
|
Potassium:
57
mg
|
Fiber:
2
g
|
Sugar:
11
g
|
Vitamin A:
270
IU
|
Vitamin C:
1
mg
|
Calcium:
17
mg
|
Iron:
1
mg
Still not convinced to bake some cookies? Well does it make you feel good to bake things? That is reason enough for me! Let me explain..
Wellness: Cookies. Did you know that doing things you love is actually GOOD for you? Yup. Even if the thing you are doing isn't rich in traditional wellness-style virtues. Like eating kale or doing yoga. I know this from my very own research, btw. Life lesson: Doing things that I feel HAPPY doing, is good for me.
So….. Like napping and being lazy is sometimes good for me.
Staying out too late once in a while, good for me!
Embracing my introvert side, even when studies say socializing is good for us… Good for ME.
Pushing myself too hard in a workout, sometimes feels darn good.
Not exercising for a good week. Also great sometimes.
Eating french fries, big bowls of decadent vegan ice cream and other non-virtuous foods once in a while. Good for me!
So anyways. Cookie-baking. Totally embrace it and feel the wellness vibes flow. But PRO-Tip: Just don't eat too many cookies. I don't know about you, but that really doesn't ever feel good on me. And besides that, I think that sharing cookies with people you love gets you a bonus feel-good gold star. Pass around that cookie platter and no matter what life is throwing at you, I hope you have a happy week guys! xoxo
Pin it for later:


…such a lurker! 😉