My Salad Tour Series continues as we travel to Paris, the city of lights, romance and…mushrooms? Yes, mushrooms! Before Paris, I shunned shrooms. But it was in a sparkly-lit dining room, a view of the tour de eiffel out the window, when I dined on a few exquisite plates of EVOO sauteed shrooms, and I was hooked. Thus why Paris, reminds me of mushrooms.
To celebrate my love of Paris, mushrooms and warm wilted greens, I share with you my Wilted Spinach Salad with Balsamic Mushrooms: Tender organic spinach leaves, wilted to silky perfection, toasted sweet corn, crunchy cashews and a heaping pile of hot balsamic-infused shiitake mushrooms. This recipe may not be notably traditional of Paris, but it represents my Paris. Êtes vous affamé?
First, let's set the scene. Paris:

Next, the inspired salad: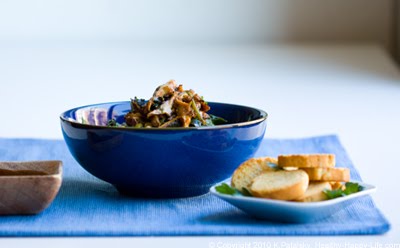 This salad is pure, inspired and succulent. Made from ingredients that are classic, elegant and simple, just like Paris…
Sauteed Balsamic Shiitake Mushrooms:

Also lovely served on toasts for Mushroom Bruschetta!..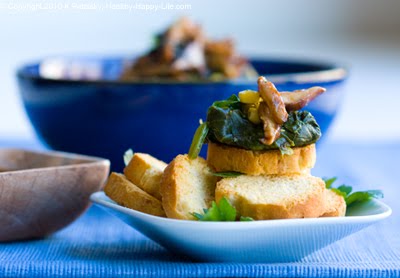 Fresh Organic Whole Spinach: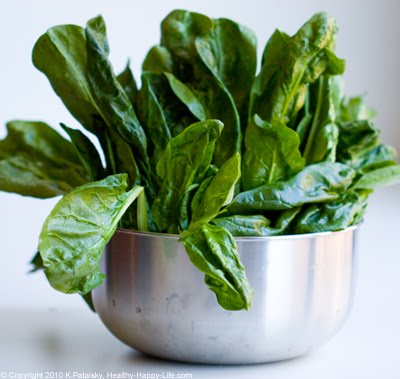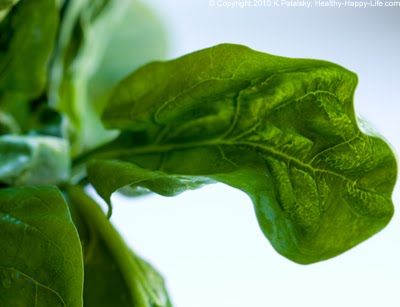 Sweet Corn, toasted Cashews, Wilted Organic Spinach: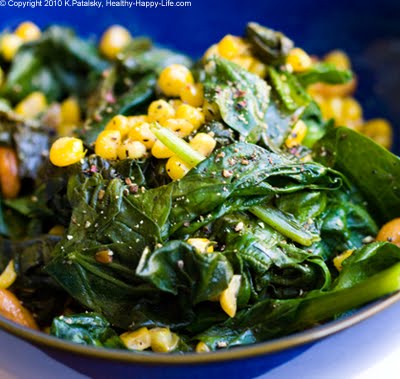 Wilted Spinach Salad with Balsamic Mushrooms
vegan, serves 1-2

¾ cup frozen corn
*use fresh corn when in season
¼ cup cashews
2 teaspoon EVOO
optional: 2 tablespoon plump raisins, toss in with corn
1 large bunch fresh organic spinach, leaves and soft stems
*time saver: use pre-washed organic bagged baby spinach
1 tablespoon Apple Cider Vinegar
5 ounces sliced shiitake mushrooms
1 cup flat leaf parsley, chopped
1 tablespoon Apple Cider Vinegar
1 tablespoon EVOO
½ teaspoon course sea salt
2 tablespoon balsamic vinegar, thick and sweet
*OR use Isola brand Cream of Balsamic, truffle flavor *vegan
note: I highly recommend the Truffle Balsamic Cream product on the mushrooms. It is fantastic and adds pure reduced balsamic flavor. And yes, it's vegan, don't let the word 'cream' fool you. If you do not have the balsamic cream, simply use a thick and sweet balsamic vinegar.
plenty of fresh black pepper
Directions:
1. Wash and dry spinach well. Remove tough stems. Rough chop remaining leaves and soft stems.
2. In a saute pan, drizzle 2 teaspoon EVOO. Turn heat to med-high. Add corn. Saute until corn starts to brown. Add in cashews, saute for another minute – do not burn cashews.
3. Pour cashews/corn in a small bowl, set aside.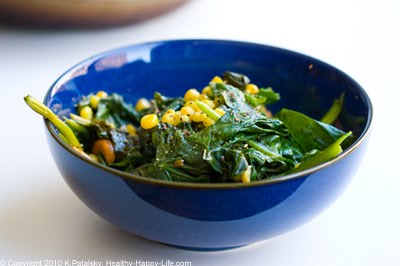 4. In same saute pan, add 1 tablespoon ACV, and an optional drizzle of EVOO. Add spinach.
5. Turn heat to medium and cover spinach with a loose lid or piece of tin foil to 'steam' and wilt the leaves. Do not over wilt. when the leaves are tender, add the corn and cashew mixture. Fold lightly. Transfer this mixture to serving bowl. Grind black pepper over top.
6. In same saute pan, add 1 tablespoon EVOO and mushrooms. Saute until tender. Add in chopped parsley and continue to saute. Towards end of saute, add in the balsamic vinegar or truffle cream of balsamic. Toss well. Add sea salt. Transfer shiitakes to your serving bowl – gently layer on top of spinach.
7. Serve! No direct view of the Eiffel Tower? Too bad, but this will have to do…
ps. If you are using Isola truffle cream of balsamic, you can squeeze a bit on top of the mushrooms for an extra hint of flavor. Buy this product at Whole Foods, a specialty gourmet store or online.