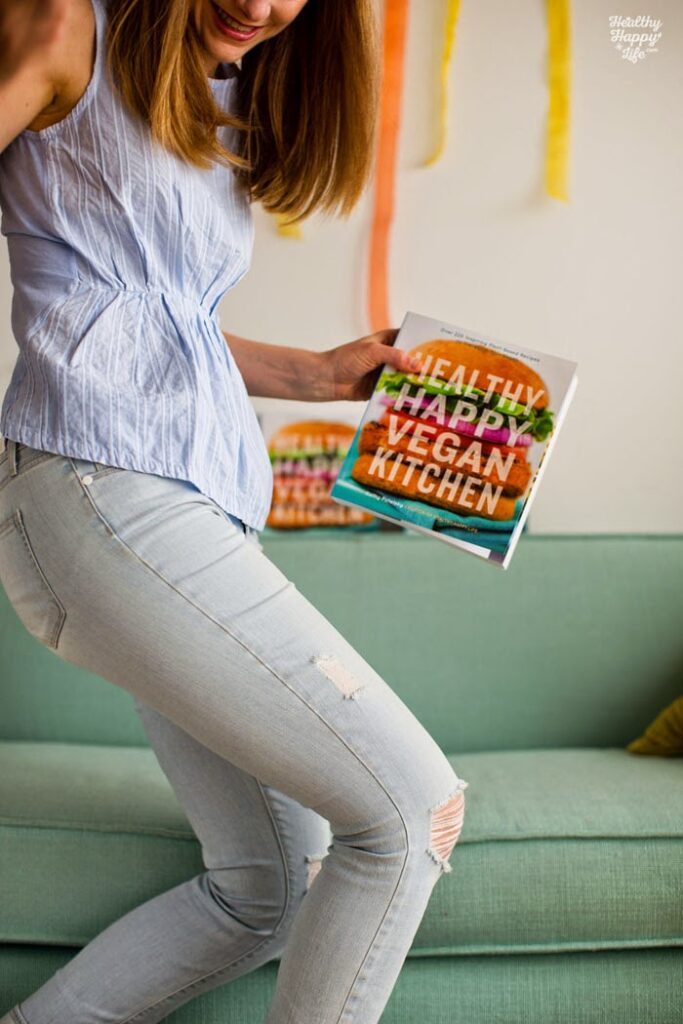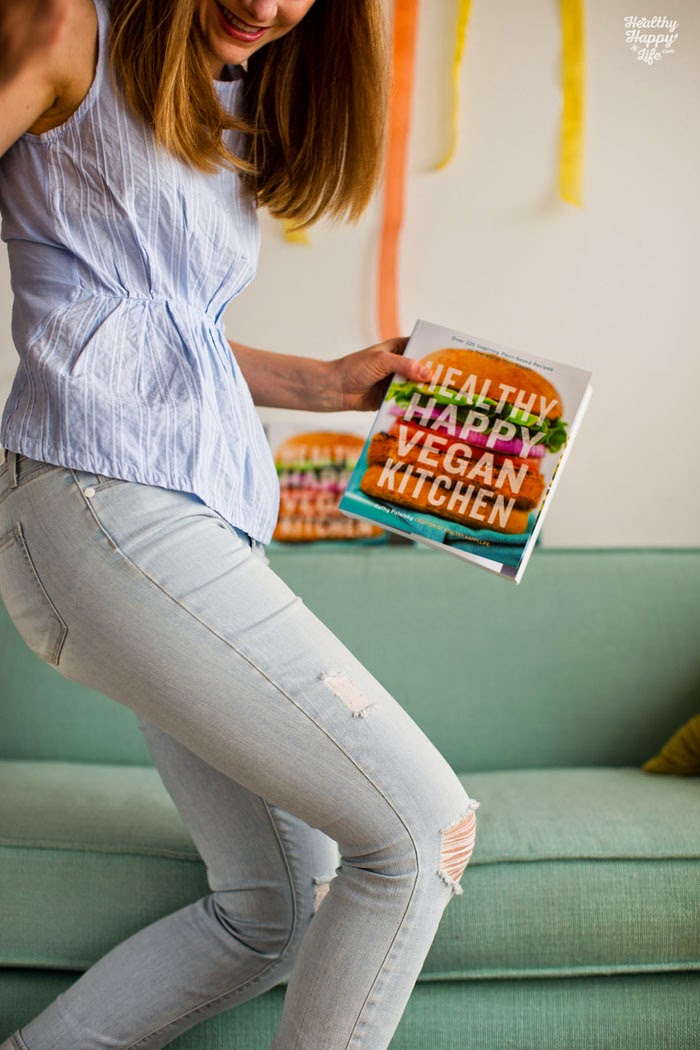 One of the highlights of my career has been being able to write and do the photography for two cookbooks – and with two absolutely amazing publishers (HMH + Avery). 365 Vegan Smoothies and Healthy Happy Vegan Kitchen.
365 Vegan Smoothies – Amazon – (2013)
Healthy Happy Vegan Kitchen – Amazon – – (2015)
–
365 Frullati Vegano – Amazon – (Italian)
Dreams Come True.
When I was a teenager, one of my favorite book subject: smoothie books! I would ogle the colorful pages of fruity, frosty drinks. And to be able to write one of my own – as my first cookbook – is a dream come true. Furthermore, my second book, HHVK, is a complete collection of all of my blog favorites and new recipes as well. It is loaded with everything you need to explore plant-based cooking.
Healthy Happy Vegan Kitchen
My most recent cookbook.
Healthy Happy Vegan Kitchen is my second cookbook. It is filled with breakfast, lunch, dinner, soup, salad, dinner and dessert recipes. These recipes are my most-loved creations. These are recipes that I discovered on my own vegan journey and still use as my go-to meals, snacks, treats and more. Check out these details:
220+ recipes
Tips and tools for wellness and cooking
352 pages
recipes are brand new, mixed with few fan favorites
Recipes + Photography by Kathy Patalsky (me!)
release date: April 28th, 2015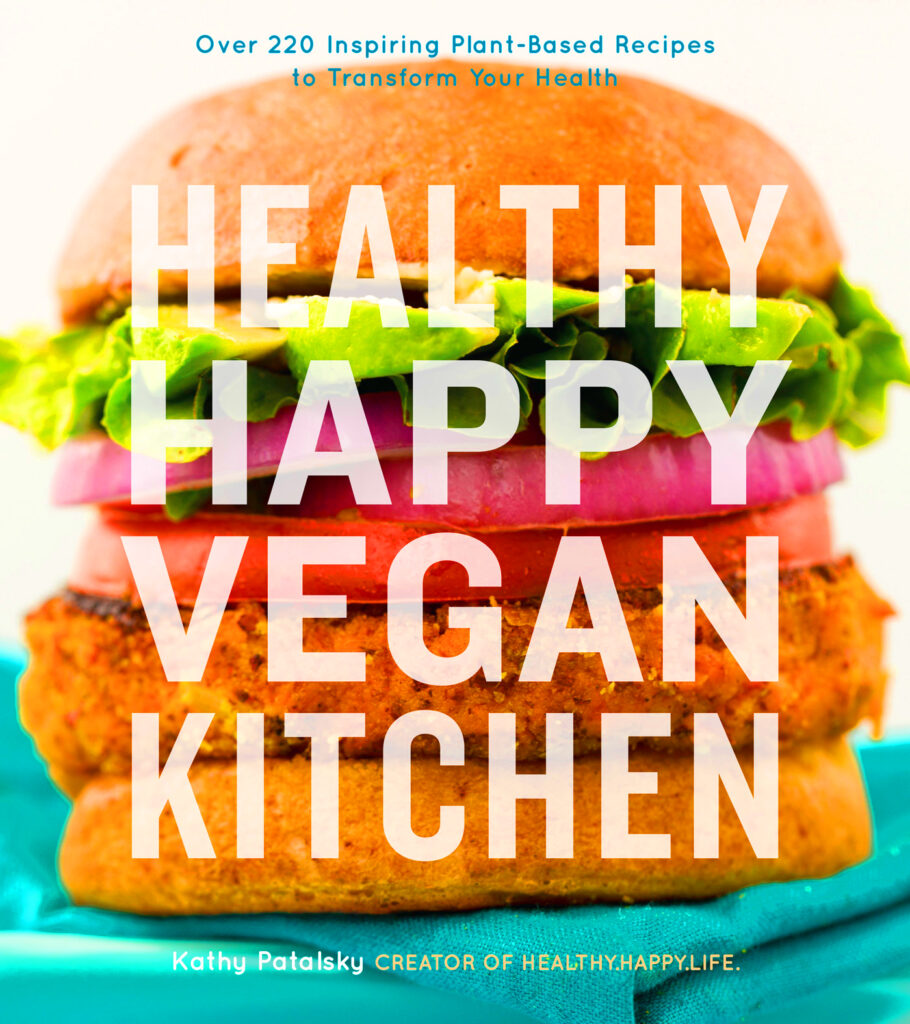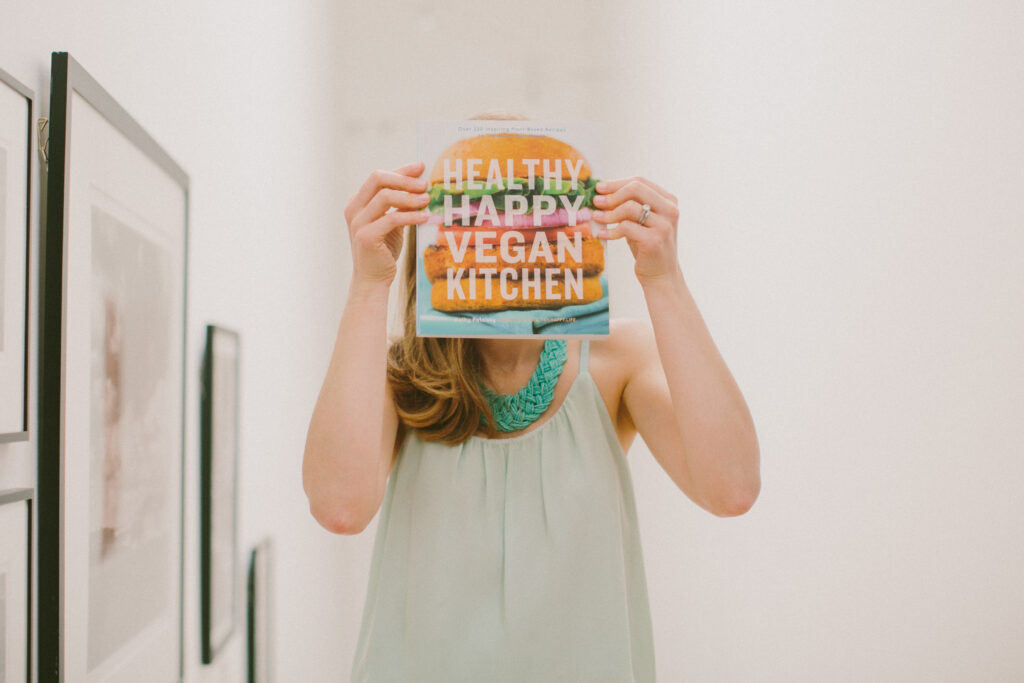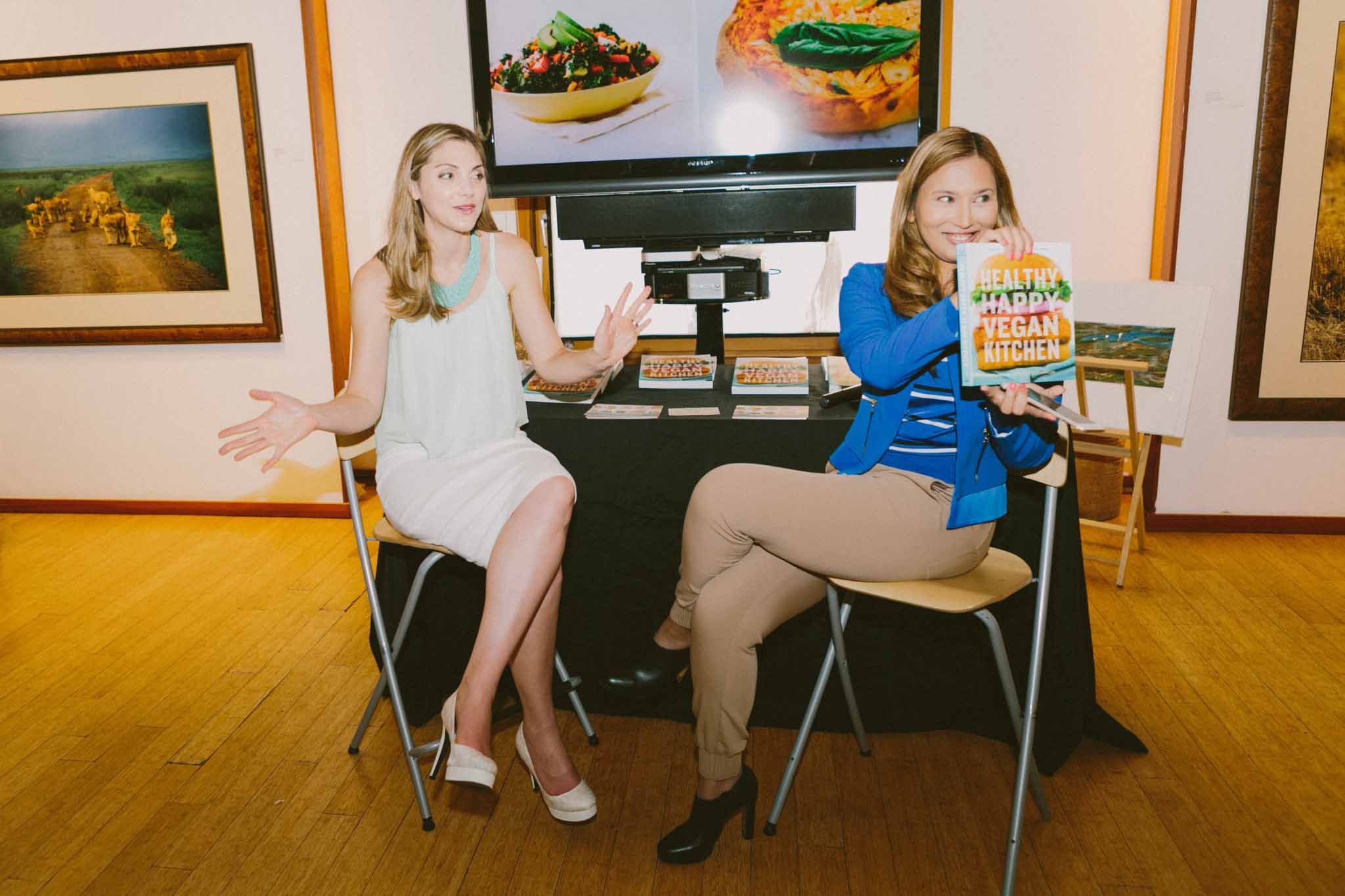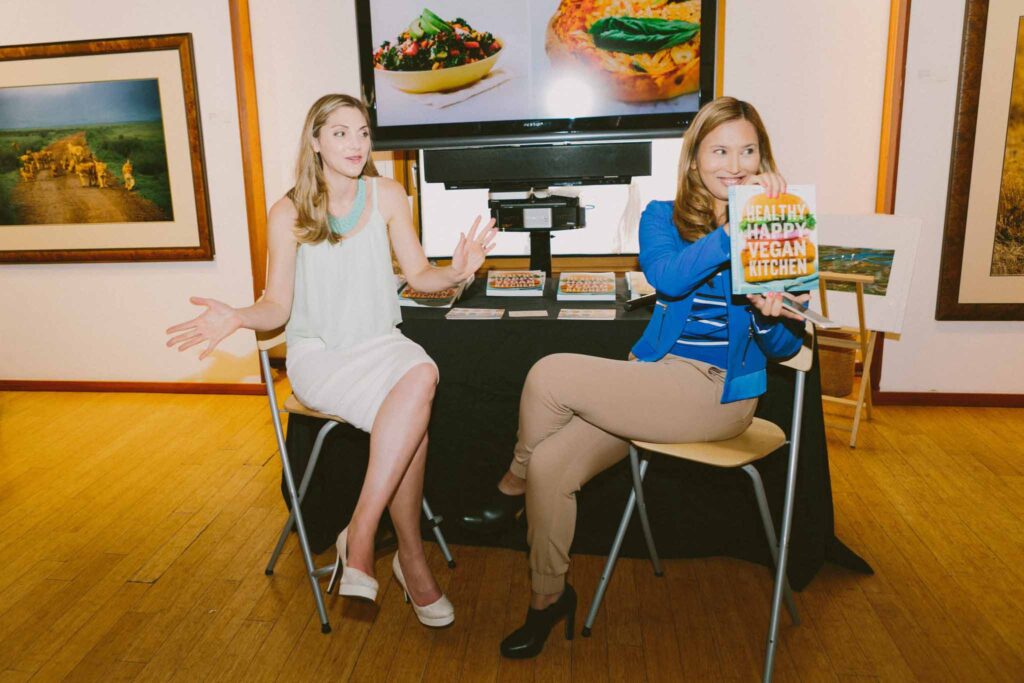 Reviews from Amazon…
"More than 220 vegan recipes that are fun, creative, simple; and taste delicious; and within reach of all home cooks! Love it!"
"She's the real deal when it comes to veganism!"
365 Vegan Smoothies
My first cookbook.
365 vegan smoothies by Kathy Patalsky
ISBN 9781583335178 | 352 pages | 04 Jun 2013 | Avery Trade Paperback
365 Vegan Smoothies was my very first cookbook, so it holds a special place in my heart. It was such a blast creating a different smoothie recipe for every day of the year. This book is filled with smoothie inspiration. From fun, creative names and an ingredients index with loads of nutrition facts, to plenty of go-to smoothie making tips. If you want to add more smoothies to your life, this book will help.
From green smoothies, dessert smoothies, refreshing smoothies, berry smoothies and a good handful of creative smoothies – your blender is ready for this workout!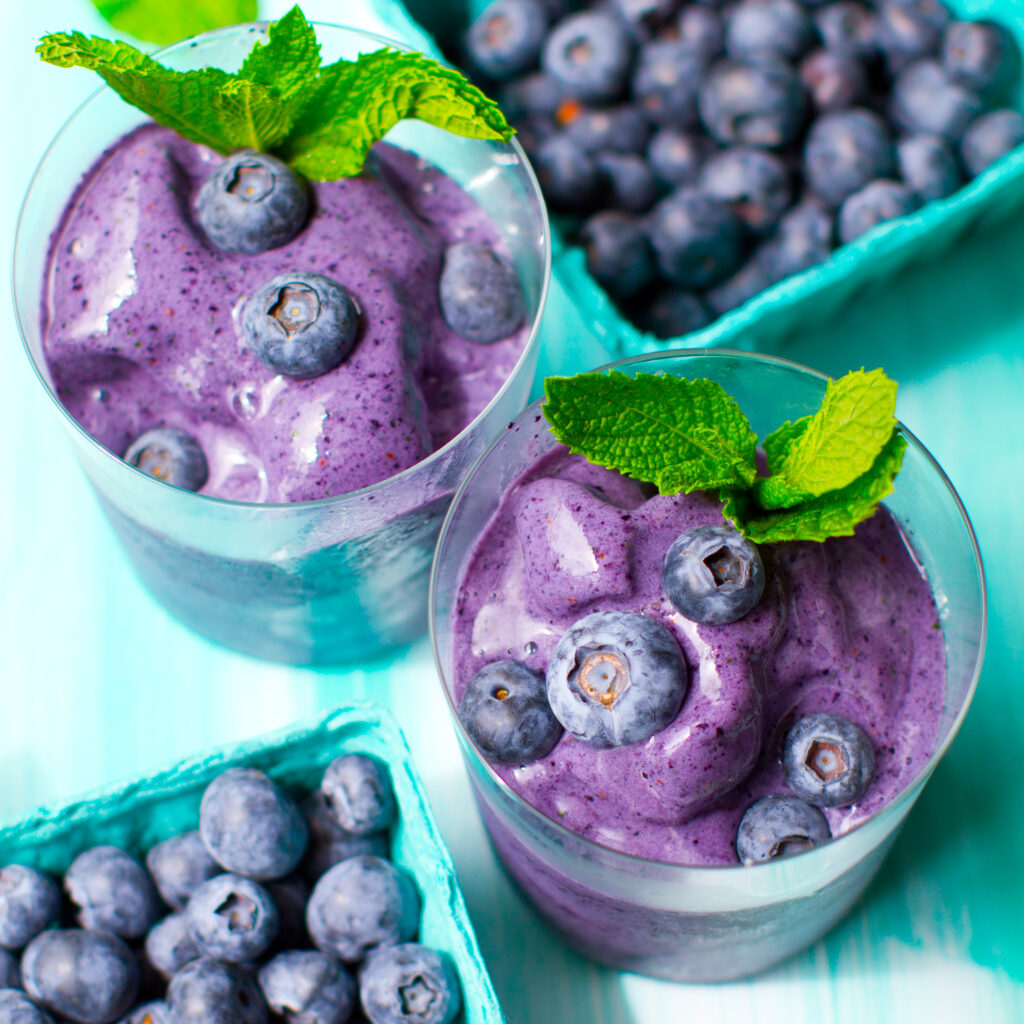 "Don't Hesitate, Just Buy!"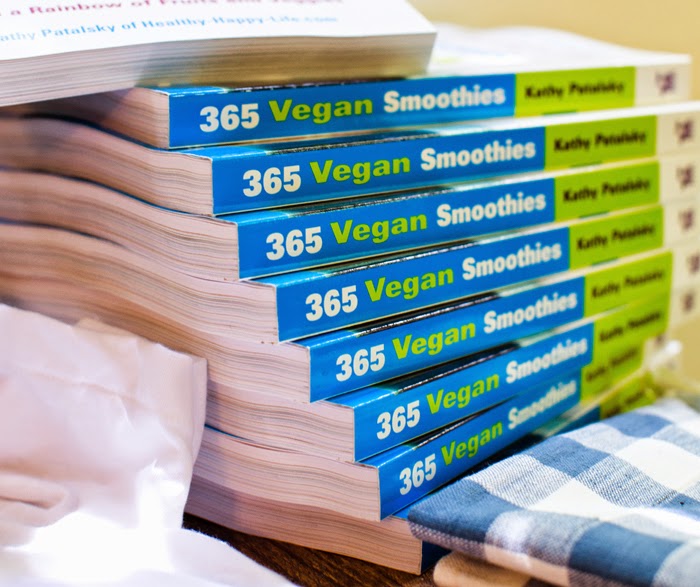 365 Vegan Smoothies Cookbook Description: "From one of America's most vocal health-food advocates: a bounty of delicious, healthy vegan smoothies that deliver fun, flavorful wellness every day of the year.
With 100,000 Twitter followers and a blog that receives half a million unique visitors a month, food writer Kathy Patalsky loves sharing her passion for healthy, vegan cuisine. With 365 Vegan Smoothies, she makes it possible for everyone to enjoy this daily diet enhancement that is free of animal products (even honey) and the saturated fats, chemicals, and hormones that often accompany them.

From her frosty sweet "Peach Pick-Me-Up" to green smoothies such as her revitalizing "Green with Energy," Patalsky's innovative smoothie recipes are built around themes such as brain boosters, weight loss, healthy digestion, and detoxification. She also includes mood tamers, such as the "Cheerful Chocolate Chia," with B-complex vitamins and omega fatty acids to boost serotonin levels. Featuring vibrant color photographs and simple steps to stock a healthier pantry, 365 Vegan Smoothies serves up the perfect blend for everyone."
More Kathy's Cookbooks Links:
I hope you loved these Cookbooks by Kathy Patalsky!
If you own one or more, I would so appreciate a review on Amazon. Thank you for being a part of this journey and this content.