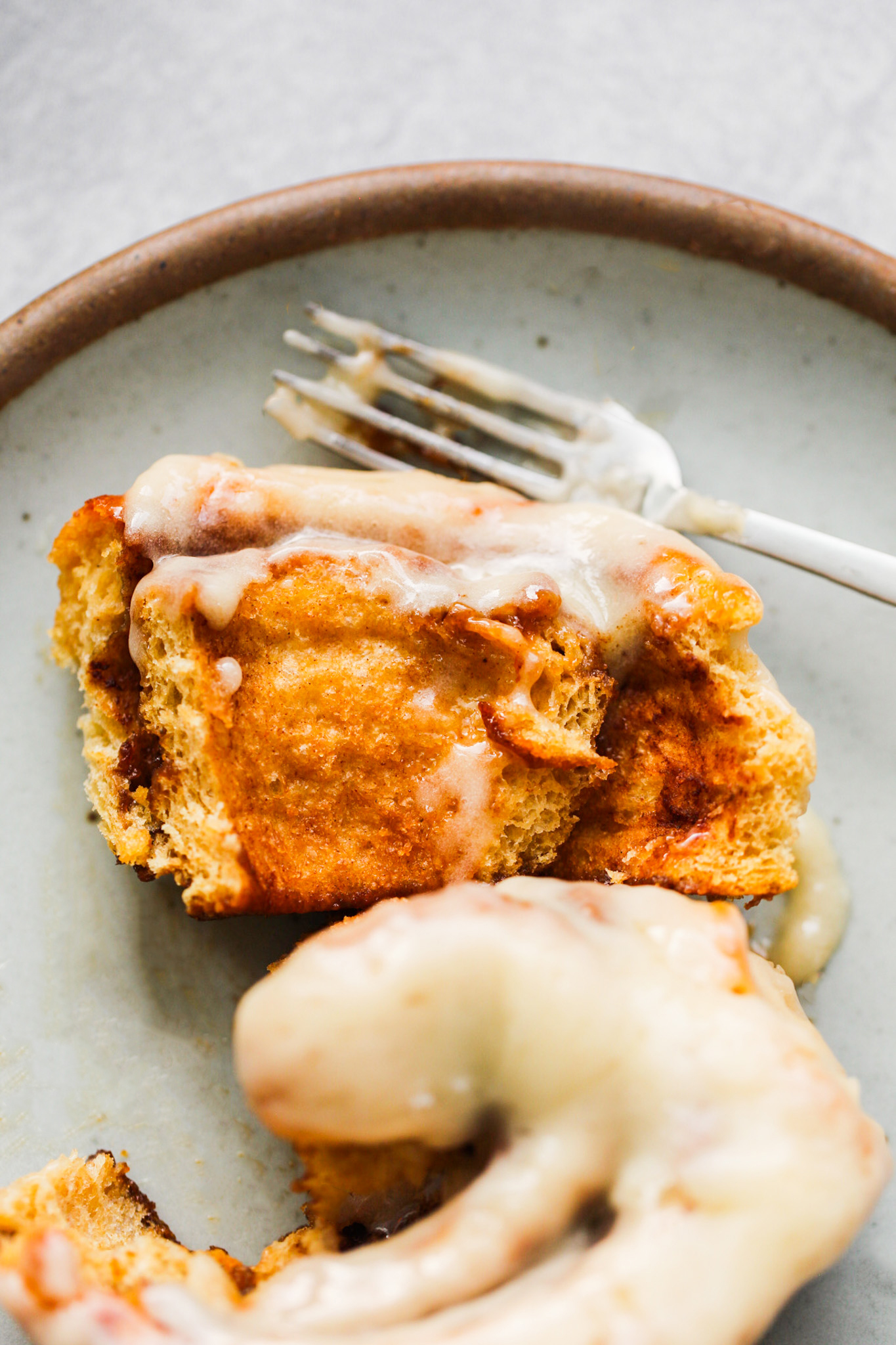 One of my absolute favorite recipes to make (and to eat) is homemade Cinnamon Rolls. And over the years, I have made my fair share of batches, playing with ingredient amounts and brands and variations to see how I can improve on things. And one goal I always have in mind: fluffiness! Today, I am sharing my very best tips for making sure your cinnamon rolls bake up light, fluffy, poofy and full of softness. My 7 Tips for Fluffy Cinnamon Rolls..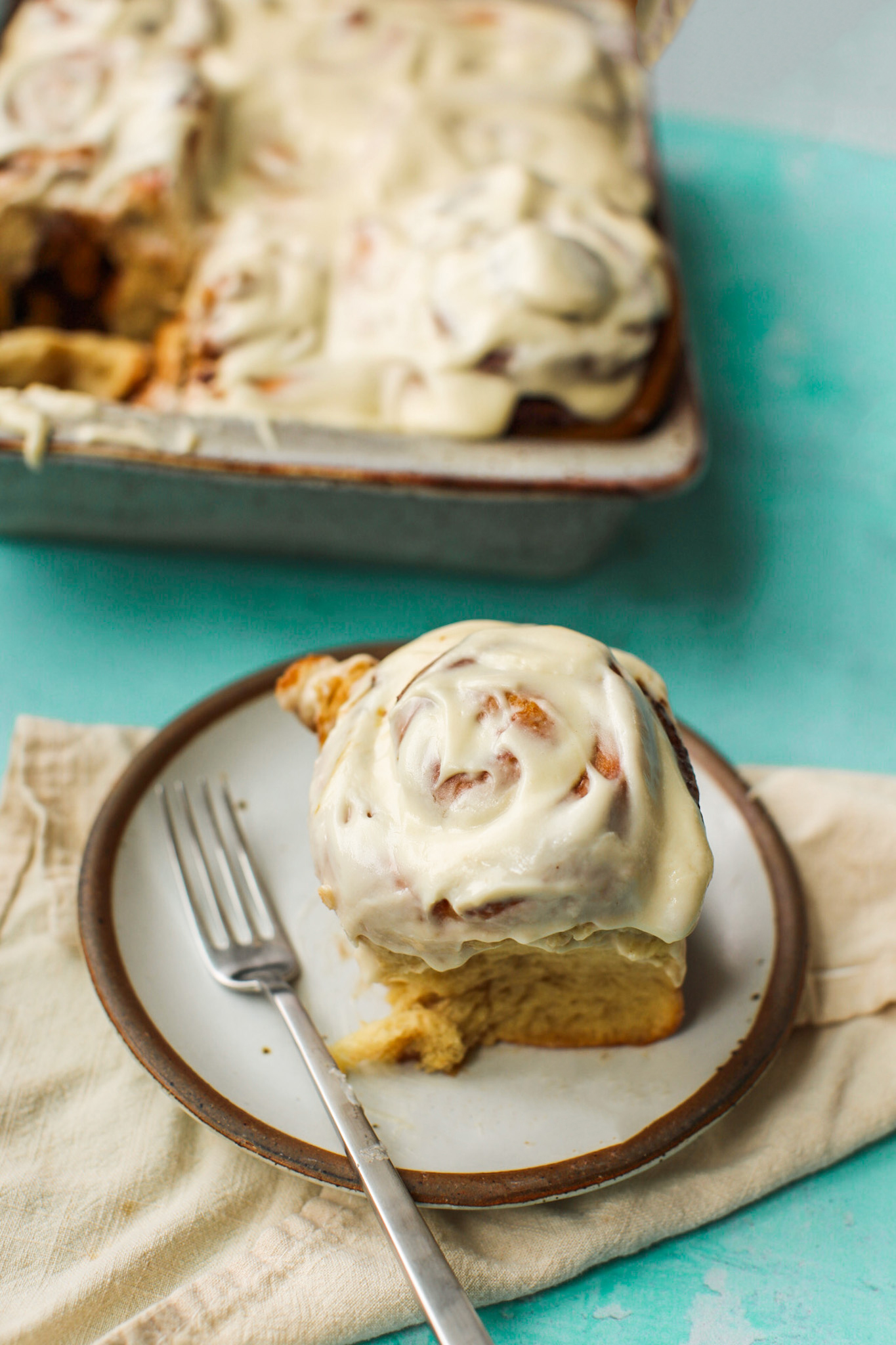 If fluffy Always Best??
Before I dive into the tips, I want to say that cinnamon rolls do not have to be super fluffy to be delicious! Sometimes, I don't have time or ingredients to follow all these steps perfectly, and my rolls are not as poofy as the ones in these photos. but they are still delicious! Even lightly risen cinnamon rolls are delicious. And I even played with a yeast-free roll once.
And I have even made rolls using heavier flours like whole wheat and sprouted grain, that are not optimally fluffy, but oh so good. Actually, I really love a whole wheat cinnamon roll!
But if you just want sky-high vegan cinnamon rolls, here are my must-do tips!…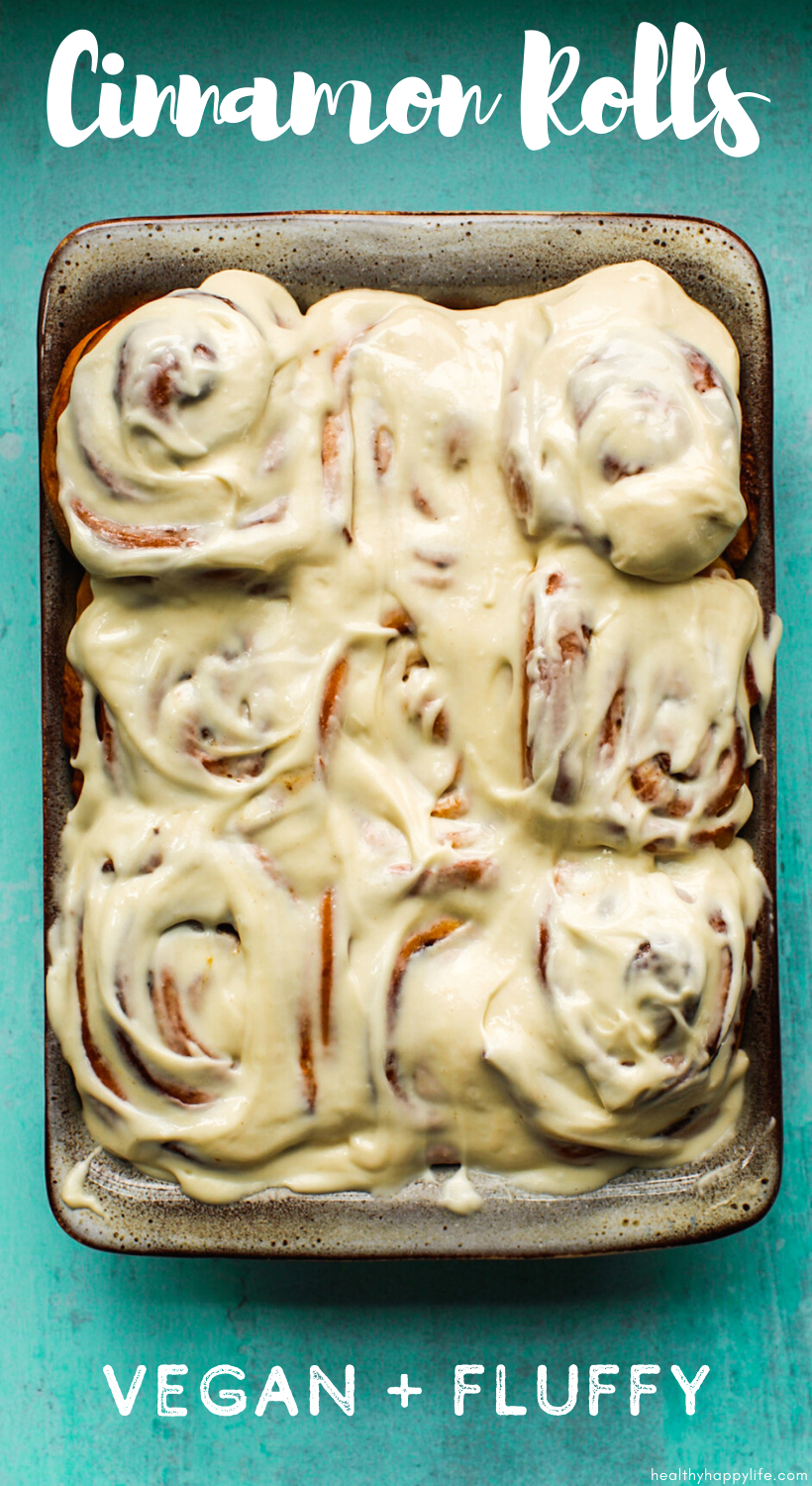 Wait, I Need a Recipe!
If you need my go-to cinnamon roll recipe, here it is: Vegan Cinnamon Rolls. Or you can try my pumpkin cinnamon rolls.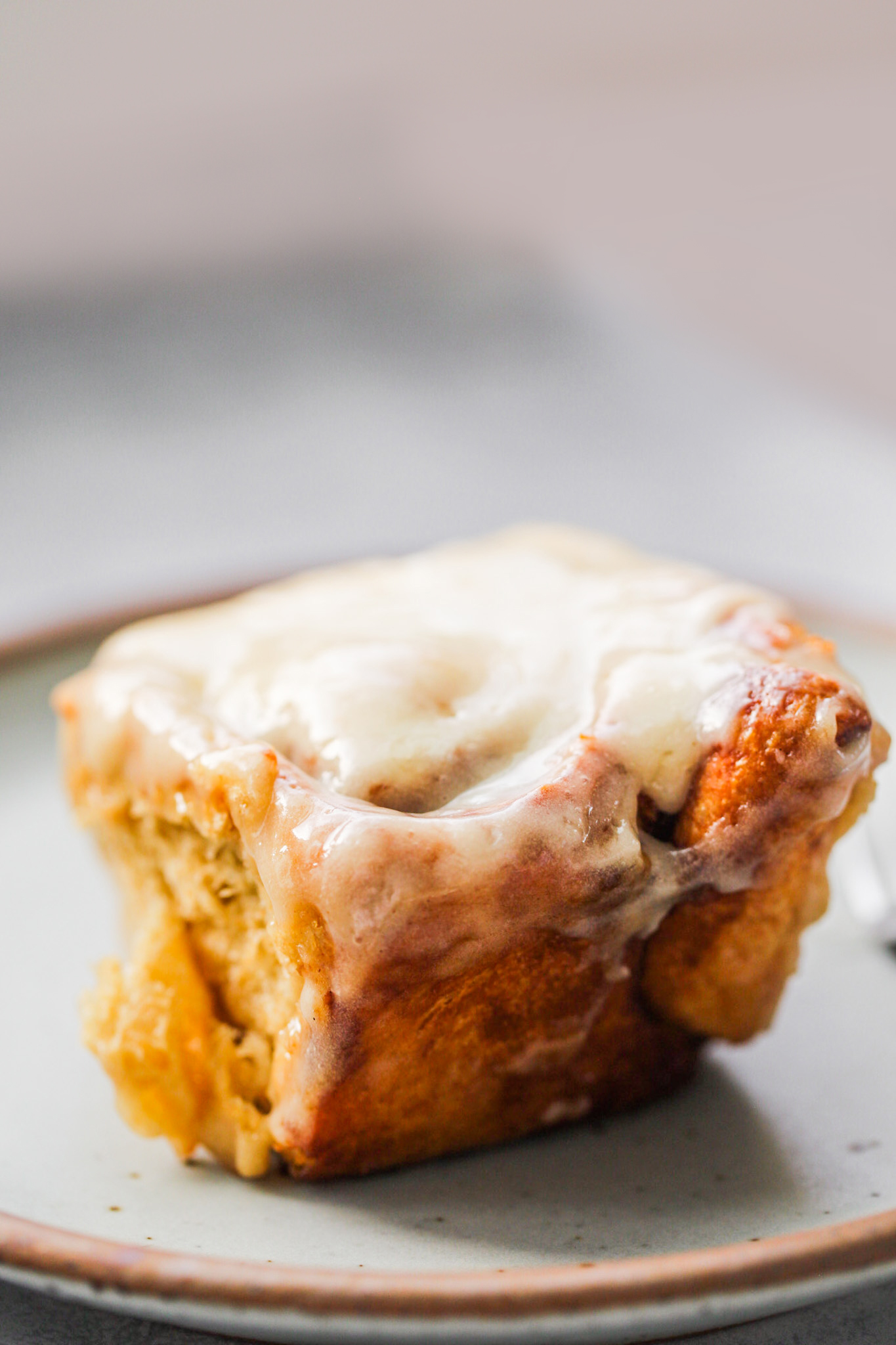 7 Tips for Fluffy Cinnamon Rolls
1 – Flour
Bread Flour or at least a mix of Bread Flour and something else is optimal for fluffiness and rising.
Bread flour has a higher gluten content of say and all-purpose flour, so it has a better ability to rise and stretch, aka, get fluffy. so while it isn't a MUST, it certainly helps.
2 – Yeast (Fresh + Amount)
Important tip for fluffy cinnamon rolls: yeast freshness and the right amount!
Two things about the yeast in this tip… Number one: make sure it is fresh! Number two: Use a pinch more than the recipe may call for. Yup, I said that.
Don't worry, a pinch more (like pumpkin it up to 2 ½ teaspoon from 2 ¼ tsp, won't have any impact on flavor and will give a tad more rise. Start slow with this though…. Figure out what range your yeast will work with for your recipe. I have actually taken my cinnamon roll yeast content all the way to 3 tsp with success. They poof up a lot, but the flavor never gets to be 'yeasty' at all.
How much yeast is usually in cinnamon rolls?
The amount of yeast usually in a batch of cinnamon rolls is 2 ¼ tsp, or ¼-ounce package. I usually do 2 ½ tsp. When I want more fluff, I will even go up to 2 ¾ tsp. I feel like vegan rolls can handle that extra pinch since they do not have eggs.
How much yeast is too much??? Well, when the fluffiness overtakes the dough and messes with the texture. And also if the yeast can be tasted. You don't want to taste yeast.
Brand of yeast?
Red Star or Fleischman's is always great, and I've been really happy with this BellaRise yeast I bought recently!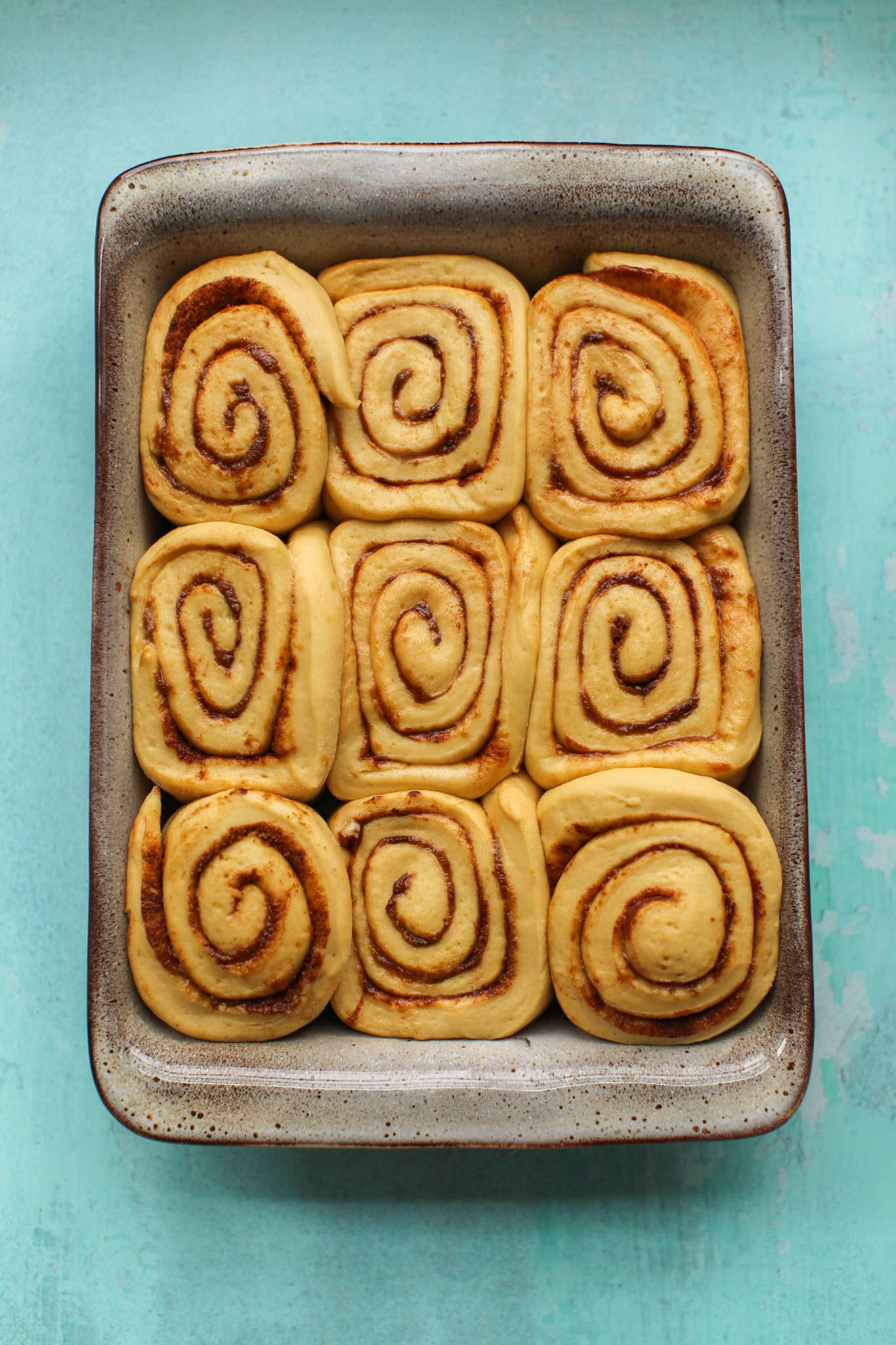 3 – Yeast (Soak Time)
This yeast step deserves it's own bullet point because it is so important and it is the number one thing I have seen new bakers skip. That initial yeast soak time! Don't skip it.
Let your yeast soak in the liquid (usually water and/or milk) for at least five minutes. Ten minutes to be safe. You want to see a few bubbles forming along the top of the liquid. It should also start to smell nice and yeasty. This smell will go away when it mixes with the flour and bakes.
This step is so easy! You just have to have a little patience. I usually prep the rest of my ingredients during this step.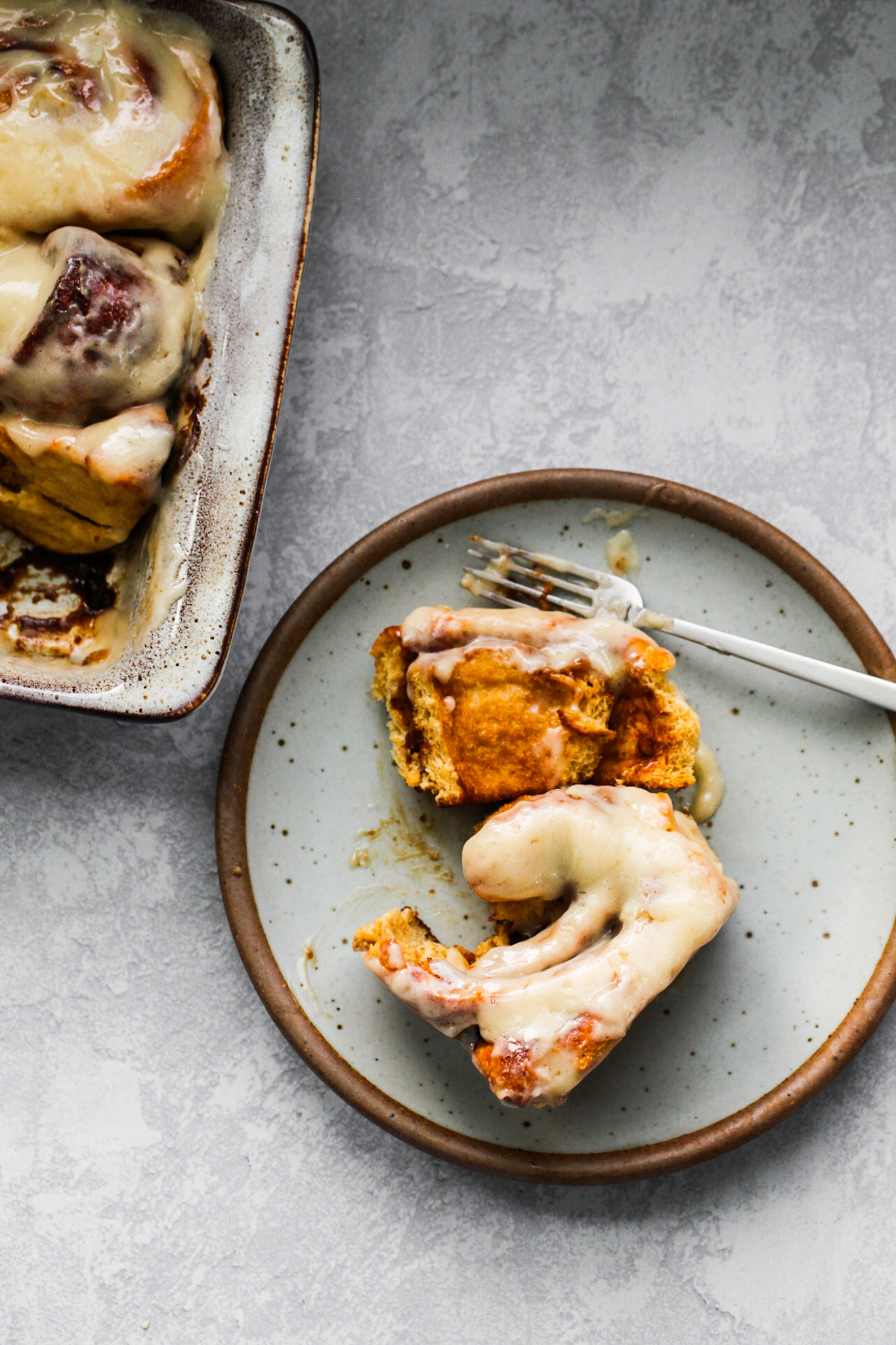 4 – Dough Rise Time
Another step that requires absolutely nothing but patience. Easy!
For the fluffiest cinnamon rolls, make sure you allow your dough to rise for at least 90 minutes for the first rise. For the second rise, a good 30 minutes works.
I see a lot of recipes – including a few of mine – say 60 minutes minimum for the first rise. And yes, that will work, but I always find that 90 minutes makes fluffier dough. And fluffy dough = fluffy rolls!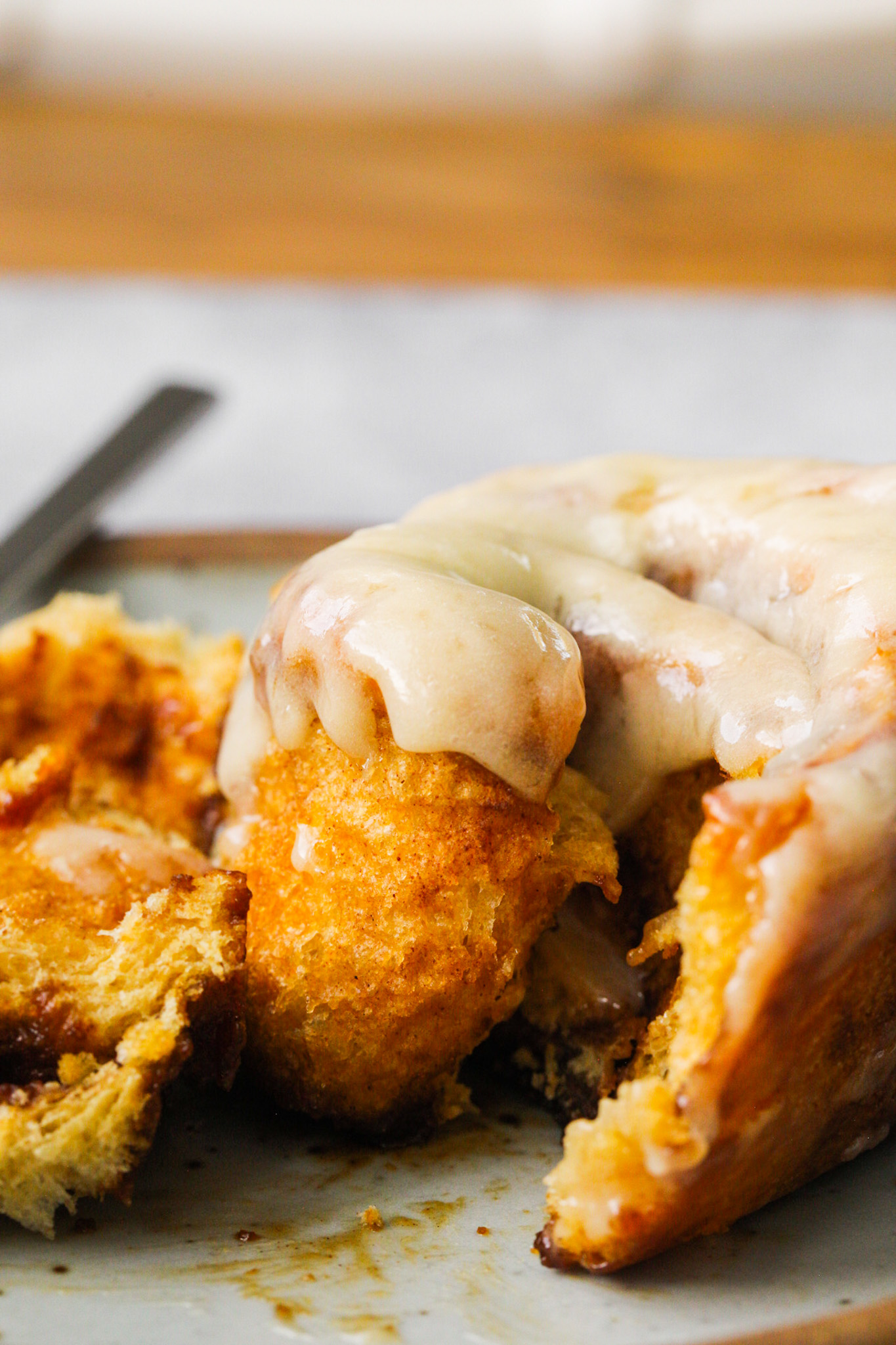 5 – Egg Replacer (for Vegan Rolls)
If you are not vegan, then using eggs won't be an issue for you. But since all my rolls are vegan, I want to chat egg replacers a minute..
I have found success with a wide variety of egg replacers. But some are much better than others for fluffiness specifically.
You want something that fluffs up nicely, adds flavor and mimics and eggy texture for binding. The JUST Egg liquid product (yellow in a bottle in the fridge section) is a great option. Silken tofu and flax eggs and powdered egg replacers also work well. But I find that the flax eggs can be a bit heavy sometimes. I have also found success with pumpkin puree for my pumpkin cinnamon rolls. Pumpkin is surprisingly fluffy straight out of the can!
You just want something that when baked (heated) brings a little more air and oomph to your rolls.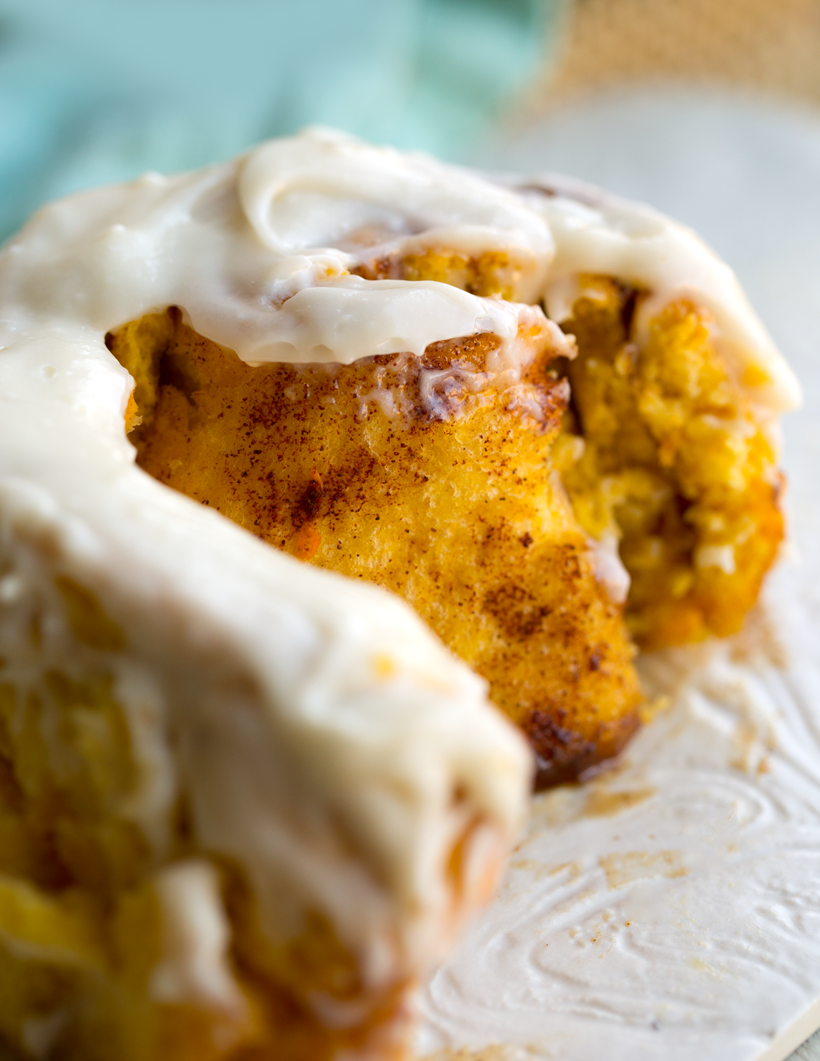 6 – Dough Moisture Level
Flours will vary, so as a general rule, try to make sure you don't dry out your dough by adding a bit too much flour. I have found that dough that is slightly moist, aka not overly dry, will rise better than a dry dough – simply by the ability to fluff up due to stretchiness. I'm not talking sticky, but just nice and hydrated, smooth sides, no dry patches.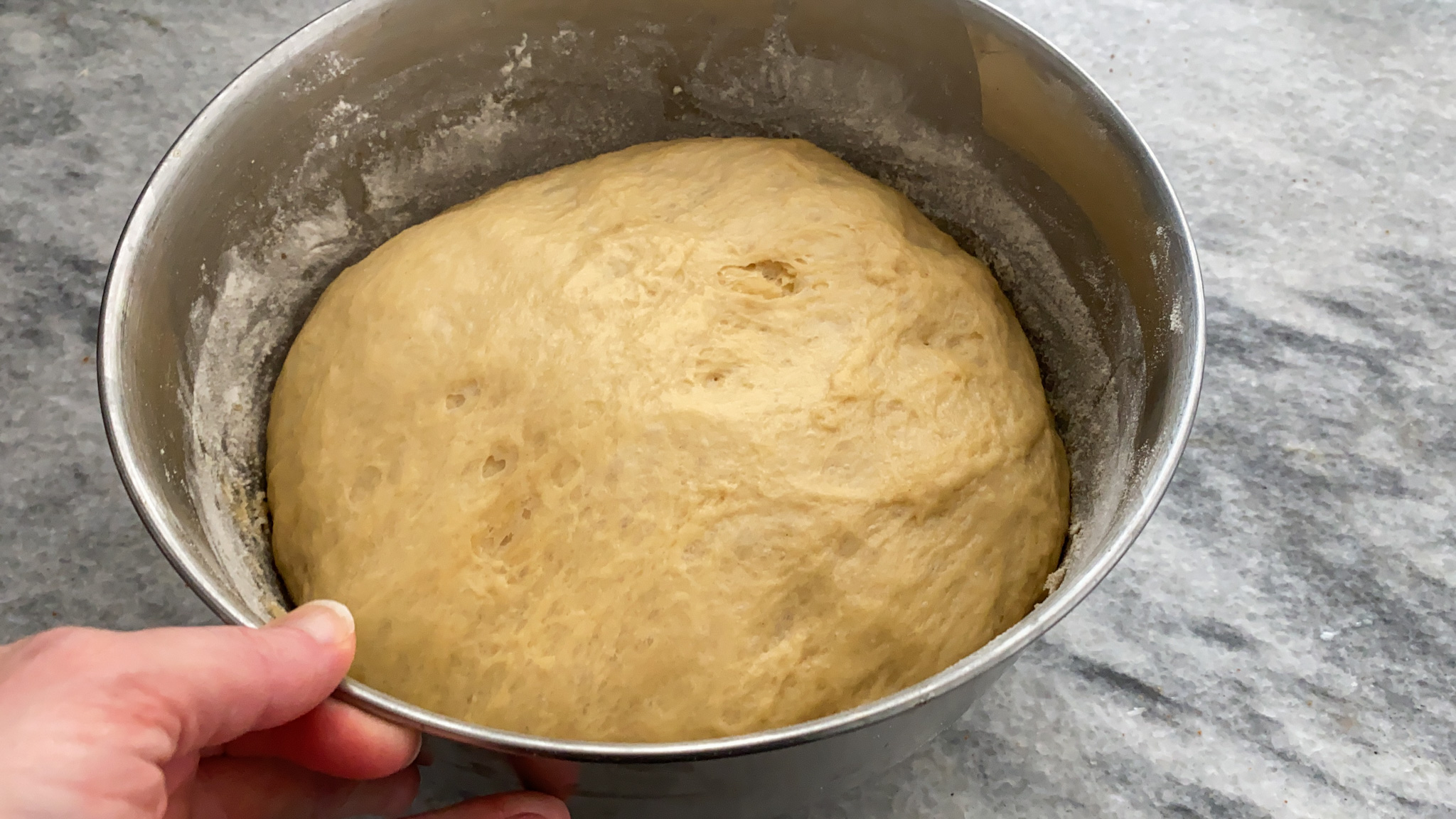 If needed, reduce your initial flour add in by ½ cup. You can always add back in that flour when you do a second kneading after the first rise! Dry dough will not help your fluffiness-seeking cause.
Another tip is to make sure you are kneading long enough to really work that dough and distribute the moisture with the flour. Kneading cut short may give your dough too many dry patches that interferes with the rise.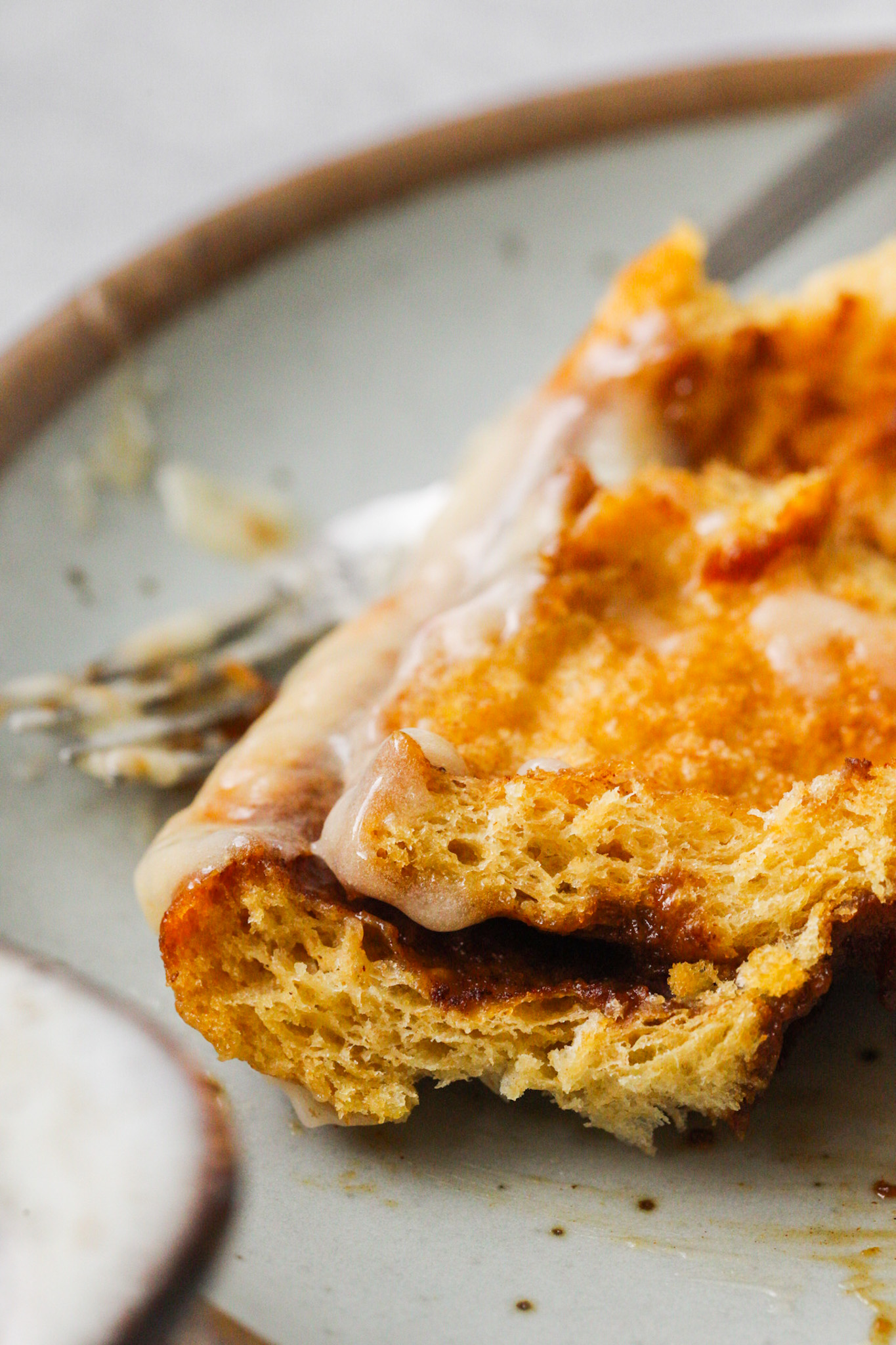 7 – Rolling Out Dough
don't over roll your dough. You want it thin enough to get a nice tight swirl, but you don't want the dough so thin that it loses it's body and ability to fluff up.
My sweet spot? When I look at a cross section of my unbaked roll, I can usually count about 6-7 bands of dough. When baked, I usually count 5-6 bands, since they will poof up when baking and loosen a bit..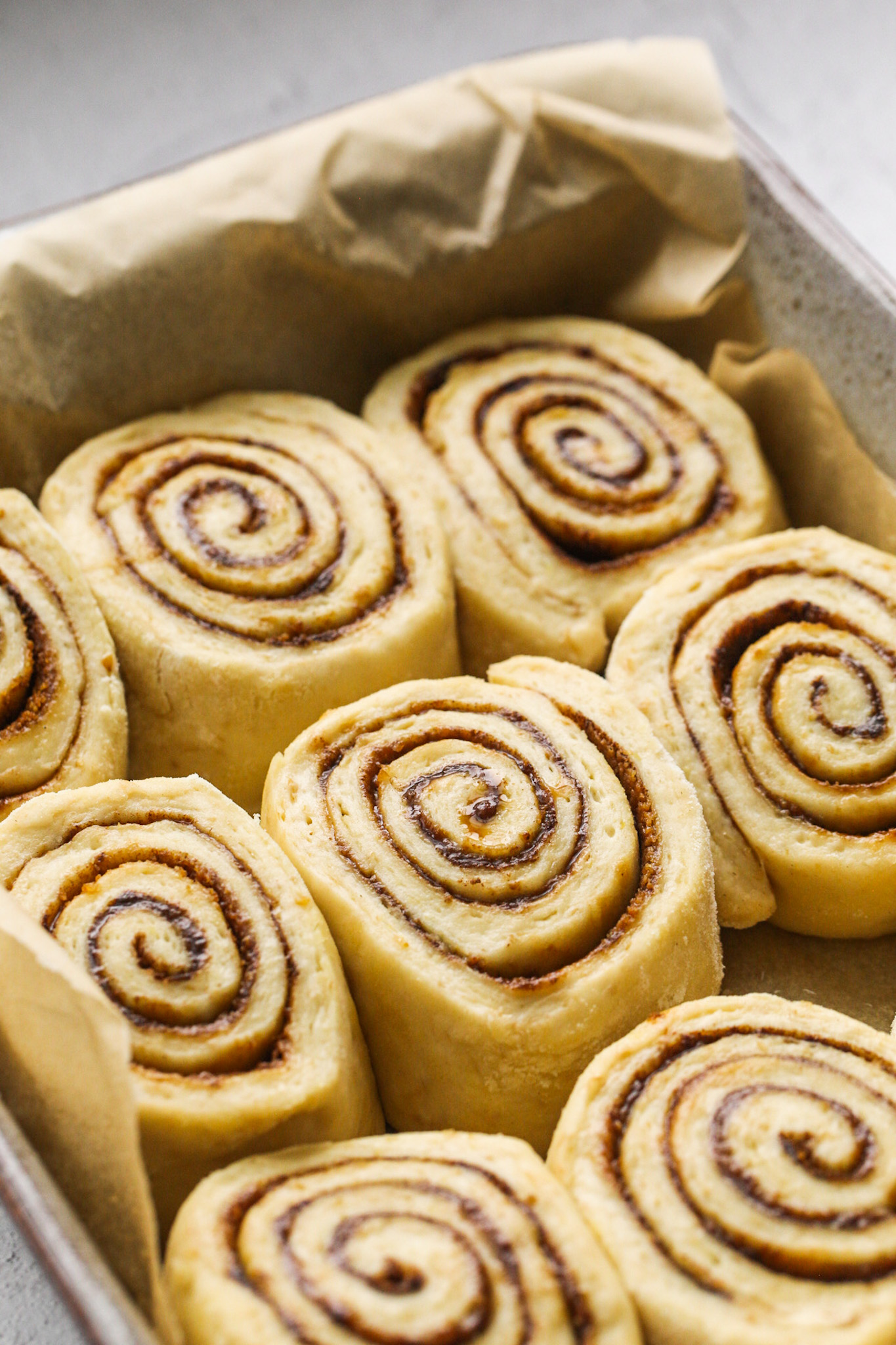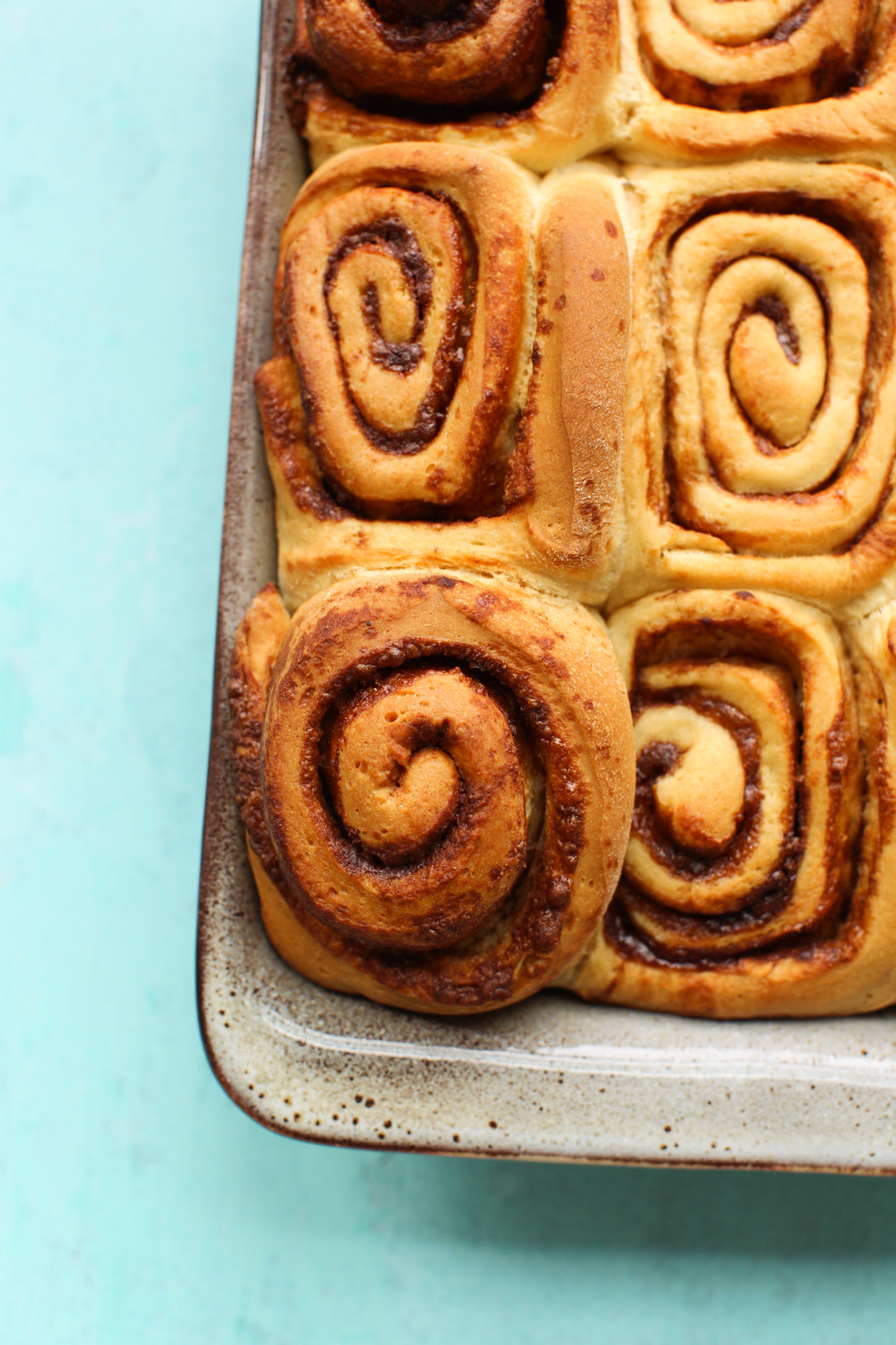 If you feel more comfy with a measurement, About a 12 inch by 17 inch rectangle should do it. And no, it does not need to be a perfect rectangle unless you are looking for Martha Stewart perfect buns!
So! Let's recap that list…
Use bread flour!
Make sure your yeast is fresh and you can use a pinch more than the recipe calls for for vegan rolls.
Don't skip that yeast soak time!
Don't skimp on dough rise time. Go for 90 minutes for the first rise. #0 minutes for the second rise should do it.
Use an egg replacer that mimics real eggs when cooked – by adding some airiness and oomph. Just Egg is my fave for fluffy cinnamon rolls.
Don't dry out your dough before that first rise. Knead it enough and reduce flour a bit if needed – add it in for the second knead.
Don't roll the dough too thin!
Cinnamon Roll Recipe
Snag my cinnamon roll recipes! Vegan Cinnamon Rolls. Or you can try my pumpkin cinnamon rolls.