Today's vegan holiday cookie recipe is that of the lovely Vegan Linzer Cookie. I did a butterfly shape to resemble an imprint of a snow angel.
Linzer Cookies are known for their buttery almond cookie base and beautiful snowy sugar tops – with a peek oof jam. Today I am sharing my spin on Vegan Linzer Cookies with a raspberry jam filling. These cookies are surprisingly easy, even though they pack some serious curb appeal when it comes to your holiday cookie table.
Grab some almond flour and let's get to it!…
Jump to:
History of the Linzer Cookie
If the Linzer Cookie reminds you of a pie or tart, well you are correct! It absolutely has it's origins based from a tart. History goes,
"Way back in 1653, this recipe (originally a tart) was discovered in the cookery manuscript of Countess Anna Margarita Sagramosa In Austria. The tart was baked like a pie with a delicious buttery almond crust, filled with black currant preserves and topped with a latticework crust.

The recipe was developed using a crust made of nuts since they were easier to come by at times than wheat for flour.

While a yummy black currant tart is a perfect way to end a meal, bakers came up with a cookie version they could stock in their shops, and it became a holiday tradition to see these lovely treats in the frosty windows."

– eat to explore
The sandwich cookies are traditional to Austria, though they can now be found in many bakeries in the US. The dough is called "Linzertorte dough." The dough is rich with almonds and almond flavor.
I have updated a more traditional recipe, to make my Vegan Linzer Cookies.
The Spy Cookie!
I love this bit of information from Biance Zapatka. She says they are also called spitzbuben cookies because that was the term for spies. And in essence, you can spy the jam in between the cookies. I can hear the Mission Impossible theme music playing now…
How Long Does the Dough Chill in the Fridge?
One important step to this dough is to chill it in the fridge before rolling out. Since the dough is rich in butter, rolling out the dough right after blending it together would be impossible. Chilling the dough greatly firms it up into a more malleable texture.
I have tested dough that has been in the fridge for an hour and while it usually works ok, I still find it a bit too sticky. I think 2-3 hours is minimum, nut overnight really works best for these Vegan Linzer Cookies.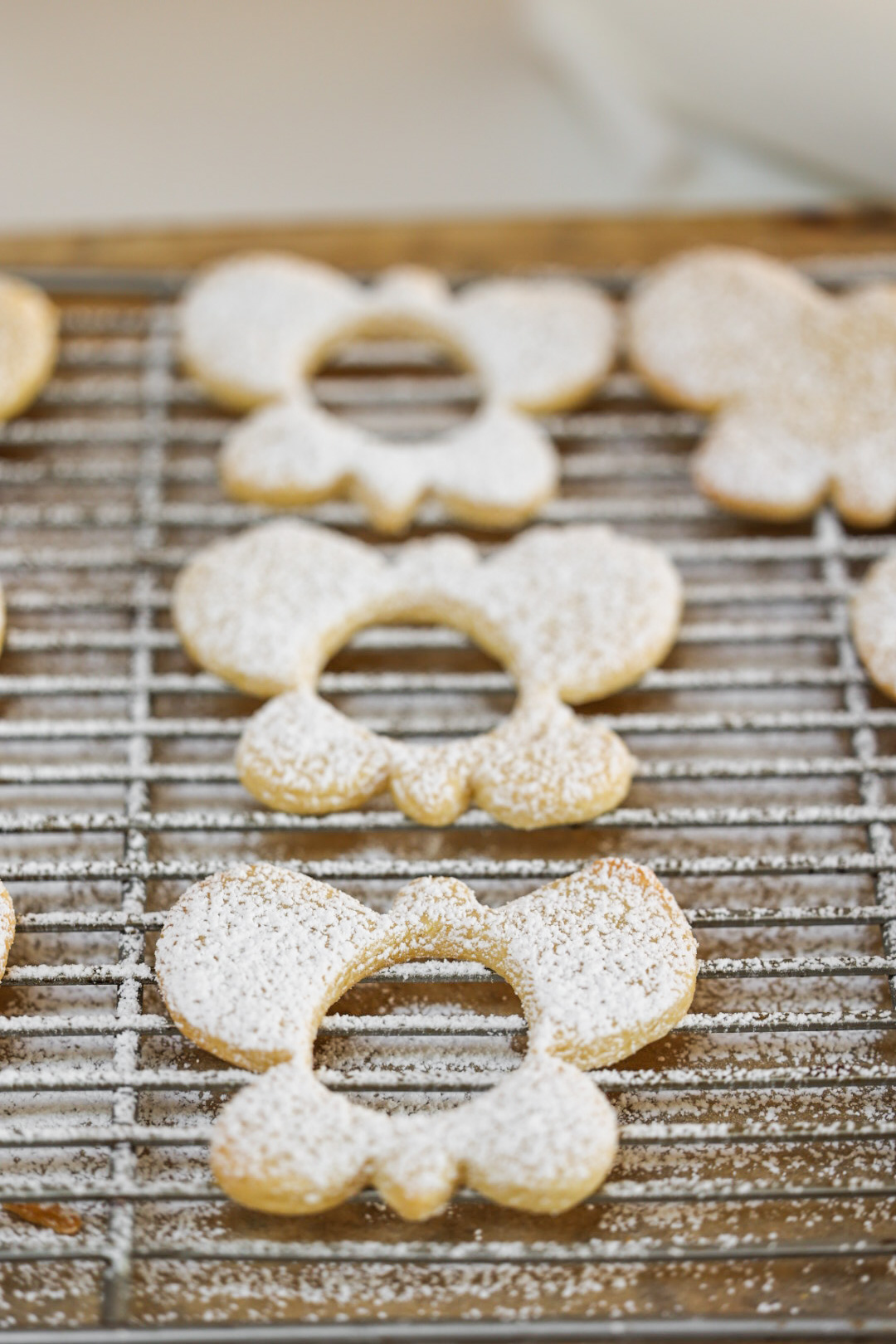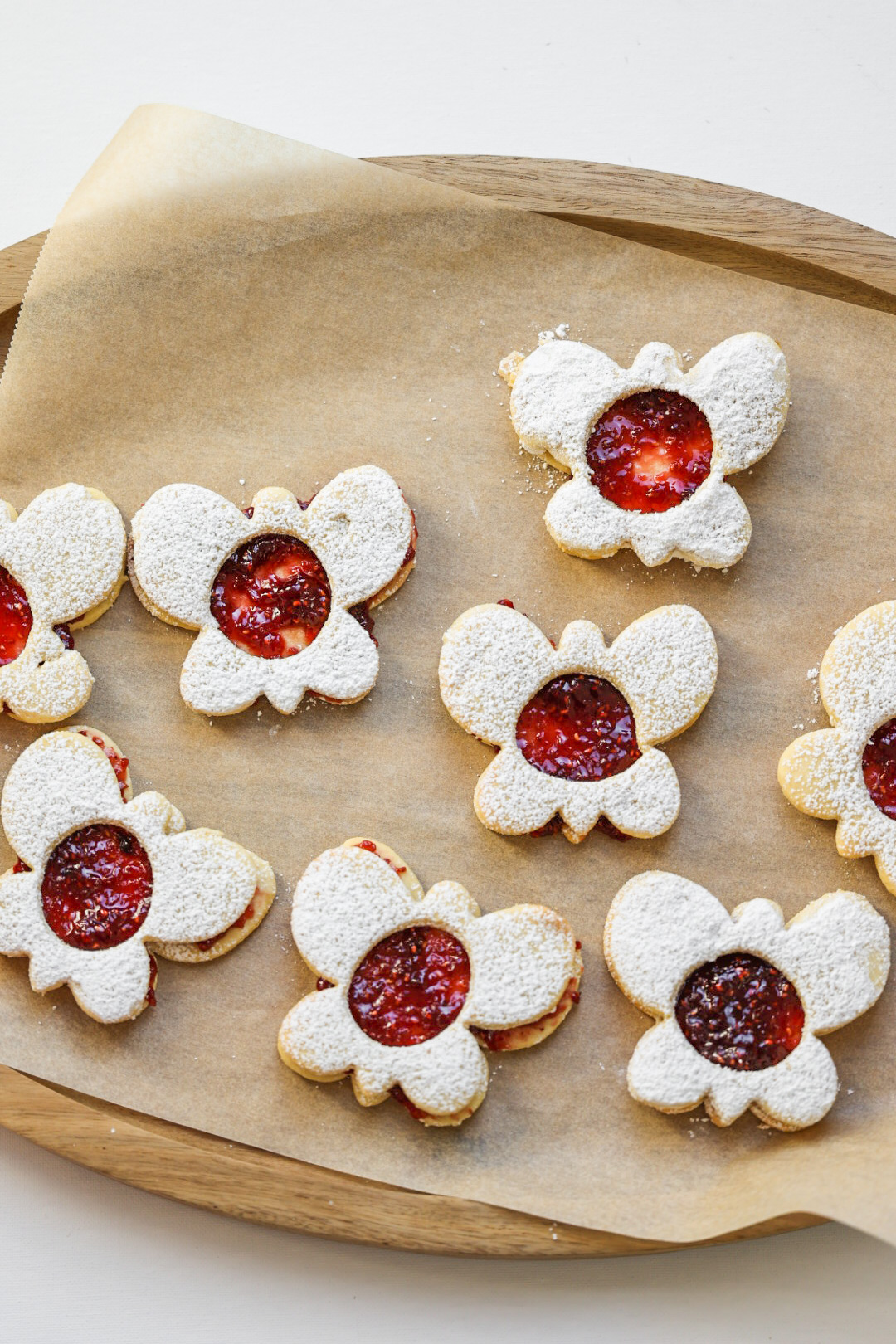 Make-Ahead Tip:
Whip up the dough the day before you want to bake and serve the cookies! The cookies swiftly come together once baked, just add some jam and a dusting of sugar.
Shapes and Cookie Cutters
Cookie cutting is a key step for these Vegan Linzer Cookies. Upon rolling out the dough you will cut shapes for each cookie. But remember, each cookie needs two parts. The bottom cookie which remains whole. And the top cookie, that has an extra shape cut out so that the jam can peek through. This is sometimes called a Linzer eye.
For my Vegan Linzer Cookies, I used a simple butterfly cookie cutter. I liked it for the holidays because it almost looks like a snow angel. I would have loved to do a heart shape for my Linzer eye, but I couldn't find my mini heart cutter, so I did a simple round shape instead. This round shape worked well, though you want to be careful about making your eye too large. If it cuts into the cookies edges too much, your cookie could break apart.
For the cookie shapes, you could try a traditional crimped edge rough cutter, or something sweet like a heart. For the eye, a simple circle or heart works very well. I also love a star for the eye.
If you want to get really fancy, you could buy this Wilton Linzer Cookie Cutter sweet on Amazon.
Or try for a few of these shapes. Just remember that the 'eye' cutter needs to be significantly smaller than the main cookie cutter shape.
Round
Star
Angel
Butterfly
Crimped Round
Heart
Star
Bell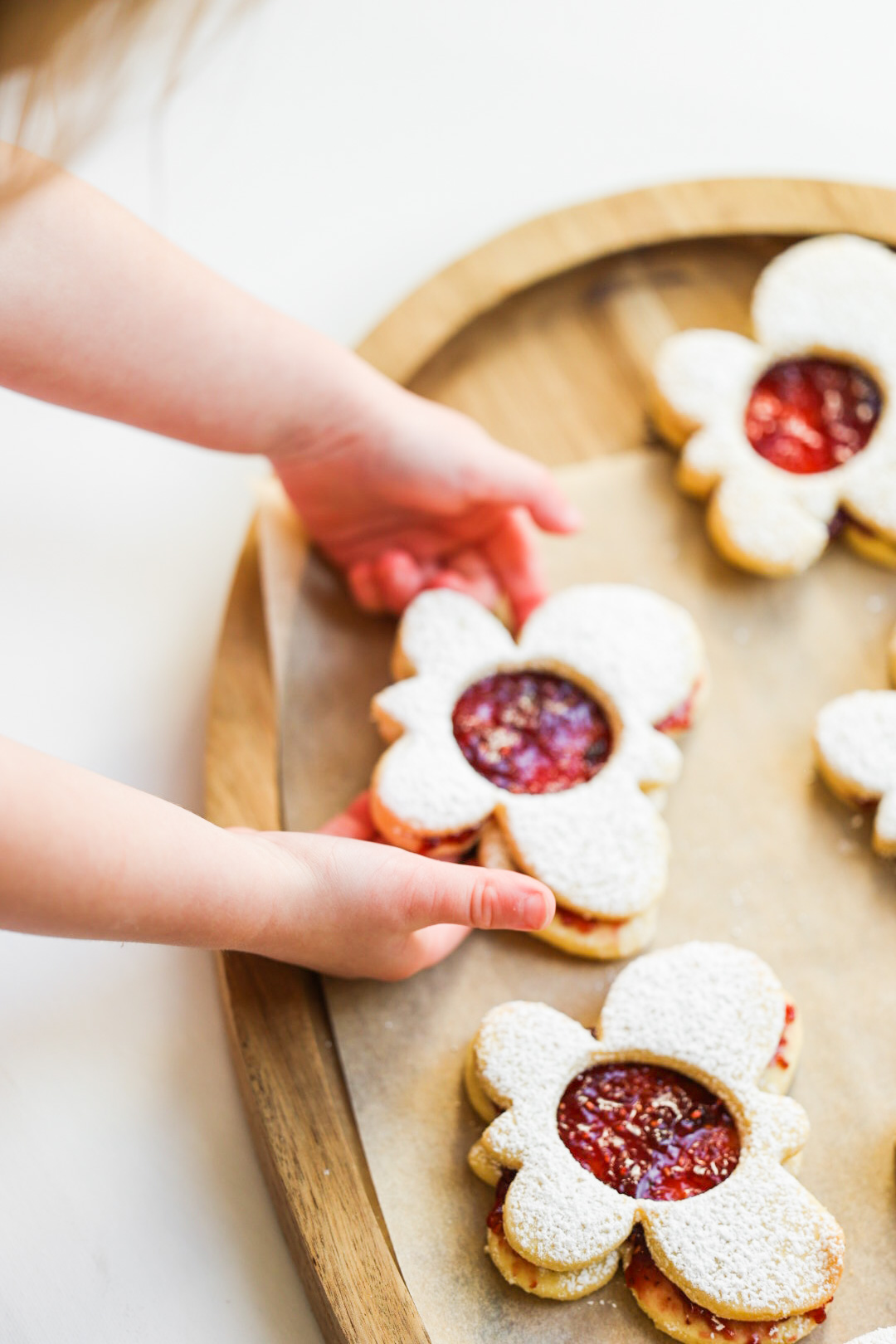 Other Vegan Holiday Cookies to Try!
I have quite a few holiday cookie recipes here on the blog. Give a few of these a try….
Ingredients
Here are the main ingredients for my Vegan Linzer Cookies…
almond flour
wheat flour
vegan egg
sugar
almond and vanilla extract
salt
zest
baking powder
vegan butter
powdered sugar
See the recipe card below for quantities.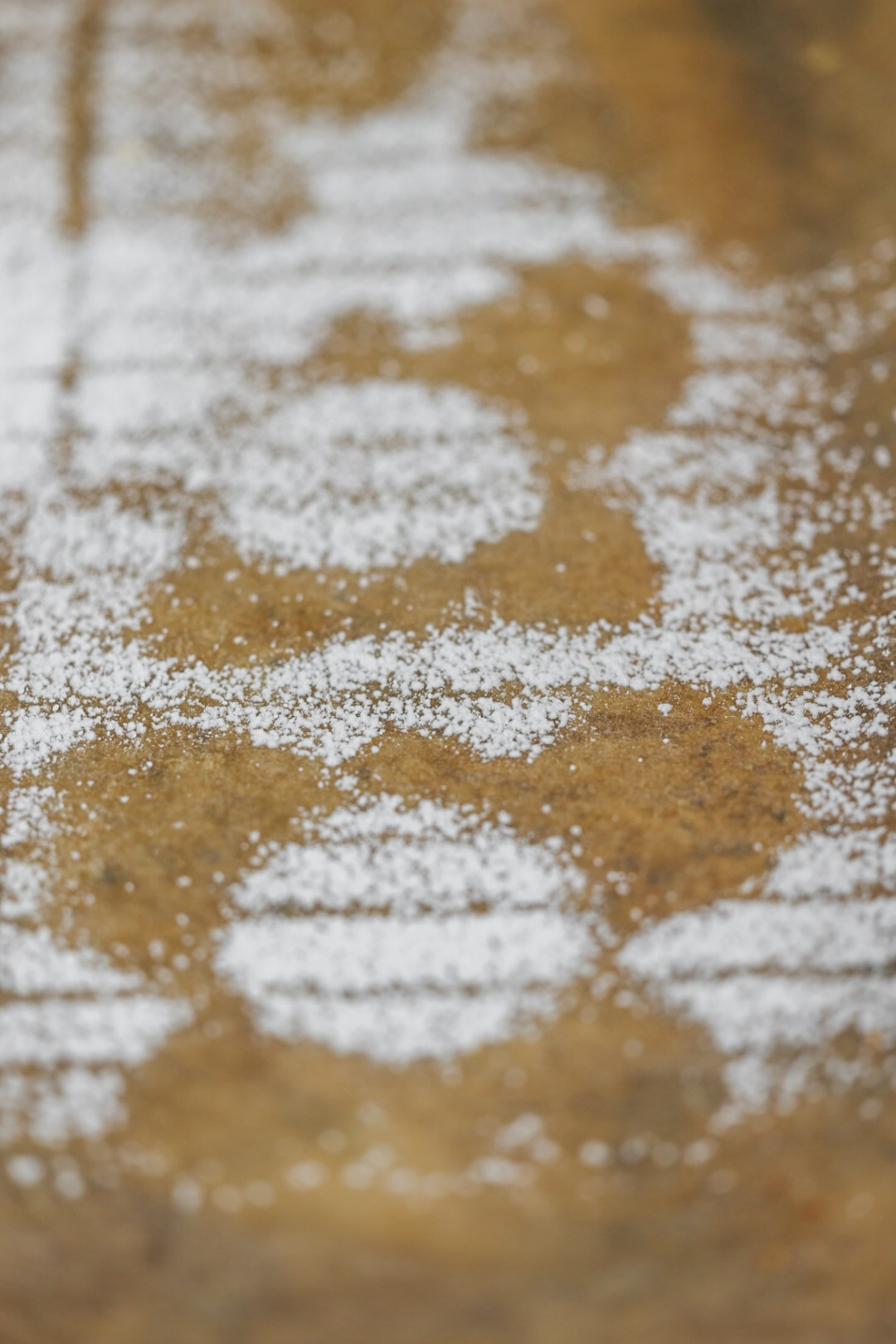 Instructions
Making these Vegan Linzer Cookies require three simple steps.
First, you prepare the dough. Wrap it in plastic wrap and chill in the fridge.
Then once chilled, you roll out the dough, cut into shapes and bake.
Then you simply cool and assemble the cookies with the jam and powdered sugar. Easy!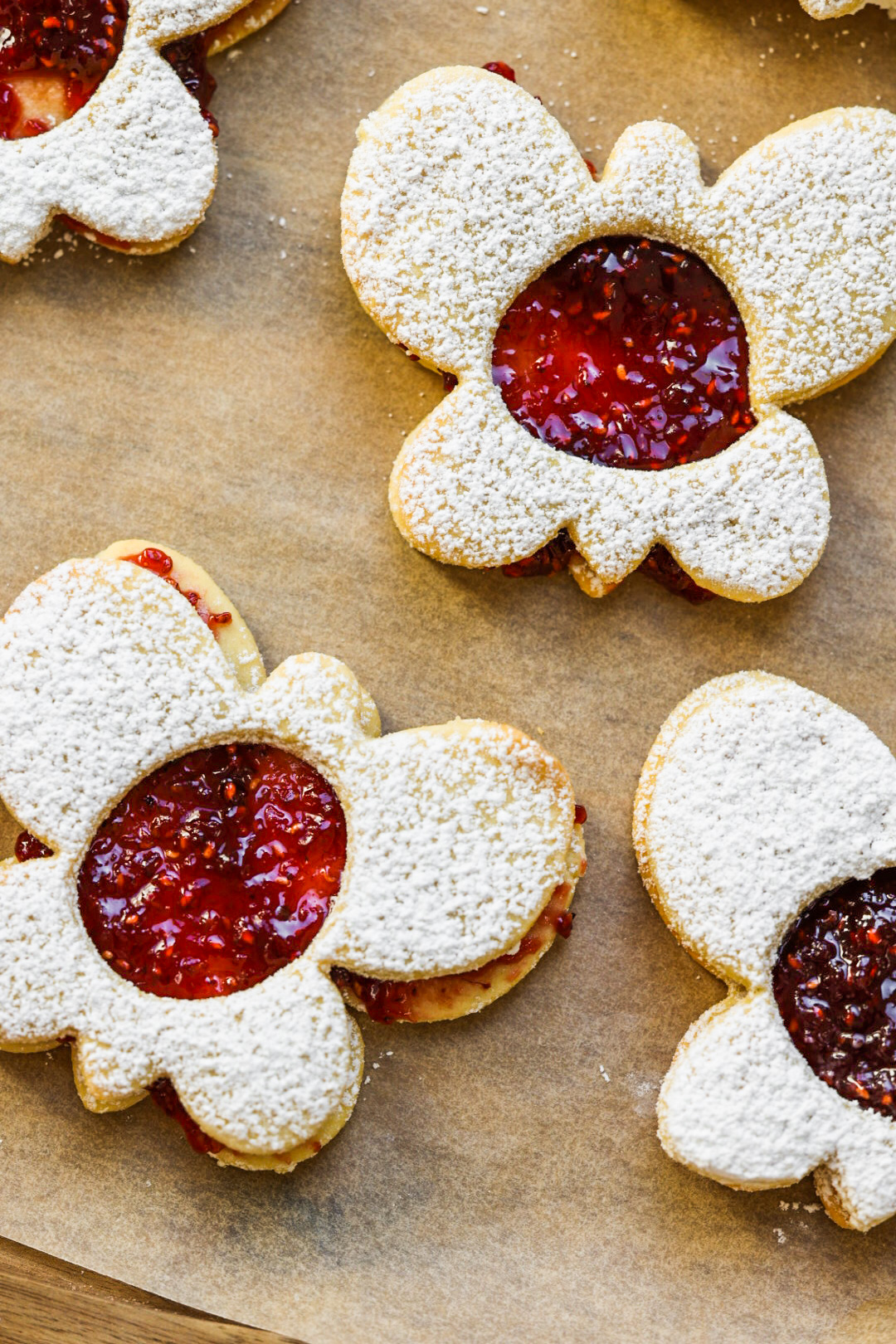 Substitutions
Here are a few substitution notes for you.
Vegan Linzer Cookies subs:
Vegan Egg – You could sub with silken tofu or applesauce. If using applesauce, please reduce the amount to ¼ cup.
Wheat Flour – You can sub with a gluten free flour blend if needed.
Vegan Butter – This is a prime ingredient for these cookies, but if you really want to attempt a version without it, try coconut oil and a pinch more salt.
Almond Flour – This is one ingredient you definitely shouldn't sub if you want the traditional almond flavor. If you are just looking for the design and want a more sugar cookie flavor, you could sub with regular wheat flour.
Recipes – Blogger Friends:
I always encourage you to look at a few different recipes when settling on one to follow! This helps to educate you on the various ways to make something and what those slight variations may produce. Browsing food blogs is such a great educational activity for any budding baker or cook.
Check these out!..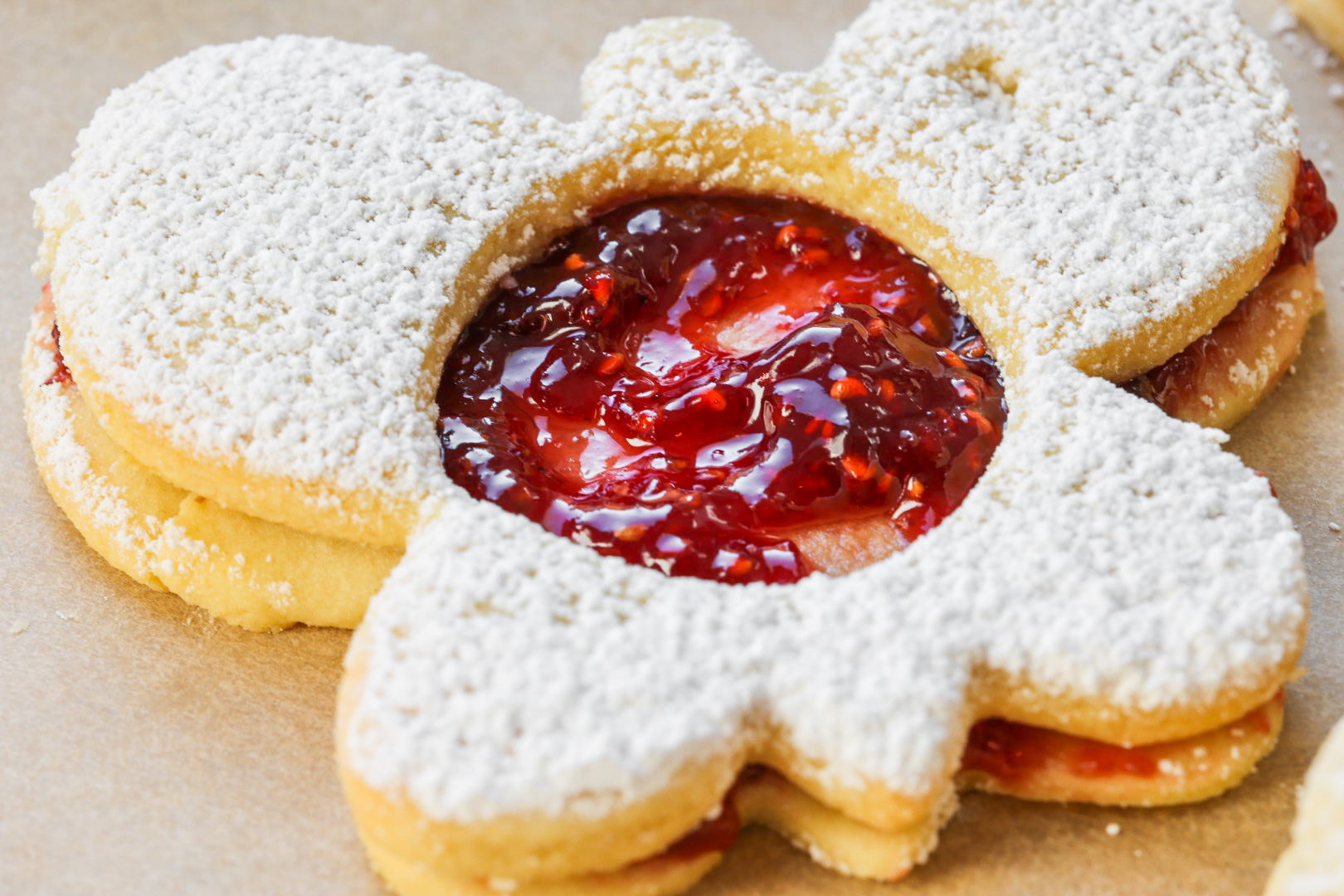 Vegan Linzer Cookies – Variations
Change it up!
Jam Flavors – Raspberry, blackcurrant, redcurrant, apricot, blackberry and strawberry are my faves.
Shapes – As mentioned above, you can try a wide variety of designs for your cookies.
Thickness – The thickness will change the texture of these cookies. Roll them out extra thin for a more crispy buttery texture. Or keep them a bit thicker for a more pie crust, buttery texture.
Extracts – Get creative! Try almond and vanilla or something new like orange or lemon extract. Other ways to add more fresh flavors: citrus zest!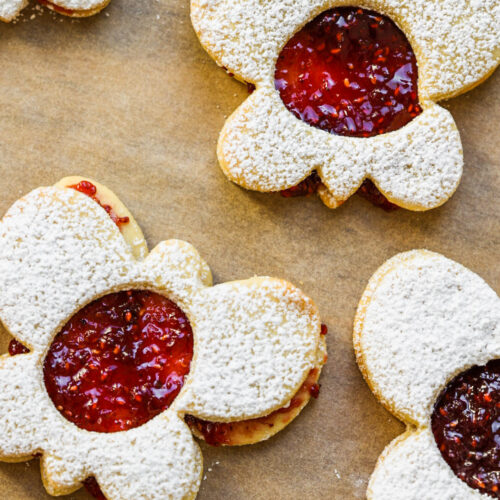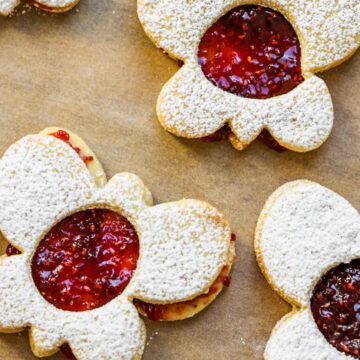 Vegan Linzer Cookies
Buttery almond flavored cookies with a peekaboo of festive jam and powdered sugar on top.
Print
Pin
Ingredients
WET
½

cup

vegan butter

,

softened

½

cup

vegan egg

1

teaspoon

vanilla extract

½

cup

cane sugar

½

teaspoon

almond extract

½ -1

teaspoon

citrus zest
DRY
¼

teaspoon

salt

1

teaspoon

baking powder

1 ¼

cups

almond flour

1

cup

flour

,

AP
TOPPINGS
⅓

cup

raspberry jam

⅓

cup

powdered sugar
Instructions
Beat together all wet ingredients in a mixer. Gently beat in the dry ingredients until a thick, yet wet dough forms.

Transfer the dough to a sheet of plastic wrap and wrap into a ball. Seal tightly.

Chill dough in the fridge for at least two hours, overnight is best.

Day of baking, warm oven to 350 degrees and place parchment on your baking sheets.

Roll out dough on a heavily floured surface. Flour rolling pin as well. Roll to a bit let than desired cookie thickness since cookies will rise a bit upon baking.

Cut out both the main cookies and then half of the cookies get the Linzer eye cutout as well.

Bake cookies for twelve minutes. Cool on a cooling rack.

Dust the cookie tops in powdered sugar.

Fill the cookie bottoms with jam and add the tops. Repeat with all cookies.

Serve!
Equipment
2 cookie cutters

1 Rolling Pin

2 parchment papers

2 baking sheets

plastic wrap
nutrition estimate | per serving
Calories:
237
kcal
|
Carbohydrates:
29
g
|
Protein:
4
g
|
Fat:
12
g
|
Saturated Fat:
2
g
|
Polyunsaturated Fat:
2
g
|
Monounsaturated Fat:
3
g
|
Trans Fat:
0.04
g
|
Sodium:
113
mg
|
Potassium:
73
mg
|
Fiber:
2
g
|
Sugar:
17
g
|
Vitamin A:
360
IU
|
Vitamin C:
1
mg
|
Calcium:
46
mg
|
Iron:
1
mg
Top tip
Make sure to flour your rolling surface and rolling pin. If you get stuck, literally, you can use a very thin spatula to scoop the cookies off your rolling surface.
Equipment
Storage
Store on the counter and eat within a few days or store in the fridge and consume within a week.
FAQ
How Long to Bake?
I like around 12 minutes. Or when the very early markings of browning hit the edges of the cookies. You can do a little longer for crispier texture, and a bit less for truly buttery, tender cookies. I prefer my cookies a bit softer in texture. but baked enough to hold up for the jam.