If you are in a baking sort of mood, these Vegan Peanut Butter Candy Cookies should do the trick. Peanut butter and chocolate flavor in every chewy, sweet, oh-so-pretty bite. These easy vegan cookies are fast to whip up and look lovely sitting on a plate.
And yes, we live in a world with vegan chocolate-filled, candy-shell-covered, colorful candies, and that is celebration enough for me to do some baking…
The dough is actually sooooo tasty that you will be tempted to just eat them like this! Ha, delicious, yes, but even better baked, I think..
Chocolate + Peanut Butter + Rainbows = these cookies…
These cookies are a fun way to boost a basic peanut butter cookie. I love the colors and texture that the chocolate shell candies add.
But wait, where did you get vegan candies like that???
I found mine in Whole Foods, but you can snag some from Amazon: Unreal Crispy Quinoa Dark chocolate Gems
Alternatives could be to use chopped up vegan peanut butter cups, basic chocolate chips or even some colorful vegan rainbow sprinkles on top.
Which Egg Replacer to Use?
I tested these cookies with both banana and apple sauce as the 'egg replacer.' Both worked well! If you use a banana, the cookies will have a slight banana flavor. The apple sauce doesn't give off as much flavor. another option would be to use a flax egg.
Movie Buzz.
Did you guys watch the Oscars last night? I did, as usual. I love movie awards season! I have yet to host an Oscars party though. I think I just like watching it in my PJs. I just plop on my couch with some snacks, cat and hubs and gawk at the gorgeous dresses, creative-minded people and Hollywood fun. Well this year, I am so proud of myself because I have actually seen most of the movies nominated. I liked the movies this year, even though I still don't have a stand-out fave. Thoughts..
I,Tonya. Loved! This movie retold such a famous news headline from my childhood in such a brilliant way. I loved the acting performances and the 80's costumes + hair were perfection. Margo Robbie is awesome.
The Shape of Water. I actually had the pleasure of being in the audience of a SXSW interview session a few years ago, between Ryan Gosling and the director, Guillermo Del Toro – it was for Ryan's movie Lost River. Guillermo seemed like such a brilliant yet kind and quiet guy, so I love that his work is so edgy, uber-creative, bold and magical.
I watched The Shape of Water last night actually, after the Oscars ended. I loved it! It was kind've hard to watch at some parts for various reasons. But overall, it was just a gorgeously done film with a beautiful message. I loved Pan's Labyrinth too. Well done!
Get Out. So bold and edgy and truly leaves a mark on your brain. It tackles a very real, serious and scary subject in a comical, intense, entertaining and creative way. Freaked me out for a few days! I have avoided 'scary movies' lately but this one was worth it.
Three Billboards. I loved this movie! I think the story of grief is so well told and the characters are so beautifully acted by the cast. Best actress and supporting actor were well-deserved. I loved the music too, from one of my fave composers, Carter Burwell. If you are a fan of the score he did from the first Twilight film, (hi) it is reminiscent of that.
(Side note, have you noticed how there is a VERY small rotating circle of composers in Hollywood? And none of them are female? Can we get on that? I know so many brilliant female musicians and composers, would love to see some ladies take that category by storm.)
LadyBird. This movie felt like a high school flashback for me, except I went to public school… But I graduated high school in '99, so really just a few years before the characters in this film. My fave part of this film was all about that re-creation of an era, in such an authentic and character-driven way. I think it could have had a tiny bit more plot, but overall, I enjoyed it.
Dunkirk. This was such an intense and well-done movie. Must see! I loved the simplicity in story telling here. Turn the sound up loud for this one, and get a visceral experience!
…I haven't seen the other nominees … yet!
What were your faves??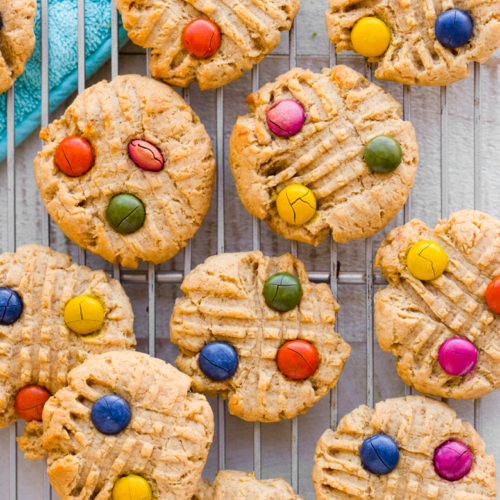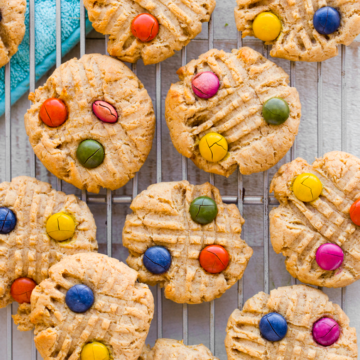 Peanut Butter Candy-Top Cookies
These sweet and chewy, nutty and delicious peanut butter cookies are topped with colorful chocolate candies. Vegan.
Print
Pin
Ingredients
WET
⅓

cup

creamy peanut butter, softened and oily in texture

½ cup + 1 tablespoon cane sugar, organic

½

cup

mashed ripe banana or apple sauce (I prefer banana but both work)

3 ½

Tbsp

vegan butter, room temp

½

tsp

vanilla extract

1 ½

tsp

lemon juice
DRY
½

tsp

sea salt

¾

tsp

baking powder

⅛

tsp

baking soda

1

cup

all-purpose flour
TOPPING
½

cup

vegan chocolate shell candies (or chocolate chips)
Instructions
Preheat oven to 350 degrees. Line a baking sheet with parchment paper.

Add all the wet ingredients to a large mixing bowl. You want to make sure that your peanut butter is soft and oily. If it is hard and dry-ish, you will want to add 1 teaspoon any oil (warm and melted coconut oil works well) and stir together until a wet, soft nut butter texture is reached. The nut butter should be easily spoonable and have a shiny sheen to it.

Using a hand mixer, whip the wet mixture until smooth and fluffy.

Add the dry ingredients. Beat until crumbly and fluffy. Then using a spoon, stir to bring the dough together. It should be easy to handle, yet nice and oily.

Roll the dough into balls and place on the baking sheet. Then smash and crimp the cookies down using the prongs in a fork. Add the candies on top. Three to four on one cookie.

Bake at 350 degrees for 12-15 minutes. You want the edges very lightly browned for soft and chewy cookies. If you like a crunchier cookie, bake for 15-17 minutes.
nutrition estimate | per serving
Calories:
147
kcal
|
Carbohydrates:
15
g
|
Protein:
3
g
|
Fat:
9
g
|
Saturated Fat:
3
g
|
Polyunsaturated Fat:
2
g
|
Monounsaturated Fat:
3
g
|
Trans Fat:
1
g
|
Sodium:
166
mg
|
Potassium:
86
mg
|
Fiber:
1
g
|
Sugar:
5
g
|
Vitamin A:
159
IU
|
Vitamin C:
1
mg
|
Calcium:
26
mg
|
Iron:
1
mg
Pin it for later!..