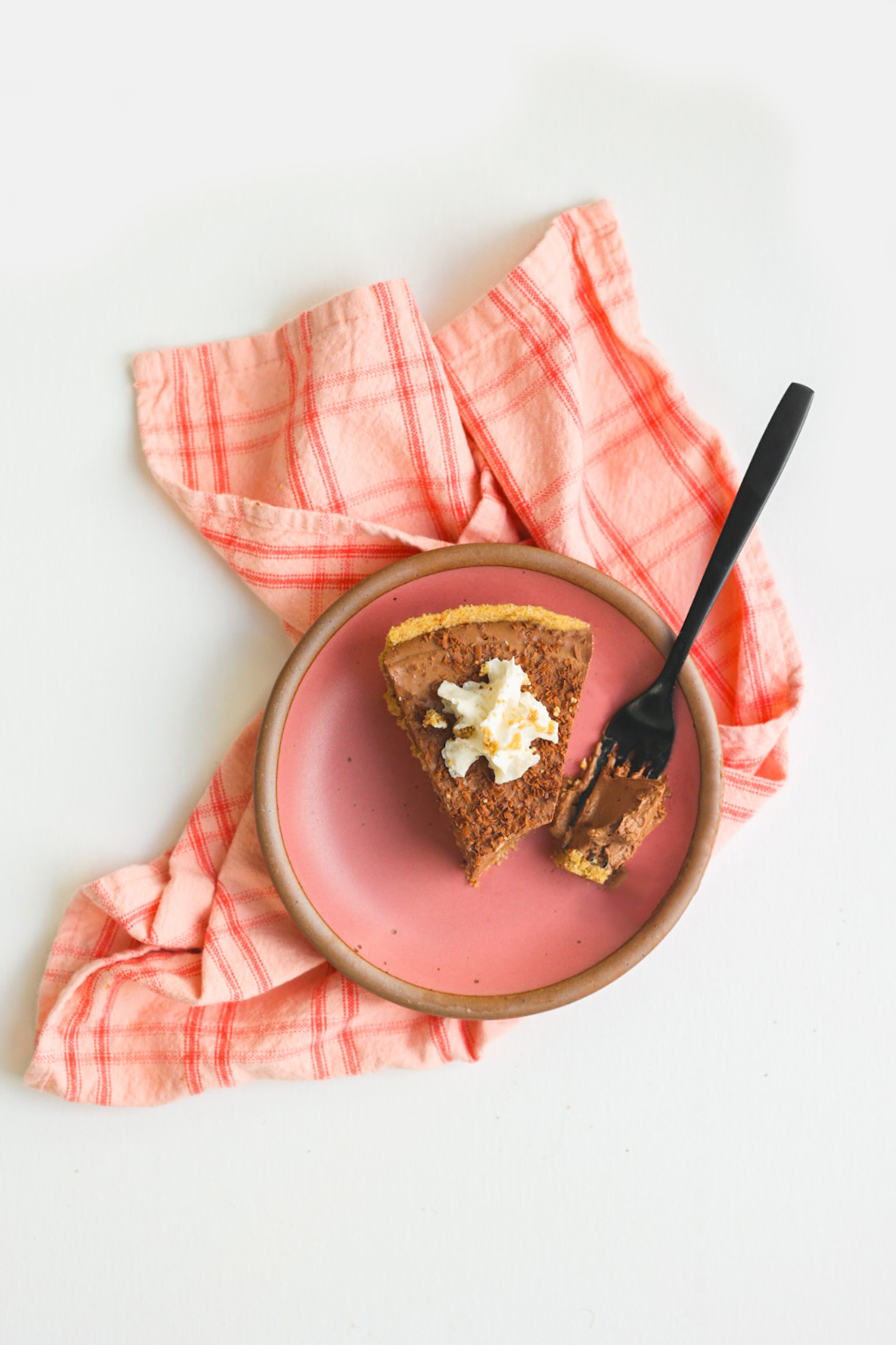 This 5 Ingredient Vegan Chocolate Pie is the absolute yummiest thing you can do with tofu. Seriously. This recipe is a spin on my famous vegan chocolate pudding. But instead of cacao powder, I use melted chocolate chips.
The chocolate chips do two things. One, they make the pie firmer upon chilling. Since chocolate firms up in the fridge – more so that powdered cacao. And two, the chocolate chips add a deep richness in place of the more light and friendly chocolate flavor from cocoa or cacao powder.
Wait, what in the world is the difference between cacao and cocoa powder anyways??? This is a good question to be answered in my All About Chocolate blogpost.
Let's get to it!…
Jump to:
Kid-Approved
I also love this recipe because it is kid-approved and you can even whip it up with your kids. All it takes is some pulling out of ingredients and getting your blender ready. For this recipe the chocolate chips are melted so there is some heat involved. You can try to wing it by using a microwave, but I prefer a double-broiler method. Older kids will love to watch how the chocolate melts over the steam from the boiling water. But younger kids can let mom or dad do this part. And again, if you want a truly no-bake chocolate pudding pie recipe, my recipe here will work great. For a firmed up pie, all you have to do is increase the coconut oil by 3-4 Tbsp.
The Crust for Chocolate Pie
This dessert reminds me of graham cracker crumble chocolate pudding parfaits I used to have as a kid. So I definitely love a graham cracker crust for this recipe. And even better, you can easily buy a graham cracker crust that is all ready to go! That's just six total ingredients you need if you buy a ready to go crust. And I swear, you could make this in under ten minutes.
How Long in the Fridge?
It takes about an hour to firm up in the fridge. Overnight is preferred.If you are in a hurry, try placing this 5 Ingredient Vegan Chocolate Pie in the freezer.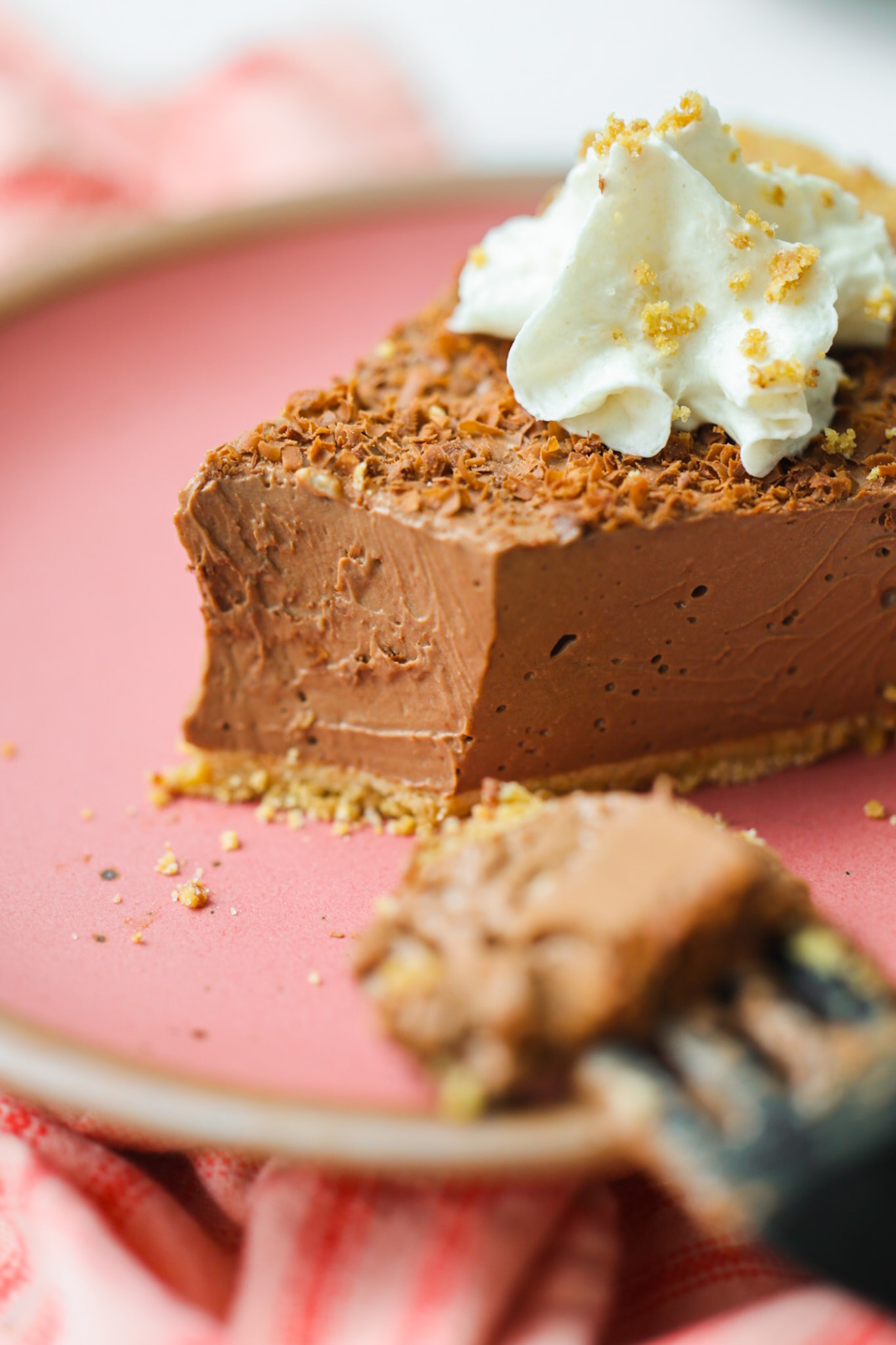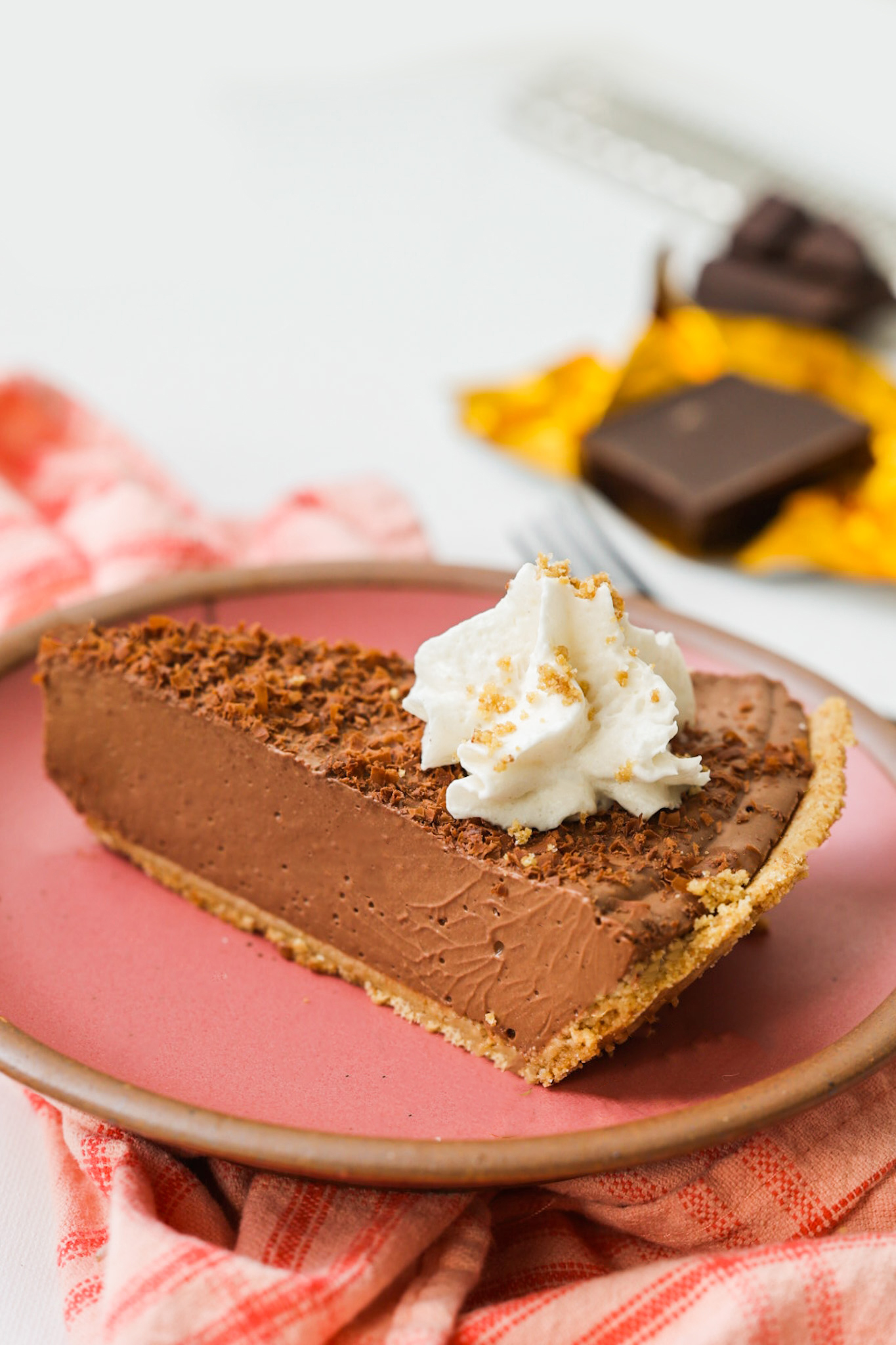 Make-Ahead Tip:
You can make this 5 Ingredient Vegan Chocolate Pie up to two days in advance. Just cover well with a pie lid and place in the back of your fridge. Pull it out, Swirl on some non-dairy whipped cream and it's ready to go.
Dress it Up for a Party
This 5 Ingredient Vegan Chocolate Pie is a dream to make for parties. Mostly because it is so darn easy to make that you do not have to stress out about prep or process or cooking. You just whip it up and chill.
But if you want to make this 5 Ingredient Vegan Chocolate Pie party-approved there are a few more aesthetically pleasing things you can do.
Zest Chocolate – First, you can use a zester and grate dark chocolate over top. This creates a lovely texture and extra rich chocolate flavor in each bite. Plus it will cover up any imperfections like air bubbles that may have surfaced in your pie.
Pie Dish – As for using a premed crust… You probably don't want to serve it in a foil tin – the kind that the pre-made graham crust came in. But you can still use a premed graham crust! All you do is pop out the crust and re-smash it into your own presentation-approved glass pie dish. Your guests will never know. And of course, if you want to make your own graham crust, you are welcome to do that too in your own party-approved pie dish.
Whip! This 5 Ingredient Vegan Chocolate Pie looks so pretty with vegan whipped cream swirled on top. You can do a self-serve station by chilling the whip in a champagne holder with some ice, next to wherever your pie will be served.
Crumble Overtop – And lastly, you can even crumble some leftover or newly crushed graham pieces — or something like chopped nuts over top the whipped cream. This adds even more texture and builds upon the height of the pie.
So to recap, served all alone, this pie is delicious, but does look a bit boring with it's shiny chocolate top. Add some garnished on top and accent this pie a bit to bring out its beauty.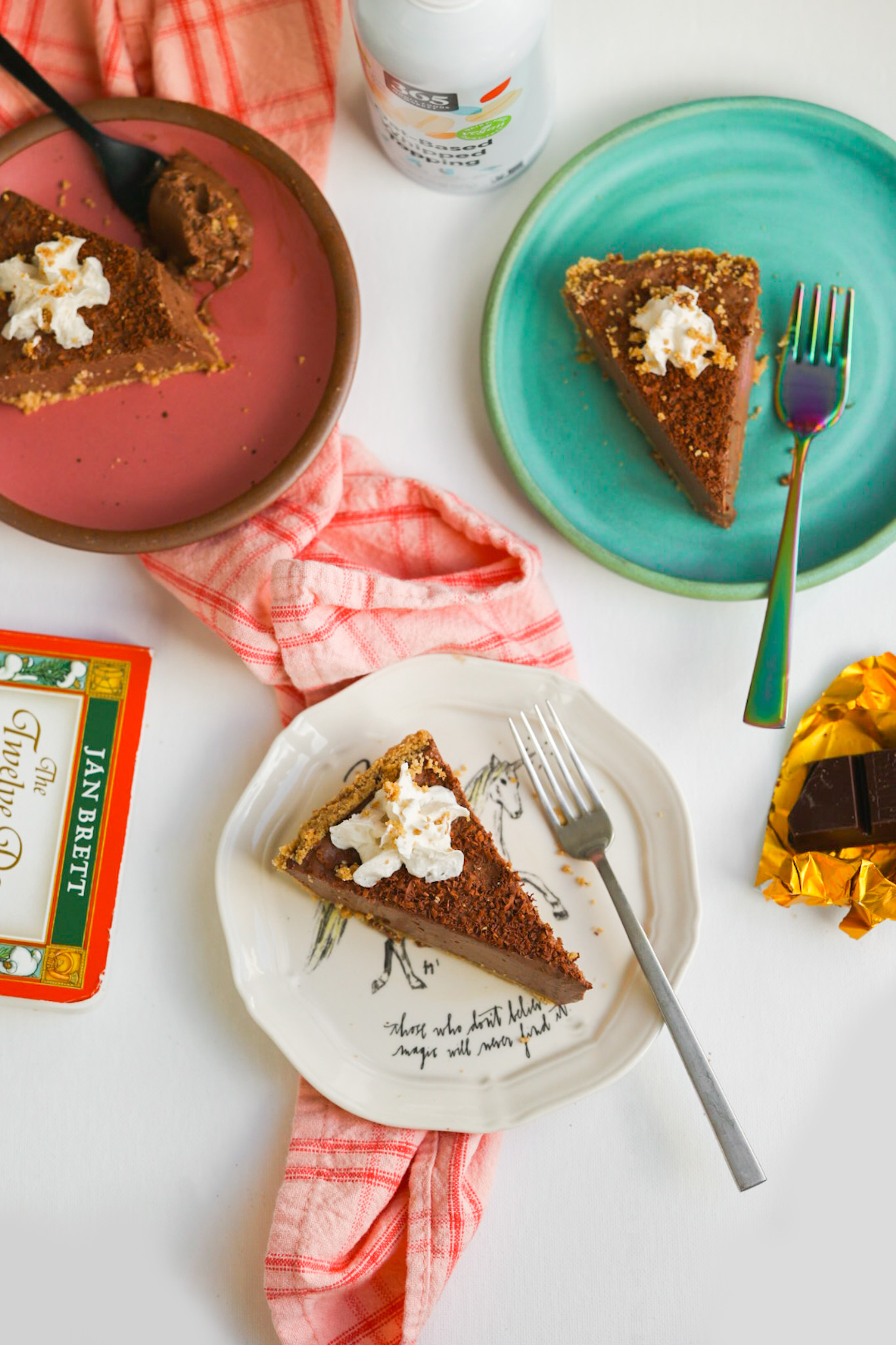 Other Vegan Pies to Try!
I have quite a few recipes here on the blog. Give a few of these a try….
Ingredients
Here are the main ingredients for this 5 Ingredient Vegan Chocolate Pie recipe…
silken tofu
dark or semi-sweet vegan chocolate chips
maple syrup (or agave)
coconut oil
salt
vanilla extract
graham crust
See the recipe card below for quantities.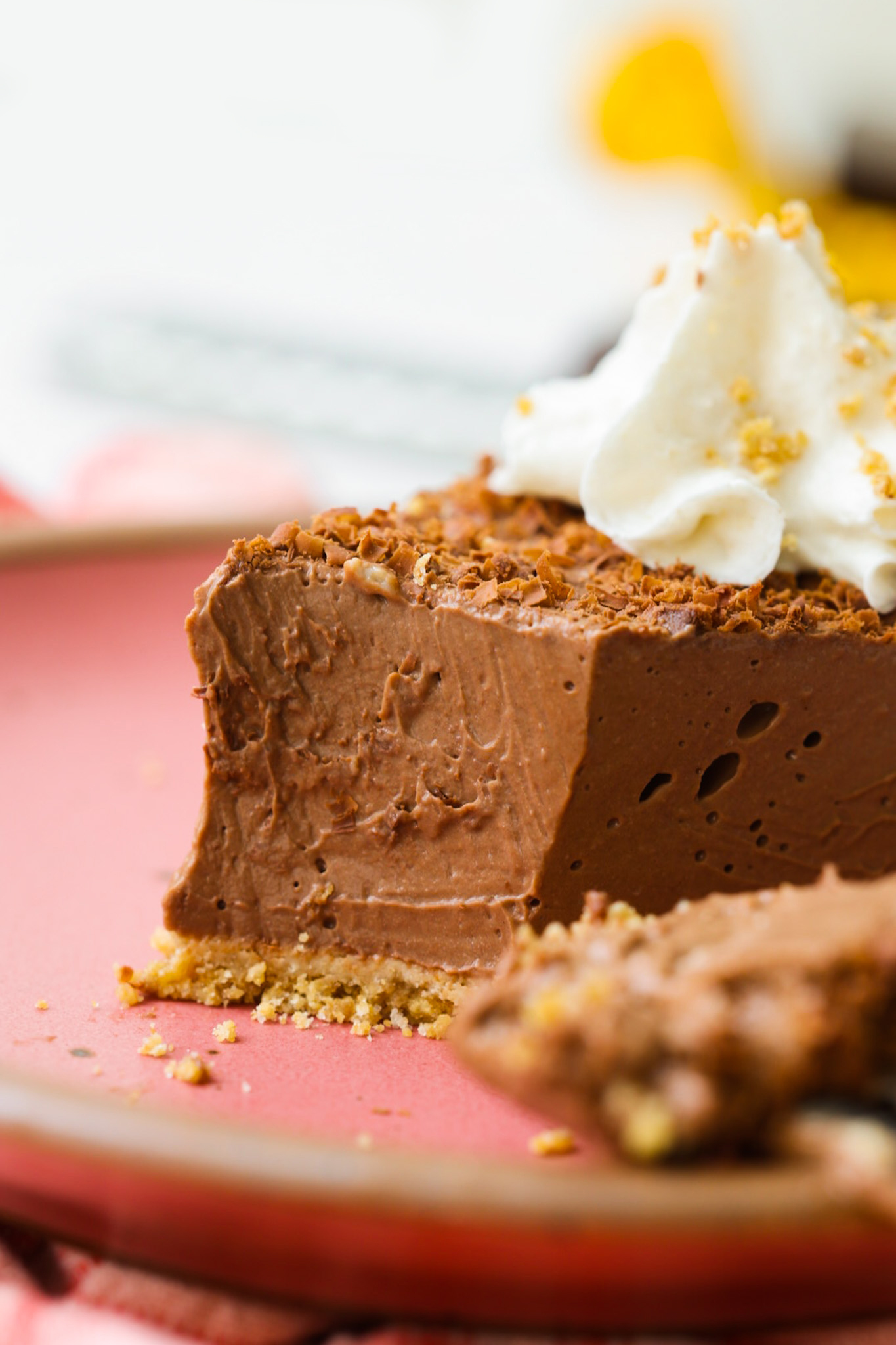 Instructions
Making this 5 Ingredient Vegan Chocolate Pie is super simple. If you know how to use a blender and melt chocolate, you are in! The first step is to add all ingredients tot he blender. Then you need to melt that chocolate. You can use a double broiler method, or melt the chips in the microwave.
Tip: If you are melting the chips in the microwave, add the coconut oil and chocolate chips to a micro-safe bowl. then heat in thirty second intervals, stirring as much as possible after each interval. Eventually, you will get a melty chocolate. Just do not overcook the chocolate! It will dry out and may even burn. you definitely do not want the smell of burnt chocolate in anything you make.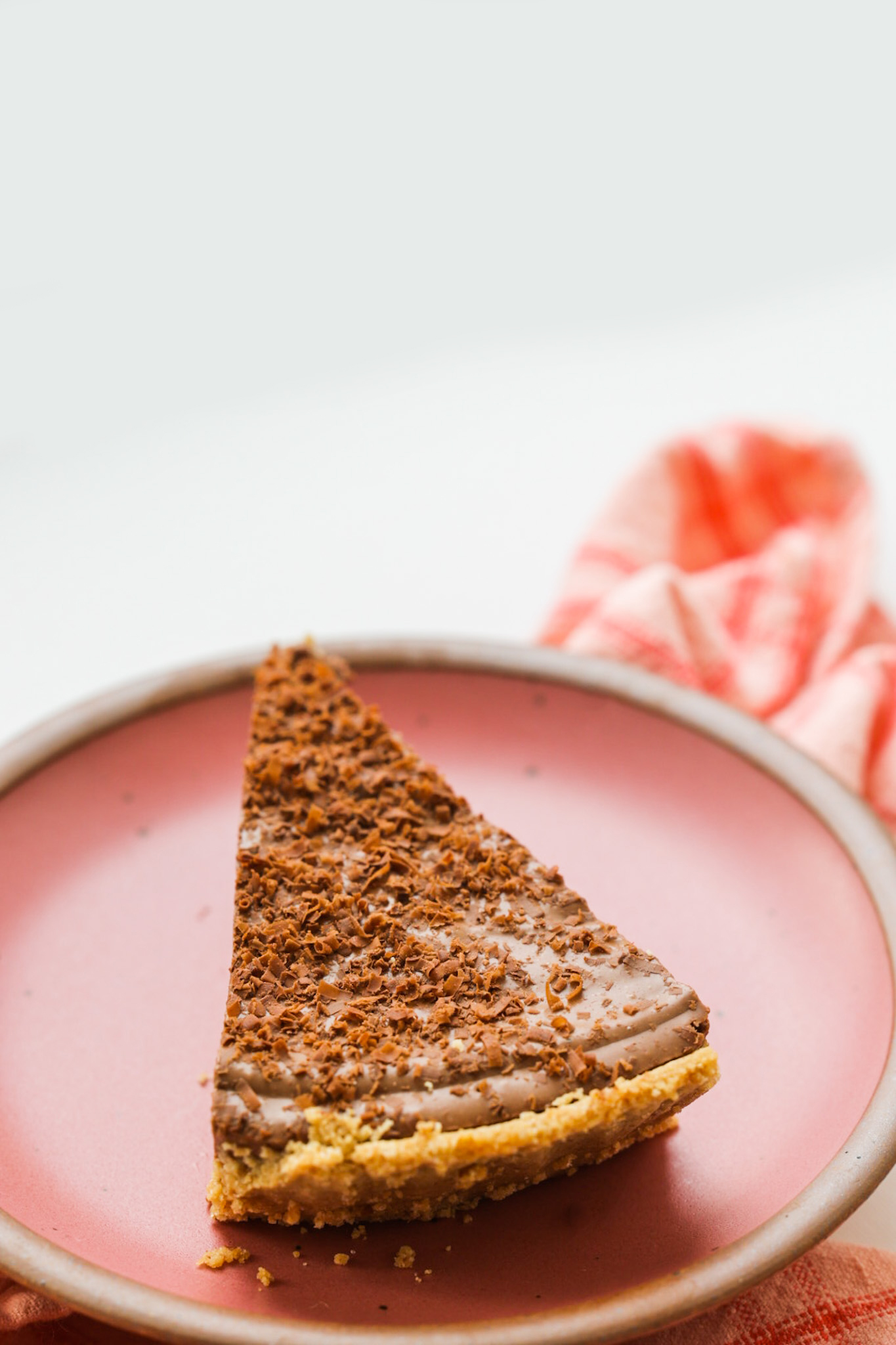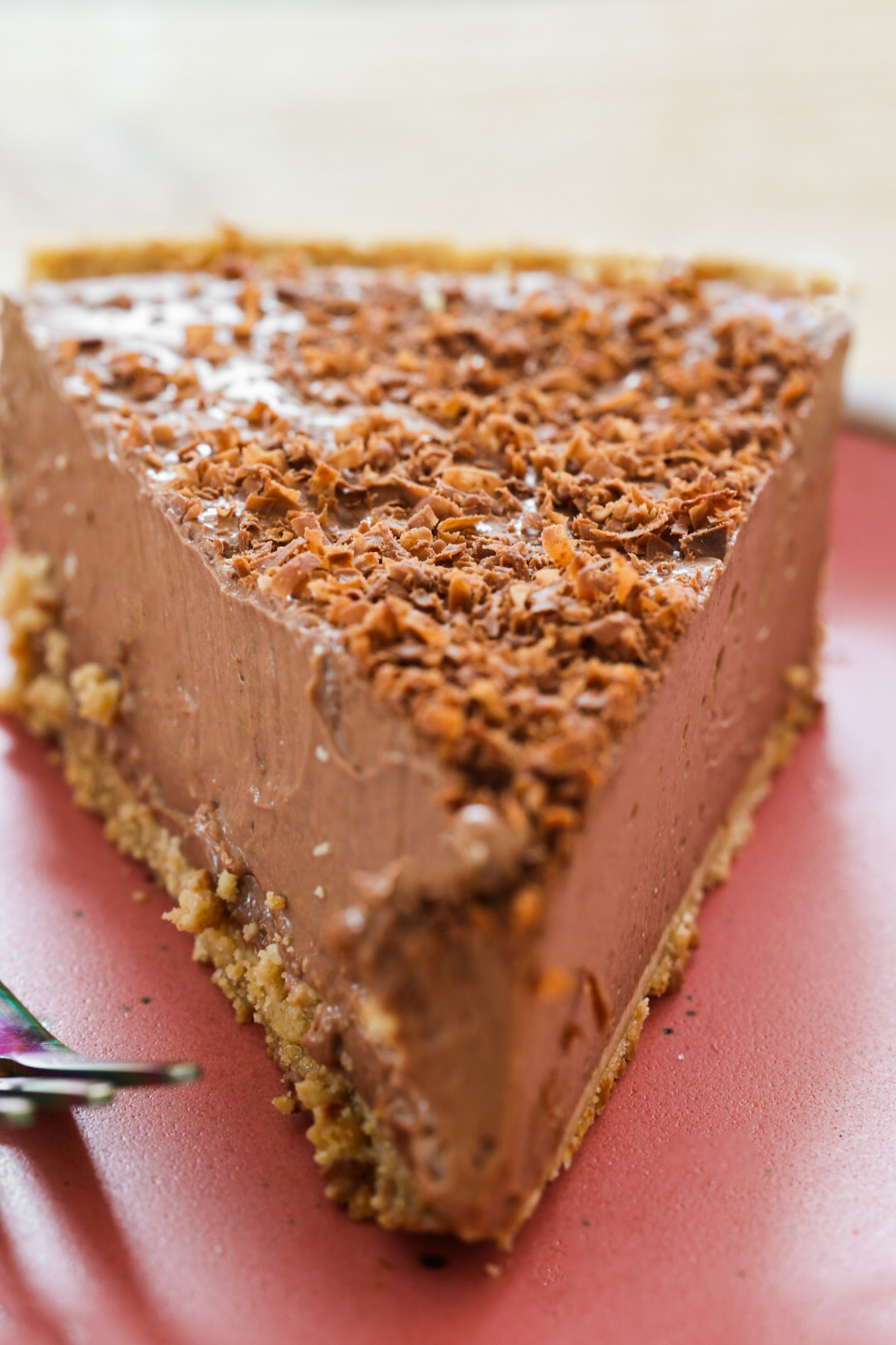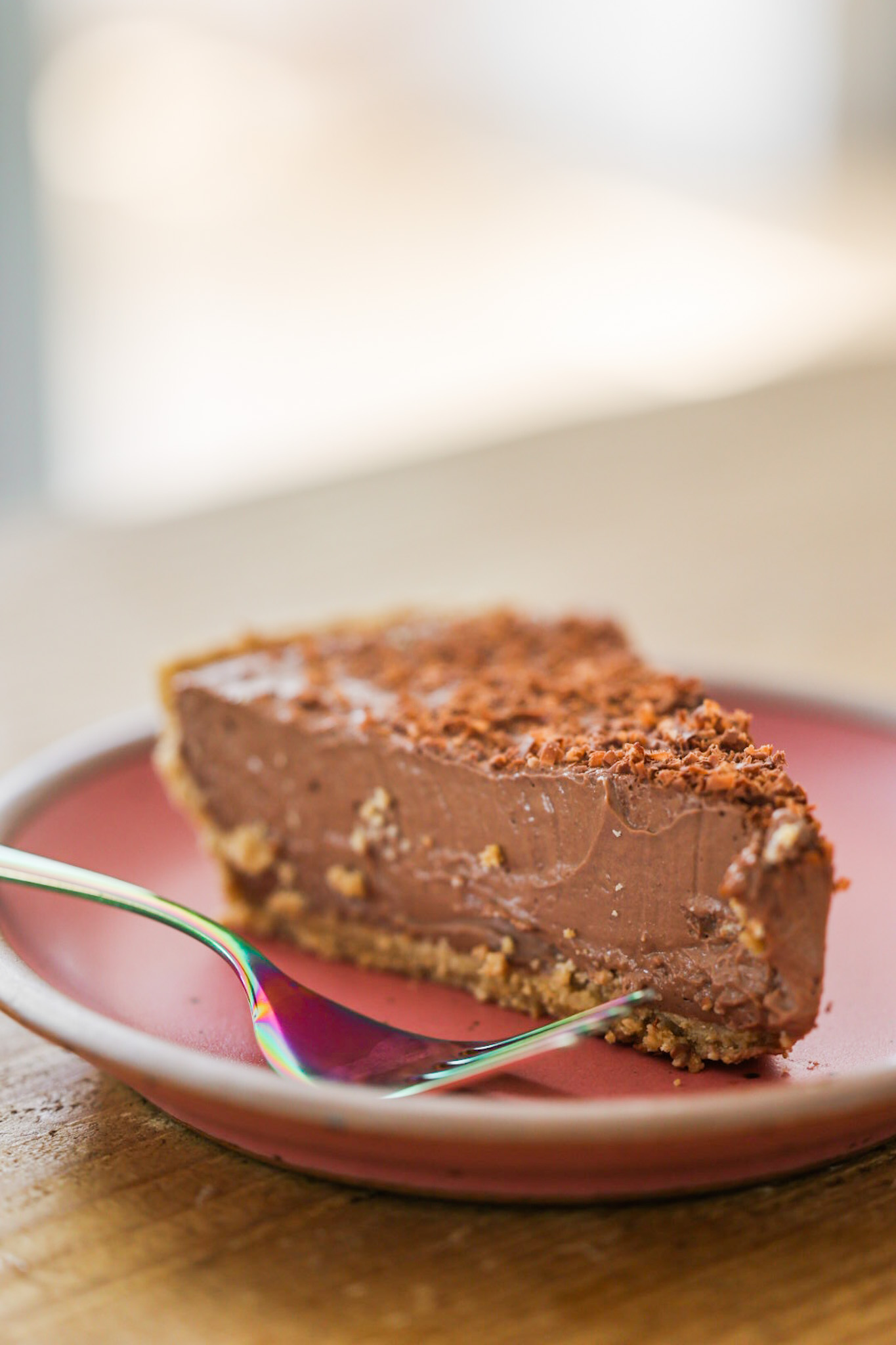 Substitutions
Here are a few substitution notes for you.
5 Ingredient Vegan Chocolate Pie subs:
Maple Syrup – You can sub with agave syrup. If you want a less sweet pie, you can also halve this sweetener amount.
Tofu – While there is not a sub for tofu in this recipe, you could actually use ANY tofu variety. Yup. While silken tofu will easily provide the silkiest texture with very little work, you could use firm tofu if that is all you have on hand. All you need to do is blend the firm tofu with 2-4 tablespoon water. This will silken up the firm and crumbly tofu texture. The pie will be slightly thicker in texture, but still delicious.
n m– The coconut oil really helps to firm up the pie in the fridge. But if you don't want to add it or don't have any on hand, no worries! Simply sub with another ⅓ cup of melted chocolate chips. Nut butter is another possible coconut oil sub. Try peanut or almond.
Recipes – Blogger Friends:
I always encourage you to look at a few different recipes when settling on one to follow! This helps to educate you on the various ways to make something and what those slight variations may produce. Browsing food blogs is such a great educational activity for any budding baker or cook.
My blogger buddies shared these awesome vegan chocolate pie recipes. Check them out!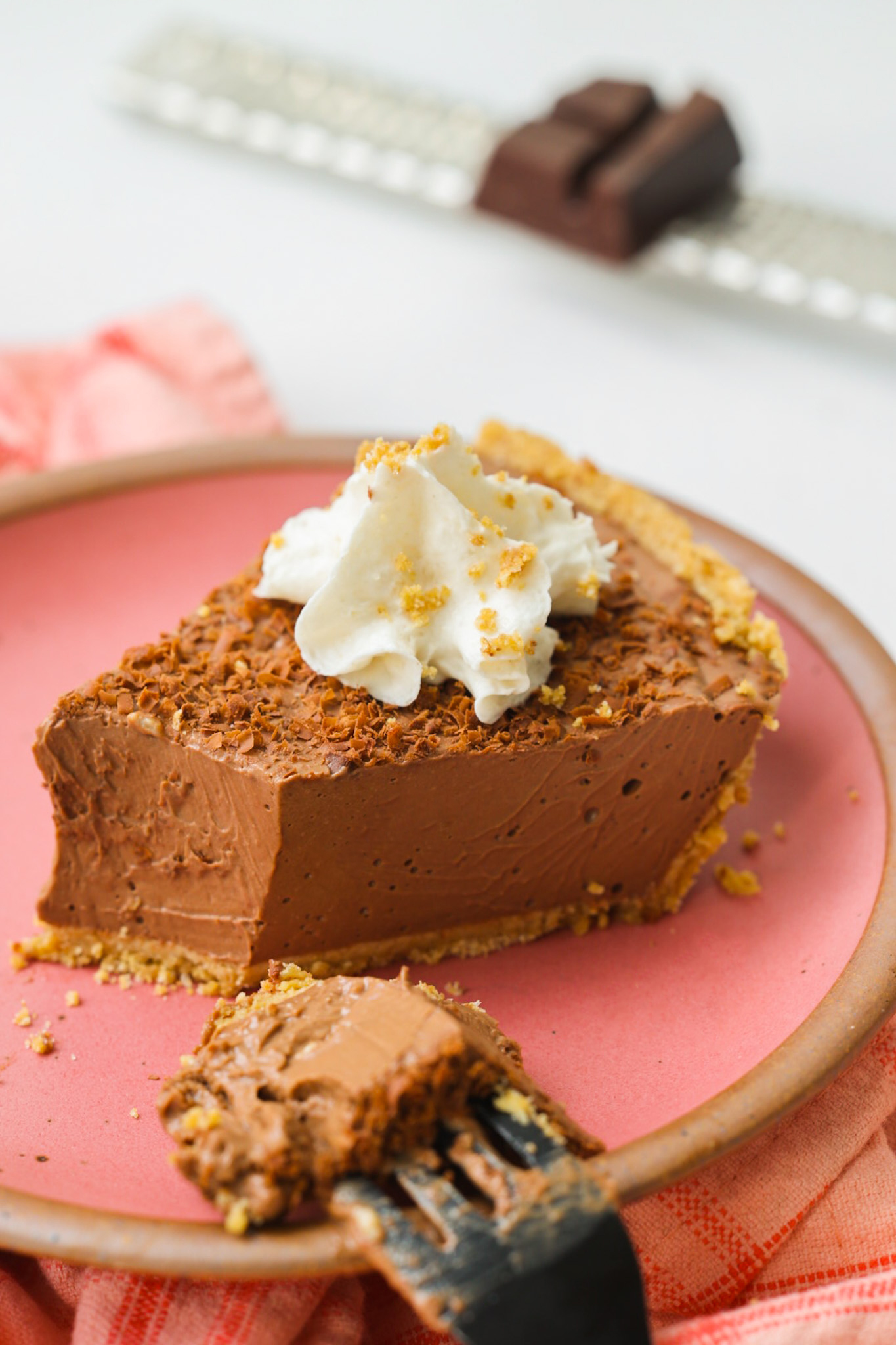 5 Ingredient Vegan Chocolate Pie – Variations
Change it up!
Nut Butter – Add in a few dollops of nut butter to the pudding blend. Or swirl nut butter into the finished pie.
Buttery Crust – Instead of a graham crust, use a traditional flaky vegan butter crust. My recipe here.
Serve it as a Pudding – Pour the blended pie filling into dessert cups and serve as a rich chocolate pudding/mousse.
Change the Chocolate – One way to give this recipe endless variations is the change the melted chocolate ingredient source. You can try semi0sweet chips, or dark chocolate chips. Or even your fave vegan chocolate bar. Since chocolate sources can have varying flavors, so will your pie!
Fold in Goodies – From chopped nuts to chopped peanut butter cups or even dried cranberries or pretzels, folding in goodies is a fun way to give this pie it's own character each time you make it!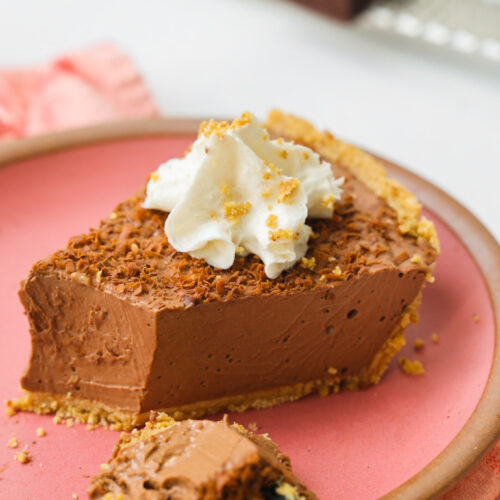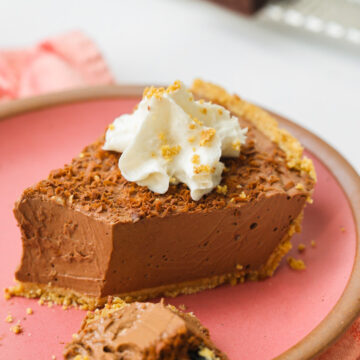 5 Ingredient Vegan Chocolate Pie
Silky smooth with rich chocolate flavor in every protein-rich bite!
Print
Pin
Ingredients
14

oz

tofu

,

silken

1

cup

chocolate chips

½

cup

maple syrup

3

tablespoon

extra virgin coconut oil

½

teaspoon

salt

¼

teaspoon

vanilla extract

,

optional

1

graham cracker crust
Instructions
Melt your chocolate using a double broiler method.

Add all ingredients to a blender. Blend from low to high until smooth.

Pour the chocolate mixture into a premed graham cracker crust.

Chill for at least one hour – overnight is preferred.

Serve! Add dairy-free whipped cream over top if desired.
Equipment
1 blender

1 stainless steel bowl

1 large pot
Notes
see recipe post for subs
nutrition estimate | per serving
Calories:
359
kcal
|
Carbohydrates:
43
g
|
Protein:
5
g
|
Fat:
19
g
|
Saturated Fat:
10
g
|
Polyunsaturated Fat:
2
g
|
Monounsaturated Fat:
5
g
|
Sodium:
249
mg
|
Potassium:
134
mg
|
Fiber:
1
g
|
Sugar:
29
g
|
Vitamin A:
0.2
IU
|
Calcium:
106
mg
|
Iron:
1
mg
Top tip
Make sure your chocolate is silky smooth when adding to the blender. The last thing you want is a lumpy silky chocolate pie.
Equipment
Storage
Store in the fridge. Consume within a week. A few days for best flavor and texture.
FAQ
Can I Use Firm Tofu?
Yes. I answered this question higher up with some prep details. But yes, you can use any variety of tofu! Just be sure to blend until silky smooth and possibly add in a bit of extra liquid. But a high-speed blender will really help you with this silky texture step.
I don't have coconut oil, now what?
That's ok! you can melt in an extra ⅓ cup of chocolate chips and blend everything else as normal. Another sub would be nut butter. Just be aware that the coconut oil helps firm up the pie, so you want an ingredient that similarly gets firm when chilled. Chocolate is the same way with cold temps. I just like the coconut oil ingredient because I think it does some extra firming and adds a lightness to the rich fatty content of the pie.
Wait, is this Healthy?
I mean, I have definitely eaten this pie for breakfast. The first ingredient is tofu, right? "Healthy" is all a matter of personal perspective when it comes to foods like pie and cookies and ice cream. But some positive things about this pie are that it contains very little refined sugar – just that in the chocolate chips. And yeah, all that protein-rich tofu. Which is a bean. It's basically chocolate covered beans here. So you be the judge. Wink.