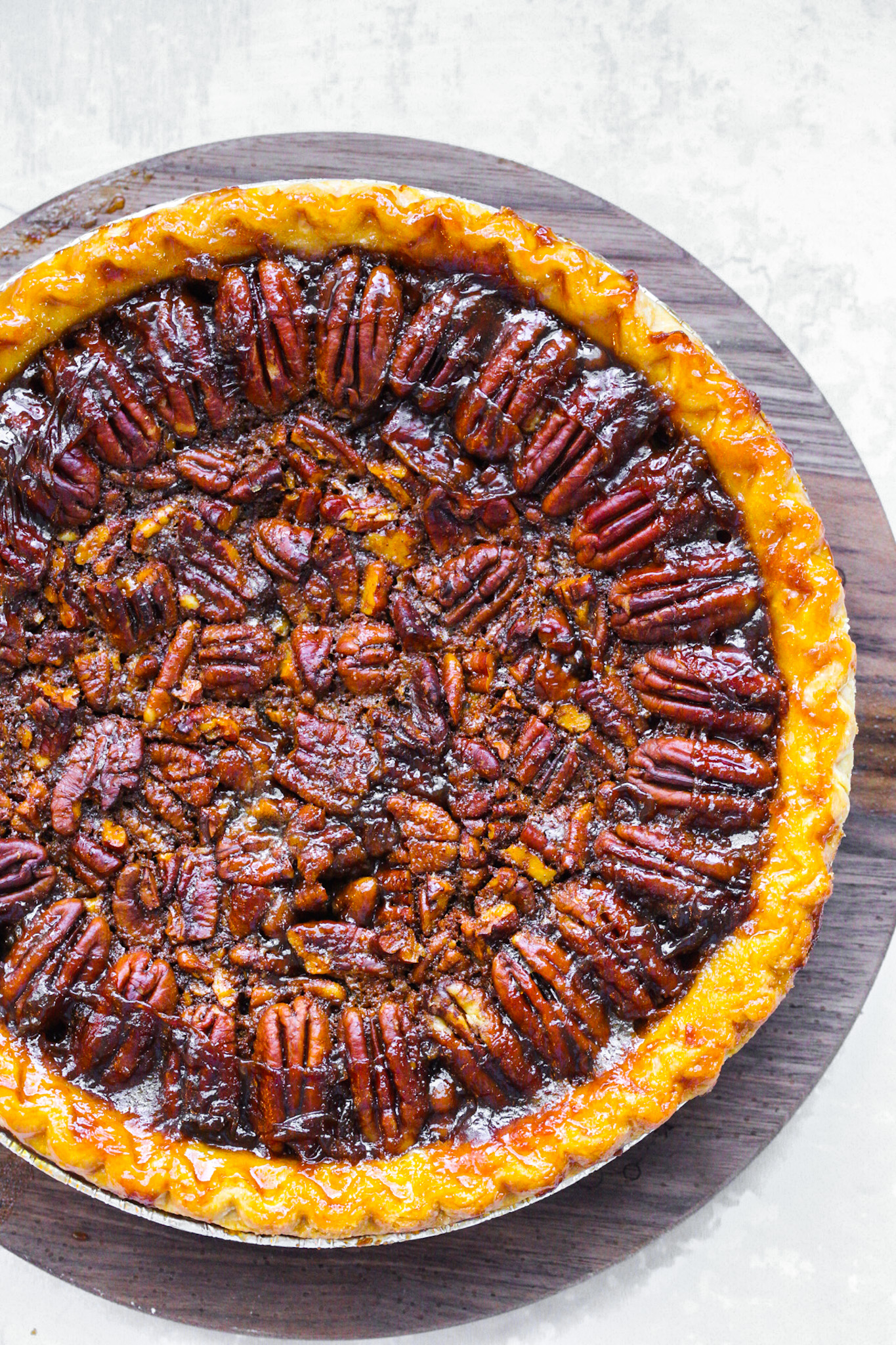 This Vegan Pecan Pie bakes up with sticky sweet caramelized pecans on top, gooey amazing filling inside. I absolutely loved this classic dessert gone vegan. I can't believe it's taken me so long to experiment with a vegan version Pecan Pie, but I am so glad I did. This is definitely going into my pie rotation here at home.
And one of the best things about Pecan Pie is that the ingredients are minimal and it is so easy to bring together.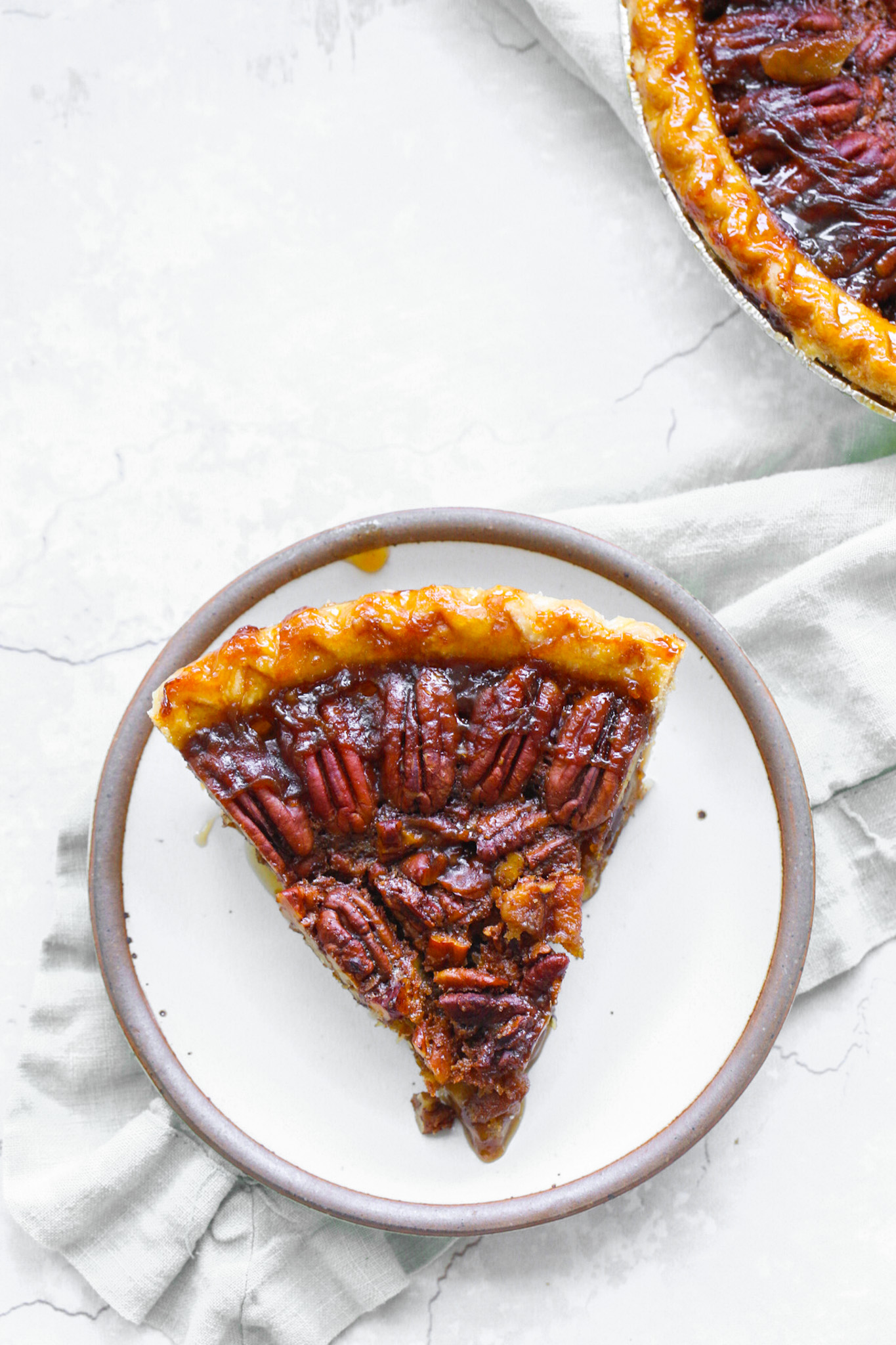 Vegan Version Pecan Pie
Pecan pie is one of those recipes that is tricky because the ingredients are so simple and they rely so much on the taste and texture of eggs. The filling gets it's half-runny, half-gelatinous texture from the combo of sticky syrup and eggs. So what's a vegan to do??
At first I was pretty confidant that using my all time fave egg replacer, silken tofu, would be the way to go. I always find that silken tofu makes the best egg replacer for cakes, muffins and cookies. It has the consistency of a scrambled egg and has the same high protein structure. And similar moisture qualities.
But I decided to try something else. I went with….. JUST Egg product. Yup. I actually do not use the JUST Egg product for much. I don't really find that it scrambles all that well and to me, it doesn't fully mimic the fluffiness of an egg. Sorry! But I do think it has excellent texture and also: flavor! It actually has an eggy flavor that I think is really helpful in a pecan pie.
You can find JUST Egg at Whole Foods or even on Amazon Prime WF delivery – which our household is obsessed with btw.
FYI, you could experiment on your own with silken tofu or even another egg replacer like flax eggs.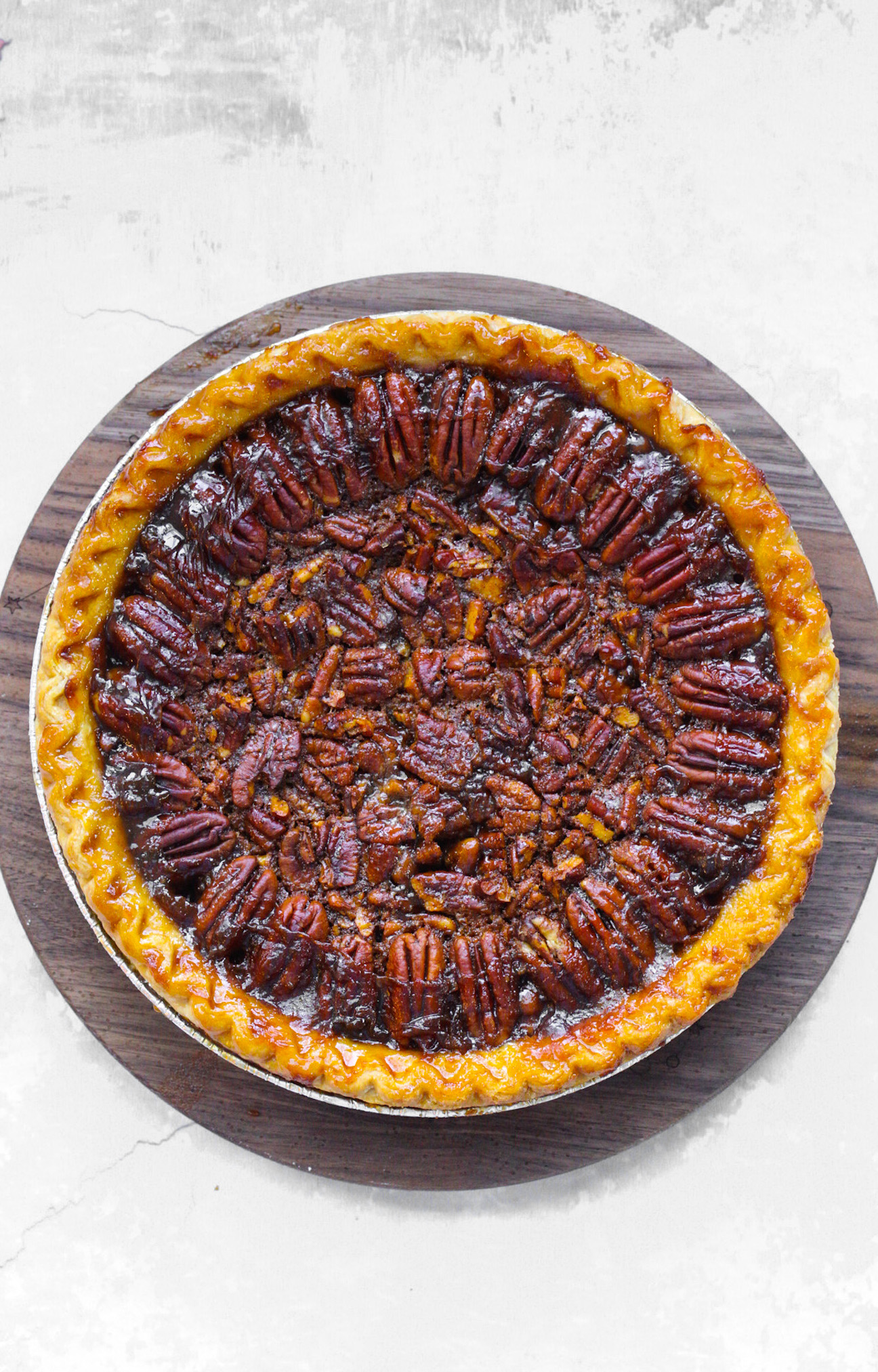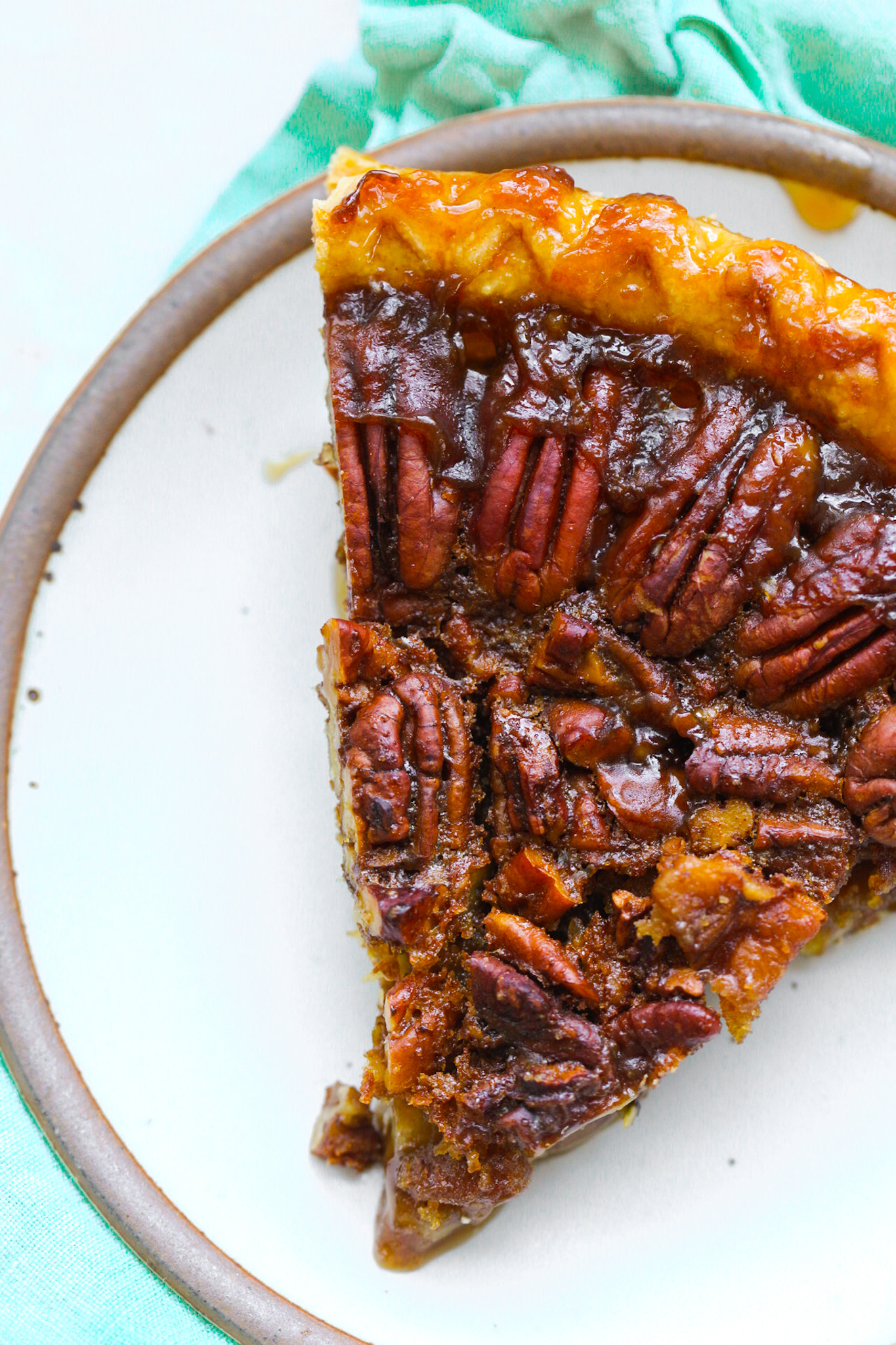 Corn Syrup vs. Agave Syrup in Pecan Pie
For this recipe, I knew I would be making two pies. One with the classic corn syrup sweetener and one with agave syrup. Now I don't think I have bought or cooked with corn syrup in over ten years, maybe longer. So this felt a bit odd to me. But I really wanted to the compare the two sweeteners for you guys.
I made two pies, exact in ingredients except for the sweetener.
The results? I was shocked when I actually liked the agave version better! I grew up eating the classic Karo corn syrup pecan pie, so I assumed there would be something affectionately familiar about it. And yes, the corn syrup version was very good. It had maybe a more malty flavor to it from the corn. But I preferred the vanilla-y caramel sweetness of the agave version better. Interesting! And unexpected for me.
You can use either sweetener in your recipe, same amount.
I have not tried maple syrup yet, but that would be another interesting comparison.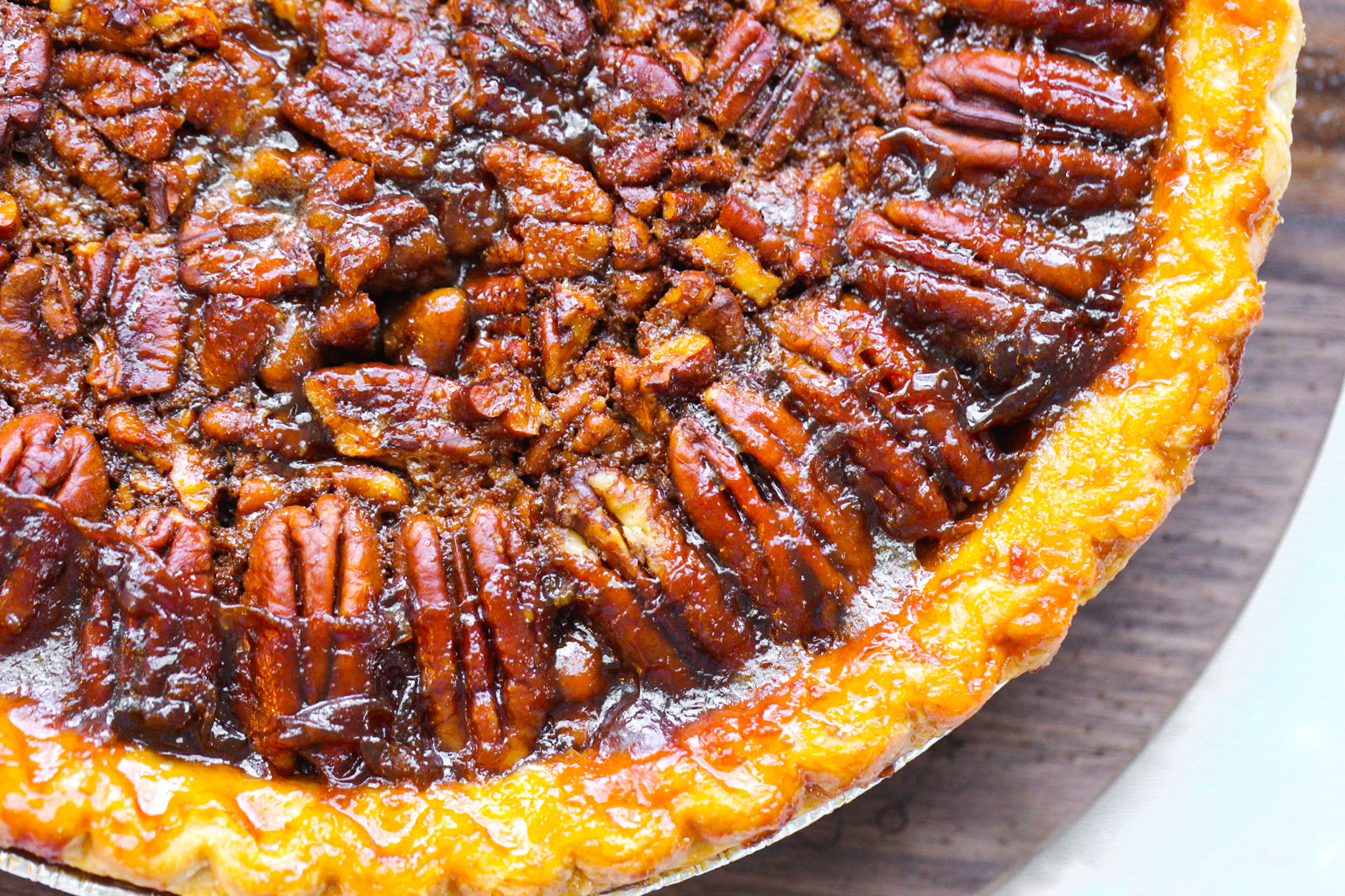 Crust for Pecan Pie
You can of course make your own crust. I apologize for my laziness for these pies, I went with frozen vegan crust. But hey, it make these pies SO easy to pull together.
If you want to DIY your pie crust, check out this recipe.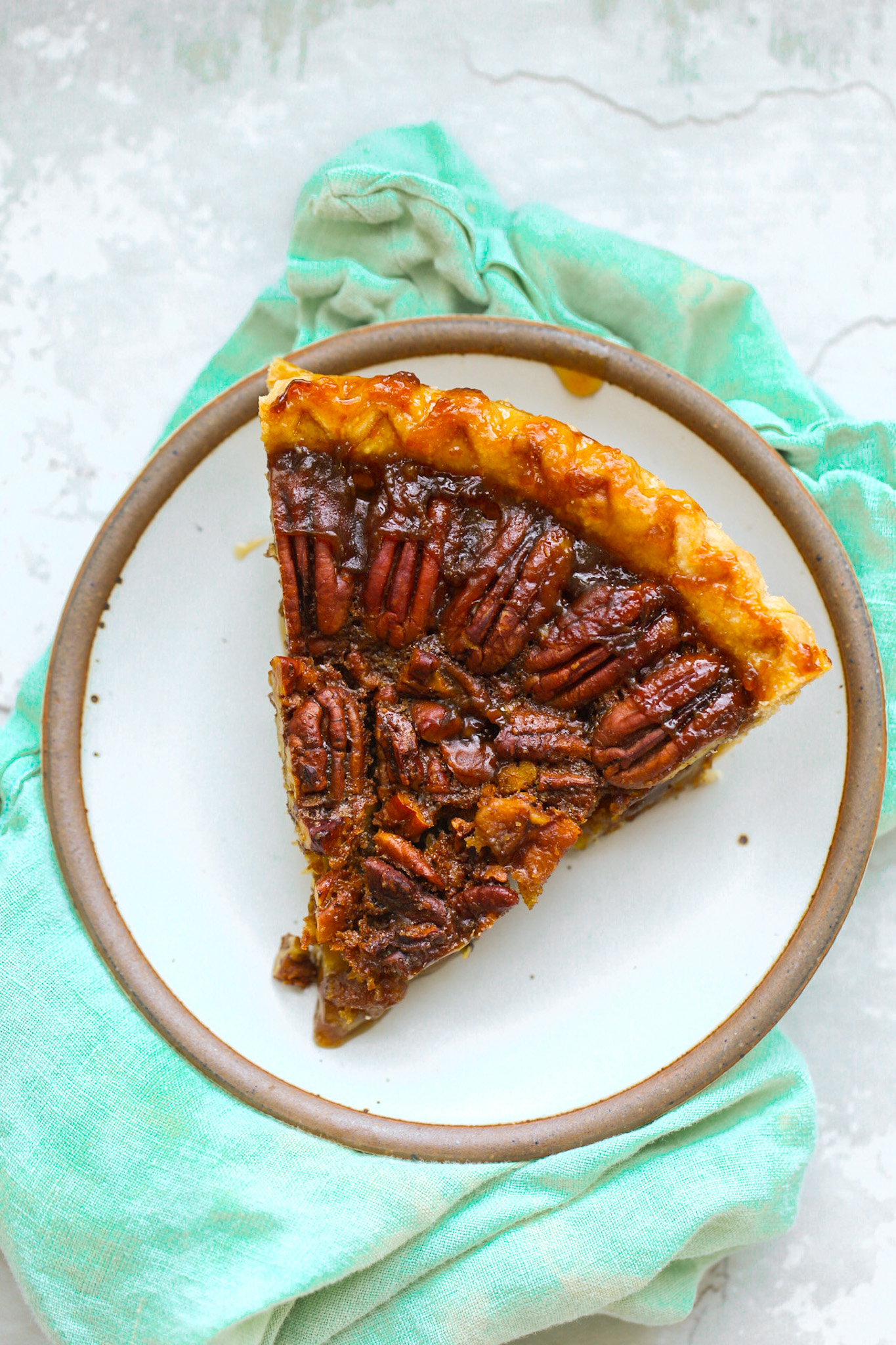 Bubbling Over Consideration
My pies bubbled over a bit. The filling dripped onto the oven creating a bit of a mess. Luckily, they were pretty much done by this time and ready to pull from the oven. But I have a few tips to prevent/fix this problem.
I baked my pies at 350 degrees. I would advise 325 degrees instead to help prevent the bubble over. Secondly, I would line the lower one rack with sturdy foil or a large baking sheet. So if bubble over happens, it doesn't mess up your oven.
But in the end, it was totally ok with a bit of bubble over. The crust got a bit sticky but still tasted amazing.
So that's it! Warm vegan pecan pie with a scoop of vanilla ice cream is a classic indulgence that everyone should try at least once. And homemade pecan pie is actually so easy, I really hope you can give this recipe a try!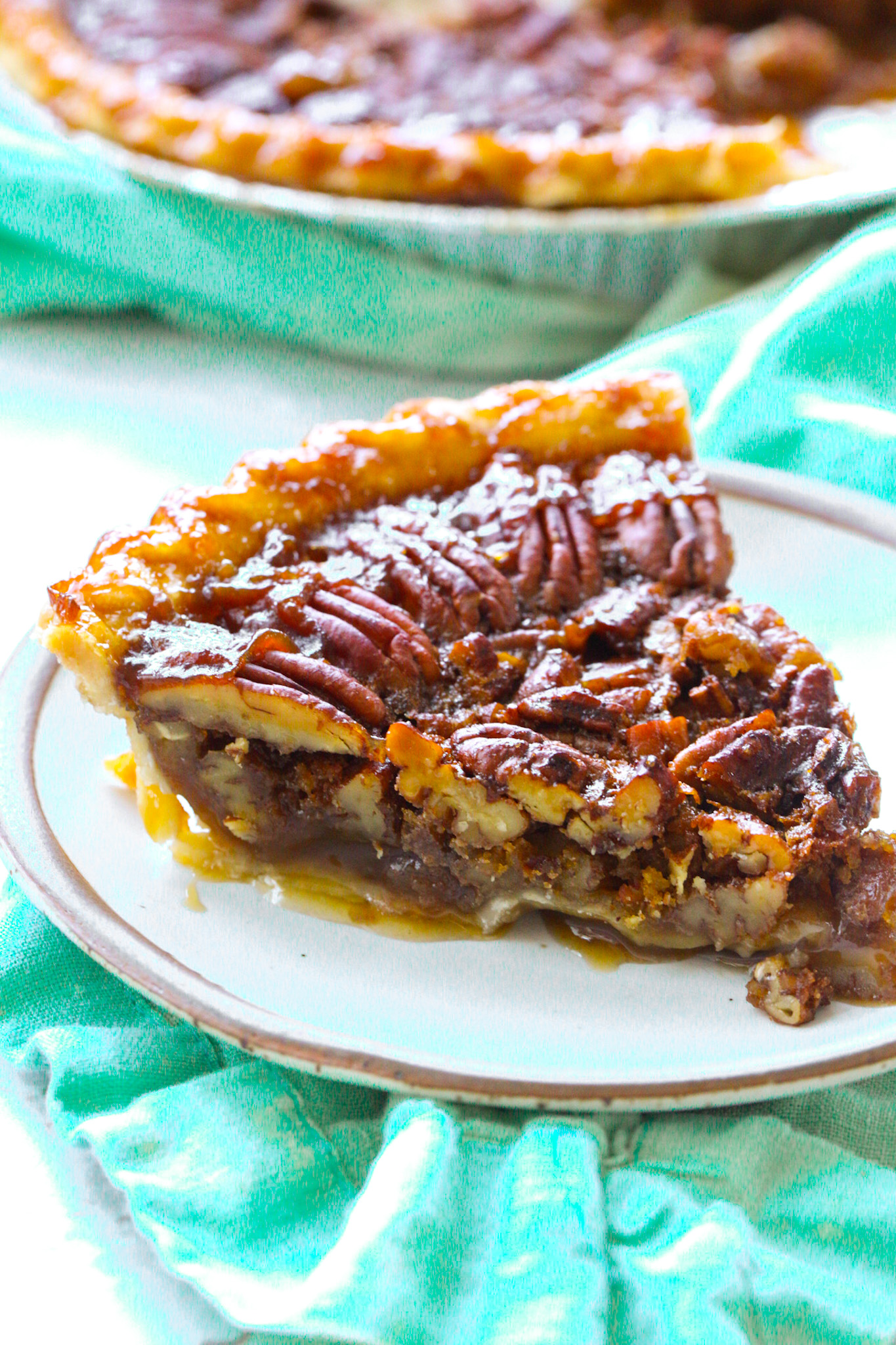 Last Word on Vegan Pecan Pie
Ok one caveat, this recipe is sweet! Pecan pie is supposed to be a mix of bold sweetness, that buttery caramel mixing with the savory, crunchy buttery pecans. Pecan pie is one of those recipes where a little bite goes a long way. Your taste buds kinda explode from the richness and sweetness. Not an everyday dessert by any means, but really amazing when you crave it. So if you don't love sweet desserts, well, you might not like this one. It's just sweet by nature, but with a buttery edge. That's the beauty of Pecan Pie. Hope you enjoy this one!…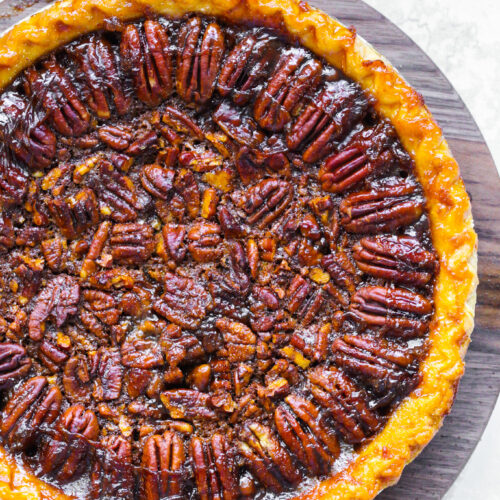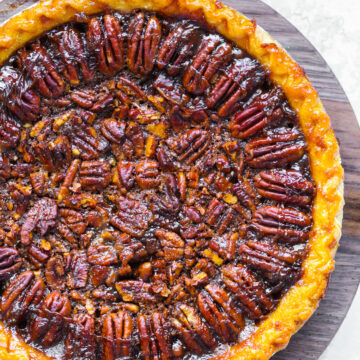 Vegan Pecan Pie
This sticky sweet, buttery, crunchy vegan pecan pie is everything you remember from the classic version.
Print
Pin
Ingredients
¾

cup

JUST Eggs – egg replacer

,

***

3

tablespoon

vegan butter

,

melted

2

teaspoon

corn starch

1

cup

dark agave syrup

⅓

cup

brown sugar

⅓

cup

cane sugar

,

organic

1

teaspoon

vanilla extract

2

cups

raw pecans

,

roughly chopped

½

cup

whole pecans

,

for decorating the top, optional

1

vegan pie crust
Instructions
Preheat oven to 325. If doing a DIY pie crust, prepare this first. If doing a frozen crust, simply remove it from the freezer and set aside.

In a large mixing bowl add the egg replacer, agave, sugars, vanilla, vegan butter and corn starch. Combine by stirring briskle with a large spoon. There is no need to use a mixer. Tip: All your filling ingredients should be slightly warmed to room temp – like the agave and egg replacer. This allows for a smooth texture when combining.

Roughly chop your pecans, then stir them into the mixture.

Pour the filling into the pie crust. Add optional decorative whole pecans on top. Warning: The more excess pecans you add the high chance of the pie bubbling over a bit. If you want a full layer of decorative pecans, you may want to reduce the filling chopped pecans by ½ cup.

Carefully place the pie (it will be watery and loose) on your oven rack. Tip: Line the bottom rack or bottom of your oven with foil. A large baking sheet can also help. This catches any drips from bubbling over.

Bake at 325 for 50-65 minutes. You want the top to be caramelized and browned, while the filling only slightly jiggles when the pie is touched. As the pie cools it will firm up to a sticky-sweet, runny yet gelled texture.

When dne, allow the pie to cool for at least two hours before serving. Store leftovers in the fridge. Consume within a week.
nutrition estimate | per serving
Calories:
391
kcal
|
Carbohydrates:
43
g
|
Protein:
6
g
|
Fat:
22
g
|
Saturated Fat:
4
g
|
Cholesterol:
36
mg
|
Sodium:
150
mg
|
Potassium:
154
mg
|
Fiber:
2
g
|
Sugar:
31
g
|
Vitamin A:
249
IU
|
Vitamin C:
1
mg
|
Calcium:
44
mg
|
Iron:
1
mg