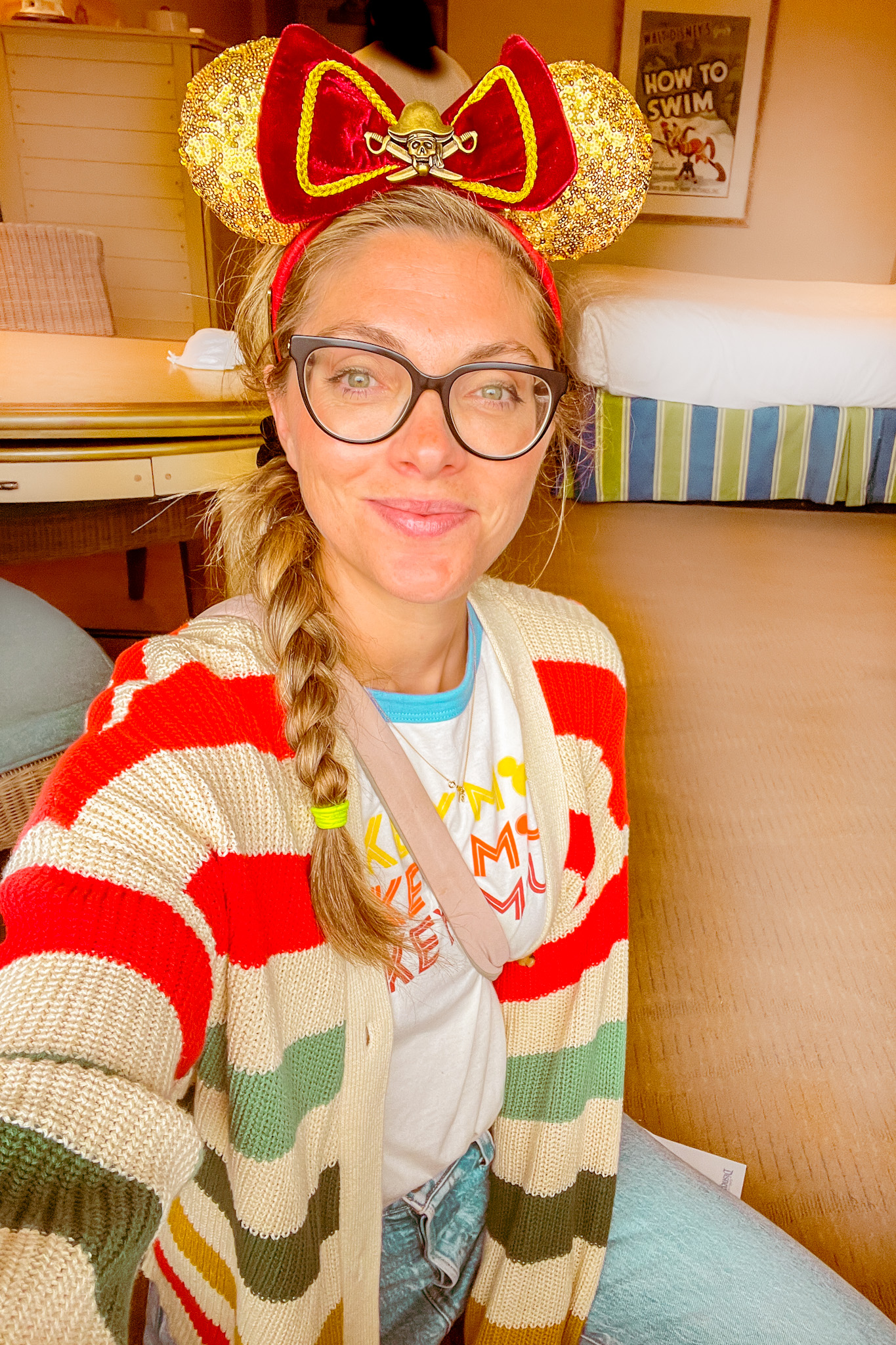 I am so excited to share a huge passion of mine today, Vegan Dining at Disneyland, updated for 2023. The last time I posted about vegan options at Disneyland was way back in 2011. Oh my, how things have changed since then! Both in the world, and at Disneyland Resort. So, has the state of vegan dining at Disney gotten better, or is there still room for improvement?
I will share my favorite vegan dining spots, tricks and tips and also a complete list of the plant-based menu items at Disneyland Resort as of summer 2023! Check out all these offerings in a downloadable PDF.
Plus, I will share my top five fave plant-based menu items, as well as the one thing that irks me about plant-based dining at Disneyland.
Let's discuss it!
(Vegan) Disney Fan, Hi, it's Me.
First off, hi, I'm Kathy and I love Disneyland. I have been a pass holder for as many years as possible since moving (back) to Los Angeles around 2011. I am also a vegan! And I love to eat. So, if you also love to eat plant-based goodies and love Disney – this post is for you! Or maybe you are just curious about the plant-based offerings at Disneyland Resort – this will be a fun read.
I am also now a mom! My daughter isn't vegan since she eats some dairy and eggs when social type situations require it, but she eats mostly vegan with us, so being able to provide her with healthy and delicious meals at Disneyland is a must! A mom can only pack so many pre-made, brought-from-home meals and snacks in her bag!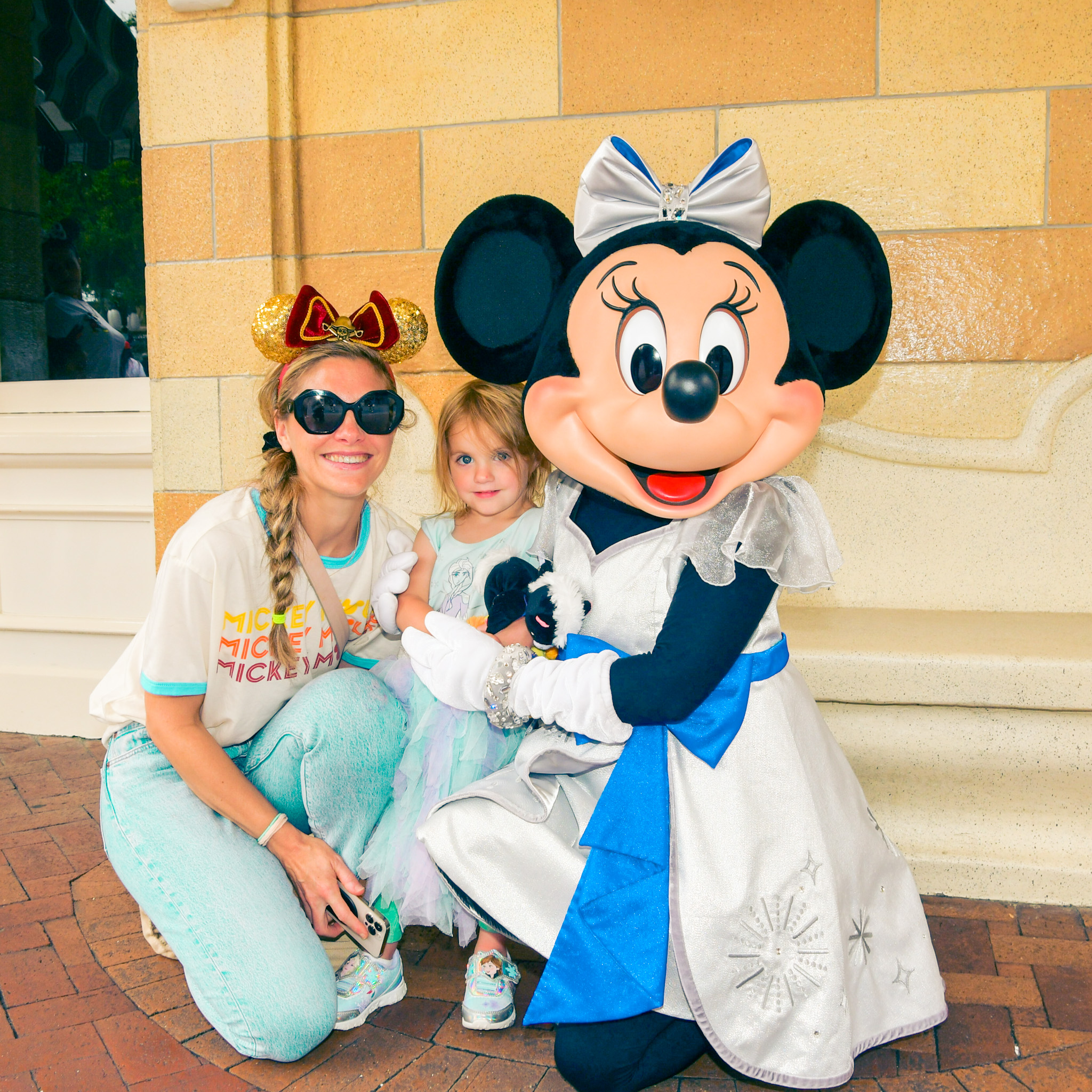 Plant-Based Options at Disneyland Resort
So the good news is that it is June 2023, as of the time I am writing this, and Disney is fully on the plant-based dining train – hooray! No longer do vegans have to pack their own lunches and treats, pray for something vegan to pop up at a nearby dining option, and basically go in blindfolded as to what the options are at the park. It used to be a vegan would have to do a lot of research online before entering the park. But these days, you can literally show up and have all the options at your fingertips! Aka, the Disneyland App.
So overall, these days, the Disneyland Resort is committed to providing various dining options, including plant-based choices, to cater to guests with different dietary preferences and restrictions.
Overview of plant-based dining options at Disneyland Resort:
Sit-Down Restaurants: Many sit-down restaurants throughout the resort offer plant-based menu items or can accommodate vegan requests. These include Carnation Café, Blue Bayou Restaurant, Café Orleans, Lamplight Lounge, and Carthay Circle Restaurant, among others. These locations often have dedicated plant-based menus or can modify existing dishes to be vegan-friendly.
Quick-Service Restaurants: Quick-service dining locations also provide plant-based options. Some notable places include Jolly Holiday Bakery Café, Plaza Inn, Bengal Barbecue, Flo's V8 Café, and Galactic Grill. These venues offer plant-based burgers, salads, sandwiches, and more.
Specialized Locations: Disneyland Resort has specific locations that focus on providing plant-based and vegan options. One such place is the Tropical Hideaway, offering vegan-friendly Dole Whip soft serve and plant-based bao buns. Another is the Award Wieners, which serves vegan hot dogs and loaded plant-based nachos.
Snack Carts and Stands: Throughout the parks, you'll find snack carts and stands offering various plant-based snacks. These can include fresh fruits, popcorn, pretzels, and vegan Mickey-shaped treats.
Allergy-Friendly Options: Disneyland Resort is attentive to guests with food allergies, including those who follow a plant-based diet. Guests with dietary concerns can consult with chefs or cast members to discuss their needs and receive guidance on suitable options.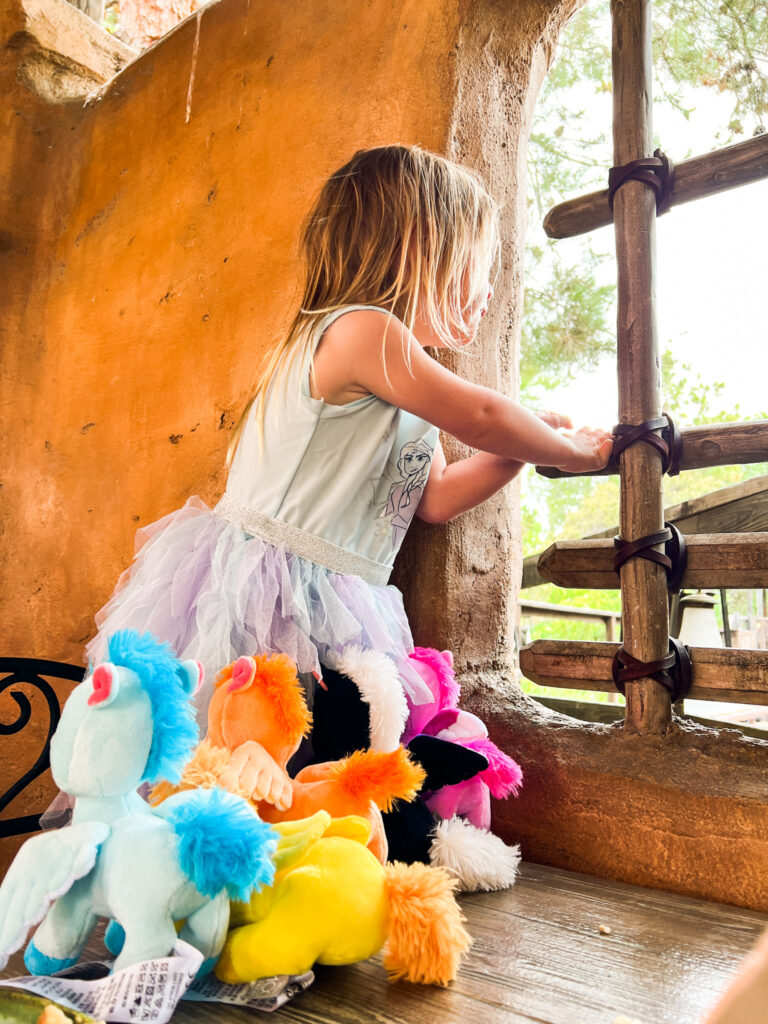 It's important to note that menus and offerings can change so check the park day-of for the most recent meals. The menus definitely change seasonally or just when they need updating! Disney loves to stay fun and new! Which is a great thing.
Disneyland Resort aims to ensure that all guests have enjoyable dining experiences, including those seeking plant-based and vegan choices. With a range of restaurants and snack options, you can explore the parks while savoring delicious plant-based meals and treats.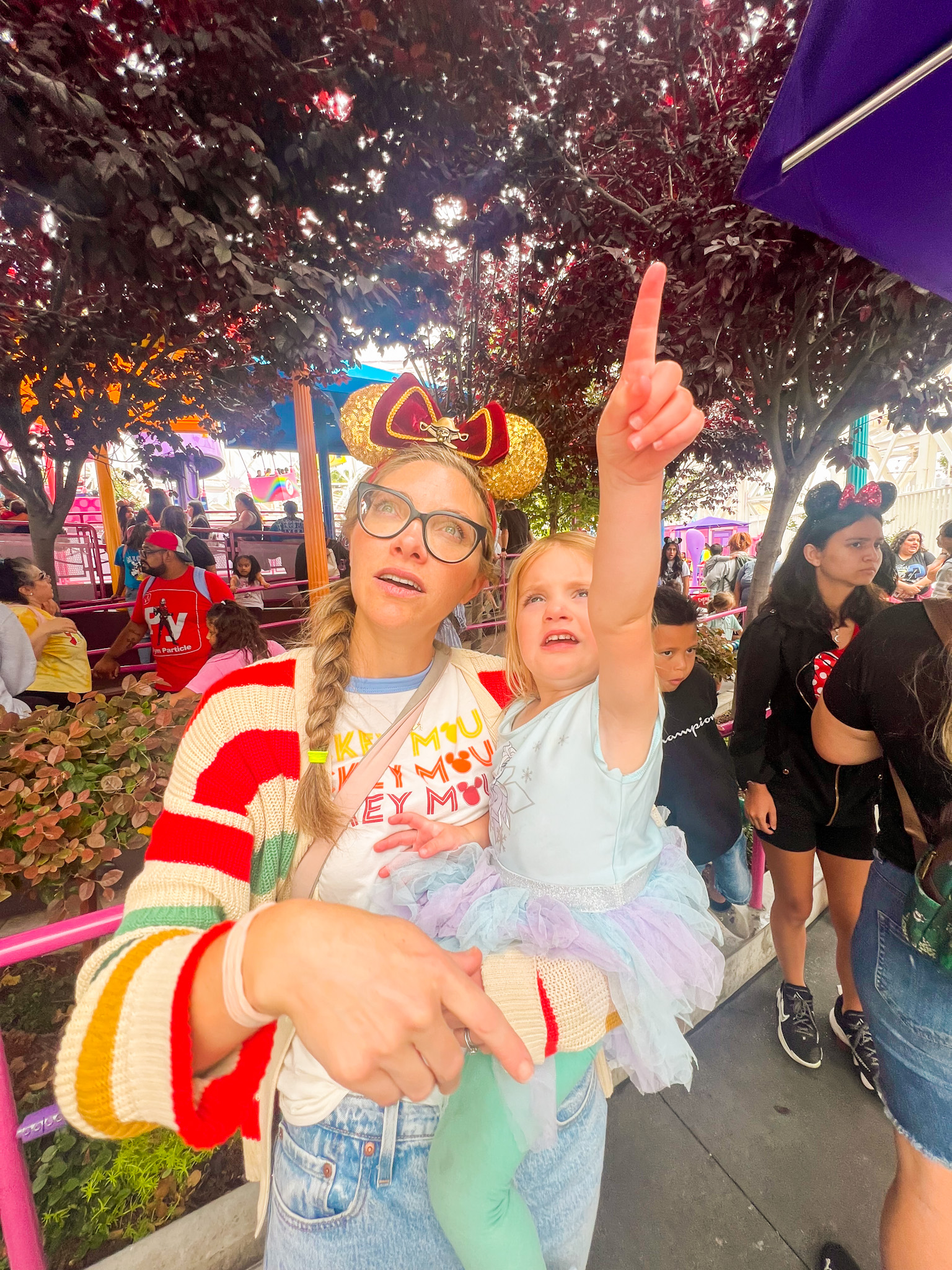 Allergy-Friendly Disney
So it used to be that whenever I said "no cheese" or "no dairy" on something that was a vegetarian modification at Disney, the cashier would ask me if it was a preference or an allergy. When I would say "allergy" the chef would actually come out and ensure me that an allergy-free option was being made. So great!
Allergy or Preference?
But these days, Disney has so many officially "plant-based" options that making special requests is really a thing of the past. It is so much easier to just stick to the menu and order from the plant-based section. Otherwise, you spend half your day asking about menus and ingredients in the meals and doing a lot of stressful dining analysis. Who wants that? I'd rather be doing a twirl on the teacups with my toddler.
So if you have an allergy – definitely go ahead and tell the chef! I have friends with allergies that are very specific like nuts or gluten or even specific foods like fruits! Anything involving an allergy needs to be taken seriously by the guest and the chef. Luckily, Disney gets this fact and does an amazing job at taking care of special dietary restrictions and allergies. Thanks, Mickey!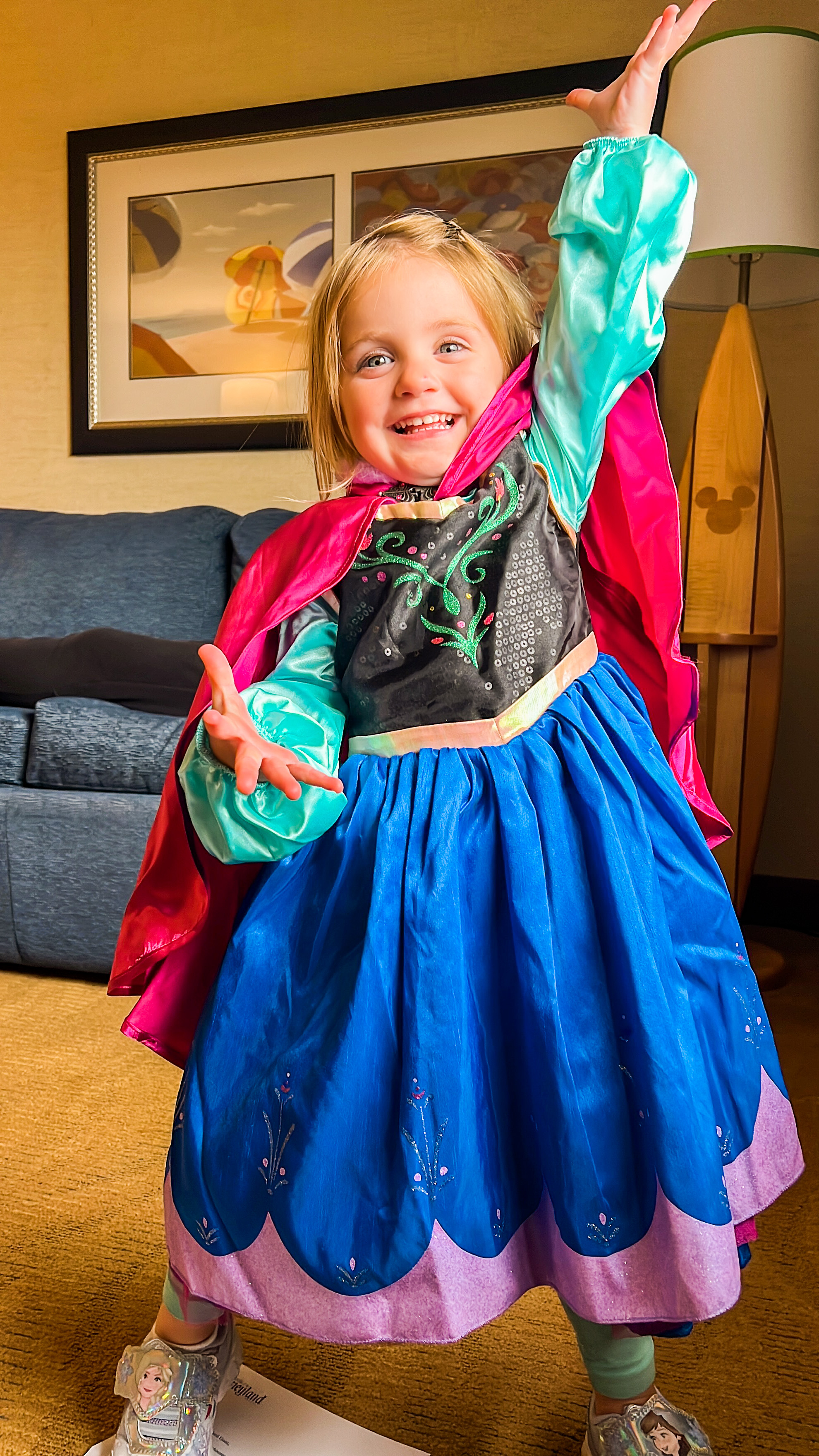 List of Current Plant-Based Meal Menu Items at Disneyland Resort – Summer 2023
This is my own personal research, guys! I went through my App and browsed every single restaurant in Disneyland Park to get this list of options. This list will absolutely need updating since menu items are always changing, but I think it gives you a great overview of the kinds of meals Disney is offering plant-based and vegan eaters…
Snag your Vegan Dining in Disneyland – Printable – direct PDF link, Canva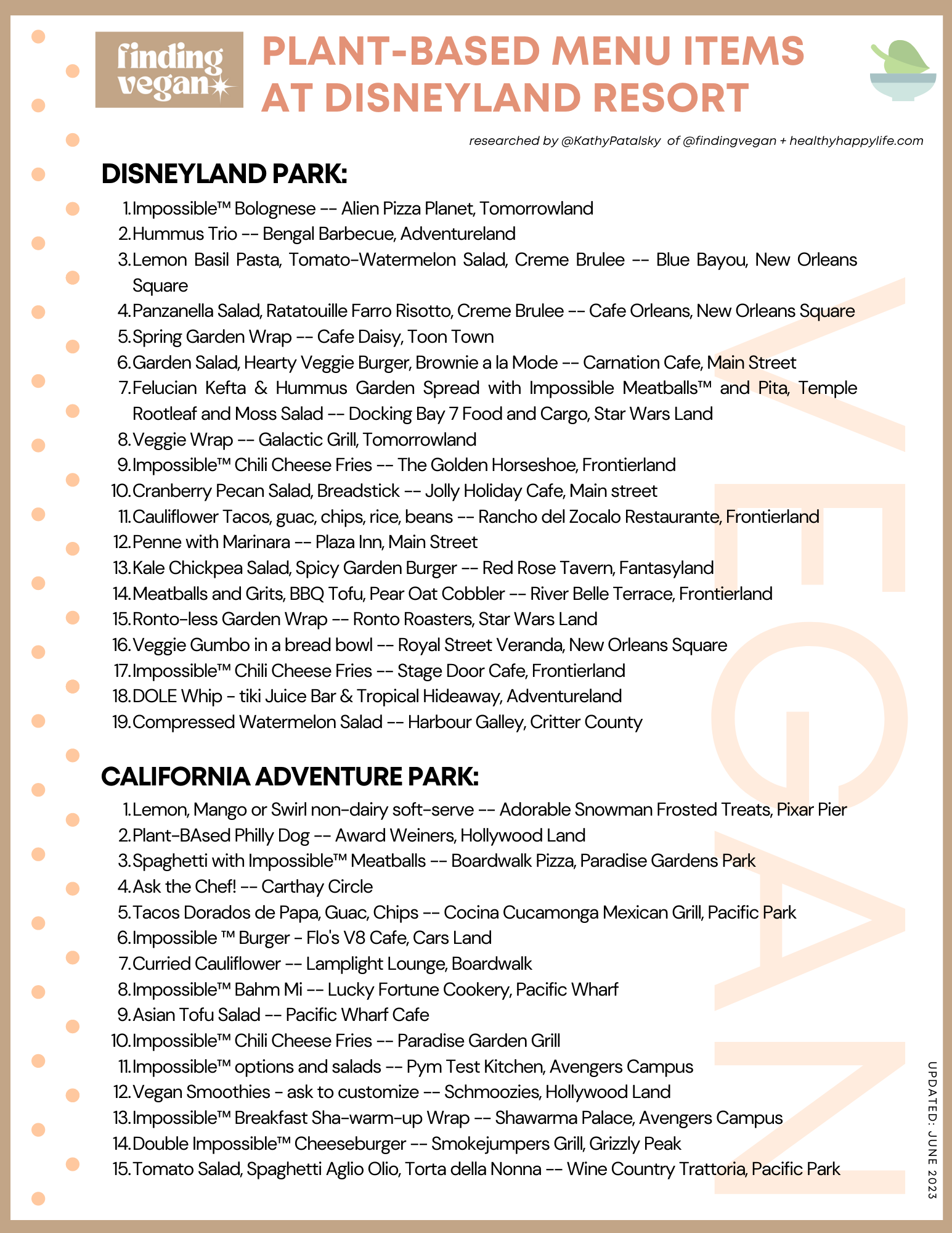 Disneyland Park Vegan Dining Options:
Impossible™ Bolognese — Alien Pizza Planet, Tomorrowland
Hummus Trio — Bengal Barbecue, Adventureland
Lemon Basil Pasta, Tomato and Watermelon Salad, Creme Brulee — Blue Bayou, New Orleans Square
Panzanella Salad, Ratatouille Farro Risotto, Creme Brulee — Cafe Orleans, New Orleans Square
Spring Garden Wrap — Cafe Daisy, Toon Town
Oatmeal, Carnation Garden Salad, Hearty Veggie Burger, Brownie a la Mode — Carnation Cafe, Main Street
Felucian Kefta & Hummus Garden Spread with Impossible Meatballs™ and Pita, Temple Rootleaf and Moss Salad — Docking Bay 7 Food and Cargo, Star Wars Land
Veggie Wrap — Galactic Grill, Tomorrowland
Impossible™ Chili Cheese Fries — The Golden Horseshoe, Frontierland
Cranberry Pecan Salad, Breadstick — Jolly Holiday Cafe, Main street
Cauliflower Tacos, guac, chips, rice, beans — Rancho del Zocalo Restaurante, Frontierland
Penne with Marinara — Plaza Inn, Main Street
Kale Chickpea Salad, Spicy Garden Burger — Red Rose Tavern, Fantasyland
Meatballs and Grits, BBQ Tofu, Pear Oat Cobbler — River Belle Terrace, Frontierland
Ronto-less Garden Wrap — Ronto Roasters, Star Wars Land
Veggie Gumbo in a bread bowl — Royal Street Veranda, New Orleans Square
Impossible™ Chili Cheese Fries — Stage Door Cafe, Frontierland
DOLE Whip – Tiki Juice Bar & Tropical Hideaway, Adventureland
Compressed Watermelon Salad — Harbour Galley, Critter County
California Adventure Park Vegan Dining Options:
Lemon, Mango or Swirl non-dairy soft-serve — Adorable Snowman Frosted Treats, Pixar Pier
Plant-BAsed Philly Dog — Award Weiners, Hollywood Land
Spaghetti with Impossible™ Meatballs — Boardwalk Pizza, Paradise Gardens Park
Ask the Chef! — Carthay Circle
Tacos Dorados de Papa, Guac, Chips — Cocina Cucamonga Mexican Grill, Pacific Park
Impossible ™ Burger – Flo's V8 Cafe, Cars Land
Curried Cauliflower — Lamplight Lounge, Boardwalk
Impossible™ Bahm Mi — Lucky Fortune Cookery, Pacific Wharf
Asian Tofu Salad — Pacific Wharf Cafe
Impossible™ Chili Cheese Fries — Paradise Garden Grill
Impossible™ options and salads — Pym Test Kitchen, Avengers Campus
Vegan Smoothies – ask to customize — Schmoozies, Hollywood Land
Impossible™ Breakfast Sha-warm-up Wrap — Shawarma Palace, Avengers Campus
Double Impossible™ Cheeseburger — Smokejumpers Grill, Grizzly Peak
Tomato Salad, Spaghetti Aglio Olio, Torta della Nonna — Wine Country Trattoria, Pacific Park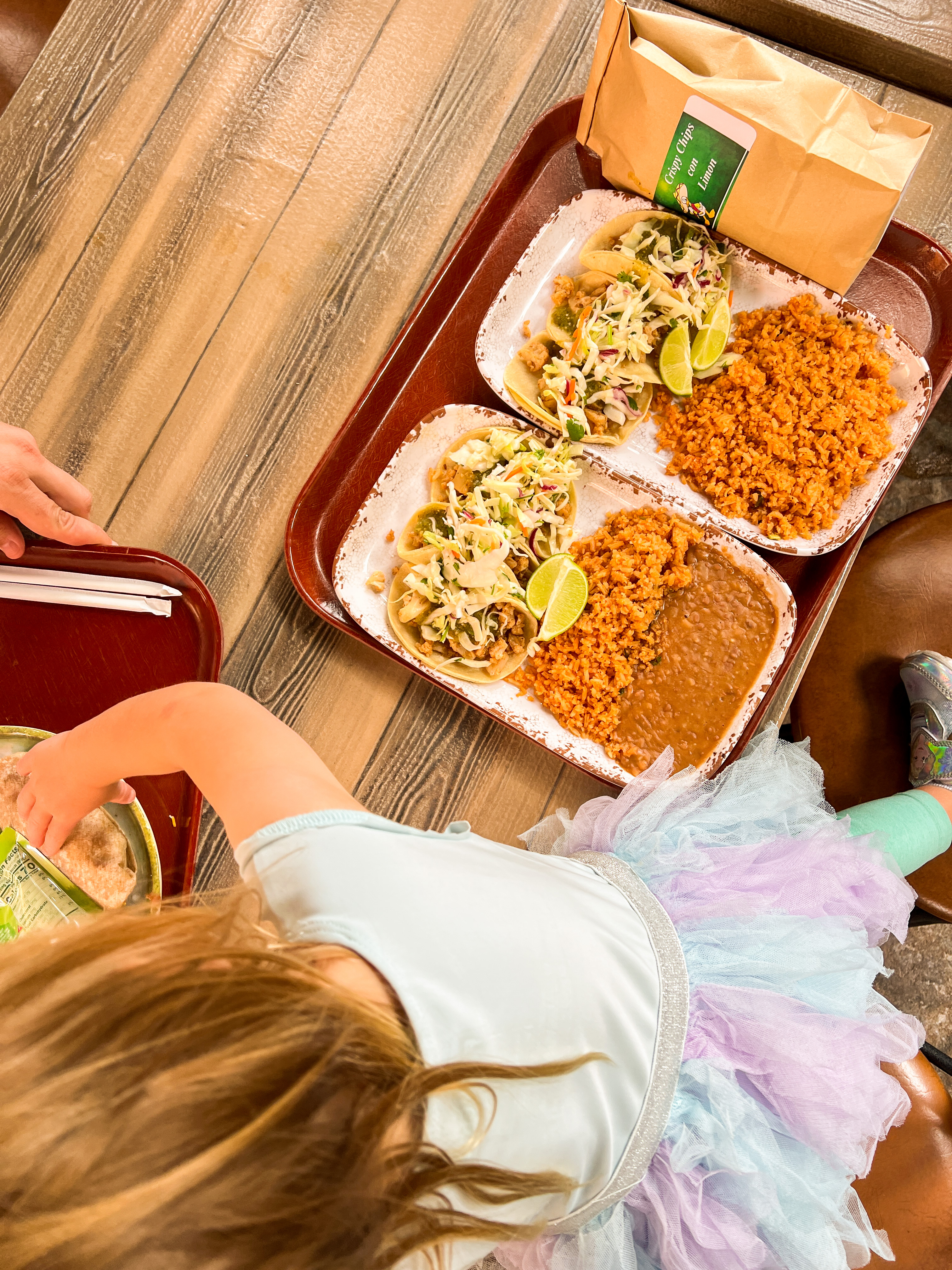 Plant-Based Dining at Disneyland Made Easy
So here's how you eat vegan at Disneyland, without any stress. Ok, almost any stress.
Download the Disneyland App.
Make sure you have park tickets and reservations!
Enter the park.
Click the "plus" sign on the App.
Click "Order Food."
Click any filters or "nearby" options. You can also choose anything "available now." You can even schedule meals for later! So you can schedule your meals hours in advance for ease.
Click "Begin Order" or choose an order arrival time.
Click the "plant-based" icon filter at the top of the restaurant's dining page. You will be zoomed down to the specific vegan options at that restaurant.
Order!
Pick up when your order is ready on the App!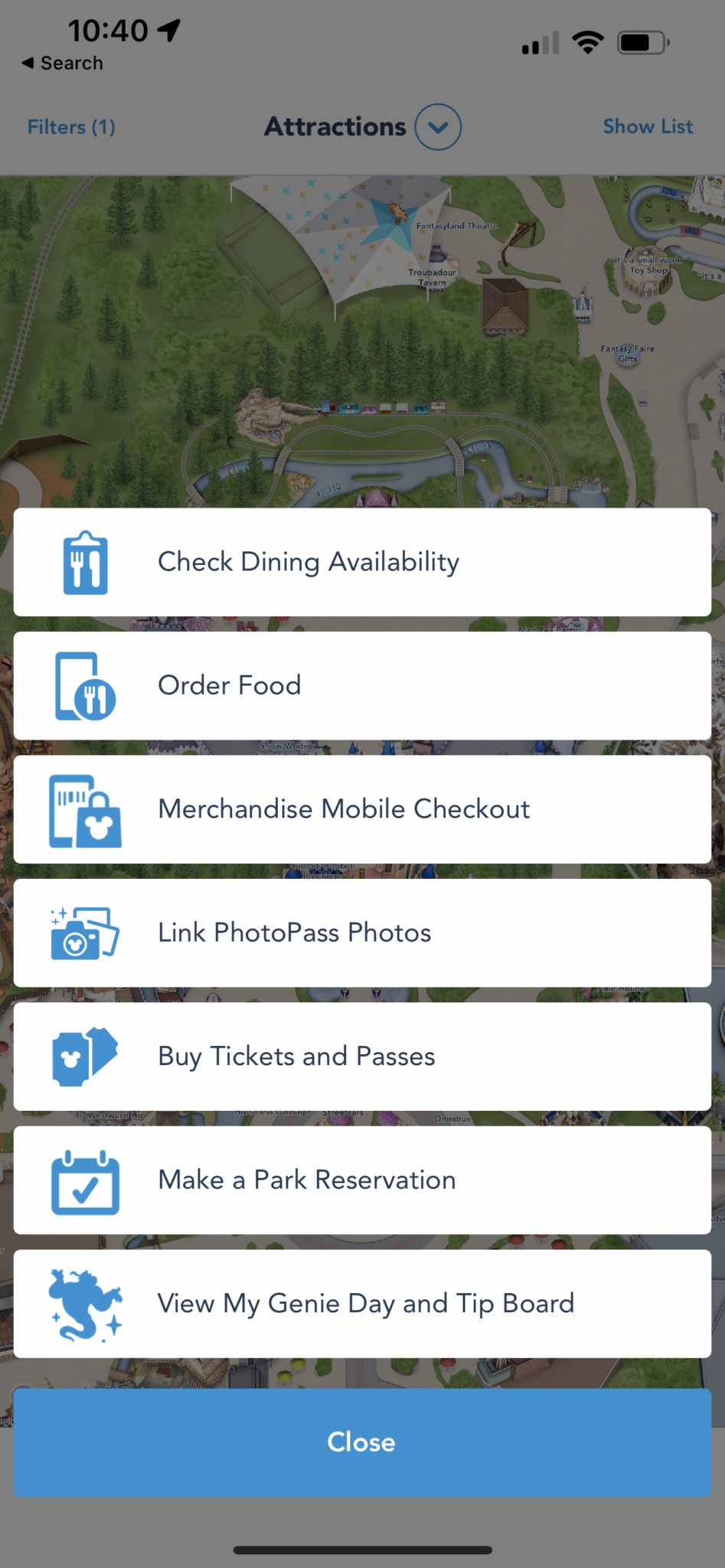 Troubleshooting Vegan Dining Options at Disneyland
Ok, so maybe you do not like the options at a specific restaurant. Here are a few tips..
Check the Salads. Sometimes the salads do not pop up as plant-based because they are shown as "sides" or they may have a non-vegan dressing. You can always nix the dressing on some salads and sometimes the dressing will contain honey – which I know a lot of vegans who are fine with a small amount of honey.
Check the Sides. I have seen a few side dishes that would be fine for vegans. Like french fries and side salads.
Click the "allergy-Friendly" section. Check the allergy-friendly filter option in the App.
Some Restaurants Don't Do the Plant-Based Icon Filter! For some restaurants, you have to actually read the menu on the App – under "view Menu" and then scroll down to the "plant-based" section. You won't see a clickable "plant-based" option in the app.
Downtown Disney! If you are feeling stressed by options or prices inside the park, you can always stick to tried and true faves outside the park. Starbucks, Jamba Juice and many more dining options are right outside at Downtown Disney.
Door Dash it! If you are staying at a nearby hotel, you can use a meal delivery service like Door Dash or UberEats.
Check the Food Carts! We usually do a pineapple spear and grapes snack break at some point in the day.
Hotel Room Picnic Idea
Door Dash or bring food back to your room. You can order the food as you are walking back to your hotel and have it ready when you get there if you time it right. We did this with Pitfire Pizza a few nights ago and it was perfection. Salads, pizza and drinks delivered to the lobby. Stress-free eating with a tired toddler. We do "hotel room picnics" where we spread a towel on the floor and eat away.
My 5 Fave Vegan Meals at Disneyland
Veggie Gumbo in a Bread Bowl – Located in New Orleans Square, near Pirates, this walk-up fave dining option has been around for years! It is kinda the OG of secretly vegan menu items.
Cauliflower Tacos with Rice and Beans at Rancho del Zocalo in Frontierland. This is my favorite late-afternoon spot!
Dole Whip. I know, this is one that everyone knows about and not technically a meal, but it's still a fave pause in our Disney day. You can even order ahead on the App now instead of waiting in line!
Plant-Based Philly Dog at Award Weiners in California Adventure Hollywood Land. And across the street is the Schmoozies shop where you can walk up and request a vegan smoothie.
Real Veggie Burger at Red Rose Tavern – If you are like me and not into Impossible Burger anything, then go here! They have a spicy garden burger made from black beans alongside potato bites. Plus, they have a kale-chickpea salad.
Animal Lovers of Disney
We kinda love the ducky families at Disneyland just as much as we love the rides. Anyone else? These teeny tiny ducklings and one very chill Disney duck mom was a huge treat for us to see!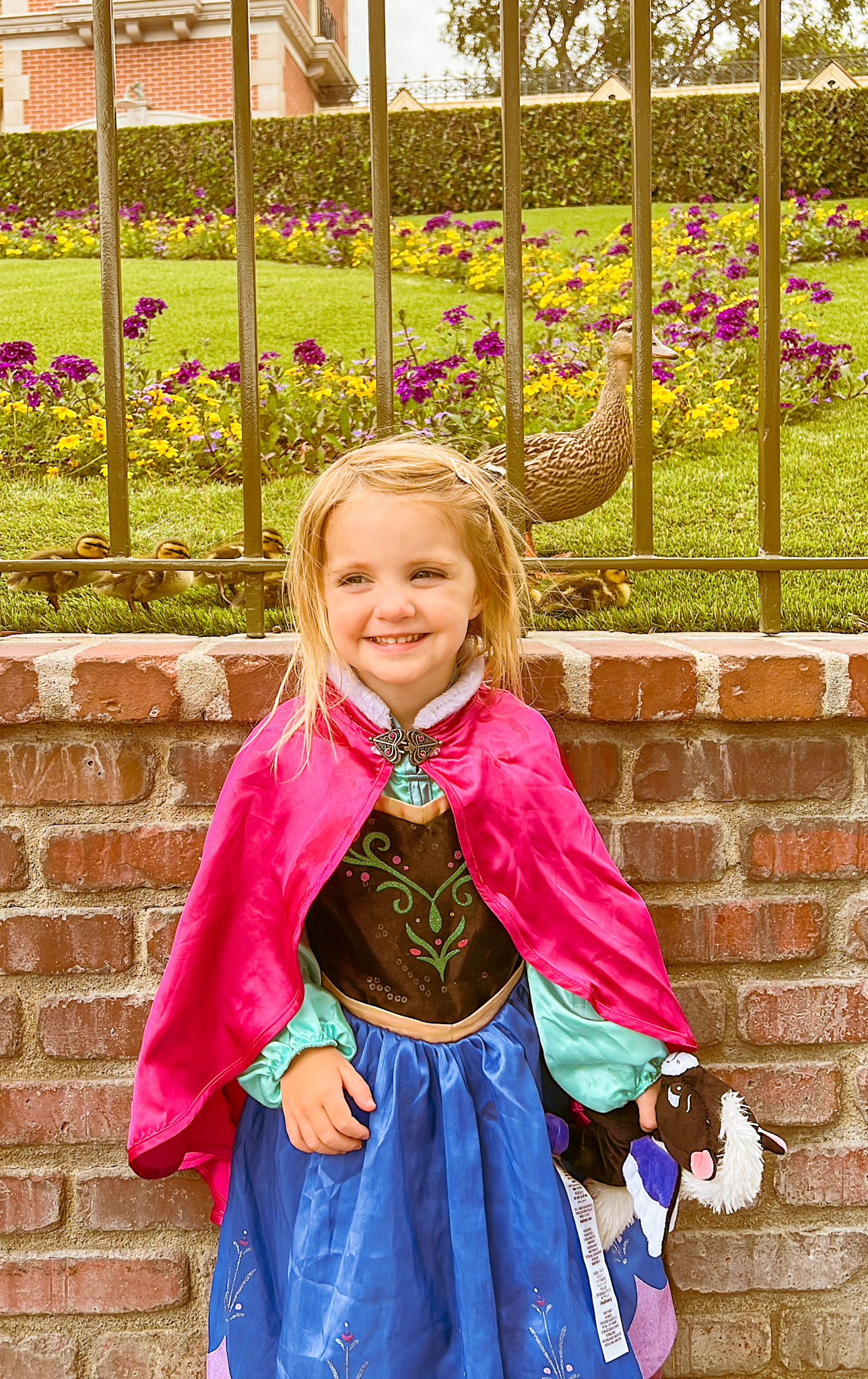 Quiet Dining Spots at Disneyland:
Rancho del Zocalo – When my kid gets hungry and over-stimulated, we go here, find a quiet corner table, order a lot of food, and relax while we watch the train-coaster Thunder Mountain, of Frontierland zoom on by. They also have chips and guac and self-serve fountain beverages.
Red Rose Tavern – Quiet for Fantasyland… Which can get very busy and hectic.
Hungry Bear – So many tables and a cool shady spot to chill out and even let kiddos nap in arms or strollers.
Harbour Galley – Very chill lesser-known spot in Critter County.
Tom Sawyer Island – Bring some eats and find a lazy spot to sit and eat.
California Adventure Hotel Lobby – They do not serve food here, but you could order a drink from the off-lobby bar and bring it out to the main lobby. You could even bring some to-go food and eat it there. Probably not encouraged for non-hotel guests, but as of right now, the lobby is open to everyone.
Plaza Inn – Behind cool white gates, this chill spot doesn't have the best vegan options, but the ambiance for chill is high. And if your kid loves characters, there is character dining in the AM – reserve far in advance!
Flo's V8 Cafe – Lots of tables and right off of Cars Land.
Fine Dining Fave at Disneyland
Try Carthay Circle if you want a fancy sit-down vegan meal. They always make me something amazing and the ambiance is first class for a Disney Park! Maybe not the best for toddlers or babies who just want to run around or scream, but if they are in a cooperative mood, go for it. Whenever we have a special event or dinner, this is where we go. I love the dark and cool atmosphere and the art and memorabilia covering the walls.
What About Downtown Disney Vegan Dining?
My go-to spots are:
Jamba Juice (giant smoothies and maybe a pretzel)
Starbucks (drinks and maybe a bagel)
Napolini Pizzeria (cheese-free pizza and yummy big salads)
We rarely eat at DD if we are going into the park, thus why I don't have a lot of experience with the various spots there. I am sure that all of them will make you something vegan though! Just ask, don't be shy in making a vegan request at Disney!
The One Thing I Don't Like About Disneyland Dining Options for Plant-Based Eaters
I am not a fake burger fan. So Beyond Burger, Impossible Burger – it's not for me. I despise the taste of actual meat and these brands are way too authentic for me. Obviously, if you like the taste of meat and love these options you are in for a treat because Impossible Burger menu items are available just about everywhere in Disneyland Resort. But for me, I wish they did a few more meals with just veggies and beans, and more traditional plant-based fare, rather than just doing fake meat options. Only time will tell if the Impossible Burger menu items are popular or not! What do you guys think???
Disney's Commitment to the Environment
It is important to note that Disney is a publically owned company with shareholder interests. And I think the public wants more environmentally-friendly options at Disney parks. Yay for that. Disney is doing a great job of answering those requests!
Disney has demonstrated a commitment to the environment. Here are some examples of Disney's commitment to environmental sustainability:
Conservation efforts: Disney Conservation Fund, which supports wildlife protection, habitat restoration, and community engagement.
Renewable energy: Disney is committed to reducing greenhouse gas emissions and transitioning to cleaner energy sources.
Waste reduction and recycling: Disney aims to minimize waste generation and promote recycling.
Water conservation: Disney recognizes the importance of water conservation.
Sustainable sourcing: Disney strives to source products and materials in an environmentally responsible manner. Including paper, palm oil and more.
Education and awareness: Disney leverages its influence and platforms to raise awareness about environmental issues. They incorporate environmental messages into their movies, TV shows, and theme park attractions, promoting a greater understanding of conservation and inspiring positive action. I absolutely love the Disney Nature programming on Disney+ as a family-friendly option for screen time. Penguins is an absolute fave.
More of this please!… Vegan Options for Sustainability
Plant-Based Offerings! I put this one at the bottom of the list because I genuinely think Disney has so much more they can do to live their sustainability and conservation values out via their theme park dining options. I am so confident that Disney will continue to be a leader in plant-based dining options.
While Disney has made significant strides in environmental sustainability, there is always room for improvement, and they continue to work towards reducing their ecological footprint and promoting a more sustainable future. So ask for more vegan dining options and environmental sustainability awareness. infrastructure and procedures.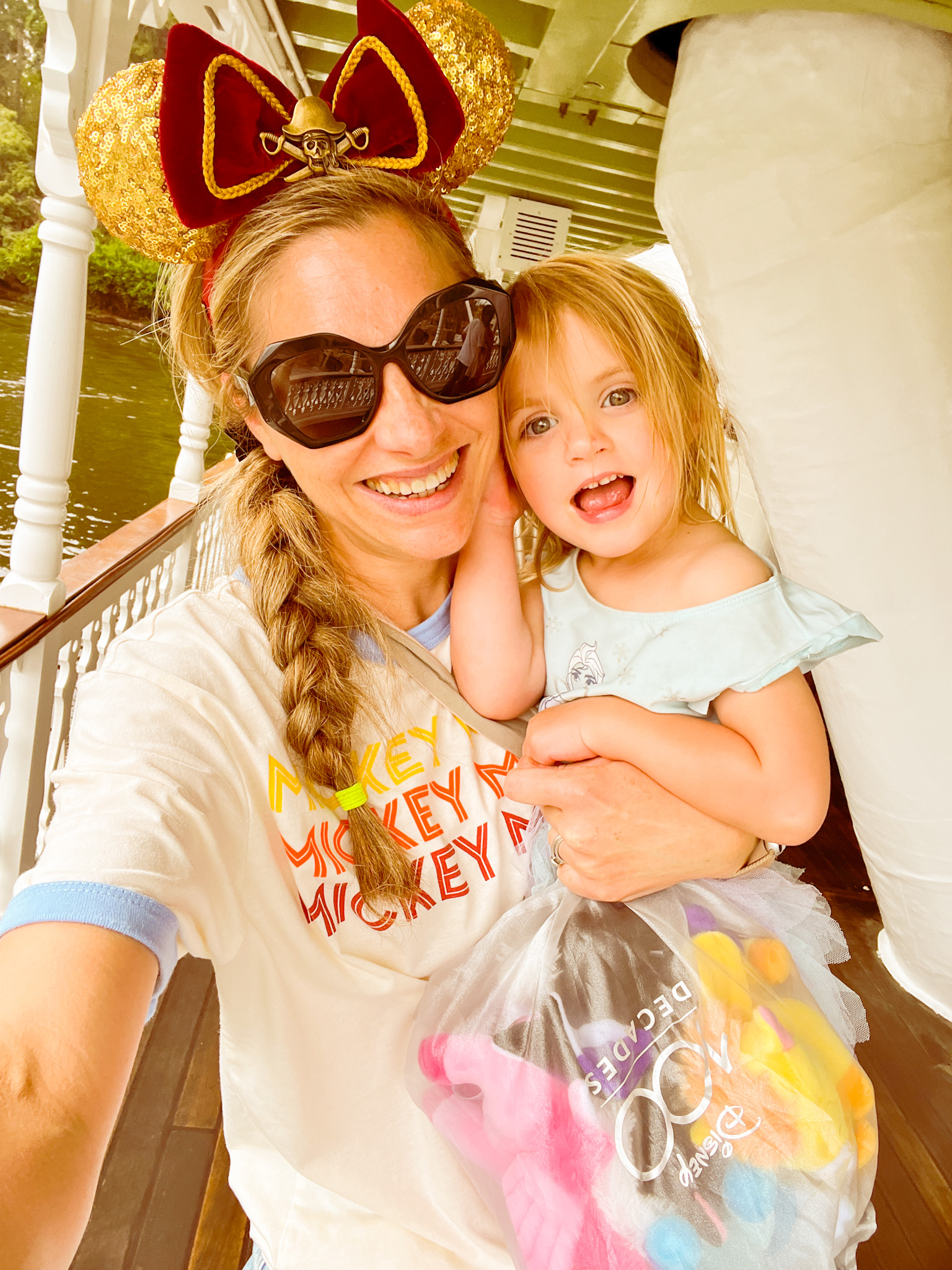 Overview of Dining in Disneyland Resort as a Vegan or Plant-Based Eater
So that's it for my tips for today. While not perfect, the plant-based menu options at Disneyland Resort far exceed what they did twelve years ago when I last wrote about this. And I bet in the next ten years they will get even better. We have to keep asking for vegan options where we eat! Money talks. Vegans love Disneyland too! And the real talk is that even non-vegans will love plant-based options that are crafted with care by talented chefs. And the more people eating vegan meals – the better outcomes for the planet, animals and (usually) our own health. More fruit, veggies, grains, beans, nuts, and seeds are great for Disney lovers like you and me.
I will try to update this page as I hop around the park and try more of the current offerings! Happy Disney eating guys!
And don't forget to snag that PDF of current options – direct link to my PDF here (Canva) – my free gift to you guys!