One of my favorite blog recipes is my Peanut-Ginger Curried Chickpeas. Well today I am giving that recipe a "make it easy!" makeover. Today's recipe for vegan Peanut Butter Curry Chickpeas over fluffy quinoa is super simple, with just six main ingredients for the chickpeas.
I serve them over top quinoa or rice for a simple and satisfying lunch or dinner. And these chickpeas are super cravable. I know this because I have leftovers in my fridge right now, and I just had a big smoothie for lunch, but all I can think about are those warmed up chickpeas and quinoa for dinner!
Making beans cravable = recipe win.
Boost the meal even more.. You can always add some greens, a side salad, roasted veggies or a roast sweet potato on the side if you'd like. I had this for lunch and it was perfect! Packed with plant-based protein and not too heavy, yet very satisfying…
Easy! The chickpeas warm up in a small soup pot in minutes..
Peanut Butter Savory Dish
These Peanut Butter Curry Chickpeas are rich and creamy with a hint of lime and loads of warming sweet curry flavor mingling with peanut butter. Rich, sweet and a little sassy. I love chickpeas and any sort of peanut sauce, so this is a curried and lime spin on that.
But my favorite thing about today's version of this recipe is really how incredibly simple it is. I tried very hard to keep ingredients to a minimum. If you want to get all fancy and add more spices and veggies like onion or sweet potato or chopped greens, go for it.
A side salad would be nice pairing. Try my Fall Kale Salad (you could omit the white beans since you already have the chickpeas.)
Serve with Quinoa or Rice
Quinoa is the perfect base for these chickpeas. Rice would work too, but I love these against the light and fluffy quinoa.
One cup of quinoa contains around 120 calories and around 5g or protein, 3g of fiber. You could also use brown or white rice or even a salad veggie base. These chickpeas paired with a grain and some veggies would make a really delicious sandwich wrap. Learn how to make my fluffy quinoa.
Extra 'spice-y.'
I like to add some smoked paprika and hot sauce on top, but those ingredients are optional.
Almond Butter?
You could absolutely play around with using almond, cashew or even sun butter in place of peanuts if necessary.
Another sub… you could totally try these with another bean! Something with some body – and less mushy like a navy bean or even a black bean.
Easy Vegan Dinner
I am focused on posting more super simple dinner recipe ideas for you guys in this back-to-school-ish season – and every season really! If there are any special requests you would like to easy dinners, let me know. But I love how FAST these Peanut Butter Curry Chickpeas are for a satisfying meal or add-on to a meal.
Enjoy this plant-based meal!
Peanut Butter Tofu…
Also, check out my Tofu + Rice spin on this recipe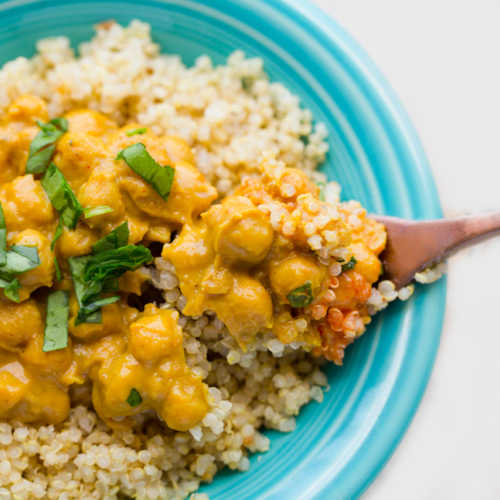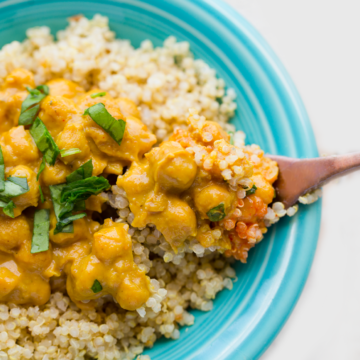 Easy Peanut Butter Curry Chickpeas
This super fast and simple chickpea mixture is flavored with warming curry, creamy cozy peanut butter and sweet maple syrup.
Print
Pin
Ingredients
¼

cup

peanut butter

,

creamy/salted

1

lime

,

medium size – juiced

1 ½

tablespoon

maple syrup

1

clove

garlic

,

minced

1

teaspoon

curry powder

,

use less for a milder flavor

½ – ¾

cup

water

salt and pepper

,

to taste – at least ½ teaspoon salt

1 ½

cups

chickpeas

,

cooked/canned – drained and rinsed

Optional garnishes

,

greens, smoky paprika, hot sauce, fresh herbs
Instructions
Place a sauce pot over high heat and add the garlic and a splash of water. Allow the garlic to cook and caramelize a bit. (You could also use a teaspoon of oil instead of water for a richer flavor)

Whisk in the peanut butter, maple syrup, lime juice, water and curry powder. Keep whisking as you bring the mixture to a slow boil. Lower the heat to low and continue whisking as the sauce thickens.

Add in the chickpeas. Stir well. Allow the sauce and chickpeas to simmer on low for 3-4 minutes. Add salt and pepper to taste.

When chickpeas are tender and sauce thickened, remove from heat. Serve over top rice or quinoa or inside a pita or a wrap. You could even serve on the side of a salad or alongside other veggies.
nutrition estimate | per serving
Calories:
236
kcal
|
Carbohydrates:
25
g
|
Protein:
10
g
|
Fat:
13
g
|
Saturated Fat:
2
g
|
Sodium:
333
mg
|
Potassium:
303
mg
|
Fiber:
6
g
|
Sugar:
8
g
|
Vitamin C:
7
mg
|
Calcium:
56
mg
|
Iron:
2
mg