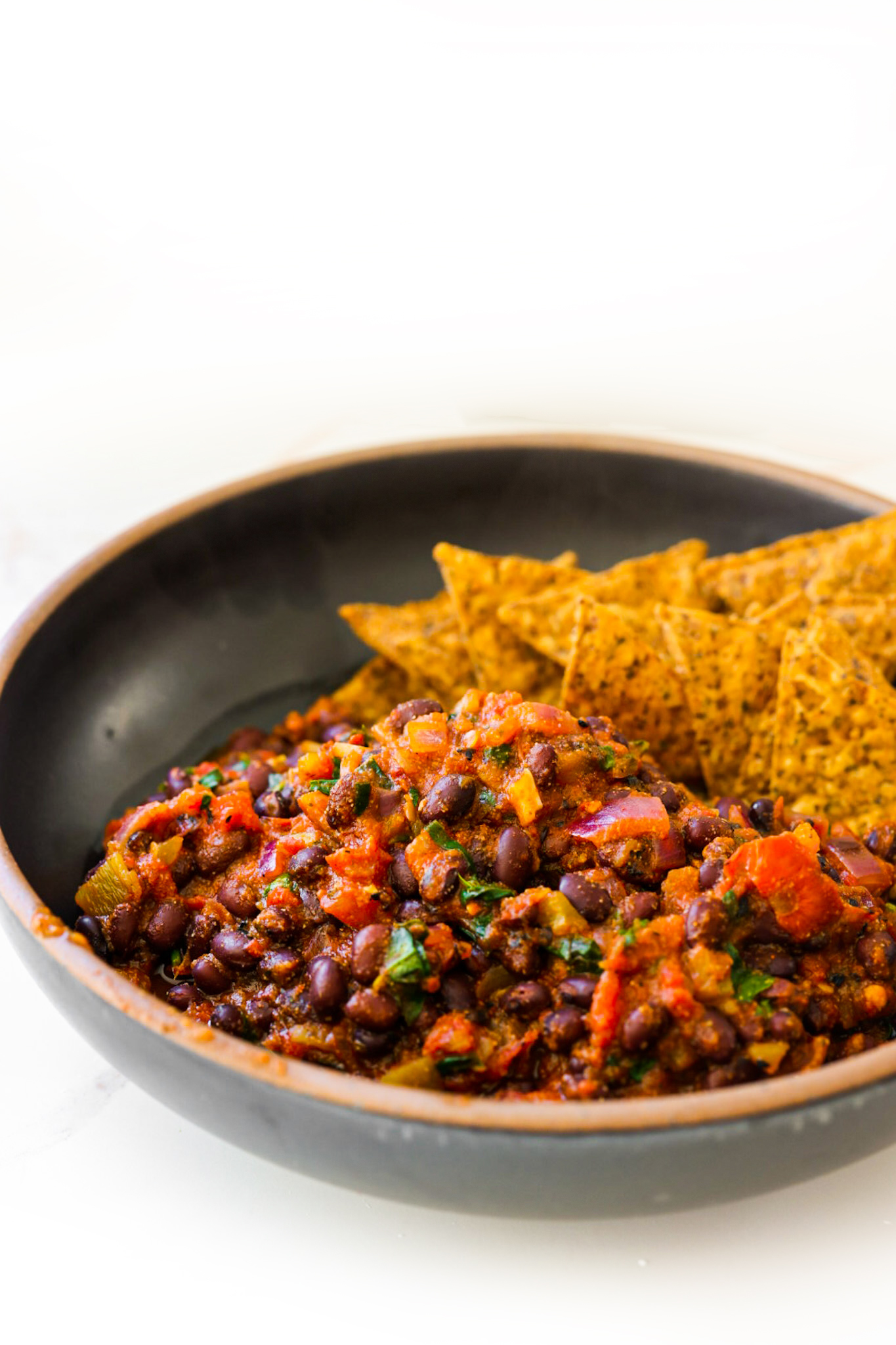 These Spicy Stovetop Beans are an absolute favorite of mine. Beans for lunch has been somewhat of a healthy addiction for me lately. The past few years, really.
I kid you not when I say I have had beans for lunch pretty much every day for the past year. It started as a habit to add more iron to my diet when I was pregnant, and now I just can't stop. I crave my bean bowl lunch, and hope that this recipe helps you to crave them too!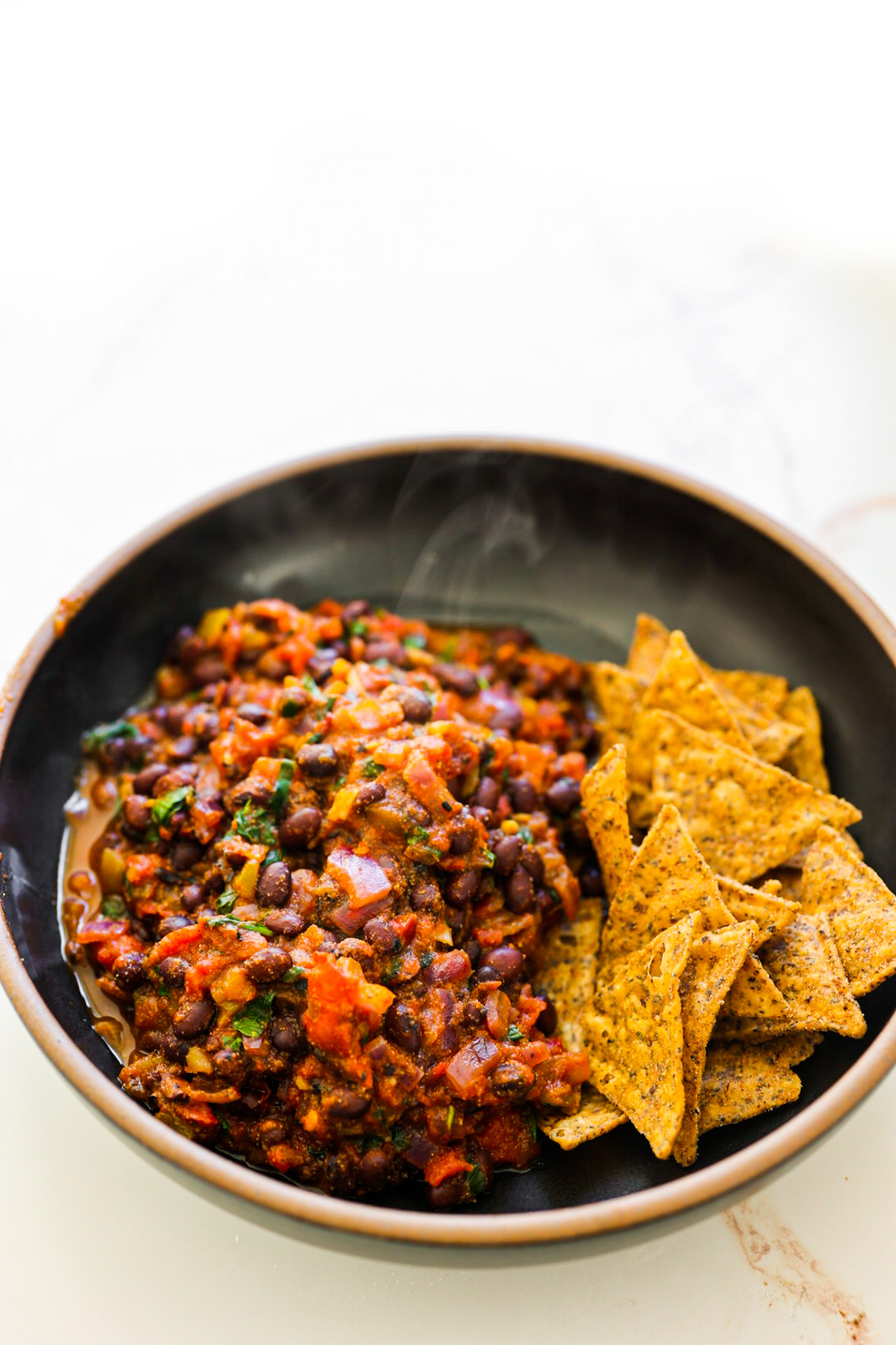 Homemade vs. Store-Bought Beans
I have actually been really into some of the newer brands of pre-made beans. I think the two brands I buy are Dozen Cousins and Fillos. But I got a bit worn out of using pre-made beans, even though they taste so homemade, and I started experimenting with easy bean recipes that I could make 'from scratch.' But I don't mean the from scratch where you soak dry beans. I mean the from scratch where you add your own veggies and spices and really customize the flavor and texture a bit.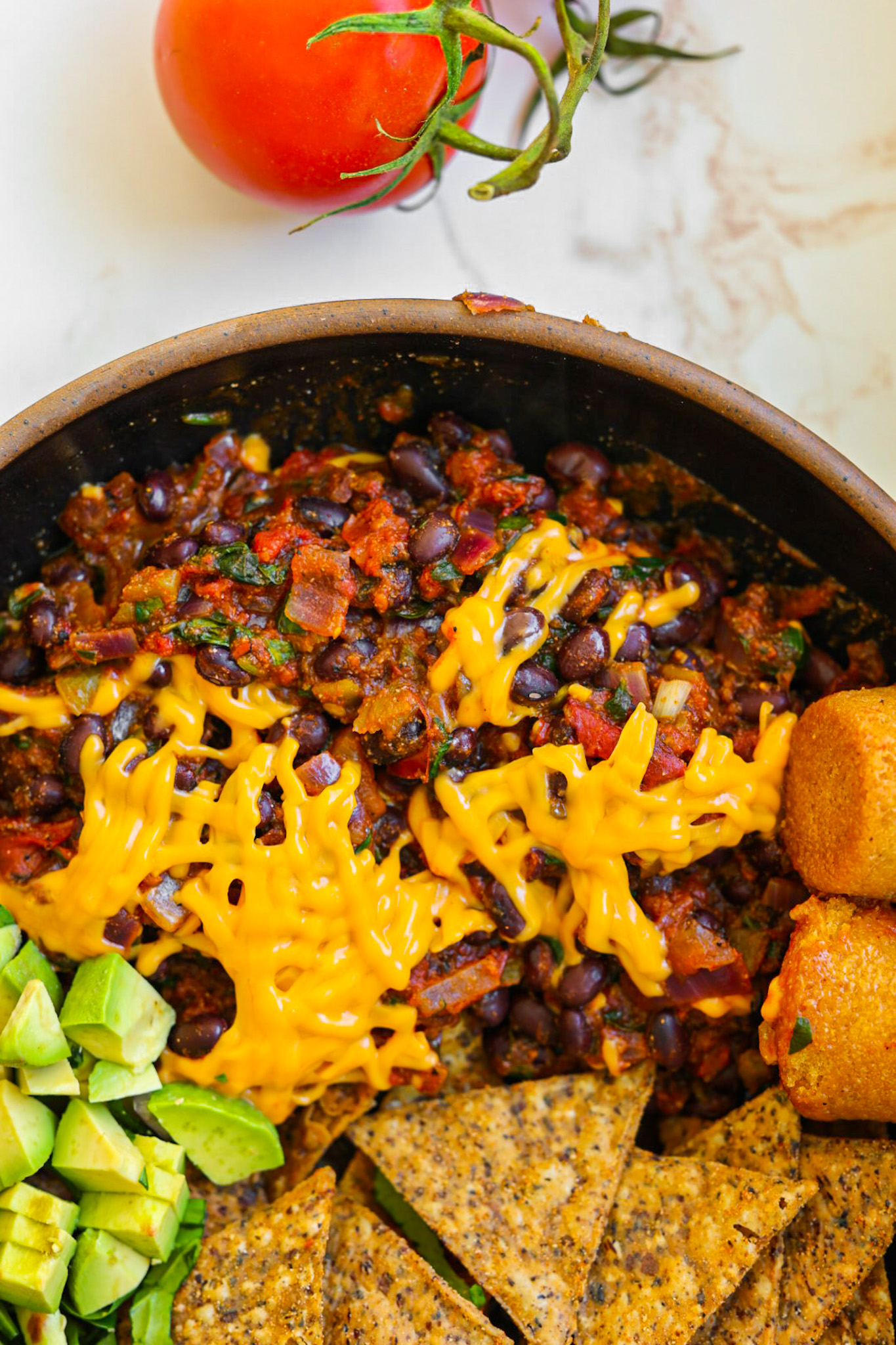 Stovetop Beans
One pot meals are absolutely my favorite thing these days. These beans are easily made using one pot and on your stovetop. I use my fave Staub pot. I love these pots so much that I have four of them. They are so versatile. I use them for sauteeing, soups, stews, warming up canned goods in speedy fashion and basically making just about anything on my stove.
Ingredient Ideas
These stovetop beans are so simple to make and really easy to customize. Here are a few of the ingredients I like to add in when I have them on hand..
Bell Pepper – Adds a chunky texture and some color too. Makes these beans feel very filling since bell pepper doesn't cook down too much. Bell pepper adds vitamin C and fiber.
Mushrooms – I would add mushrooms right after my onion and saute those two ingredients until the mushrooms are soft and start to brown a bit. Mushrooms add a very earthy texture and flavor to this recipe.
Carrots – I would add the carrots at the same time as I add the onion – or even before for a softer carrot bite. You could even add those little diced frozen carrot cubes if you are in a rush and want a soft carrot with speed! Carrots add fiber, beta carotene and of course a little boost of sweetness to these Spicy Stovetop Beans.
Corn – Corn would add color, sweetness, fiber and texture. I love serving these beans alongside cornbread, so I know corn would be an add-in ingredient winner.
Cornbread muffin bowl serving suggestion…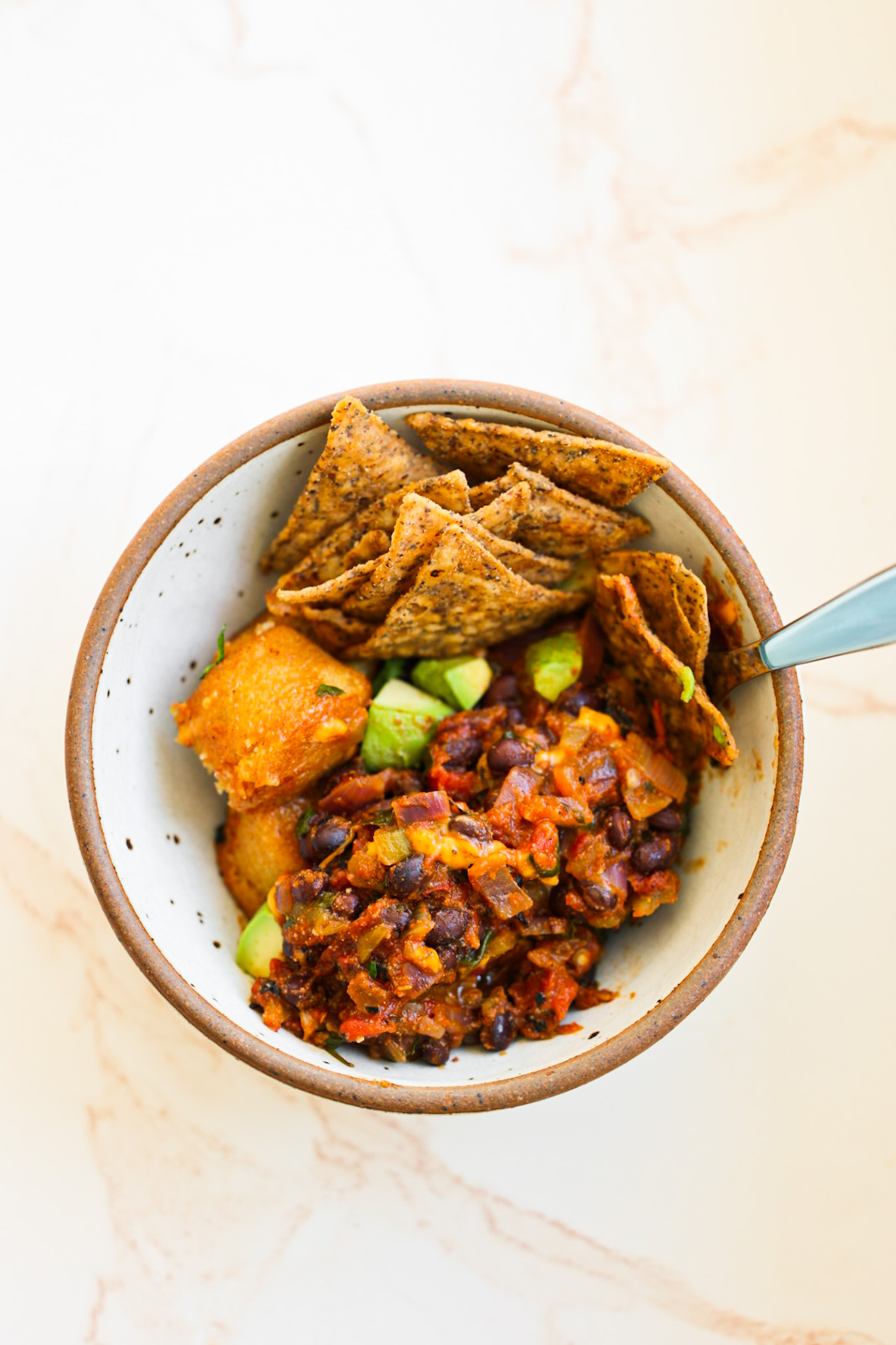 Or this serving platter would serve 2-3 people.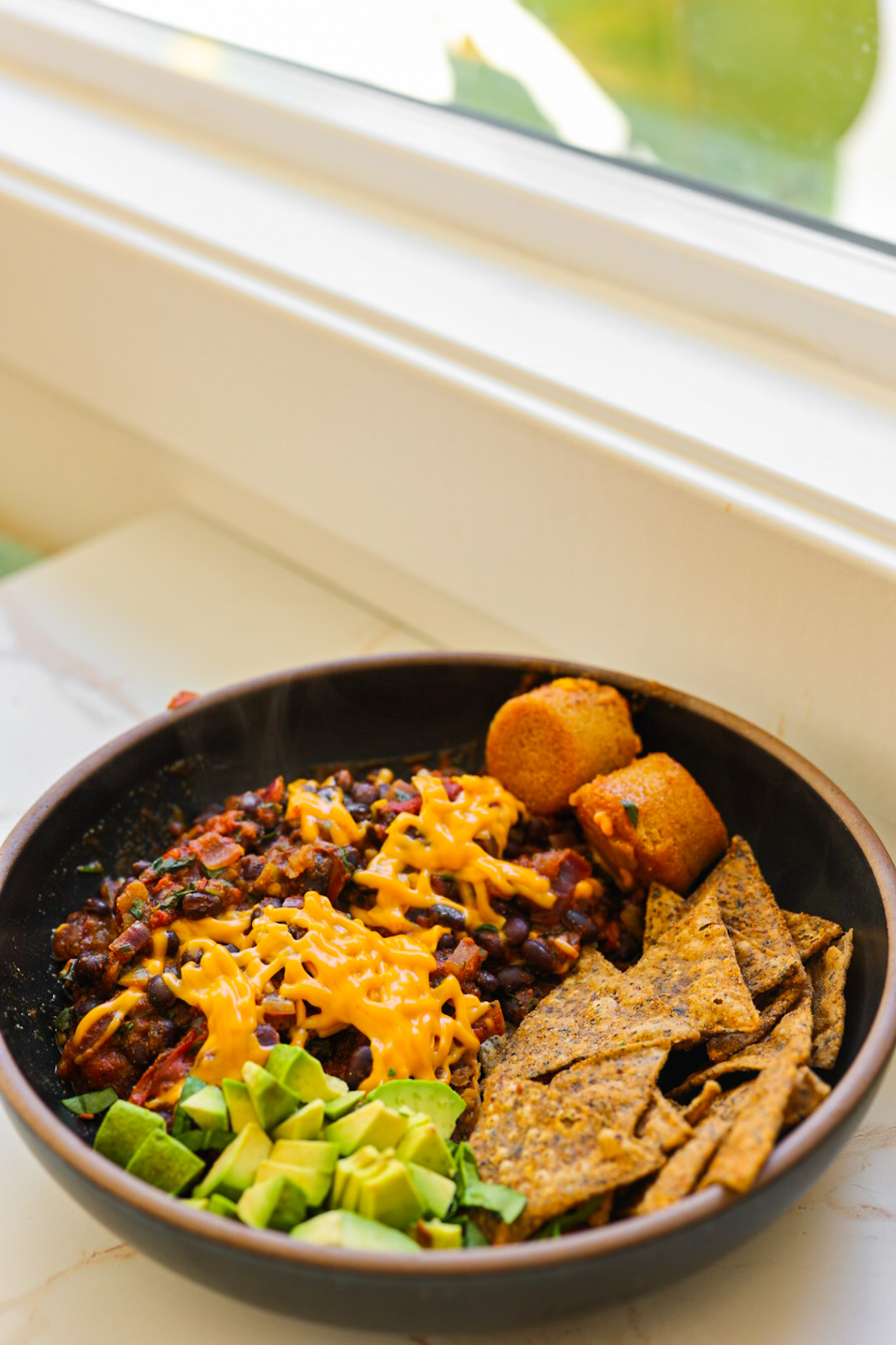 Broccoli – When I add broccoli, I actually prefer to steam it on the side and serve it alongside my beans as opposed to mixed in with the beans. That is just because broccoli has such a unique and fluffy texture and can get quite crumbly when cooked in liquid.
Cauliflower – I love adding cauliflower to beans because it absorbs all those spicy flavors so well. Cauliflower adds bonus veggies and fiber without modifying the flavor at all. You could also do a bowl of cauliflower rice alongside these beans! Or traditional grain rice works too. I am also obsessed with cauliflower rice bowls right now for dinner. I add veggies and spices and lots of vegan Parmesan.
Potatoes – Diced white potatoes add a lot of heartiness to this recipe. I would probably suggest that you boil the potatoes on the side, then fold them in with the beans. You could keep it a one pot meal by adding the potatoes to the pot first, and cooking in water, then draining off the water.
Veggie Sausage or tempeh – For an extra boost of protein and flavor, add in some veggie sausage or tempeh. You could even chop up vegan bacon and add that into the pot.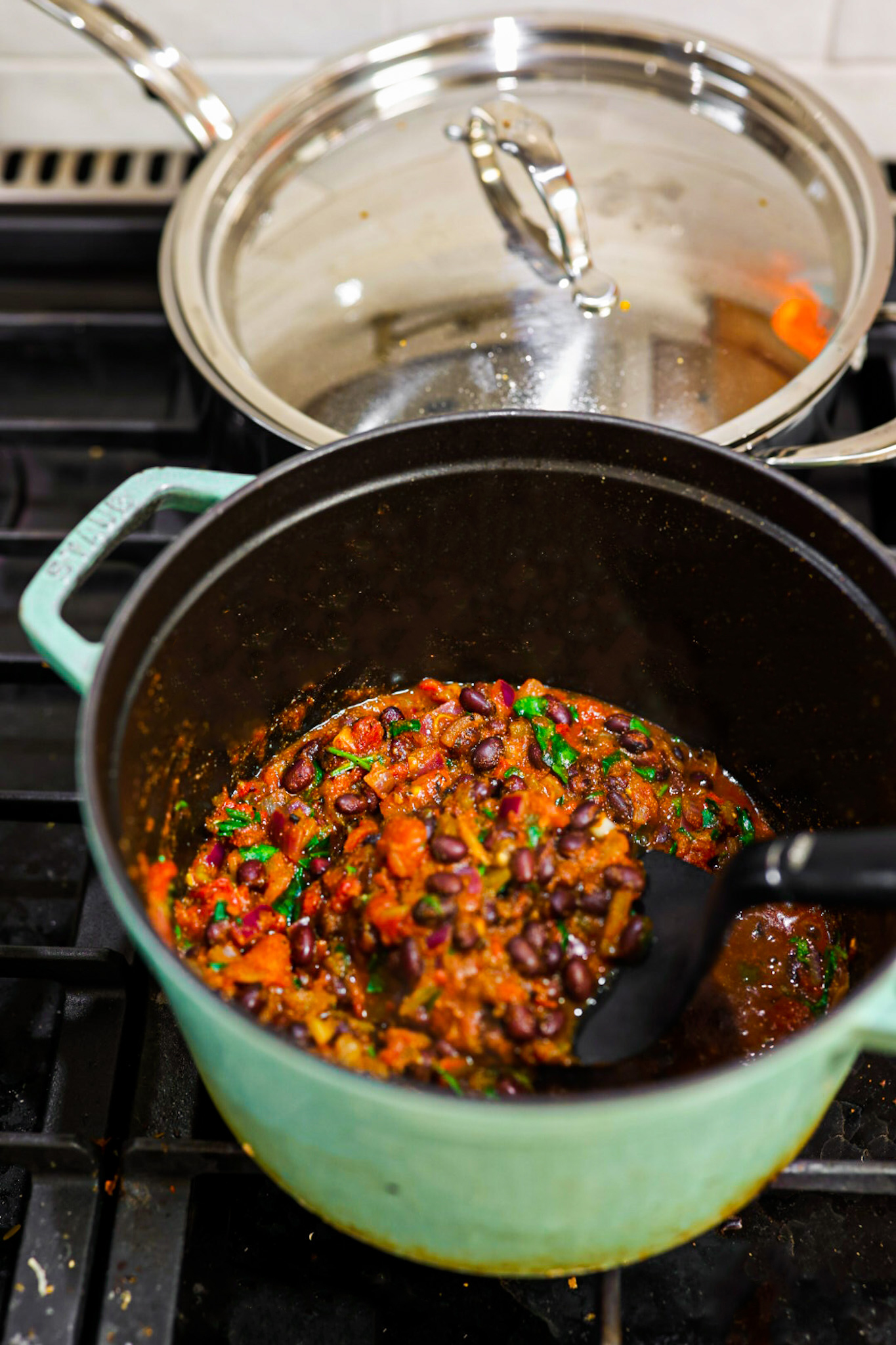 Give them a try!
So! These Spicy Stovetop Beans are an absolute fave of mine and I really hope you give them a try the next time you crave beans, something spicy and warming or maybe just something fast and healthy!
A few other bean recipes I suggest you check out: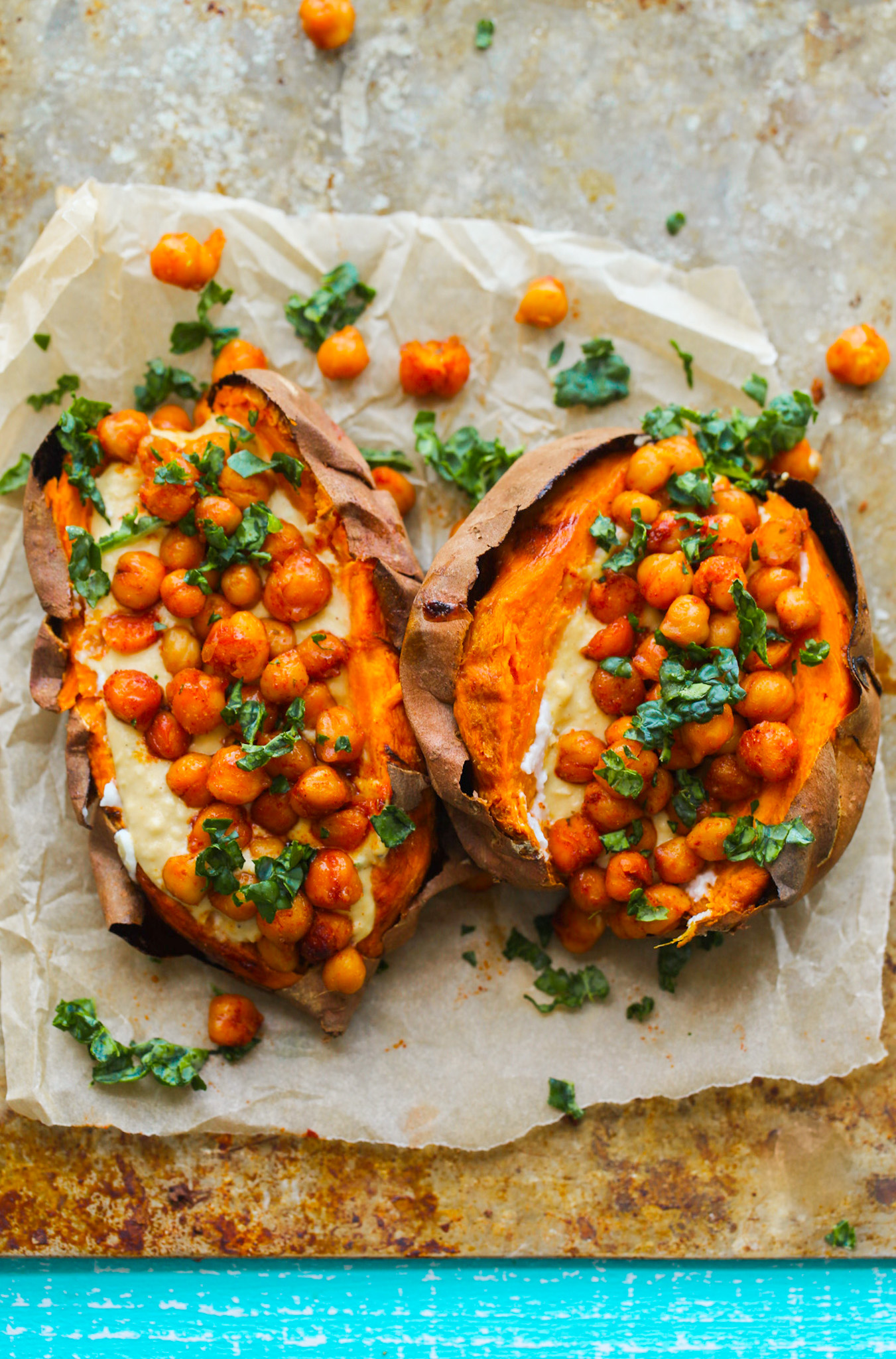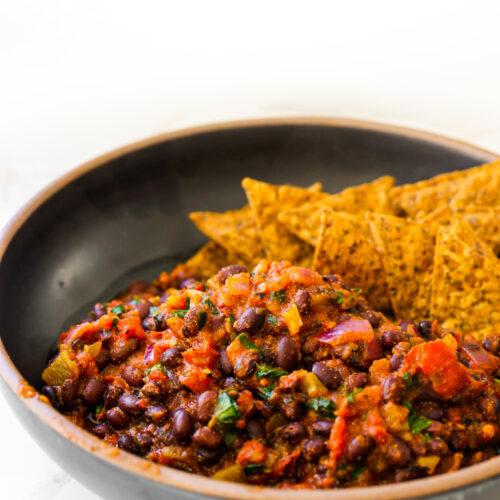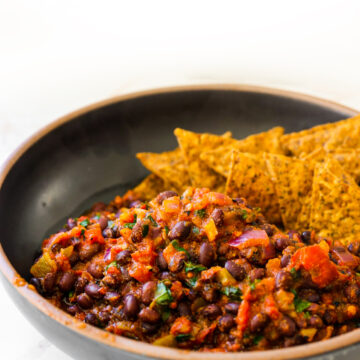 Spicy Stovetop Beans
This steamy, spiced pot of beans is perfect for a fast and healthy – and delicious – lunch. I love pairing my beans with tortilla or tortilla-style chips, or a cornbread muffin. Guacamole or avocado always works too!
Print
Pin
Ingredients
2

teaspoon

olive oil

½

cup

onion

,

diced

12

oz

canned tomatoes

,

fire-roasted

12

oz

canned beans

,

black or pinto

2

tablespoon

maple syrup

1

tablespoon

taco seasoning

,

or season to taste

¼

cup

canned hatch chilies

,

or to taste for spiciness

½

cup

spinach or cilantro

,

chopped
Instructions
Add olive oil to hot pan, over high heat.

Add onion and saute for 2 minutes.

Add tomatoes, beans, maple syrup, spices and hatch chilies. The spices can be simple by adding a few sprinkles of taco seasoning, or you can customize using spices like garlic, cumin, chilies and more.

Turn heat to medium and stir to combine. place lid on top of pot and allow to simmer for 5 minutes.

Lift lid and add in the spinach or cilantro – fold it into the beans. Serve warm! Or you can turn heat to low and simmer for ten minutes for a deeper infusion of flavor into the beans. Enjoy!
nutrition estimate | per serving
Calories:
200
kcal
|
Carbohydrates:
37
g
|
Protein:
8
g
|
Fat:
3
g
|
Saturated Fat:
1
g
|
Polyunsaturated Fat:
1
g
|
Monounsaturated Fat:
2
g
|
Sodium:
510
mg
|
Potassium:
696
mg
|
Fiber:
9
g
|
Sugar:
16
g
|
Vitamin A:
323
IU
|
Vitamin C:
14
mg
|
Calcium:
92
mg
|
Iron:
3
mg