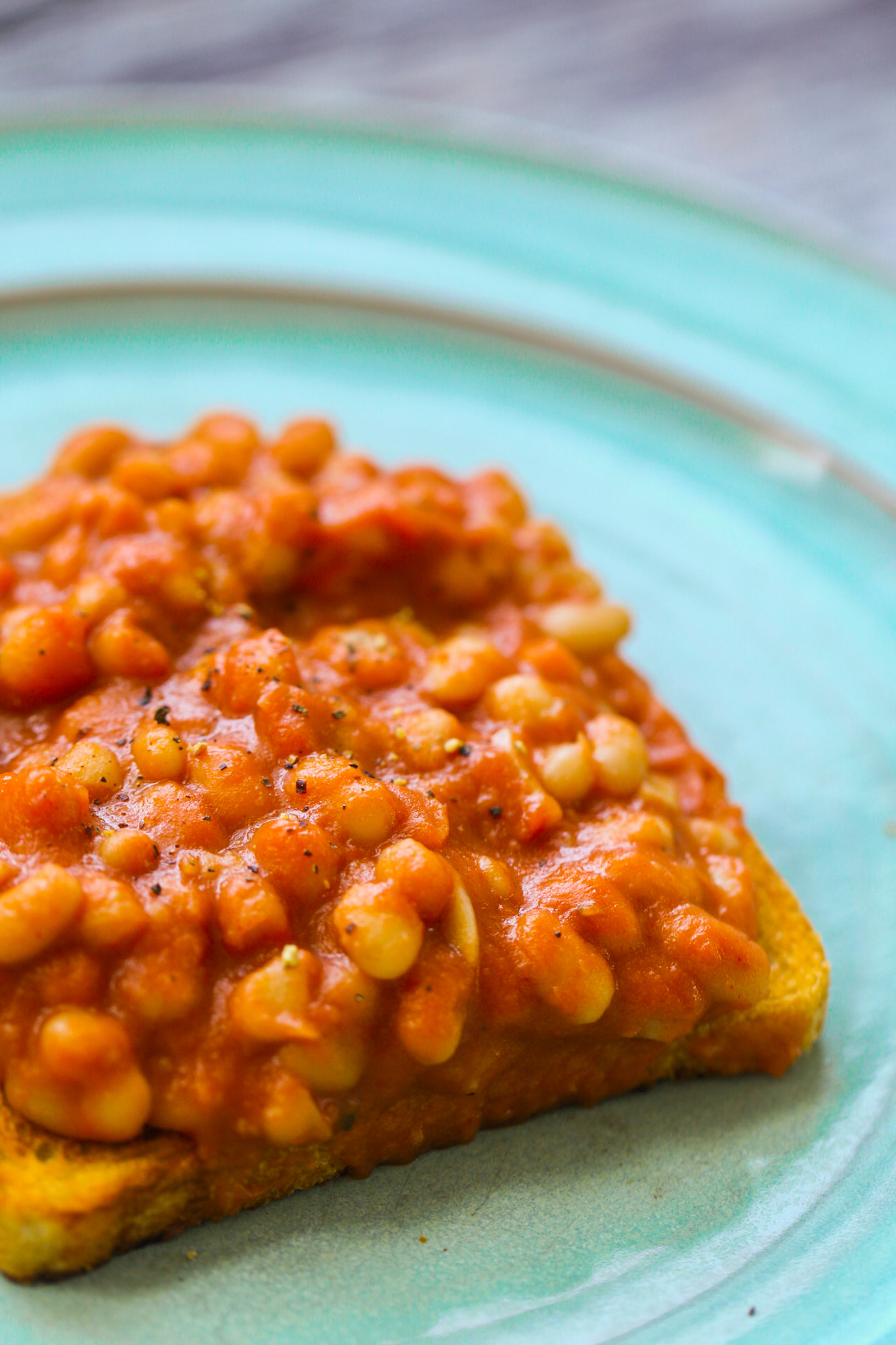 One of my favorite meals is the simple combo of beans on toast. And while I have played with baked beans recipes here on the blog many times, I wanted to showcase a recipe that is insanely easy, delicious and fast! These Fast + Easy Stovetop Baked Beans take under ten minutes to make and contain only five main ingredients…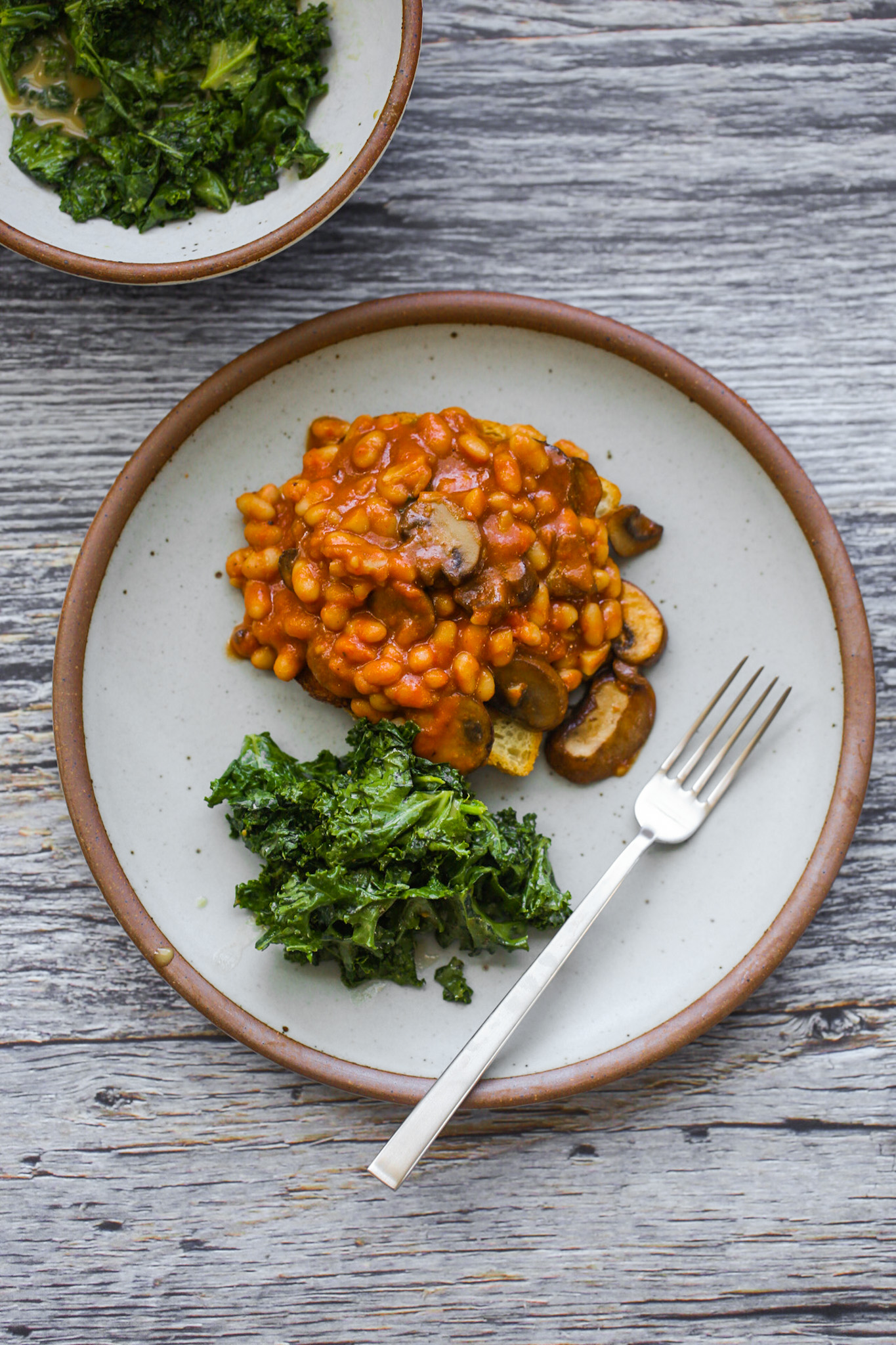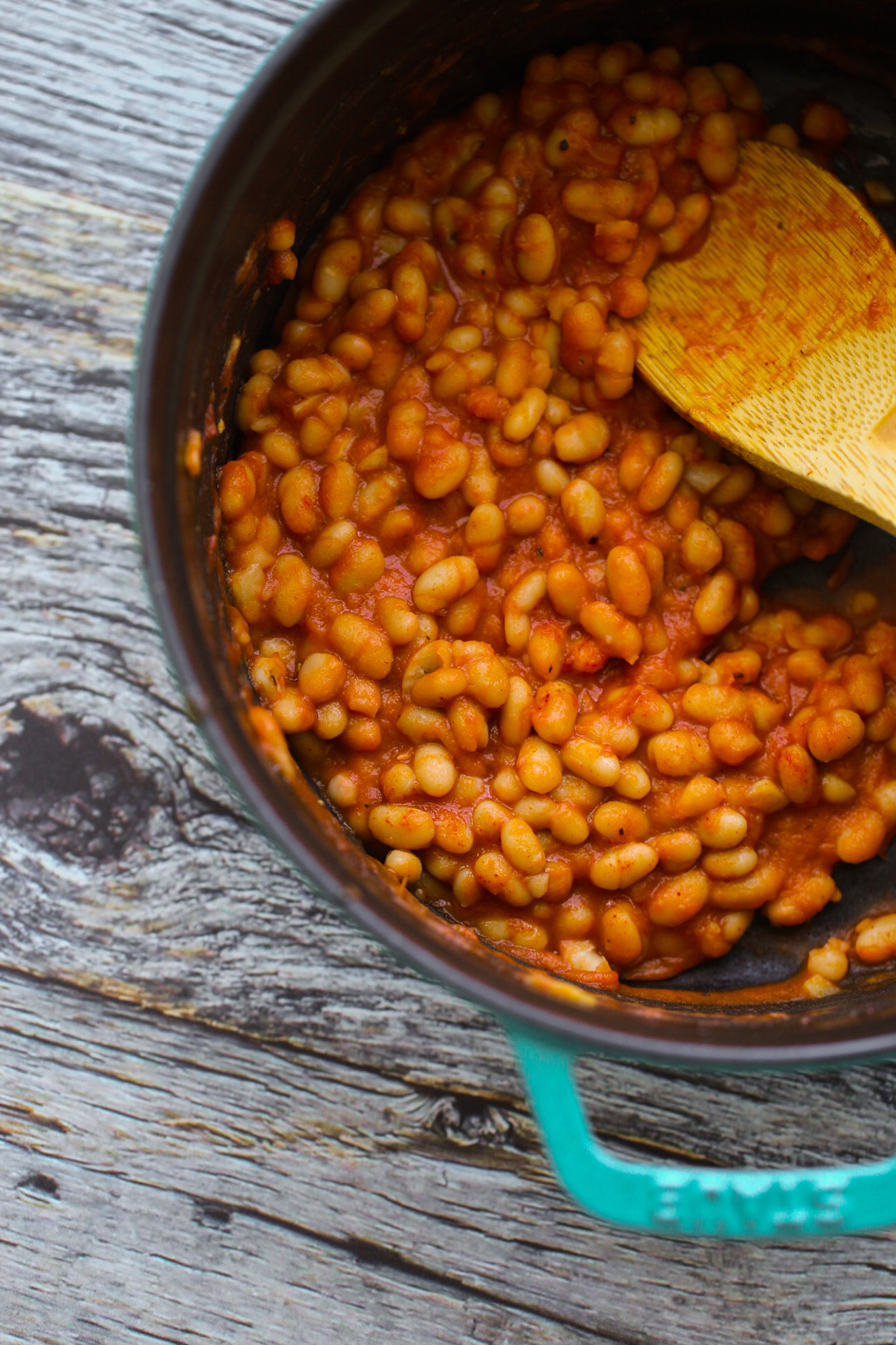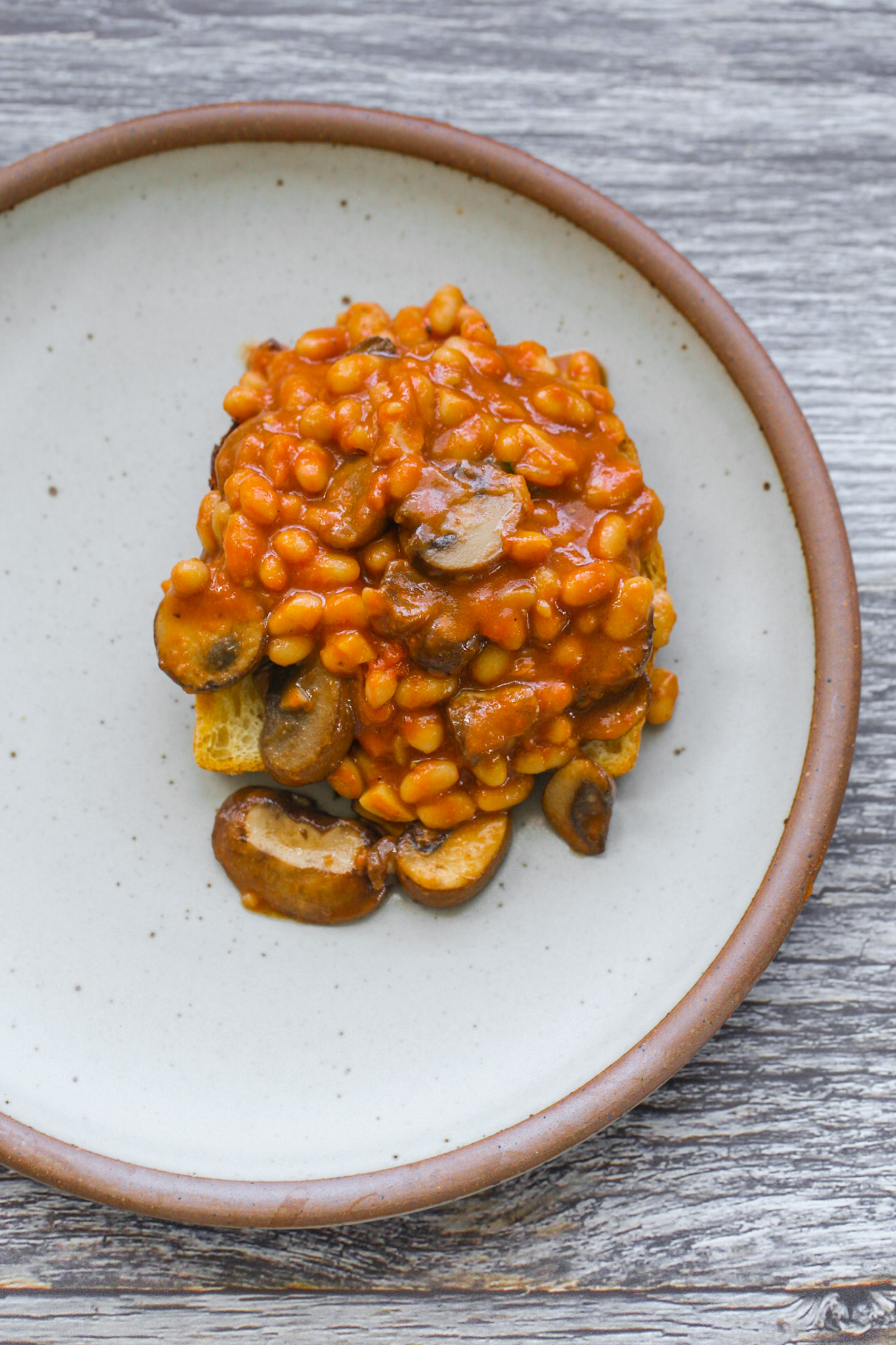 Make them as saucy as you like them!
My recipe is totally customizable with the basic ingredients to turn up the sauciness, sweetness, brightness, whatever you crave in you beans.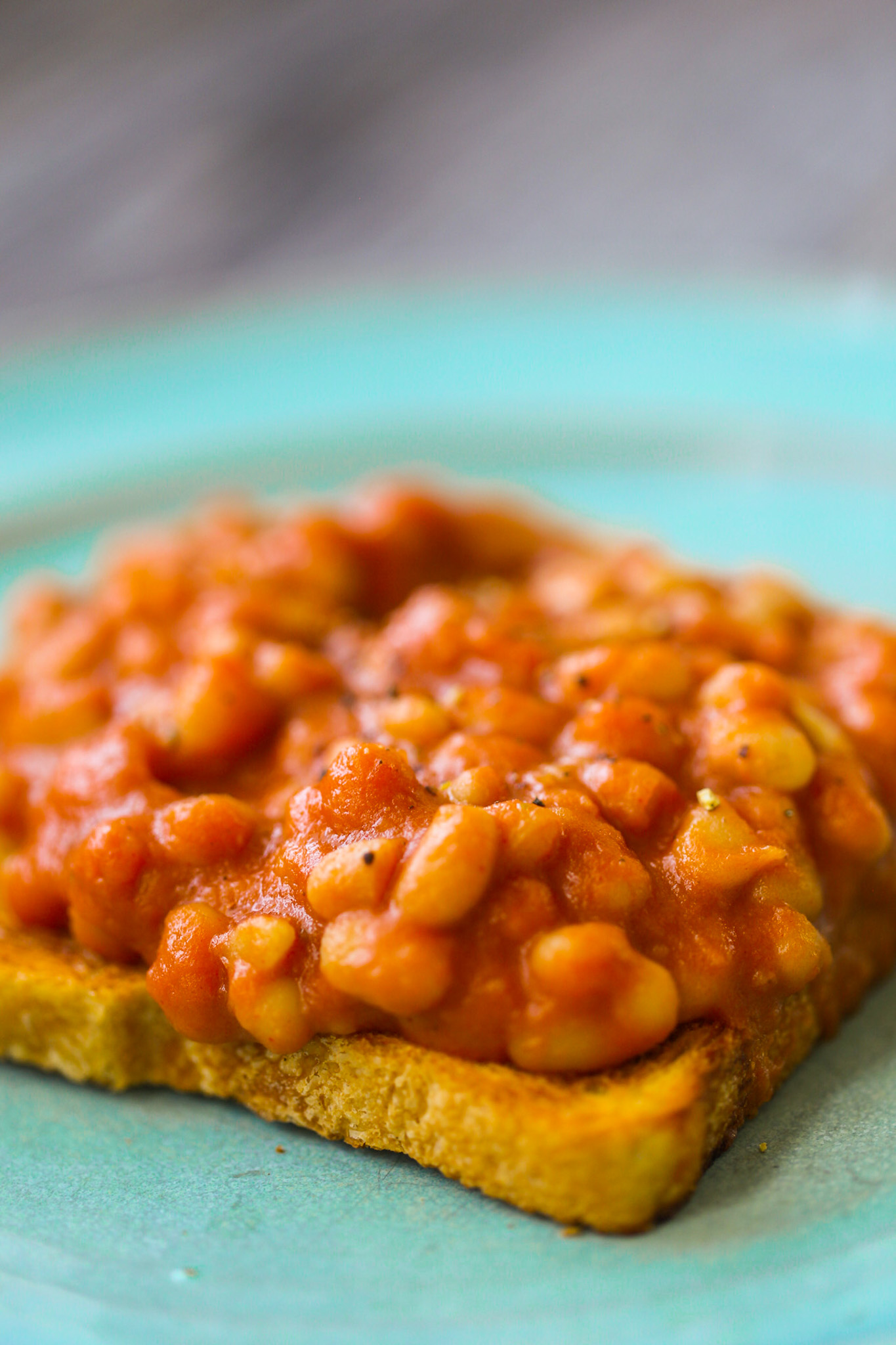 Sassy Sweet Baked Beans
Baked beans from a can. I have to say I kinda love them. But they are a bit too sweet for me. And they can get mushy. So really, I much prefer whipping these up myself.
The texture is way better – no mushiness from sitting in a sauce-filled can – and just the most minimal and natural ingredients possible. Sweetness customizable to my preferences. Never too sweet.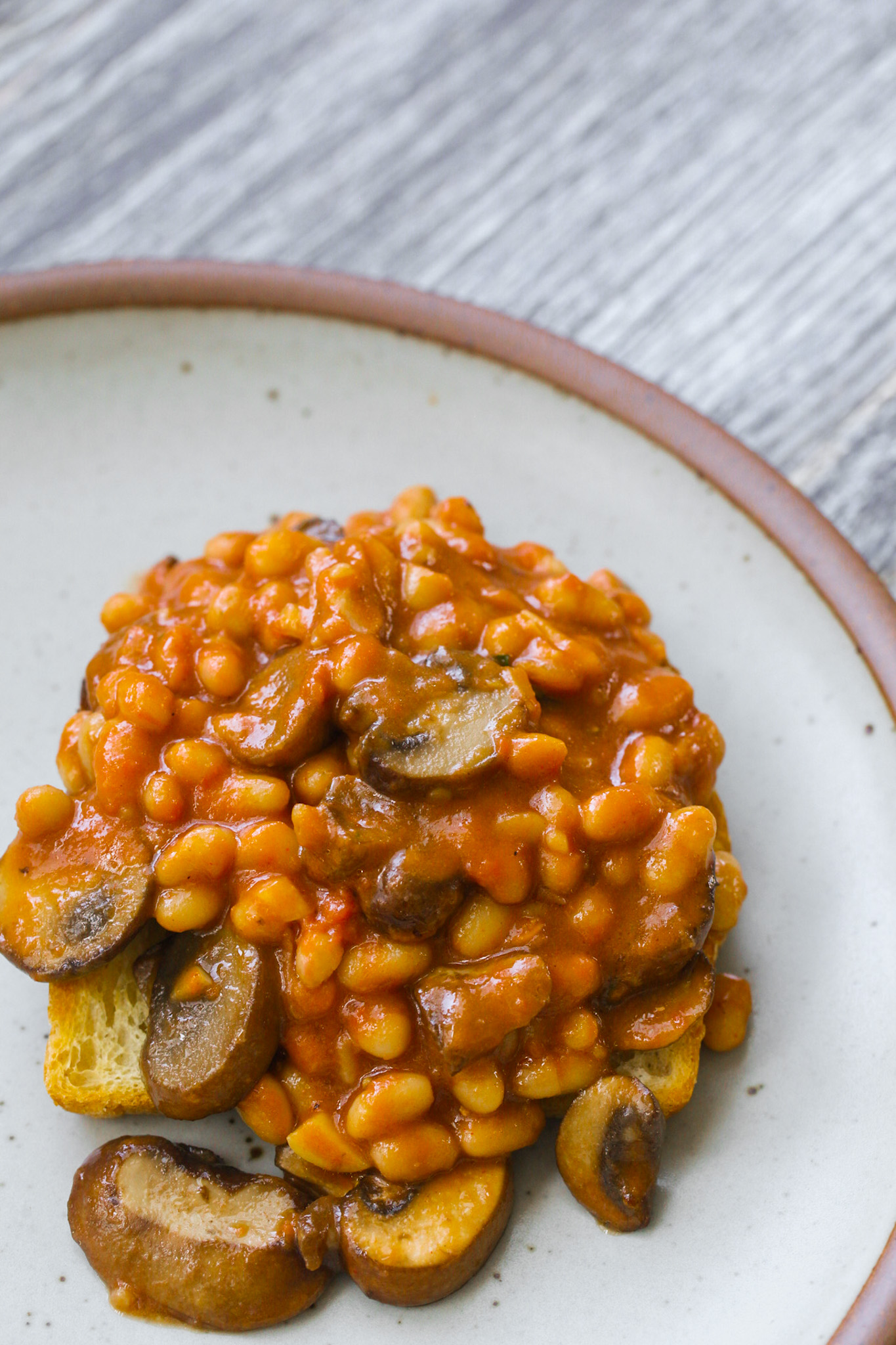 Healthy Baked Beans
I make these using simple ingredients. Five main ingredients and a few optional..
navy beans
tomato puree or paste
maple syrup
Dijon mustard
starch (corn or arrowroot)
(salt + pepper to taste)
Optional ingredients that make these even better….
mushrooms
garlic
splash of EVOO
smoked paprika or cayenne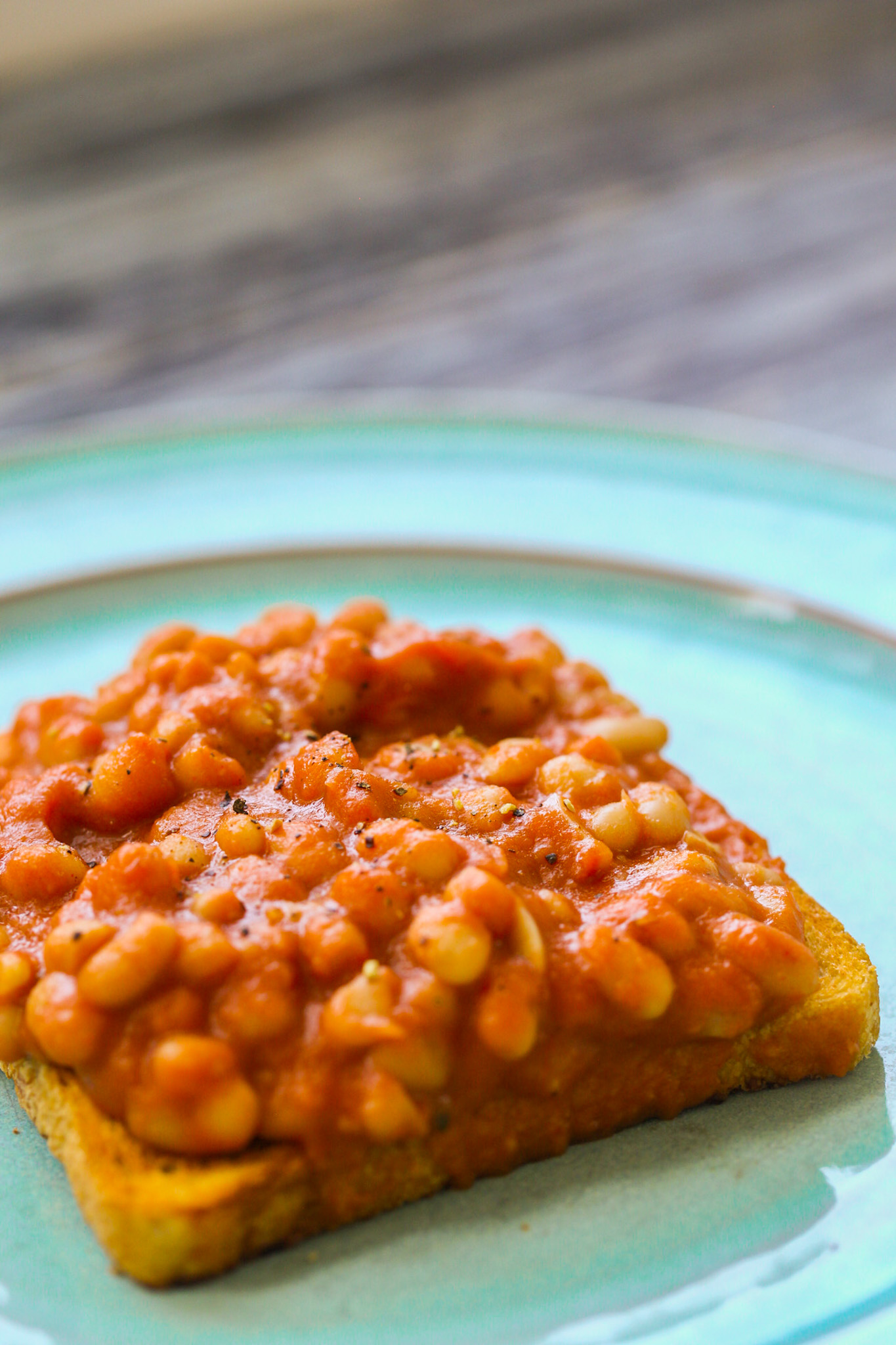 Beans on Toast
My favorite way to serve these beans is super simple as well. On a well-toasted slice of bread. My preference is a chewy slice of sourdough sandwich bread. Trust me, the bread matters! You don't want something mushy or even to grain-filling IMO. Something light and crisp with some chewiness and lots of sturdiness. Sourdough sandwich bread is my perfect slice.
some of my other beans recipes: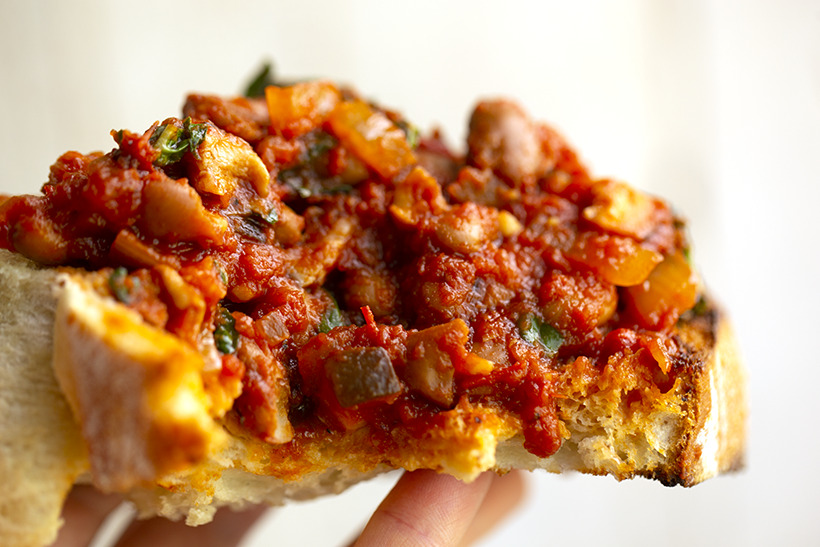 Why Choose Beans?
I am always trying to eat more beans. They are such a plant-based nutritional powerhouse. Fiber, protein, vitamins, folate, iron.. Check them out and get excited about your healthy (delicious!) lunch.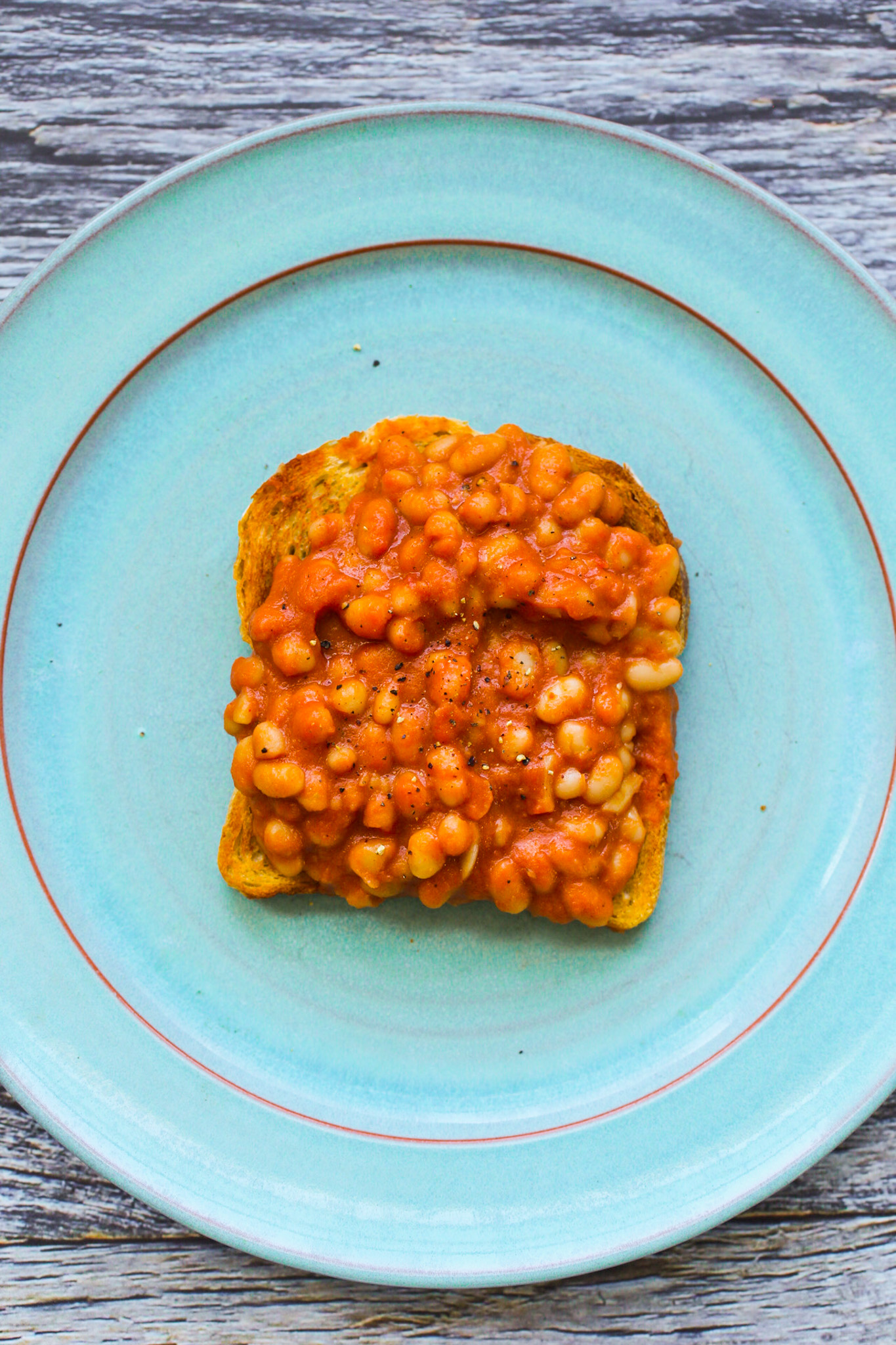 Adding Mushrooms
If possible, add mushrooms! Oh my gosh this brough my beans to another level. The earthiness of mushrooms pairs perfectly with these savory-sweet beans. You can either saute the mushrooms right in the same pot as the first step, or saute them in a skillet in a separate pan. If you are making a lot of mushrooms, I would probably just use a separate pan. But for just a small accent of mushrooms (½ cup chopped) the same pot will work.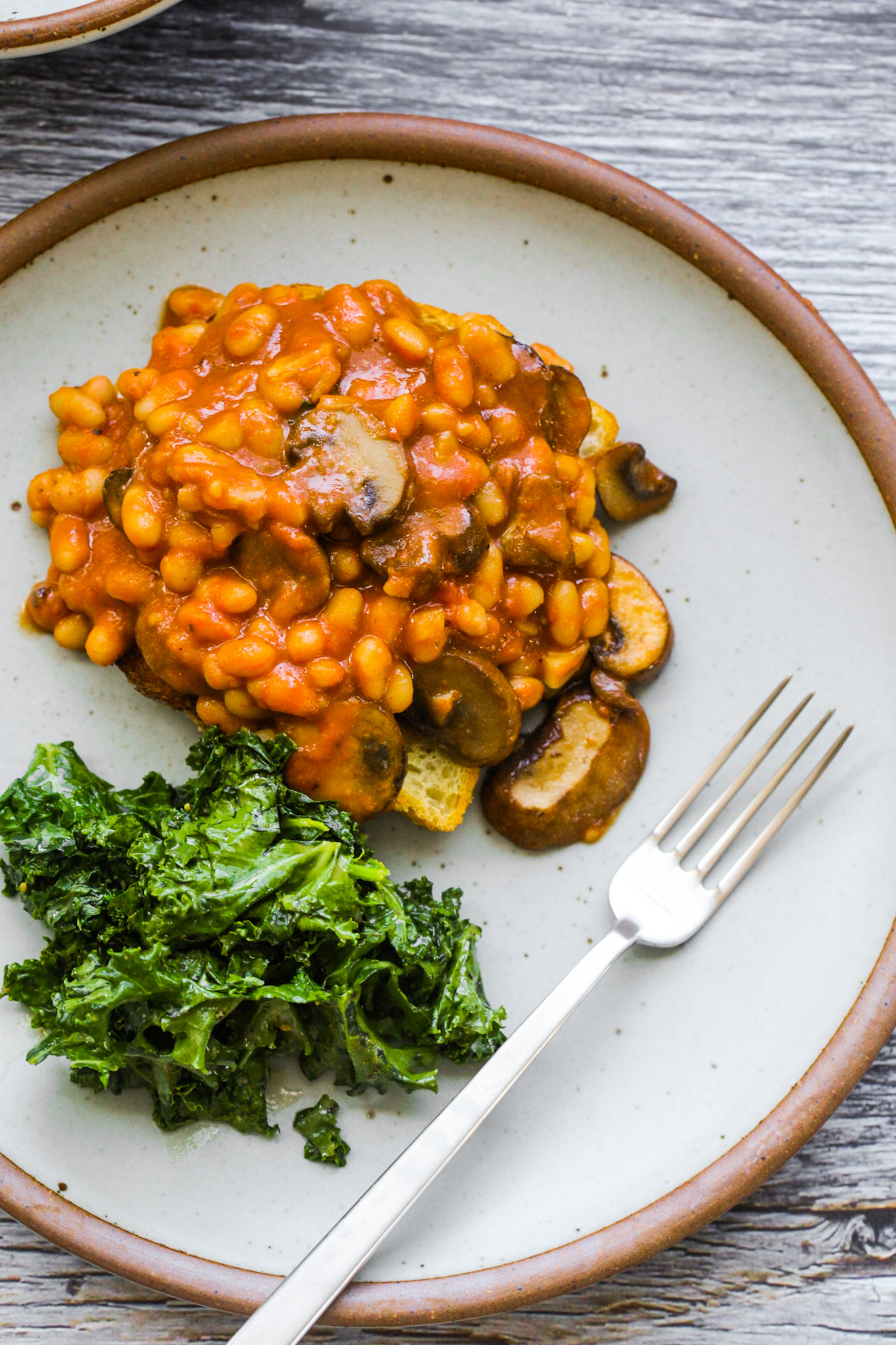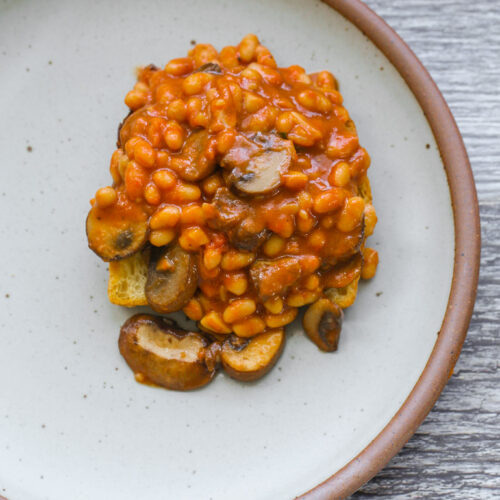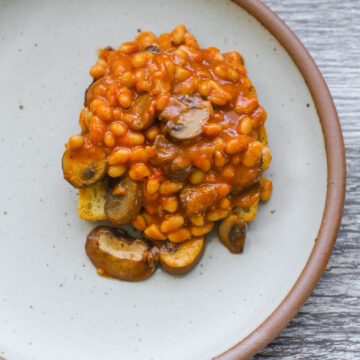 Easy 5-Ingredient Baked Beans
This super easy and fast recipe for stovetop baked beans is a favorite for lunch! Serve on toast with optional mushrooms. Five basic ingredients: beans, tomato puree, maple syrup, mustard and starch. Salt and pepper to taste.
Print
Pin
Ingredients
1 ½

cups

navy beans

,

drained and rinsed
Baked Beans Sauce:
¾

cup

tomato puree

,

– or tomato paste sub (see notes)

2-4

tablespoon

maple syrup

2-4

tablespoon

Dijon mustard

2

teaspoon

corn starch

,

or arrowroot powder

salt + pepper to taste
Optional:
2

cloves

garlic

,

minced

1

tablespoon

olive oil

,

extra virgin

½

cup

mushrooms

,

chopped

smoked paprika or cayenne to taste
Instructions
Warm up a soup pot over medium heat. If adding the EVOO + garlic, do this first. Saute for a few minutes to lightly brown the garlic. If you are adding in mushrooms, now would also be the time to do so. cook until tender. turn heat to high is cooking mushrooms.

Over medium heat, add in the tomato puree, maple, dijon and starch, using a wooden spoon, briskly stir the sauce together to combine and dissolve the starch.

Add in the beans and turn heat to high as you fold everything together. Keep folding to marinate the beans with sauce.

Turn heat to low and do a taste test. Add salt and pepper to taste. Add in optional smoked paprika or cayenne to taste – starting with a pinch at a time.

You can also add more of ANY of the sauce ingredients as you see fit. For example: the tomato will make it more tomato-y and saucey. The Dijon will bring some brightness and saltiness. The maple adds more sweet and stickiness. the starch will further thicken the sauce. (I use very minimal corn starch and sometimes none at all.)

Do one last taste test and adjust salt and pepper or sauce ingredients. Turn heat off.

for toast: Toast bread – sourdough is my fave – and add beans on top of toast to serve.
Notes
tomato puree sub: ¾ tomato puree can be subbed with 2-4 tablespoon tomato paste and ⅓ cup water. This is adjustable to your preferences to how tomato-y you want it. Also how runny you like your beans and sauce to be.
nutrition estimate | per serving
Calories:
179
kcal
|
Carbohydrates:
36
g
|
Protein:
9
g
|
Fat:
1
g
|
Saturated Fat:
1
g
|
Sodium:
135
mg
|
Potassium:
600
mg
|
Fiber:
9
g
|
Sugar:
13
g
|
Vitamin A:
358
IU
|
Vitamin C:
8
mg
|
Calcium:
59
mg
|
Iron:
3
mg