New fave bean recipe right here. This recipe for my Cowgirl Baked Beans was inspired by my love of traditional baked beans. Soft and sweet, but usually pretty watery and even a little too sweet at times. Well I played in the kitchen a bit and came out with this recipe. Hearty beans, spices, tons of texture and a nice dose of sweet too. If you love baked beans, but are looking for a recipe with a bit more oomph and soul, spice and body, give this recipe a try…
Plunk a cube of this bread right over top these beans..
Or make them into easy amazing TACOS..
How Do Ya Like Your Beans?
Beans are such an underrated food for summertime! Sure, we see baked beans alongside BBQ or picnic-y fare once in a while. I remember we used to serve them as a side for hot dogs when I was a kid. But beans truly are such a great summer addition to or star of a meal. Especially when they have a bold spiced and sweet flavor like these.
Serve these beans in a variety of ways:
– basic side dish to just about anything
– sloppy joe filling
– side of a salad dish
– pita filling
– add a few more ingredients (onion, tomato, veggies) to make this into chili
– with corn bread
– on toast
– with avocado toast
– as a dip with crackers or veggies
– serve with veggie dogs!
Why Beans?
I love beans! When infused with flavor, they are so delicious and packed with good stuff. They are a great source of plant-based protein and fiber and vitamins. Beans are my kind of superfood. Plus, they are so versatile and really add depth to a meal.
Which Beans
I used basic white beans – cannellini beans as well as a speckled white bean, I actually think they were called cattle beans. You could easily use pinto beans, navy beans or any bean you have on hand.
Canned or Dried Beans?
For super speedy prep, I used two cans of pre-cooked beans. I just rinsed and beans and they were ready for the recipe. If you have more time and want to use dried beans and something like an InstaPot or a slow cooker, by all means, give that a go!
Why 'Cowgirl' Beans?
As I was making these, the name 'Cowboy Beans' popped into my head. I wasn't even sure if there was such a thing. Well, apparently there is. It is a southern side that adds beef and sometimes bacon to the hearty beans. Well, this recipe is vegan and is kept simple with – just beans. But these beans really do have a southern, hearty feel, so I just loved the "cowboy" name. But obviously, switched to cowgirl…. And if you don't like that term listen up..
My cowgirl is a vegan, cow loving, super talented lady – eating these hearty beans with a side of the best corn bread while watching the sunset over her animal rescue farm, her cow 'Buttercup' just over the fence. Much better, yes? I am 100% that kind of cowgirl. Bring me all the cows to talk to, watch frolic and give a great big hug. But, I digress.
Get this recipe!…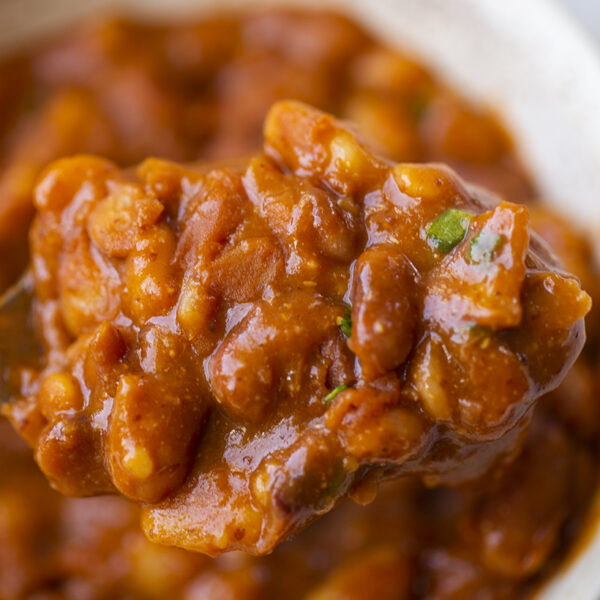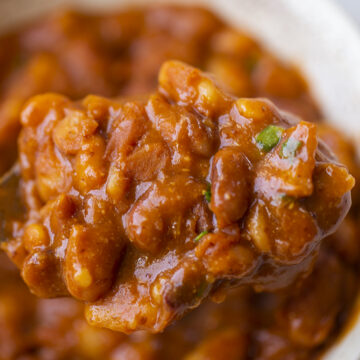 Cowgirl Baked Beans
These smoky, spiced, sweet and hearty beans are easy to whip up and have the best bold flavor and texture.
Print
Pin
Ingredients
2 ½ – 3

cups

beans

,

kidney beans, pinto beans, any you'd like

1

cup

water

2

tablespoon

tomato paste

1

tablespoon

corn starch

2

tablespoon

Dijon mustard

1

clove

garlic

,

chopped

4-5

tablespoon

coconut sugar

½

teaspoon

chipotle powder or smoky paprika

1

teaspoon

extra virgin olive oil

⅛

teaspoon

sea salt

,

or to taste
Instructions
Rinse the canned beans well, under cool water.

Add all the ingredients – except the beans – to a small sauce pot.

Whisk or stir briskly to combine.

Fold in the beans and turn the heat to medium.

Cook for 3-5 minutes, until the beans thicken and warm. Cover with a lid and reduce heat to low. Simmer for another 2-3 minutes. Keep lid on the pot until ready to serve to keep the beans tender. Tip.. For best flavor: Allow the cooked beans to cool and marinate in the fridge overnight, then reheat to serve.
nutrition estimate | per serving
Calories:
212
kcal
|
Carbohydrates:
40
g
|
Protein:
10
g
|
Fat:
2
g
|
Saturated Fat:
1
g
|
Sodium:
251
mg
|
Potassium:
537
mg
|
Fiber:
9
g
|
Sugar:
10
g
|
Vitamin A:
122
IU
|
Vitamin C:
3
mg
|
Calcium:
38
mg
|
Iron:
4
mg
Pin it for later!…