Press Updates + Articles for HealthyHappyLife.com and Kathy Patalsky
Features, articles, mentions and links to my recipes, interviews.
2020
3/2020 RankedBlogs — best vegan blogs list
1/2020 VEGNEWS nominee – favorite vegan blog category
2019
10/2019 VoyageLA – Meet Kathy Patalsky – Feature Interview
9/2019 Veg News – Breakfasts for Back to School
9/2019 DailyBlastLive – On-Air Shoutout from Sam Schacher
8/2019 The Muse – 25 Food Bloggers we Love Share Their Best Recipe
9/2019 Pouted – 50 Best Health + Fitness Websites /// 50 Best Food Blogs
8/2019 Detailed – 50 Best Food + Cooking Blogs
7/2019 VegNews – 10 Vegan Ways to Celebrate the 4th of July
6/2019 PETA – Creative Avocado Toast Recipes
4/2019 VegNews – Recipes for National Beer Day
3/2019 Live Kindly – Vegan Pigs in a Blanket Recipes
2018
2/2018 The Zoe Report – Blueberry Donut Holes
2017
11/2017 Everipedia Profile of Kathy Patalsky
11/2017 Kathy's Article Archives at Disney's Babble
10/2017 11 Vegan Bloggers You Need to Follow by Mercy For Animals
9/2017 IFDB Internet Famous Database feature and profile – IFDB here
9/2017 Kris Carr's Top 10 Vegan Cookbooks You Need in Your Kitchen
9/2017 Food Heals PodCast Interview: Healing + Anxiety + Overworking
8/2017 Internet Famous Database – Talent of the Week – Kathy Patalsky – Medium
8/2017 7 Ways to Craft Highly Engaging Content – PR Daily
7/2017 Kathy is quoted in the NY Times article about Netflix's movie "To The Bone"
7/2017 VegNews features 4th of July tips and recipes, featuring my flag cake.
7/2017 Recipe feature.. "This Spicy Tofu and Quinoa Bowl Just Might Turn You Into a Vegan" – Shape.com
6/2017 Interview with Veestro and recipe featured in Plants for the People program
6/2017 Tofu Recipes for Summer – Huffington Post
6/2017 Tofu Pot Pie featured on The Daily Meal
5/2017 "35 Perfect Avocado Recipes!" from ELuxe Magazine. I'm especially crushing on numbers 19 + 26.
5/2017 BuzzFeed Veggie Burger Inspiration
4/2017 Two-Year HHVK Cookbook Anniversary Congrats by Brandie
3/2017 Plants for the People Veestro Collaboration News
3/2017 House Foods "50 Plates of Tofu" Collaboration
2/2017 Quote in "Should Meatless Foods Have Meaty Names" Alternative Daily

1/2017 Interview on Olives for Dinner "Why I Cook"
1/2017 26 Experts Share Vegan Transition Tips – VeggieChick
2016
12/2016 AllModern Blog + Le Creuset Featured Article and Collab
11/2016 Featured on Wild Blueberries – brand collaboration
10/2016 Healthy Halloween DOLE Pinterest Board Collaboration
7/2016 Listed in VegNews Magazine as one of the Top 21 Vegan Blogs
7/2016 Attended IDEA World as a Natural Delights Medjool Dates featured guest.
7/2016 Nutritionist in the Kitch 25 summer tips from health pros

7/2016 Friday Finisher by Strength and Sunshine
7/2016 Energizing Breakfast Toasts by Radio City Rockettes

5/2016 California Giant Partners with Kathy Patalsky for Vegan Ebook – The Packer – Fresh Plaza – FruitNet
3/2016 Top Vegan Bloggers you Must Follow on YouQueen
3/2016 Health advice from the Top Bloggers on Yuri Elkaim
3/2016 The Best Vegan Cookbooks by Standard News UK — Healthy Happy Vegan Kitchen mentioned at ⅕ books
2/2016 32 Must Follow Food and Nutrition Blogs
2/2016 Glitter Guide's 5 Avocado Toast Recipes
2/2016 Contributor to the Two Weeks of Vegan Breakfasts E-Book, sponsored by Giant Berries, SUNSET, DANDY and Natural Delights produce brands
1/2016 The 10 Top Vegan Cookbooks of All Time – Mercy for Animals
2015
12/2015 Kathy's cookbook Healthy Happy Vegan Kitchen named one of the top 5 "Best Vegan Cookbooks of 2015" by Vegetarian Times Magazine
12/2015 18 Vegan Christmas Cookies, Buzzfeed
11/2015 Interview with The Minimalist Vegan "A Tea with Kathy Patalsky"
10/2015 Via WellandGood: The 5 Best New Vegan Cookbooks You Need in Your Kitchen
10/2015 Love that actress Vinessa Shaw (Allison from the movie Hocus Pocus) is a 365 Vegan Smoothies fan! Instagram
9/2015 American University website – featured interview with successful alumni, "After AU: Alumna Kathy Patalsky, author and professional food blogger"
9/2015 BlenderBabes features my Chipotle Sweet Potato Soup from HHVK – VIDEO
9/2015 The Sexy Vegan Radidio Interview with Brian Patton – Podcast — chatting cookbooks and more
7/2015 Quoted in Advice for Marriage on Brit+ Co by Jennifer Chen
7/2015 Review of 365 Vegan Smoothies — Italian version
6/2015 Interview on the Chopped Podcast with Marly
6/2015 Recipe in Natural Delights E-Book – Medjool Dates E-Book
6/2015 20 Coolest Vegans on Instagram you should be following, by BritandCo and @jchenwriter
5/2015 Refinery 29 – 13 breakfasts from bloggers…
5/2015 Hosting a Vegan Dinner Party – Brit + Co
5/2015 Salads in a Jar – The Kitchn
5/2015 Oh She Glows Interview – Healthy Happy Vegan Kitchen
5/2015 Blogger Babes Interview: From Food Blogger to Author
5/2015 Healthy Happy Vegan Kitchen Blogger Tour – over 25 reviews
4/2015 8-Page spread in Welt Vegan Magazine – WeltVegan, April 2015
4/2015 Publisher's Weekly.. HHVK book feature/review – Publishers Weekly​ nonfiction book review
4/2015 Featured Interview in iBlog Magazine.
4/2015 Top 50 Vegan Bloggers List From Culinary Nutrition
4/2015 Interview on Momentum Nation "Rethink the Vegan Lifestyle"
3/2015 Buzzfeed's Healthy Happy Smoothies Round-Up
3/2015 Cheeky Kitchen's Vegan Detox Printable
2/2015 60 Must-Read Health, Fitness, Happiness Blogs for 2015, on Greatist.com
2/2015 50 Best Blogs of 2015 on plushbeds.com
1/2015 Buzzfeed's 24 Easy Healthy lunches to bring to work in 2015: Hummus Spiral Wraps
1/2015 WineSnark Quoted about wine and sulfites
1/2015 Brit + Co's We're Totally Hot for these 19 Vegetarian Soups: Pasta Tomato Stew
1/2015 Penguin Publishing's Staff Picks Healthy Books 2015: 365 Vegan Smoothies
2014
12/2014 EcoVeganGal Chat LIVE! YouTube
11/2014 Quoted on Cnn.com 20 Years of Tofurky
(sorry have not been adding things in fall 2014!)
8/2014 Interview + Fitbe Feature: Kathy Patalsky Says Vegans are not Judging You
8/2014 Mom Central Review of 365 Vegan Smoothies
8/2014 New Jersey Monthly 365 Vegan Smoothies recipe + review
8/2014 Food and Fond Memories – 365 Vegan Smoothies Review
7/25/2014 Appearance on Channel 8 New Haven, CT Cooking TV Segment Connecticut Style – Trio of Smoothies
7/2014 Vegan Meals with Tons of Protein on Buzzfeed
7/2014 Review of 365 Vegan Smoothies on Girl Gone Mom
6/2014 Featured in Natural Delights Dates Summer Smoothie E-Book
6/2014 Article in Paramus Post 365 Vegan Smoothies Blend Your Way to Health
6/2014 Ranked #4 on The Vegan Woman's Vegan Blogger Review!
6/2014 Un Blogue de Kathy Patalsky in Montreal's La Presse
6/2014 Healthy Homemade Ice Cream via Daily Burn
6/2014 Everything you need to know about acai bowls on HuffPostTaste
6/2014 19 Vegetarian Ways to Eat More Protein for Breakfast Huffington Post Taste

6/2014 28 Easy On-The-Go Breakfasts to Jumpstart Your Day BuzzFeed
5/2014 16 Vegan Appetizers Anyone Will Enjoy on Reader's Digest
4/2014 17 Tasty Chia Seed Recipes – Huffington Post
2013
12/2013 The Best of 2013! Foodie of the year award: Kathy Patalsky – Diets in Review
12/2013 Vegan Holiday Recipes – SheKnows.ca
11/2013 50 Bloggers Making a Difference in Fitness, Health & Happiness. Greatist.com

11/2013 Updated Reviews List on 365 Vegan Smoothies: Homemade Levity Blog, Vegan Librarian, Hello Veggy, Choosing Raw, The Vegan Crew, Typecraft Writer
11/2013 How-to Become a Vegan: 12 Tips From Experts – reader's digest
11/2013 Vegan Sweet Potato Recipes – Harvard Common Press
11/2013 Why I'm a Christian Vegan, listed as resource website
10/2013 Good + Well NYC "My fave green Juice"
9/2013 25 Tasty Hamburger Alternatives – BuzzFeed
9/2013 Comfort Food Vegan Recipes – Reader's Digest

8/2013 10 Smoothie Tips for Summer featured in Vegan Mainstream's Cookbook Club!
8/2013 Spiral Wraps featured on Buzzfeed's 18 Ways to Enjoy Hummus All Day Long
8/2013 Featured author in Vegan Mainstream's Cookbook Club – herb-infused smoothie post, book mention
8/2013 Marilu Henner Radio Show Interview – listen here
6/2013 Food Blogger Favorite Snacks on/in Ladies Home Journal
7/2013 Nominated for a 2013 Red Tricycle Totally Awesome Award, recipes – vote for "The Lunchbox Bunch" – vote

6/2013 "72 Hours with Kathy Patalsky" feature food diary on VegNews.com
6/2013 Kathy feautured in the "What's in my Fridge" feature in July/Aug VegNews print magazine
6/2013 11 Twists on a Timeless Classic: Summer Sangria on Nosh on it
6/2013 Total Beauty – 11 Smoothie Superfoods Article
5/2013 American University Student Alumni Feature Article/Interview – Taking Her Passion for Food Online
4/2013 Winner in The Vegan Woman's Annual Vegan Food Blogger Review – 2013
4/2013 Featured on VegNews.com's "11 Unbelievably Awesome Uses for Cauliflower"
4/2013 Featured in Best Healthy Sandwich Recipes on The Greatist
4/2013 Top 8 Vegan Blogs of 2013 – AllWomensTalk
4/2013 Top 30 Health Blogs – Best Health Degrees
4/2013 Gym-Fueling Snacks – Rate Your Burn
3/2013 Excited to be mentioned on VegNews.com's website: Colleen Holland's 15 Most-Anticipated Vegan Cookbooks of 2013
3/2013 Hunting for the Very Best – Lucky Leprechaun Dip featured.
2/2013 Featured Panel Speaker at the Produce for Better Health Foundation Annual Conference, San Francisca
2/2013 Spaghetti & NoMeatballs recipe featured on AndersonCooper.com for Anderson Live TV show.
2/2013 Spaghetti & No-Meatballs recipe featured in VegNews Newsletter.
2/2013 Recipe + Photography published in Blikki – The Sustainable Lifestyle Magazine
2/2013 Nacho and Jalapeno Poppers featured on Oh She Glows Superbowl Round-Up
2/2013 What do Vegan Eat for Breakfast on The Vegan Woman
1/2013 365 Vegan Smoothies feature from BlogHer

1/2013 Interview featured on Allison's Gourmet Sweet Talk Blog
1/2013 Rainbow Slaw featured on DrFrankLipmans.com
1/2103 Kathy Patalsky Q&A Interview with VegBelly.com
1/2013 Official listing of my 365 Vegan Smoothies book on Penguin Publishing
1/2013 Satsuma Tofu Photo/Recipe on Canada.com – Ingredient of the Month
2012
2012 – Several photography features in Veg News Magazine – including a contributing feature (recipe advice and photos) for Salad in a Jar.
12/2012 Recipe featured and link from Cadry's Kitchen
11/2012 Photography featured on MSN's Fitbie – Lentil Stew for PCRM
10/2012 maple Peanut Butter Cups featured on TheKitchn

10/2012 Featured "Vegan" Guest Judge Healthy Holidays Contest – Attune Foods
10/2012 UAFoodDay Photo feature for Meatless Monday promo.
6/2012 Frosties and Summer Bruschetta featured on BlogHer Summer Entertaining.
6/2012 My Salad in a Jar featured on TheKitchn
6/2012 FoxNews posts my photo of Rory Freedman's green smoothie via PCRM: Green Glamour Smoothie – Fox News.
5/2012 Ecorazzi Feature: Healthy. Happy. life.
4/2012 Colorful Fruit Smoothie Featured on TheKitchn
3/2012 My Bagel-which featured on TheKitchn
1/2012 My Rainbow Root Salad featured on TheKitchn
1/2012 Top 20 Healthy Habits tweeters list – Social Media Delivered
1/2012 Green Juice 101 linked to from The Kitchn
2011
8/2011 Photography featured on cover of VegNews Magazine – photo
8/2011 Fruity Summer Sorbets featured on TheKitchn
6/2011 Red, White, Blue Smoothie featured on MarthaStewart.com's Family Room
6/2011 Zooey Magazine – 4 page recipe feature – April/May issue
6/2011 Thermador Blog: Steamy Soiree Blogger Event in Scottsdale, AZ — also see my Thermador Post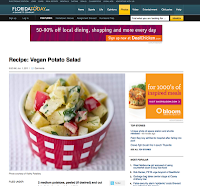 5/2011 Florida Today Newspaper: PCRM Vegan Potato Salad – photo credit
5/2011 Monterey Herald: quoted in the Dole Salad Summit Article
4/2011 Mentioned in the NRP article: "This Delicious (Dairy) Sundae .. Vegan Magazine"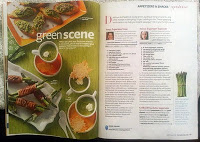 3/2011 Taste of home Magazine Publication – Sunny Asparagus Tapenade pg25
3/2011 Name Interview by NamelyMarly.com featuring Kathy Patalsky
1/2011 Sunny Mushroom Tempeh Bagel featured on TheKitchn
1/2011 Kathy's Interview with June Stoyer from The Organic View
11/2010 Access Hollywood Linked from Vegan Thanksgiving Article
11/2010 Jordan Winery Food Photography Contest – Grand Prize Winner
summer 2010 Nominated for "Favorite Tweeter in 2010 VegNews Veggie Awards
7/2010 – Iron Chef Interview w/ Amanda Cohen
Ecorazzi.com Amanda Cohen Interview Quote/Link
VegNews Amanda Cohen Interview link
7/8/2010 Featured Profile Interview: Food Noise on JustinEats.com – Q&A with Kathy.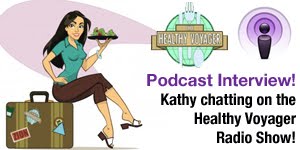 7/8/2010 Interviewed on the Healthy Voyager Radio Show. Listen here on itunes!

*if you don't have itunes – listen here*
7/2010 Featured on LA Times Daily Dish food blog. Photo credit/blog link. Combo Plate: Swedish sushi, vegan eats, Roger Ebert cooks and more.
6/2010 Contributor to Posit Science's ThinkFood Cookbook. Details here.

5/2010 Finalist in the DOLE California Cook-Off! Finals to be held in Los Angeles CA June 26th 2010. Judge Chef Ben Ford of Ford's Filling Station restaurant. DOLE Cook-Off Wrap-up Post here!

10/20/09 DC Examiner Vegan Chipotle Photo Credit. Here.

8/24/09 Finalist One of 20 Finalists chosen from a nation-wide pool of entrants in the FLAYvors of Washington Bobby Flay Grill-it Challenge. Finalists here, Food Network.
My Blog Post Review Here.
8/22/09 Judge in the 1st Veggie Conquest Cooking Competition NYC. Full post with photos here.
VegNews Magazine Veggie Conquest Coverage and Judges Mention here.
6/26/09 Top 100 Twitter Feeds for Healthy, Green Organic Moms.
*Kathy's @lunchboxbunch account is listed.
6/3/09 Winner! Cinco De Mayo Contest on AvecEric.com
Kathy's photo of Salsa Verde Guacamole won the Eric Ripert, AvecEric.com Cinco De Mayo Photo contest. The contest was judged by award winning food photographer Lou Manna. Eric Ripert is the multi-award winning Chef at Michelin-starred restaurant Le Bernardin in New York City. Kathy won a Olympus Stylus Tough Camera.
AvecEric.com Contest Winner Posting.
Kathy's Blog Announcement.
TOFU Takedown NYC
5/10/09 Time Out NY-Is Tofu the New Bacon?
5/10/09 New York Blips-Soy Toys and Tofu Mamas…
5/10/09 Metromix Photo Slideshow
5/10/09 Tofu Takedown-Matt timms
5/10/09 Village Voice-Tofu Takedown
5/10/09 NY Mag Grub Street, Tofu Takedown
5/10/09 Not Eating Out in NY-Judge Blog
5/10/09 NY Times-Cookoffs
4/9/09 Passiflora-Lunchbox Bunch Survey Mention

3/8/09 Flavorista-Five Questions with Kathy Patalsky
3/09 Grubs Club – Runner Up in Food Photography Contest
Whole Foods Stovetop Storytime
10/08 GoCityKids – Parent Connect – Stovetop Storytime LBB
2008 Hollywood Book Festival-Winners List
7/12/08 Hollywood Book Festival-Honorable Mention-Wiggle Jiggle Book
7/09 DIYReporter-Winners List

7/09 Vegetarians of Oklahoma – Vegetarian Parents and Kids
7/27/07 Celebrity Baby Clothes – Stylish and Healthy Product Review!
5/07 Jewels and Pinstripes Celebrity Gift Bag inclusion-Paparazzi Peas tee