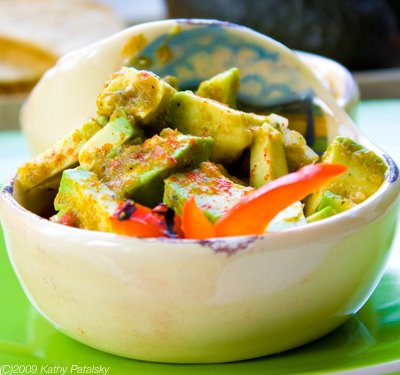 I'm so excited because I just found out that I won the Eric Ripert, AvecEric.com Cinco De Mayo Photo contest! Check out my photo and the other entries on Eric's awesome website.
…Yes AvecEric.com is the website of Chef Eric Ripert, the incredibly talented award winning Executive Chef of Le Bernardin Restaurant in New York City. I am a big Chef Ripert fan, so this was quite the honor to win! Click ahead see what I won, for the recipe for my Salsa Verde Guacamole in my award winning photo…

What I won: A brand new Olympus Stylus Tough Camera. Yippee!
Wow I won! How exciting. Awesome prize too! Score one for the vegan Salsa Verde Guacamole!
My recipe for Salsa Verde Guacamole is here.
Also, here was my complete vegan Cinco De Mayo Menu post, inspired by the contest menu Eric posted on his site.
Eric Ripert. I am a huge Eric Ripert fan. My dinner at Le Bernardin was one of my most memorable dining experiences ever. If you are in NYC for a special occasion, Le Bernardin is a do-not-miss experience.
Food Photography Tops: I found this great page on Eric's website featuring food photo tips by Lou Manna.
Lou Manna was one of the judges, and a genius food photographer…www.loumanna.com
Visit Eric's awesome website for a lot of foodie wondederfulness…