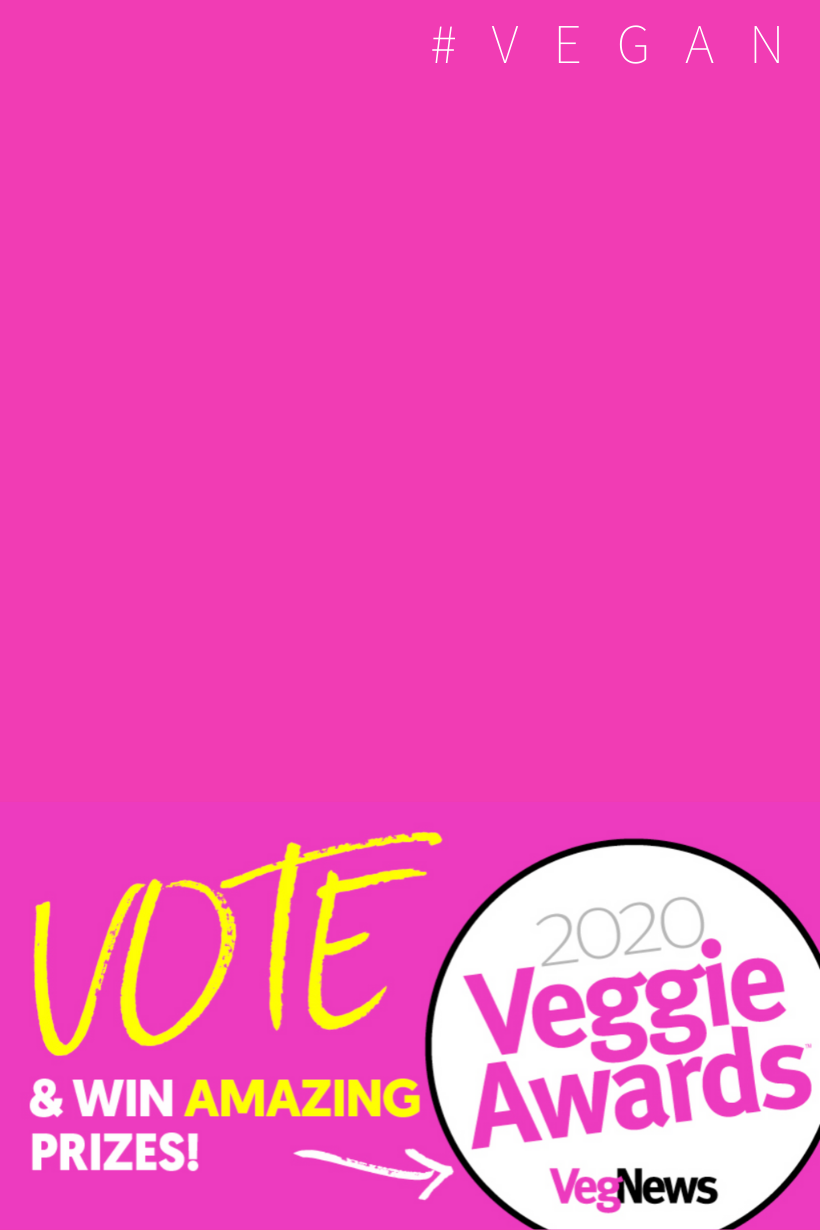 Happy 2020 everyone! Sorry I have been mia the past few weeks, but I'm eager to start sharing my 2020 adventures with you all. I have been off social media for a bit – posting, not viewing, ha – and I was so thrilled when I popped on to see that VegNews launched their 2020 Veggie Awards.
I love the Veggie Awards because it offers everyone an easy way to browse all that the world of vegan offers! From food to restaurants to fashion and blogs. When you vote, you will enter to win prizes, but you will also learn something new about the very wide (and getting wider everyday) world of plant-based.
And yes, even I learn new things + products! So here are my 14 Cool Vegan Things in the 2020 VegNews Veggie Awards …..
14 Cool Vegan Things in the 2020 VegNews Veggie Awards
I'm Nominated!
Ok, I'm kicking off this list with my favorite thing. I am so proud and pleased that this blog, Healthy Happy Life is nominated again for Best Vegan Blog.

Honestly guys, there are SO many amazing vegan blogs out there these days that sometimes I feel like it's impossible to stand out and make a mark anymore. So much of the internet is concentrated on social media and Instagram and "influencers" these days that being a food + lifestyle blogger can feel a bit less than fancy. But I am still so proud and happy to be here and I truly hope that my work helps people learn more about veganism, try vegan. Or just get a closer look at what a plant-based life really entails.

So thank you for being here and supporting my blog and continued work. And if you feel moved, I'd so appreciate a vote in the Veggie Awards!


Artisanal Cheese.
Sure, egan ice cream is amazing. But personally, I get so excited about vegan cheese options. And 'everyday' vegan cheese has definitely improved over the years. But artisanal cheese is what really gets me excited. It is SO GOOD. And the brands are so varied and they even seem to be getting better and more diverse.

Check out some of the brands nominated this year:

Dr Cow – The first vegan aged cheese I ever tried. It blew my mind back then in NYC and still does!
Miyoko's – Game changing cheese and company in the vegan cheese world. Miyoko is an inspiring lady and I always recommend her cheese to friends. Tip: Order via the website to seek out the more niche flavors.
Reine – This was a new brand I tried this past year and I LOVE it. It has the best "sharp cheddar" flavor in a vegan cheese I have ever tasted. I found it at Erewhon here in LA.
Treeline Treenut Cheese – I love their aged cracked pepper cheese. It is my go-to variety when I buy vegan artisanal cheese from Whole Foods.
Virgin Cheese, Vtopian, Wildbrine, Jule's Foods, Spero – I have not tried these brands yet but super excited to seek them out!


Chobani Has a Vegan Option?
Cool! I did not know that! Excited to seek it out. It is called Chobani Coconut.


Accidentally Vegan Snacks
Love this category. I had no idea that Nutter Butters were vegan! I used to love those when I was a kid. And did you know that Doritos Spicy Sweet Chili flavor is vegan too? And of course those old standby vegan options: Oreos, Pringles, Swedish Fish and my fave airplane snack: Biscoff.


What is a Vegan Fried Egg?
There is something called Be Leaf Vegan Fried Egg. Neat! I would love to try it! Other cool new vegan products include Kite Hill Dips and the Sweet Earth "Awesome" Burger.


Vegan Beauty Brands
I get asked a lot about vegan makeup and beauty options. Here are the brands that are nominated:
100% Pure, Arbonne, BareMinerals, Elf, Hourglass, Kat Von D, Lush, NYX and Pacifica.

Pacifica is one of my favorites on this list. And 100% Pure has a lot of options for makeup. I still think that the more mainstream beauty brands need to ditch more chemicals and animal products and start switching to more cruelty free and natural options. With "clean beauty" being such a hot topic, I hope that happens over then next few years!


Vegan Shoes
Ok, so my very fave brand, Bhava, did not make the list this year, so I will give them a shout out here. But some of my other faves like Beyond Skin and Will's Vegan Shoes did, so hooray. Vegan feet are happy feet these days! Nae is another brand I love. And of course vegan Rothy's.


Pura Vida LA
Somehow I missed the boat and haven't tried this LAbased vegan wine bar and restaurant yet! They have plant-based Italian dishes and OMG their menus look amazing. I will definitely be trying this West Hollywood spot this year. PuraVida


Donut Lover
I have failed as an LA vegan. How have I not tried either Donut Fiend OR Donut Farm yet? I definitely need to get on that. I love that vegan donut spots get their very own category. YEs.


Lettuce Feast Food Truck
How cool is it that there is a vegan food truck called "Lettuce Feast" .. here in LA. I will be on the lookout to try this one soon!


Reminder: Monty's Good Burger
Thanks VegNews for the reminder that I still need to try Monty's Goodburger here in LA. If you haven't heard of them, just browse their website or social to see all the classic burger joint photos.


Social Media Personalities
Ha, I actually think it's very telling of how much I prefer blogs to Instagram when I only know and follow TWO of the nominees. Tabitha Brown and Fully Raw Kristina. I will definitely check out the others though. I love to see how people are spreading the plant-based message via social and reaching new vegans, teenage vegans, college student vegans and more.


Vegan Chefs!
Aw, I love all the vegan chefs! Special shoutout to my Leslie, Chloe and Isa. All amazing ladies I have connected with at some point. Can I vote for all of them!?


Blogs, Books, Activists
And the survey finishes up with a cascade of inspiring content, voice-users and content-makers. I am so proud to be in this cluster of folks.

The Blogs Section…
All amazing content creators and people! Check them all out!…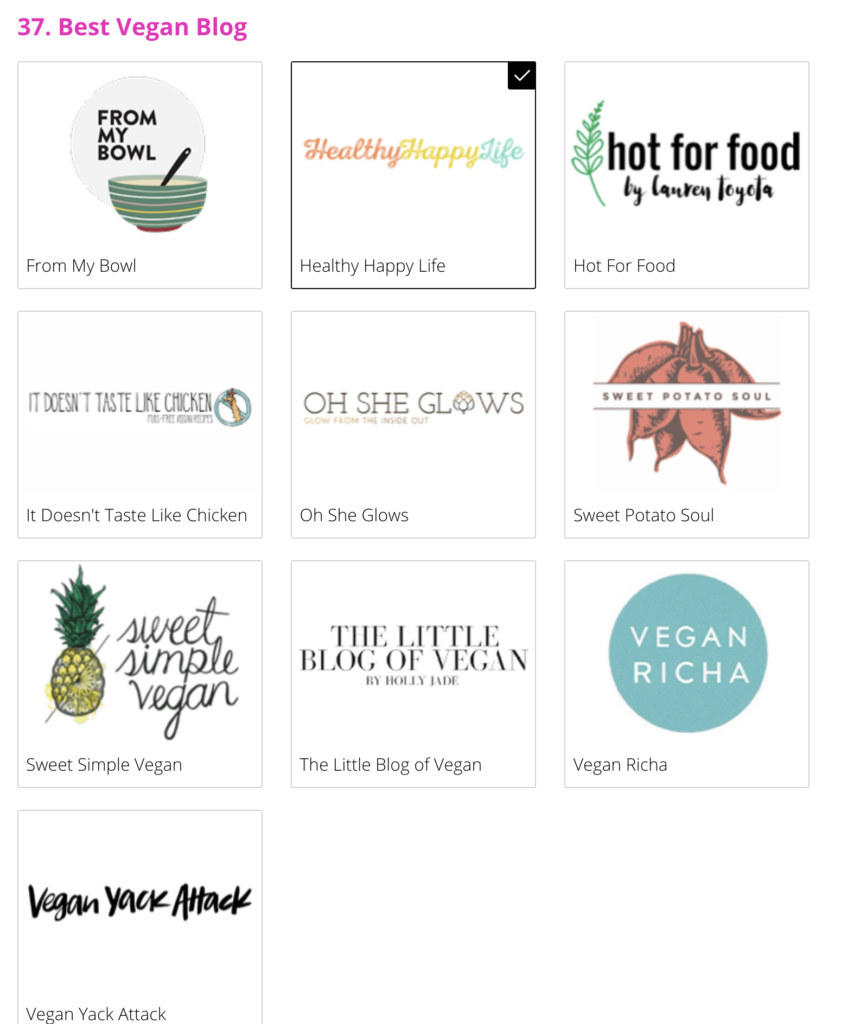 2020 VegNews Veggie Awards Voting is Open
So that's it! If you haven't voted yet, I would definitely do so. It is such a great way to familiarize yourself with beloved vegan brands, people and places. Plus, you will enter to win some cool prizes too.

Vote in the 2020 VegNews Veggie Awards
Something else that is cool.. Availability of Vegan Options
It used to be that I would read about new vegan food brands and think, "Oh, my store doesn't carry that." I'd have to seek out specialty stores or go scouring on the internet. But it's so amazing to browse the first page of the awards and see all the ice cream, cheese, cookie and veggie burger brands that I have tried and can easily find in a store here in LA. From Whole Foods to even mainstream supermarkets. I realize that cities that are not LA, SF, NYC, etc may not have all the options yet, but stay tuned! I'm sure the tions at your grocery svetor will only continue to expand.
Thank You Veg News
Thanks VegNews Magazine for continuing to be a leader in the plant-based movement and for always sharing news and content with this ever-growing community. You guys are as always a beacon of light for all of us out here just trying to make a difference for animals, people and the planet. (And eat amazing food in the process!)