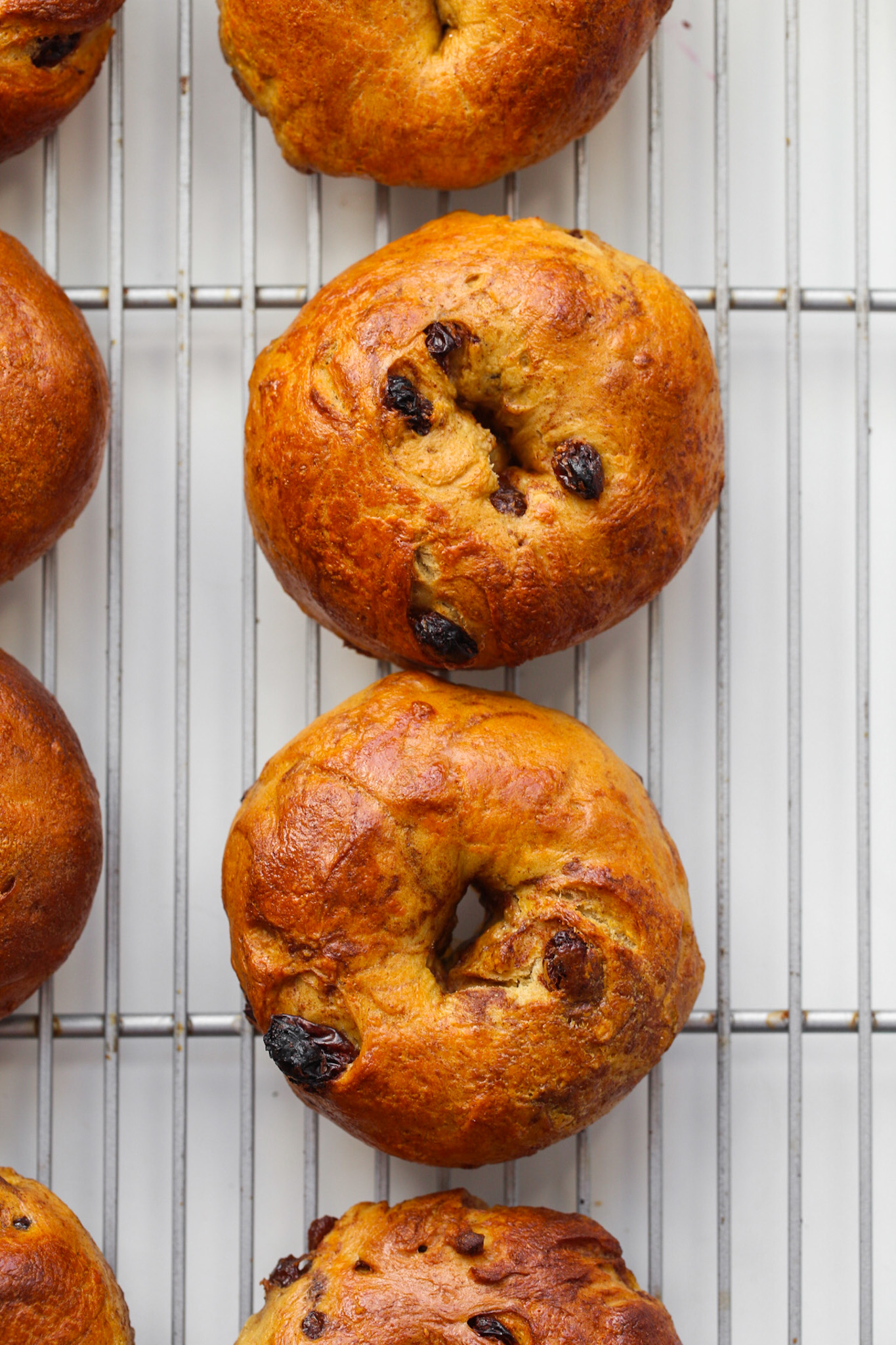 I've been really in love with making bagels ever since this post a few weeks ago. And I've finally stretched into experimenting with flavors. And these Cinnamon Raisin Bagels turned out so well!…
Cinnamon Raisin Flavor
Each fluffy bagel is filled with a light sweet cinnamon flavor and studded with chewy sweet raisins. So simple yet such a fun way to make your bagels special. I love Cinnamon Raisin Bagels paired with plain vegan cream cheese. Such a simple and satisfying combo!
Vegan Cream Cheese
Cream cheese is the classic topping for bagels. My fave is by Kite Hill. Or I whip up my own using cashews, a bit of lemon juice, salt and pepper and water. I just realized I don't have a recipe on here for my basic cream cheese! But that's really all it is. If you want it silkier you can use extra virgin coconut oil in there too.
You could also spread something like this Garlic Cheese Ball creation onto a bagel.
I whipped up my dough, made a few alterations and aded the cinnamon and raisins…
Dough formed into bagels..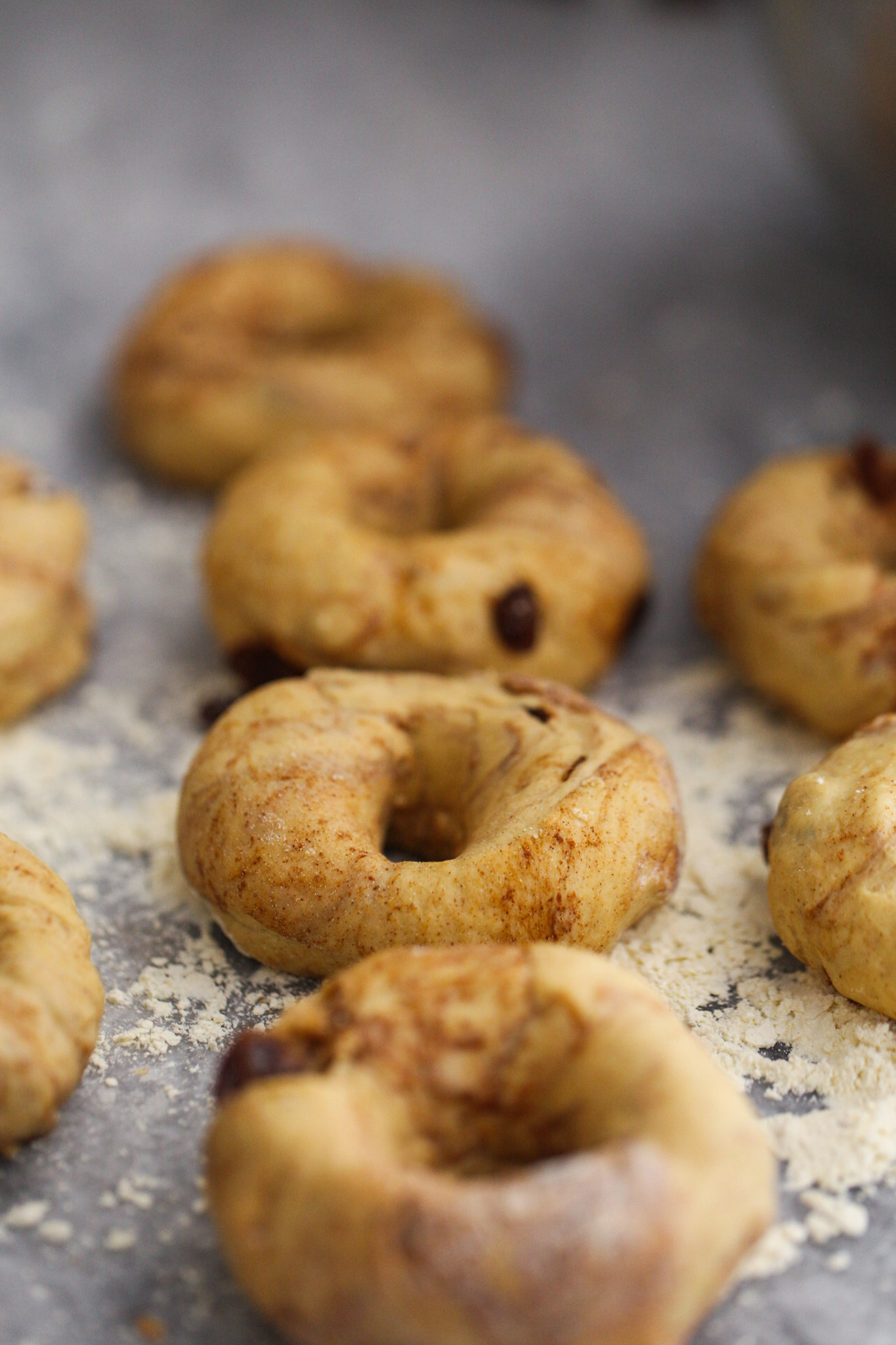 I added some optional "egg wash" using JUST Egg…
This is totally optional, but it does add a nice caramelized color and shine to the tops of your bagels.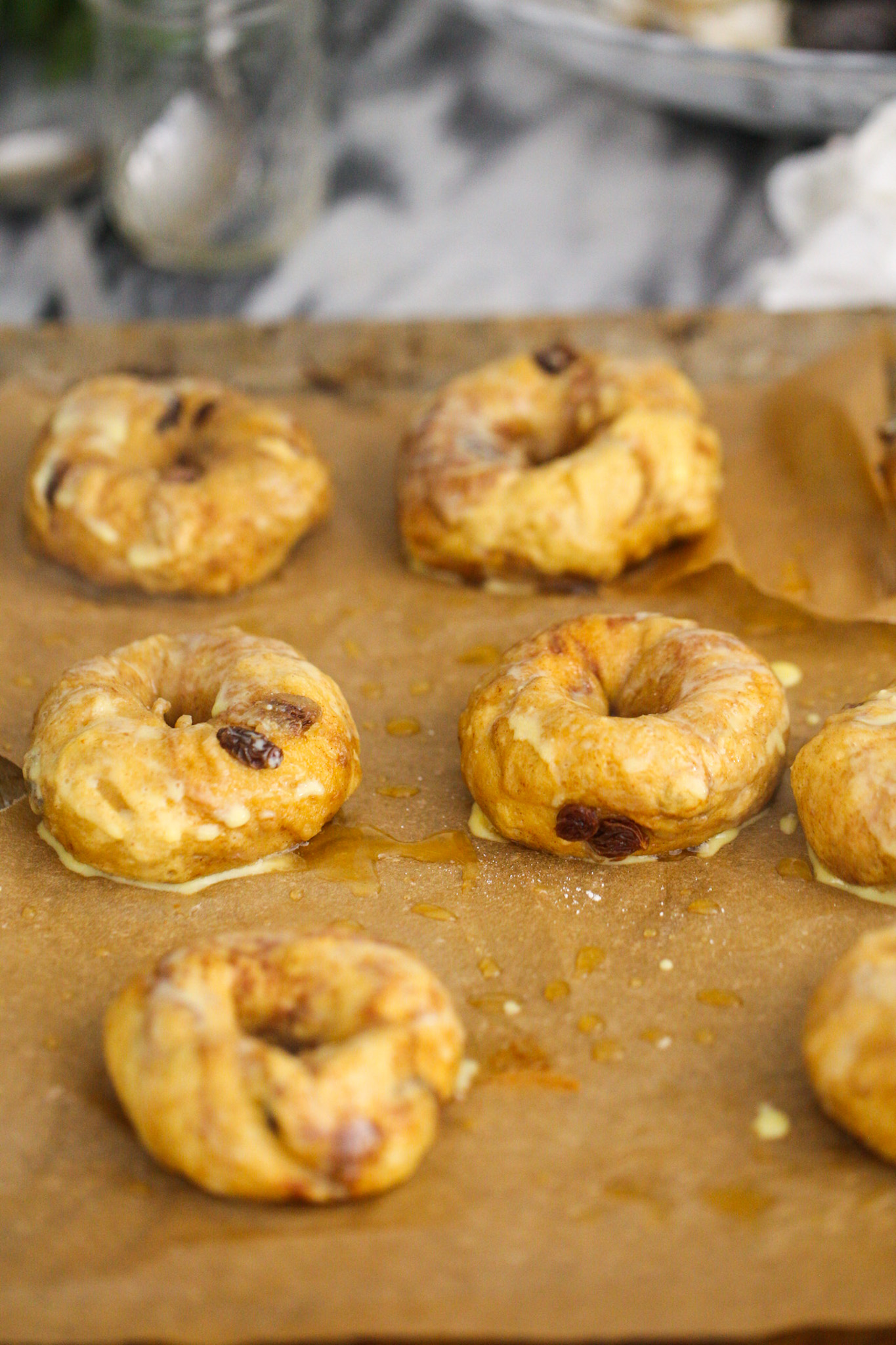 Bake and done!
So fluffy and lovely. Warm from the oven bagels are so magical…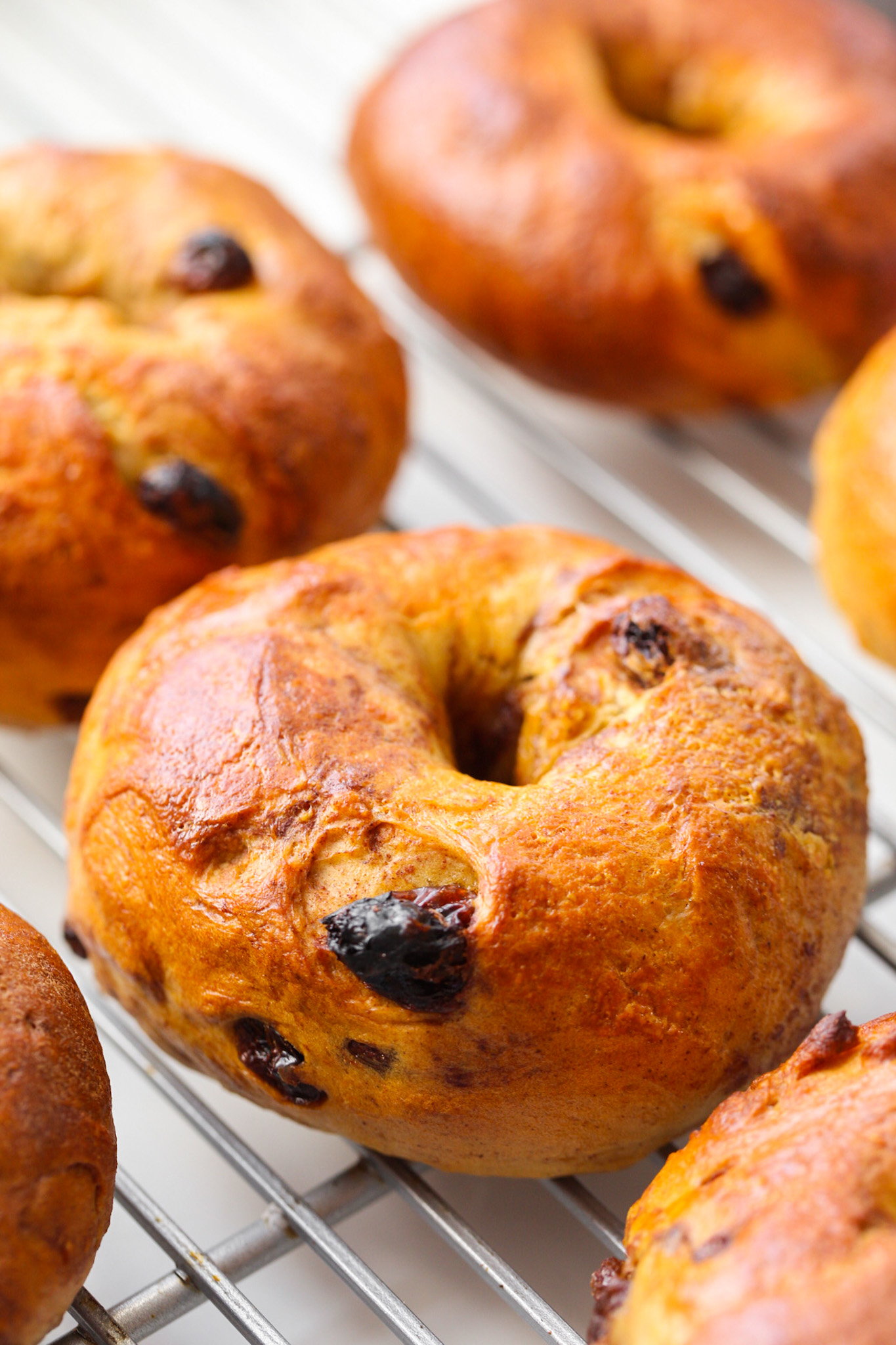 Loved these insides…
Swirls of cinnamon, chewy sweet raisins and a fluffy, tender texture with chewy outer crust. when you toast the bagels the outer edge gets nice and crispy. So good!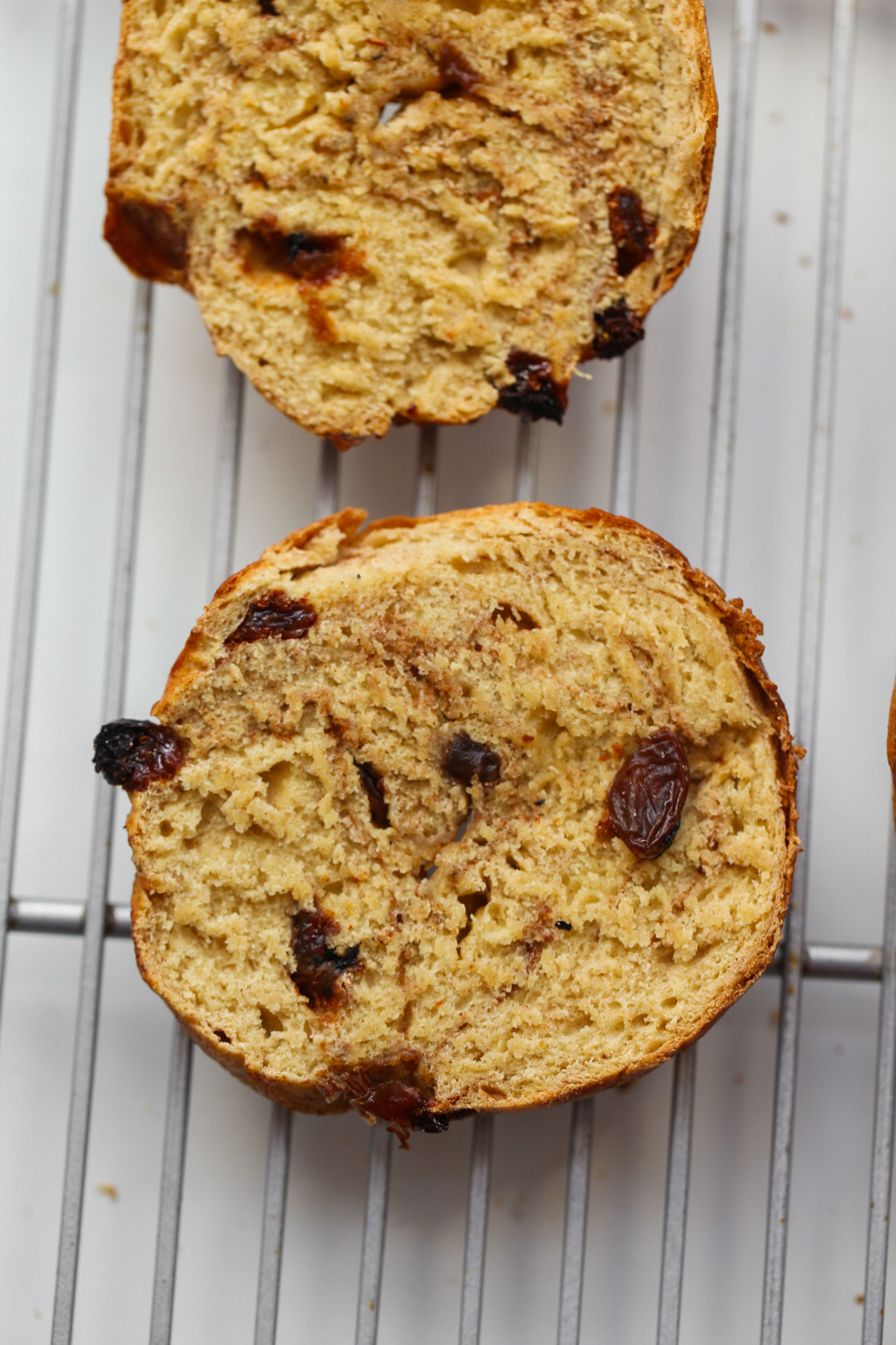 If you want to try plain bagels first…
This recipe has you covered! Including how to add toppings like poppyseeds and sesame seeds.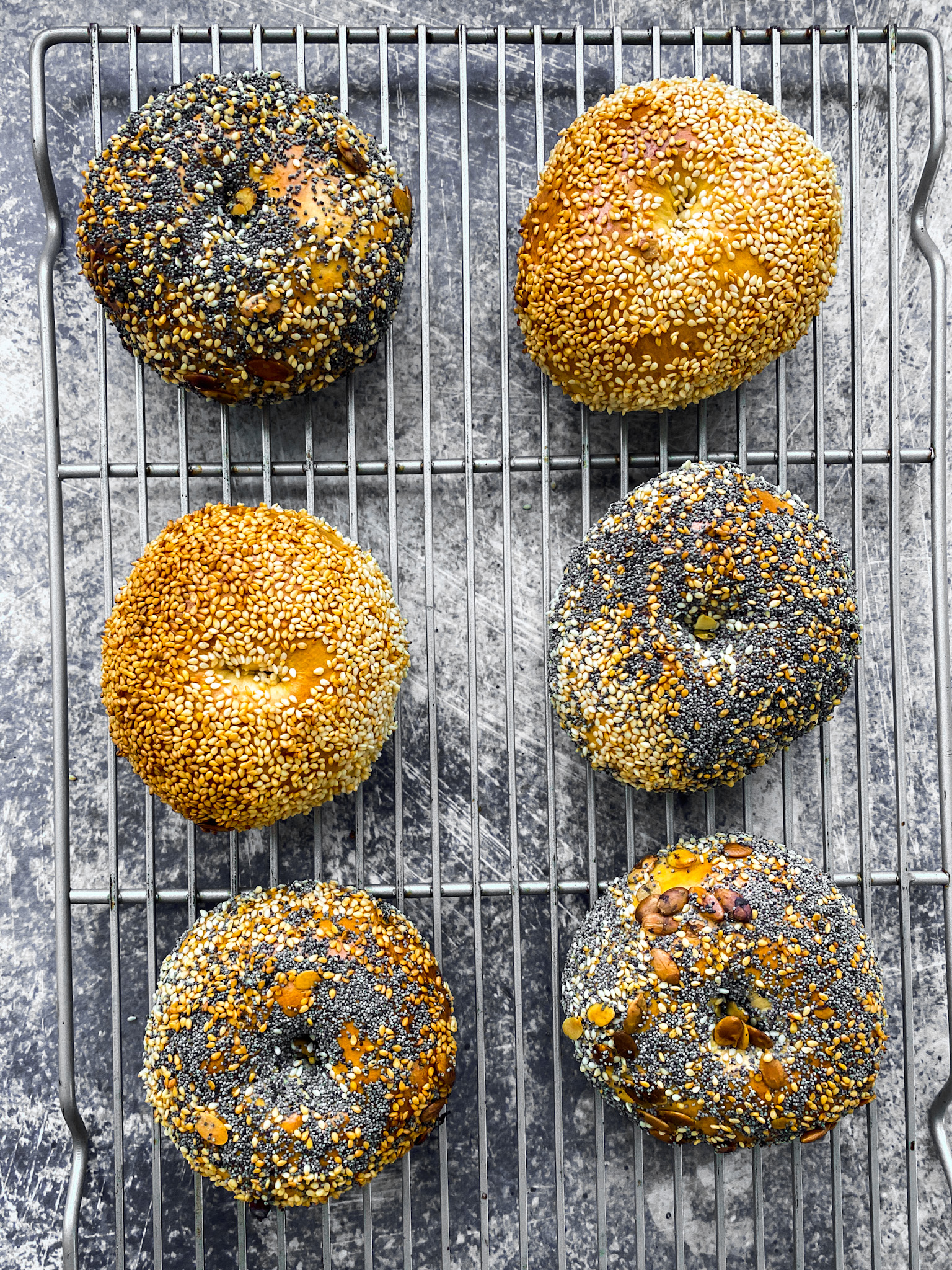 Freeze Bagels for Later.
Here is what I do when I make a big batch of bagels for saving..
Transfer them to a cooling rack.
Allow them to cool for at least ten minutes. Twenty works best. You want them to be cool enough so that they are not giving off any steam/warmth any more.
Slice in half using a bread knife.
Place the fully cooled bagels into large freezer baggies – or a freezer-safe glass container if you have one large enough. Place in the freezer and pull out when ready to enjoy!
The reason why you slice the bagels ahead of time is because it's pretty much impossible to safely slice a frozen bagel for toasting. If you are using a toaster oven or full-sized oven that accommodates a whole bagel – you do not need to slice ahead of time. But I just like to pop my bagels in my toaster, pre-sliced.
Toasting Bagels
If you are warming a lot of bagels at once, you can definitely get away with not slicing ahead of time and toasting them in your full-sized oven. Then slice right before serving.
It also depends on what texture you are going for! Fully toasted sliced bagels will have a crispier texture than an unsliced whole bagel that you slice right before serving.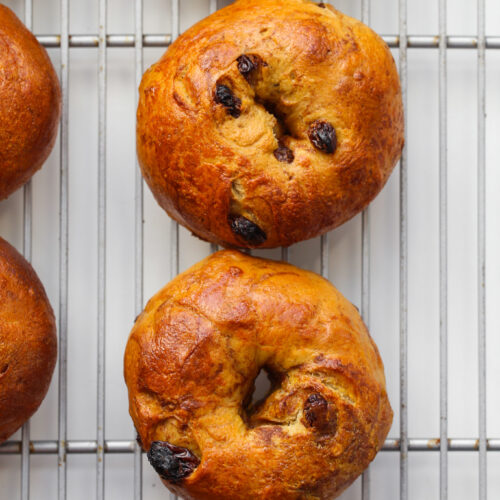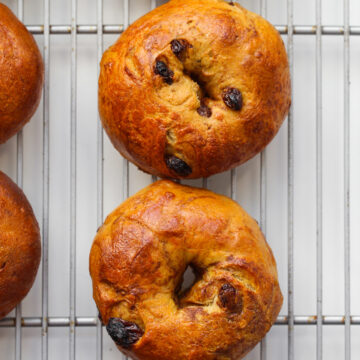 Cinnamon Raisin Bagels
Fluffy cinnamon and raisin bagels with sweet cinnamon and chewy raisins in every fluffy bite.
Print
Pin
Ingredients
2 ¼

teaspoon

yeast

1 ½

cups

water

,

warm

4

tablespoon

coconut sugar

,

or sub barley malt syrup, maple or agave

2

teaspoon

salt

1

tablespoon

ground cinnamon

4

cups

bread flour

,

***other flour options in notes

6

cups

water

,

for boiling

2

tbsp

barley malt syrup

,

or sub maple, agave or coconut sugars
Fold into dough after first rise:
1

cup

organic raisins

additional cinnamon to taste

,

1 teaspoon should do it
Instructions
Add the yeast, warm water and sugar to a large mixing bowl. Stir until yeast and sugar is dissolved. Let sit for 5-10 minutes.

Add in the salt, cinnamon and flour. Stir with a large wooden spoon or a mixer with dough hook until combined – light and fluffy. Knead on a clean and lightly floured surface for 2-5 minutes.

Place the dough back into the large mixing bowl, cover with a clean dish towel and set in a warmish place in your kitchen. Let rise for 60-90 minutes.
After the dough has risen 60-90 mins..
Rinse the raisins in warm water. They do not need to soak, but rinsing them softens them a bit and adds some moisture which will help them stick to the dough.

Pour the raisins and a few sprinkles of additional cinnamon over top – still in the mixing bowl. Knead in the bowl to fold the raisins into the dough.

Transfer the dough to a floured surface – most of the raisins should be imbedded in the dough by now. Knead a few more times, then divide the dough into 8-10 pieces — depending on desired bagel size. Eight pieces of dough will make standard size bagels, ten will make mini bagels.

Preheat your oven to 425 degrees. Line a baking sheet with parchment paper. And fill a large soup pot with the 6 cups of water and barley syrup. Turn heat to medium to start to get the water to boiling.

With each piece of dough, knead it a bit by hand, and shape into a round ball. Place the ball on a surface and poke your finger through the center to create a hole. Wiggle the dough a bit to enlarge the center hole. Set aside and repeat with all the pieces of dough.

Turn heat up to high on the water and when it is boiling, drop about 2-3 bagels into the water for 1-2 minutes.

Using a medium mesh strainer, transfer the bagels from the water to the baking sheet. Repeat until all bagels have boiled and are on the sheet. Optional: brush vegan egg wash over top the bagels for added shine and golden color.

Bake bagels at 425 degrees for 25 minutes – or until tops are browned and fluffy.

Cool on a cooling rack and slice when cooled to warm. You can freeze for later use or eat right away. If freezing for a standard toaster re-heat, slice bagels before freezing!
Equipment
large soup pot

baking sheet

large mixing bowl
Notes
Flours that I have used successfully for bagels:
All purpose flour
Bread Flour
Sprouted Grain Flour
nutrition estimate | per serving
Calories:
245
kcal
|
Carbohydrates:
53
g
|
Protein:
7
g
|
Fat:
1
g
|
Saturated Fat:
1
g
|
Sodium:
482
mg
|
Potassium:
178
mg
|
Fiber:
3
g
|
Sugar:
3
g
|
Vitamin C:
1
mg
|
Calcium:
20
mg
|
Iron:
1
mg