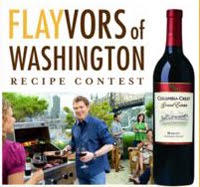 The Columbia-Crest, Food Network FLAYvors of Washington contest announced its winner today. Congrats to Frank Galella who won the Grand Prize. And as a few of my blog readers informed me, I was apparently one of the 20 finalists chosen from a nation-wide pool. How exciting to be the only vegan finalist. My entry was for my Spicy Mushroom Blossom Bowl recipe. What a thrill to be chosen. Ahead, find out why I'm not terribly surprised that I didn't claim the awesome Bobby Flay-encrusted grand prize. And what was up with my video entry…
UPDATE: My very lovely prize: an autographed MESA GRILL Cookbook. Signed by Chef Bobby Flay. Thank you 🙂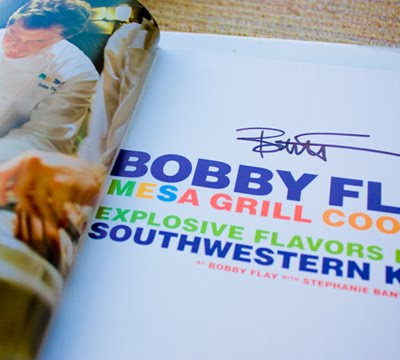 Wow, I'm a Finalist? Awesome. I entered this contest last minute. I adore mushrooms-and I love grilled mushrooms with a smoky spicy flavor. So since mushrooms were on the 'flavors of Washington' ingredients list, I entered! However after filling out the long application I realized that I needed a video. Oh no! The deadline was fast approaching, so in my PJ's-silly me, and with my hand-held camera I turned out a super fast, one-take video message to Mr. Flay and the judges about why he should pick me and my mushrooms. Looking back on this, I really should have done a cooking video, but I was crunched for time and didn't want to miss the deadline. Alas, my video plea was not enough to win. But that's OK.
Mushrooms vs. Veal and Lamb. Like I said, thrilled to have been a finalist, but I still have to wonder: was it my really bad video or my lack of meat in my recipe? The two talented winners cooked lamb and veal. The winning recipe by Frank was Stuffed Veal Chops with Wild Mushrooms and Farro Salad. I cooked harissa spicy mushrooms with an accent of endive and pea sprouts. My mushrooms lost. Go figure. I really wish I had thrown in some grilled tofu or seitan skewers in that dish! There's always next time.
Congrats and Thanks. Thanks again to all my blog readers who sent me emails of congrats and encouragement. And congrats to the two winners of the contest. I hope the grand prize winner has fun cooking with Bobby Flay and spending the $5000 cash grand prize. Fun!
Contest Details Online: Food Network.