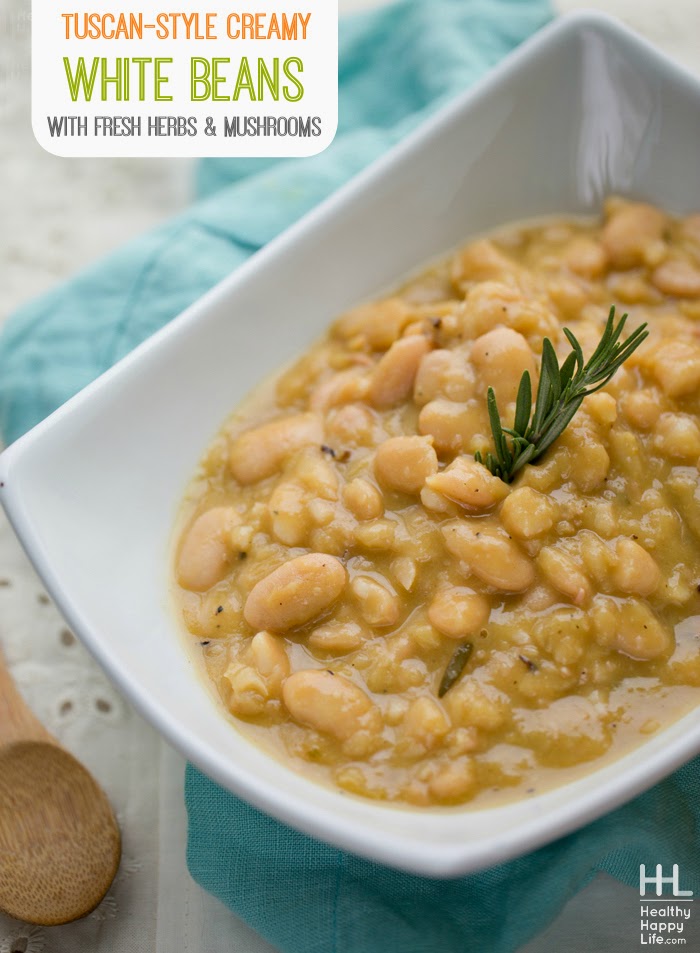 One of my most favorite dishes on my recent trip to Italy was the beans! Simple bean side dishes were divinely amazing in Italy. So I knew that when I returned home, a big pot of beans would be the first dish I would try to replicate. For these Tuscan-Style Creamy White Beans with mushrooms and fresh herbs, I wanted soothing warmth and flavor to come through in each bite, and I wanted the texture to be rich and creamy, just like I had tasted at a few amazing restaurants, specifically those in Tuscany…
(stay tuned! coming this week and the next, more adventures and recipes from my trip to Italy!)

Beans are a vegan-dream! They are rich in fiber, iron and a good source of plant-based protein, calcium and folate. Plus they taste amazing and can be served in a variety of creative ways.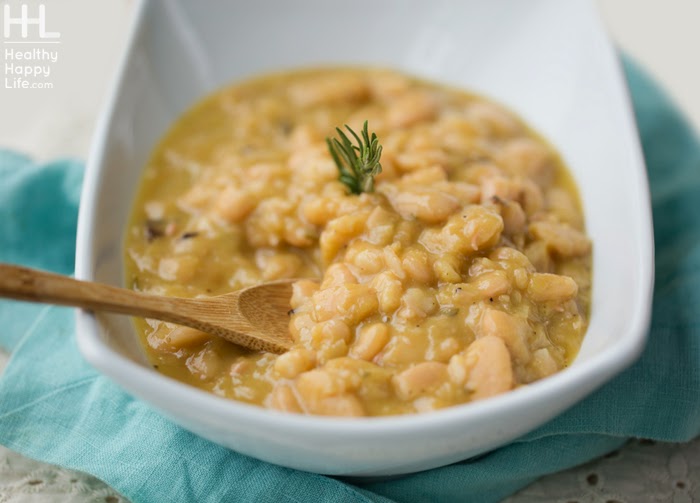 Flavor. Full. I wanted these beans to have some serious flavor. Blandness not wanted. So here are the three ways I helped achieve bold bean flavor:
1. I use veggie broth in place of water for the cooking of the beans.
2. I let the beans sit overnight before serving. This reduced them and intensified the flavor.
3. I used fresh herbs and an accent of sautèed mushrooms to add even more flavor. Bay leaf, sage, flat-leaf parsley and rosemary to be exact.
Start with dried beans for the best beans ever. These are Cassoulet white beans from the Rancho Gordo brand.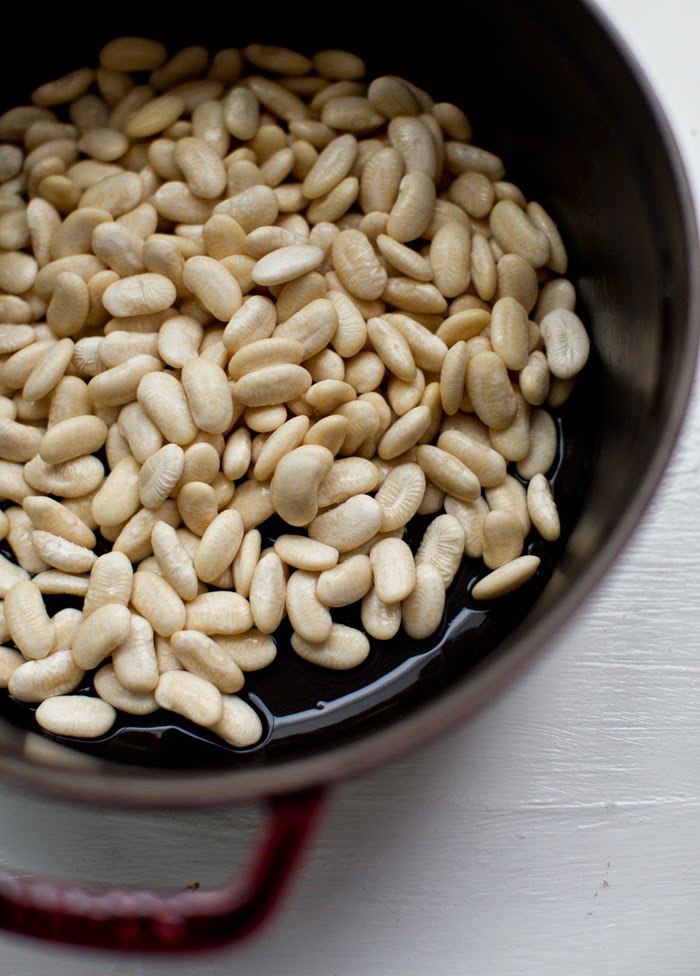 Creamy-delicious.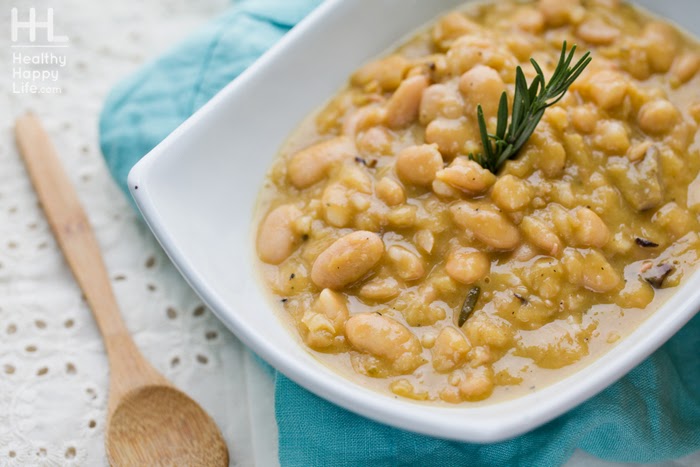 Yummy serving suggestion.. beans on toast with sliced pears: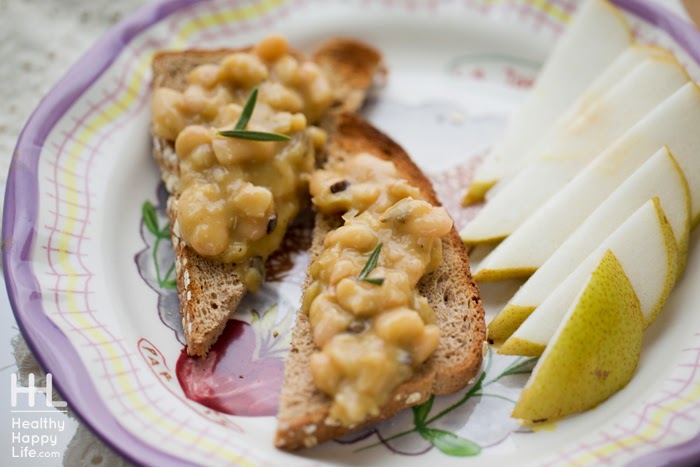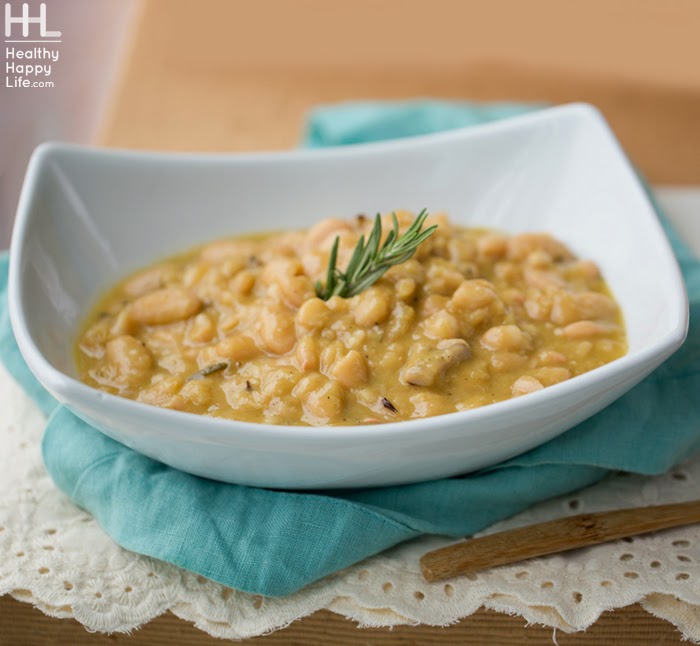 savory and sweet plate.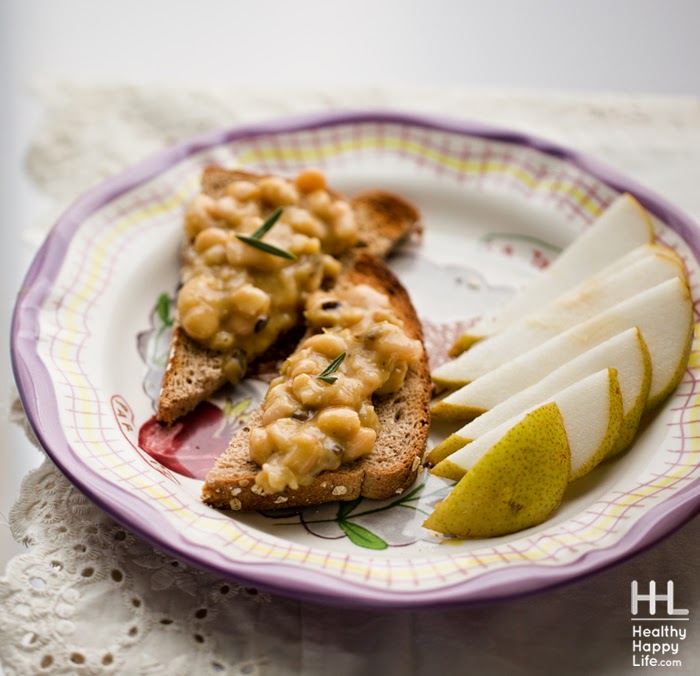 Another serving suggestion, fold in nutritional yeast and serve the beans on toast with vegan mayo, aka vegenaise..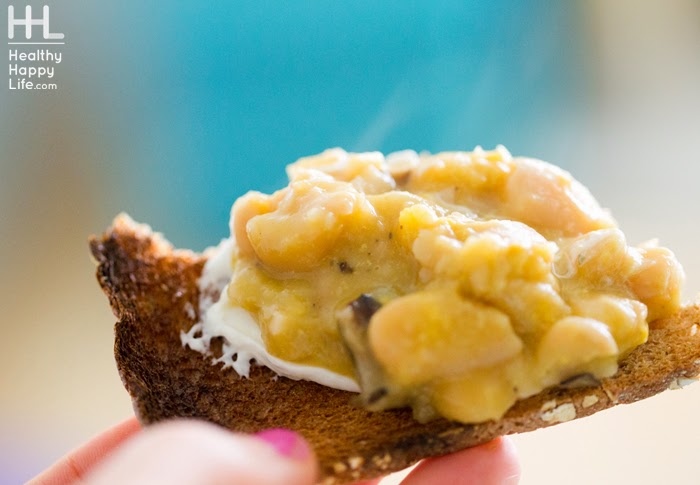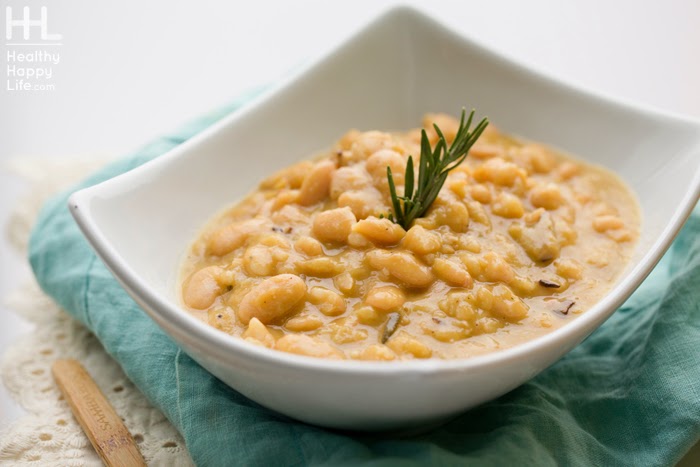 Tuscan-Style White Beans with Rosemary and Mushrooms
By Kathy PatalskyPublished 12/02/2014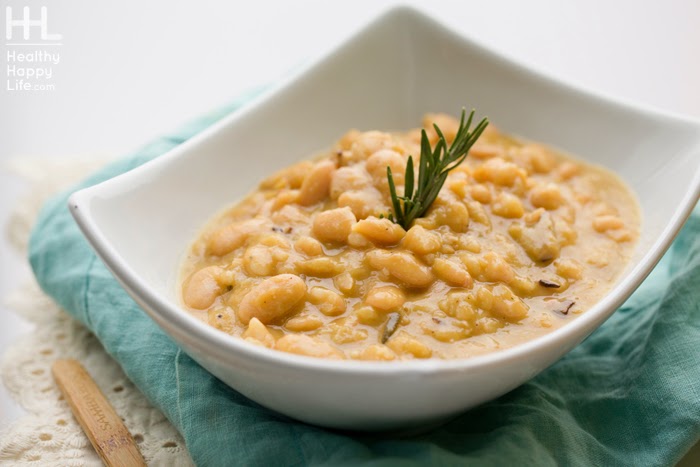 This is my spin on Tuscan-style white beans with rosemary and mushrooms, just like I enjoyed on a trip to Italy!
Ingredients
1 cup dry white beans, I used Cassoulet white beans
5 cups vegetable broth
4-5 cloves garlic
½ teaspoon fresh rosemary, finely chopped
1 ½ cups mushrooms, chopped (hen of the woods used)
3 tablespoon extra virgin olive oil,
2 whole sprigs fresh rosemary (1 for cooking, one for garnish)
3 fresh sage leaves **
½ teaspoon black pepper, freshly ground
1 teaspoon salt (or to taste)
1 bay leaf (optional)
¼ cup flat-leaf parsley, finely chopped
**You may use both rosemary and sage or choose one only
Instructions
The night before you want to cook your beans, add the beans to a large pot and fill with water, covering beans by at least two inches. Allow beans to soak for at least four hours before cooking.
Drain water from beans and rinse beans. Add then to a large cooking pot.
Add the broth, garlic, sage and/or rosemary sprig, bay leaf, black pepper, 2 tablespoon olive oil. Bring this mixture to a boil, then reduce heat to low and simmer beans, covered for at least two hours. You want the beans to be very tender when you move onto the next step.
When the beans are tender and most of the broth has been absorbed, go through and mash about ⅓ of the beans using a fork. This will help thicken the beans to a creamy state upon serving.
Pour the beans in a glass dish and seal tightly. Place beans in the fridge and allow them to reduce overnight.
The next day your beans will be even more marinated with flavor and tender texture. Remove the bay leaf and sprig of rosemary and pour beans in a pot, or place glass dish in a warm oven if your dish is oven-dafe. Heat beans to a hot and steamy temperature. Heating and simmering will further remove some moisture and intensify the flavor.
Now is the time to salt the beans! Do a taste test and add salt to taste, or about 1 teaspoon for a bold savory flavor.
The last step before serving is to add the mushrooms. Warm a skillet to high heat and add 1 tablespoon EVOO. Add the chopped mushrooms and saute on high until they are crispy on the edges, and cooked through. Just before finishing the shrooms, stir in the flat-leaf parsley. Add a pinch of salt to the mushrooms if desired. Tip: To add even more complex flavor to the woody mushrooms, add a splash of wine, about a teaspoon, just after you turn off the heat!
Fold the mushrooms into the beans and pour the bean dish into a serving bowl. Top with the one fresh sprig of rosemary and serve! Delicious as leftovers too, these beans will last in the fridge up to a week when properly stored, tightly.
Yield: 4 servingsPrep Time: 08 hrs. 00 mins. Cook time: 02 hrs. 30 mins. Total time: 10 hrs. 30 mins. Tags: beans, italy,tuscan,side,