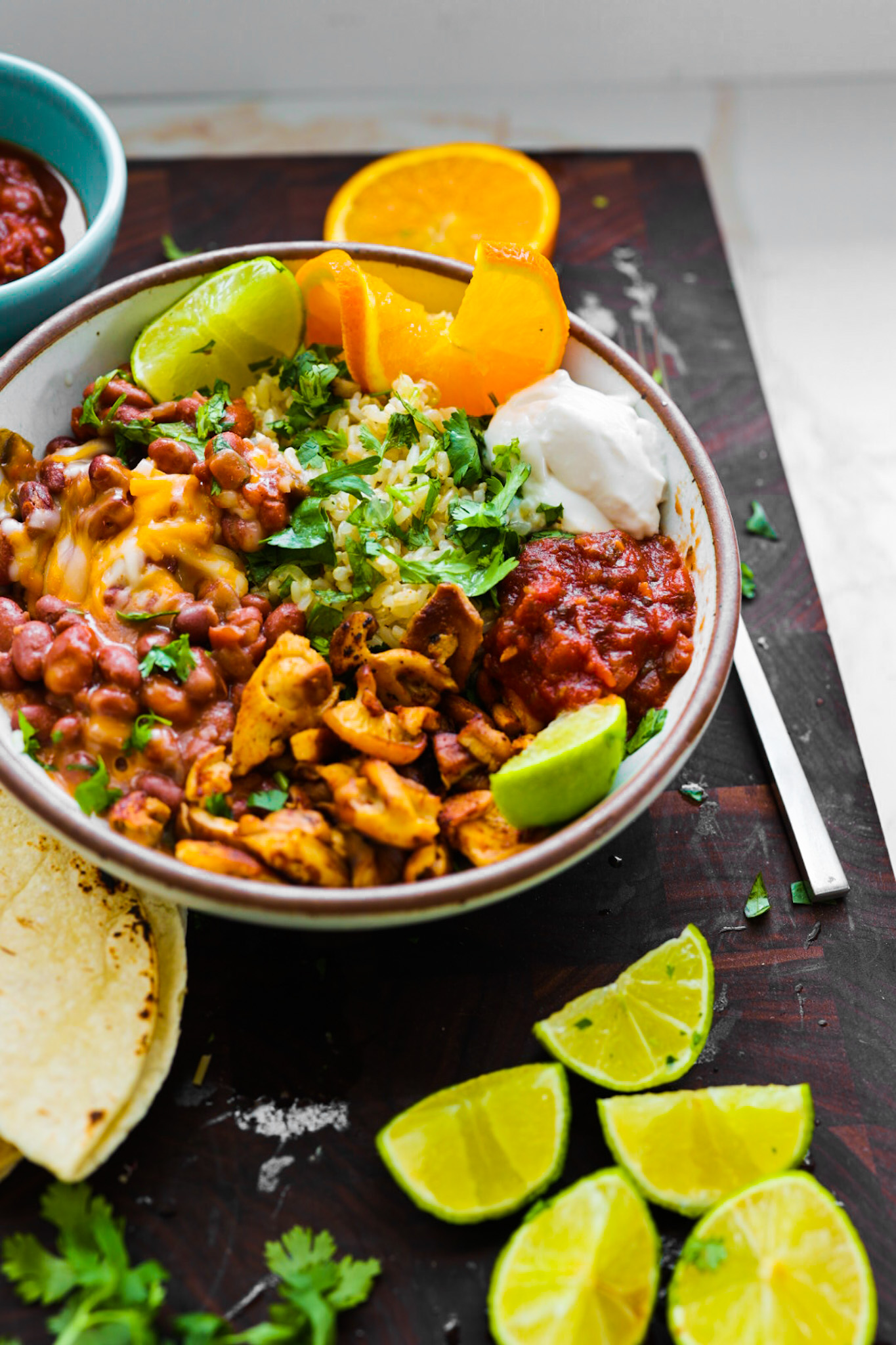 Have you heard the news? You should be eating more mushrooms. So this Easy Mushroom Burrito Bowl is the perfect way to cram in more mushroom deliciousness to your day. Serve with a fizzy fruit drink and warm tortillas for burrito bowl perfection…
Mushrooms And Cancer Risk
This news has been going around for years now, but it's always nice when more and more studies come out that back it up. The "news" is basically that the more mushrooms you eat, in regards to your cancer risk, the better.
Science Daily says "Higher mushroom consumption is associated with a lower risk of cancer, according to a new study. The systematic review and meta-analysis examined 17 cancer studies published from 1966 to 2020. Analyzing data from more than 19,500 cancer patients, researchers explored the relationship between mushroom consumption and cancer risk." – This study comes from Penn State.
The article goes on to further chat about the study…
"According to the findings, individuals who ate 18 grams of mushrooms daily had a 45% lower risk of cancer compared to those who did not eat mushrooms."
Whoa. 45% is a pretty high number! Reading that definitely had my husband and I eating more mushrooms during the week.
What Kind of Mushrooms Should You be Eating?
The study does note that mushrooms like shiitake, maitake and oyster (those more "exotic" shrooms) have more of the amino acid ergothioneine, that is what helps lower cancer risk, but even more common mushrooms like cremini and white button contain the compound, so they are worth eating!
Yes, even those standard sliced mushrooms on pizza!
So yeah, all the more reason to try this mushroom-infused burrito bowl.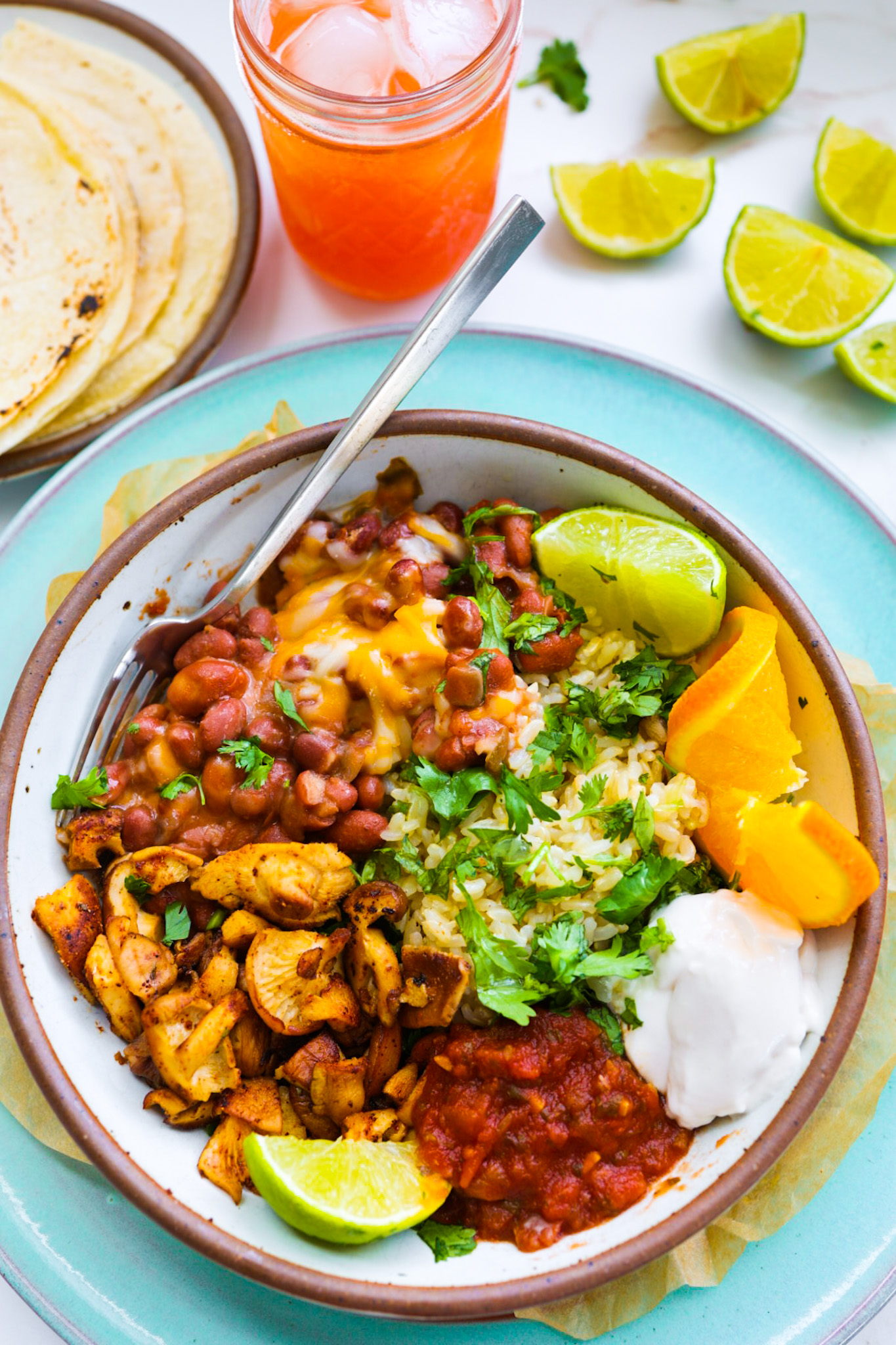 Burrito Bowl
A classic vegan burrito bowl usually contains beans, rice, maybe some veggies, salsa and of course tortillas on the side. Oh! And guacamole or avocado. Which if you look closely, I actually left out of this bowl. Not by choice, mind you. I was actually out of avocados, so… Trust me, I was very bummed when I got to my last layer of burrito bowl building and realized I had zero avocados.
But I did have some vegan sour cream on hand, so I added that instead. It's all about adding something rich in healthy fats to cut the spice and meatiness of the rice and beans — and mushrooms.
And also, the creamy guacamole or creamy sour cream help to keep everything together when you build a taco to serve.
Cilantro optional. I love it. You may not care for it.
But really, the star ingredient in this Mushroom Burrito Bowl is the spiced skillet mushrooms.
Making it Easy
I have a baby now. Feeding myself is challenging! Instead of ordering takeout every night, I need to have a few quick and healthy – and delicious – meals that I can make. This Mushroom Burrito Bowl is one of them. Here is how I cut my time in half…
RICE: I use pre-cooked rice. If I had a tiny rice cooker on my counter, I would use that. But my InstaPot is huge, and on the high shelf I barely ever feel like reaching. So instead I buy those packets of frozen pre-cooked rice. I pop one in the microwave. It is ready in three minutes.
BEANS: I use canned or bagged beans. I am actually obsessed with Fillos beans right now. So flavorful! You warm them up in the microwave for 60-90 seconds. They really taste like restaurant quality beans! Love.
SPICE: Instead of pulling 3-4 spices from my drawer and making the flavor perfect, I simply buy taco seasoning. I sprinkle enough on the mushrooms to give some flavor and enhance their natural flavor. It also includes a bit of salt so I barely have to salt them. Easy.
SALSA: Buy some good salsa from the grocery store. It will save you ten minutes. If you want to whip up your own pico de Gallo, go for it. You are much more Martha Stewart-esque than me right now!
TORTILLAS: Buy them. Warm them on your gas burner or in the microwave. I like to brush the insides with melted vegan butter to give that restaurant-soft feel.
Check out my other vegan burrito bowl recipe here for even more bowl Inspiration!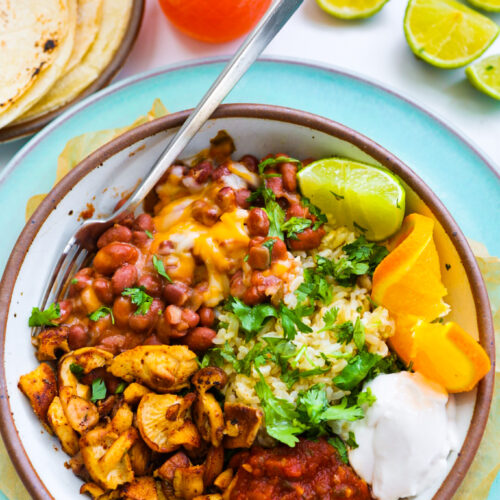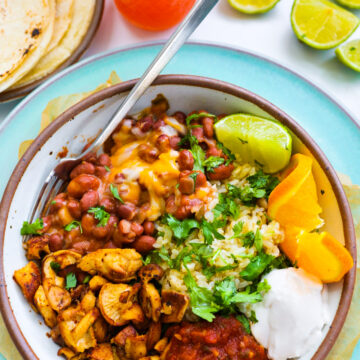 Mushroom Burrito Bowl
Easy mushroom burrito bowl containing spiced skillet mushrooms, beans, rice and more! Plant-based, vegan.
Print
Pin
Ingredients
1

cup

rice

,

cooked

¾

cup

pinto beans

,

canned

¼

cup

vegan cheese shreds

,

optional

⅓

cup

salsa

⅓

cup

cilantro

,

finely chopped

¼

cup

sour cream

,

vegan

avocado

,

optional
Skillet Mushrooms
1 ⅓

cups

shiitake mushrooms

,

washed, dried and sliced

2

teaspoon

olive oil

,

extra virgin

1-2

teaspoon

taco seasoning

,

salted

1

clove

garlic

,

minced, optional

1

lime

,

sliced
Sides
2-3

tortillas

,

warmed with vegan butter
Instructions
Warm a skillet over high heat. Add the olive oil. When oil is hot, add in the shiitake mushrooms. Cook for 3-5 minutes, until softened and browning on the edges. Add in the taco seasoning and squeeze of lime. Turn off heat. Toss well. Set aside.

Warm up your rice and beans.

Melt cheese over beans – using microwave for 30 seconds.

Build your bowl: beans, rice, salsa, sour cream or guac, sprinkle cilantro over top. Squeeze lime juice over top. Add the skillet mushrooms and garnish with lime slices. Serve! Optional: serve with warmed, buttered tortillas.
nutrition estimate | per serving
Calories:
625
kcal
|
Carbohydrates:
106
g
|
Protein:
20
g
|
Fat:
17
g
|
Saturated Fat:
3
g
|
Polyunsaturated Fat:
1
g
|
Monounsaturated Fat:
6
g
|
Sodium:
1276
mg
|
Potassium:
1681
mg
|
Fiber:
19
g
|
Sugar:
13
g
|
Vitamin A:
819
IU
|
Vitamin C:
24
mg
|
Calcium:
159
mg
|
Iron:
5
mg