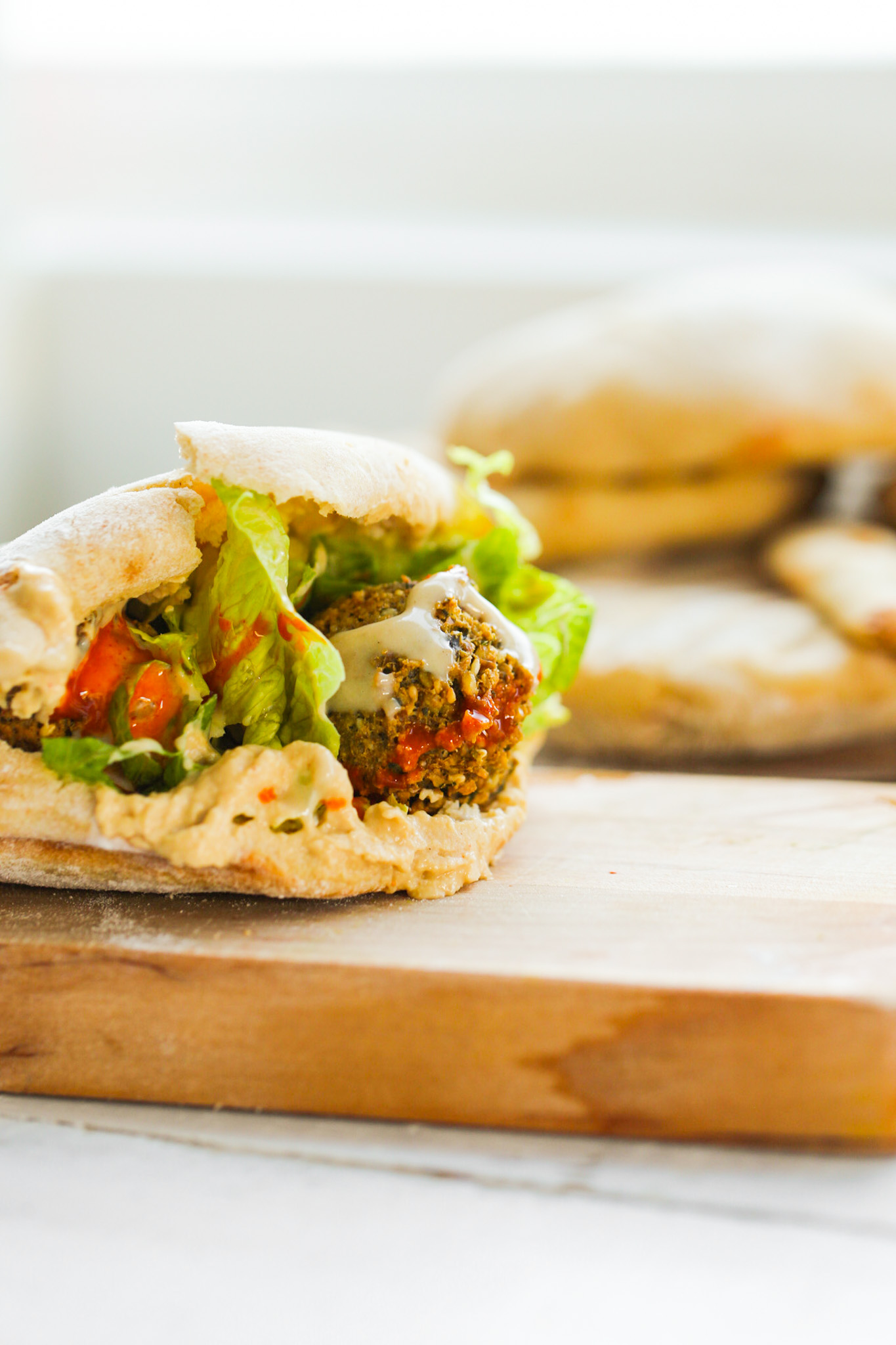 This Classic Falafel Recipe is one to add to your dinner time rotation! Having a homemade pita night is totally possible and easier than you may think. Yes, you need to prep one day in advance – by soaking the beans overnight, but that's really it. The rest of this recipe — including the homemade pita bread can easily come together in a flash. You can always use store-bought pita for ease as well!
This bean-ful meal is plant-based, delicious and will give you restaurant-at-home vibes all night long!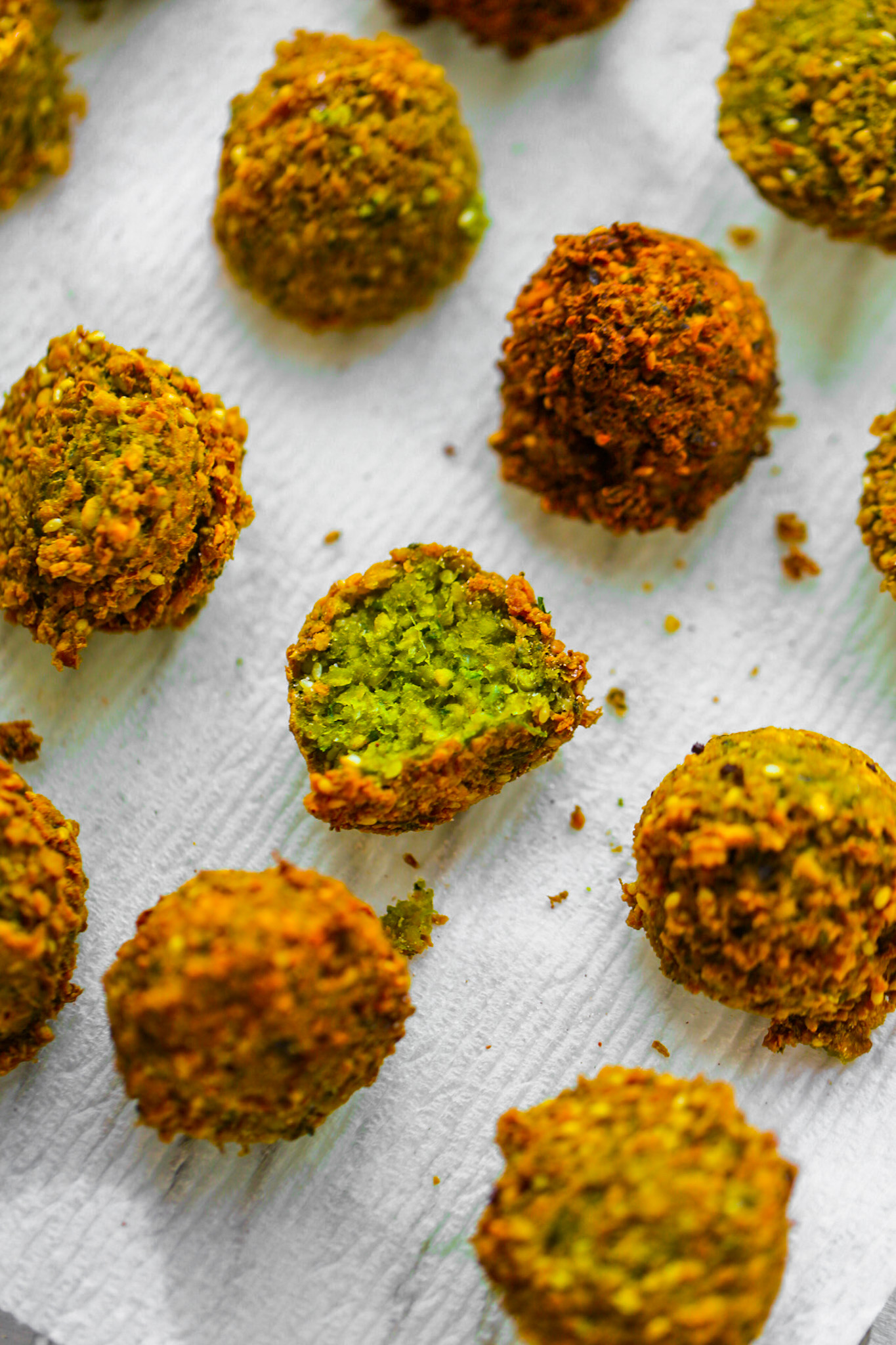 Crispy Fried Falafel Balls
I can guess that the number one question my readers will be asking about this classic falafel recipe is this: but can I bake them???
The answer is yes, but I promise they will not be as delicious and classic like falafel you will find at most restaurants. I actually think that if I made a baking-specific falafel recipe, I would modify the mixture a bit to be a bit more moist and soft. That way, the heat and 'drying effect' of the oven would be better tolerated.
So yes, you can bake these, but also, they will be a bit dry and the outside texture not as crispy and lovely.
Oil for Falafel?
I used grapeseed oil in this classic falafel recipe. It has a good smoke point for frying and has a mild flavor and generally healthy nutrition profile – for an oil. Olive oil, safflower oil or even canola oil are other options.
In general, I am not a huge fan of frying, but there are some recipes that I think it is a must for and these falafel balls are one of those recipes. The flavor and texture reward is worth it for me to fry!
Pro-Tip: Achieve the 375 degree frying oil using a basic cooking thermometer. I love this one from Amazon.
What About An Air Fryer??
I do not own one! But if you do and have air-fried falafel, please let me know! I am super curious how that would work.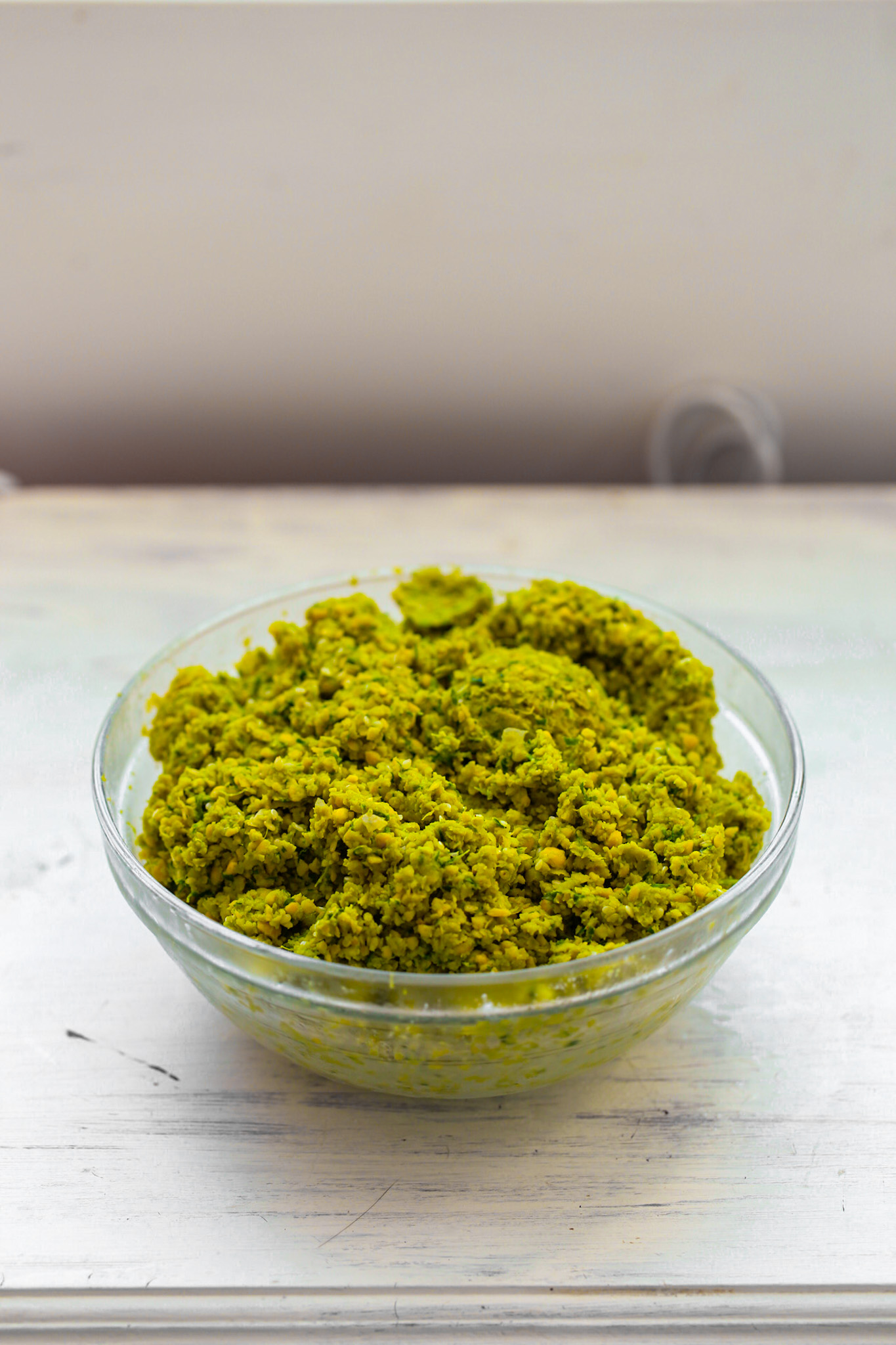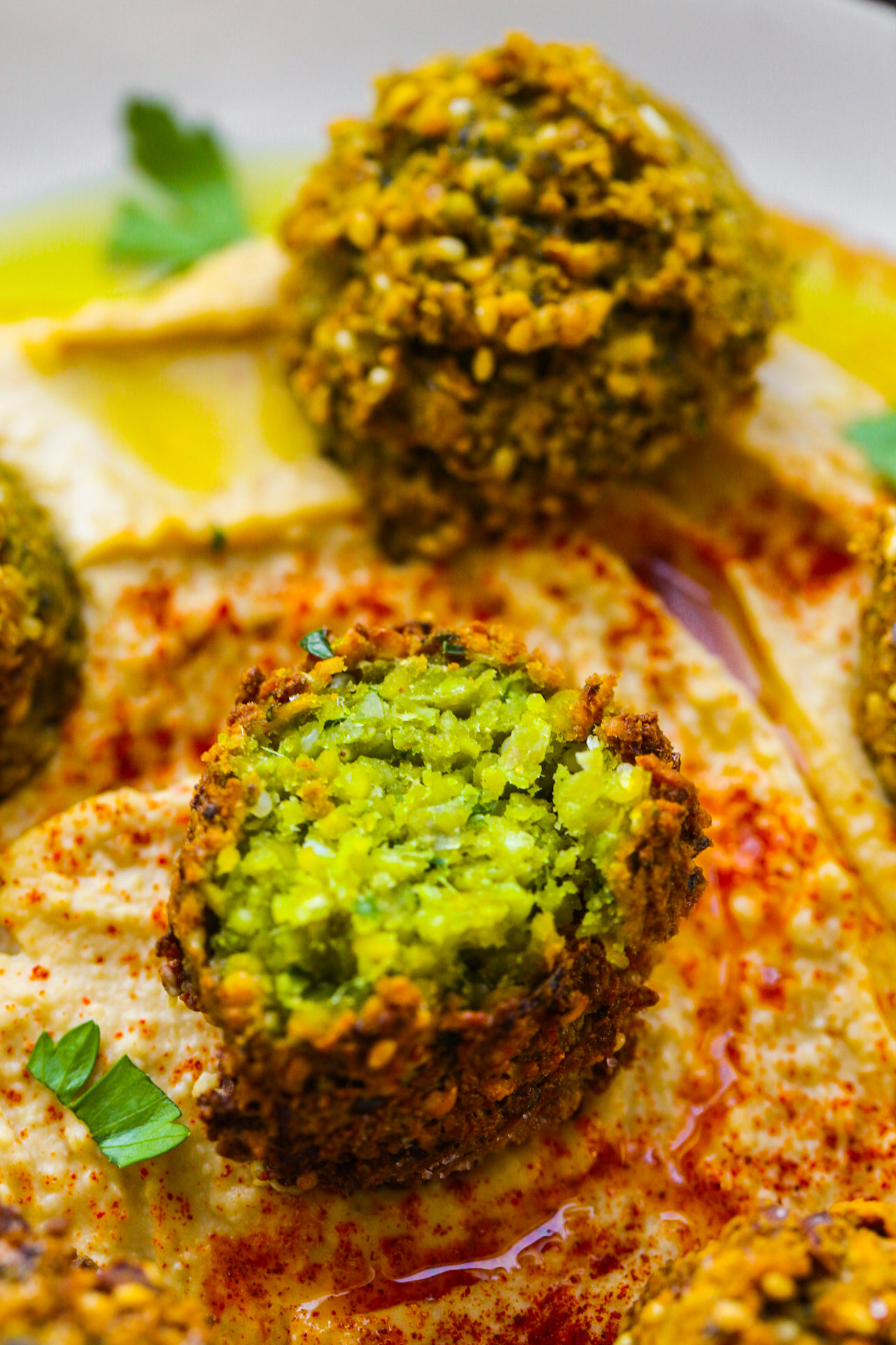 Falafel Serving Platter:
Served over top a plate of hummus, splash of EVOO and sprinkle of smoky paprika.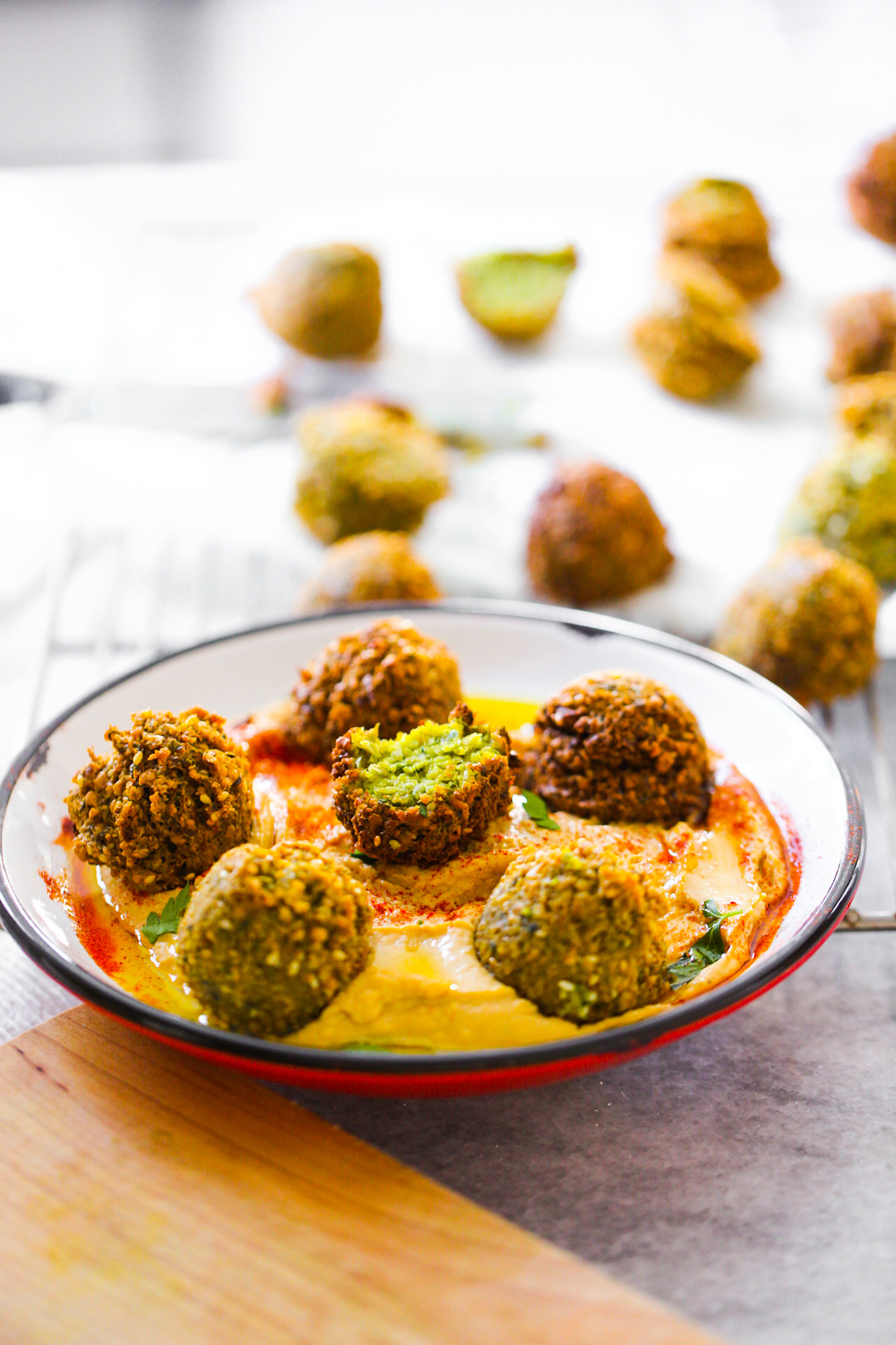 Obsessed with the bright green color against the browned crispy edges.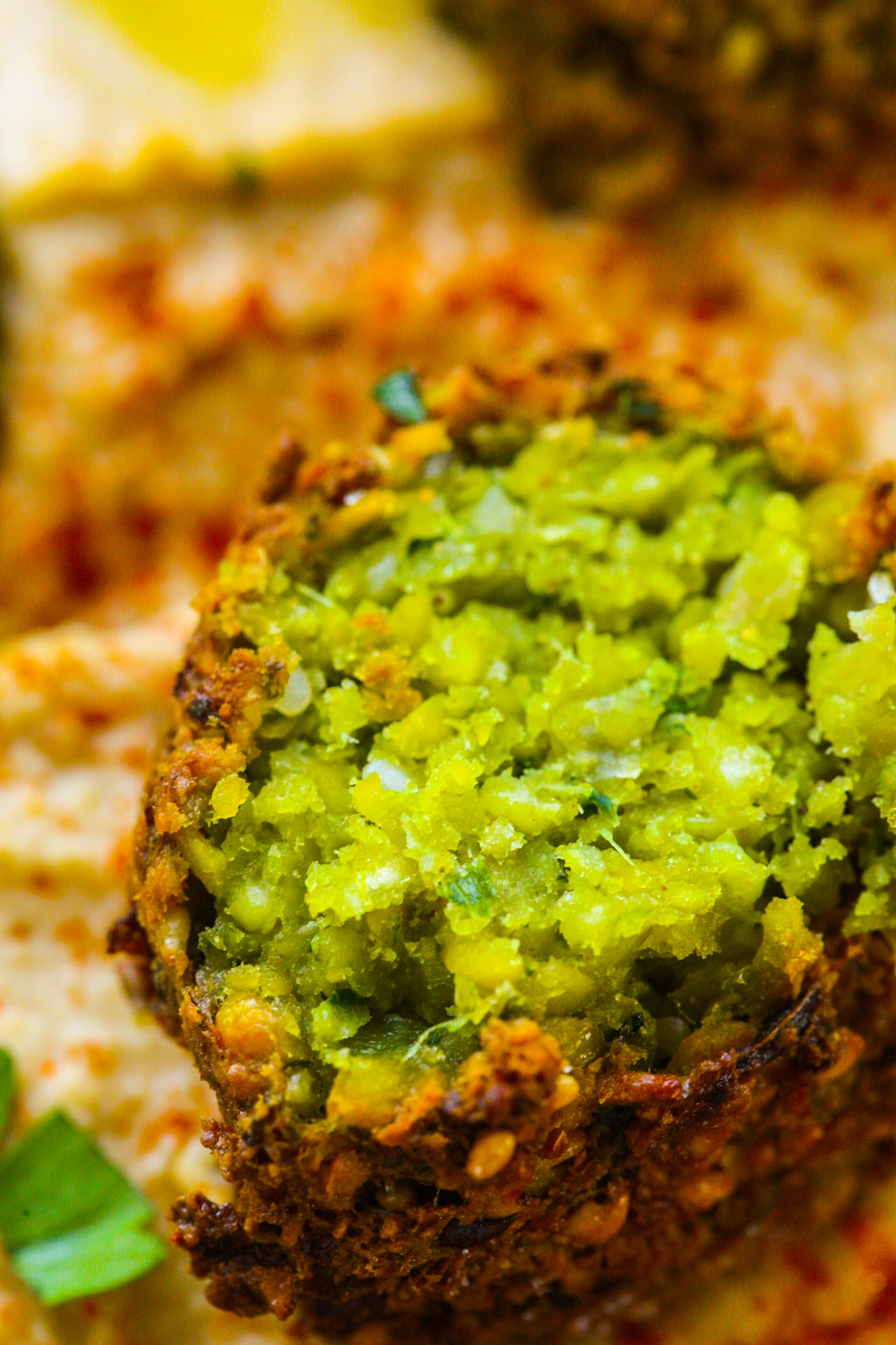 Make it a Meal: Pita Sandwich
How to serve this Classic Falafel Recipe?…
These falafel balls can be added to salads or eaten all on their own, but my fave way to serve them is in a falafel sandwich with fluffy pita bread.
Make homemade pita bread using my recipe!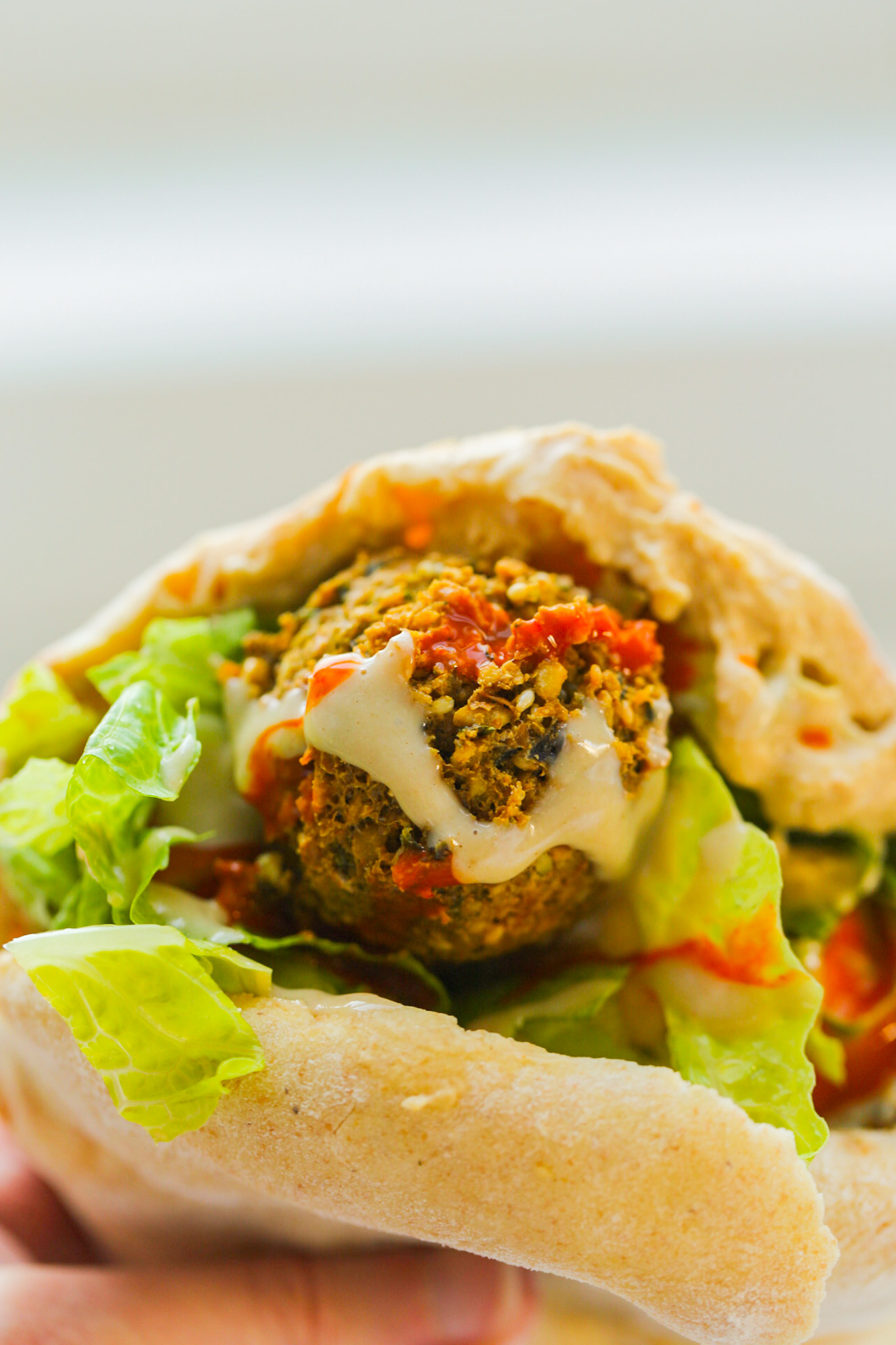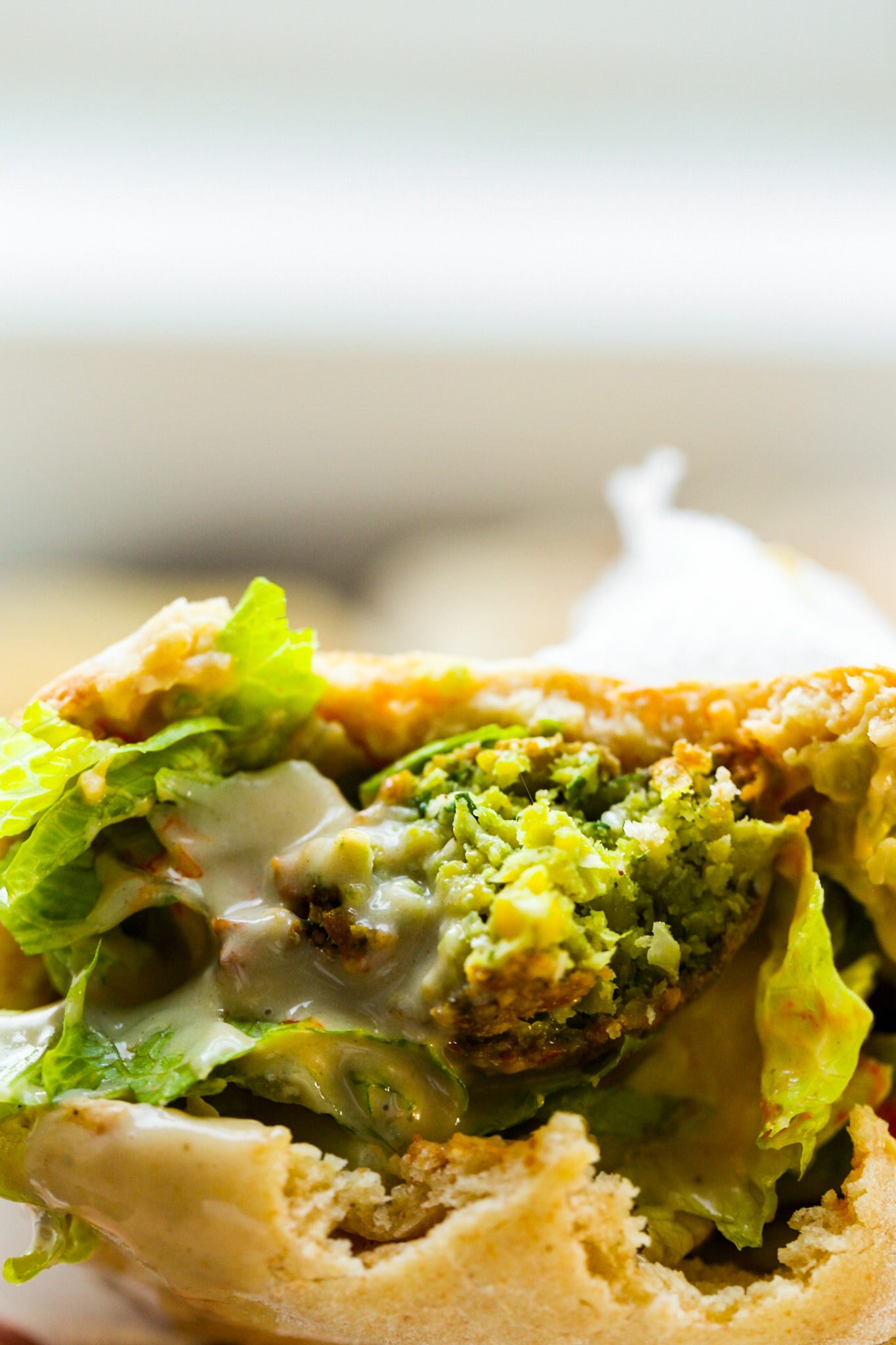 Ingredients for my Classic Falafel Recipe:
The ingredients for this classic falafel recipe are naturally vegan and super simple. And loaded with healthy beans!..
Dried Chickpeas: You need to use dried chickpeas to get that restaurant-quality flavor and texture. I have made falafel using canned chickpeas, and while it is still delicious, the texture is different – more mushy and soft. I actually still love canned bean falafel, but that wasn't what I was going for today. You can buy dried chickpeas at most grocery stores or online.
Lemon Juice: Just a hint helps break up the chickpeas and bring some acid.
Parsley: Loads of flavor, color and nutrition from this dark leafy herb.
Onion: I actually skipped the onion! But since it is a classic ingredient in this recipe, you can absolutely add it. To sub, I doubled the garlic that I added.
Baking Powder: Adds some extra fluffiness and lift to the balls.
Spices: A must! I like a bold helping of spices, but if you want a milder flavor, you can use a bit less than my recipe calls for.
Sesame Seeds: These add some texture and nutty flavor. The go well with sesame-based tahini sauce you might want to add on top of a pita.
Salt and Pepper can be added to taste. I actually like to use a bit less salt in these (like ⅛ – ¼ teaspoon max) since the hummus, hot sauce and tahini sauce I like to add to my pita sandwich is usually pretty salty.
Tahini Sauce Recipe..
Easy! Just combine tahini (ground sesame seeds) with lemon juice and either maple syrup or agave (or honey) and blend until smooth. You can choose the ratio of each ingredient. More sweetener makes for a sweeter sauce. A good dose of lemon makes things light and zesty. More tahini makes it thick and rich and nutty.
I made mine with about 3 tablespoon tahini, 1 tablespoon maple and the juice from one small lemon.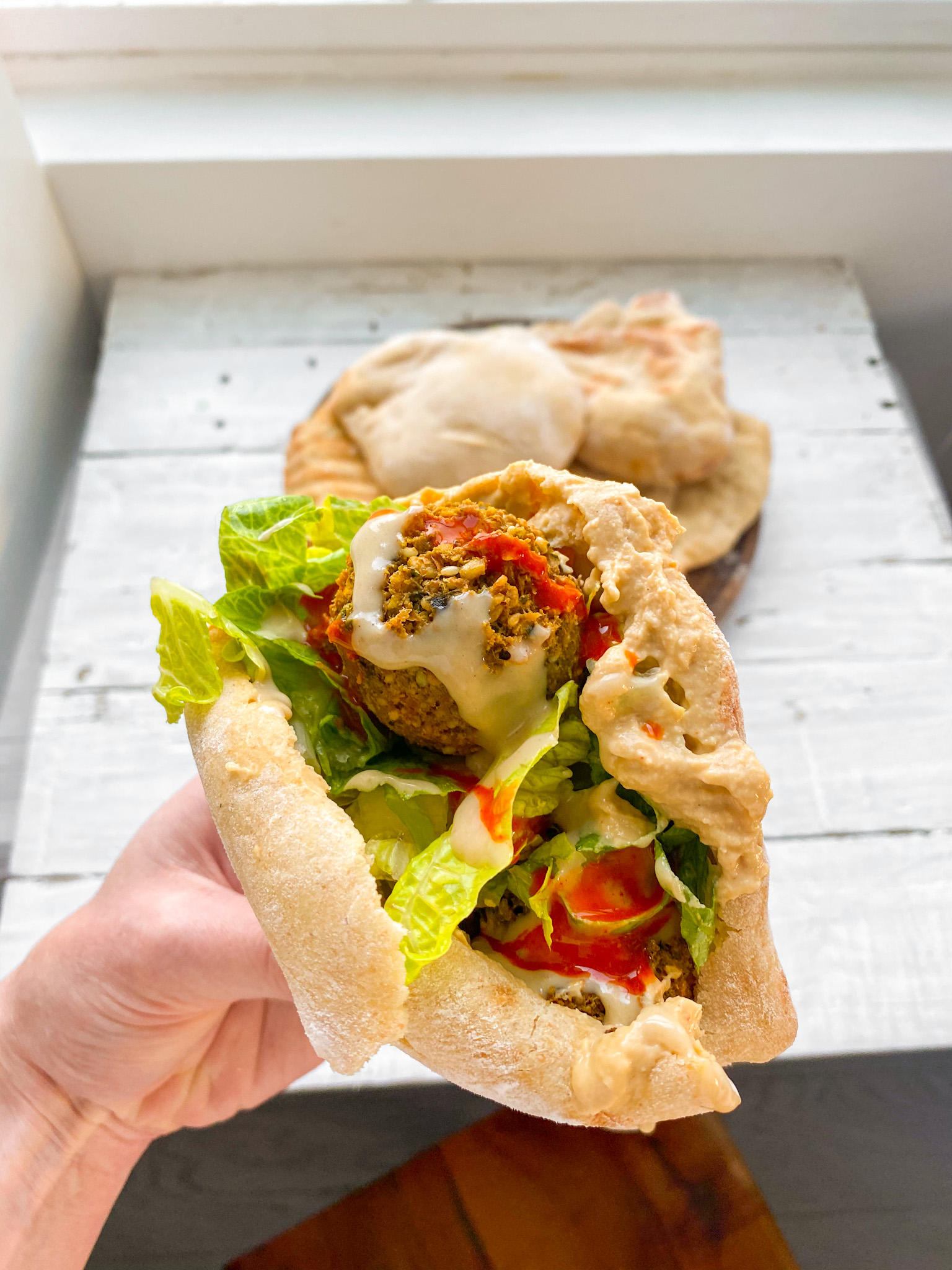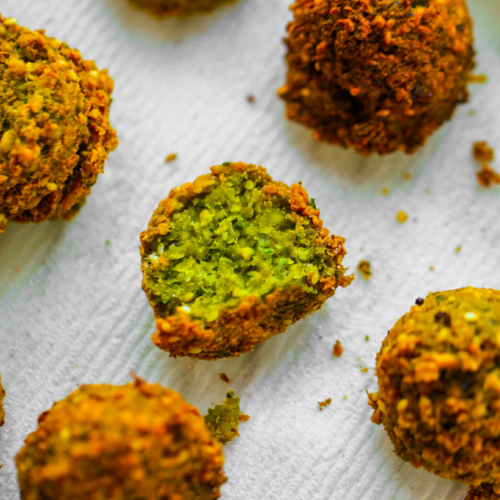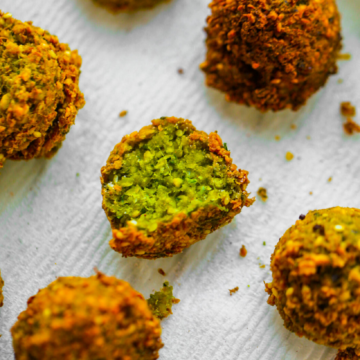 Classic Falafel
This classic falafel is vegan and made using garbanzo beans, parsley and classic spices. Perfectly fried to crispy perfection.
Print
Pin
Ingredients
2

cups

dried chickpeas

,

(4 cups soaked)

2

cups

parsley

,

leaves, chopped

2

tablespoon

lemon juice

2

tablespoon

baking powder

1

tablespoon

cumin

1

tablespoon

coriander

5

cloves

garlic

1

small

red onion

,

chopped – optional

1-2

tablespoon

sesame seeds

¼

teaspoon

black pepper

¼

teaspoon

salt

,

or to taste
Frying Oil:
grapeseed oil

,

as needed for frying
Instructions
Day Before:
The day before you want to make these falafels, add your dried chickpeas to a large mixing bowl and fill with enough water to cover by a few inches. Cover and let sit overnight. The chickpeas should double in size by morning — or at least eight hours soaking time.
Day Of:
Drain and rinse the soaked chickpeas.

Add the chickpeas, parsley, optional onion and lemon juice to a food processor or blender. Blend until the mixture is nice and crumbly – almost into a paste, but still with little bits in there. The parsley should have turned the mixture green. When the blend is just about done, add in the spices and garlic.

Transfer the processed bean mixture to a clean bowl and fold in the salt, pepper, baking powder and sesame seeds.

Cover the mixture and chill in the fridge for an hour.
Frying:
Add your oil to a medium pot for frying. Tip: The smaller the pot, the less oil you will need to use overall. You will need to fry in smaller batches, but does help save oil.

Heat oil over medium heat, until it is 375 degrees.

Using a cookie dough scoop – or another scoop of choice – scoop the falafel mixture, then transfer directly to the hot oil. Repeat. I did three falafel balls at a time in my small pot.

Fry for about 2-3 minutes – or until golden brown. Gently turning the falafel balls about halfway through.

Transfer fried balls to a cooling rack or sheet of parchment paper – or paper towel to catch some of the oil.

Repeat until all the mixture is used.

Serve warm! Delicious with hummus, pita, veggies and tahini.
Equipment
large soup pot

blender or food processor
Notes
Tip: If you only want to use half the mixture, you can freeze the remaining mixture. Thaw and fry to prepare balls.
referenced: recipe 
nutrition estimate | per serving
Calories:
84
kcal
|
Carbohydrates:
14
g
|
Protein:
4
g
|
Fat:
2
g
|
Saturated Fat:
1
g
|
Sodium:
39
mg
|
Potassium:
352
mg
|
Fiber:
4
g
|
Sugar:
2
g
|
Vitamin A:
529
IU
|
Vitamin C:
11
mg
|
Calcium:
92
mg
|
Iron:
2
mg