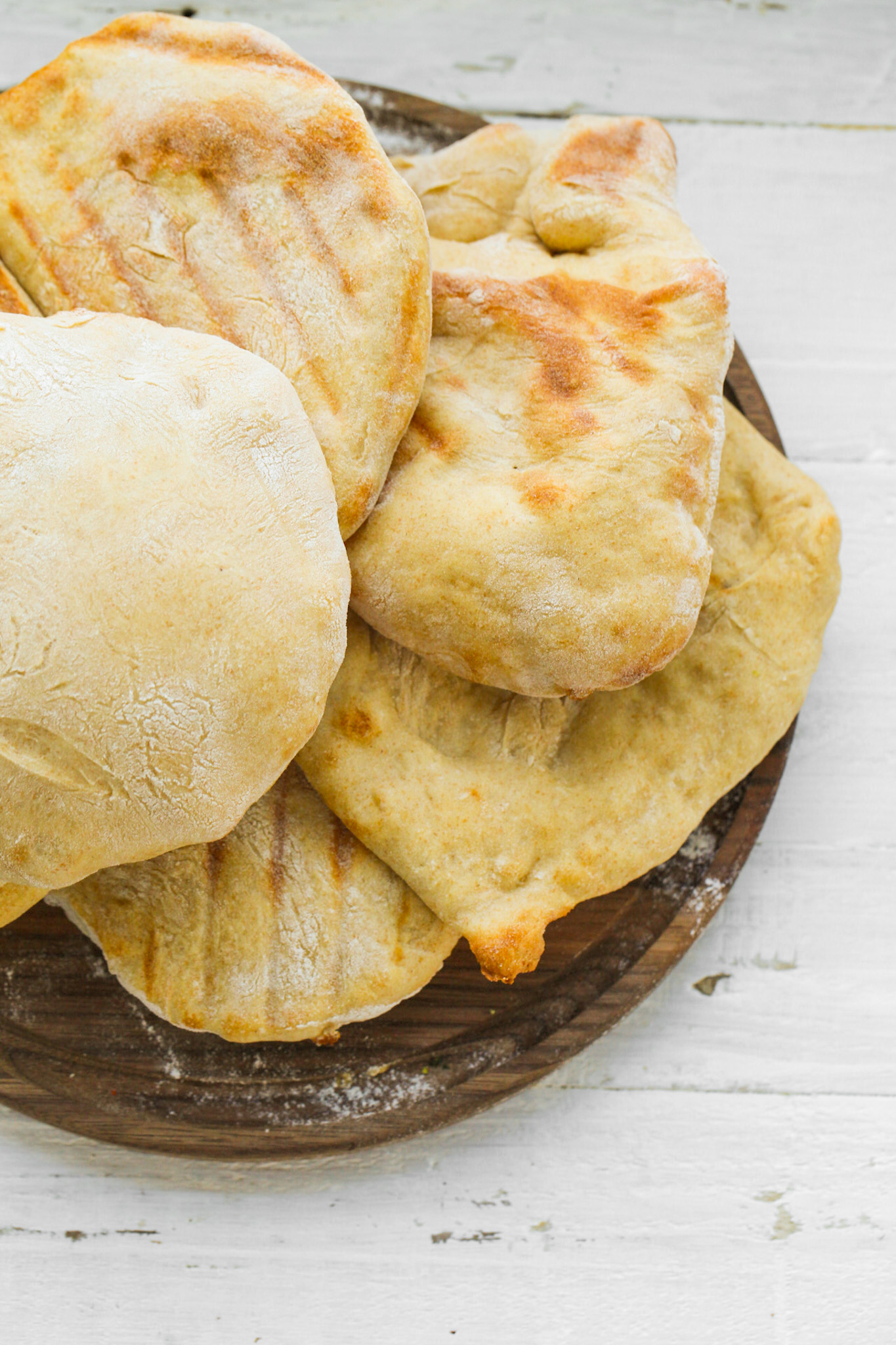 This Homemade Pita Bread is pretty magical when you think about it. Somehow, simple circles of fluffy dough, magically bake up into puffy balloons with steamy centers, ready for stuffing with your favorite goodies. Hummus, falafel, veggies, tahini, hot sauce and anything else you dream up…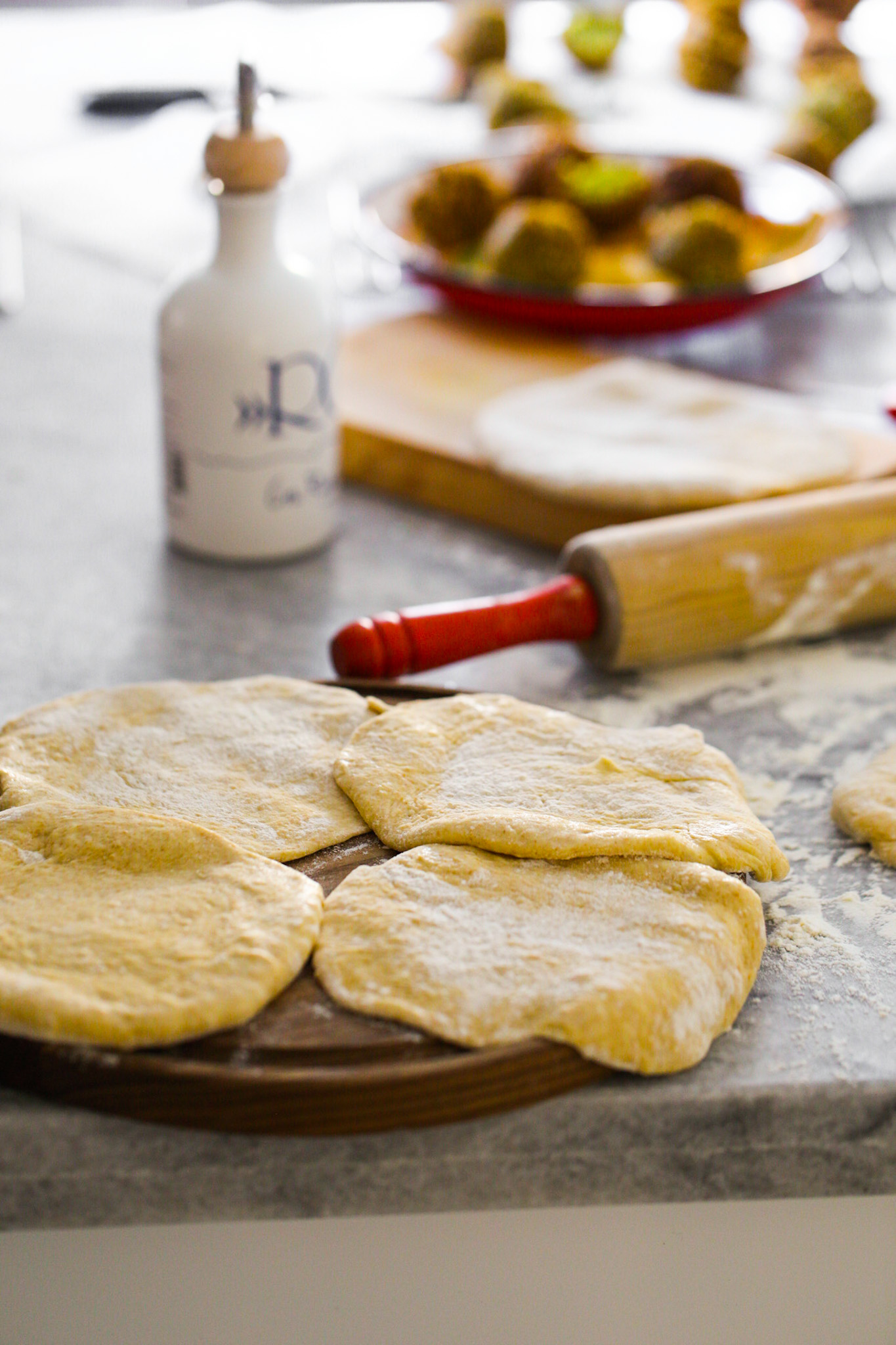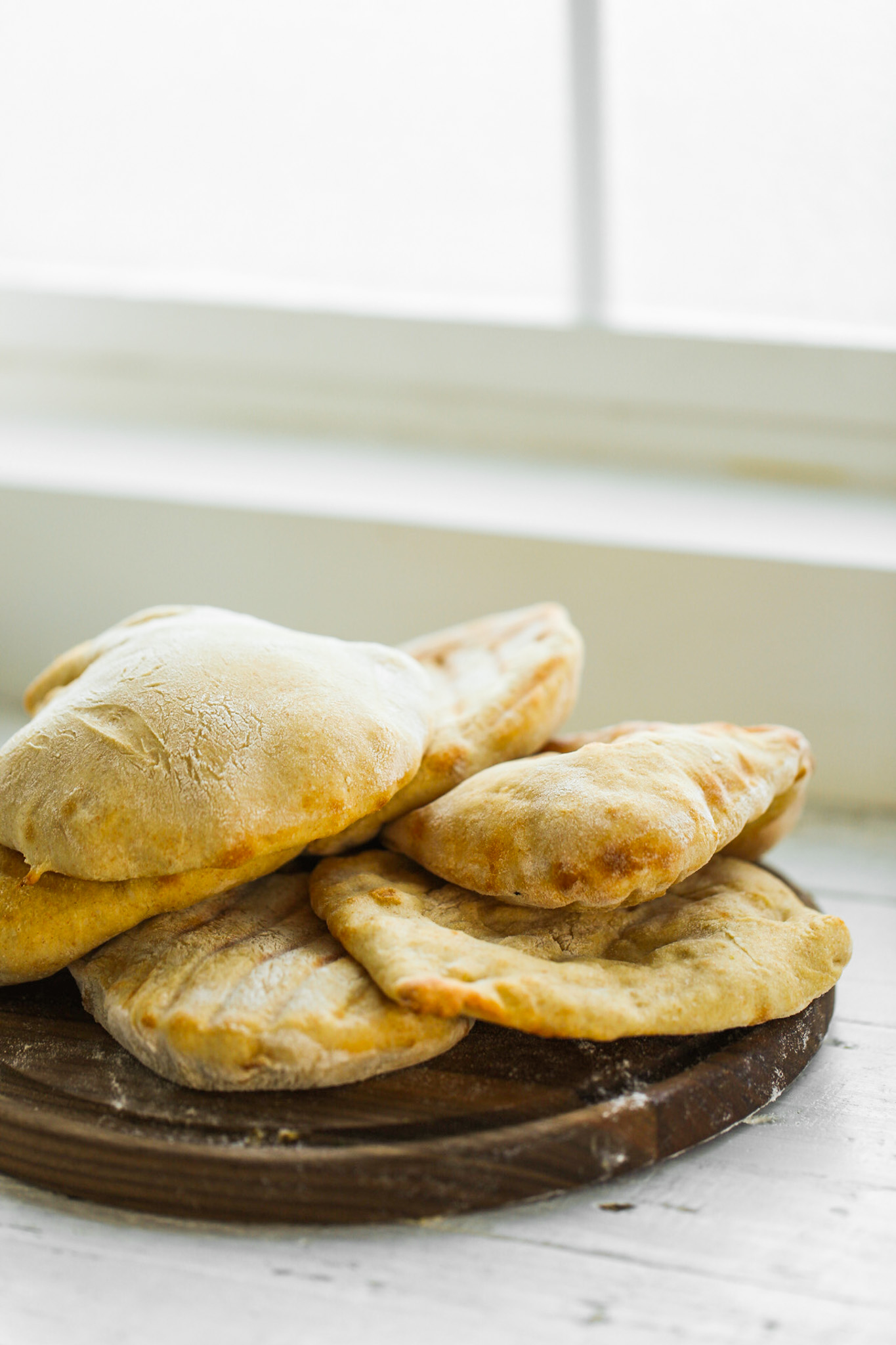 Puffed Up Pita Bread..
Yup, this bread actually puffs. I was skeptical myself since you don't do anything extra to make it puff. But that extra hot oven and baking surface is what does it. I used the griddle top from my stove, but a pizza stone or cast iron baking sheet or sorts would also work.
I sat on my kitchen floor, peered into my oven and watched the puffing magic happen in just a few minutes…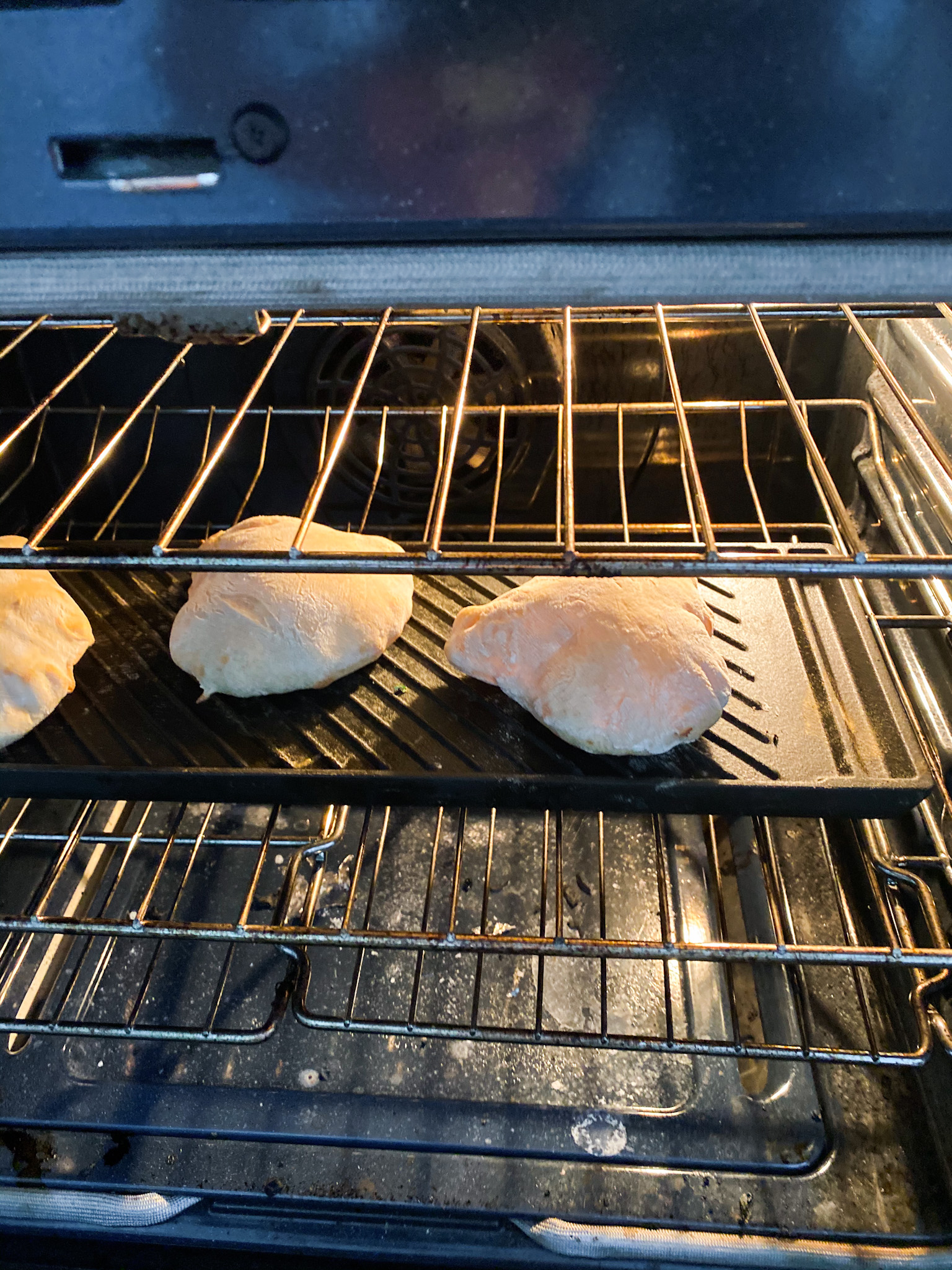 Never Buy Pita Again
When I made this homemade pita bread, the first thing that popped into my mind was that I really never needed to buy pita bread again. I actually had some store-bought pita bread in the freezer at the time and comparing the two was like night and day.
The store-bought pita bread was thin and dense. No bubbles or browning. The freezing seemed to shrink the bubbled center even more. And the flavor quite average. while the freshly made pita was bubbly and browned, lots of character in the shape and texture. Fluffy and light, with a nice amount of chewiness from the gluten.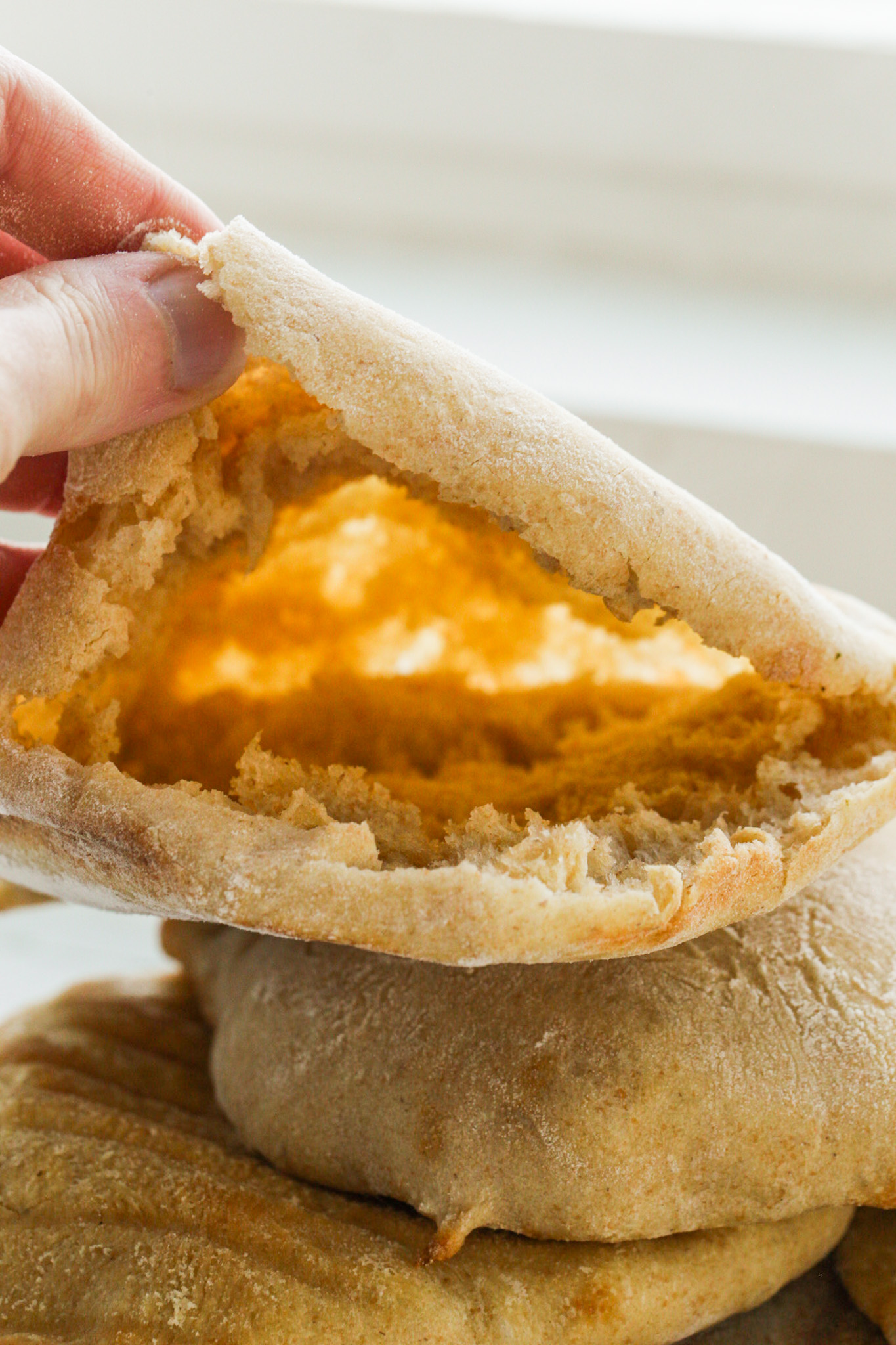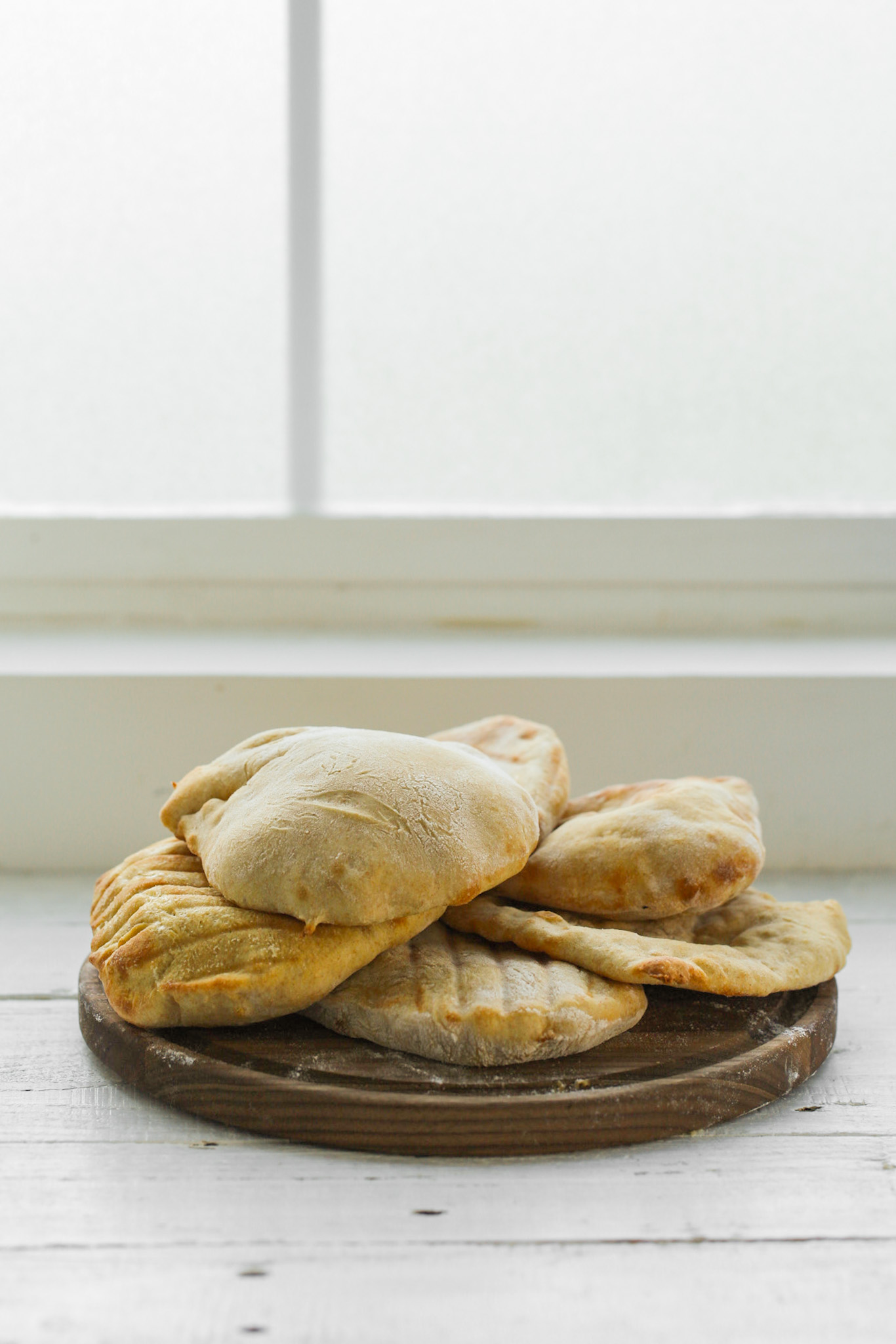 These Homemade Pita Bread pockets are perfect for stuffing with hummus, veggies, falafel. Vegan meal.
Try my Sweet Potato Falafel.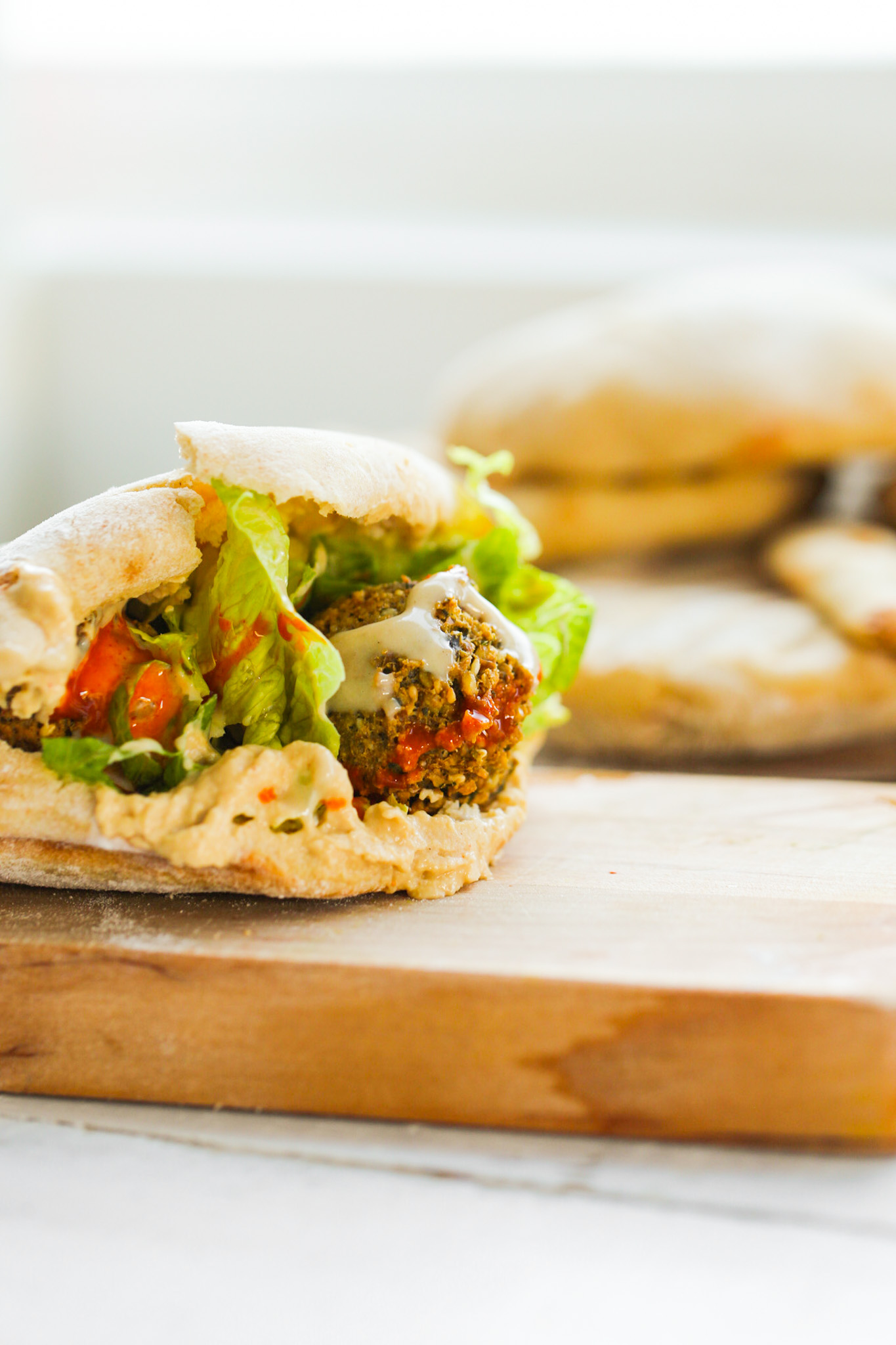 Simple Ingredients
Despite it's magically puffy presentation, homemade pita bread doesn't contain any magical ingredients. The lineup is very similar to any dough you might whip up for a loaf, bagels or rolls…
water – basic liquid for keeping things moist
flour – I used mostly bread flour, with a bit of spelt — but all purpose flour or all bread flour could be used. You can also experiment with other flour mixtures like whole wheat, all spelt, gluten-free or sprouted grain could be used. You just may need to adjust the water a bit.

Though optional, I love the touch of spelt in my recipe – here are some reasons to try spelt flour

yeast – to get that fluffy rise
sugar – just a hint for some sweetness and to help out the yeast
olive oil – just a splash, gives some richness to the dough and helps the chewy texture and browned edges.
salt – helps bring out all the earthy flour flavors
…And that's really it! The rest is in the method, which again, is super simple. You can absolutely do this even if you do not consider yourself a "baker" or even a "pro-baker."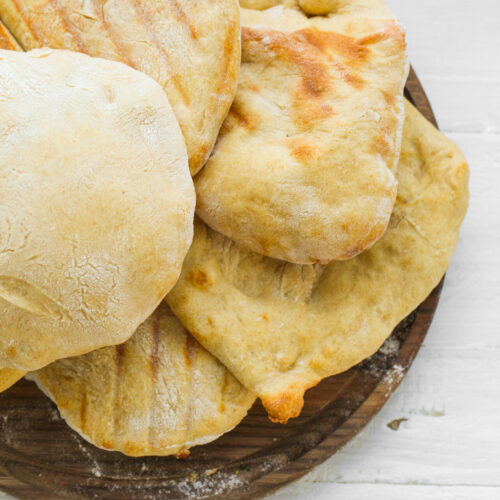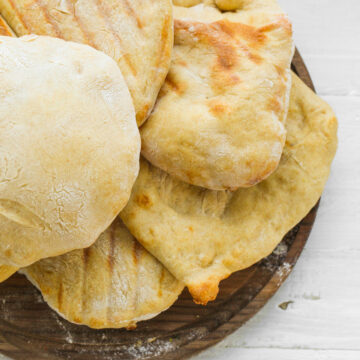 Homemade Pita Bread
This fresh, fluffy and lightly browned pita bread has tons of character and flavor. Ready for stuffing with your favorite ingredients like falafel, veggies and hummus.
Print
Pin
Ingredients
1

cup

warm water

1

teaspoon

coconut sugar

2 ¼

teaspoon

yeast

2

tablespoon

olive oil

,

extra virgin

2 ¼

cups

bread flour

½

cup

spelt flour

,

(or more bread flour)

1

teaspoon

salt

flour

,

for dusting work surface
Instructions
In a large mixing bowl, add flour, water, coconut sugar. (Regular sugar can be subbed.) Stir to dissolve yeast and sugar. Let sit for ten minutes.

Add in the olive oil, flour and salt. Stir with a wooden spoon until mixture thickens, then start kneading with your hands either in the bowl or onto the countertop – lightly flour first. Knead for 2-3 minutes.

Keep dough in the bowl – or place back in the bowl and cover with a clean dish towel or a lid. Allow the dough to rise for two hours.
After dough has risen..
Preheat oven to 475. Place either a cast iron sheet, thick baking sheet or pizza stone in the oven. If you do not have those, using the basic metal rack in the oven will work, but may not be as effective since you want a HOT surface for the dough.

When dough is risen – turn out onto a lightly floured countertop or large cutting board. Knead for 1-2 minutes then section the dough off into 6-8 pieces (depending on how large you want your pita bread.)

Using your rolling pin, roll out your dough round into flat circles – about ¼ inch thick and 6-8 inches wide. If you want a thinner pita, you can roll the dough out to 8 inches wide and ⅛ inch thick. I like my pita a bit thicker though.

Open the oven and add the pita rounds, 2-3 at a time. Be careful as the oven will be very hot. Place the dough on your hot plate tool (stone, sheet, cast iron..) and close the oven. Wait 2-4 minutes for the pita to puff up and brown, then using tongs, flip pita. Allow 1-2 more minutes to bake, then remove from the oven. Repeat with remaining dough rounds.

Serve right away or freeze for later. Best served right after baking.
Equipment
Rolling Pin

cast iron baking sheet or pizza stone of sorts – optional

mixing bowl

tongs
nutrition estimate | per serving
Calories:
193
kcal
|
Carbohydrates:
32
g
|
Protein:
6
g
|
Fat:
4
g
|
Saturated Fat:
1
g
|
Sodium:
293
mg
|
Potassium:
46
mg
|
Fiber:
2
g
|
Sugar:
1
g
|
Calcium:
5
mg
|
Iron:
1
mg