Beans on toast! This classic comfort food is all I'm dreaming about today…
Today's recipe is a classic for good reason. It's hearty, easy and loaded with flavor. (Oh, and it's a genius way to love eating beans!) Smoky-sweet, stovetop 'Baked' Beans on Toast. This recipe has a hint of spiciness too. I added mushrooms, for extra hearty texture and umami flavor. Served on thick slices of buttered crusty bread. Easy, fast and flavorful.
Beans on toast is a cozy, fuss-free, nourishing lunch, dinner or start to your day.
One nice thing about this recipe is that you can really use any variety of legume you have on hand. I absolutely adore this recipe, and I hope you do too!..
What bread do I use? When possible , try using a bakery-style bread. One with crusty edges and thickly sliced, to really hold the heavy beans. French bread or sourdough, lightly toasted, is my preference. But whole wheat, spelt or rye breads work too. Even something like sprouted grain or gluten-free breads will work.
Cooking Tip: Flex your substituting muscles. Cooking isn't always about following a recipe word for word. Knowing when it is ok to make a few ingredient substitutions or changes is key to cooking with ease and a bit of creativity. Your skills for subbing ingredients will evolve as you get more familiar with your fave recipes. The more often you cook, like anything, the better you will get. Of course some people pick up basic cooking techniques and recipes quicker than others – but go at your own pace. Every time you step in the kitchen, you will learn something new, and maybe make a new discovery about your taste preferences – and that is kinda exciting, right?!
Recipes that are usually very "forgivable" with ingredient substitutions include: salads, soups, casseroles, sandwiches or big crockpot or "stew" style meals.
For today's recipe, feel free to omit the kale or even the mushroom, if needed. And you can sub in something else if desired, like chopped spinach, diced carrot, celery or chopped tempeh bacon or even some leftover quinoa. The beans and the tomato sauce are the "base" of the recipe, but even the beans can be switched around to lentils, chickpeas or even crumbled tempeh!
The bottom line: Don't let not having the EXACT ingredients for a recipe deter you from trying it. Many times, the recipe will be just as good with a minor ingredient tweak. However, I will note that baking recipes can be more challenging to play with.
Ingredient of the Day: Mushrooms. Mushrooms are an all-time favorite ingredient of mine. I love shiitake and maitake mushrooms the most (both for flavor and health benefits) but mushrooms of all varieties are pretty awesome. One of my favorite simple ways to prepare mushrooms: saute in a splash of extra virgin olive oil, over medium heat, until the edges caramelize and brown a bit. Then toss them in some salt and pepper. Bonus points if you add garlic, rosemary and/or a splash of wine or balsamic vinegar.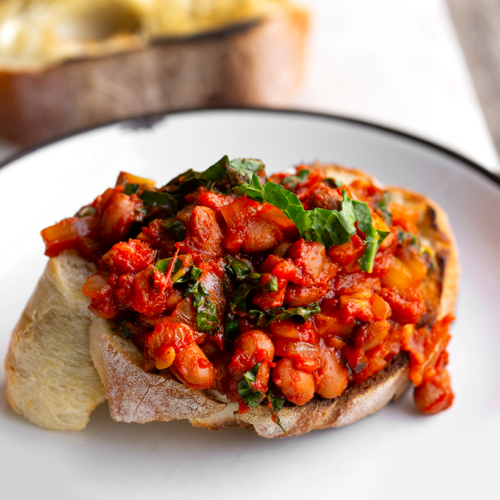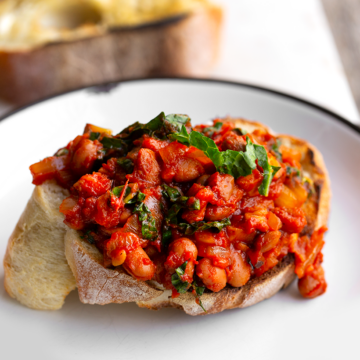 Baked Beans on Toast with Mushrooms
Vegan comfort food classic, beans on buttered toast, all smoky-sweet and lightly spicy.
Print
Pin
Ingredients
3

tsp

extra virgin olive oil

1

cup

diced mushrooms, any variety

½

cup

diced onion

2

cloves garlic, chopped

⅛ – ¼

tsp

red pepper flakes

⅛ – ¼

tsp

smoky paprika

salt and black pepper to taste

14

oz

can of fire-roasted tomatoes, diced or pureed

1

Tbsp t

amari

3

Tbsp

apple cider vinegar

3

Tbsp

brown sugar, organic (coconut sugar also works)

15

oz

can of beans, drained and rinsed (pinto, navy or white beans)

Optional: 1 cup kale or spinach, finely chopped

toasted bread, thickly cut

vegan butter for the toasted bread
Instructions
Warm a large soup pot over high heat.

Add in the oil, onion, mushrooms, garlic and red pepper flakes. Stir and cook 2-3 minutes, until onions begin to brown a bit.

Add the diced tomatoes to a blender and blend until smooth and puree. You could also skip this step and just use regular pureed tomatoes. I enjoy the fire-roasted flavor touch, but both ways work.

Reduce heat to medium. Add in the paprika, salt and pepper. Stir. Then add in the tomato puree, tamari, brown sugar or maple syrup and cider vinegar. Stir and cook for two minutes.

Add in the beans, fold well. Cook another 2-3 minutes on medium. Then reduce heat to low. Let the beans thicken to your desired texture or serve right away. Optional: Fold in the kale at the very end, just to allow it to wilt into the mixture.

Toast your bread and spread butter on each slice. The butter will melt into the warm bread. You can then add the beans over top – in heaping spoonfuls. Serve warm and steamy. Store leftovers in the fridge and re-heat to serve.
nutrition estimate | per serving
Calories:
268
kcal
|
Carbohydrates:
46
g
|
Protein:
8
g
|
Fat:
6
g
|
Saturated Fat:
1
g
|
Polyunsaturated Fat:
1
g
|
Monounsaturated Fat:
3
g
|
Sodium:
1242
mg
|
Potassium:
714
mg
|
Fiber:
7
g
|
Sugar:
24
g
|
Vitamin A:
745
IU
|
Vitamin C:
6
mg
|
Calcium:
103
mg
|
Iron:
4
mg
Pin it for Later!..


Looking for more savory, delicious vegan entrees? Snag my cookbook Healthy Happy Vegan Kitchen! Already own it? I would greatly appreciate a review on Amazon.