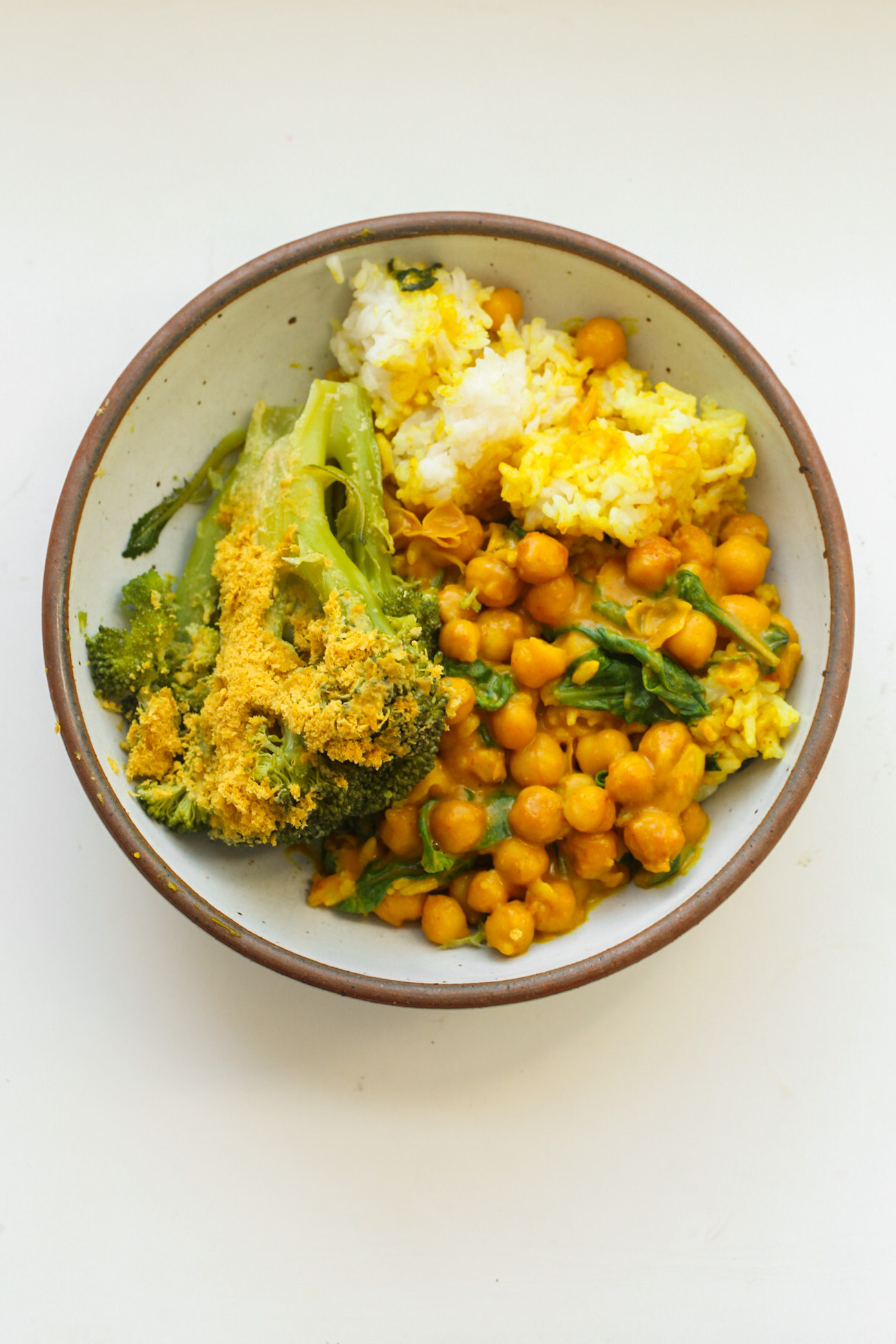 These Veggie Rice Bowls with Peanut Sauce and your choice of bean-based plant protein are a recipe I have been pretty obsessed with the past few months. And every time I have posted it to my Instagram story someone asks me for the recipe and I have had nothing to offer up! But I'm finally getting around to posting this weeknight meal beauty!
I mean I made this bowl two nights in a row this week and will probably eating it again soonish.
Why I Love it
It's just everything I love in a meal. Nourishing, healthy, hearty, plant-based, packed with warmth and veggies. Steamy when served. Cozy. Feels like a hug in a bowl. Balanced with plant-protein, healthy fats and carbs. Savory-sweet flavor. And lots of flavor might I add!! Make it, and make it again…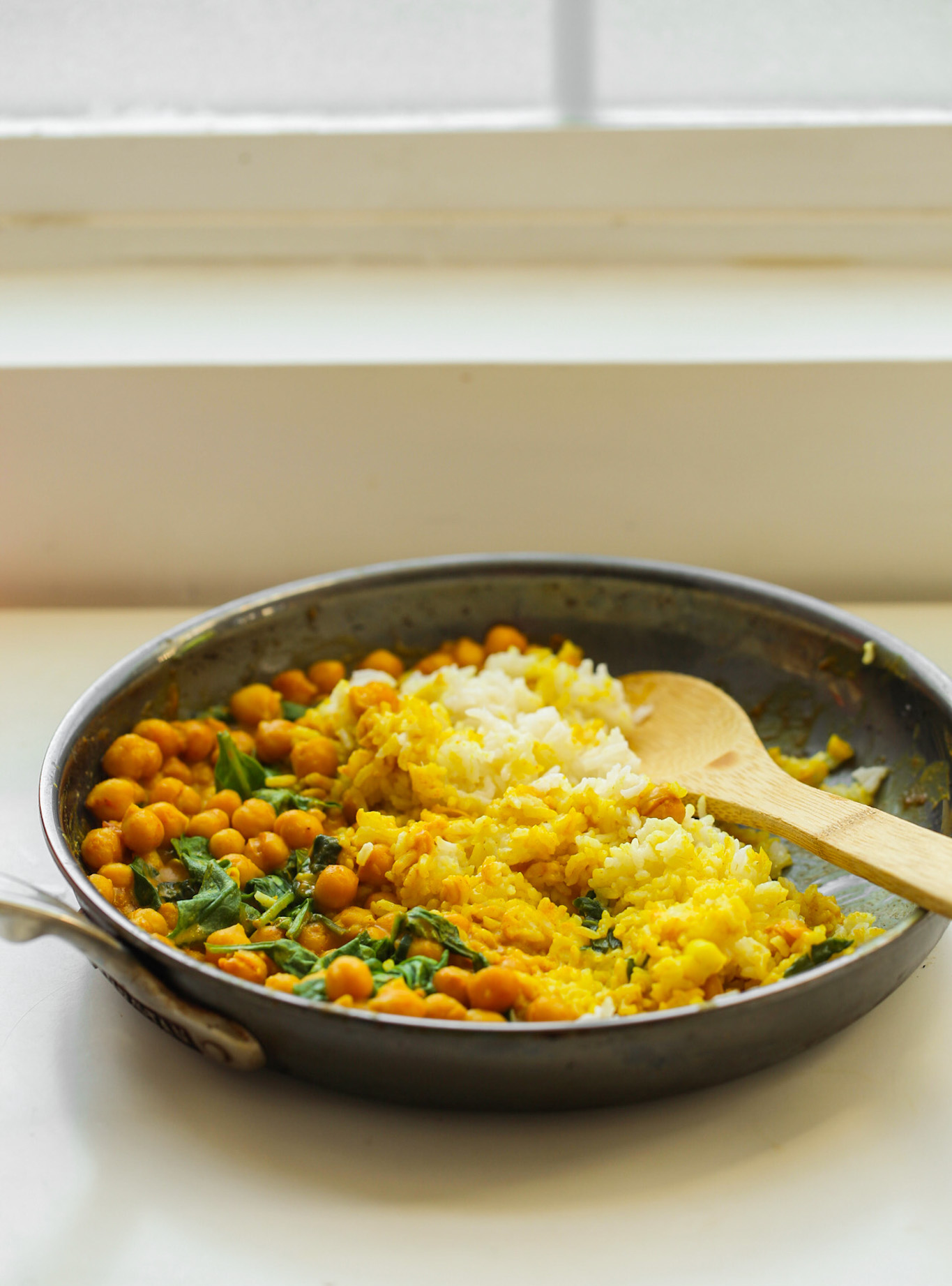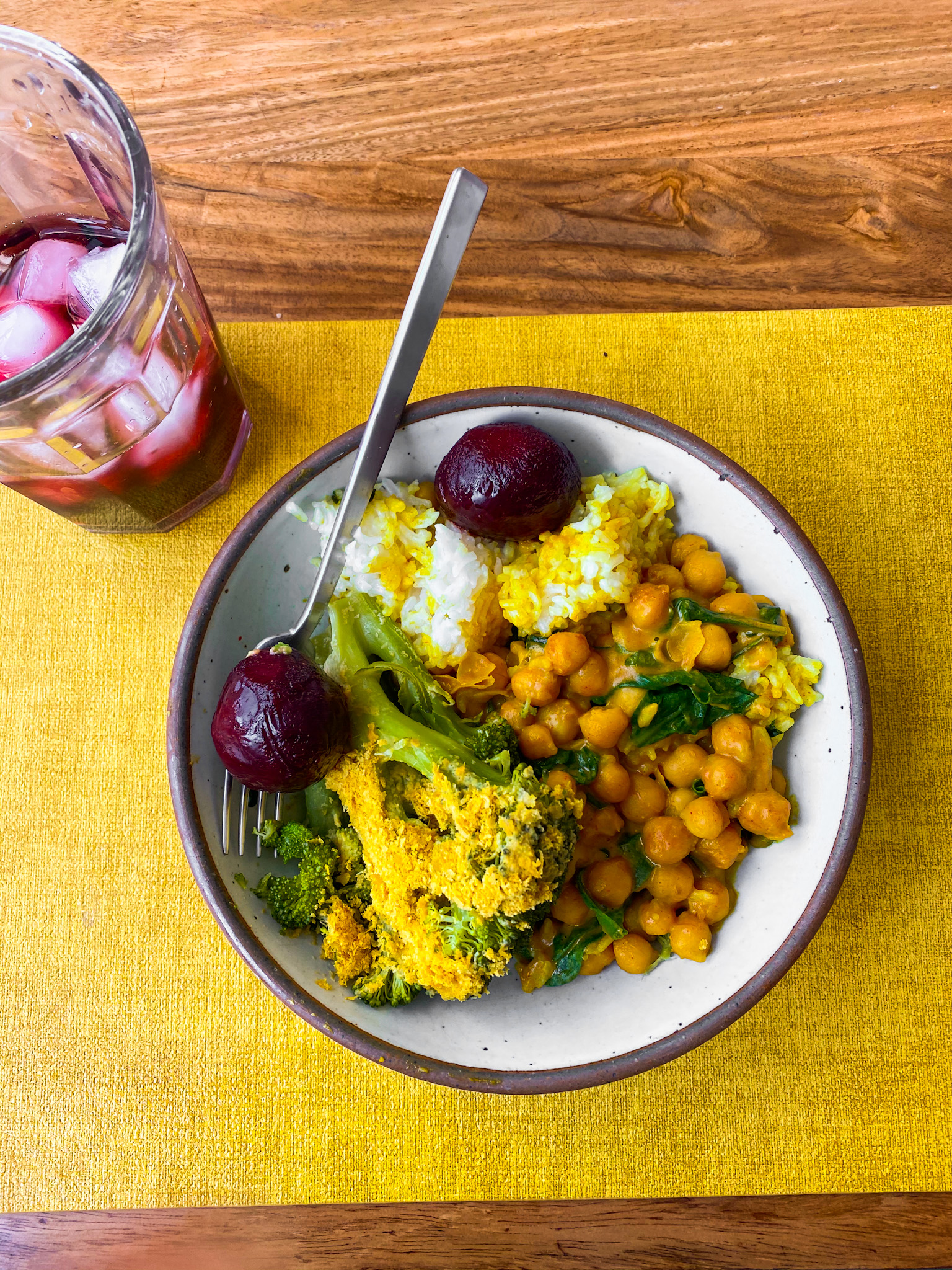 Healthy Rice Bowl
It's absolutely true that this veggie rice bowl is a delicious, balanced, healthy vegan meal. But don't let the word "healthy" freak you out. It is packed with flavor! And you can even customize it to add more or less of the 'flavor' part, aka that peanutty sauce. Some nights I want everything coated in sassy-sweet peanut sauce and other nights I just want a hint of it so the goodness of fluffy rice and skillet chickpeas (or tofu or tempeh) can shine through.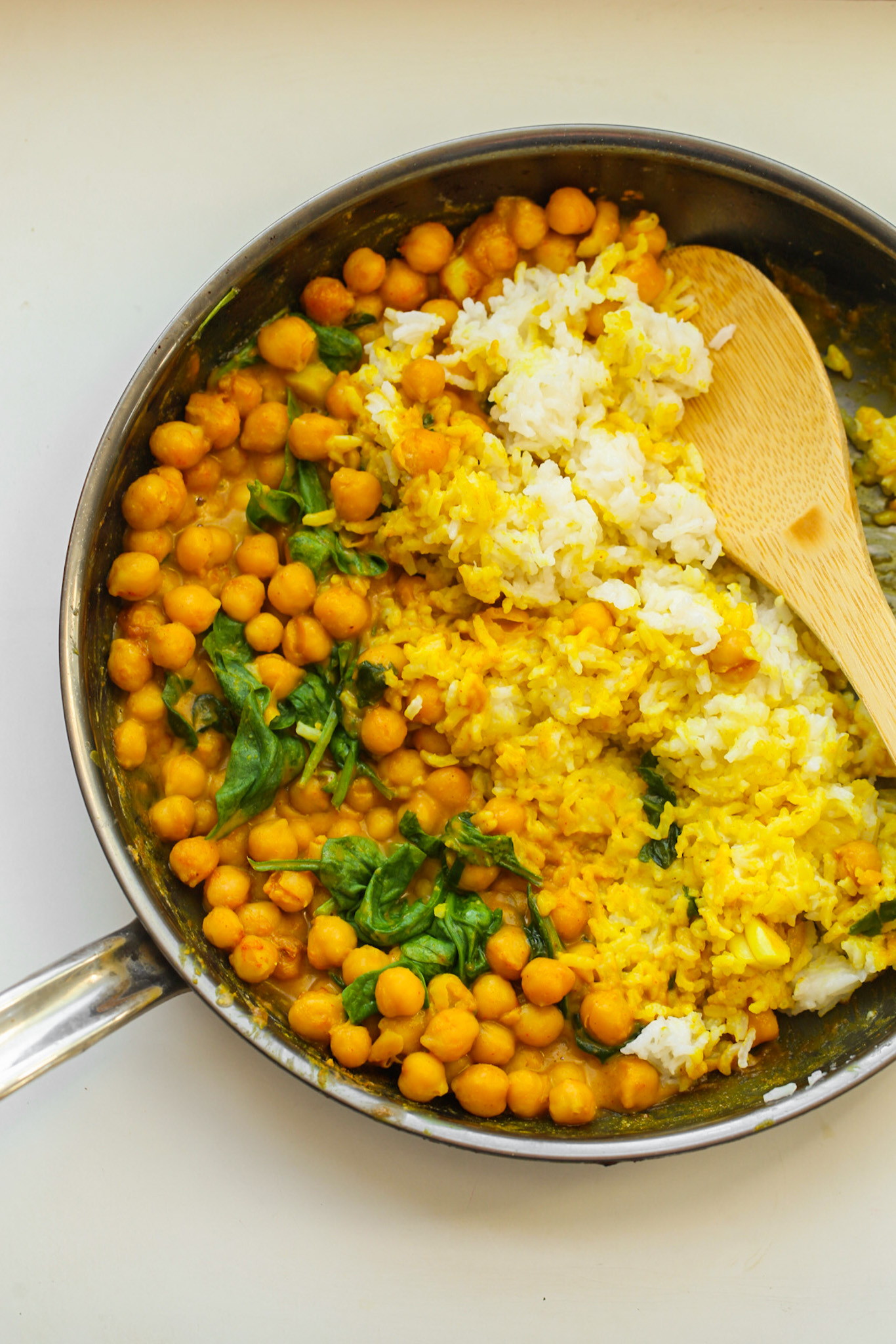 Choose Your Own Adventure Rice Bowls
There is quite a lot of elements that you can customize in this dish…
grain – rice, quinoa, barley, farro…
beans – chickpeas, tofu, tempeh, white beans, lentils..
veggies – broccoli + beets + spinach or kale have been my go-to (yeah, you can leave off the beets, I've just been craving them!) but you can play with SO many different veggies here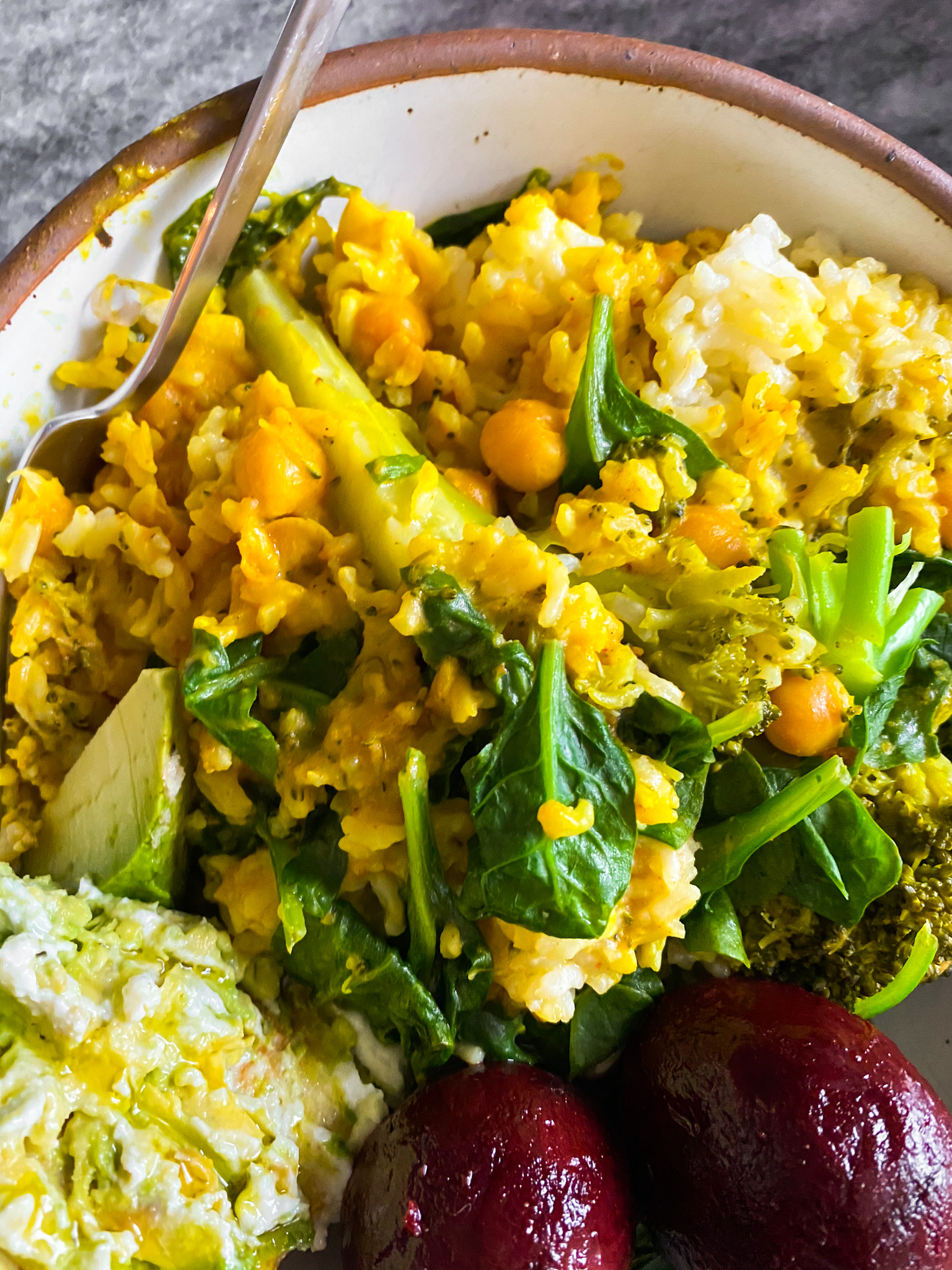 The Rice
So the base of this veggie rice bowl is of course the rice. I have been making my rice in my Instapot. I pour in one cup of dry rice (do a quick rinse of it) then add in about two cups of water and 1-2 teaspoons of vegan butter. Turn the Instapot on the rice setting and let it do it's thing for about twelve minutes. Fluffy rice awaits.
You can also cook your rice or other grain in a rice cooker or basic large soup pot.
When you serve the rice you can either keep it completely separate from the peanutty beans, or add it to the last few minutes of skillet cooking to let it absorb some of that peanutty flavor and color. I usually do a little of both tbh!
The Beans
I rotate the bean part of these veggie rice bowls. I think I love chickpeas the most. But tofu cubes and tempeh cubes also work beautifully. If you use tofu, just be sure to buy the firmest variety in your store so it doesn't get overly soft stewing with the peanut sauce.
Tempeh works really well too and is slightly less processed compared to tofu. I love the nutty flavor and fir bite of tempeh. If you are getting down to pantry randoms, you could totally do any variety of bean or a lentil. I think I even did kidney beans once because that was all I had on hand and it worked well!
A few other chickpea recipes I love..
Tofu version of this veggie rice bowl…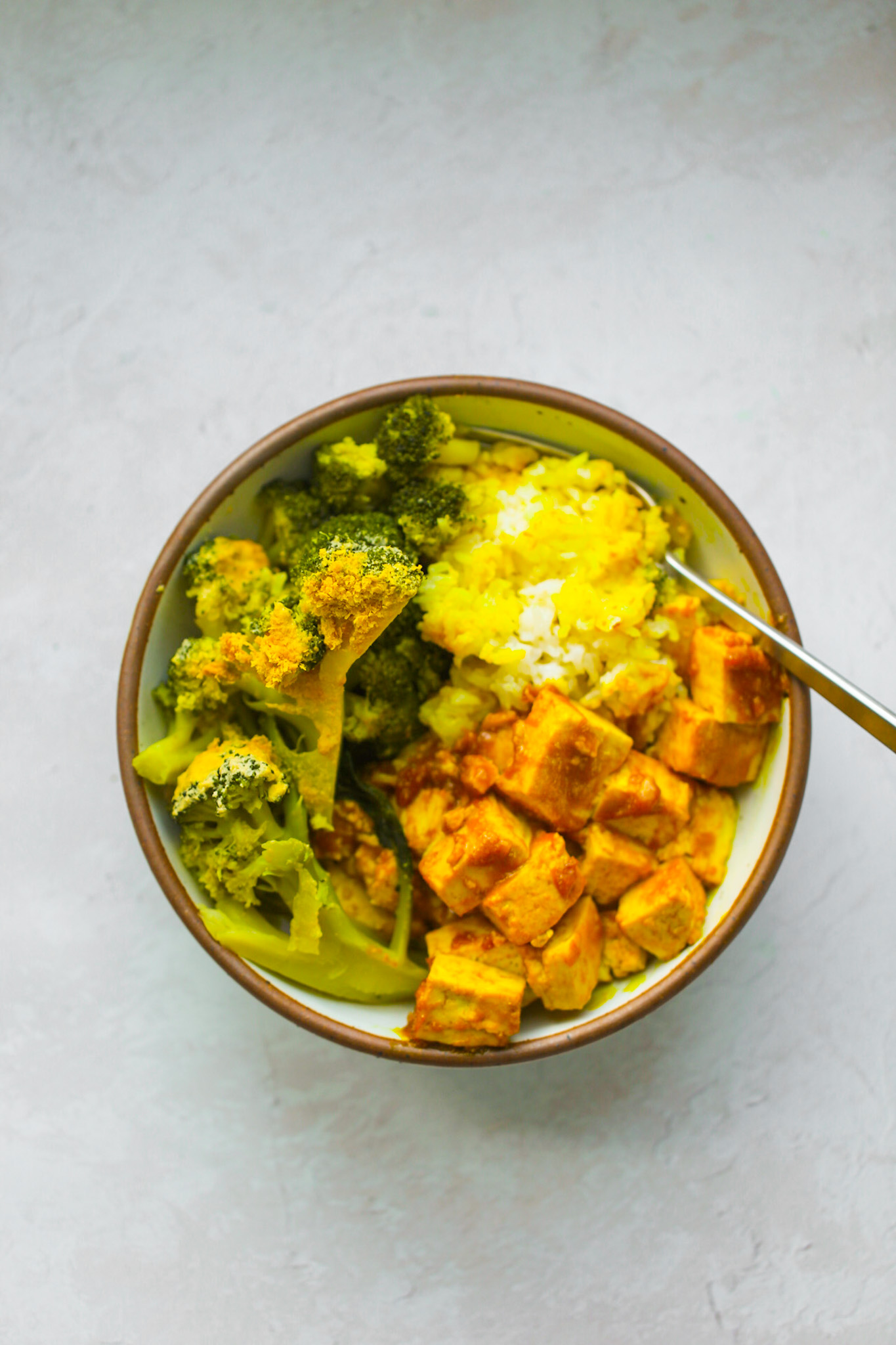 The Veggies
You have so many options with the veggies in this dish. I usually stick to broccoli and for some reason, I started adding a few steamed beets too. I buy them pre-cooked. The beets are totally optional though. Other veggies that work super well with the peanut sauce in these veggie rice bowls..
bok choy
kale
spinach
zucchini
sweet potato
cauliflower
carrots
But really, kale, spinach and broccoli are my faves to get a nice dose or green. Those three veggies work so well with peanut sauce too!
For the broccoli, I do a quick steam and add a lot of cheezy nutritional yeast, and a splash of liquid aminos or soy sauce. Easy! And so flavoful….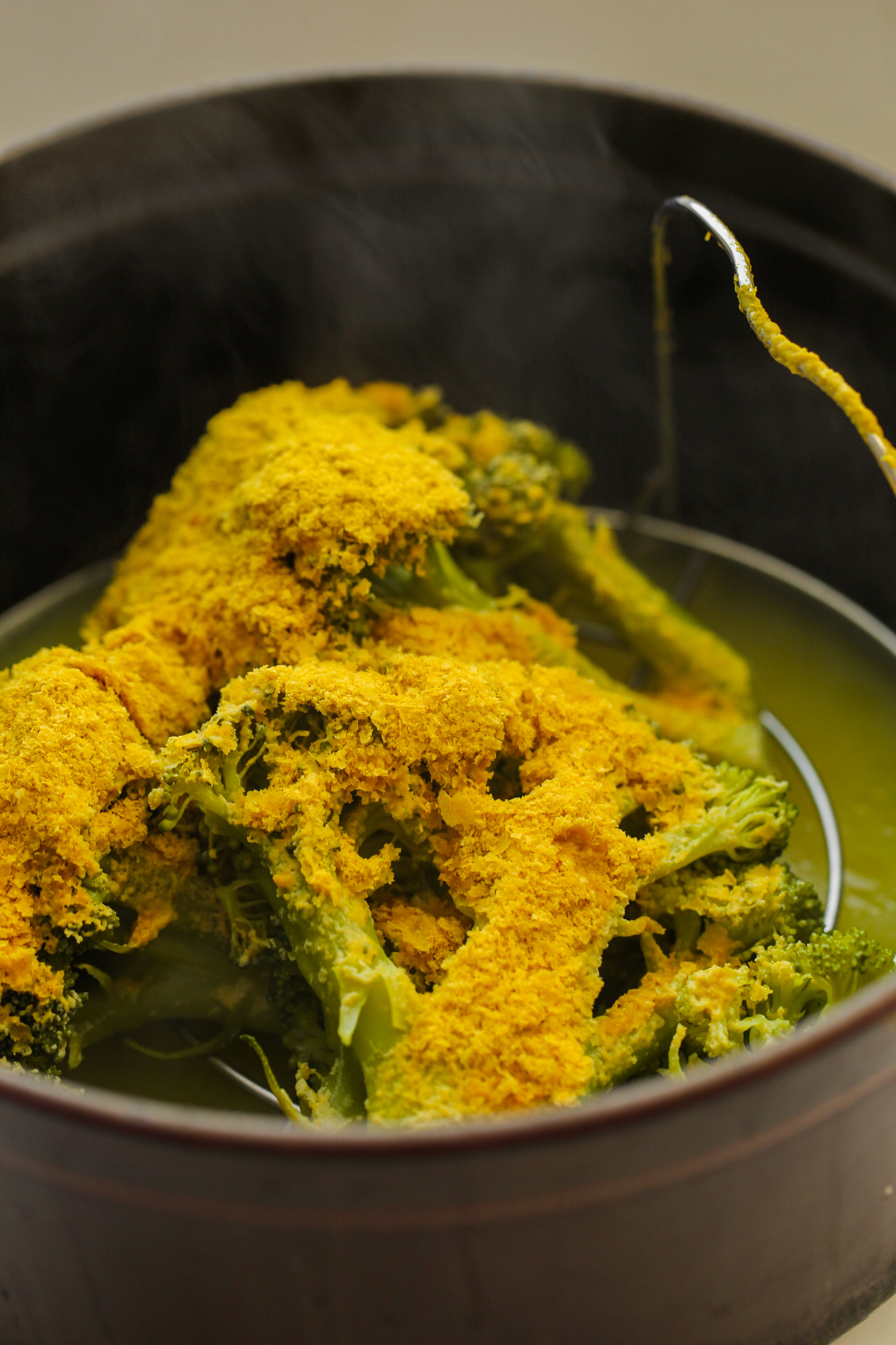 The Peanut Sauce
The not-so-secret flavor component of these veggie rice bowls is the peanut sauce! For these bowls, I actually like to use a mixture of peanut and coconut milk. The coconut milk makes the sauce rich and creamy and helps to disperse it over the beans, veggies and grain.
The sauce also has a nice dose of fresh garlic, maple syrup for contrasting sweetness and a bit of turmeric for color. You can make this bowl slightly smoky or spicy by adding in some cayenne or smoky paprika too.
And of course some salt and pepper to even things out.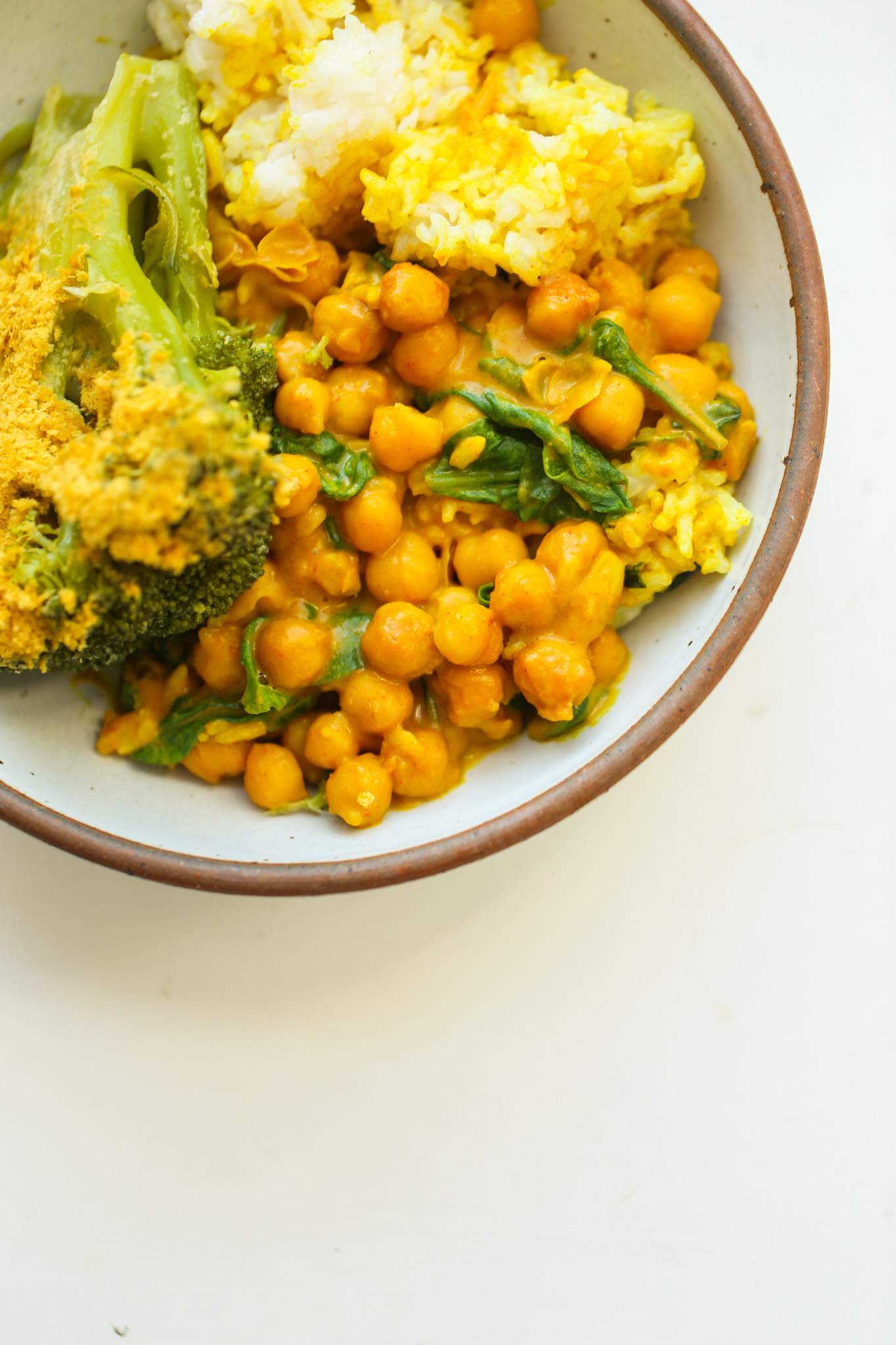 30 Minute Meal
This is absolutely a thirty minute meal! I can easily whip this up in 25 minutes, and that includes the rice cooking time! Since the veggies in this veggie ice bowl only need a light cooking, the only part you really need to cook much is the sauce and then the beans. And the beans are fast. Chickpeas can be warmed up and nicely toasted and browned with sauce in just about five minutes. Tempeh is speedy too. I would say that the tofu takes the longest, only because I like my tofu to be nice and browned on the edges before mixing with sauce.
If choosing broccoli as your veggie, you can do a super quick steam preparation while your bean skillet is prepared.
IF you choose other veggies like kale, spinach, bok choy, etc, you can absolutely just fold those right into your main skillet. No separate pan needed.
Leftovers?
This is really a no leftovers dish. My version makes about two hearty big veggie rice bowls. But if you really want leftovers, you could double the recipe. Everything in this recipe heats up beautifully in a skillet as leftovers the next day!
No Coconut Milk?
No problem! The coconut milk is actually something I personally do not always on hand, but have managed to make these veggie rice bowls without it.
The easy no-coconut-milk modification: sub coconut milk with about ¼ cup of water or veggie broth then add in an extra tablespoon or two of peanut butter. I also add a tiny extra splash of maple since the coconut milk is slightly sweet.
Basically, you just want to replace the fat, liquidity and slight sweetness of the coconut milk. The liquid is important for dispersing your sauce among the ingredients.
Can I Use Light Coconut Milk?
Yup! Just sub with the same measurements. Your sauce will just be slightly less rich and creamy.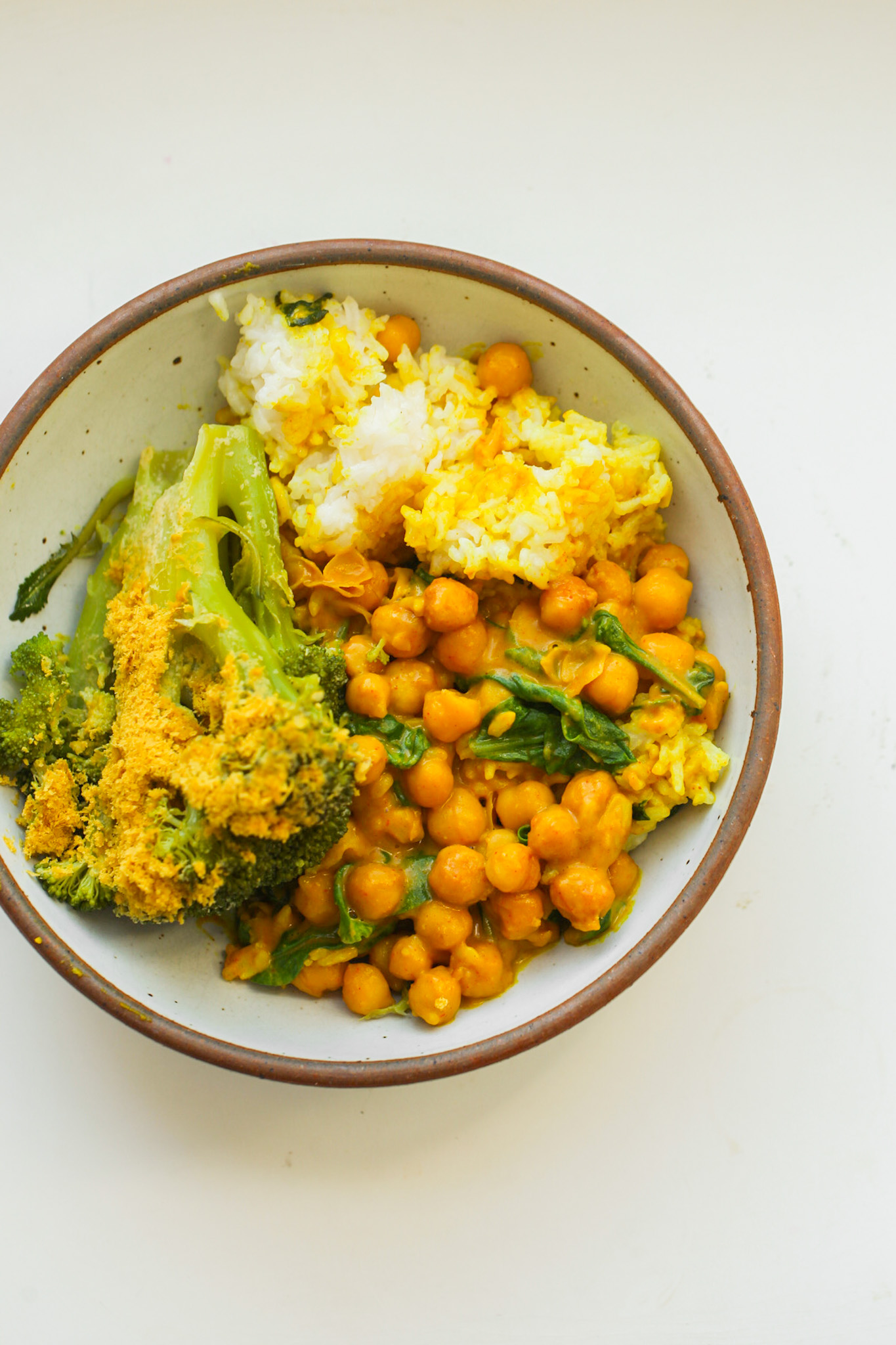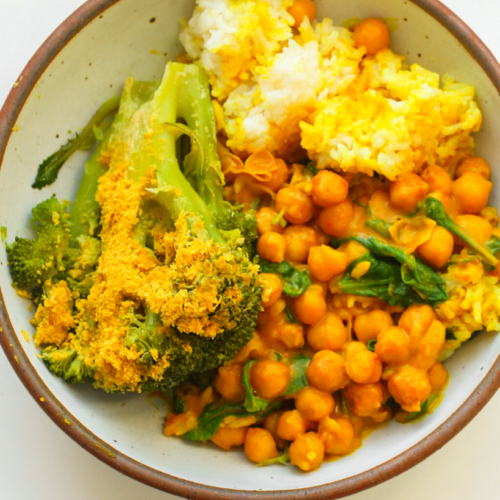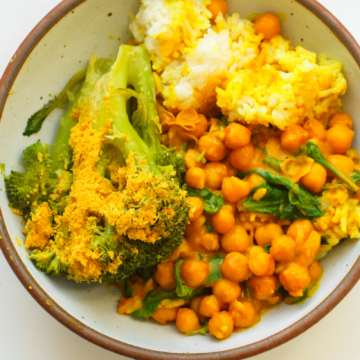 Veggie Rice Bowls with Peanut Sauce
These easy, vegan veggie rice bowls combine the flavorful and healthy combo of fluffy rice, steamed veggies and some sort of bean-based component like chickpeas — all coated in a rich and creamy, nutty-sweet peanut butter sauce.
Print
Pin
Ingredients
Rice:
1

cup

dry rice

,

any variety

2

cups

water

1-2

teaspoon

vegan butter

,

optional
Beans:
1 ½

cups

chickpeas

,

about one standard can, drained and rinsed (see notes for other options)

2-3

teaspoon

olive oil

,

extra virgin
Veggies:
1

bunch

broccoli

,

sliced

2-3

tablespoon

nutritional yeast

1

tablespoon

liquid aminos

,

or soy sauce
Peanut Sauce:
3-4

tablespoon

peanut butter

3

tablespoon

maple syrup

2-4

cloves

raw garlic

,

chopped

⅓

cup

coconut milk

salt and pepper

,

to taste

½

teaspoon

turmeric

,

optional

cayenne, smoky paprika, garlic powder to taste

,

optional
Additional Veggies – Fold into skillet:
Instructions
Prep your rice by rinsing the rice in water. Drain. I rinse the rice right in the pot I will be cooking it in. Then add in the two cups or water and optional vegan butter. Cook rice according to usual instructions for your device. My instapot takes about 12 minutes on the rice setting.

While the rice is cooking, set up a quick steam bath for your broccoli. Fill your large pot with about an inch of water, then either place the broccoli right in the water – or set up a steamer rack on the bottom to elevate the broccoli a bit. Turn heat on high and cover with lid. Wait about 2-3 minutes until water is boiling, lift lid, add in half of the nutritional yeast and close lid again. Turn heat to low and let steam for about 5-7 minutes to cook. Longer cook times will result in softer and darker broccoli.

While the rice and broccoli are cooking, you can now get to your skillet. Warm a large skillet over high heat. Add in the olive oil and garlic. Saute for 1-3 minutes or until lightly browned.

Add in the drained and rinsed chickpeas. Shake the pan so that the hot oil gives them a nice browned coating. Let cook for another minute.

Turn heat to low. Push all the chickpeas over to one side of the skillet and add all your sauce ingredients to the other side of the skillet. Using a spoon or whisk, briskly stir the sauce ingredients to melt the peanut butter and combine.

Now you can toss the chickpeas and garlic with the sauce. Cover with lid and keep heat on medium for a few minutes to allow the sauce to marinate the beans.

If adding in extra veggies like the spinach or kale, you can fold them into the hot skillet now. Place lid back on to allow them to wilt.

Check on your broccoli and rice – it should be done or just about there. If broccoli is done, turn off heat, but leave lid on. Check on your rice.

Scoop the rice into the skillet and gently toss the rice with the chickpeas. I do not over toss, just a very light mixing works for me. I still like a lot of white fluffy rice in there.

Assemble your veggie rice bowls! Scoop the rice and bean mixture into your bowls, then top with the steamed broccoli. Add the liquid aminos over top the broccoli, as well as the remaining nutritional yeast. Serve hot!
Equipment
skillet

rice cooker, large pot or instapot
Notes
Subs for the chickpeas can include: tofu or tempeh cubes
nutrition estimate | per serving
Calories:
627
kcal
|
Carbohydrates:
96
g
|
Protein:
23
g
|
Fat:
20
g
|
Saturated Fat:
7
g
|
Sodium:
713
mg
|
Potassium:
1243
mg
|
Fiber:
12
g
|
Sugar:
17
g
|
Vitamin A:
3494
IU
|
Vitamin C:
208
mg
|
Calcium:
216
mg
|
Iron:
5
mg