These West African Peanut Chickpeas over sticky white rice make for a soothing and satisfying plant-based meal.
The chickpeas are coated in smoky peanut sauce with hints of tomato, ginger, garlic and lime with an echo of a traditional West African Peanut Stew. Only in a hearty bowl format. This fast and flavorful meal can be yours in under a half hour..
Some other bean bowls recipes to check out:
Tips for This West African Peanut Chickpea Recipe:
– Peanuts burn quite quickly, so you want to make sure your pan is on a very low setting or off, but still warm when you fold in the sauce.
– Salt is necessary, but you can add it to taste. I started with ⅛ teaspoon and that was enough for me, but add to taste.
– The combo of tomato and peanut may feel really odd at first, but trust me. That is what makes African Peanut Stew so yummy and unique, so go with it..
– Ginger + Garlic. You can absolutely add more ginger and garlic if desired.
– Spices can also be added to taste. I started with a few pinches of smoky paprika and a pinch of cayenne.
– Leftover sauce. You might have some leftover sauce. This can be prevented by using another can of chickpeas or tossing the rice right into the sauce and saturate everything for maximum flavor.
– Lime. Lime juice as the acid adds a beautiful undertone. If you do not have fresh limes, apple cider vinegar or even lemon juice could be subbed.
– Grain. You can use white, brown sticky, jasmine.. any variety of rice. Quinoa would be great too.
– Sweet Potato Addition. I would love some roasted sweet potato on the side of this for even more flavor and fiber, nutrition and satisfaction.
– Spinach. Next time I will add even more spinach. This sauce is SO good on the wilted spinach. You could easy just pour it over spinach and have a yummy side dish.
Finding Vegan Meals.
Thank you so much to everyone who has already joined the FVM community on Facebook and has access to the meal plans, printables and 150+ recipes. If you are looking for closer guidance with starting or improving your vegan lifestyle, FVmeals is worth checking out. Finding Vegan Meals. Check out a few of the FVmeals reviews here.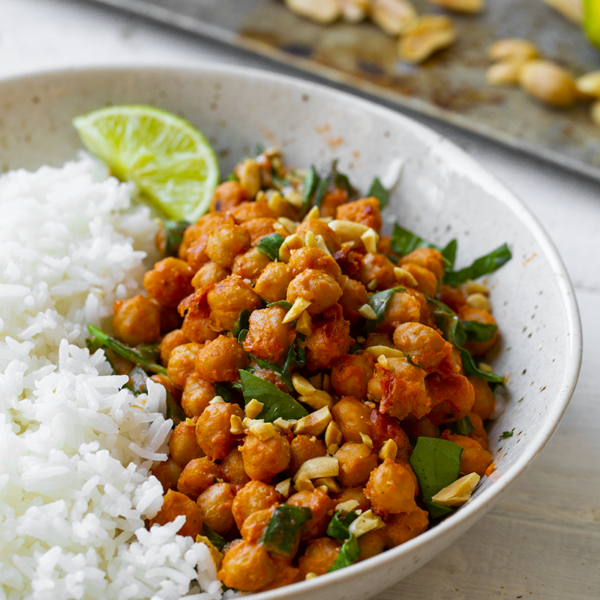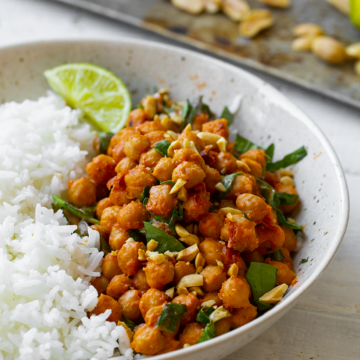 West African Chickpeas
These warming, flavorful, tender chickpeas are coated in spiced, peanut flavor – a hint of tomato, ginger and lime. Serve alongside sticky rice for a fast and flavorful meal.
Print
Pin
Ingredients
Start with:
14

oz

can of chickpeas

,

drained and rinsed

1

tablespoon

extra virgin olive oil
Sauce:
⅓

cup

peanut butter

,

soft and oily

2

tablespoon

tomato paste

1

clove

garlic

1

teaspoon

fresh ginger

,

grated

3

tablespoon

maple syrup

⅔

cup

warm water

2

tablespoon

fresh lime juice

a few pinches of smoky paprika

pinch

of cayenne

salt and black pepper to taste
Also:
1

cup

baby spinach

,

chopped

chopped peanuts

fluffy rice or quinoa to serve
Instructions
Prepare your rice. You can use any variety. Quinoa works too. You can even use pre-cooked rice in frozen bags for super quick meal prep. cook and set aside to stay warm.

Add to blender or food processor: peanut butter, tomato paste, garlic, ginger, maple, water, lime and a starting amount of the paprika, cayenne, salt and pepper. Blend from low to high and back to low again for a few minutes – until nice and smooth. Do a small taste test and adjust the heat and salt to your tastes. Note: the flavor WILL condense and evolve after you cook the sauce.. Set blender aside.

Warm a large skillet over high heat. Add one tablespoon olive oil. Then add the drained and rinsed chickpeas. Toss in the oil. Cook for 2-3 minutes, to lightly toast the edges and remove any excess moisture.

Turn the skillet heat to low (or off if your skillet is really hot.) Then slowly pour the peanut sauce over the chickpeas. NOTE: I only used about ¾ of my sauce. You can use it all or sauce any excess for another meal. Toss the chickpeas in the sauce. Don't worry if some of the sauce clumps a bit, it doesn't ruin the flavor – you just do not want too many clumps. Clumps mean that your skillet is still too hot. You just want a silky, thickened sauce draping your chickpeas.

Fold the spinach into the chickpeas.

To serve: Add the rice and chickpeas to a bowl. Top with chopped peanuts, lime wedge garnish is optional. Optional hot sauce or sriracha on top is nice if you want more heat.
nutrition estimate | per serving
Calories:
372
kcal
|
Carbohydrates:
44
g
|
Protein:
15
g
|
Fat:
17
g
|
Saturated Fat:
3
g
|
Sodium:
177
mg
|
Potassium:
585
mg
|
Fiber:
9
g
|
Sugar:
17
g
|
Vitamin A:
852
IU
|
Vitamin C:
8
mg
|
Calcium:
85
mg
|
Iron:
4
mg
Pin for later: