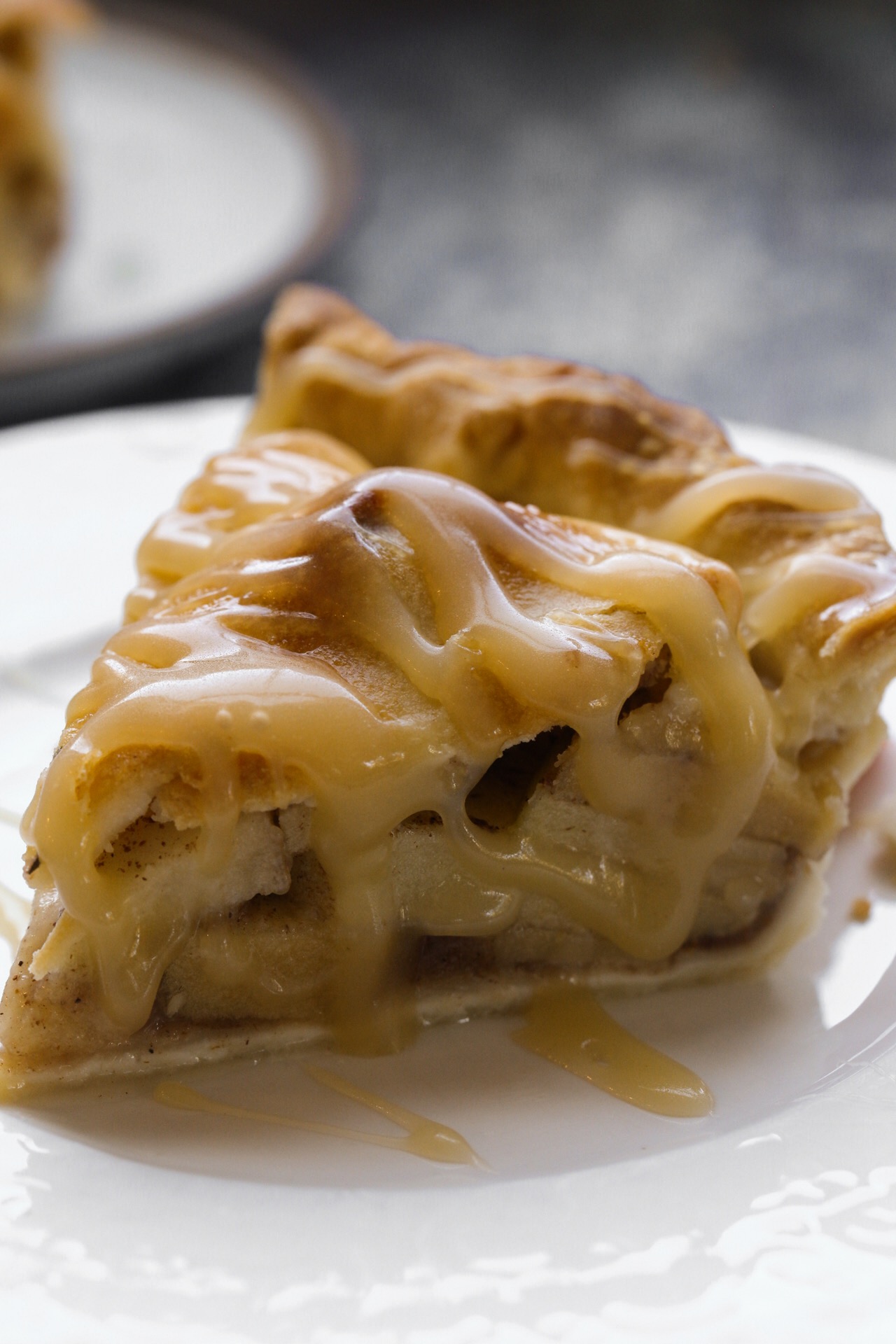 Fun Fact: I used to hate apple pie. True! The apples were always too mushy and thickly sliced – the filling over-sauced, apples over-cooked. Well, my Caramel Apple Pie, that I first made back in 2011, was my perfect apple pie. And made me a lover of this classic American dessert.

This vegan Caramel Apple Pie is stuffed with not-to-mushy, thinly sliced, cinnamon apples. It has a buttery flaky crust that is baked to a golden brown, but not overbaked, then everything is drenched in a sticky-sweet apple cider caramel sauce. And there. I love apple pie.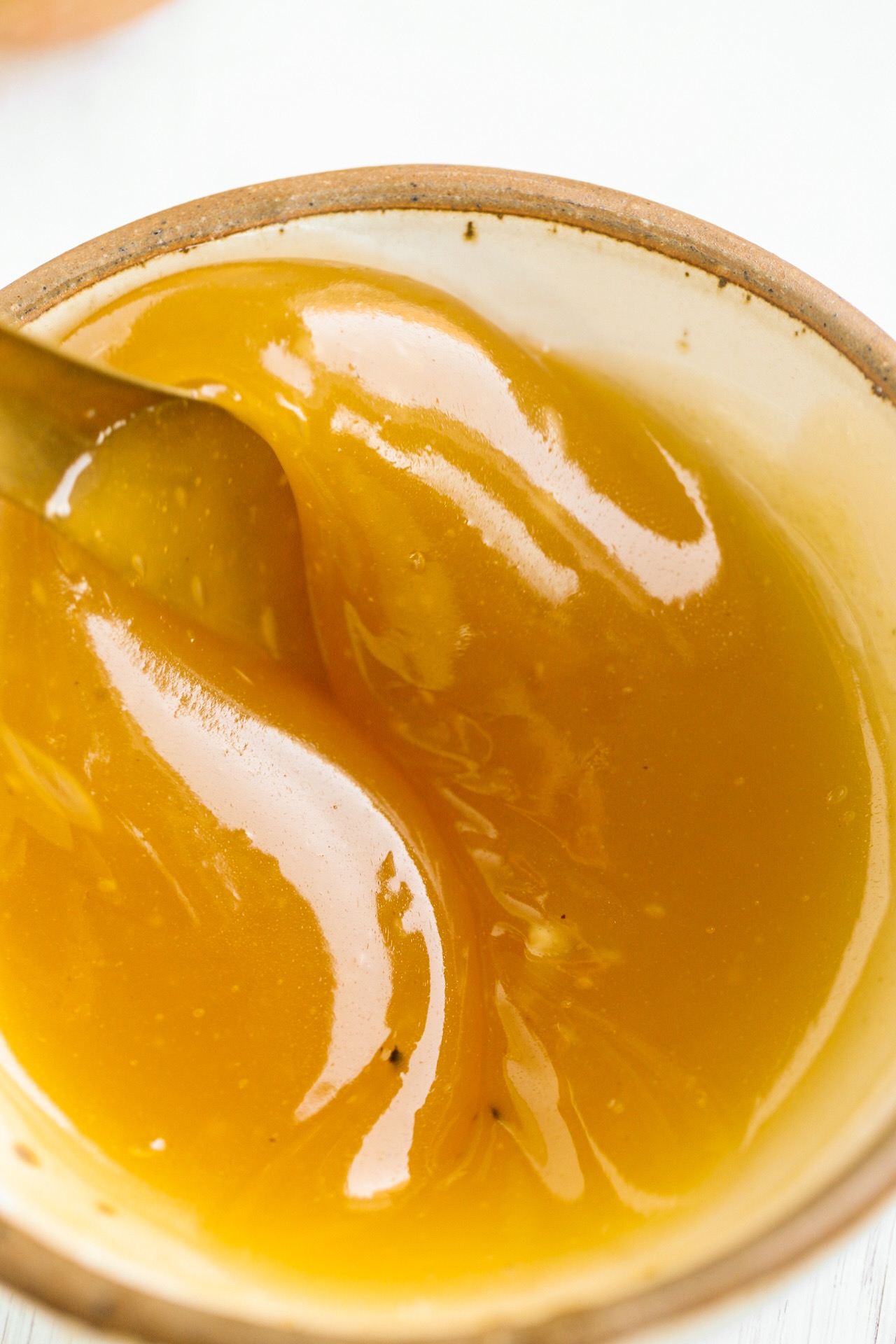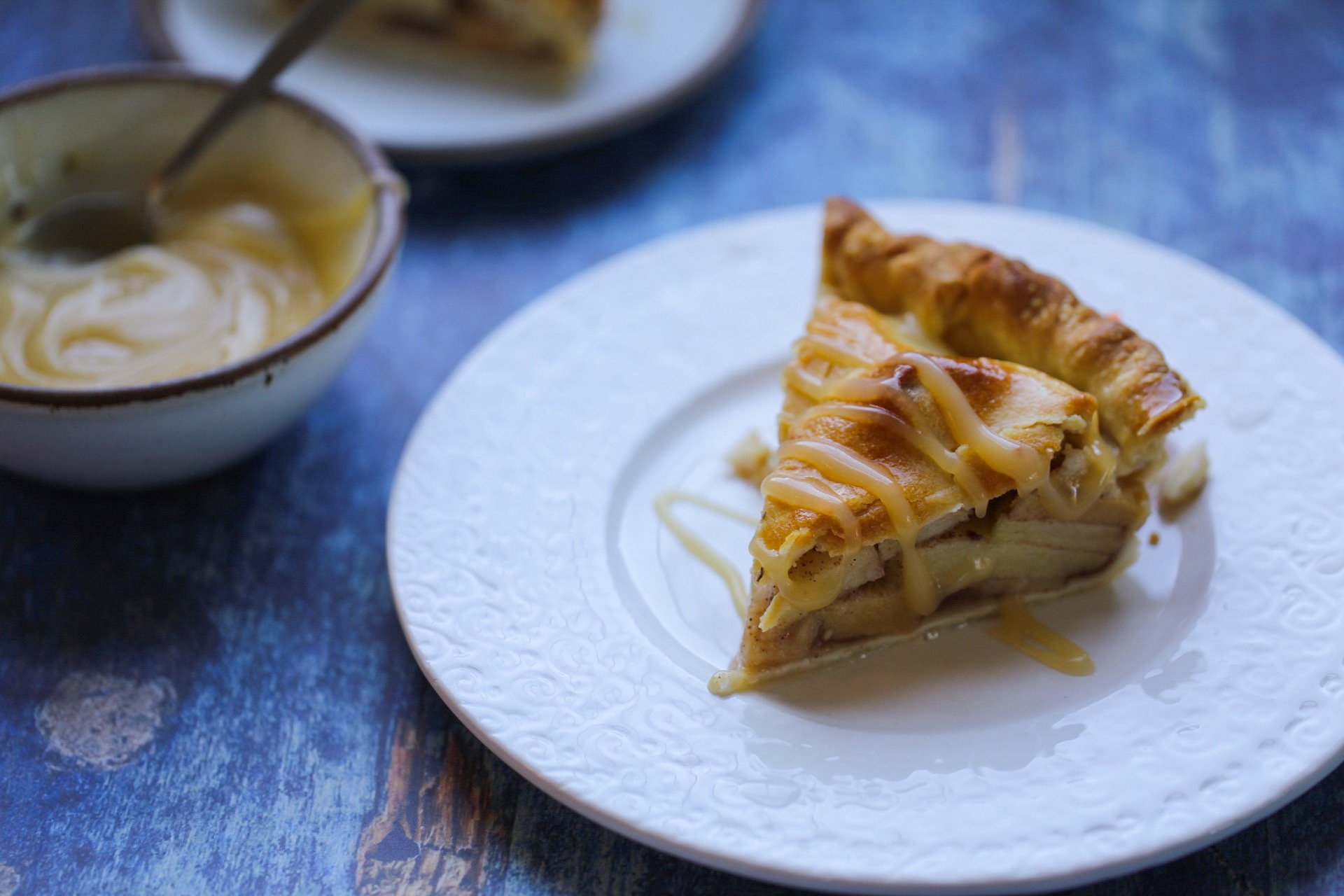 Caramel Apple Pie: A play.
"Sooo good!" He says scarfing down a slice of Caramel Apple Pie, standing up. Not even moving to sit at the table a few feet away.
"It's good, right?!" She replied.
"Om. SO good." He said. Still devouring pie.
"I know. And you don't even like apple pie!" She excitedly said.
"No! I don't like it at all!" He replied with wide eyes. "..You don't either, right?"
"No! I hate it!" She said flinging her hands into the air and shaking her head in disbelief. "I totally hate apple pie!"
(long pause as he finishes his slice of apple pie.)

"Yummy, right? Sooo good right? I loved it." She quietly said grabbing his empty plate.
"So good." He agreed.
..epiphany: Maybe we don't hate apple pie.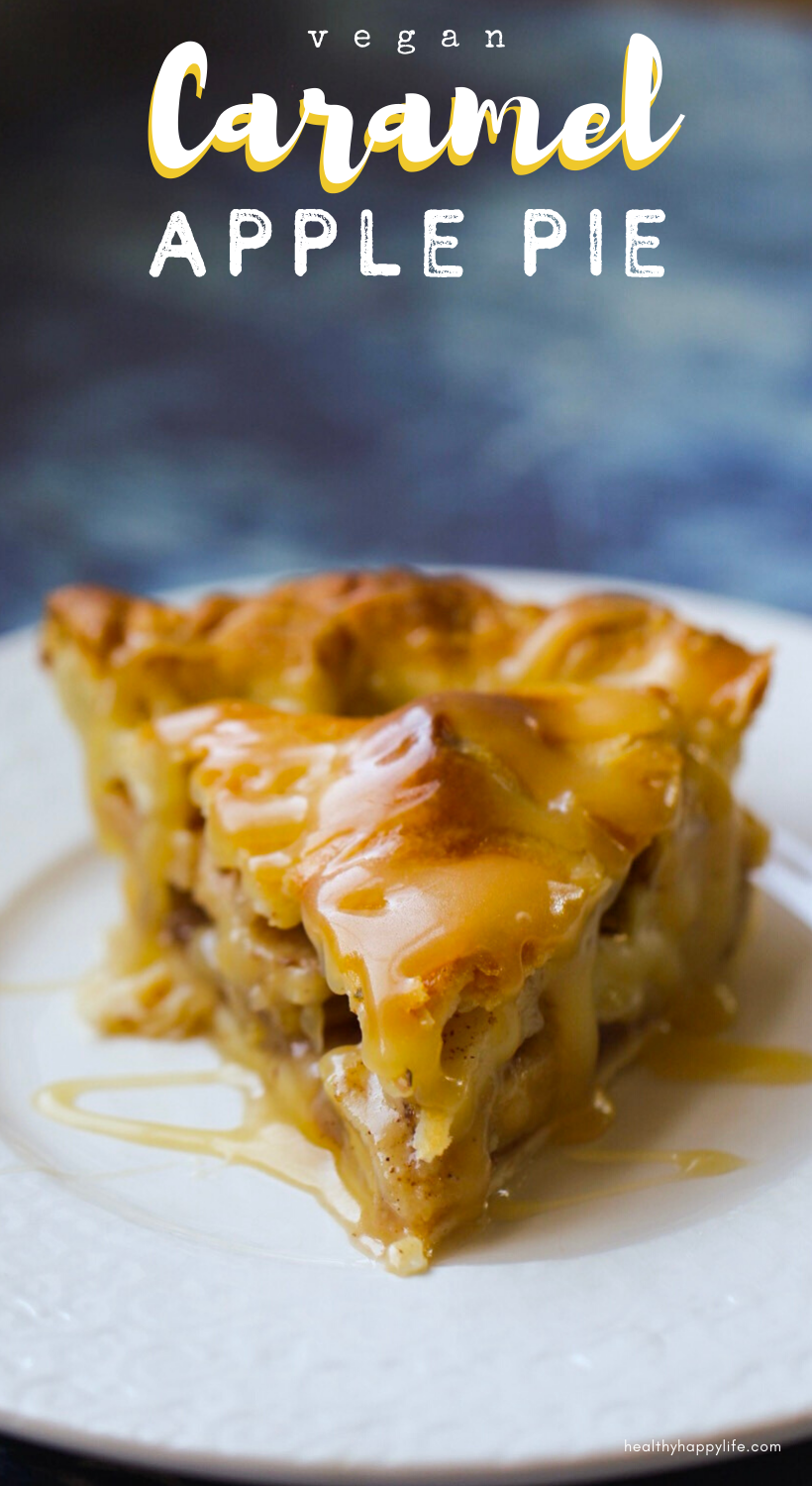 Apple Pie Memories.
The only Apple Pie I ever ate and loved as a kid was from a casual gourmet burger spot called Carpos in Santa Cruz California. Carpo's Apple Pie wasn't vegan – this was back in the 90's guys – but anyways. The things I loved about it…
It wasn't mushy. The apples kept some firmness. There was moisture, but the fresh apple flavor shined through. The pie filling wasn't over-sauced.
The apples were thinly sliced. No clumpy chunks.
There was a large amount of apples. The apple to crust ratio was heavily in favor of the apples.
You could tell the apples were high quality – good eating apples, they tasted fresh and firm, tart and ripe.
So I needed these main things with for my perfect Caramel Apple Pie:
thin apple slices
lots of apples
good apples
no mushiness or over-saucing the filling
To Peel or Not to Peel? Apples for pie..
It just kills me to strip away the peel of the apple – the peel is what holds many of the nutrients and fiber. But then I started 'googling' peel on vs. peel off and the consensus was to peel always. Someone wrote the phrase "you don't want your pie to be waxy. yuck." So for my first attempt, I roughly peeled.
I sometimes do a very sloppy peel on purpose.
Apple Skin-On Pie? How'd that go?
I have tried apple pies with all the apple skin on. No peeling allowed. And guess what – I loved them just the same. They have a more rustic feel, but still delicious. Plus, the apple skins are full of fiber and nutrients!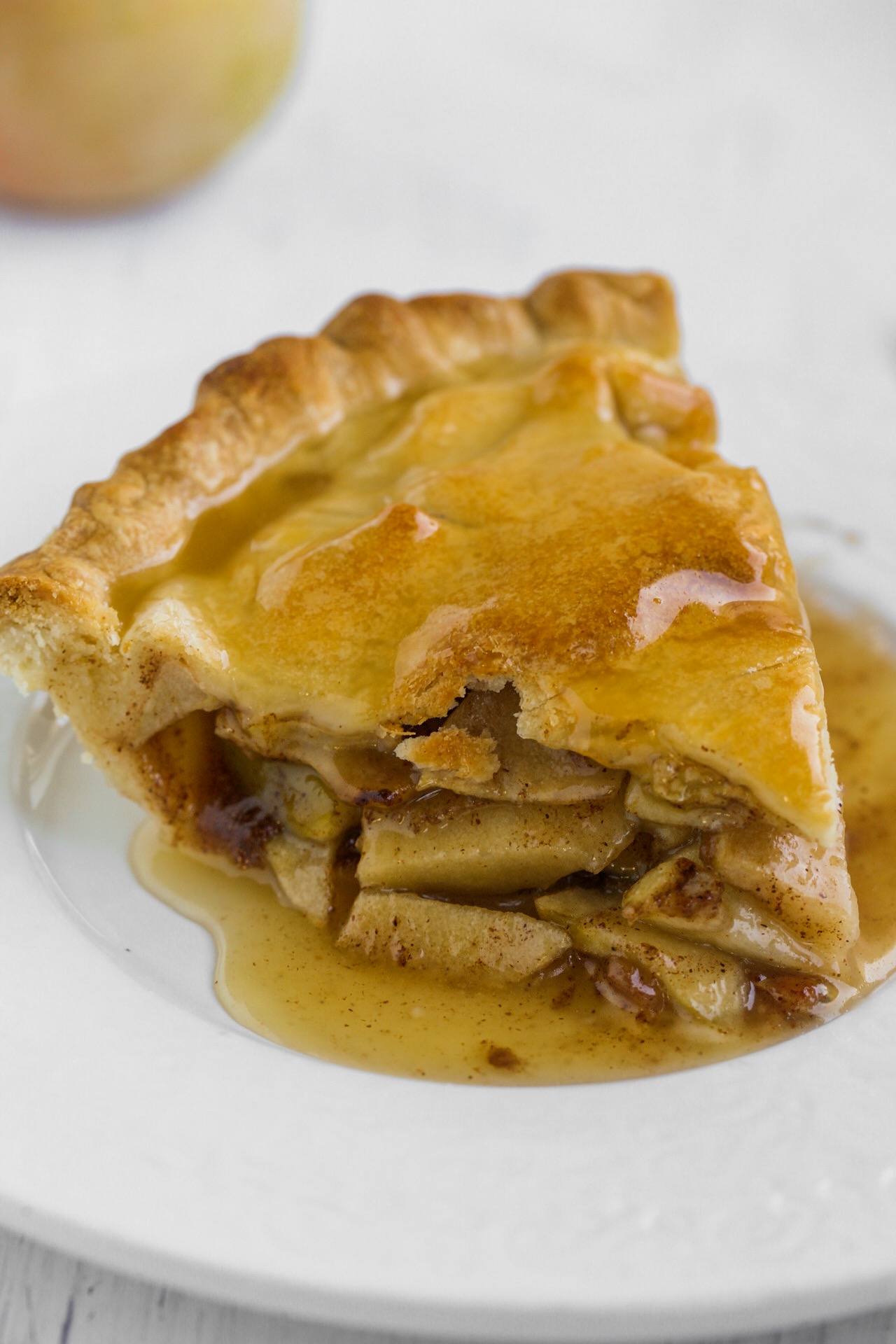 Pie Crust.
Fresh or frozen? That is the question. But before you decide, try reading my Vegan Pie Crust recipe and how-to. Homemade pie crust will always lend something special to this Caramel Apple Pie. So if you have the time and desire, get your hands all floured up and go for it.
TIP! Crust Shortcut: If you really don't have time for a homemade pie crust, don't worry. There are a few vegan frozen pie crust options these days that are quite good. Whole Foods usually has an option.
Crustless Apple Pie?
You can even serve the tender baked apple filling – crust free. Just bake in a casserole dish until tender and roasted. Drizzle caramel sauce over top.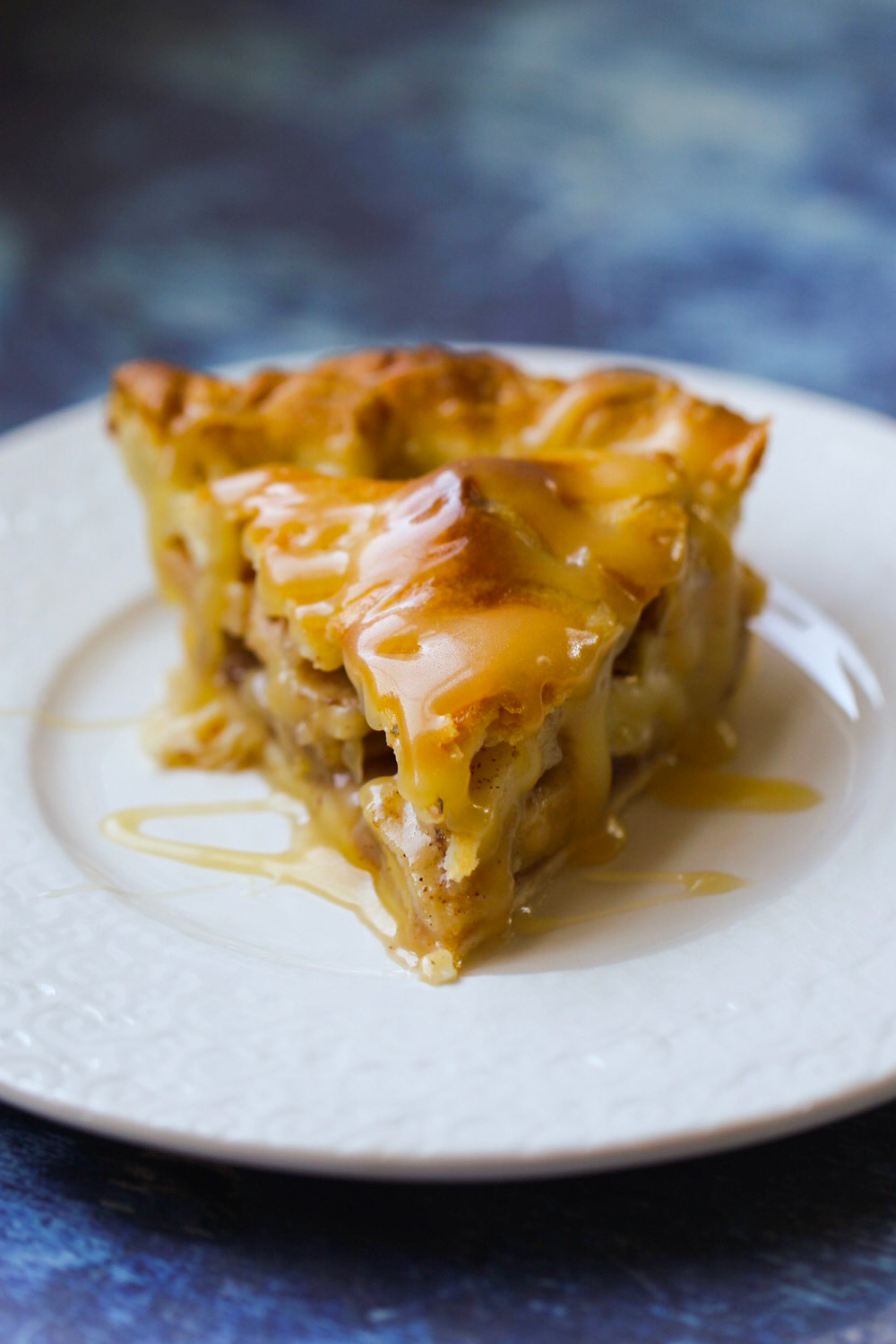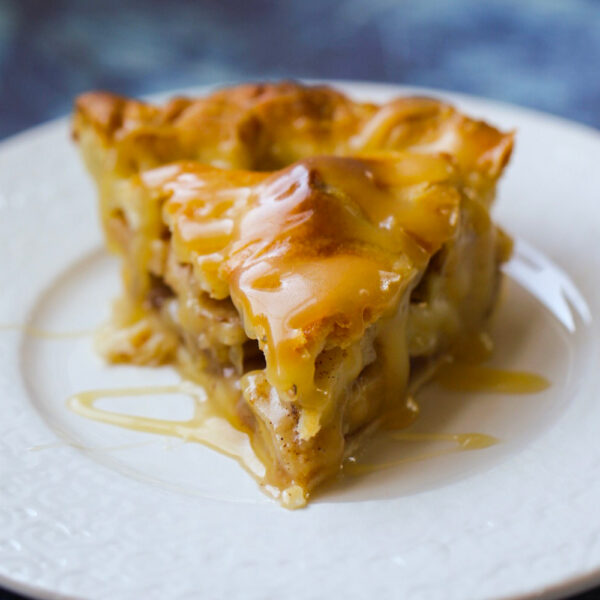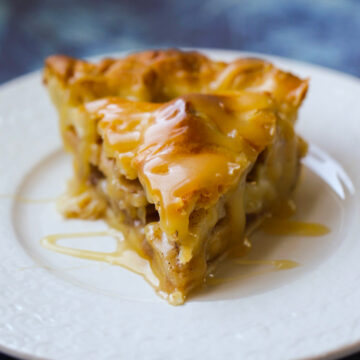 Caramel Apple Pie
This sticky sweet apple pie is stuffed with thinly sliced apples and cinnamon-vanilla flavor. The sticky cider caramel makes this pie a dream. Vegan.
Print
Pin
Ingredients
Apple Pie Filling
3-4

large apples

,

thinly sliced, peeled

1

teaspoon

cinnamon powder

1

teaspoon

ginger powder

,

optional

pinch

of salt

2

tablespoon

lemon juice

1

teaspoon

vanilla extract

2-3

tablespoon

corn starch or arrowroot powder

2

tablespoon

caramel apple sauce

¼

cup

vegan butter
Pie Crust
2

pie crusts

,

one for the bottom, one for the top
Instructions
Prepare your caramel sauce first, follow recipe link. Place in the fridge to chill.

Preheat oven to 425 degrees.

Prepare your pie crusts. Or if using frozen, pull from freezer.
Pie Filling:
Add the apple slices, spices, vanilla, salt lemon juice, caramel and starch to a large mixing bowl. toss well to coat the apples in spice and dissolve the starch.
Pie Assembly:
Pour the apples into your first pie crust. Chop the butter into small pieces and dot over top the apple filling.

Add second pie crust over top. You can add flat or as a lattice design. Crimp edges of crust and poke a few holes in the top layer.
Bake:
Bake pie in 425 degree oven for 15 minutes. Then reduce to 350 and bake for a remaining 30-40 minutes. You want to crust lightly browned and the apples to be tender, but not mushy.

Cool pie, for at least an hour. Serve warm or stick in the fridge if serving at a later time. To serve: Don't forget to drizzle warmed caramel sauce over top the entire pie – or each pie slice!
Equipment
pie tin

mixing bowl

apple peeler
nutrition estimate | per serving
Calories:
239
kcal
|
Carbohydrates:
21
g
|
Protein:
3
g
|
Fat:
16
g
|
Saturated Fat:
5
g
|
Sodium:
220
mg
|
Potassium:
41
mg
|
Fiber:
1
g
|
Sugar:
1
g
|
Vitamin A:
270
IU
|
Vitamin C:
1
mg
|
Calcium:
11
mg
|
Iron:
1
mg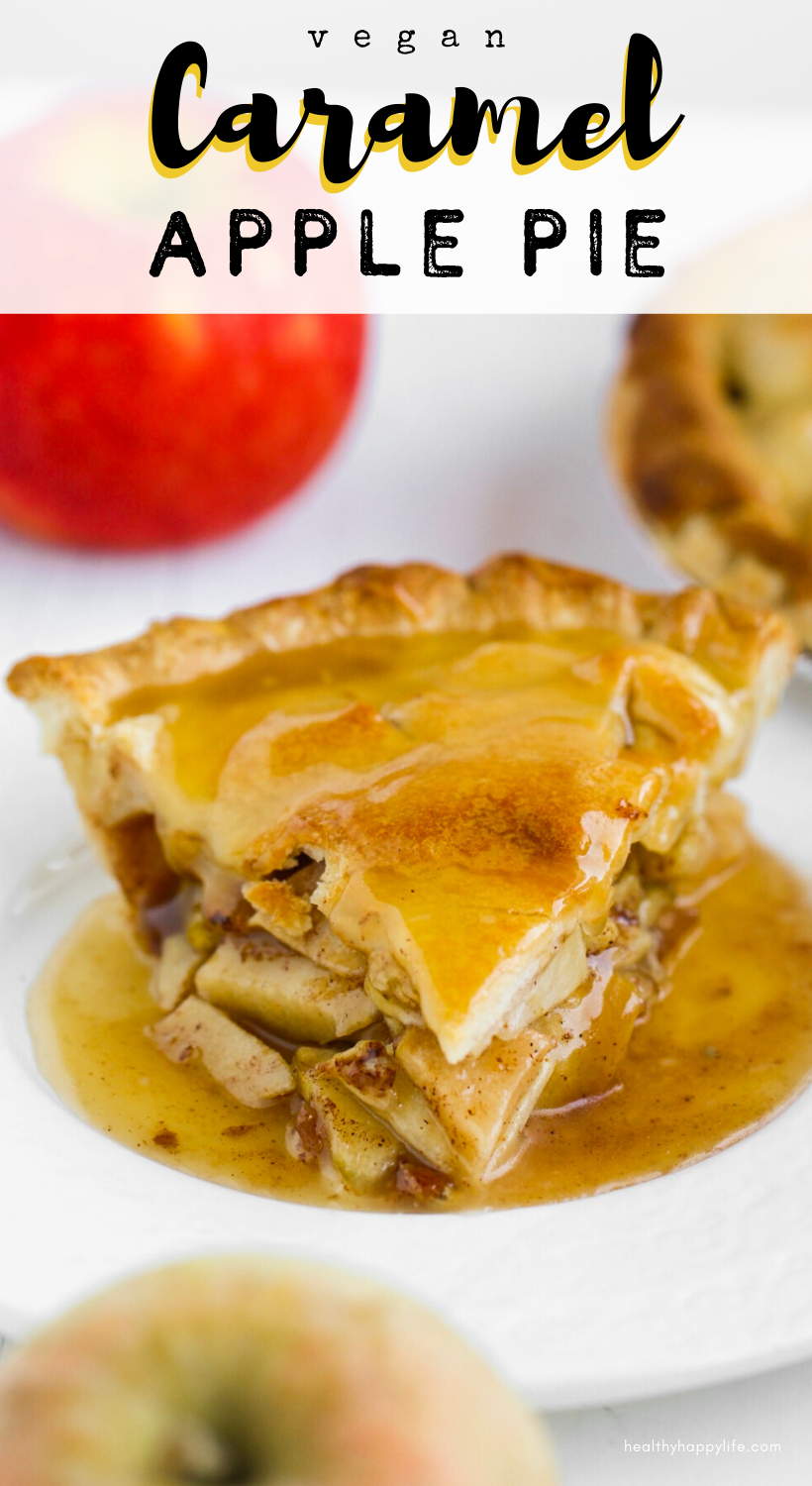 Enjoy this American classic!