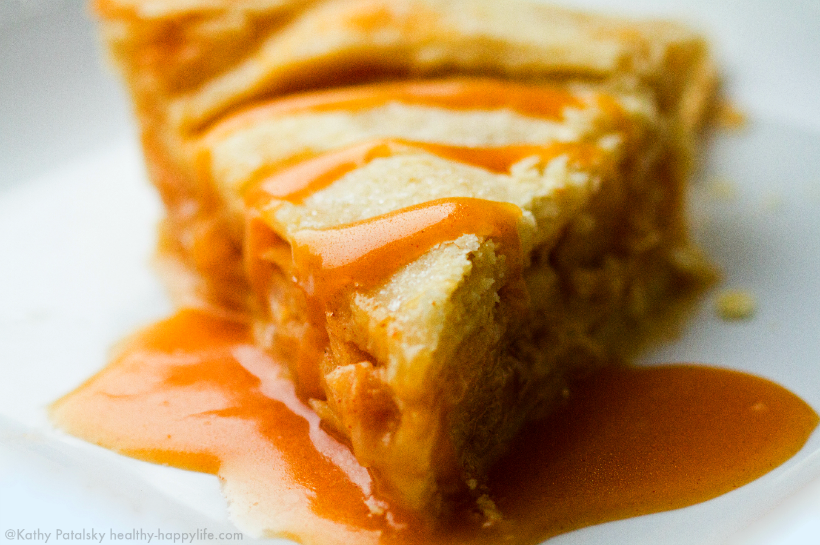 Fact: I hate Apple Pie. Well, I used to hate it. Here's the recipe that forever changed my tune…
To close out my "pop-up" Pie Series I'm making my vegan Caramel Apple Pie. It combines the sweet tart flavor of baked apples with hints of cinnamon, maple, ginger, lemon and buttery sticky cider caramel sauce. Get my recipe – and Apple Pie kitchen shortcuts!…
"Sooo good!" He says scarfing down a slice of Caramel Apple Pie, standing up. Not even moving to sit at the table a few feet away.
"It's good, right?!" She replied.
"Om. Om. Om. So good." He said. Still devouring pie.
"I know. And you don't even like apple pie!" She excitedly said.
"No! I don't like it at all!" He replied with wide eyes. "..You don't either, right?"
"No! I hate it!" She said flinging her hands into the air and shaking her head in disbelief. "I totally hate apple pie!"
(long pause as he finishes his slice of apple pie.)

"Yummy, right? Sooo good right? I loved it." She quietly said grabbing his empty plate.
"So good." He agreed.
…epiphany: Maybe we don't hate apple pie…


note: the post photos are taken from various practice pies I made. The first pie with a frozen crust – final pie, from scratch.
At a restaurant, I never order Apple Pie. But I knew there was hope for my "apple pie issues" based on one specific pie I ate as a kid..
The Apple Pie I ate and loved was from a casual gourmet burger spot called Carpos in Santa Cruz California. (Side note, they also serve the first soy veg burger I ever fell in love with. I'd order the Veggie Burger even when I was still a meat-eating kid. So good.) Carpo's Apple Pie wasn't vegan – but the parts I loved about it can totally be veganized. The pie was stacked super tall with what seemed like a hundred layers of thinly sliced apples – all firm enough, yet moist enough to be just about perfect. Not too saucy or overbaked – not a 'mushy' apple to be found. I loved that Apple Pie.
So there were three components I needed to have in my pie recipe to succeed:
1) Super thinly sliced apples.
2) Local or Farmer's Market apples. Organic hopefully.
3) Not too much liquid – and enough starch so that my apple filling doesn't turn out watery or mushy.

Apple Pie Mission Accomplished! I've been making this pie for a while now (at least 5 practice pies before posting this final recipe! well tested.) It took me so long because I didn't want to post the recipe until I nailed a vegan pie crust, filling and sauce. All three components will make this a special from scratch pie. ..you can make this pie with any crust you'd like (frozen or fresh). I also experimented with apple skin on vs off. My results are detailed below..
To Peel or Not to Peel? It just kills me to strip away the peel of the apple – the peel is what holds many of the nutrients and fiber. But then I started 'googling' peel on vs. peel off and the consensus was to peel always. Someone wrote the phrase "you don't want your pie to be waxy. yuck." So for my first attempt, I roughly peeled.
I did a very sloppy peel on purpose. So that some of the skin – in very small fragments would be left on.

Apple Skin-On Pie. I later made a second pie trying the skin-on approach. And guess what – it was delicious! It did have more of a rustic, "Apple Crisp" type flavor from the hearty skins. But when I sliced the apples thinly enough, they were fine. So I just might make all my apple pies skin-on, super thinly sliced from now on. The apple skins are full of fiber and nutrients!

This was when I made the pie with the apple skins still on. Quickie bad-lighting photo, but you see those little splashes of green skin – this pie was quite tasty (skin-on!)..

This was my first pie attempt with apple skin off and a frozen crust. The filling was fabulous, but I needed a from scratch crust to match..

Pie Crust. Fresh or frozen? That is the question. But before you decide, try reading my Vegan Pie Crust recipe and how-to.
TIP! Crust Shortcut: I tried making a food processor-free pie crust and it worked! Instead of pulsing the cold butter cubes and flour together, I fork-mashed them with an extra large fork. This actually worked quite well! See my Vegan Pie Crust recipe for full ingredient info. But really, if you don't have a food processor – try the fork method!

No Crust. You can even serve the tender baked apple filling – crust free. Just bake in a casserole dish until tender and roasted. Drizzle caramel sauce over top.
So to Re-Cap, My Apple Pie Shortcuts:
1) Leave the skin on your apples! (just slice nice and thin)
2) Try a fork-mashed fresh pie crust.
Vegan Caramel Apple Pie! With Caramel Sauce.
Vegan Caramel sauce (see my recipe for full variations and instructions)
1/2 cup apple cider
1/2 cup vegan shortening (or vegan buttery spread for a more opaque caramel)
3/4 – 1 cup vegan dry sugar
1 Tbsp corn starch (or arrowroot)
dash ginger powder
Dash cinnamon
pinch salt
1/4 tsp vanilla extract
*as you can see, the sugar/fat ingredients are slightly modifiable based on your sweetness/richness preferences.
Or try my simple Vanilla Caramel Coconut Sauce!
Apple Pie Filling
3 large tart apples, roughly peeled (or not), sliced extra thin
1 tsp cinnamon powder (dash of nutmeg optional too)
1 tsp ginger powder
pinch of salt
2 Tbsp lemon juice
1/2 tsp vanilla extract
2-3 Tbsp corn starch or arrowroot powder
2 Tbsp maple syrup (or dry sugar)
2 Tbsp caramel apple sauce
dotting: 1-2 Tbsp vegan buttery spread
2 pie vegan crusts (frozen or homemade)
Directions:
1. Preheat oven to 425 degrees.
2. Prepare your apples. Peel (optional), core and slice. A few skins left on is OK. Slice extra thin. Toss the apples in a large bowl with the remaining ingredients. set aside.
2. Start your caramel sauce. Dissolve the corn starch into the cider. Add it to a sauce pan with the other ingredients. Bring the mixture to a boil – stirring constantly. When the bubbling becomes intense, reduce to medium heat and continue stirring until the mixture thickens a bit. It will fully thicken as it cools in the fridge. Remove from heat. Pour 2 Tbsp of the caramel sauce over the resting apples – fold well. Pour the remaining sauce into a bowl and chill in the fridge.
3. Work with your pie crusts however you prefer – I did a closed top pie – but you can do lattice or even folded over high rimmed sides like a tart. I like to bake my bottom layer crust for a quick 5 minutes before adding filling and top pie crust. I also like to spritz canola oil on the top layer of crust and sprinkle some sugar as well. Dot apples with vegan buttery spread before closing with top layer crust. If you are not doing lattice design, be sure to add holes to the top of your pie crust to properly vent – allows moisture to escape so your pie doesn't get soggy.
4. Bake pie in 425 degree oven for 15 minutes. Then reduce to 350 and bake for a remaining 20-25 minutes. Baking time for a pie can be a matter of preference – I don't like well-done crusts and prefer them to be tender rather than too crisp. If you want your top a bit more brown, leave in for an extra 5 minutes at 350.
5. Cool pie. For at least an hour. Serve warm or stick in the fridge if serving at a later time. Don't forget to drizzle warmed caramel sauce over top the entire pie – or each pie slice!
before caramel…

with caramel…

Enjoy this delicious pie. (I like it warm best!)