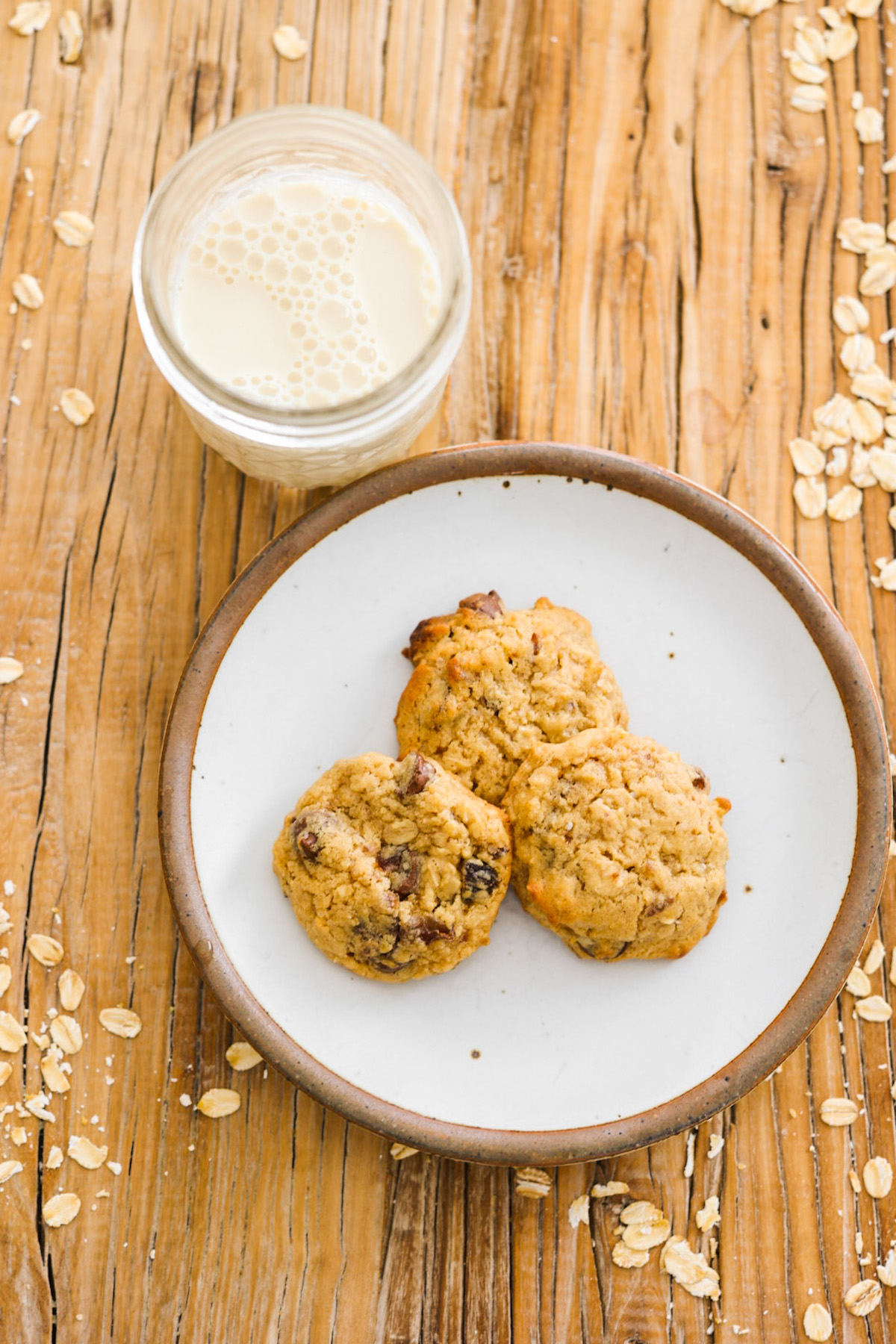 These lunchbox-ready, vegan Oatmeal Cookies are the perfect healthy treat nibble for back to school. Pack them in lunchboxes or serve with some cold plant milk for an after-school treat. These cookies are plant-based, rich in whole grain oats and are studded with small bits of sweet raisin and dark chocolate. These cookies are a wholesome, homemade, feel-good dessert to bake with your little one(s).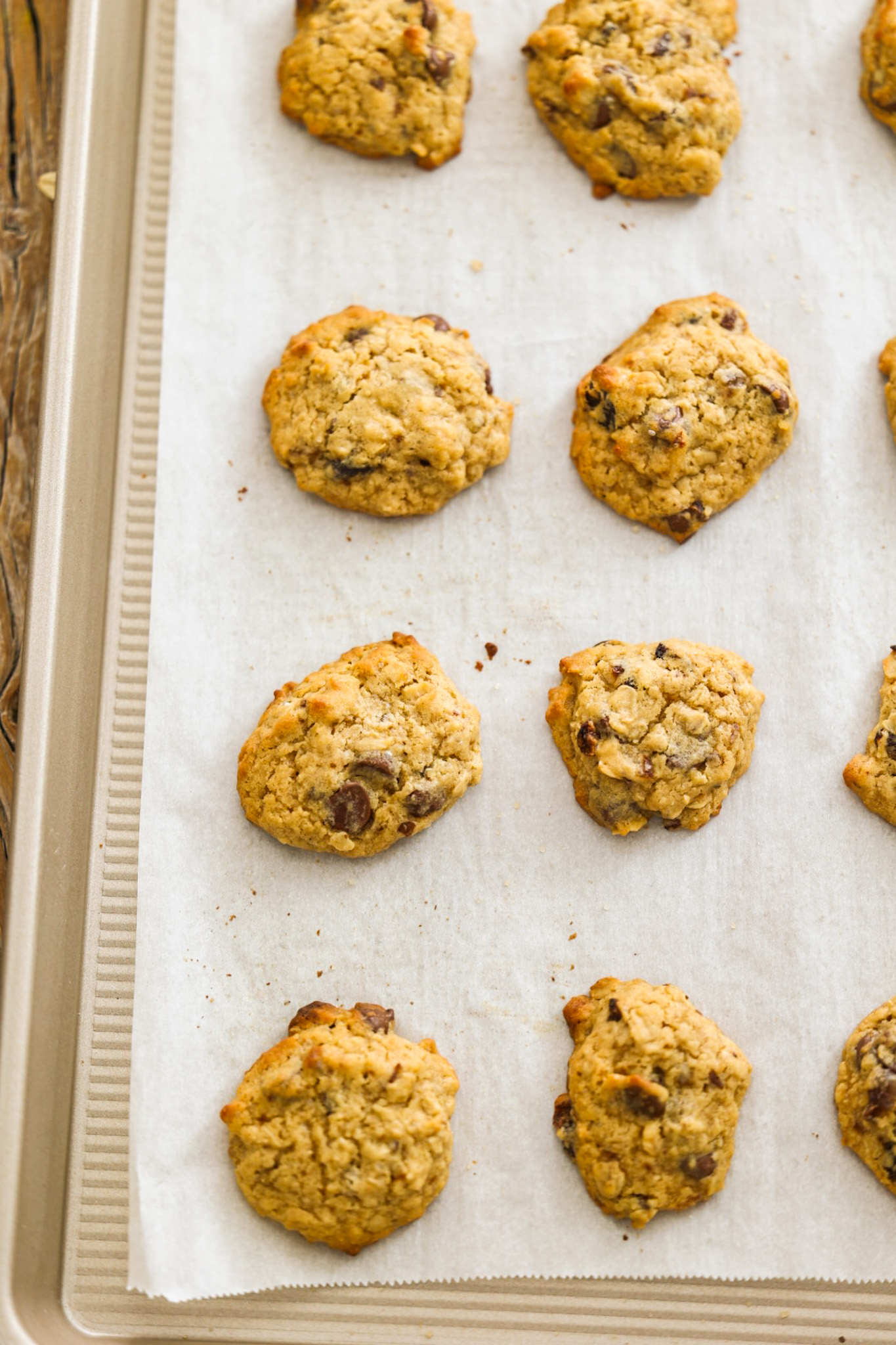 Best for School Lunches
The usual homemade cookie option? Everyone's go-to homemade cookie is chocolate chip, yes? Or even the chewy, yummy peanut butter cookie. Well, sometimes chocolate chip cookies can have a bit too much chocolate in them – lending to a too sweet flavor. And many schools these days do not want peanut butter snacks sent in, so peanut butter is to be avoided.
But these vegan oatmeal cookies, with a hint of sweetness and tons of personality, are a cozy way to treat your kiddos with something homemade at school or after school.
This is a fun cookie to bake together as well! So grab those aprons and warm up the mixer. This recipe is going to make you feel cozy and warm…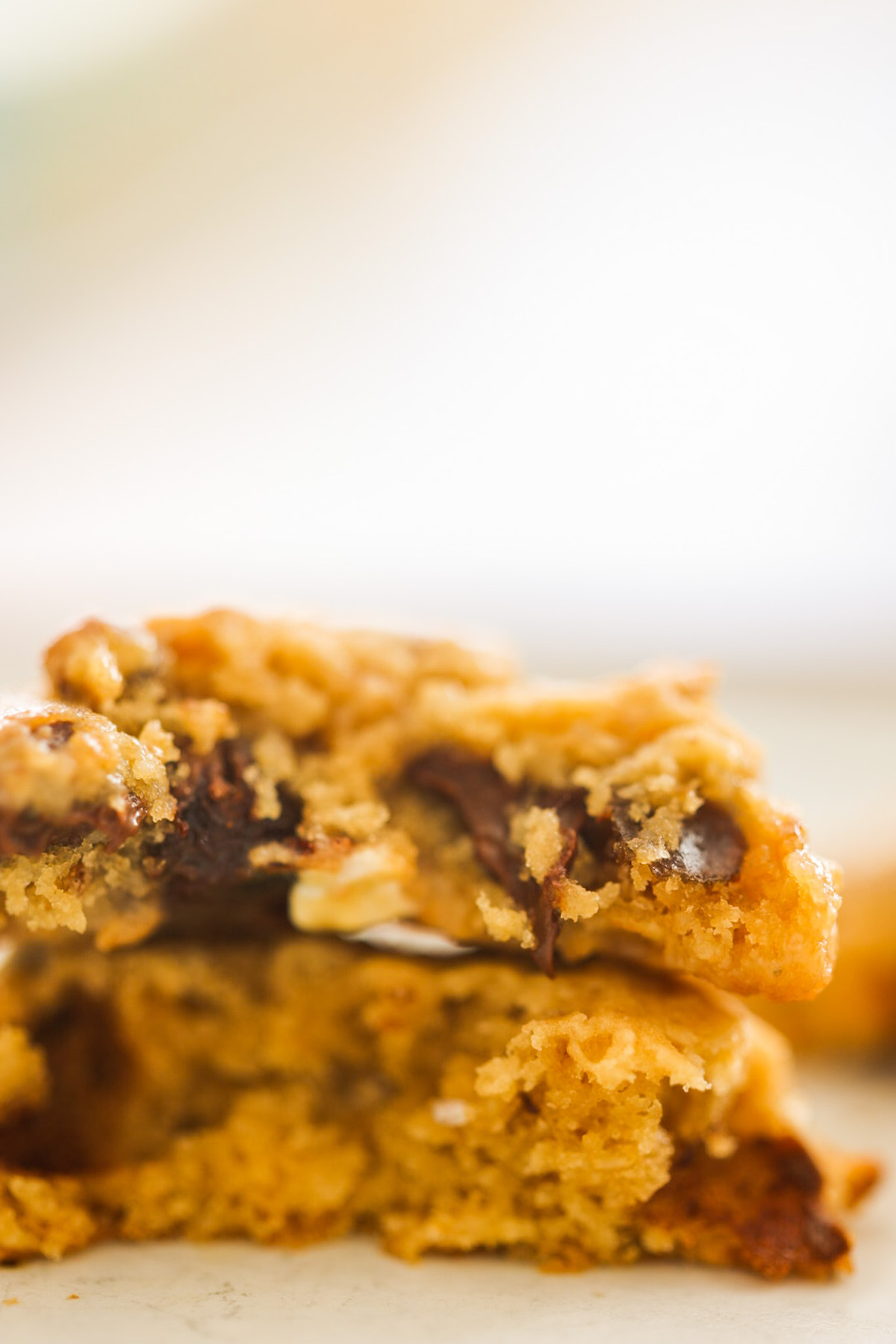 Back to School Snacks.
If you are a parent, you are probably craving more school snack ideas. And while we all end up buying snacks, it is always nice to have some homemade options. These cookies fill that lunchbox space. And it doesn't get any cozier than oatmeal.
I have definitely posted an oatmeal cookie recipe here before…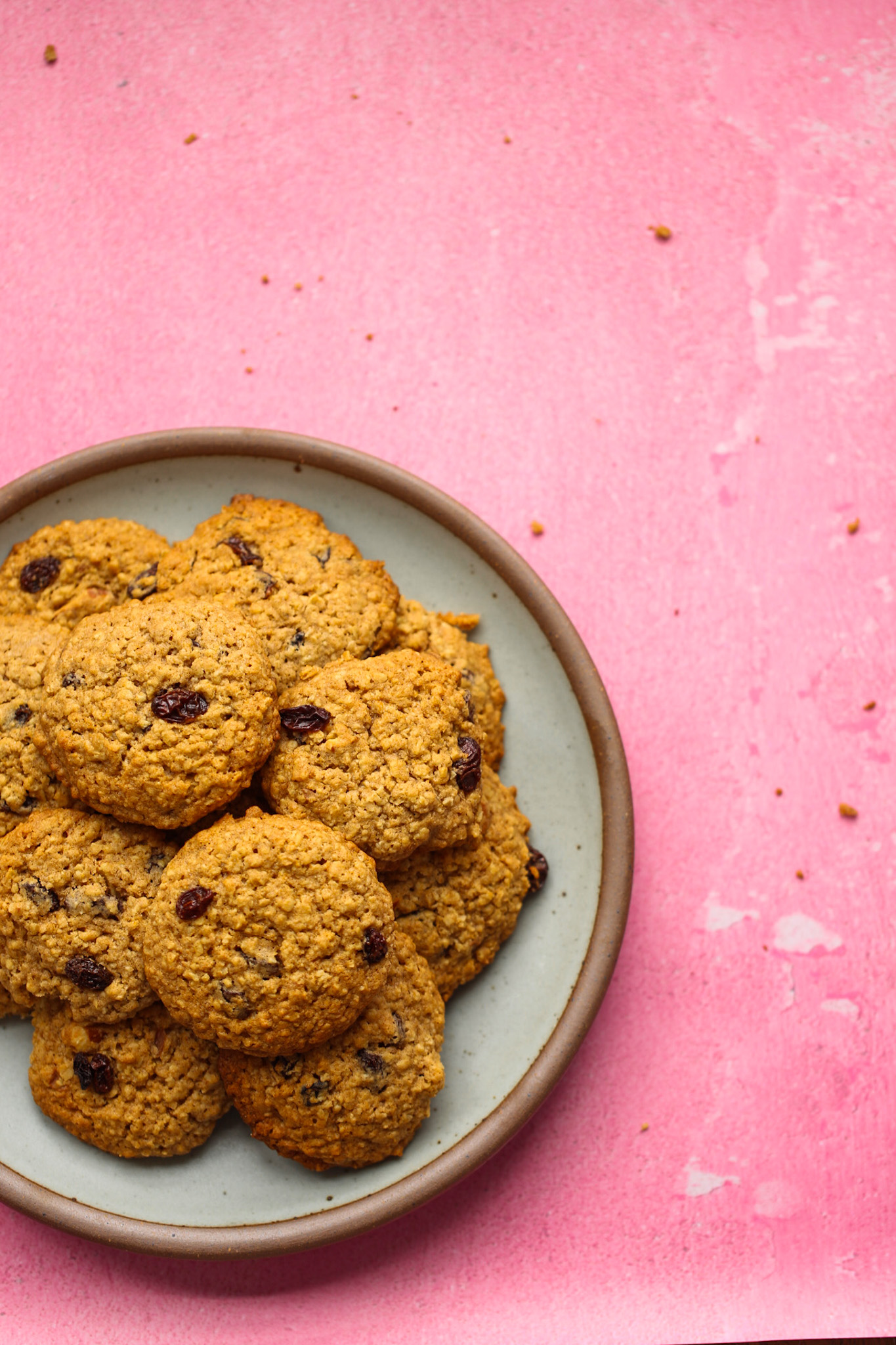 But today's vegan oatmeal cookie recipe uses a few different ingredients, like the egg replacer. And sugar sources. And also has those micro-chopped bits of raisin and chocolate.
Jump to:
Ingredients
Here are the main ingredients for this vegan oatmeal cookie recipe…
rolled oats
vegan butter
cane sugar and brown sugar – or alternatives listed
vegan egg replacer – I used JUST Egg
spices
vanilla exrtract
baking powder
flour
salt
See the recipe card for quantities.
Instructions
Making these vegan oatmeal cookies is pretty easy. Simply mix, scoop dough, bake and cool. You can absolutely chill the dough or make the dough a day ahead of time, but that isn't necessary.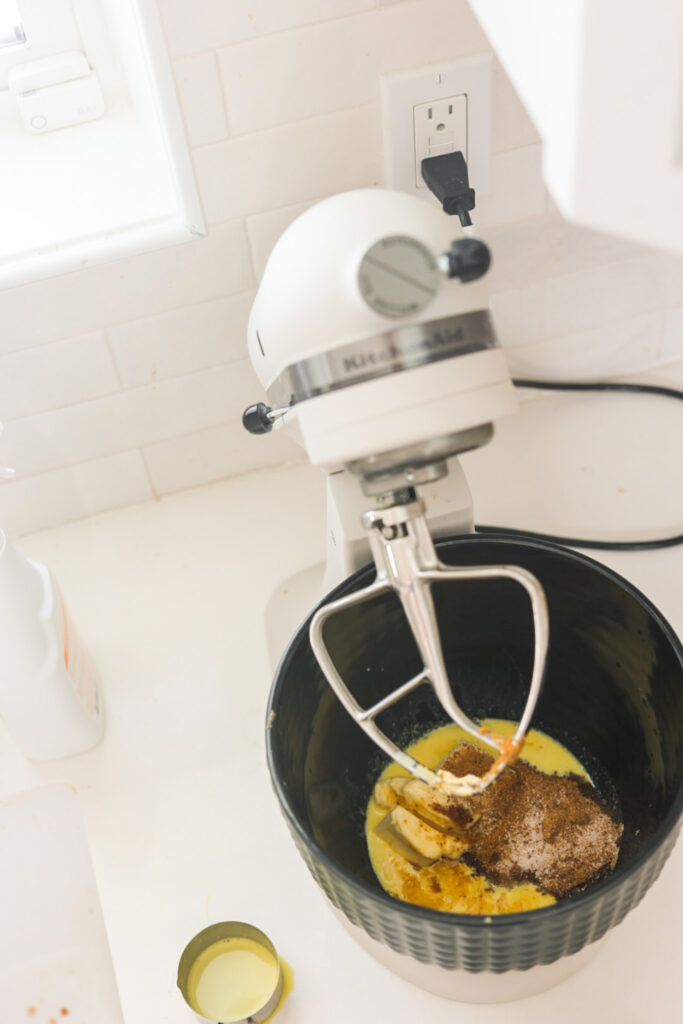 Wet ingredients ready to beat.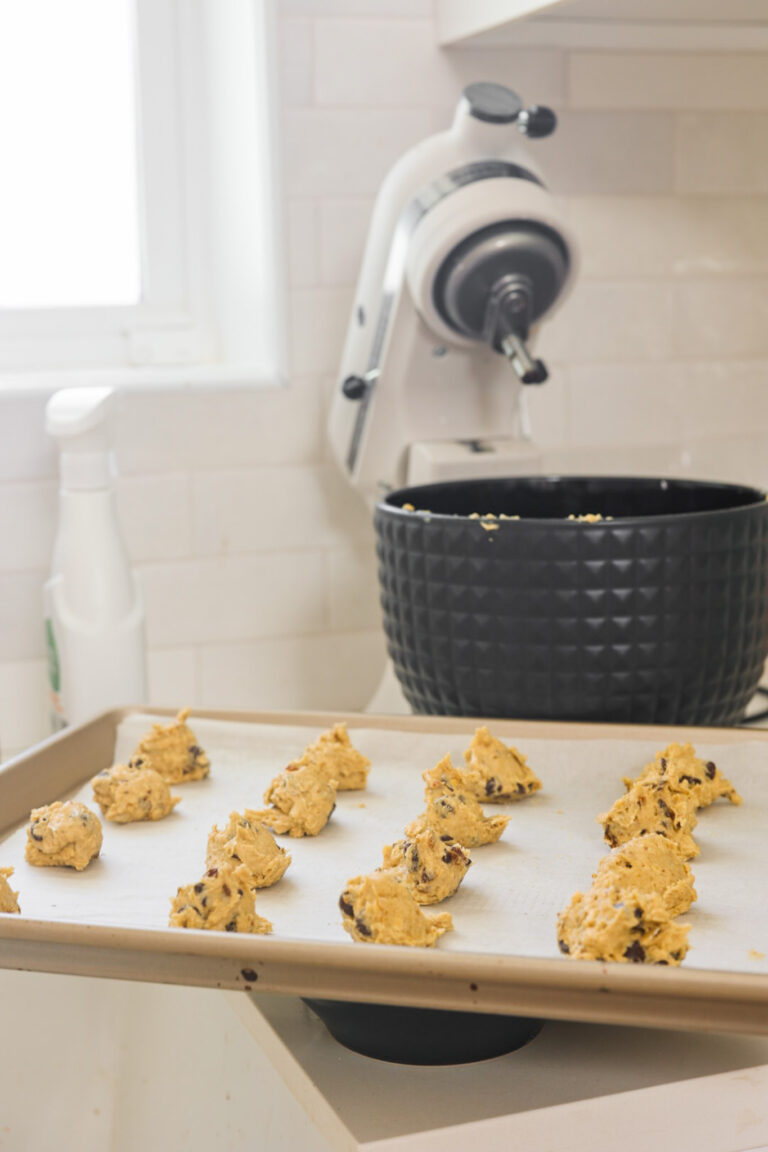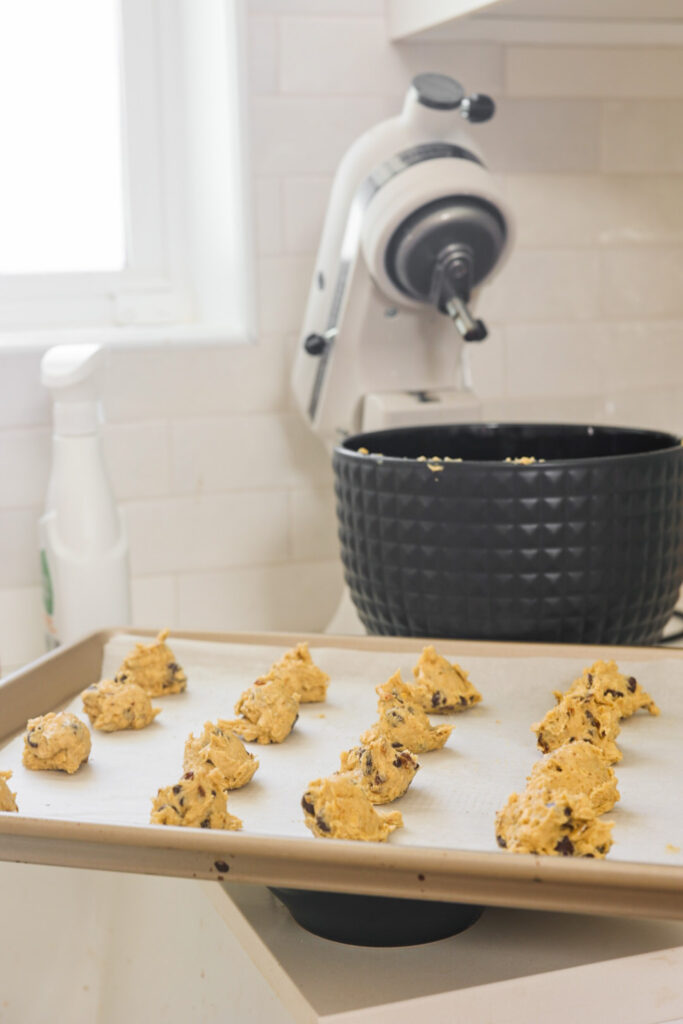 Dough ready for baking.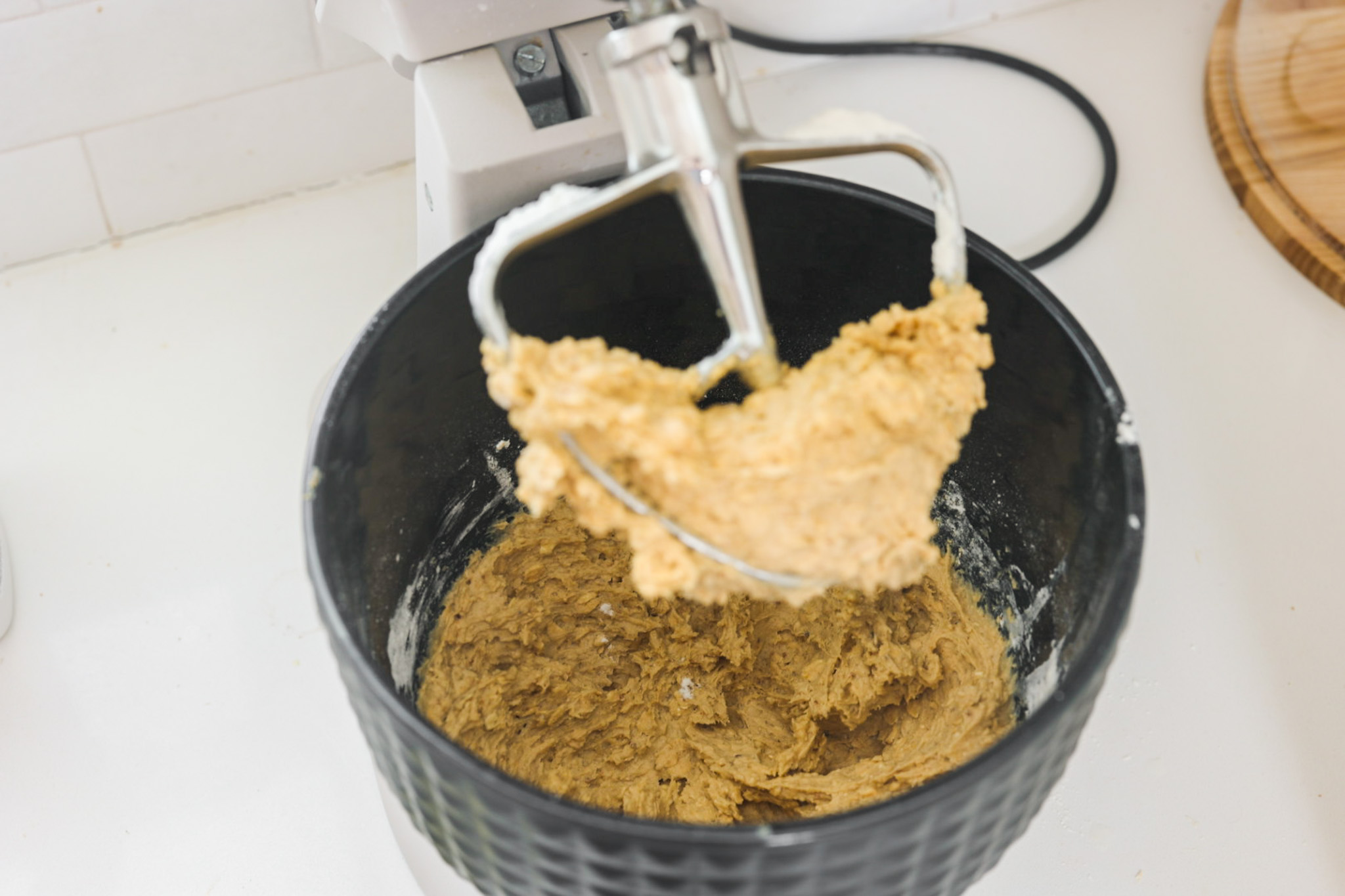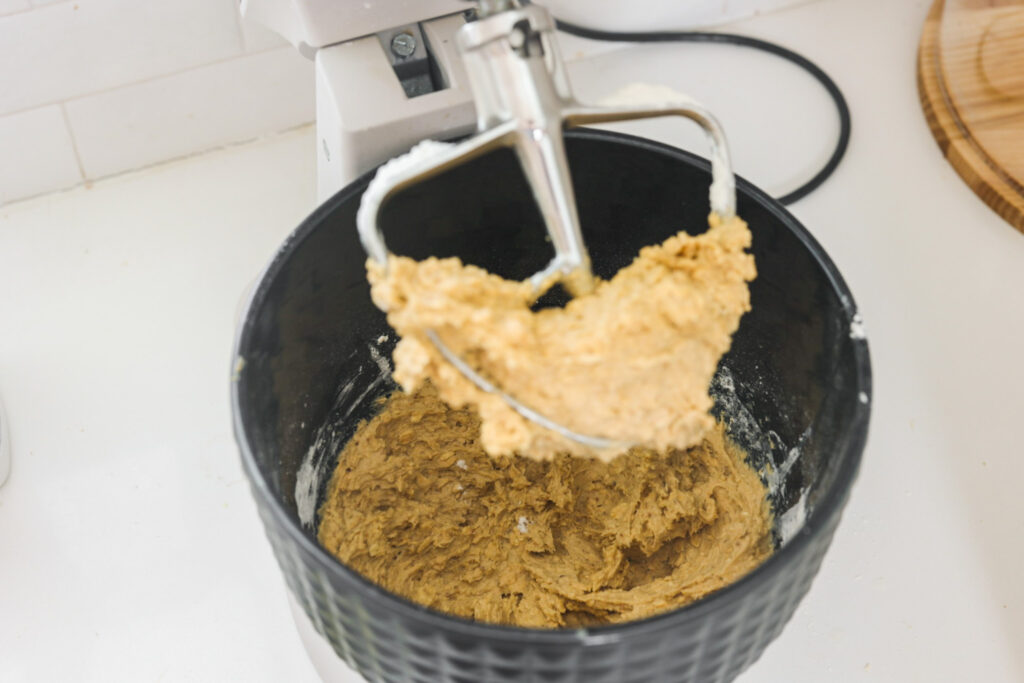 Dough ready for add-ins.
Substitutions
Here are a few substitution notes for you.
Gluten Free – You can absolutely substitute the AP flour with your favorite gluten-free flour or flour blend. Bob's makes a great 1:1 ratio GF flour.
Egg – I use JUST egg, but another egg replacer would work. Try a flax egg or silken tofu, or even some old-school simple applesauce. Pumpkin puree, mashed banana or even a properly prepared powdered egg replacer would work as well. And if you are not vegan, you can always use regular eggs. This recipe would call for 1-2. though has not been tested.
Sugars – If you want to experiment with using all refined-free sugars like date sugar, you absolutely can. You could even swap out the cane sugar with all coconut sugar. Coconut sugar is one of my favorite sugars to use because of its rich and caramel-y aroma. This article on Healthline talks about how coconut sugar actually does retain quite a bit of nutrients after processing.
Tip: Warm your vegan butter up to room temperature before mixing for an easier mixing process. Otherwise, be sure to at least chop it up into smaller pieces before turning on your mixer. Vegan butter can get quite hard when it is chilled.
Recipes – Blogger Friends:
A few of my blogger buddies sharing some awesome oatmeal cookie recipes.
Vegan Oatmeal Cookie Variations
Change it up! My base of an oatmeal cookie can absolutely be changed up a bit to make it new and interesting every time you bake.
Raisin Free – So my husband hates raisins. I love them. So if I make these for him, I will omit the raisins and just add a bit more chocolate. Some swaps for raisins could be dried cranberries or chopped dates, if you can get away with those!
Pumpkin Spice – Turn up the fall flavor by adding in pumpkin spice and even some pumpkin puree. I would reduce the vegan egg to ¼ cup and then add in ¼ cup of pumpkin.
Unicorn Cookies – My kid loves anything rainbow sprinkled and called "unicorn" so for this variation, I would omit the raisins and maybe even the chocolate chips and add in vegan sprinkles and some vegan white chocolate chips too. I think this will be my next batch of these cookies.
Ice Cream it – If you have some leftovers, whip up my vanilla bean ice cream base and crumble in oatmeal cookies for an oatmeal version of cookies and cream. Just swap out the strawberries for oatmeal cookies in this ice cream recipe.
See this fun pink dessert recipe: pink cheesecake bars, for another "unicorn" approved treat/snack.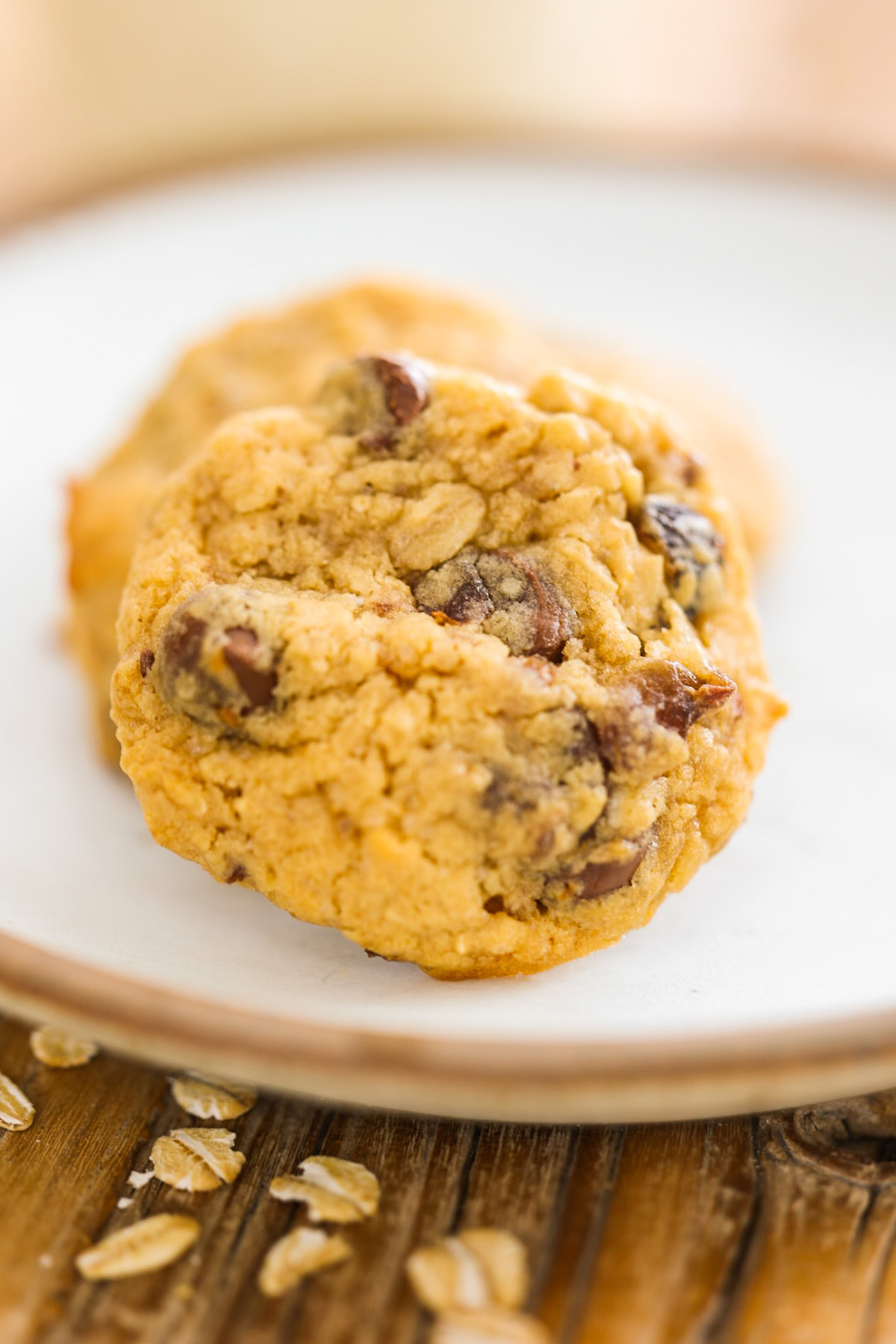 Equipment
A sturdy cookie baking sheet and some parchment paper. I love my KitchenAid stand mixer for cookies. And a nice cookie scoop. If making mini cookies you won't need a scoop. You could use a melon baller to scoop tiny circles though.
Storage
I store these vegan oatmeal cookies on the counter for a day, then move them to the fridge for consumption within a week. If longer, move them to the freezer and you can store them for up to a few months. To warm, place at room temp, or warm for a few seconds in the microwave.
Top tip
For the best results with these vegan oatmeal cookies, please make sure your raisins are fresh! Hard or crunchy, dried out raisins are sure to be unappealing in a big cookie bite. Fresh raisins have some moisture and melt into cookies in the same way that a chocolate chip will. If your raisins are a bit older and dried out, try this trick: Add ¼ cup to a small bowl and add 1-2 tablespoon water. Warm them in the microwave for 10 seconds. Drain any excess liquid. Boom. Moist raisins.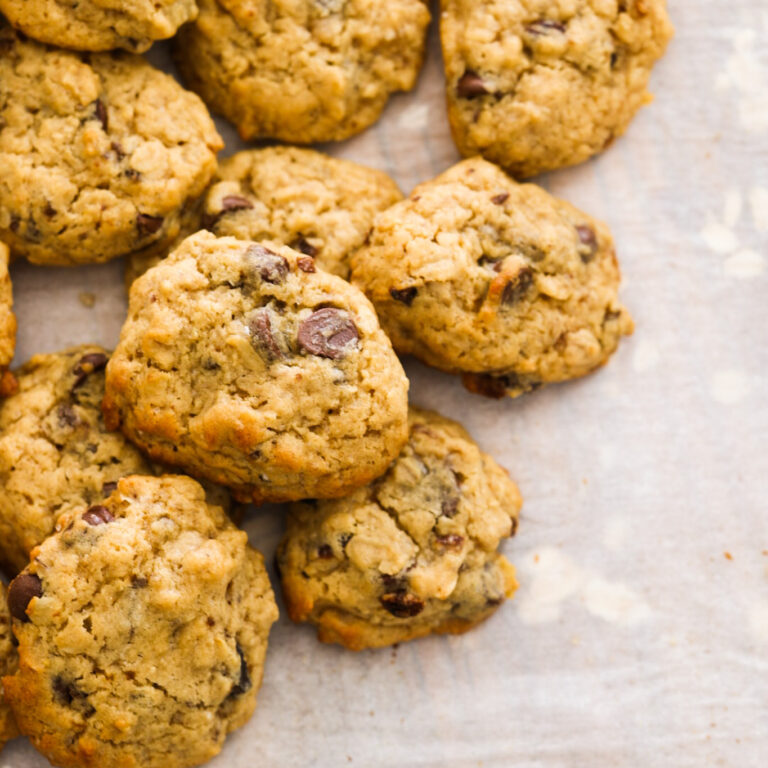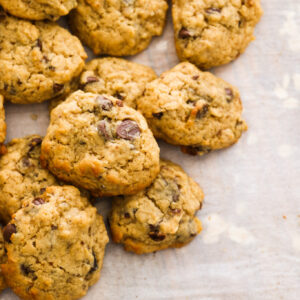 Vegan Lunchbox Oatmeal Cookies
These fluffy yet chewy oatmeal cookies are studded with tiny bits of juicy raisins and melty chocolate chips. Perfect for little hands when you scoop them into mini sizes!
Print
Pin
Ingredients
Wet ingredients
½

cup

vegan butter

½

cup

coconut sugar

⅓

cup

cane sugar

1

teaspoon

vanilla extract

⅓

cup

JUST vegan egg

1

tablespoon

lemon juice

,

optional
Dry ingredients
1 ½

cups

all purpose flour

,

see notes

½

teaspoon

salt

½

teaspoon

baking powder
Mix-ins
1

cup

oats

,

rolled or quick – see notes

⅓

cup

chocolate chips

⅓

cup

raisins

warm water
Instructions
Preheat oven to 350 degrees. Line a baking sheet with parchment paper.

Tip: Warm your butter a bit so it isn't rock hard, or chop into small pieces. Slightly softened is best for mixing. Add all of your wet ingredients to your mixing bowl. Beat until creamed together.

Add in the dry ingredients and continue beating until smooth.

Add in the oats and mix on low for another minute.

Soak your raisins in the warm water for a few seconds. Drain and then finely chop. Optionally chop your chocolate as well. Add both the chocolate and raisins to the douh. Fold in.

Scoop dough onto baking sheet.

Bake at 350 for 10 minutes for mini cookies or 14 minutes for regular sized cookies.

Transfer to cooling rack. Serve warm.
Equipment
1 baking sheet

1 mixing bowl

1 spatula

1 stand mixer / beater

1 sheet parchment paper
Notes
Flour: You can use all-purpose, bread or gluten-free flour.
Egg Replacer: Other options can be used such as a flax egg, silken tofu or even applesauce. JUST egg is my preferred ingredient for this recipe.
Oats: I like to use a mix of whole rolled outs and quick oats. About a 50/50 ratio. Though you can use either one or both.
nutrition estimate | per serving
Calories:
120
kcal
|
Carbohydrates:
14
g
|
Protein:
3
g
|
Fat:
6
g
|
Saturated Fat:
2
g
|
Polyunsaturated Fat:
1
g
|
Monounsaturated Fat:
2
g
|
Trans Fat:
0.02
g
|
Cholesterol:
5
mg
|
Sodium:
122
mg
|
Potassium:
38
mg
|
Fiber:
0.4
g
|
Sugar:
6
g
|
Vitamin A:
278
IU
|
Vitamin C:
0.4
mg
|
Calcium:
23
mg
|
Iron:
1
mg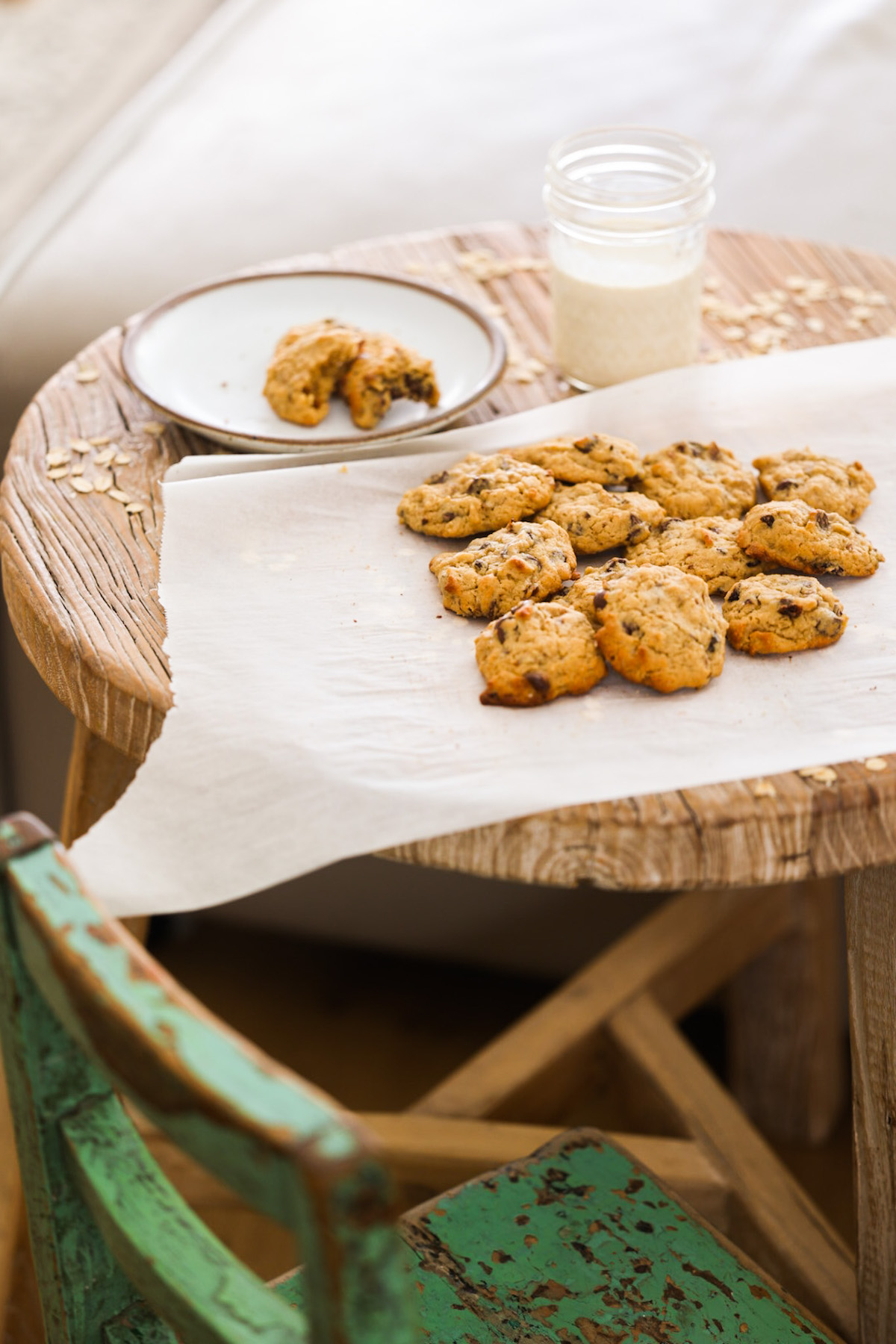 FAQ
How will baking times vary based on cookie size?
For medium-average sized cookies, I do 14 minutes at 350 degrees. For mini cookies, I reduce to about 10-12 minutes, depending on size and density of the scoop. Of course a longer bake will lend to a crispier, browned edge, while less baking makes a more cake-like soft cookie.
What kind of oats do I use?
You can use whole rolled oats or even quick oats. The whole rolled oats will make a more hearty texture, while the quick oats, which are finer in texture, will make a more refined cookie. It really just depends on what texture you prefer. Just do not use pre-sweetened oatmeal oats or anything along those lines. You also do not want to use steel-cut oats, which would be way too crunchy and firm for cookies.
Do I have to add raisins?
Nope! See the variations for a few ideas. But you can absolutely just make plain oatmeal cookies with no add-ins at all, or just add in chocolate. Or even omit the chocolate chips for a more classic cookie.
Food safety
Some reminders:
Cook to a minimum temperature of 165 °F (74 °C)
Never leave cooking food unattended
Always have good ventilation when using a gas stove
Heat: When cooking with your kids be sure to keep them out of reach of hot surfaces at all times. Also, keep them out of reach of appliances like mixers.
Serving size: When serving cookies to kids or toddlers always use your best judgment as a parent on how small you may need to cut up the item – to prevent a choking hazard. Some kids can also be sensitive to cookies containing chunky items like raisins, so be cautious. even the thick-cut oat texture can leave some kids sensitive. So never serve unattended, keep some milk or water on hand with cookies, and teach your kid how to spit out food that isn't working for their mouth.