It's November, so that means holiday recipes are coming. It may be seventy-seven degrees today, but still, holiday recipes are coming. And right now we are obsessed with these Vegan Gingerbread Men Cookies.
They are pretty easy to make and are so perfect for nibbling as a snack, with tea or cocoa or after-dinner treat. You can frost or ice them, decorate them, or leave them a la natural. I love a thin layer of frosty icing and a face of some sort. And for faces? Sure! I like to make a few grumpy men too, because their little frowns are kinda cute.
These cookies are also perfect for gifting because they are sturdy and still delicious even after a few days. Plus, they are super cute! I will admit I don't go all 'Martha' when decorating my Gingerbread Men, but even still, they are pretty cute.
Gather your Gingerbread Men Cookies ingredients...
..Must have ingredient: blackstrap molasses!
Molasses is what gives gingerbread that unique, sweet, earthy flavor and crunchy-chewy texture. I love this stuff because it is an excellent source of vegan iron. For optimal absorption of iron, consume with vitamin C. Think OJ or fresh fruit.
Gingerbread Men Cookies: Spices
I love my gingerbread cookies super spicy, so I add in a variety of ground spices. You could *just* use the pumpkin pie spice and be good to go! If you want to add more spices: ground cloves, ground ginger and even cardamom and cayenne are nice spices to play with. I adored my Pfefferneuse cookies because of all those spices.
I also added in a tiny bit of maca powder the first time I made these. A hint of a superfood. Again, totally optional. The small amount (1-2 tsp) doesn't change the consistency at all.
Frosting and icing options:
You can go super thick and creamy and use my fluffy cream cheese buttercream frosting. You can even dye this frosting different colors using natural ingredients like pitaya, matcha or beets!
Frosty icing glaze. This is what I did for these cookies and I really loved it. It goes on drippy, but firms up into a frosty sort of look that you can still apply 'toppings' to. Here is my basic recipe:
Frosty Glazed Cookie Icing:
1 cup powdered sugar, organic
2 tablespoon melted vegan butter
1 tablespoon water
You just whisk everything together – very briskly – and pour over top the cookies. If you like a thicker glaze, add a few more spoonfuls of sugar to thicken things up.
Tip: I stick my Gingerbread Men Cookies in the freezer ten minutes before icing them. This way, the icing firms up on the cookies very swiftly.
I store frosted cookies in the fridge.
Q: "Shoot! I over-baked them!!!"
Ok, so this was me yesterday. I baked them for twenty minutes, lost track of time after hearing the oven buzzer go off, and then they sat in the HOT oven for another five minutes of so. When I pulled them out they were super crisp and dark brown on the edges. "Ruined!" I thought. Nope! Actually, the slightly over-baked cookies were really good! I loved the extra crisp texture. They seemed extra light and crisp. So, even though they may look ruined at first glance, those dark brown cookies are still totally edible. And yummy. (These pics were from my 'over-baked' batch. I made more for the video, they are a bit less toasty. 🙂
Gingerbread Men Cookie Baking Times:
The general baking time for gingerbread men is 20 minutes. For softer, chewier, less crisp cookies, go for 15-18 minutes. For crisp cookies, 18-22 minutes. And for extra-crisp cookies: 22-25 minutes. Also hugely dependent on baking time is how thin you roll out your dough. I would say ¼″ is standard for a hearty cookie. Even thinner will help you get a crisper cookie. They will plump up very slightly in the oven, so take that into account.
So just how good are these cookies???
Well, I barely got a chance to photograph my first half-batch of iced+cooled cookies because we kept nibbling them … and even nibbling the toppings off one of these guys, apparently. But I wanted to at least show how nicely the frosting cools to a snow-colored white frost….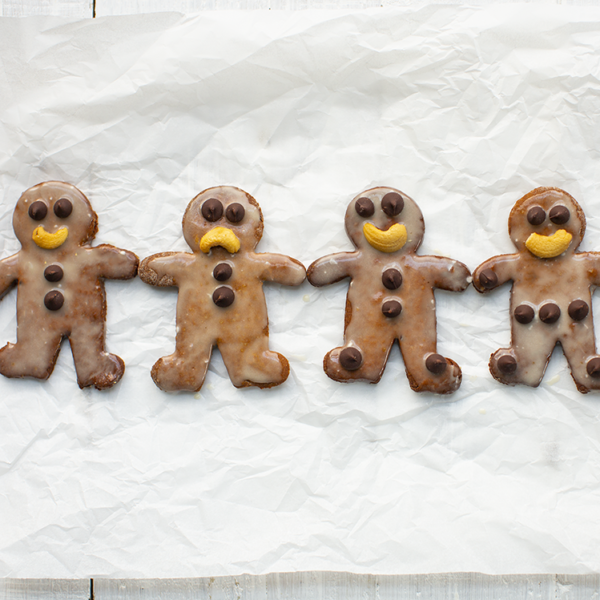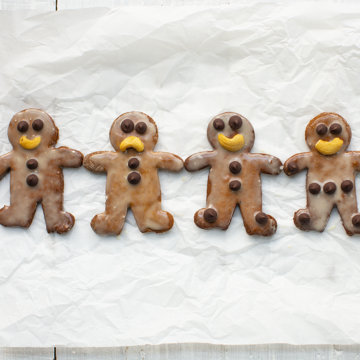 Gingerbread Men
Vegan gingerbread cookies that are light and crispy, spiced and buttery. Optional glaze on top.
Print
Pin
Ingredients
Wet:
½

cup

cane sugar

,

organic

1

tablespoon

vanilla extract

1

tablespoon

apple cider vinegar

½

cup

vegan butter

⅓

cup

molasses

1

flax egg

,

1 tablespoon ground flax seed + 3 tablespoon water

3

tablespoon

apple sauce
Dry:
2 ¾

cups

all purpose flour

1

tablespoon

pumpkin pie spice

1

teaspoon

ground cloves

,

optional

½

teaspoon

cinnamon

1

teaspoon

ground ginger

,

optional

½

teaspoon

salt

1

teaspoon

baking powder

Additional: flour for rolling out dough

Toppings to decorate cookies with

,

chocolate chips, cashews…
Easy Icing:
1

cup

powdered sugar

,

organic

2

tablespoon

vegan butter

,

melted

1-2

tablespoon

water
Instructions
Add all the wet ingredients to a large mixing bowl. Beat until smooth.

Add the dry ingredients to the wet mixture and beat until a shiny dough forms.

Transfer the dough to a small bowl, cover, and place in the fridge for at least thirty minutes, or until the dough is cool enough to easily roll out. Overnight works too!

When you are ready to bake the cookies: Preheat oven to 350 degrees and line a baking sheet with parchment paper.

Remove the dough from the fridge. Tear off a small round from the large piece and roll out on a lightly floured surface. Press out gingerbread man shapes using a cookie cutter. Transfer your cookies to the baking sheet. Repeat until all the cookies are created.

Bake cookies for 18-20 minutes at 350 degrees. You want them to be nice and crispy, but not burnt. If you want a softer, chewy cookie, you can bake for a few minutes less.

Remove cookies from the oven. Cool cookies on a cookie rack.

When cookies are cooled, place them in the freezer. (This helps when you apply the icing.)

Whisk together you icing. Start with 1 tablespoon water and add one or two more if needed. If you mess up and your icing thins too much, just add a few more spoonfuls of sugar. Whisk until the small clumps are mostly gone. Sifting the powdered sugar can help prevent clumps, but totally optional for aesthetics.

Pull out the cookies and place them back on the cooling rack, placing a baking sheet beneath the cooling rack – so when icing drips, it doesn't make a mess. Using a spoon, pour the icing over top the cookies. It should freeze in place nicely since the cookies are cool. Add any other accents to the cookies – eyes, smile, clothes, buttons, etc.

Serve or store cookies in the fridge until ready to serve.
Equipment
Rolling Pin

gingerbread man cookie cutout

large mixing bowl
Notes
nutrition info is for unfrosted cookies
nutrition estimate | per serving
Calories:
139
kcal
|
Carbohydrates:
23
g
|
Protein:
2
g
|
Fat:
4
g
|
Saturated Fat:
1
g
|
Sodium:
98
mg
|
Potassium:
127
mg
|
Fiber:
1
g
|
Sugar:
10
g
|
Vitamin A:
216
IU
|
Vitamin C:
1
mg
|
Calcium:
27
mg
|
Iron:
1
mg
Also check out my Glazed Gingerbread Cake.