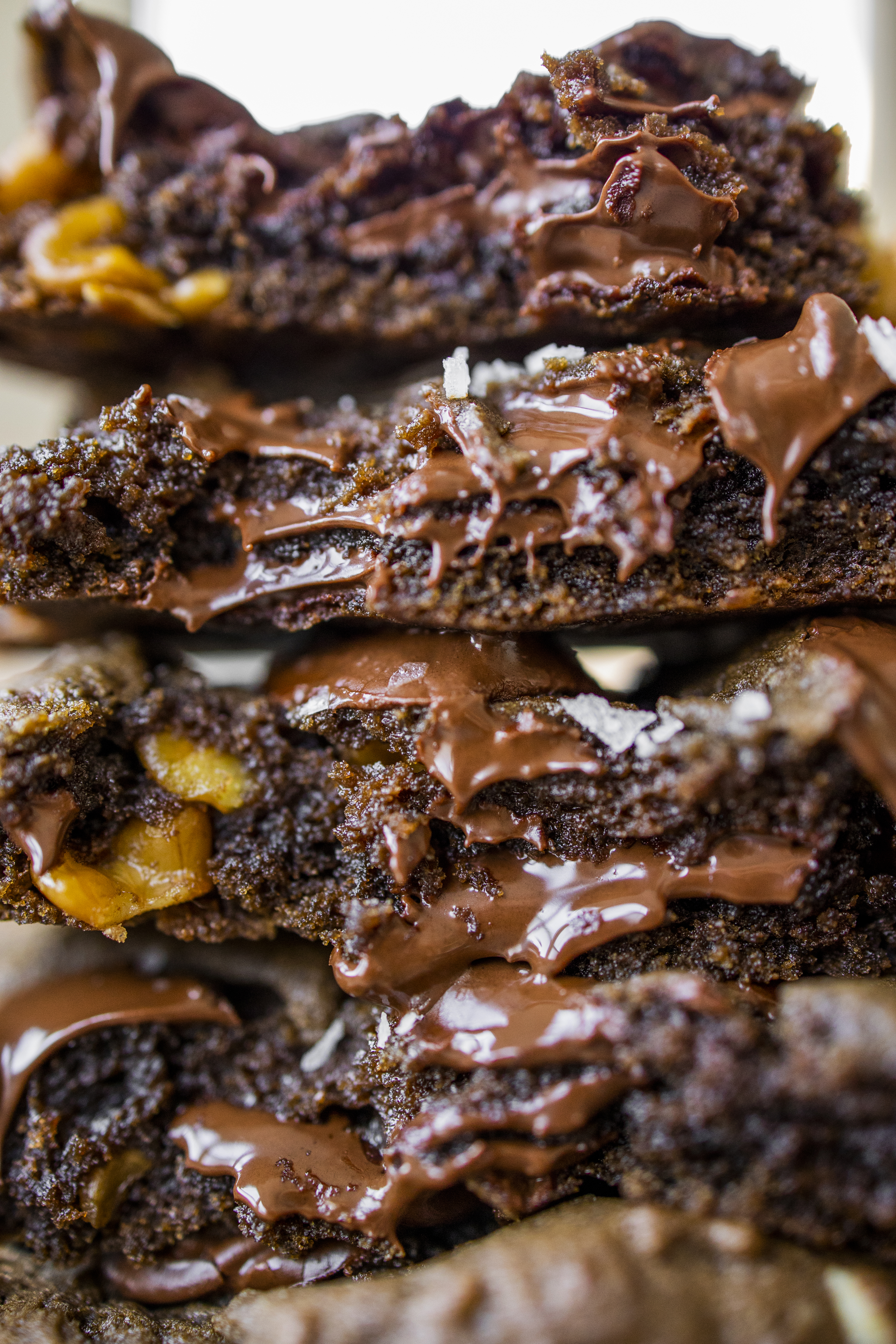 These vegan Double Chocolate Chip Cookies with walnuts, aka fudgy brownie cookies, are the perfect treat when you are craving chocolate and want a treat in cookie form. These fudgy and tender, melty-chip cookies are reminiscent of brownies, but with more sturdiness and bite to them than a gooey brownie.
These Double Chocolate Chip Cookies have walnuts folded in too. I love the added crunch and flavor that they add – though nuts are totally optional. you can whip up a batch of these yummy cookies in about a half hour!…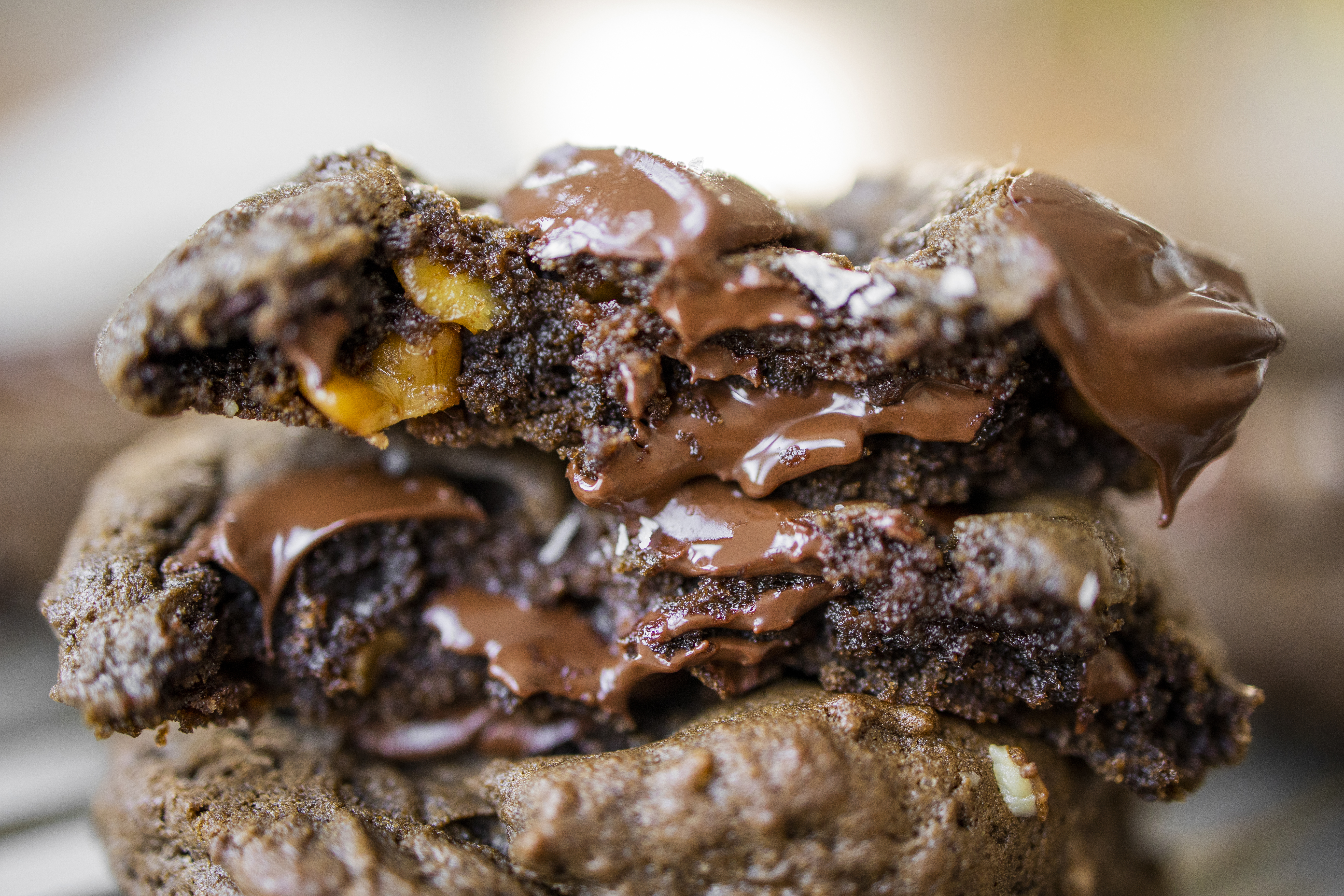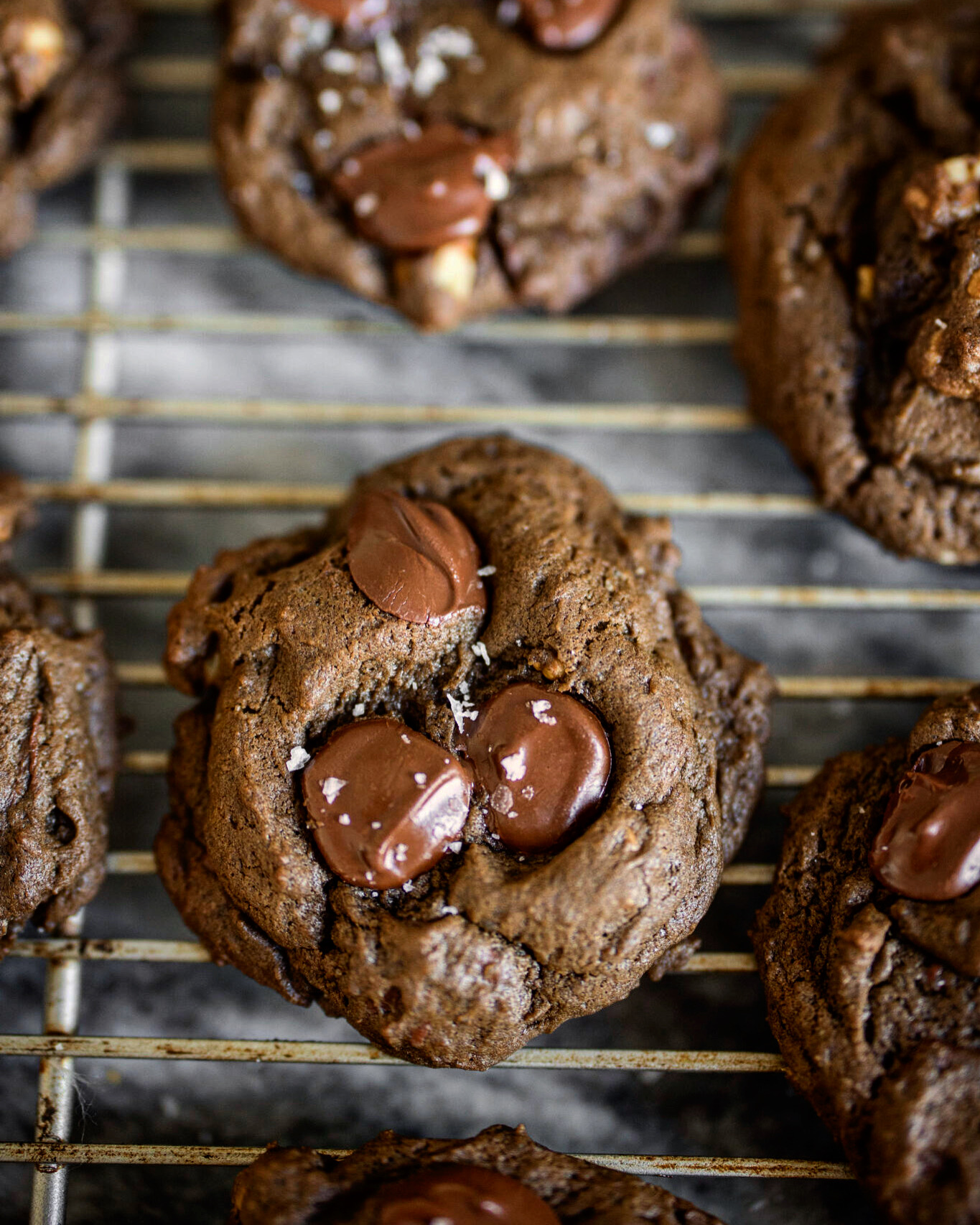 Double the Chocolate
I love traditional chocolate chip cookies just as much as the next cookie-lover, but sometimes I need something even richer, a bit more bold and with a velvety richness that resembles a slice of double chocolate cake. These cookies deliver!
These vegan Double Chocolate Chip Cookies are simple in form and big on chocolate flavor. Perfect for making for a party or just to have on hand to nibble during the holiday season. Sorry, gingerbread men, these cookies might steal a bit of your spotlight this year.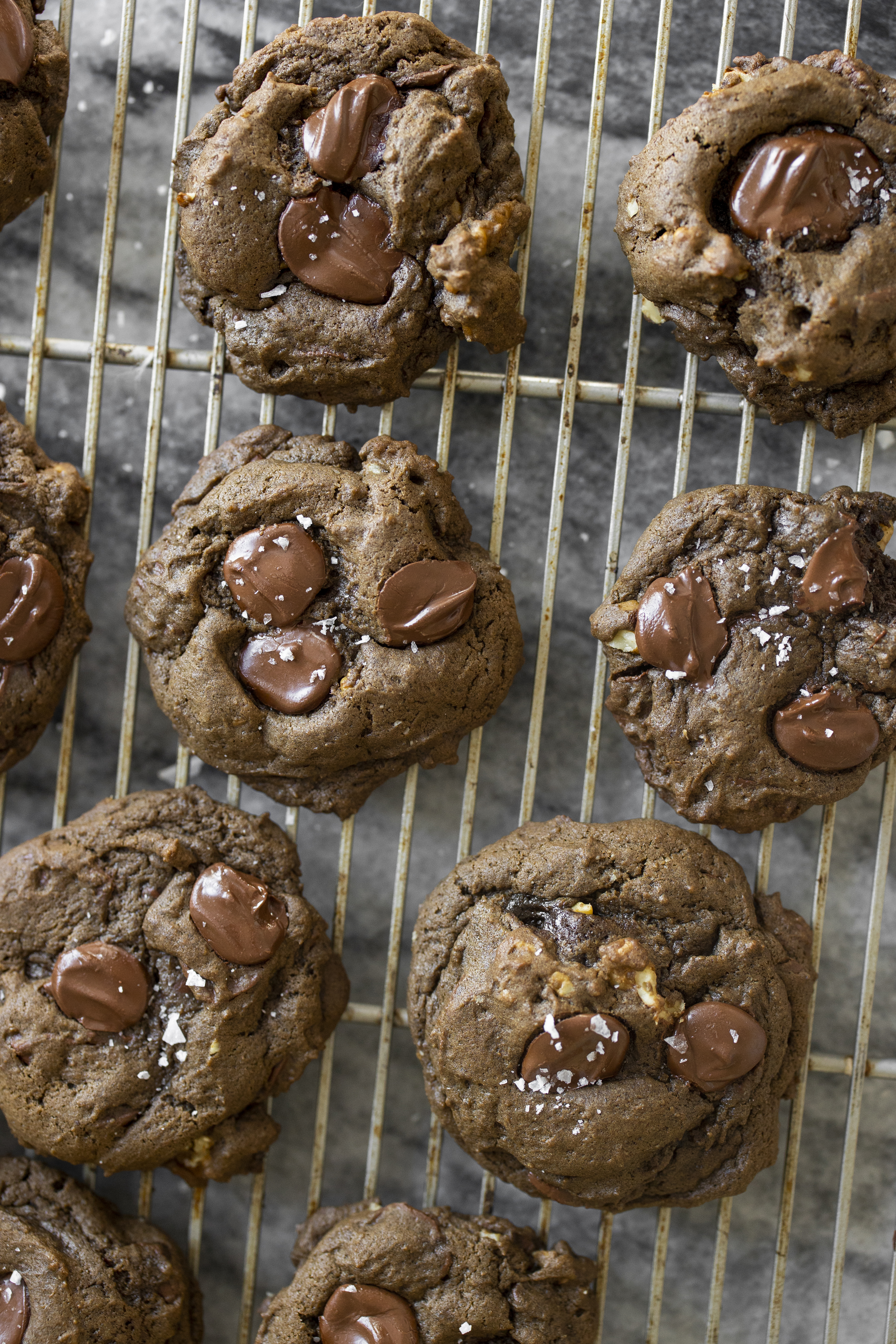 Vegan Chocolate Cookies
These cookies are easily made vegan. I use vegan butter, a vegan egg replacer and the usual other ingredients including flour, baking soda, salt, etc..
What about the chocolate chips?
There are plenty of vegan options for chocolate chips these days. My favorite brand right now is Guitard because they always seem to be in stock at my local Whole Foods, and they have a richer flavor and smoother texture than some of the other vegan brands I have tried. Note, Guitard is not a vegan brand, but if you read the labels, their dark chocolate and semi-sweet flavors of chocolate chips do not contain dairy – though they are made on shared equipment.
My first batch of these Double Chocolate Chip Cookies, I used traditional (vegan) semi-sweet chips..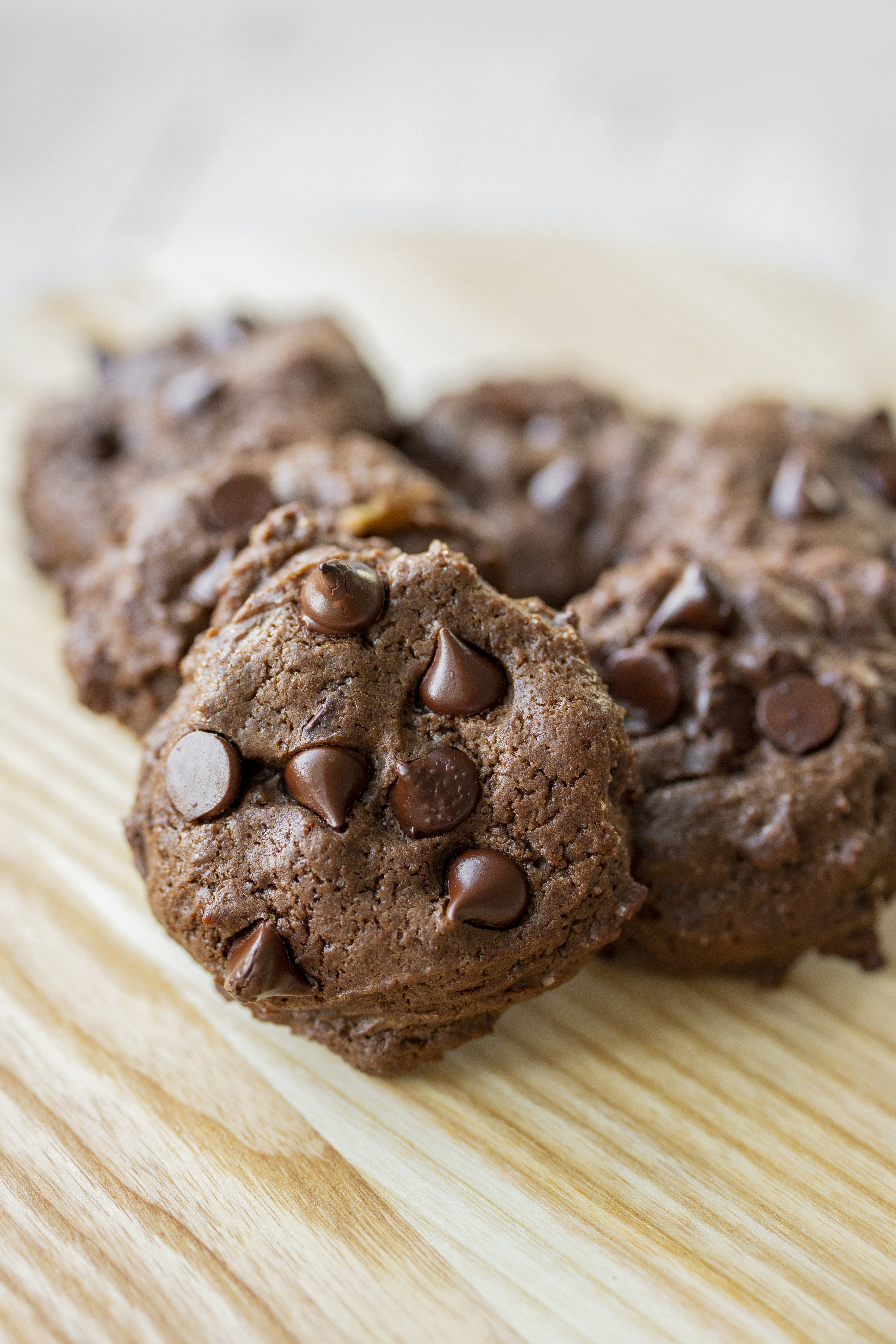 But for my second batch to test this recipe, I tried a new chip variety!..
The Best Chocolate Chips for Cookies
I have to say that my new favorite chip variety for cookies: super cookie chips by Guitard. They are these melty discs that are formulated to actually stay melty for a longer period of time. And oh boy they deliver!
I think it was a good hour after I pulled these from the oven and the centers of the chocolate were still melty.
These chips are still nice and rich and they just happen to be free of animal products too. No dairy. They have 48% cacao. So while they don't have a super dark chocolate flavor, the melty cocoa butter deliciousness is so fun for cookies!
I do love semi-sweet and dark chocolate chips as well, but the Super Cookie Chips are just so much fun to photograph — and eat!
But anyways…..
COOKIES! Let's get baking…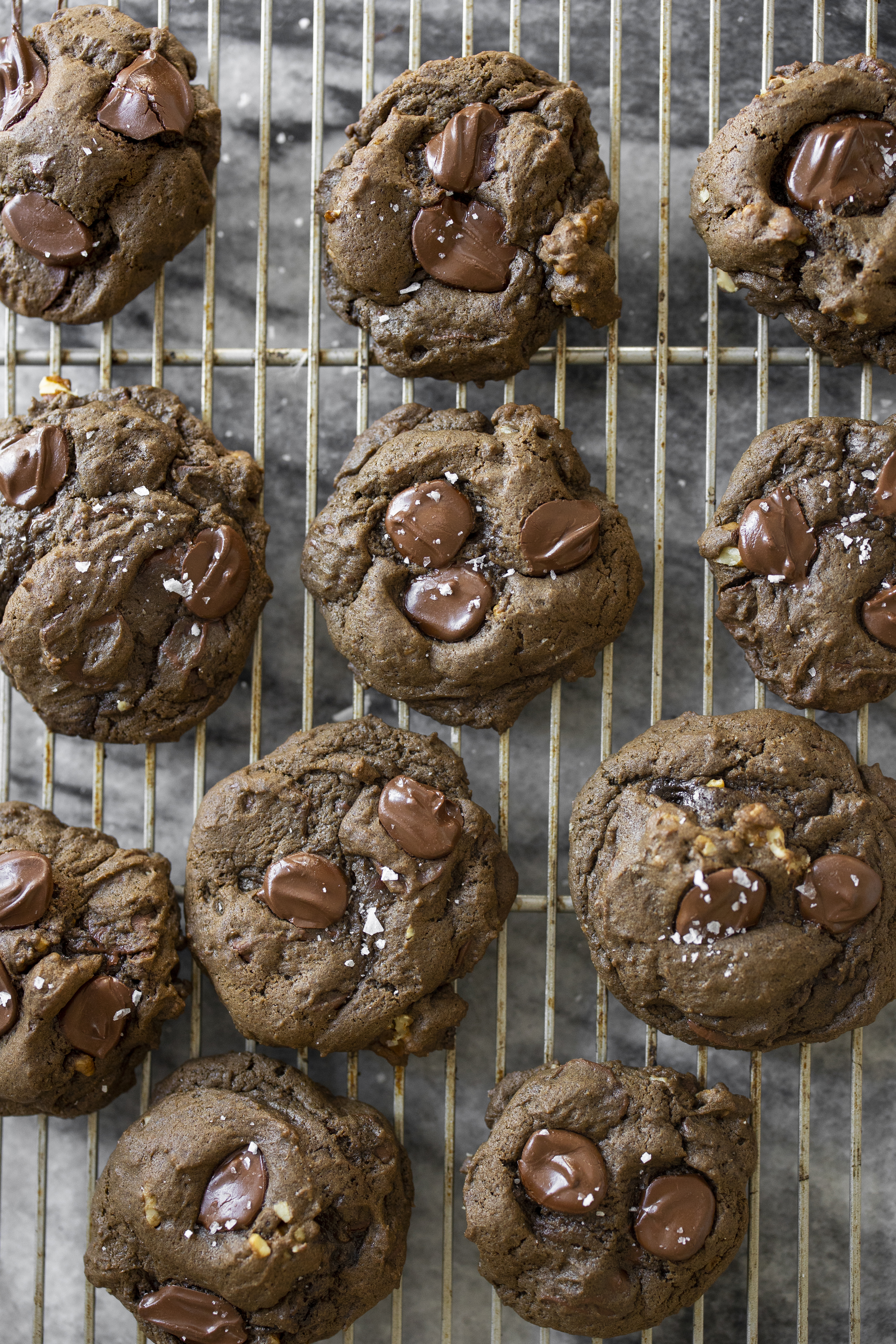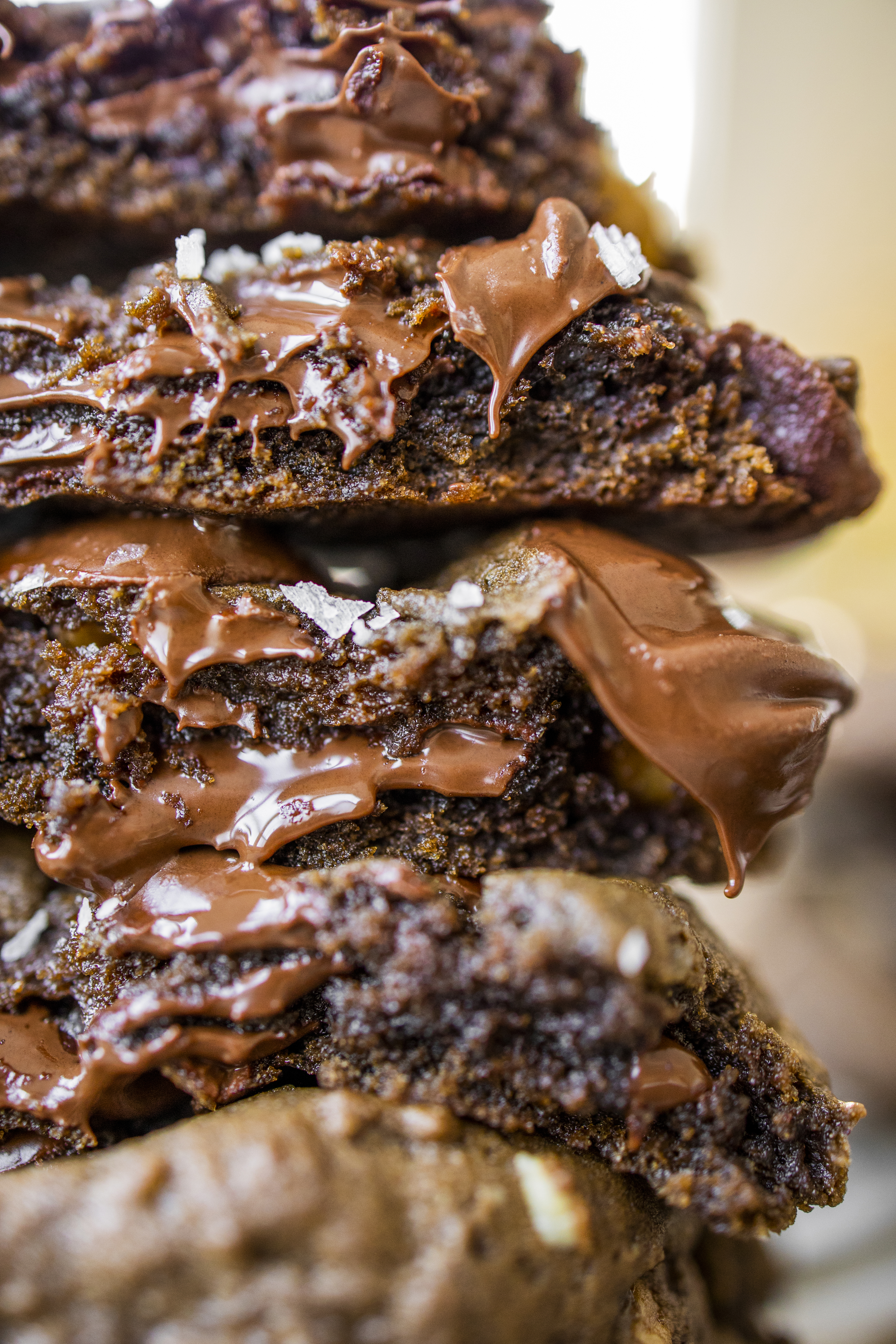 Cookie Baking Tips
A few refresher cookie baking tips when you strat ahead with these Double Chocolate Chip Cookies…
1 – Preheat! Preheat that oven until it is nice and hot. Toasty and warmed to 350. A cool oven will make your cookies melt a bit before they actually start the full bake and the texture turns out to be a bit deflated. I know this very well because we recently installed a new oven and my first batch of these cookies accidently went in a half-warmed oven and they spread way too much before I fixed the temperature.
2 – Chill Then Cook. This step is optional for these Double Chocolate Chip Cookies, but I prefer chilling my dough a bit before baking. I think the texture makes for a fudgier cookie, which I love.
3 – Chips on Top. For extra pretty cookies, press a few chips into the tops of the cookies right before baking. IF your dough is nice and chilled, you can even press the dough balls down a bit when adding the chips to encourage a flat, spread-yet-fluffy cookie shape.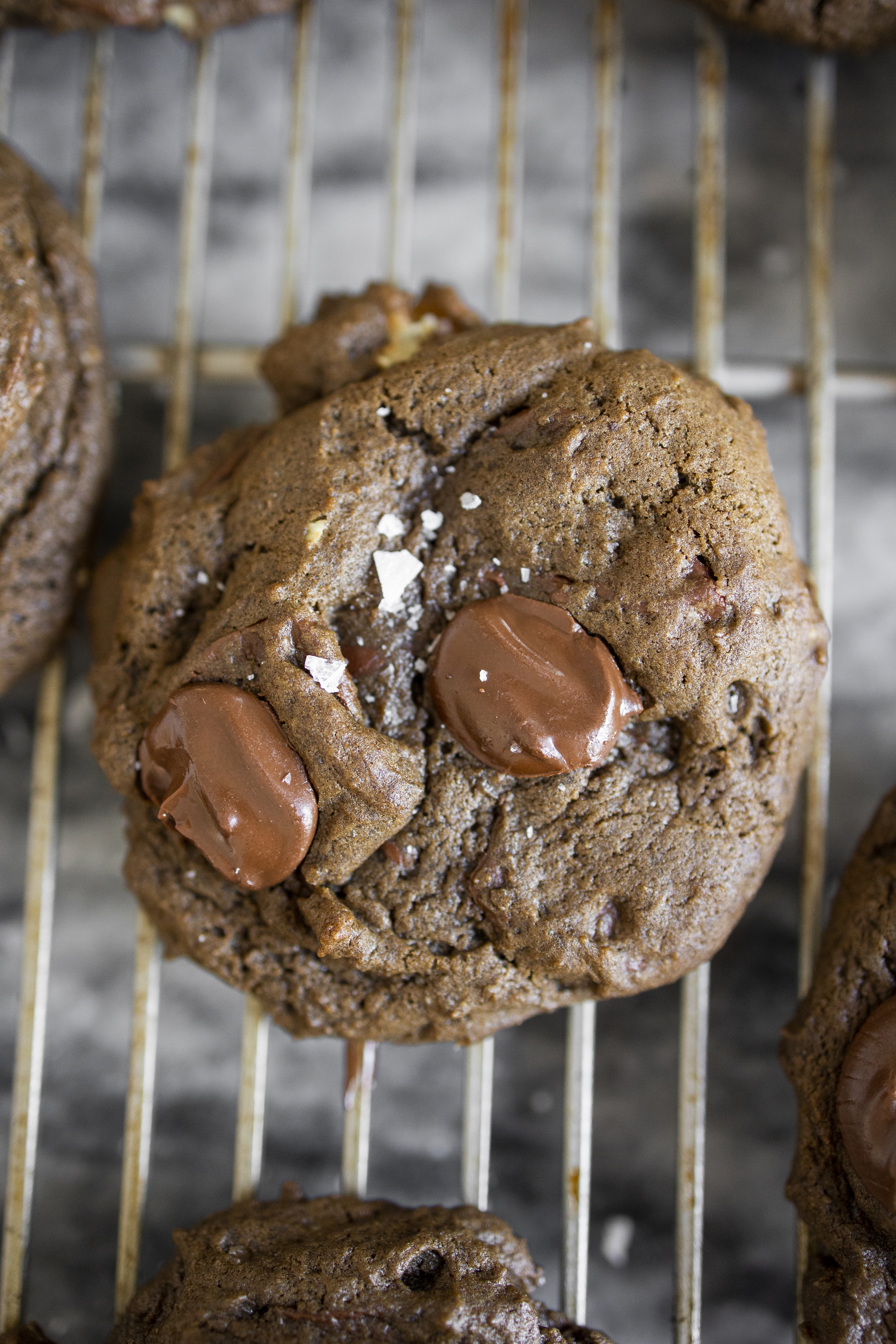 4 – Room Temp Ingredients. Try to use room temperature-ish ingredients for the best results. This allows the dough to come together well and allows the sugars to melt into that butter. "Creaming" the butter…
5 – Fresh flour! Make sure your flour is fresh!
6 – Underbake 'Em – I find that people tend to slightly overbake their cookies on average. So in general, I usually say, whatever you think looks "done" – pull your cookies like two minutes before that.
7 – Salt 'em! I love adding a pinch of good salt on top of cookies. Especially chocolate cookies! Fleur de Sel is my go-to, but and coarse salt will work well. Fine table salt doesn't really do it because the salt just dissolves into the cookie and you don't get a bright punch of salt.
8 – Use Good Chocolate Don't skimp on quality when it comes to the chocolate chips you use in your cookies. Get the good stuff. Luckily, many amazing chocolate chip brands are dairy-free, vegan. Some of them say they are processed on shared equipment, but if you don't have an allergy, you are good to go.
9 – Parchment Paper – I always use a sheet of parchment under my cookies. It keeps my pan clean and I love the browning.
Most Important Cookie Baking Tip…
8 – Have Fun! Don't stress about the perfect cookie shapes and even sizes. Remember that cookie baking should be fun. And a few imperfections can add character to your batch. 🙂 And practice makes perfect. You don't need to be Martha Stewart the first time you bake a new recipe.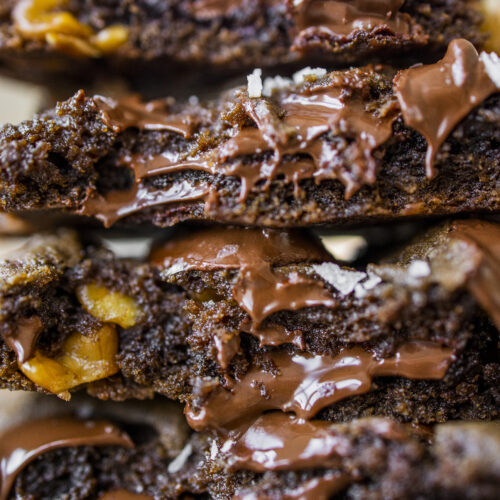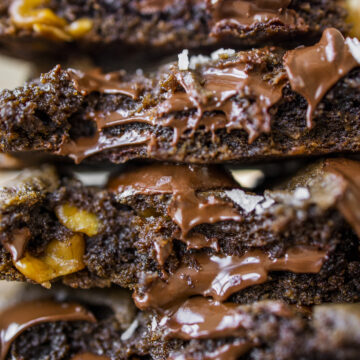 Double Chocolate Chip Cookies
Twice the chocolate in these rich, gooey double chocolate, chocolate chip cookies. Vegan. With walnuts too!
Print
Pin
Ingredients
Wet
½

cup

vegan butter

,

1 stick Earth Balance

⅔

cup

cane sugar

2

tablespoon

espresso or dark coffee

1

teaspoon

vanilla extract

1

tablespoon

molasses

,

*
Dry:
¼

cup

cocoa powder

1 ½

cups

all purpose flour

½

teaspoon

salt

½

teaspoon

baking soda

¼

cup

vegan egg replacer

,

**
Fold in:
1 ¼

cups

chocolate chips

1

cup

walnuts

,

chopped
Instructions
Preheat oven to 350 degrees and line a baking sheet(s) with parchment paper. For larger cookies, one sheet will work, smaller cookies will need two sheets.

Add all the wet ingredients to a large mixing bowl. Cream them together using a hand or stand mixer. combine until whipped and smooth.

Add in the dry ingredients and beat again until fluffy.

Fold in the chips and walnuts.

Place the dough in the fridge for about five minutes, just to chill up a nit. Longer is ok as well.

Scoop dough onto baking sheet(s). This recipe makes 12 large cookies or 16 average sized cookies.

Bake at 350 degrees for 11-14 minutes. Underbake slightly if you want a truly melty cookie. Cool on a cooling rack for at least ten minutes. Serve warm!
Equipment
mixer

mixing bowl

baking sheet

cookie scoop or spoon
Notes
* — use molasses if you have it on hand. If not, sub out ⅓ of the sugar and replace with ½ cup brown sugar.
** — I tested this recipe successfully using JUST Egg, a potato starch based egg replacer and silken tofu.
nutrition estimate | per serving
Calories:
173
kcal
|
Carbohydrates:
20
g
|
Protein:
3
g
|
Fat:
10
g
|
Saturated Fat:
2
g
|
Sodium:
159
mg
|
Potassium:
90
mg
|
Fiber:
1
g
|
Sugar:
10
g
|
Vitamin A:
270
IU
|
Vitamin C:
1
mg
|
Calcium:
14
mg
|
Iron:
1
mg