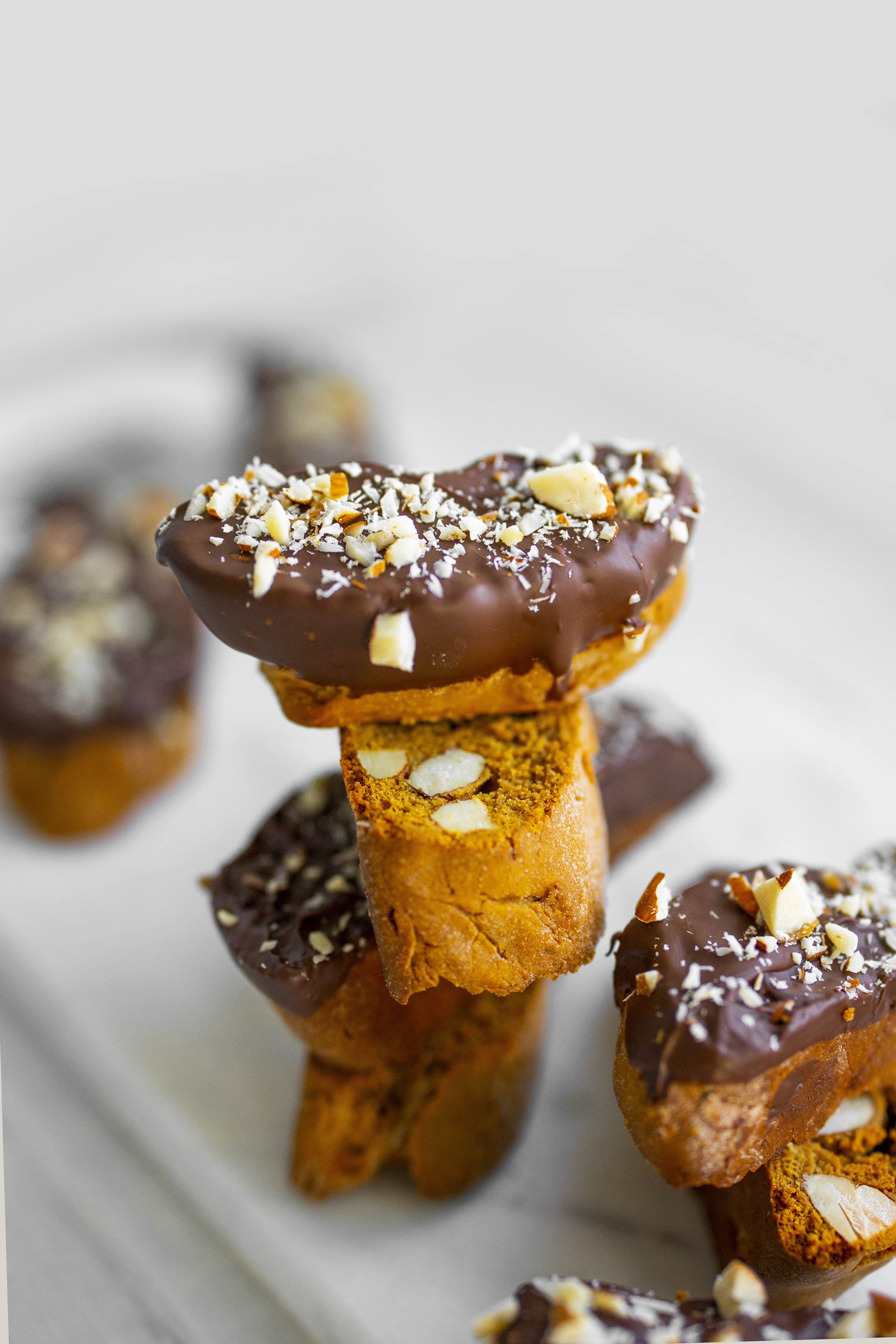 I embarked on a new baking project over the weekend. Vegan Biscotti! Sweet and simple, with that alluring almond flavor – a few of them dipped in dark chocolate, with a sprinkling of chopped almonds on top.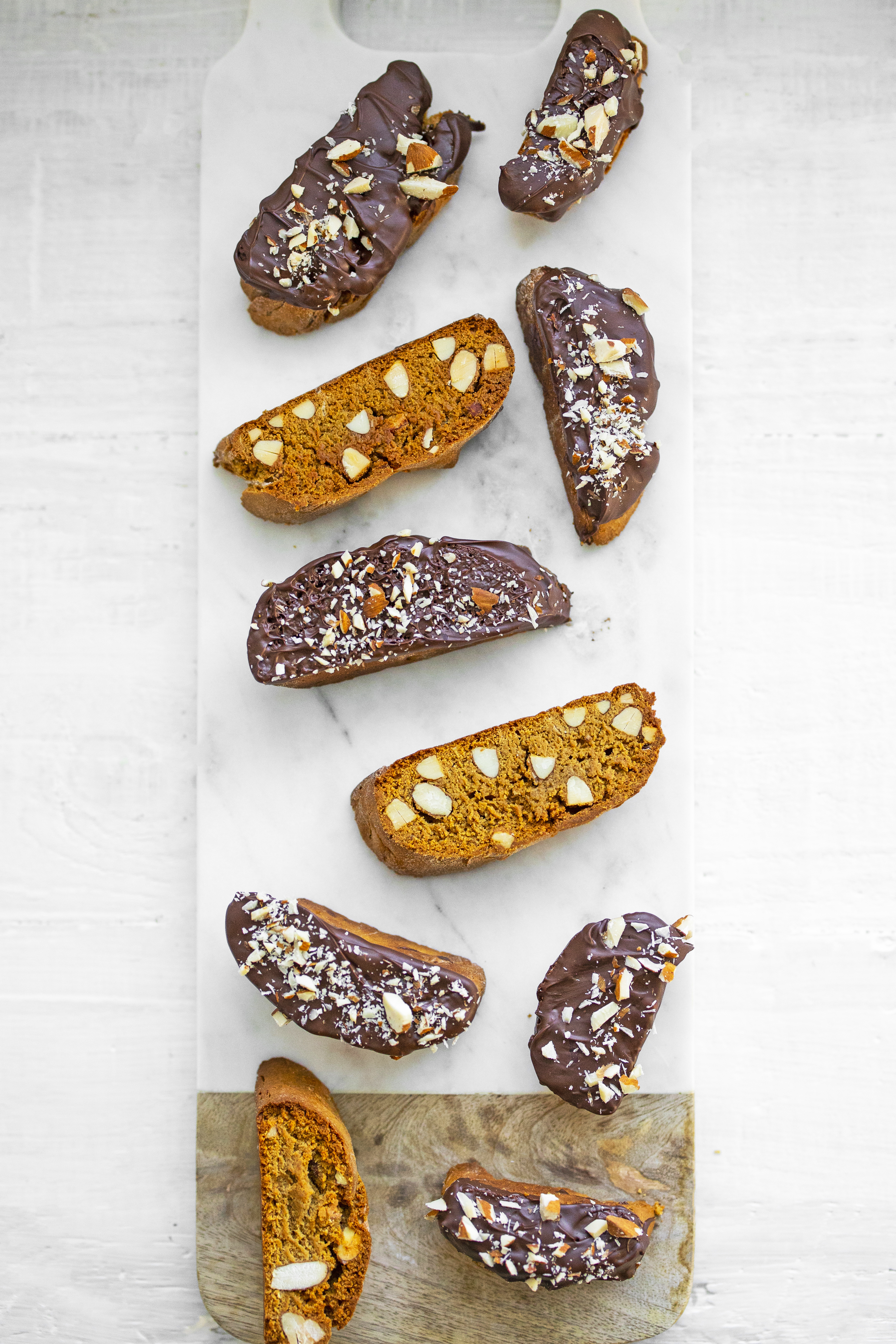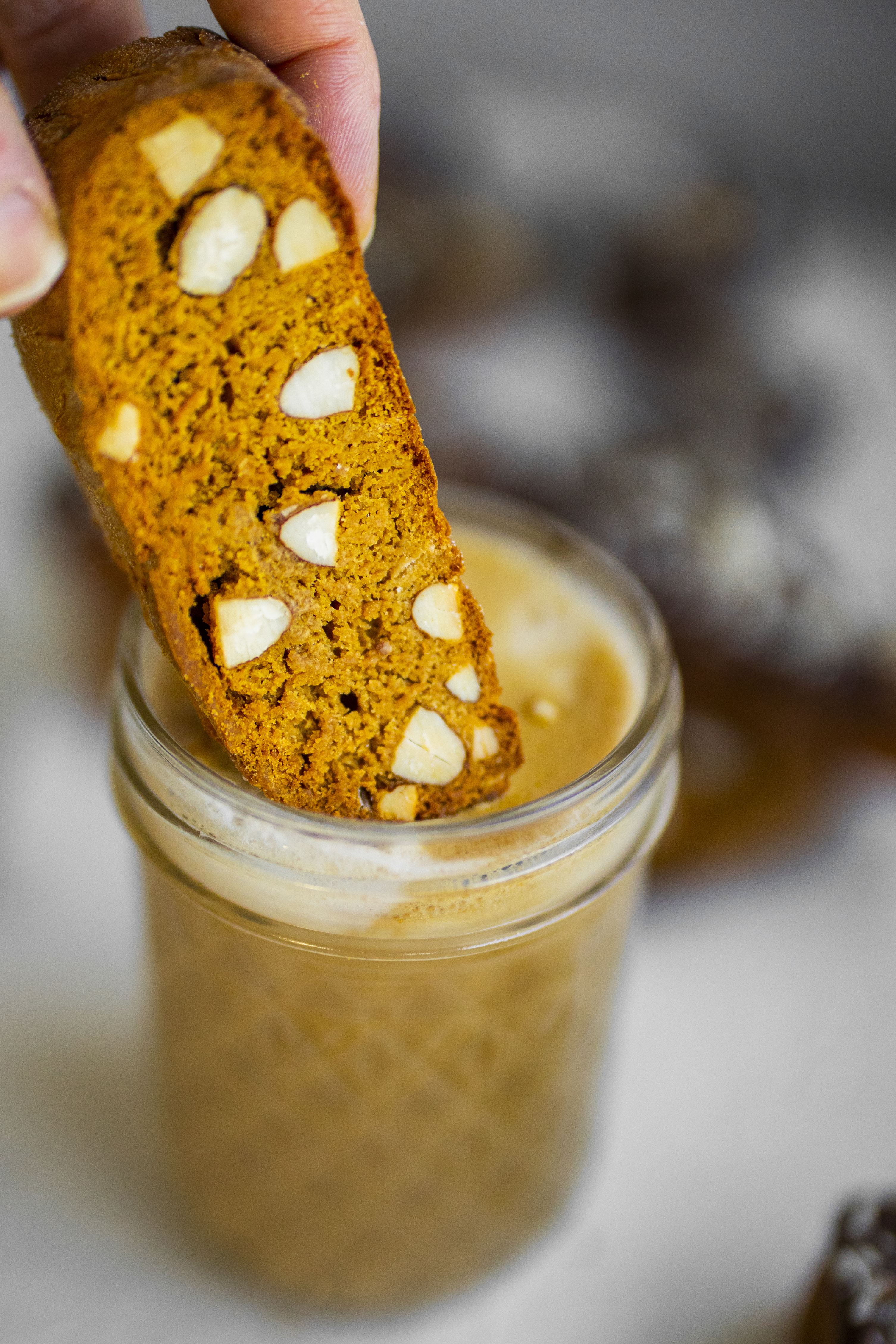 Biscotti actually translates to cookies in Italian. The process of making biscotti always seemed a bit mysterious to me. How do they make them so lovely and crispy, perfect for dunking and get them to plump up to be dreamy-soft when dunked – especially when dunked in warm liquid like coffee? They couldn't just be over-baked crispy cookies, right? Nope!
They are "twice-baked" cookies.
And after playing in the kitchen a bit (while the little one napped or played with her daddy), I was thrilled to discover how easy these delightful little twice-baked Italian cookies are to make! Bring on the biscotti!
And yes, this crazy pandemic was the inspiration for these treats… Re: "Second coffee."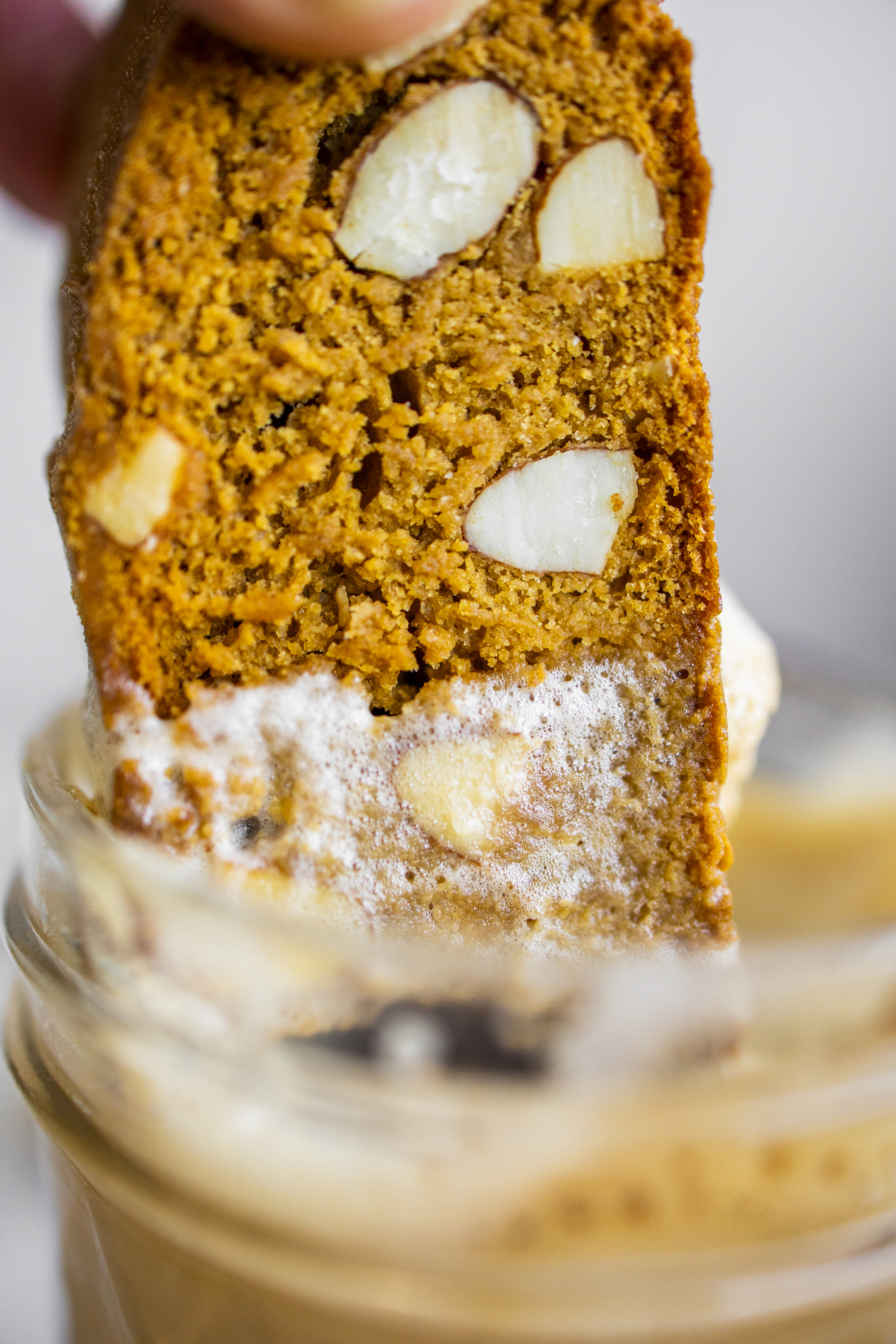 The Coffee Cookie
Coffee anyone? Tea? Latte? I'm guessing that if you are working from home like my family, you have grown extra attached to your daily mug of warmth. Maybe that's a decaf latte like me or a cappuccino or an herbal tea or even a matcha latte. And another way you might be like me… you have a second round come mid-morning or afternoonish. Yup, "second coffee" is now a thing in our house.
For me, since I'm still postpartum and breastfeeding, I just kinda have preferred decaf. My husband alternates between caffeinated and decaf. And there is also a lot of herbal tea prepared in the afternoons! Rooibos. Hibiscus. It's always caffeine-free tea for us.
For coffee, we use Nespresso. (Amazon link) LOVE! We have a Pixie machine.
But something was always missing with those second or third warm mugs… a coffee cookie! So Vegan Biscotti popped into my head and I simply had to make some.
Dunkable Cookies
These biscotti are totally dunkable! When eaten without dunking, they are still yummy, with a crispy, nutty texture. And when dunked, they get all soft and tender. So good!!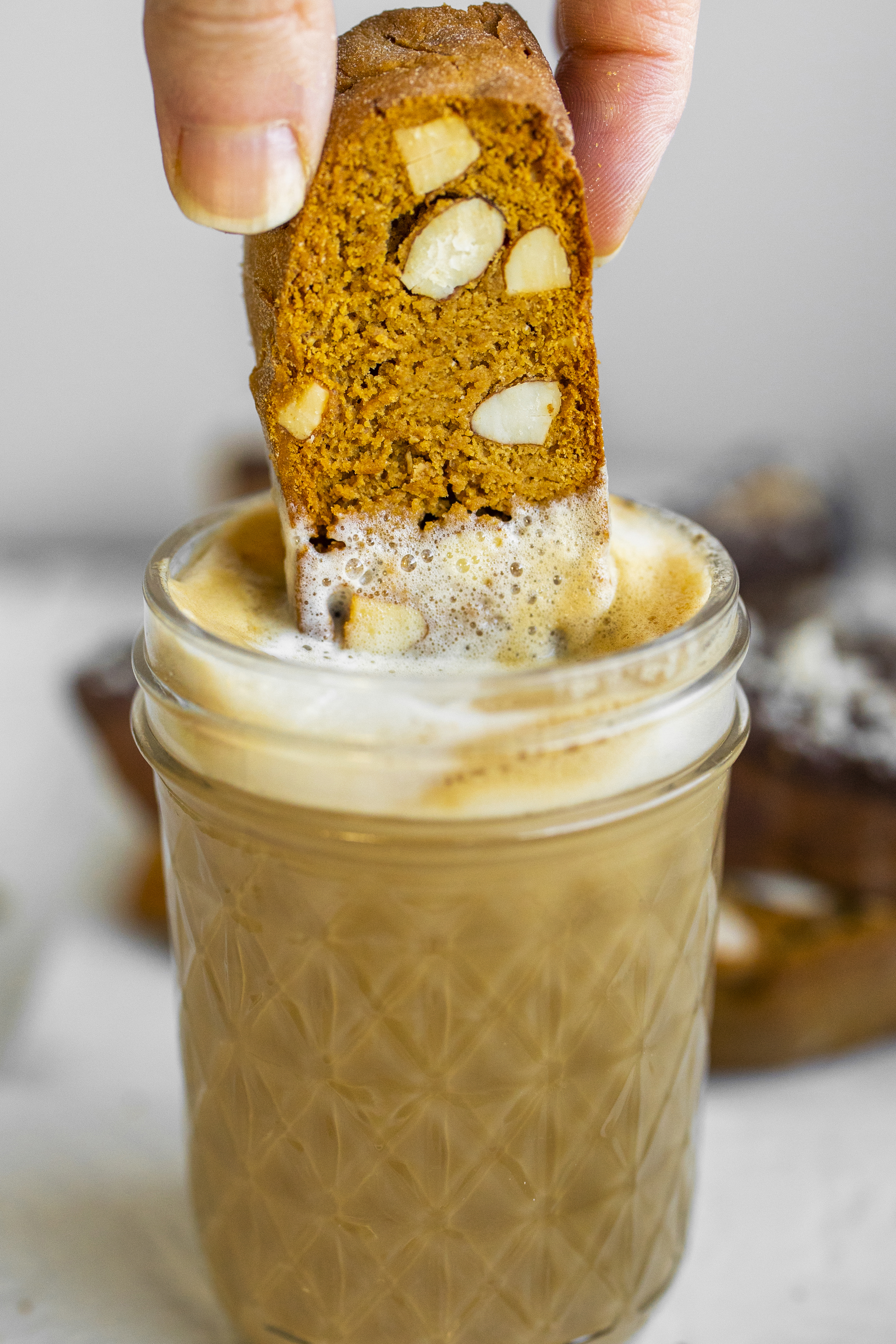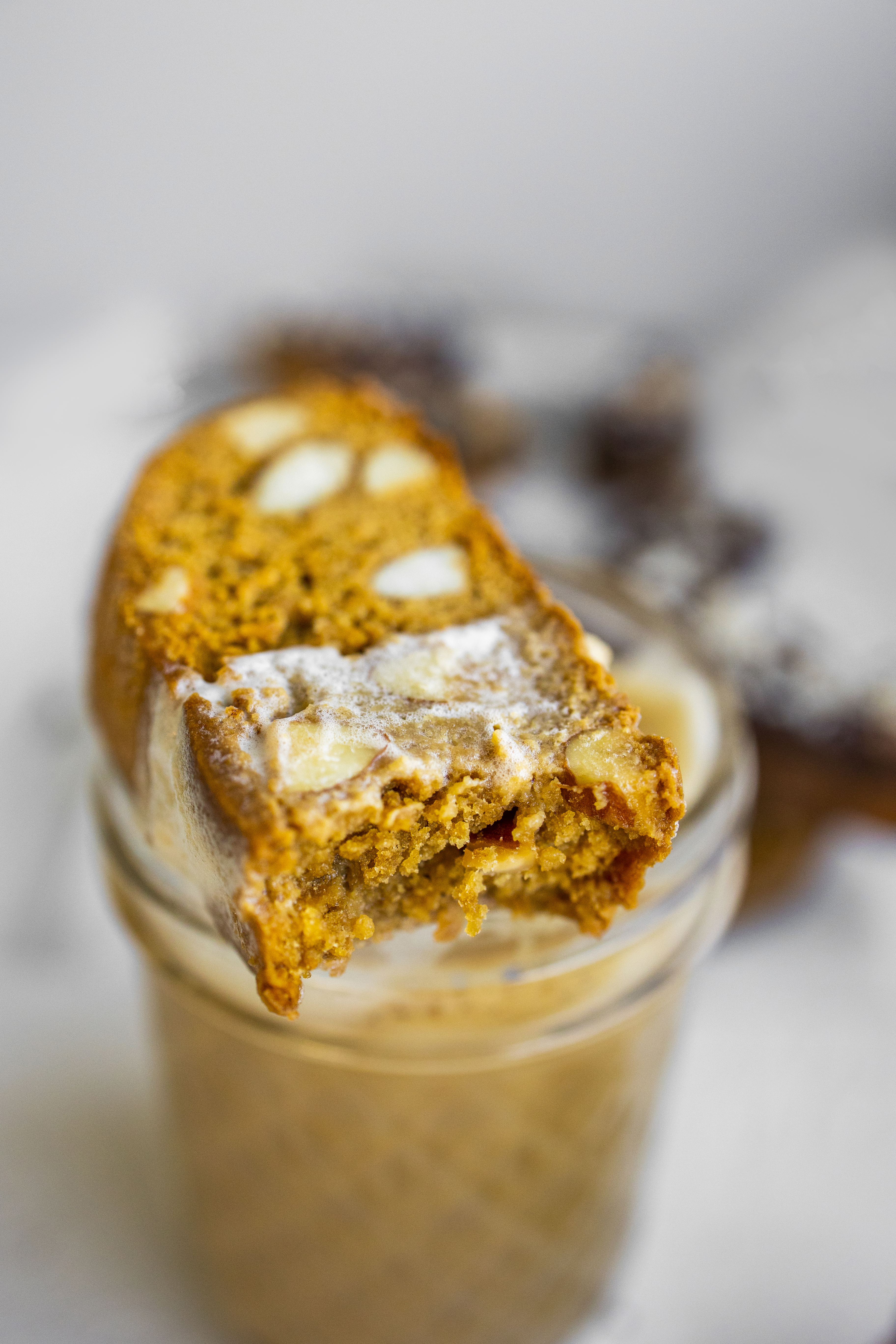 Biscotti Flavors
The signature mark of biscotti? That distinctive almond flavor. Biscotti recipes usually include both almond extract as well as whole toasted almonds. The almond extract, similar to vanilla extract, gives that bold punch of almond flavor. While the whole almond lend a crisp, nutty texture and more subtle (real) almond flavor.
What do I mean by real almond flavor?? Well, almond extract doesn't actually taste like almond in my opinion. But it absolutely has a signature flavor that I love.
Biscotti, vegan or not, is often dipped in chocolate – though this step is totally optional.
My Vegan Biscotti Recipe
I did a simple search online to spot the basic ingredients and method to a biscotti recipe. The recipe I adapted mine from is this one by She Loves Biscotti.
I simply veganized a biscotti recipe using my own cookie ingredient preferences and know-how. And I usually use less sugar and my own variety of fave ingredients. I also veganized everything of course. Eggs? Easy! I used JUST Egg, but I will be experimenting with silken tofu and a few other egg replacers my next go at this recipe.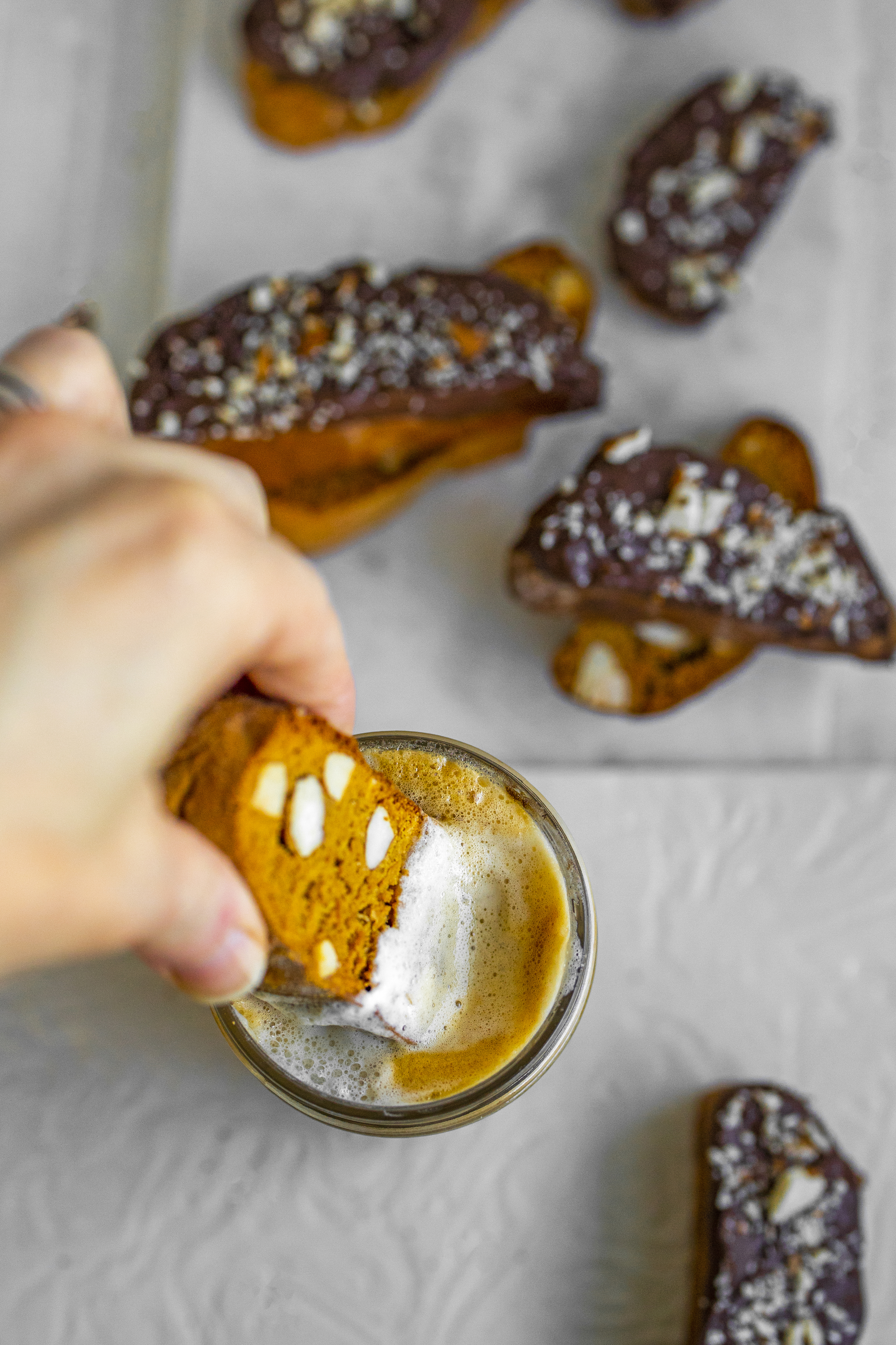 Simple Biscotti
For this recipe, I keep things super simple and basic. This recipe is for an almond flavored biscotti without many unique bells and whistles to the add-ins.
I did add a pinch of pumpkin pie spice as well as some lemon, but this recipe is pretty perfect for a basic traditional biscotti, gone vegan.
I cannot wait to play around with some more creative recipes in the future! Vegan Biscotti is really satisfying and fun to make!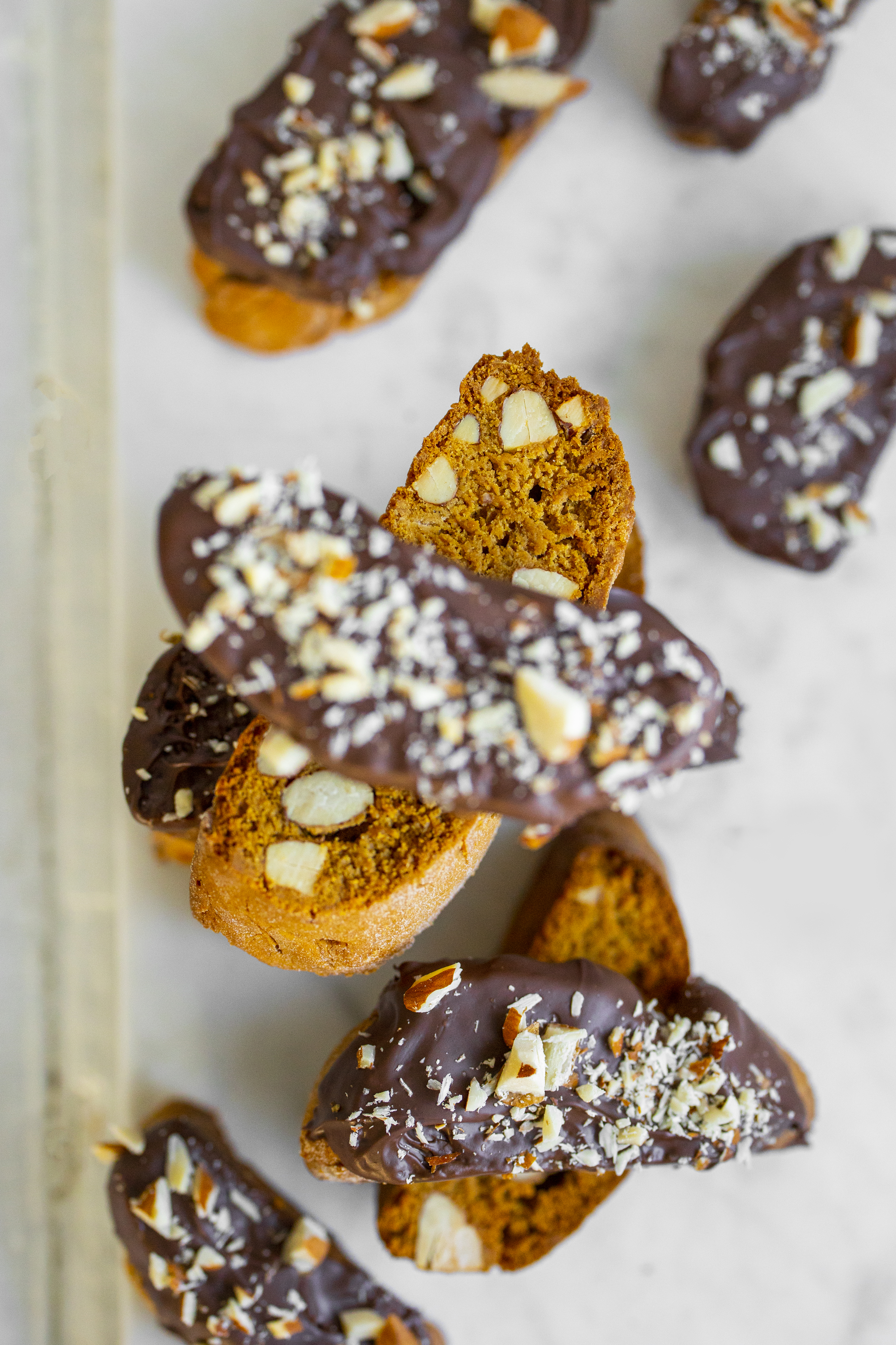 Gifting Cookie
This Vegan Biscotti will be perfect to use as a gifting cookie! Simply make a big batch, stuff a few baggies with the cookies, tie a pretty ribbon on each, and hand them out to all your favorite people during the holidays.
Other fave gifting recipes of mine: granola and cocoa mix.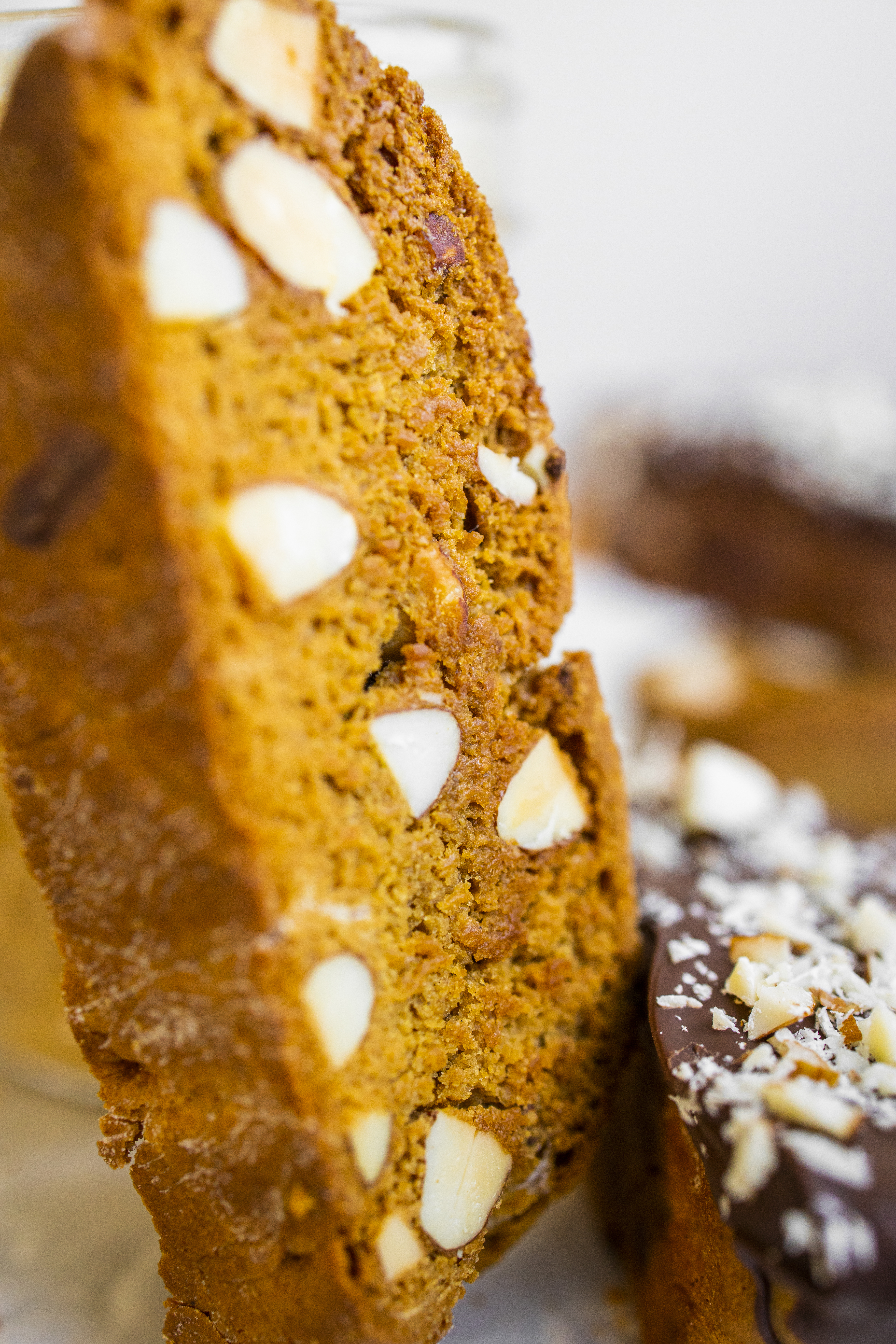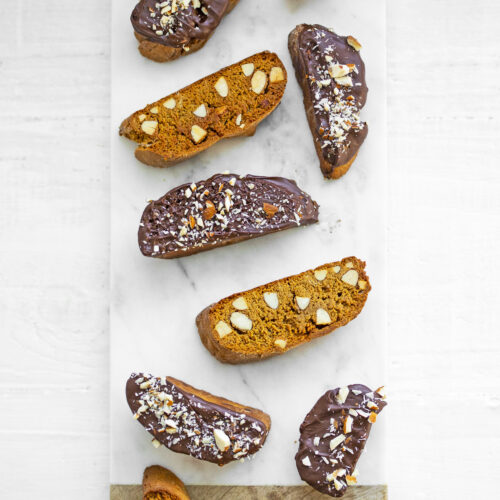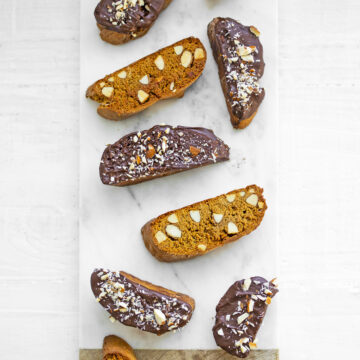 Vegan Biscotti
Crispy and delightful and tender and soft when dunked, these almond-flavored vegan biscotti are an elegant and timeless treat or anytime snack.
Print
Pin
Ingredients
1

cup

almonds

,

raw, unsalted
Wet:
1

cup

coconut sugar

1

tablespoon

almond extract

1

teaspoon

vanilla extract

½

cup

vegan egg replacer

,

JUST Egg used

⅓

cup

extra virgin olive oil

1 ½

tablespoon

lemon juice

½

teaspoon

lemon zest
Dry:
¼

teaspoon

salt

2

teaspoon

baking powder

⅛

teaspoon

pumpkin pie spice

,

optional

2 ⅓

cups

all purpose flour
Toppings:
1

cup

chocolate chips

,

melted – optional

¼

cup

almonds

,

chopped
Instructions
Warm oven to 350 degrees.

Spread your almonds onto a baking sheet. Bake for 5-7 minutes to lightly toast. this helps bring out the almond flavor.

Remove almond from the oven and roughly chop. Set aside.

In a large mixing bowl, combine the wet ingredients. Then stir in the dry ingredients until a wet dough is achieved. You want it nice and wet, yet just dry enough to delicately handle. It will be sticky, but dry enough to mold into "logs."

Scoop half of the bowl of dough onto parchment paper on the baking sheet. Form into a log. The width of the log will determine how long your biscotti are. I did mini biscotti. My log was about three inches wide and 8 inches long. Repeat with the second half of dough.

Place your logs in the oven and bake at 350 degrees for 30 minutes.

Remove baking sheet from the oven. Allow the logs to cool until the tops are cool to touch and logs sliceable.

When logs are cool enough to slice into – cut the pieces of biscotti. Thickness can vary! I did about an inch wide. Continue until both logs are cut into cookies.

Arrange the cookies back on the baking sheet.

Bake again at 350 degrees for about 10-20 minutes. The longer you bake them, the crispier (and darker) they will get. Do not overbake and dry them out too much! NOTE: They will crisp up as they cool.

Optional step: After cookies cool, you have the option of melting chocolate via a double broiler and dipping the biscotti in chocolate. Sprinkle tops with chopped almonds. Coarse sea salt is another nice accent!

Store biscotti in a sealed container on the counter for up to a few days. Store for longer periods in the fridge or freezer.
Equipment
baking sheet

parchment paper

mixing bowl

chef's knife
nutrition estimate | per serving
Calories:
159
kcal
|
Carbohydrates:
20
g
|
Protein:
3
g
|
Fat:
7
g
|
Saturated Fat:
1
g
|
Sodium:
46
mg
|
Potassium:
127
mg
|
Fiber:
1
g
|
Sugar:
6
g
|
Vitamin C:
1
mg
|
Calcium:
45
mg
|
Iron:
1
mg