This might be one of my very favorite Christmas cookies to make in December. Pfeffernüsse cookies, gone vegan! These traditional German holiday cookies have a snowy white exterior and a spiced, tender interior. I love the peppery flavors of nutmeg, clove, allspice and cinnamon combined with molasses and a hint of citrus zest.
Since S N O W is the number one thing I miss about holidays in California compared to back east, these cookies give a little snoystorm-y atmosphere to my holiday treats platter…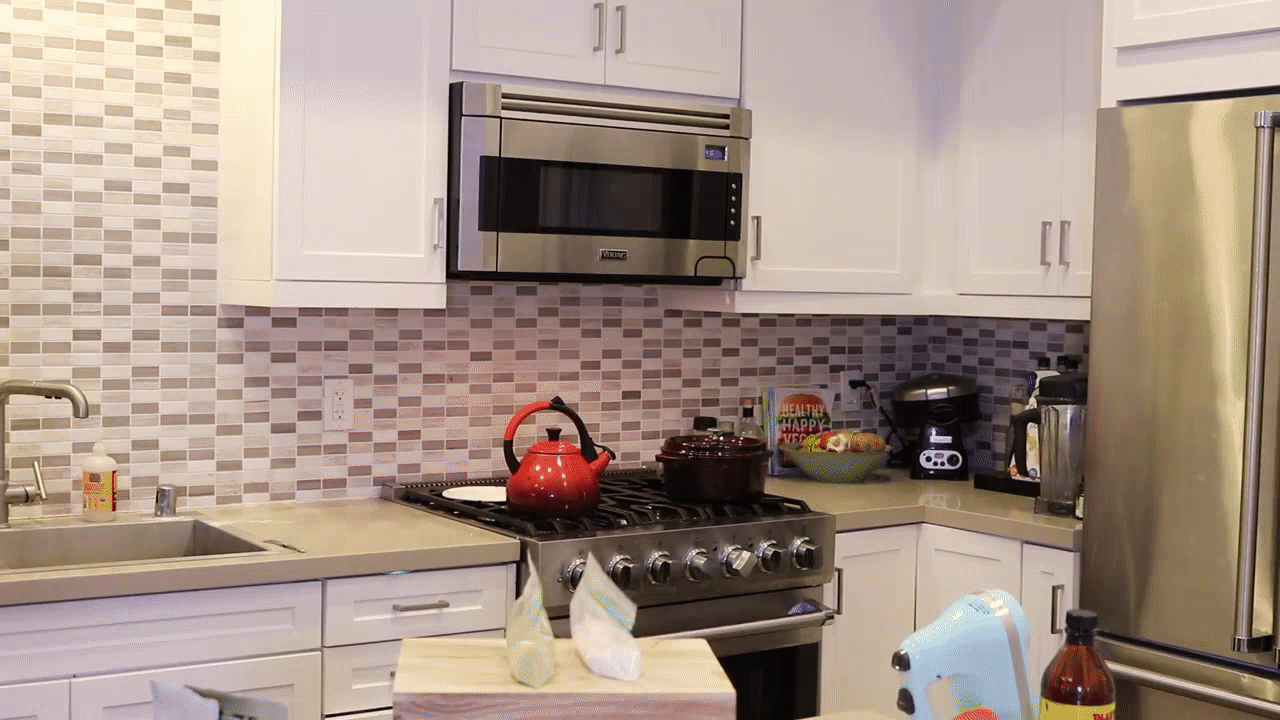 "I'm making Pfeffernüsse! Pfeffernüsse. Pfeffernüsse."
I promise you, these Pfeffernüsse cookies are sun to eat, but also pretty fun to say. I have seemed to pronounce it, instinctively, as Fuffer-nussen. Which, from my research, isn't too far off from the correct German pronunciation. That silent "p" and "fuffer" part just make this like the best word ever for a holiday cookie.
"Pfeffernüsse all around!"

After browsing online, I adapted my Pfeffernüsse cookie recipe from a Martha Stewart recipe. Which btw, she calls Pfeffernussen, not sure which spelling is correct, especially since Martha is never wrong, but who knows. I looked at a few recipes online, and many of them had a much longer ingredients list than the one by Martha. I liked this one because it seemed relatively easy to adapt.
Vegan Egg replacer.
For my cookies, I used pumpkin puree as the egg replacer. I chose pumpkin for a few reasons, it isn't sweet – which an egg is not sweet – so they have very similar flavor properties. And I also love pumpkin as an egg replacer because it adds a lot of body to my baking projects, without interfering with the flavor too much. Unsweetened pumpkin doesn't have much flavor.

Other options for the egg replacement? Silken tofu. Apple sauce (though this will add a tiny bit more sweetness). Or even a flax or chia "egg."
Sugar + SPICE.
I added a heavier hand of spices for my Pfeffernüsse cookies because I really love the spicy flavor. And even with a slightly heavier does of a few of the spices, they still were not spicy enough for me, ha. So these should be good for the average cookie-loving party guest. Otherwise, you could go crazy and bump up the cayenne or ginger or pepper even more!
Snowball Cookies, aka Pfeffernüsse
These pretty white, fluffy, powdery cookies could also simply be called snowball cookies. Easier to pronounce and easier to say, but yes, a bit less exotic. But if I was making this with kiddos, I'd probably throw the title 'snowball cookies' somewhere in there.
Traditional Preparation: Additional Heating?
Some of the recipes used a second step of applying heat to the butter + sugar mixture. I skipped this and just whisked things together at a slightly warmed temp and that worked perfectly. Maybe heating the egg does something? But I found with my ingredients, no additional pot + heat was necessary.
New Favorite Christmas Cookie!
So overall, I am in love with this new holiday cookie recipe! It is definitely a new holiday fave that I plan on making every year. I crave them! That powdery white coating, tender spiced center. I hope you give them a try for your next holiday party or cookie gift..
Christmas Recipes
Snag more of my Christmas recipes here.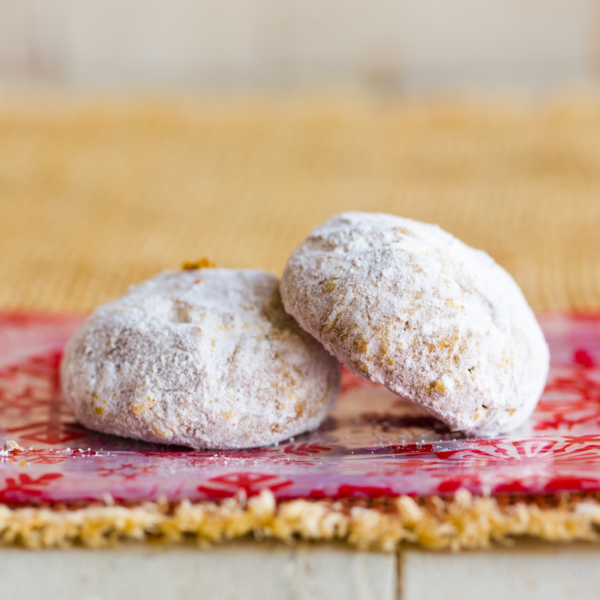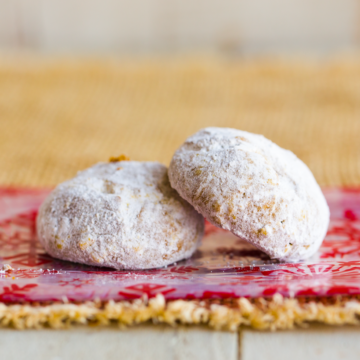 Vegan Pfeffernüsse Cookies
These tender, spiced Pfeffernüsse cookies are easily made vegan with a few traditional recipe tweaks. Snowy powdered sugar on top.
Print
Pin
Ingredients
Wet Mixture:
⅓

cup

brown sugar

,

organic

3

tablespoon

blackstrap molasses

¼

cup

vegan butter

,

softened

3

tablespoon

pumpkin puree

,

unsweetened – or another egg replacer

1

teaspoon

citrus zest

,

I did a combo of lemon and tangerine

1

teaspoon

vanilla extract
Dry Mixture:
1

cup

all purpose flour

,

+ 1 Tbsp

½

teaspoon

ground AllSpice

¼

teaspoon

ground cloves

¼

teaspoon

ground nutmeg

¼

teaspoon

ground cinnamon

⅛

teaspoon

ground black pepper

¼

teaspoon

baking soda

½

teaspoon

baking powder

¼

teaspoon

ginger powder or a few pinches of cayenne powder

⅓

cup

almond meal

,

or ⅓ cup whole almonds -> processed into flour

¼

teaspoon

sea salt
Sugar Coating:
⅛

teaspoon

cinnamon

⅛

teaspoon

AllSpice

¾

cup

powdered sugar

,

organic

pinch

of cayenne or finely ground black pepper

,

optional
Instructions
Preheat oven to 350 degrees. Line a baking sheet with parchment paper.

Add the wet ingredients to a large mixing bowl, blend until combined, using a hand or stand mixer.

Add in the dry ingredients and combine using your mixer on low. Blend until smooth, but to not overbeat, you want the dough to be fluffy and easy to handle.

Roll the dough into small balls, about 1 ½ tablespoon of dough each. Place on parchment, continue placing until all the dough has been used up.

Bake at 350 for about 15 minutes or until the tops begin to plump up and crack a bit along the sides and middle.

In a small bowl or a sandwich-sized plastic bag, combine the powdered sugar with the sugar spices.

Pull the cookies from the oven and allow them to cool for a few minutes on the sheet. When they are cool enough to handle, dip them into the sugar mixture and coat well. Place the cookies on a cooling rack – tip: place a baking sheet under the cooling rack to catch the sugar that falls. Repeat until all the cookies are coated. then repeat the coating to get a double dipped effect. Allow the cookies to fully cool, then dip them again for an extra white coating. I let my cookies chill in the fridge overnight, then dipped them a second time and that worked perfectly for a bright white color.

These cookies are delicious served warm or cool. They also make perfect gifting cookies because they do well in the fridge and/or wrapped in a plastic gifting bag – and can be made a few days ahead of time.
Equipment
baking sheet

mixer

small bowl
nutrition estimate | per serving
Calories:
131
kcal
|
Carbohydrates:
23
g
|
Protein:
2
g
|
Fat:
4
g
|
Saturated Fat:
1
g
|
Sodium:
91
mg
|
Potassium:
100
mg
|
Fiber:
1
g
|
Sugar:
15
g
|
Vitamin A:
654
IU
|
Vitamin C:
1
mg
|
Calcium:
27
mg
|
Iron:
1
mg