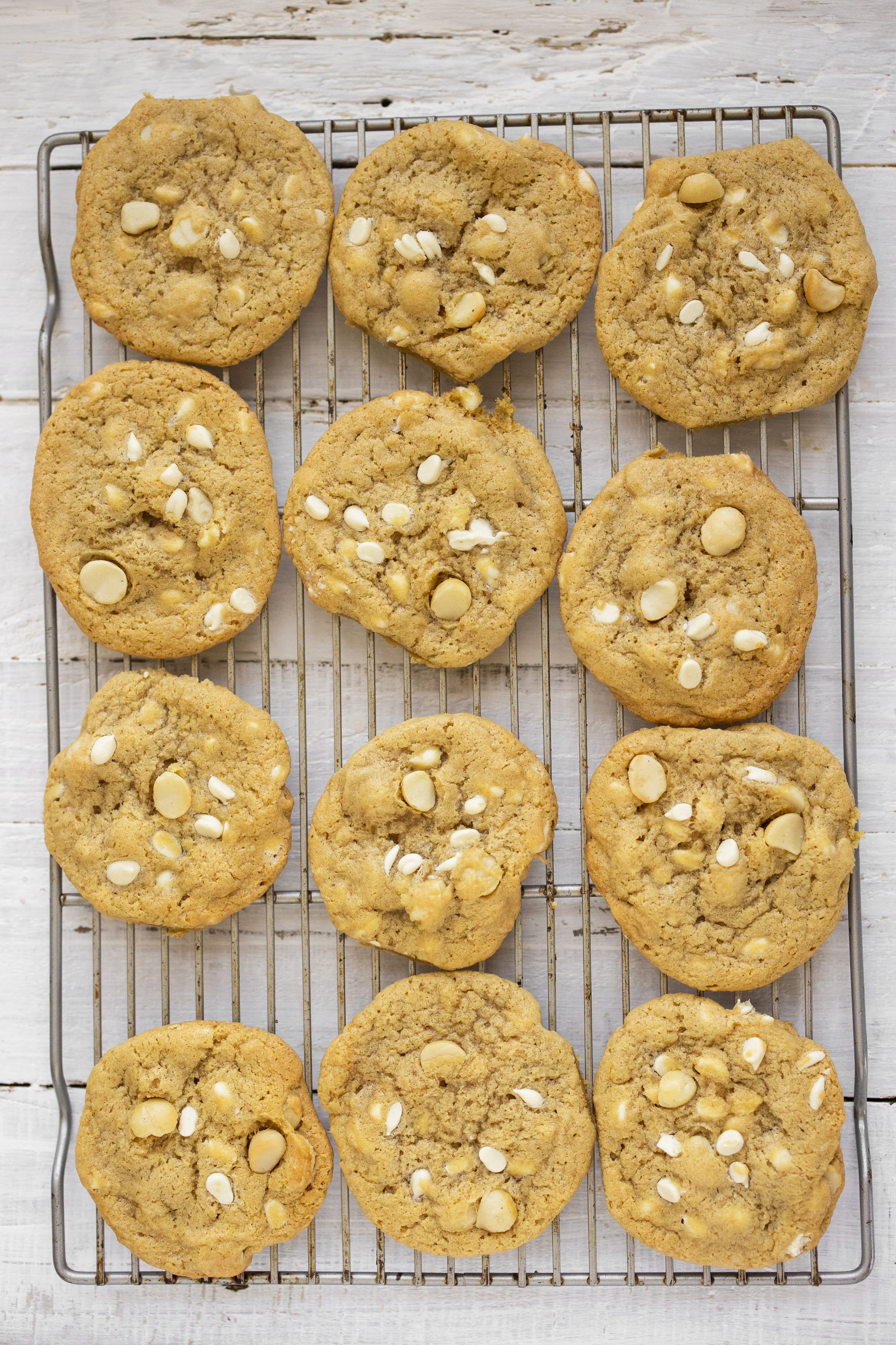 These Vegan White Chocolate Macadamia Nut Cookies have to be one of my all time favorites. The hard part is finding vegan white chocolate chips. My easy fix is to order them online. I have been buying this brand for years and really love the rich buttery texture and sweet vanilla flavor.
If you are a cookie lover and want to take a sidestep from classic chocolate chip for your next baking session, give this recipe a whirl!…
Vegan Cookies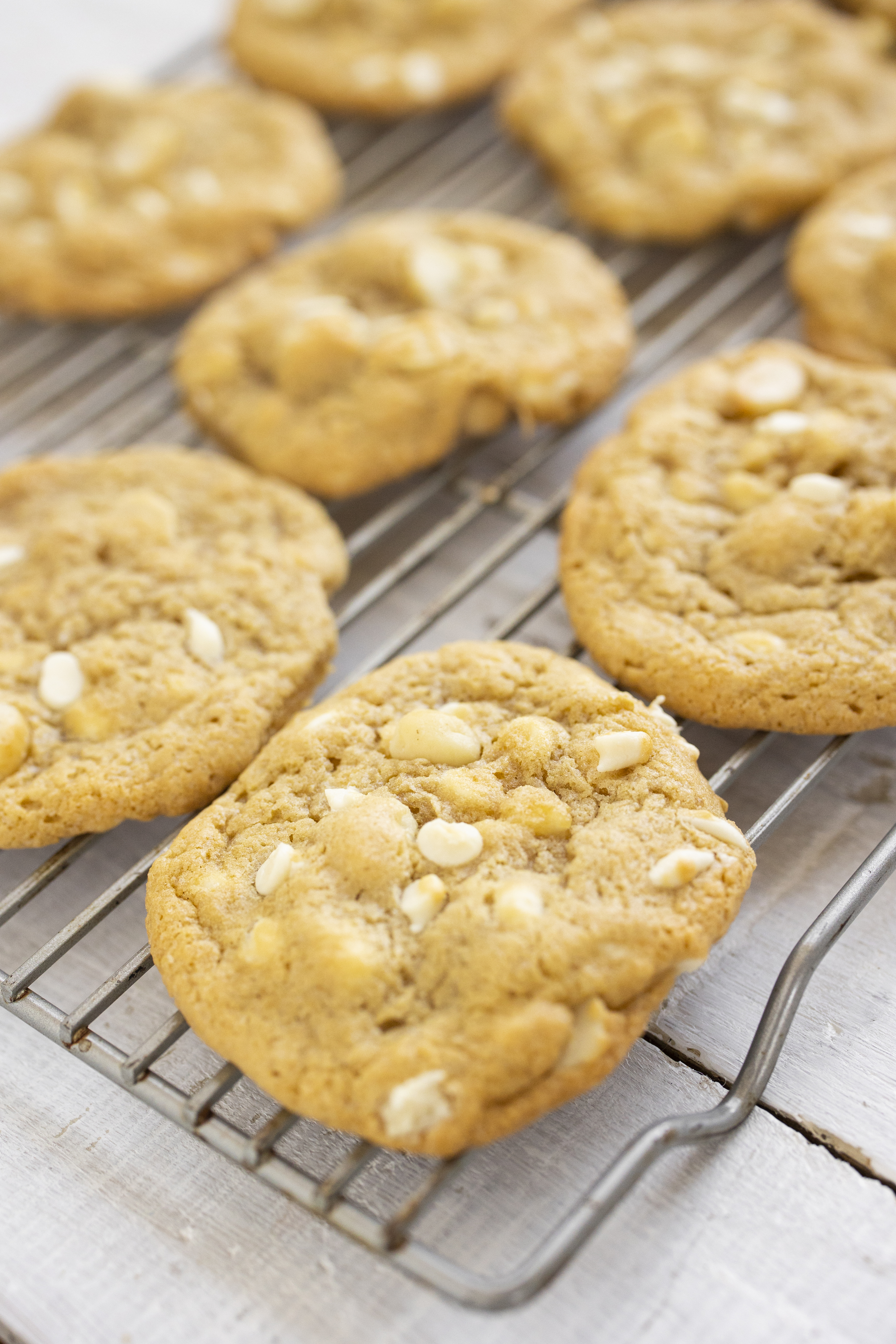 These cream and caramel colored, chewy-on-the-inside, crisp-edges-on-the-outside, Vegan White Chocolate Macadamia Nut Cookies have cast a tropical cookie spell on me. My long lost craving for white choco-mac cookies has been re-inspired with each bite. Sandy shores. Coconut-kissed breezes. I'm swept away.
Cookie Swoon. Each bubbly little crevice is stuffed with crunchy, buttery raw macadamia nut bits and velvety white chips.
And while I love the white chips, the real star for me is those crunchy macadamia nuts…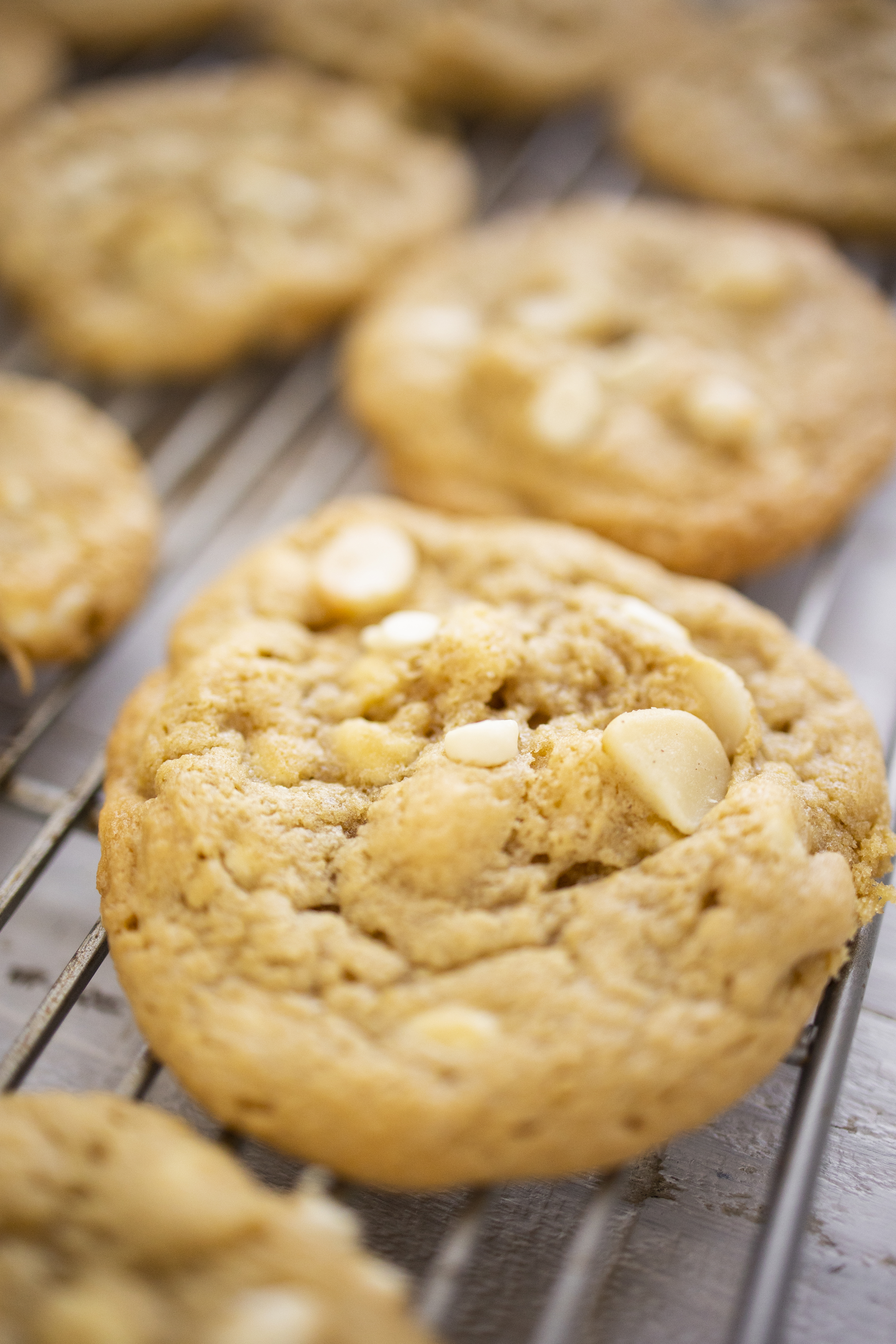 Macadamia Nut Recipes
I love macadamia nuts! They always remind me of Hawaii. They are delicious all on their own as a snack, and even better when paired with something sweet – IMO. That crunchy texture and roasted saltiness paired with a sweet accent is tastebud heaven.
I love macadamia nuts in this mango, avocado salad – the salty, crunchy macadamia nuts play off of the juicy, sweet mango so beautifully.
And in these Vegan White Chocolate Macadamia Nut Cookies, those salty, crunchy macadamia nuts add the sharp contrast to all the sweet from the sugars and chips.
White chocolate tends to taste sweeter than regular dark cacao chocolate simply because you don't get that rich and bitter flavor from the cacao.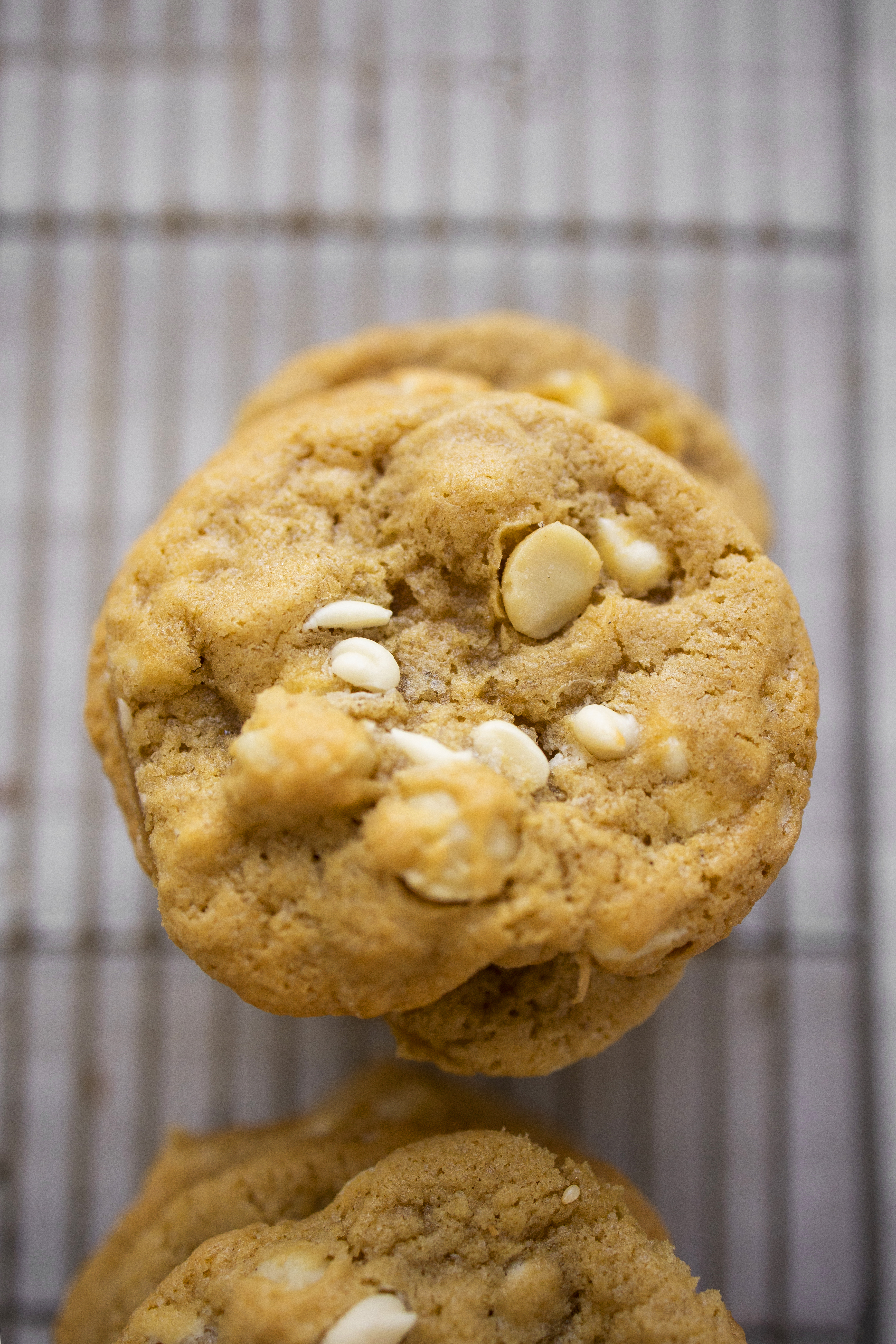 What's the difference between white chocolate and regular chocolate?
The simplistic answer is that white chocolate chips only contain cocoa butter (the fat) from a cacao bean. They do not contain the "chocolate" part.
White chocolate is really just taking the cocoa butter and mixing it with sugar and fat. You do not have any "unsweetened chocolate" in white chocolate. It just uses the cocoa butter and sugar added. Sometimes another fat is added as well.
Usually, chocolate chips contain unsweetened chocolate, cocoa butter, sugar and sometimes a few accent ingredients. (Watch for dairy, usually called milk fat, if you want vegan chips).
Pure Cocoa Butter
You can buy 100% pure cocoa butter in chunks, but it usually isn't the best for "chips" since it isn't sweetened and the cocoa butter won't melt the way a chocolate chip should.
Also, cocoa butter is largely flavorless all on it's own!
I did a blog post all about chocolate if you are curious to learn more about the various types and parts of a chocolate bean! Here is my definition from that post:
Cacao Butter: Cacao butter is the cold-pressed, pure, white-ish oil from the cacao bean. Cacao butter is used when making chocolate bars and chips. It contains omega-6 and omega-9 fatty acids, antioxidants, oleic acid and theobromine. Cacao butter looks like white chocolate and tastes a bit blander than the nibs, though it still has a chocolate flavor. Cacao butter is mother nature's version of white chocolate. – all about chocolate
Vegan White Chocolate Chips
I always buy this brand in the yellow bag from Amazon. You get four bags in bulk.
UPDATE: A few readers have told me that these chips *may* be available in select kosher supermarkets in the US. If anyone finds them, let me know! I will be investigating this myself!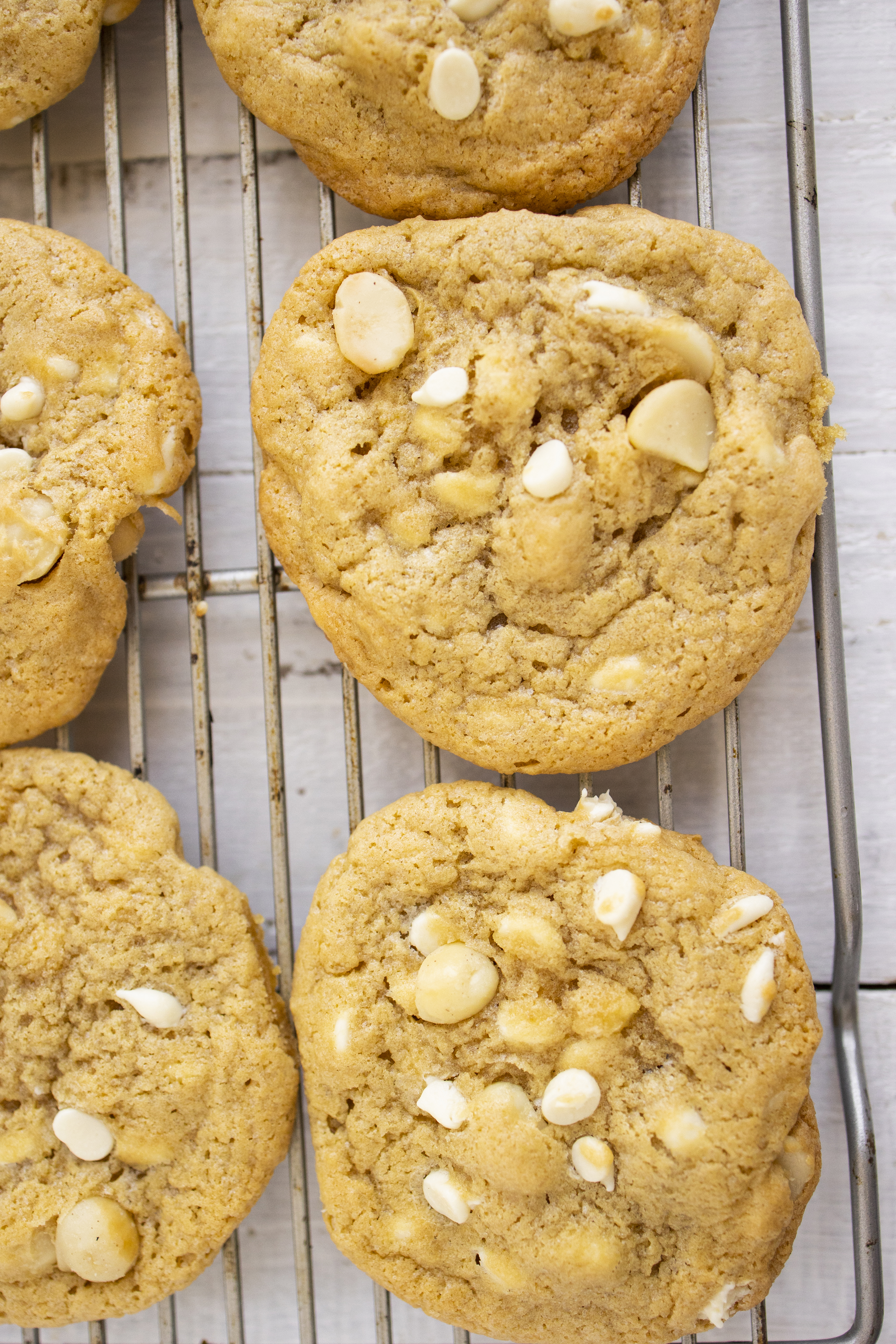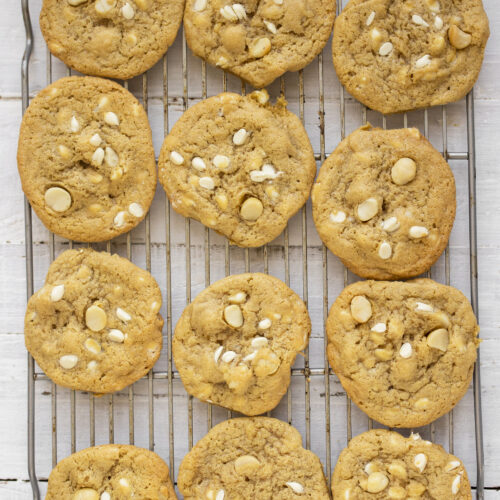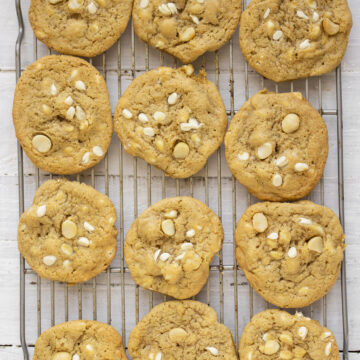 White Chocolate Macadamia Nut Cookies
This super chewy and tender cookies contain melty vegan white chocolate chips as well as crunchy, roasted macadamia nuts – rich in salty and sweet flavor, these cookies are super cravable and addicting!
Print
Pin
Ingredients
Wet Ingredients
½

cup

vegan butter

,

earth balance

½

cup

egg replacer – vegan

,

JUST Egg used

1

teaspoon

vanilla extract

½

cup

cane sugar

1

cup

brown sugar
Dry Ingredients
1

teaspoon

baking soda

¾

teaspoon

salt

2

cups

all purpose flour
Fold in
1

cup

macadamia nuts

,

roasted and salted

1

cup

white chocolate chips

,

vegan
Instructions
Preheat oven to 350 degrees and line a baking sheet with parchment paper.

Add all the wet ingredients to a mixing bowl. Beat until fluffy.

Add in the dry ingredients and beat until smooth and fluffy.

Fold in the nuts and chips.

Scoop cookies onto the baking sheet.

Bake for 15-17 minutes at 350 degrees.

Remove from oven and col on a cooling rack.
Equipment
mixing bowl

mixer

baking sheet

cookie scooper
nutrition estimate | per serving
Calories:
303
kcal
|
Carbohydrates:
40
g
|
Protein:
4
g
|
Fat:
15
g
|
Saturated Fat:
4
g
|
Trans Fat:
1
g
|
Cholesterol:
2
mg
|
Sodium:
238
mg
|
Potassium:
101
mg
|
Fiber:
1
g
|
Sugar:
27
g
|
Vitamin A:
273
IU
|
Vitamin C:
1
mg
|
Calcium:
53
mg
|
Iron:
1
mg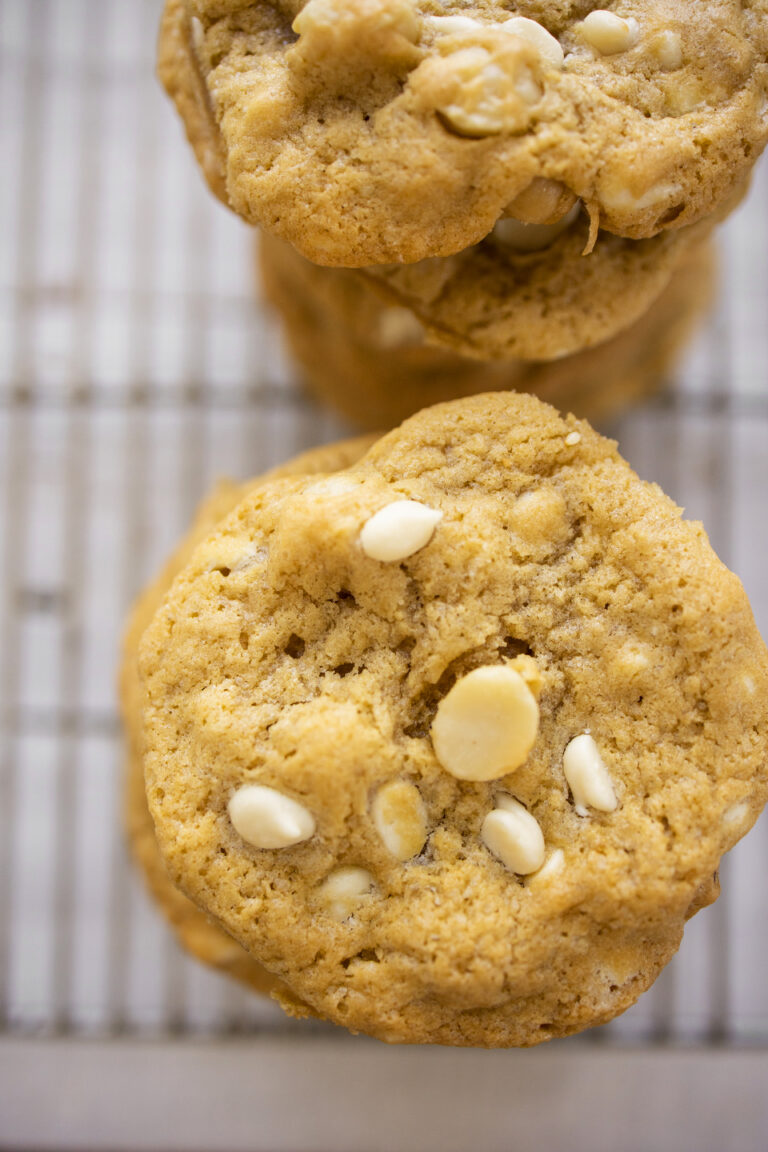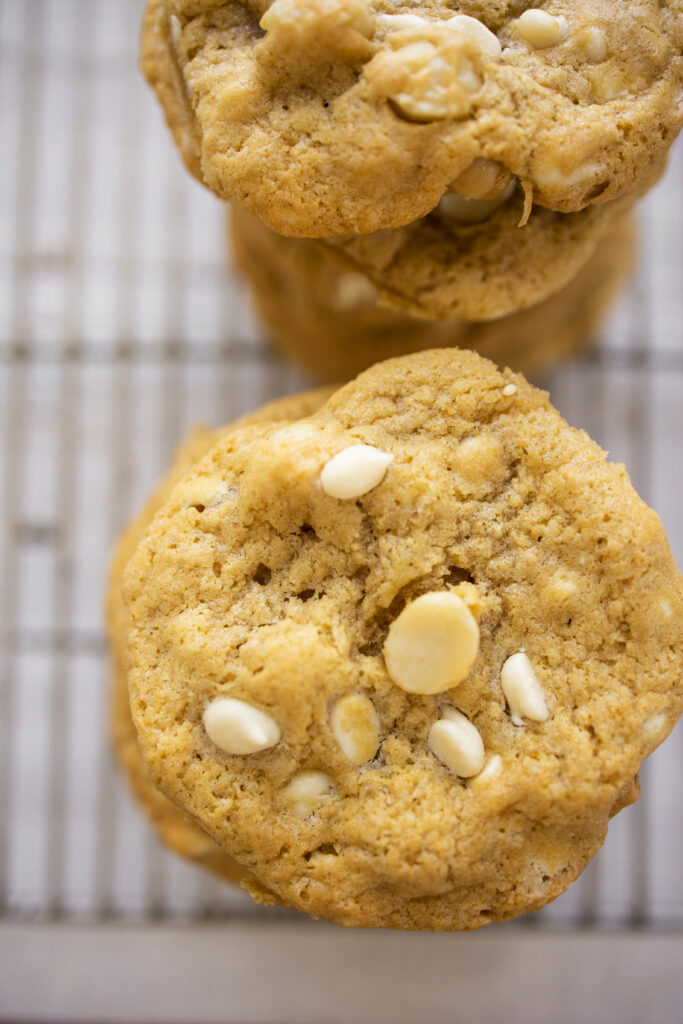 Old Version Recipe
This is my vintage, circa 2012 recipe, though I prefer the recipe shown above. But just in case you want to reference the old recipe…
Vegan White Chocolate Macadamia Nut Cookies
vegan, makes about 2 dozen
sugar blend:
½ cup maple syrup (I used grade B)
½ cup vegan sugar
2 sticks of Earth Balance Buttery Spread Sticks (vegan butter)
½ teaspoon vanilla or almond extract
1 teaspoon apple cider vinegar
1 medium banana
Dry:
1 ½ cups whole wheat pastry flour
*I used Bob's Red Mill
2 tablespoon vital wheat gluten flour
½ teaspoon cinnamon
½ teaspoon ginger powder
1 teaspoon baking soda
Fold in:
½ cup vegan white chocolate chips
½ cup raw chopped macadamia nuts
Directions:
1. Preheat oven to 350 degrees.
2. dd sugar blend ingredients to large bowl. Blend with hand mixer until butter is creamy – a little chunky is still OK.
3. Add in the dry ingredients and mixer blend on lowest setting just until the mixture gets thick. Then remove mixer beaters and hand fold/stor the rest of the dough together.
4. Fold in the chips and nuts. Add more if you want – I added in another handful of those lovely macadamia nuts.
5. You can either spoon warm dough onto parchment paper lined baking sheets – or place dough in fridge for at least 30 minutes for easier scooping of dough. Either way works.
6. Bake cookies at 350 degrees for about 16 minutes. Cool. Enjoy!